If you want to make Mother's Day special this year, make a DIY card. While the greeting card companies make it easy to pick out a sweet sentiment for mom, what she really wants is a Mother's Day gift with some thought put into it. One of the simplest ways to do that is with one of these cute Mother's Day cards by kids.
You'll find options below that are perfect for kids of all ages, from toddlers to teens. Pair a sweet card with a thoughtful handmade gift, and you're sure to make Mom smile.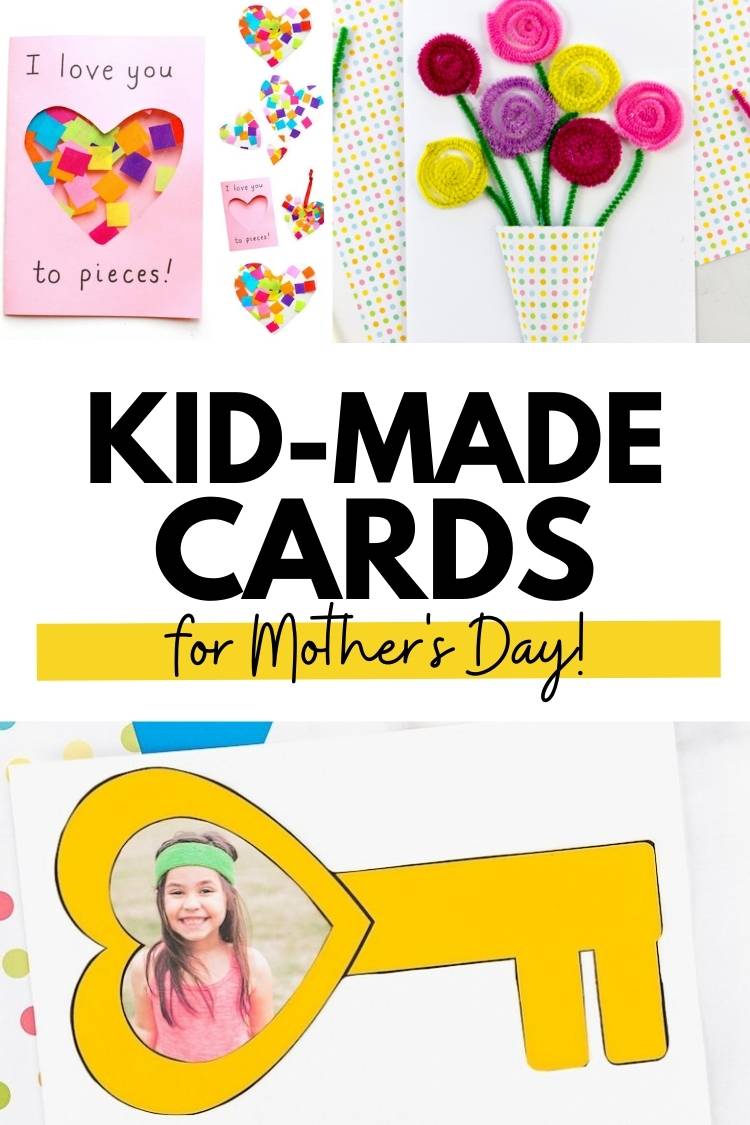 What Do You Write In a Mother's Day Card for Kids?
Whatever you write in your handmade Mother's Day cards should be sweet and heartfelt. For kids who have a hard time coming up with something to say, here are a handful of heartwarming ideas:
Wishing you a happy day, Mom.
Thank you for being there for me.
Happy Mother's Day to the world's best mom!
I love you, Mom! Thanks for all you do.
I'm the luckiest boy/girl in the world to have you as my mom.
Enjoy your special day, Mom. You deserve it!
Mom, you're the best!
Mothers are friends forever. I'm so glad you're mine.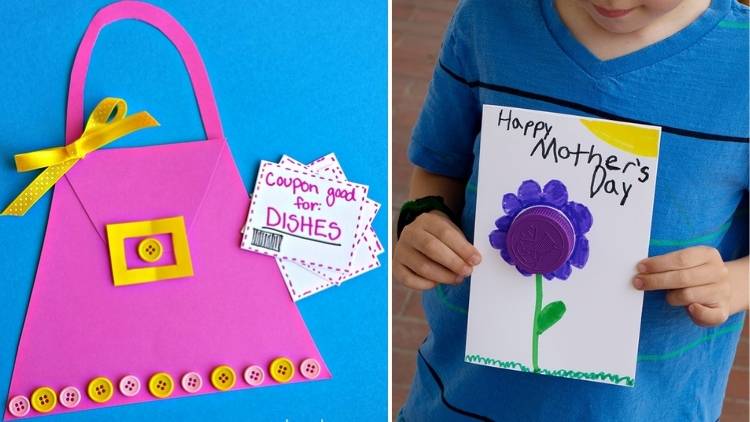 Easy Mother's Day Cards by Kids
It's time to celebrate Mother's Day! These easy Mother's Day cards are beautiful, simple to make, and sure to make Mom smile. Help your child or students create beautiful cards for their moms by choosing one or more from the list below.
Pipe Cleaner Flower Card
This whimsical flower card from Kids Activities Blog uses pipe cleaners and pretty scrapbook paper. Isn't it beautiful? It's simple enough for kids from preschool and up. Roll the pipe cleaners into a twirly circle, then add green chenille stems as the flower stems. Make a flower pot out of patterned paper, and your card is ready to write a special message inside.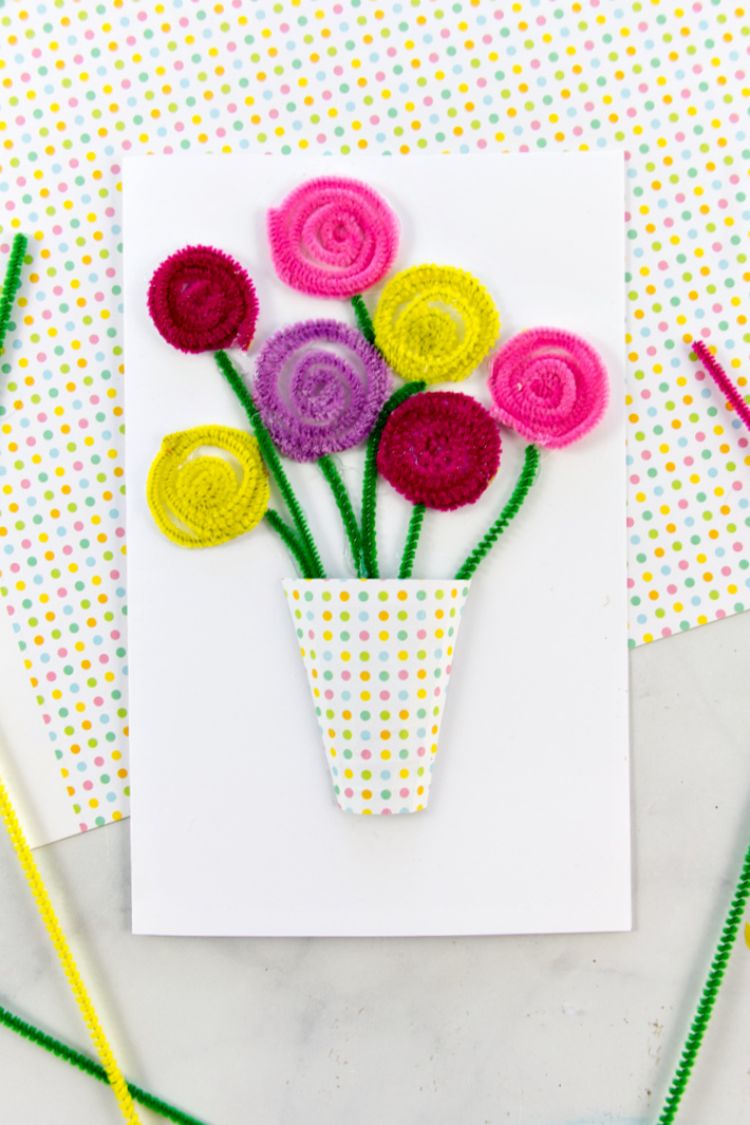 Mother's Day Purse Card
Any mom would love to receive this Mother's Day purse card by Crafty Morning. It's cute, colorful, and easy to make using cardstock, buttons, and a pretty ribbon. Make paper coupons to go along with the purse. Some ideas include coupons for:
washing the dishes
making dinner (older kids)
folding laundry
breakfast in bed
dessert of Mom's choice
sweeping and mopping the kitchen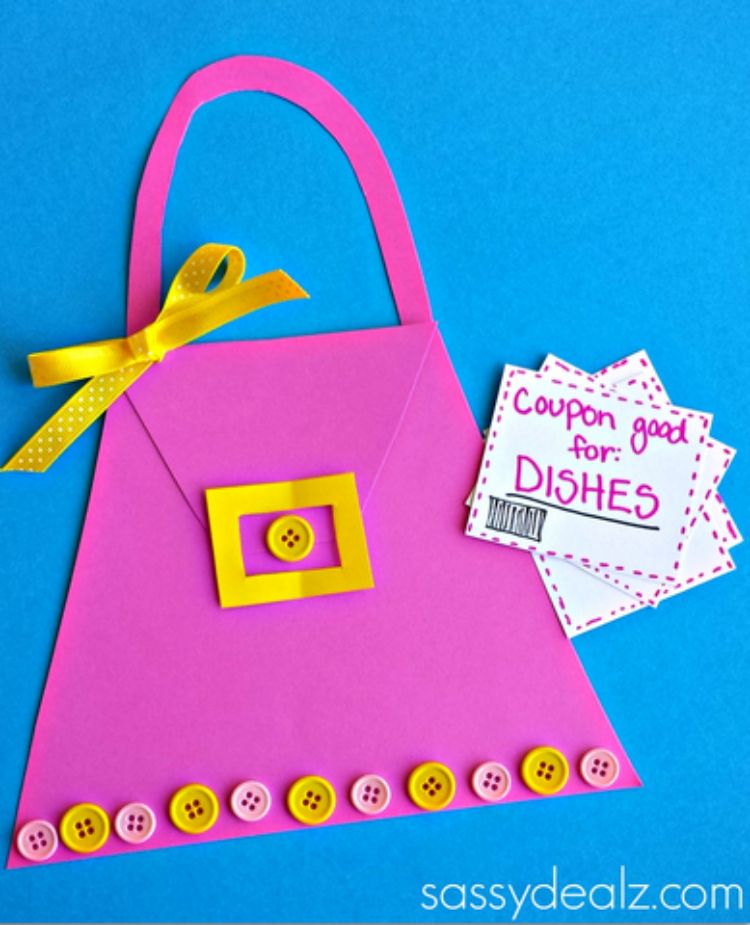 Sunflower Mother's Day Card
Tell Mom, "Thanks for helping me grow!" with this fun sunflower card from Simple Everyday Mom. Use the printable template to cut out all the pieces, and have the child place their photo in the center of the flower. What mom can resist that combination?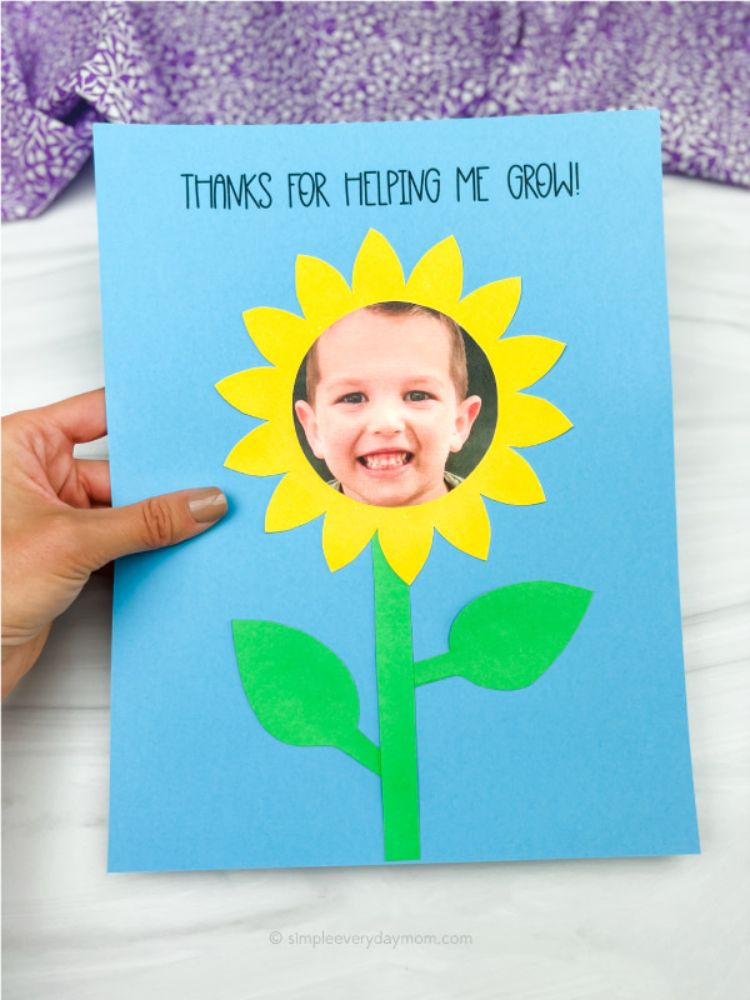 Bottle Cap Flower Card
It's important to teach kids to recycle and reuse. One way to do that is by taking everyday items that would get thrown in the trash and turning them into something beautiful—like this bottle cap Mother's Day card from Kids Activities Blog. The bottle cap becomes the center of the flower, and kids draw in flower petals, a stem, and leaves around it. Complete the scene on this homemade Mother's Day card with sunshine, grass, and a heartwarming message for Mom.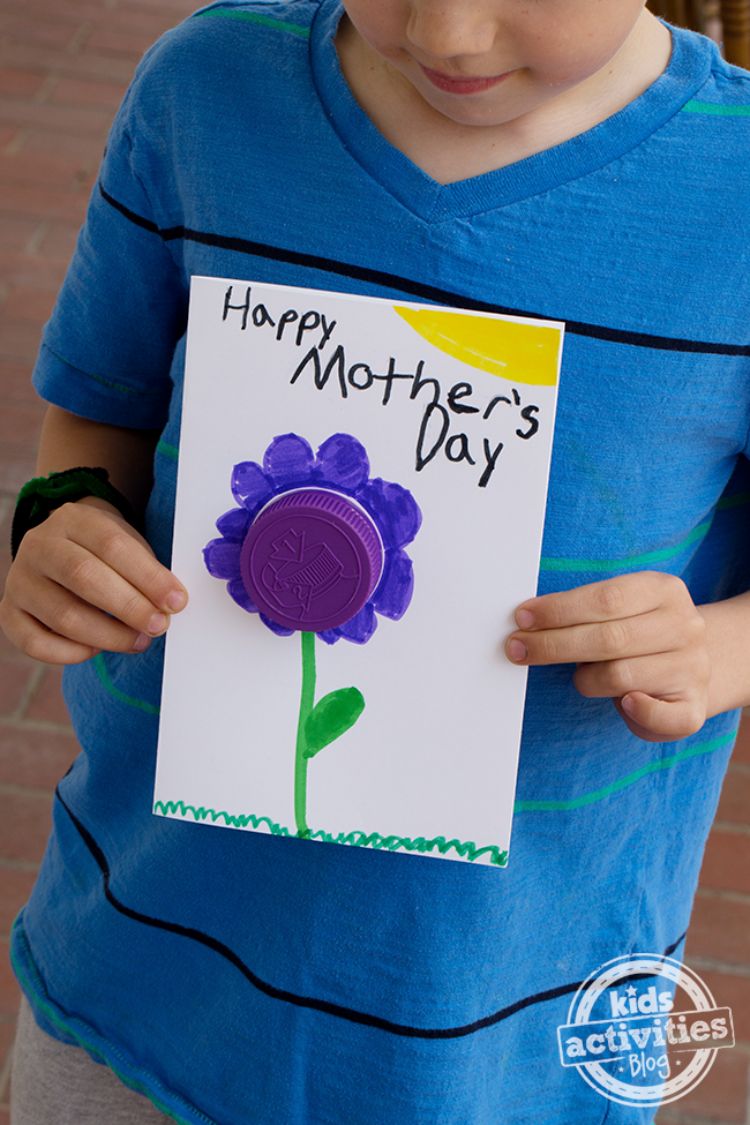 Printable Mother's Day Card
Keep things super simple with printable Mother's Day cards like this one from Learning Liftoff. It's super simple—kids can color in the design on the front, fill in the blanks with info about their mom, and draw a picture of them with their mom. Isn't that a fun idea?
Love You to Pieces Card
This love you to pieces card from Learning and Exploring Through Play is the perfect card for Mother's Day! Making the tissue paper heart is super easy with a laminator, but you can do the same thing with contact paper if you don't have a laminator at home. Add the colorful insert inside a heart-shaped cutout with the message "I love you to pieces" on the front. Lovely!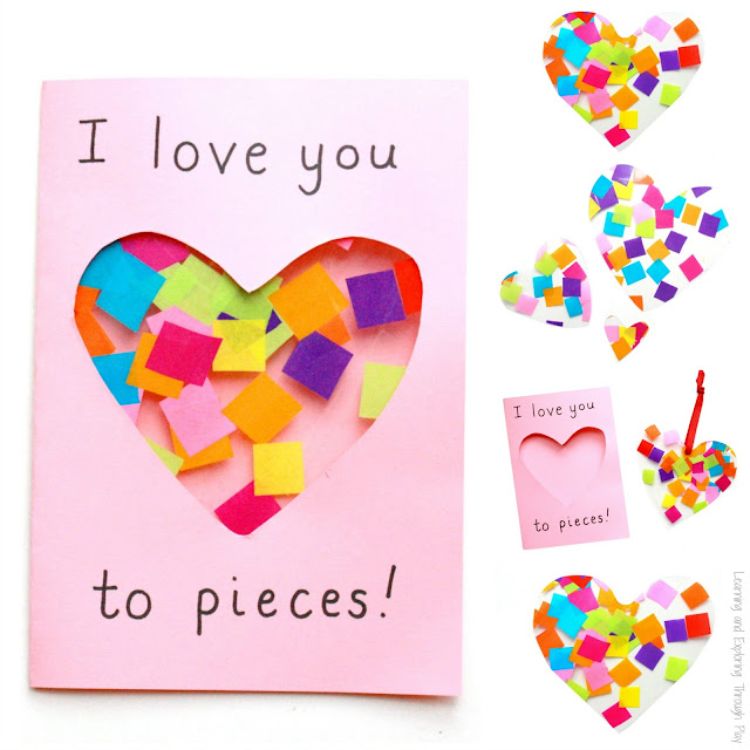 Flamingo Card
Fluffy pom poms make this pretty flamingo card from Designs for Soul stand out. Kids will adore making the mama flamingo and her baby flamingos using fluffy pom poms for their bodies. Then, paint the head/neck and feet to complete the birds.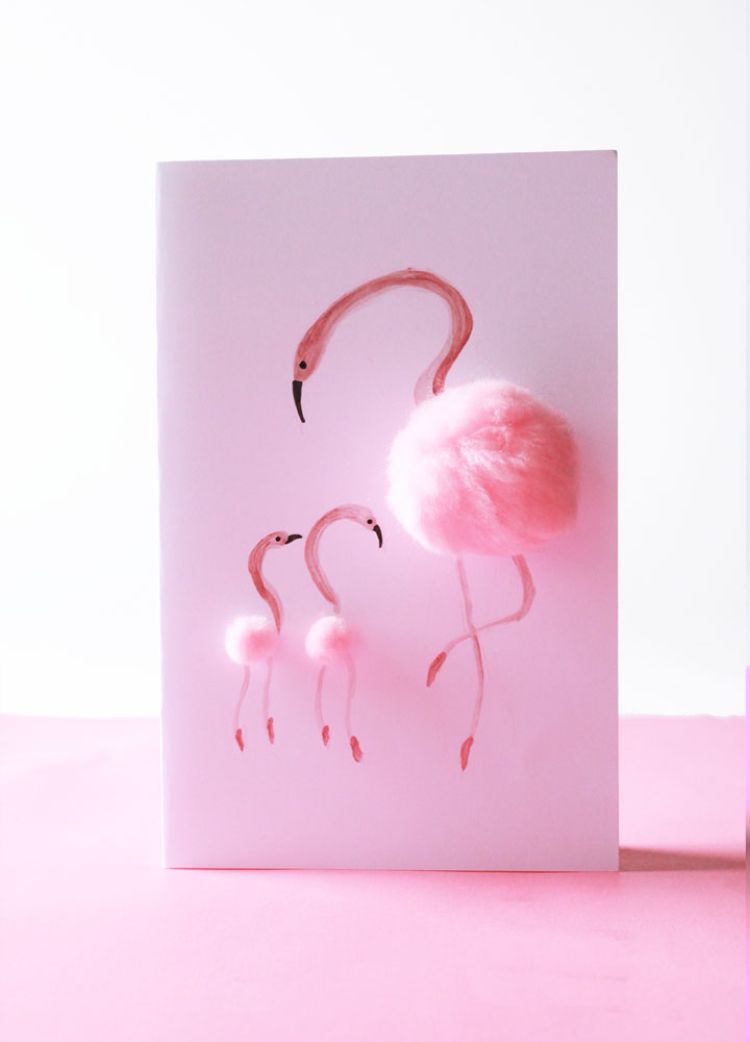 Heart Flower Bouquet Card
Colorful, heart-shaped flowers adorn the front of this flower bouquet Mother's Day card from Mommy Made That. Since all you need is construction paper, crayons, scissors, and glue, this handmade card idea is perfect for the classroom or at home. Kids can make their heart-shaped flowers as simple or as ornate as they'd like.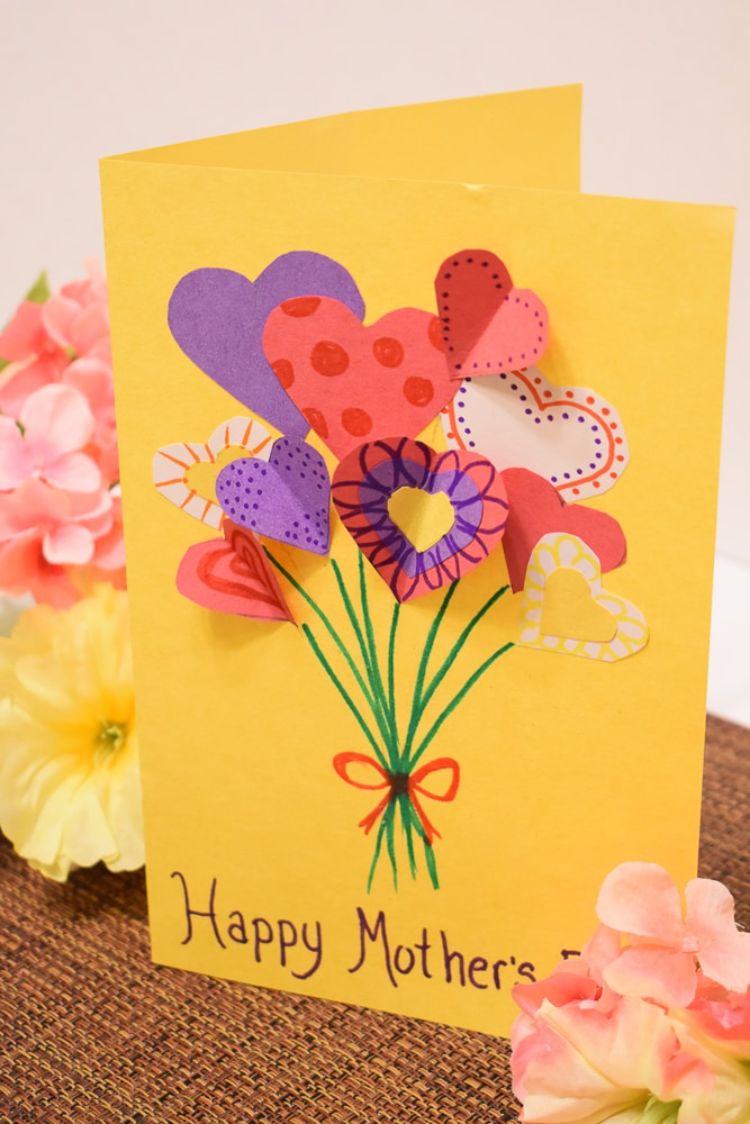 Mommy and Me Printable
Fire up the printer for this super sweet Mommy and Me printable card from Made With Happy. Kids can fill in details about both themselves and their mom along with a lovely message to her at the end. This is a wonderful printable idea for the scrapbook.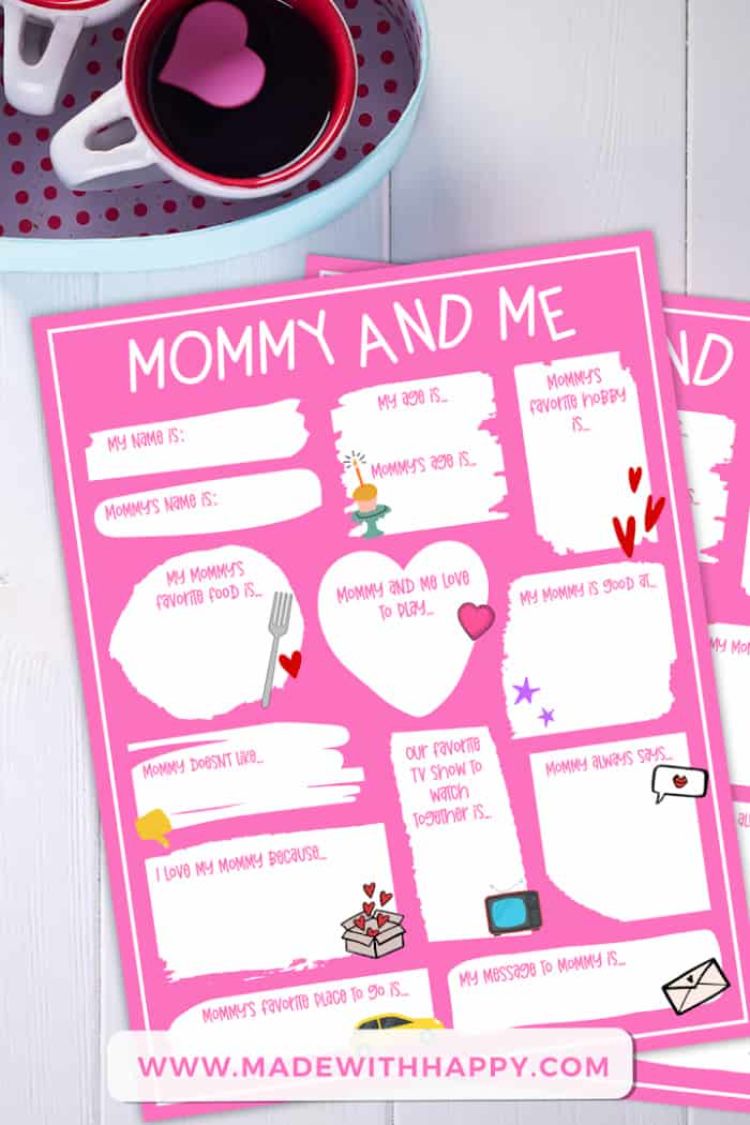 Key to My Heart Card
For the mom who holds the key to your heart, make this key-themed Mother's Day card from The Soccer Mom Blog. Kids can add their photos to the keyhole, making it unique and personalized. The printable template makes this project quick and simple. It'll only take a few minutes!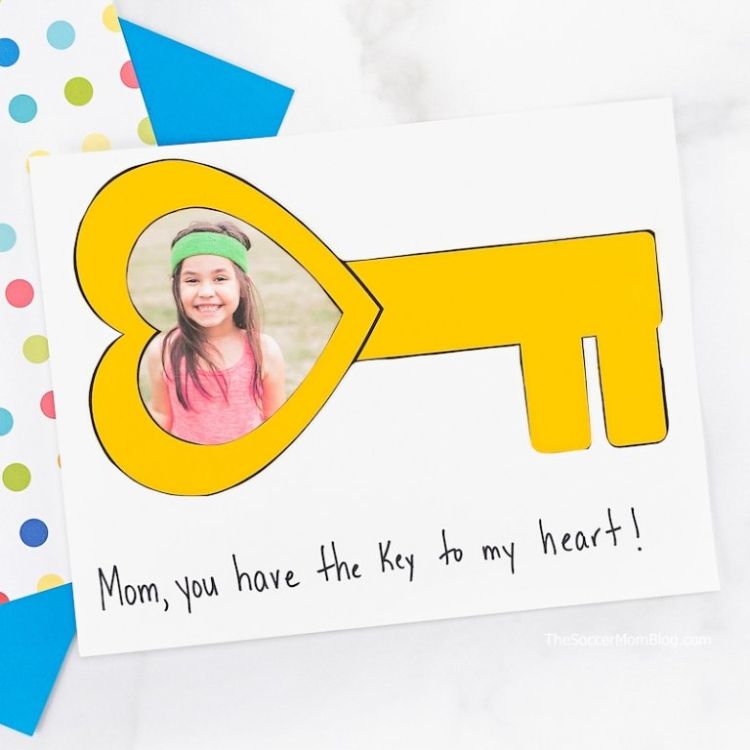 Scrapbook Style Mother's Day Card
We love this scrapbook-style card from The Crafting Chicks. The beautiful flower is made using layered cupcake liners and a button center. The stem is made with washi tape, while the leaves are made from scrapbook paper. Combing the polka dots on the outside with the plaid on the inside makes for a fun and colorful kid-made card.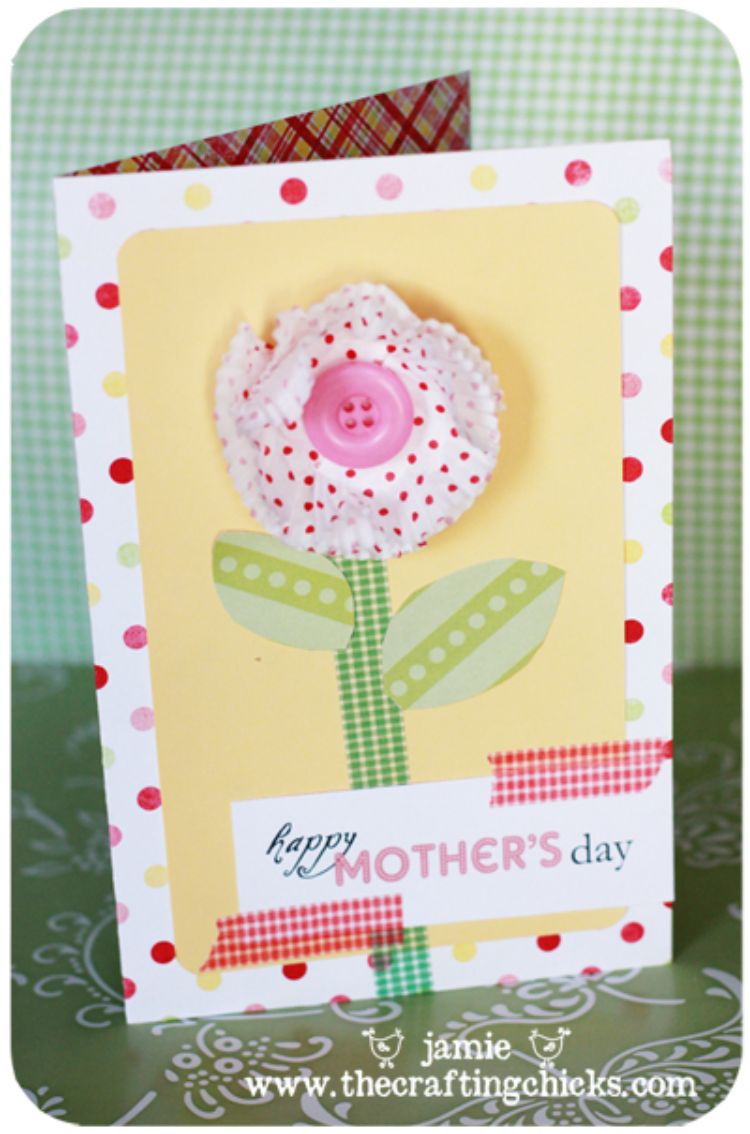 Sequin Flower Cards
Moms who enjoy all things sparkly and shiny will like these sequin flower cards from Fantastic Fun and Learning. You'll need craft sticks and large 20mm sequins to make this design, along with some double-sided tape or glue. Placing the sequins on the card is excellent for fine motor practice. When completed, place the card near a window to watch it sparkle in the sunlight!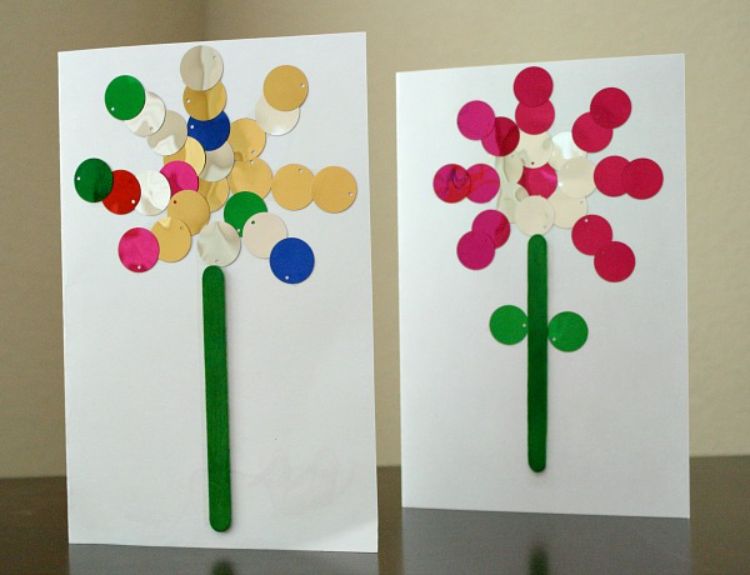 Watercolor Resist Card for Mom
Artsy kids can have fun making a beautiful watercolor resist card for Mom using the ideas at Sunshine Whispers. It's a fun technique that starts by drawing a design in white crayon and then painting it with watercolors to reveal the design. Remember to let the card dry completely before writing a message inside.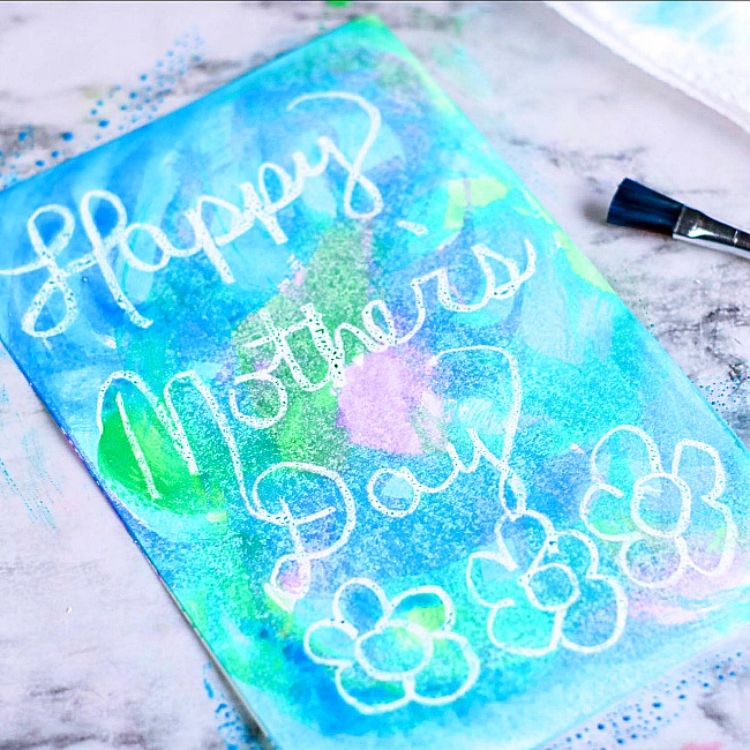 Mickey Mouse Card for Mom
Die-hard Disney fans will go crazy for these adorable Mickey (or Minnie) cards from Simple Everyday Mom. The template includes both the Mickey Mouse head design and decorative flowers that kids can color and place near the ears. Alternatively, you can use faux flowers or flower stickers instead to decorate the card.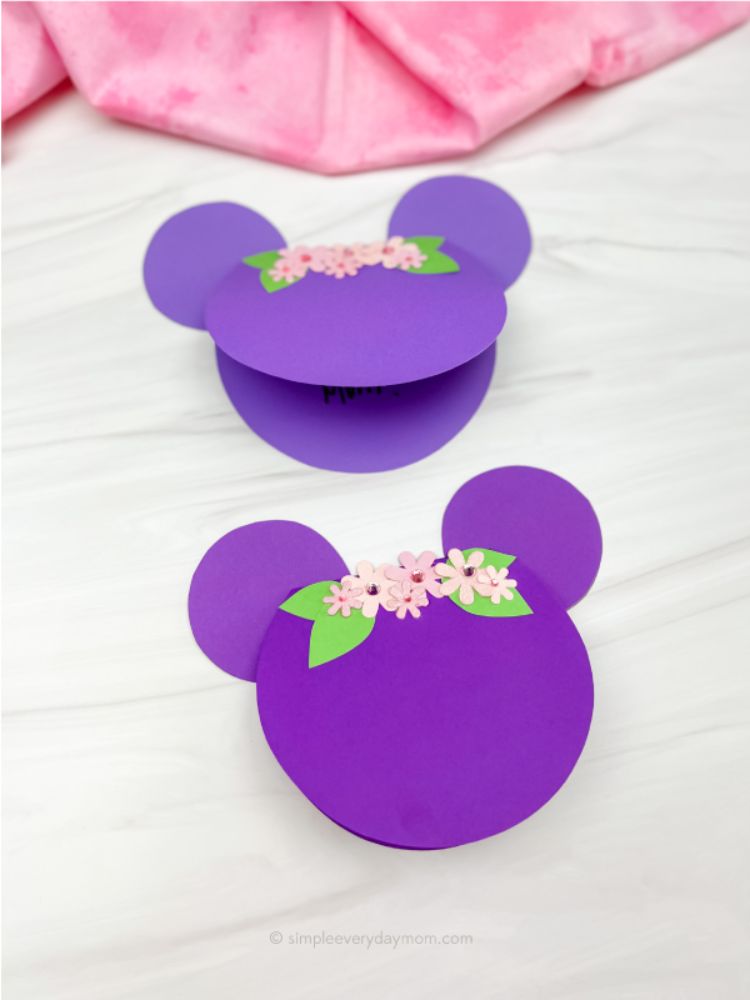 Floral Handmade Mother's Day Card
Some flower cards are too complicated for preschoolers and other younger kids, but this floral handmade card from DIY Candy is easy enough for all ages. Use large and small circle hole punches to make the flowers. Draw in some details or layer the big and small circles to create unique ones. Then, accordion fold a piece of paper to make it look like a wrapped bouquet.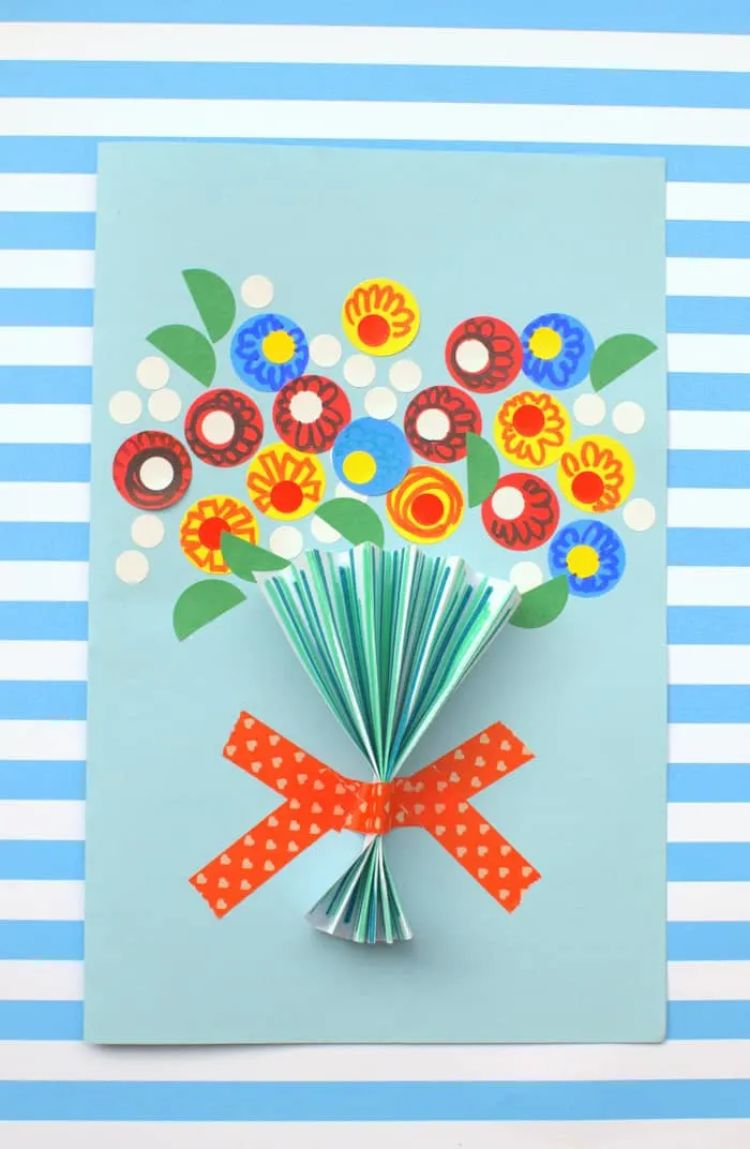 String Art Heart Card
Feeling really crafty? These string art heart cards are the perfect homemade Mother's Day cards, but they work for birthdays and Valentine's Day, too. Let kids practice their threading and fine motor skills at the same time. Follow the tutorial from Childhood 101 to make these gorgeous yarn-clad cards. Note that kids will need an adult to poke the holes to create the heart template. A plastic threading needle may be safer for younger children.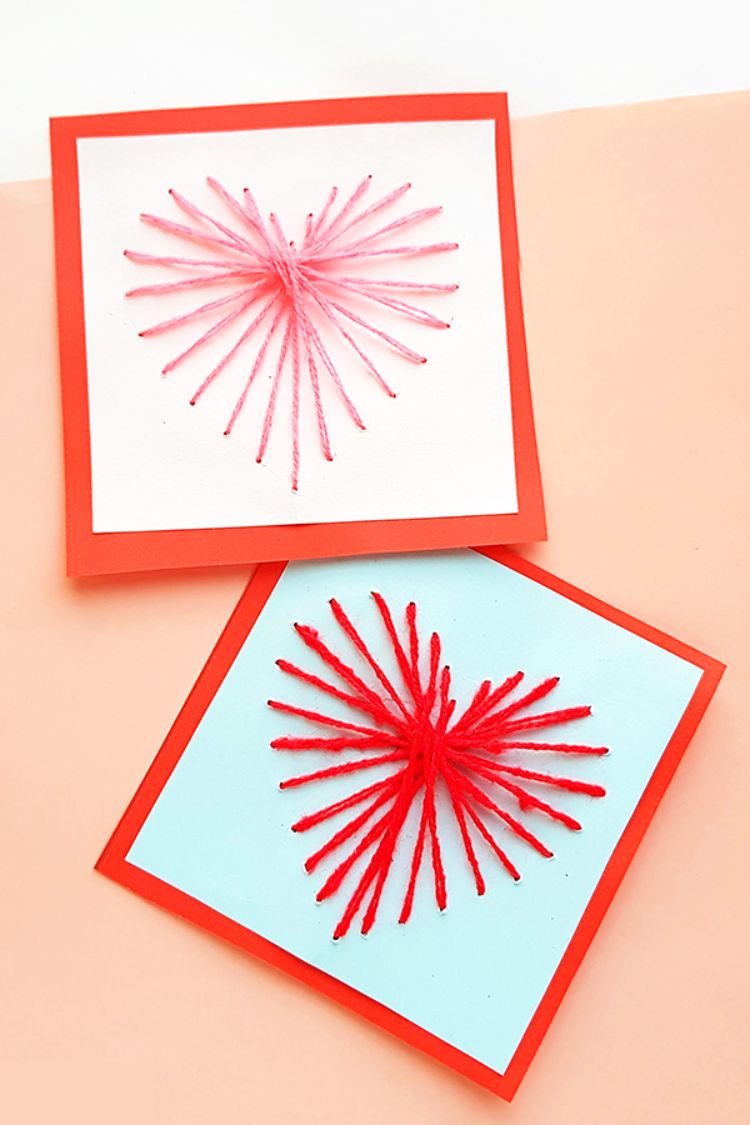 Handprint Flowers for Mother's Day
Nothing is sweeter to a mom than beautiful handprint art. Perfect for both Mom and Grandma, these flowers will be a yearly reminder of how small their child's (or grandchild's) hands were at that moment in time. It makes a beautiful keepsake for the memory book. This version from A Little Pinch of Perfect includes two templates so the child can select their favorite vase for their handprint flowers.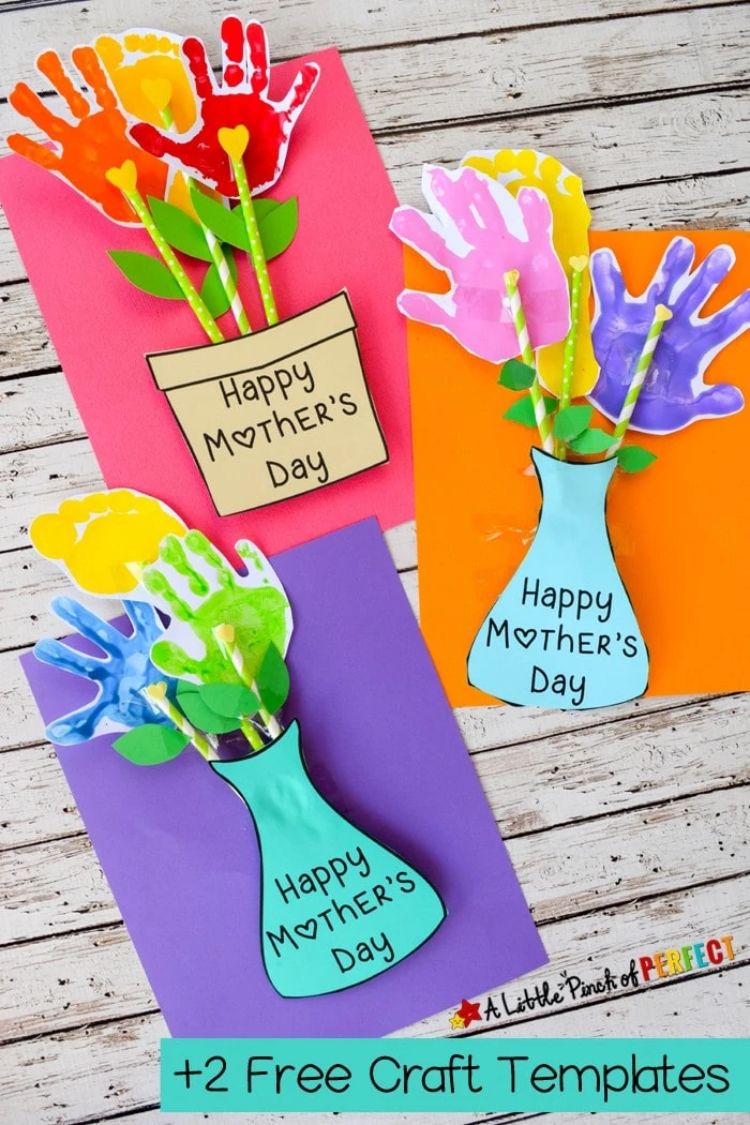 We hope these fun Mother's Day cards have inspired you to make a special heartfelt greeting for Mom this May. Pin this list to come back to it when you're ready to start on your greeting!
More Mother's Day Gift Ideas: