If you're looking for ways to spruce up your Christmas yard decorations this year, you won't want to miss these cute Christmas backyard decoration ideas that you can quickly and easily make yourself.
Get ready to decorate your yard with these truly magical DIY ideas for Christmas and make all of your neighbors jealous!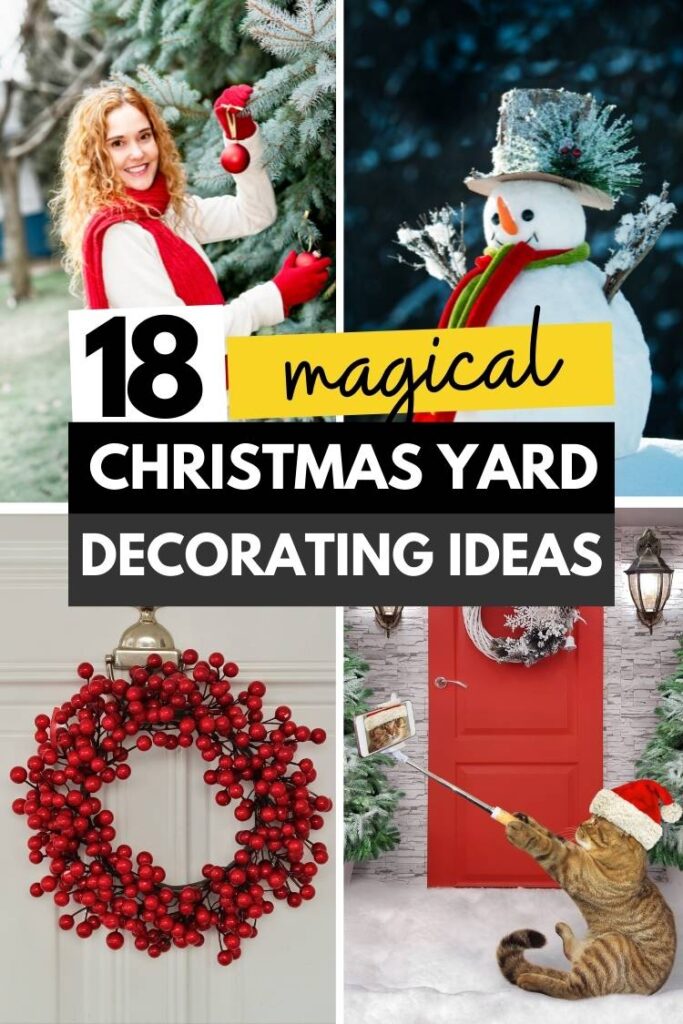 I love Christmas decorations, especially the outdoor kind!
They bring back so many memories of riding in the car with my family while looking at the neighborhood lights as well as going to the big holiday displays around town.
Now you can help create that magical feeling in your own yard!
"Some Christmas tree ornaments do more than glitter and glow, they represent a gift of love given a long time ago."

Tom Baker
The Christmas yard decorations are a fantastic way to both enjoy and spread Christmas cheer to all who pass by your house! Who doesn't love a jolly neighborhood?
Because we love the power of Christmas cheer so much, we want to make sure everyone can easily experience it. We've compiled a list of 18 of our favorite outdoor Christmas decorations, all of which you can easily do by yourself, get the kids involved, or just have some wine with friends while decorating for the upcoming holidays.
If you're looking for inspiration on how to decorate the inside of your home for Christmas, too, don't miss our simple indoor Christmas decorations for your home. I'm sure you'll soon be full of new ideas.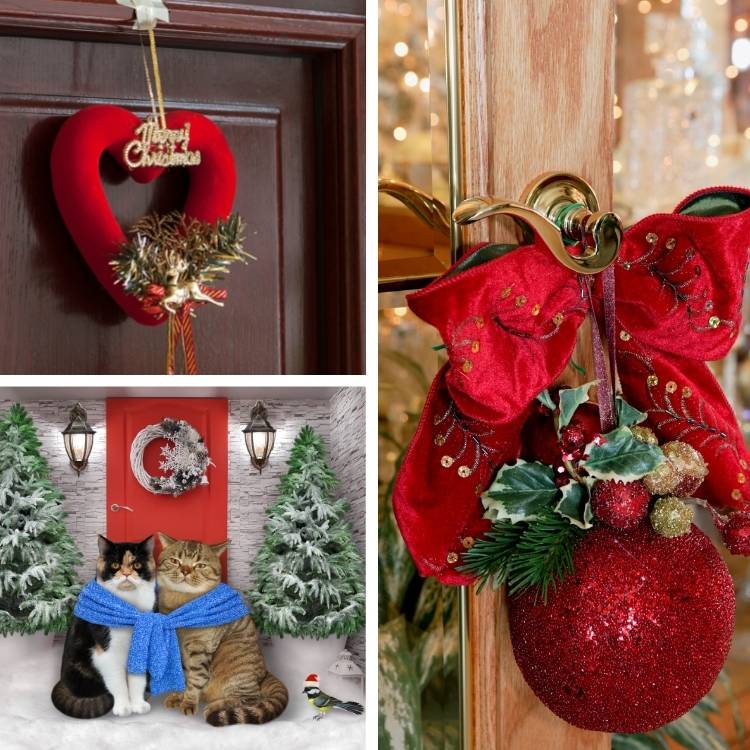 Christmas Yard Decoration Ideas That Will "Wow" Your Neighbors
Decorating for Christmas outside your house is always fun and exciting! Especially, if you get the kids involved. It's actually a wonderful tradition to start, isn't it?
Maybe you've never done outdoor Christmas decorations before, or maybe you've done them for years but you've always don't the same thing and want to change things up a bit.
Whatever the case may be, it can feel like a very overwhelming task. These ideas will change it all! They're creative, fun, and most importantly, easy to make!
In fact, we've found so many easy ideas that you don't even need to choose just one! If you like two or three of the Christmas yard decoration ideas, you can make them all. ? And we'd love to hear and see them, too!
1. Adorable DIY Wooden Snowman Family – The Cutest Christmas Yard Decorations Ever!
Have some wood scraps lying around? Use them to make these adorable wooden snowmen for the porch. They're easy and super cute!
I used up some old wood to make this snowman family and love how they turned out. Plus, it's an easy DIY project!
2. DIY Log Reindeer To Have a Rustic Rudolf In Your Back Yard
This log reindeer is one of my absolute favorite ideas for DIY yard decoration. It's rustic, charming, classic, and just plain cute.
What you need to make your own log reindeer:
1 large log (approximately 4 inches in diameter, for the body)
1 medium log (approximately 3 inches in diameter, for the head)
5 small branches (approximately 1 inch in diameter, for the legs and neck)
2 multi-point branches (for the antlers)
1 pinecone (for the tail)
1 small, red Christmas ornament (for the nose)
Clear caulk
Wood glue
Reciprocating saw (or a chainsaw)
Drill
Paddle drill bits
A sharp pocket knife
Roll up your sleeves and put in your hands and imagination to work. Soon, your efforts for making amazing Christmas yard decorations will pay! So easy and adorable!
3. Adorable DIY Santa Logs You Can't Fall Out Of Love With
And speaking of logs, these Santa logs are incredibly easy, too. Plus I love wooden outdoor Christmas decorations!
The Santa logs Christmas craft is super easy to make out of cedar logs. This Nisse decoration is the perfect way to celebrate our Danish heritage.
Just pull a few logs from the woodpile, cut one end at a diagonal, and paint the Santa faces on.
4. DIY Christmas Arrow Sign to Point To The North Pole
Here's another wooden outdoor Christmas decoration idea. These fun arrow signs remind me of the North Pole. Imagine how cute they'll look in your snow-covered yard.
Have you seen the fun arrows that The Wood Connection has?! They are so fun! I've enjoyed decorating my front porch with them and so will you
5. Reindeer Parking Sign – an Easy DIY Christmas Yard Decoration Idea
If you have a silhouette (or a simple deer stencil), you can make this reindeer parking sign in a snap!
Christmas is a very busy time of the year for Santa. Help him save time by making a Reindeer Parking Sign. No more searching for a reindeer parking spot.
6. DIY Outdoor Christmas Ornaments To Light Your Back Yard
Who knew you could create such a magical effect with chicken wire and strings of lights? These outdoor lighted ornaments are simply amazing!
Make these easy and inexpensive DIY Outdoor Christmas Ornaments to hang in tree's or around your yard to brighten up your outdoor Christmas display
7. An Easy Christmas Decoration Project – Pool Noodle Candy Canes
Do you love outdoor candy cane decorations? Pool noodle candy canes are super easy. You'll need a piece of wire to insert in the middle and help you shape the candy cane.
To get the stripes, use white masking tape. Simple and GENIUS!
8. Lighted PVC Candy Canes as Christmas Yard Decorations
PVC pipe projects are right up our alley – and so are outdoor candy cane decorations. We quickly fell in love with these lighted PVC candy canes. Take a look and you'll see why! 
To make this massive outdoor decoration, you will need several different pieces of PVC pipe that you can get at your local hardware store along with some sand paper, tape, primer, white spray paint, red spray paint, strings of white Christmas lights, rocks and gravel and two bows.
9. The Giant DIY Ornaments You've Always Wanted For Your Yard on Christmas
With a few large plastic balls and silver pails, you can make yourself some of these gorgeous giant outdoor ornaments. These are on my to-do list for sure!
This can be done pretty inexpensively by picking up some large plastic balls, deli containers, wire coat hangers, aquarium silicone or glue, spray paint and garden hooks.  You will need pliers and an art knife.
10. Christmas Yard Decorations – DIY Adorable Snowman Decor
These gorgeous giant outdoor ornaments were really common in the small town I grew up in, so I had no idea they were such a big hit online! They are made by a stack of recycled car and truck tires!  Make the scarves with plastic tablecloths from the Dollar Store.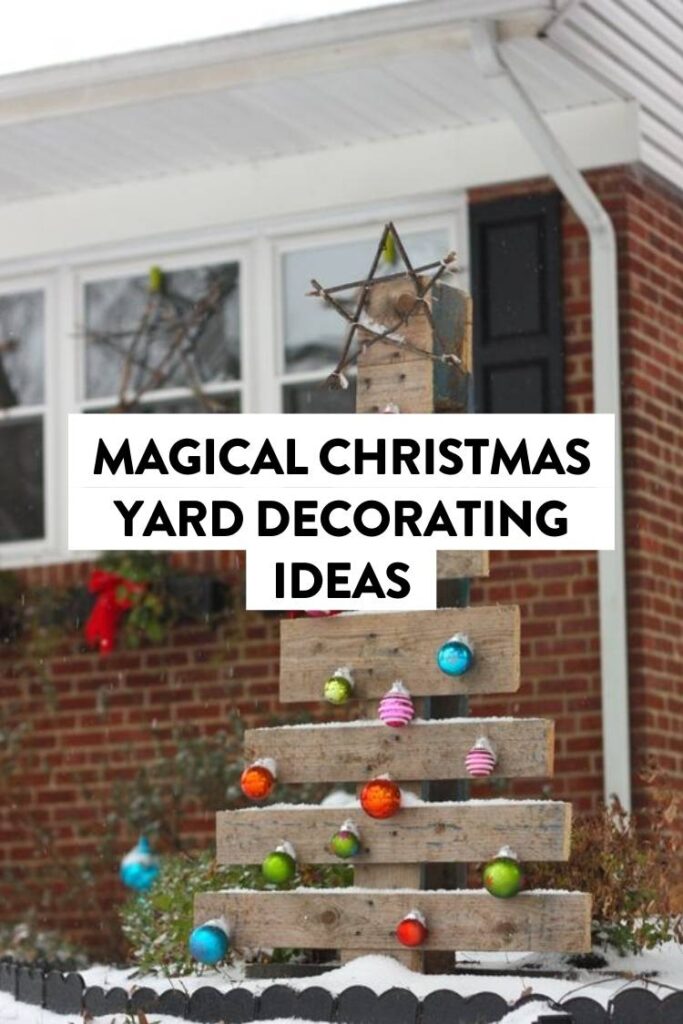 11. Recycle A Pallet And Create A Beautiful Christmas Tree DIY Project
A pallet makes a pretty darn cute little outdoor "Christmas Tree". You'll fall in love with the rustic look and simplicity of this cute idea for a pallet Christmas tree.
Want more pallet Christmas decorations? We've got a whole list for you!
12. DIY Christmas Yard Decorations – JOY Outdoor Wreath Design
This JOY wreath is simply breathtaking. With a plank, some large wooden letters, and a wreath, you can recreate this look on the cheap.
Fynes Designs features their outdoor wreath Joy Sign and a step-by-step tutorial on how to make it. Click now for all the details!
13. Glowing Gift Boxes Christmas Yard Decorations
Build some glowing gift boxes out of plastic boxes, battery-powered lights, and some ribbon to make pretty bows.
When it comes to decorative outdoor lighting, let the architecture and landscape of your house — along with your imagination and our ideas — guide you.
14. Giant Paper Plate Lollipops To Create A Christmas Candy Land in Your Own Backyard
Staple these paper plate peppermint candies to some simple stakes put them in the ground, and voila, you have yourself a candy land in your own backyard.
Giant Paper Plate Lollipops make an easy and fun craft to put in the yard.
15. Giant Lollipops Christmas Yard Decoration Idea
Speaking of candy land, you'll need these giant lollipops as well. They'll add that perfect touch of whimsy that your Christmas yard decorations need.
A fun decoration idea you can make quickly and enjoy seeing in your yard.
16. A Holiday Gift Box From A Concrete Block – Easy Craft To Surprise Everyone On Christmas
Turn concrete blocks into gift boxes that you can reuse from year to year. This is the perfect idea for our yard since we get a lot of wind in the wintertime, and lightweight decorations just blow away.
You will need a concrete block (or more), different colors of festive spray paint and a painters tape made for uneven surfaces.
17. DIY Batman Wreath to Make Christmas More Magical For The Comic Lovers, Too
This Batman wreath will make any superhero fan holly jolly! This is a fun way to add a special superhero vibe to your holiday decor.  It uses some traditional wreath supplies: cardboard or foam, holiday garland, glue, scissors, x-acto knife, wire cutters and a red bow.
18. Colorful Ornament Window Boxes To Add A Fun Tweak To Your Christmas Windows Decorations
Fill your window box with ornaments to liven up the outside of your windows. Add ornaments to all of your garden boxes and baskets. They'll look lovely and full of color!
Don't let the Grinch steal your Christmas!
Help your neighborhood remember the magic of the season by putting up Christmas yard decorations that will light up your yard and warm the hearts of everyone who see them!
If you've liked these ideas for Christmas yard decorations, check out more Christmas decoration inspiration from One Crazy House