It's Friday night and around our place that usually means PIZZA! We're big fans of pepperoni or carnivore's delight, but this week it means trying unusual and yummy pizza topping ideas! We love a good pepperoni pizza, but after a while, it can get a little boring. Maybe you're stuck in a pizza rut like we are, or are just looking to switch up your pizza topping ideas and venture out now and then with some deliciously different adventures?
Rather than trying a recipe that sounds good and discovering it's just plain awful, why not try out one of these tested and approved unusual and yummy pizza topping ideas. The flavors of these pizzas will explode in your mouth and awaken your taste buds to a whole new world. Let's get ready to take your taste buds on the best pizza topping escapade ever!
Pizza Topping Ideas that Are Unusual and Yummy!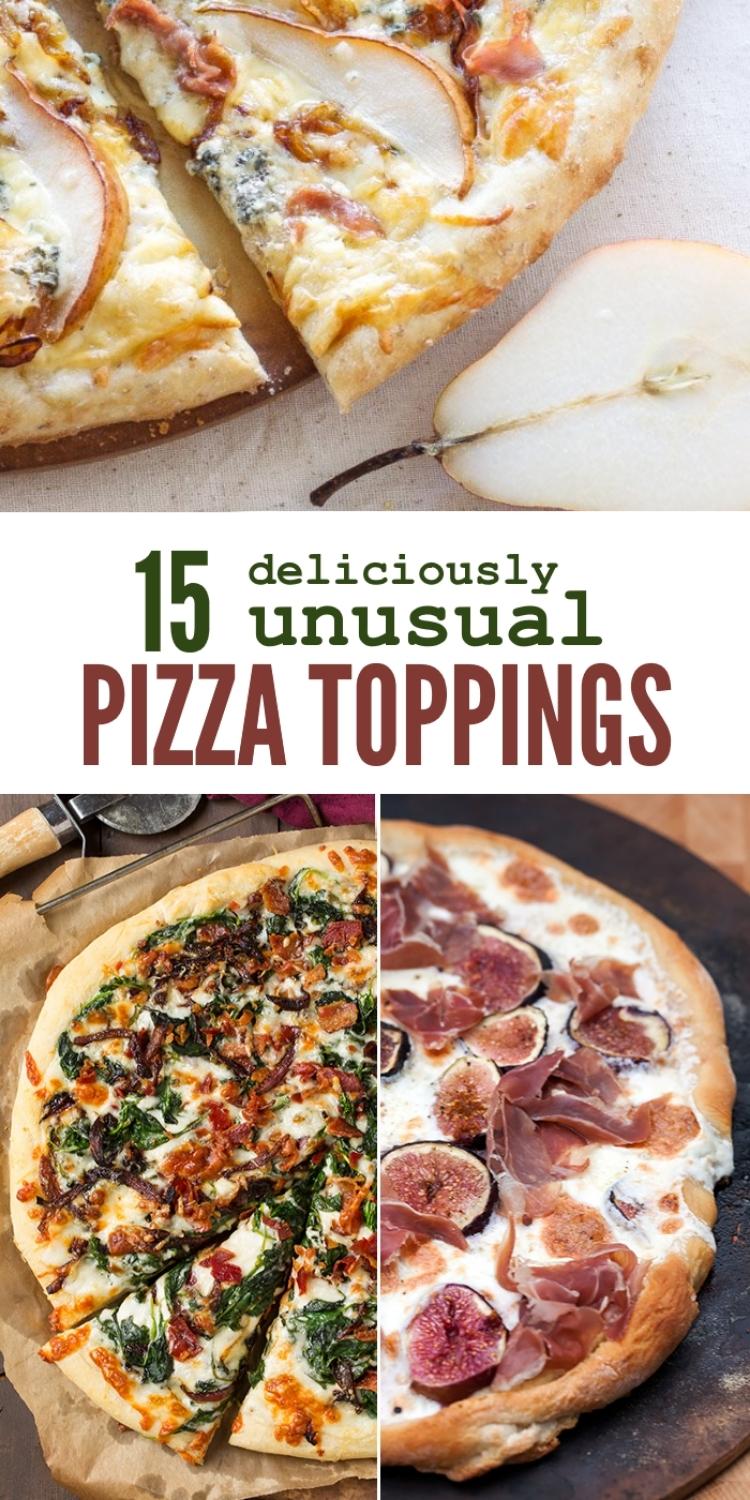 15 Deliciously Unusual Pizza Toppings
Here are all the pizza toppings we mention in this post… BUT know it is not the toppings alone, but how you combine them that will make or break your pizza night:
Artichoke Hearts and Sun-Dried Tomatoes and Mozarella
Broccoli or Cauliflower florets (sprinkle with garlic and bacon)
Kale, Chard and Pineapple with Carmelized Onions!!  YUM
Potato, sausage, and prosciutto – BEST combo ever.
Meat Lovers with Sausage, pepperoni, bacon, shredded steak
Gorgonzola, with roasted garlic and mushroom.
Black olives, anchovies, capers with green tomato slices.
Capers, anchovies, eggplant, capsicum.
Mushrooms (mixed) with rosemary or basil and garlic.
Our full list of pizza topping inspiration:
1. Fruit & Meat Pizza Topping Ideas for a delightful mix of savory & sweet.
Whether you're a hard-core foodie or just wanting to venture out a bit from the beaten path, this Pear Prosciutto Gorgonzola Pizza is just the ticket to broaden your pizza palate. The addition of fresh, thinly sliced pears could possibly make this pizza topping idea your new favorite. This is a nice change of pace from your typical pineapple and ham combination. Pair it with your favorite fizzy soda water for extra fun. Another fun fruit combo to try: fried apples with bacon and gorgonzola.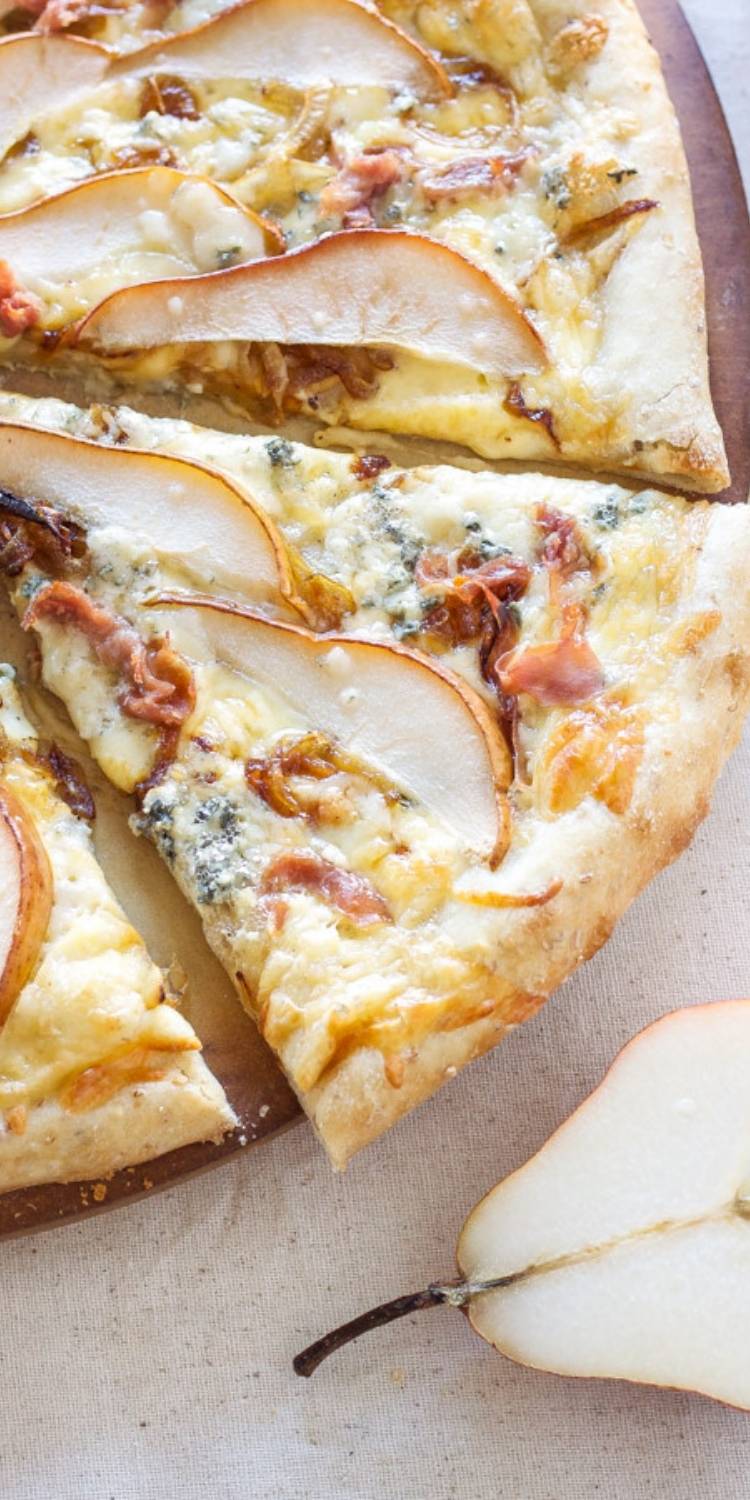 Source: Recipe Runner
2. Sweet & Spicy Hawaiian Pizza Dream.
These ingredients are all familiar–just maybe not topping a pizza. That's why this Pineapple Pulled Pork Pizza with Bacon, Jalapenos & Cilantro will ring all kinds of wonderful bells when you try it. Who doesn't love bacon and jalapeno? The sweet pineapple flavor perfectly compliments the spice! What an unusual and fun pizza topping idea!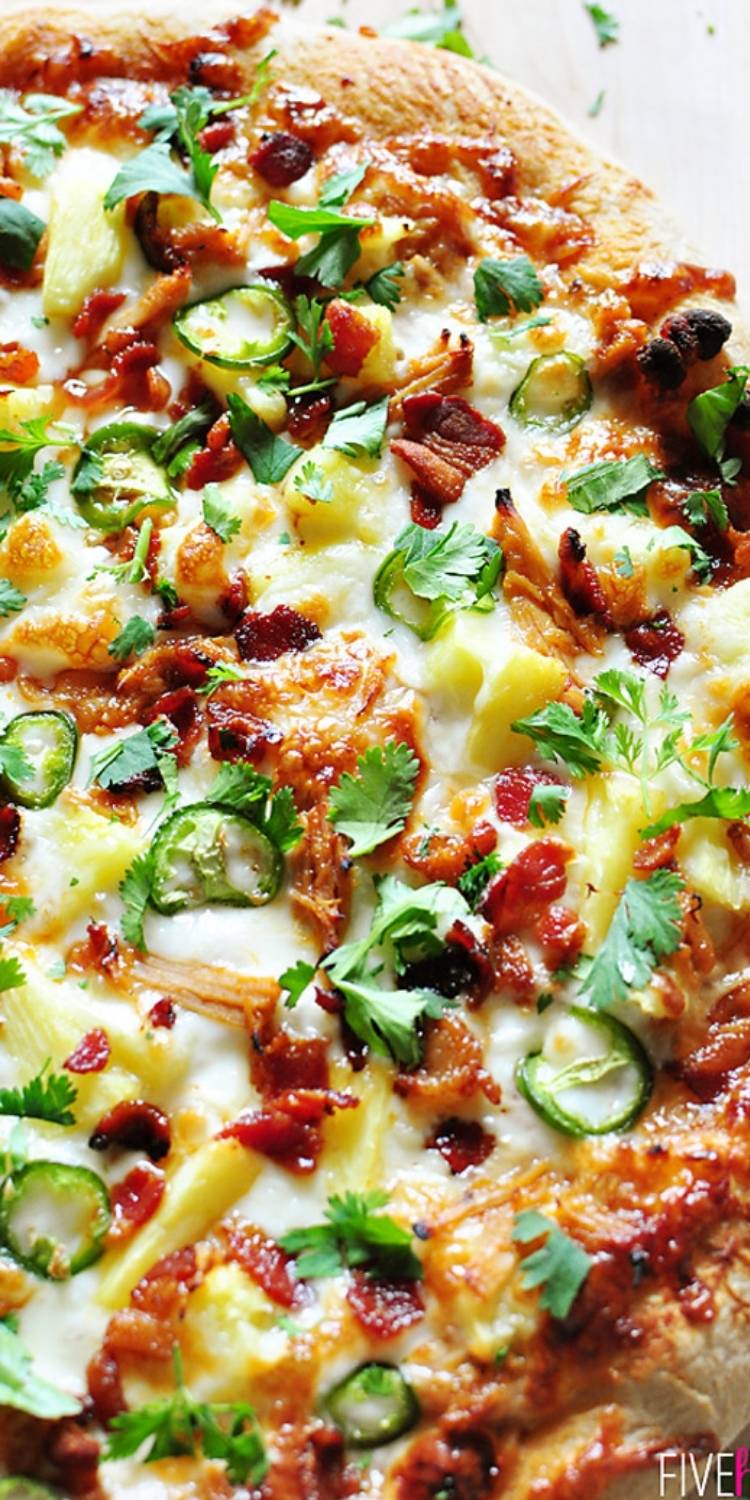 Source: Five Heart Home
3. Classic Tomato & Cheese Pizza Toppings.
Do you love Insalata Caprese? (You know–those delectable layers of beefy tomatoes and fresh mozzarella cheese layered with fresh basil.)  Well imagine it with a crispy pizza dough slipped underneath all that fresh goodness and you've got yourself a Four Cheese Caprese Pizza! Your mouth will be watering over this tomato, basil and cheese classic pizza topping. Add some fennel or rosemary for a gourmet twist on this classic pizza topping.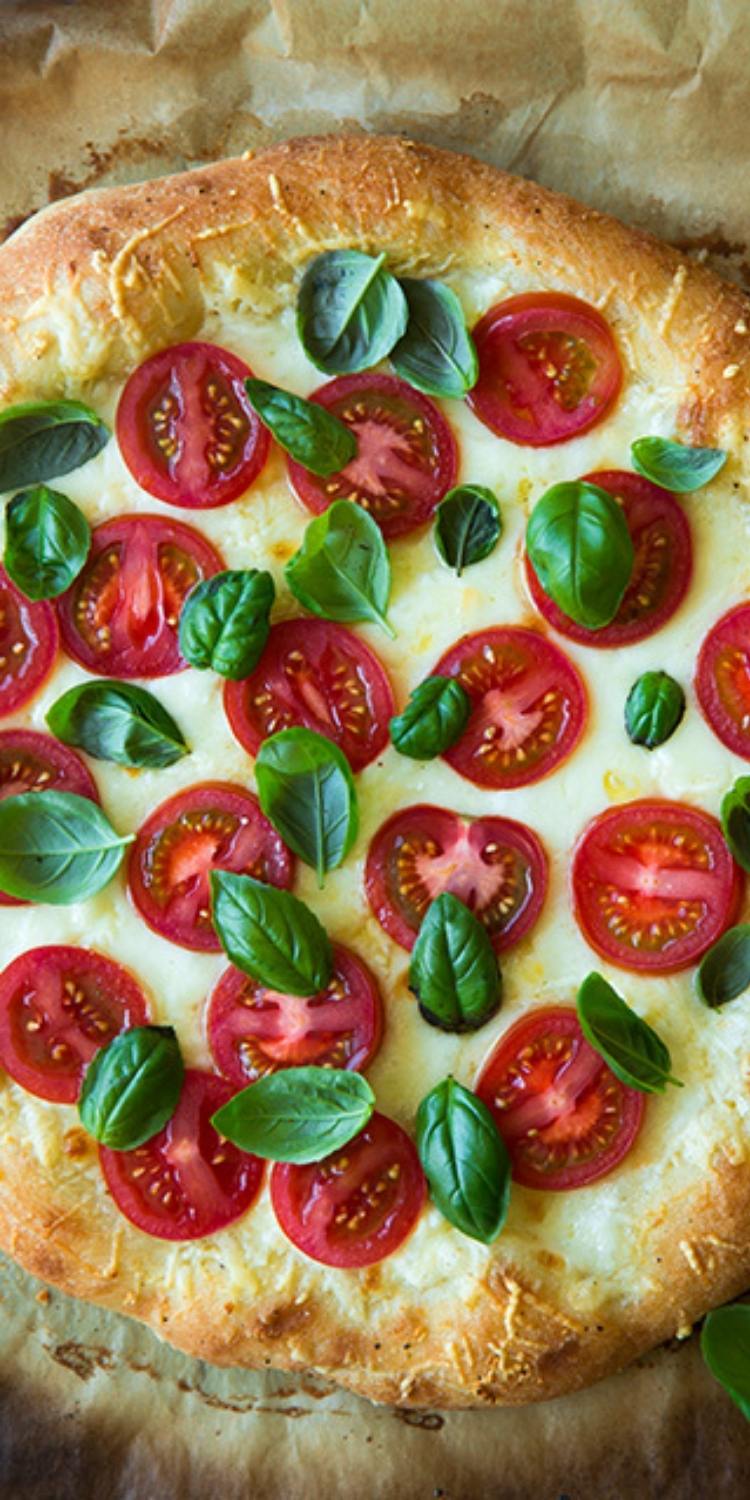 Source:  Cooking Classy
4. Sweet As Can Be Homemade Pizza Pie.
Who can say 'no' to pizza for dessert? Not many…especially if it's a Cinnamon Roll Pizza with its aromatic, warm spiciness and drizzled glaze on top. (It might even pass for breakfast… and be a real hit with the kids). This sweet pizza topping is sure to pair well with hot cocoa or coffee, too! You simply can't go wrong with this one. For a super quick & easy way to make this you would need:
Grab a tube of cinnamon rolls.
Open the can. Roll out the dough, and bake per the instructions.
Then top with the icing, cut and serve!
Enjoy!
Who says pizza doesn't come in a can ready to go?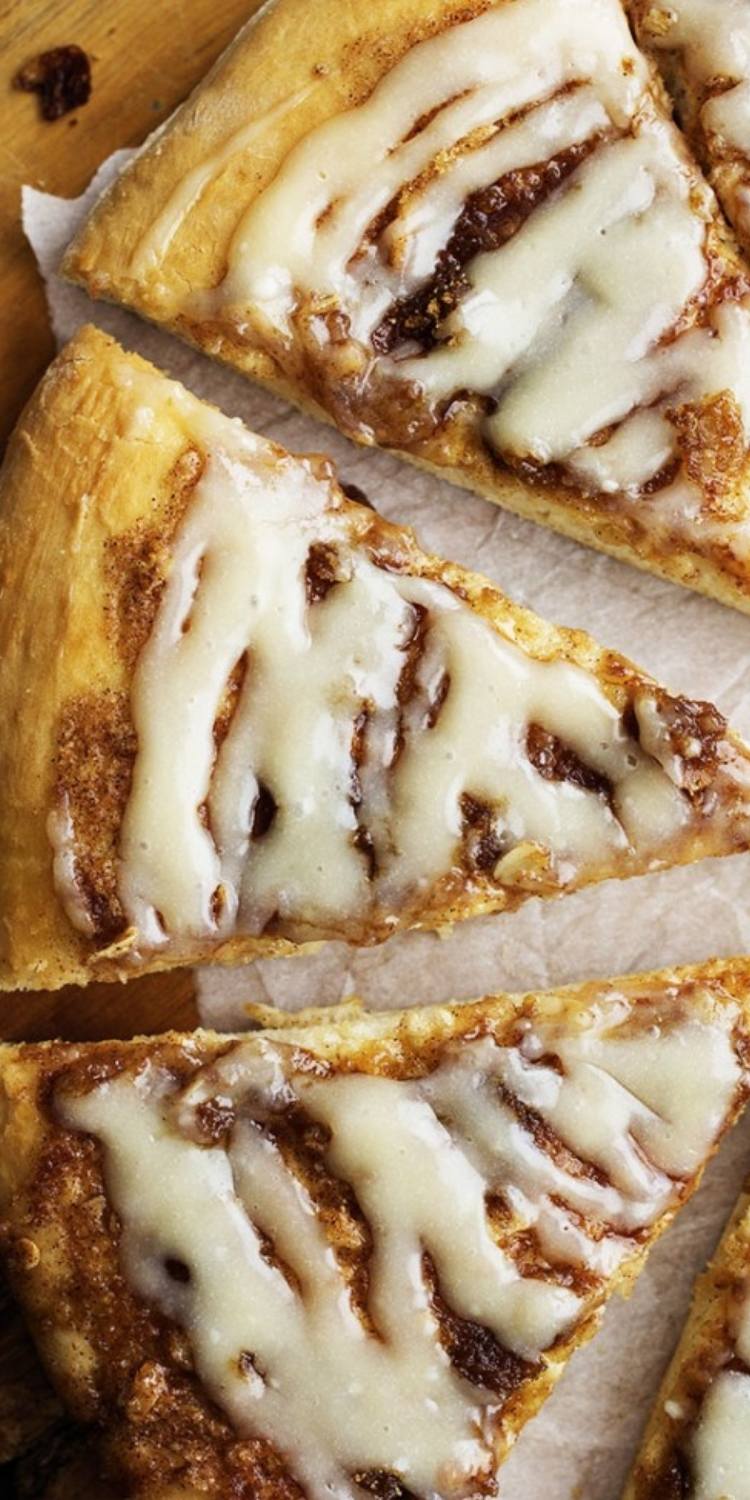 Source: The Recipe Critic
5. Pad Thai Gourmet Pizza.
Thai Chicken Pizza will satisfy your craving for sweet and spicy with its unique combination of chicken, peanuts and cilantro. Add the fresh crunch of slivered carrots and bean sprouts and this one can't help but be a winner. Can you think of a more unusual and yummy pizza topping? How much fun would it be to set this pizza up to top? Pad Thai pizza topping bar night should be on your monthly menu. Kick things up a level by pairing this with Thai Iced Tea and you've got a complete theme.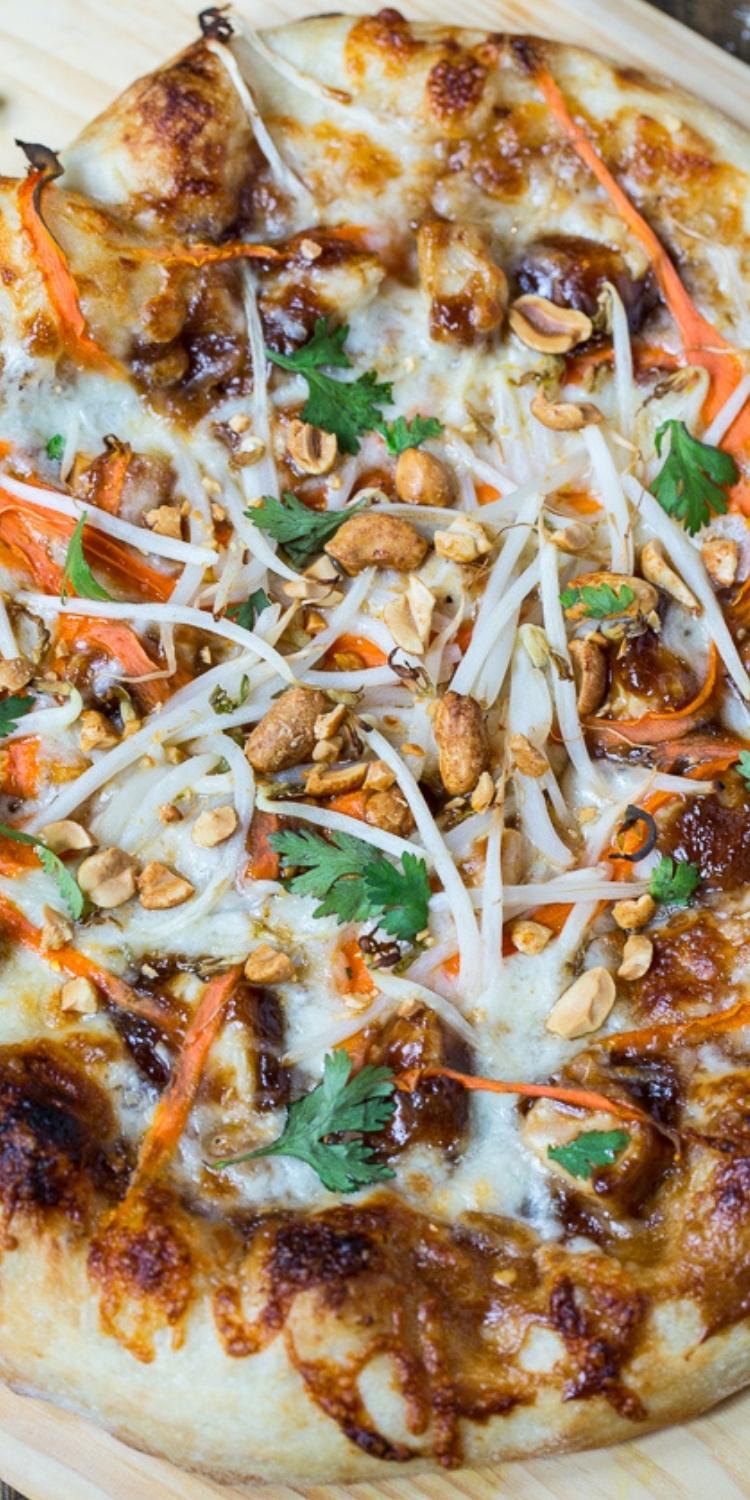 Source: Spicy Southern Kitchen
6. Unusual Artisan Forager Pizza Topping.
Earthy and rich, the Mushroom Pizza with Havarti Cheese Fresh Herbs and Truffle Oil tastes like a fancy meal and you won't miss the meat one bit! Mushrooms are known as the chicken of the forest and come in many unusual and yummy varieties. This is a must-try combination! You could even go mushroom hunting and then use the edible mushrooms you find to make this yummy pizza. What fun!
Source: A Beautiful Plate
7. Mix It Up With Garlic & Chicken Pizza Toppings.
The chicken may not be anything new, but this recipe for Roasted Garlic Chicken Pizza's got a lovely addition of creamy, roasted garlic. This easy-peasy recipe is a quick way to create a fun pizza topping in a pinch! Don't have fresh garlic on-hand? Use garlic powder or a pinch of garlic salt. Pair it with your favorite marinara. This one's destined to be a keeper.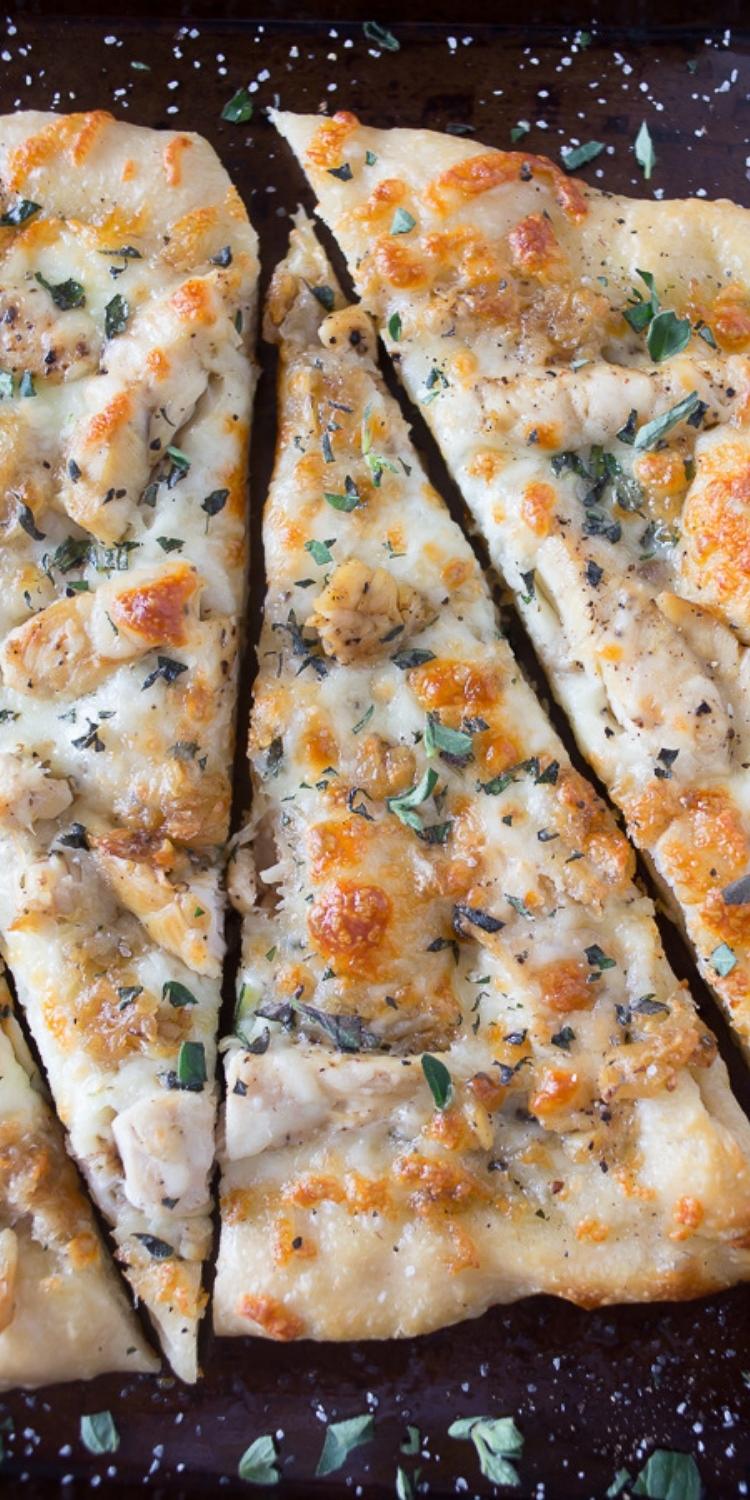 Source: Nutmeg Nanny
"My love is pizza shaped. Won't you have a slice? It's circular, so there's enough to go around." – Dora J. Arod
8. Sweet, Tangy & Surprisingly Delightful Pizza Topping Recipe.
Buffalo Chicken Pizza combines two favorites – hot wings and pizza…what could be more perfect? Delivering just the right amount of zing, serve this family pleaser drizzled with ranch dressing or on the side for dipping. And don't forget the napkins. Prep the chicken ahead of time for a quick and easy half-time dinner idea. Try replacing the buffalo sauce with sriracha sauce for an extra buzz!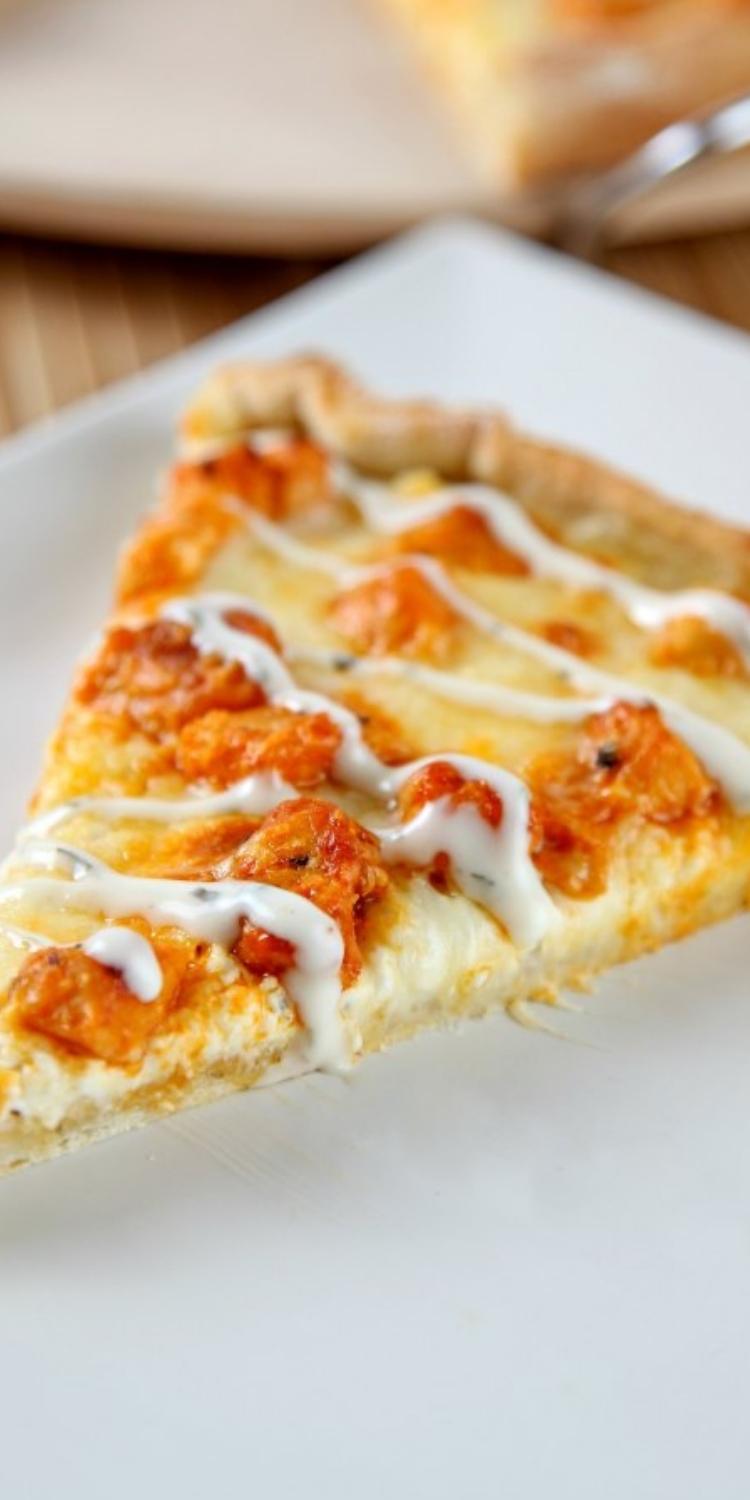 Source: Baking Beauty
9. Taste Of Home Pizza Topper Combo.
Until you've tried potatoes on a pizza, don't knock it! This Loaded-Baked-Potato-Pizza recipe yields a version of comfort food at its finest. Combine freshly sliced or grated mozzarella, with potato slices, bacon, and a sour-cream cheese sauce. Top with chopped scallions and you're all set! Support a locally owned farm by sourcing ingredients from a local farm. The farm-fresh pizza topping flavors will be even better with a local supplier.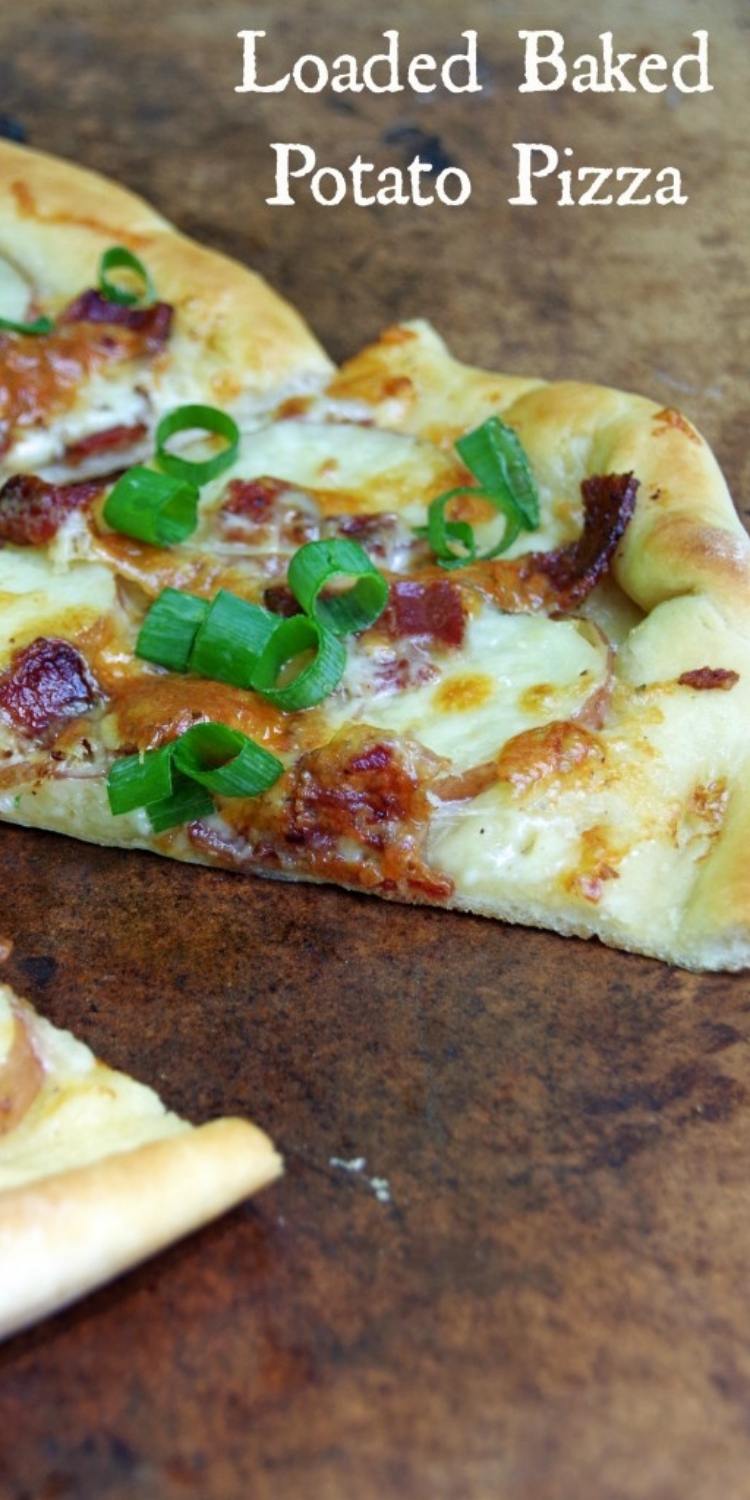 Source: Turning Back the Clock
10. Homestyle Flatbread Pizza at it's finest.
Bacon & Corn BBQ Chicken Pizza is not just for summer but anytime of the year…all the flavors of a terrific plate of BBQ on one perfect slice – how great is that? For a more intense flavor, roast the corn over a campfire. It doesn't get more fun than pizzas and campfires! Since you're already set up for roasting, s'mores will make the best dessert! For more chicken pizza ideas check out this post!
Source: Baked by Rachel
11. Most Unusual & Fancy Classic Pizza Combination.
This amazing combination feels like it was inspired by a book. Finished with a drizzle of Balsamic vinegar, the Fig and Prosciutto Pizza is sophisticated without being fussy. You'll wonder why you waited to try it! There's simply no easier way to be fancy, than with a good pizza like this. Make it even more interesting with a side of dark chocolate.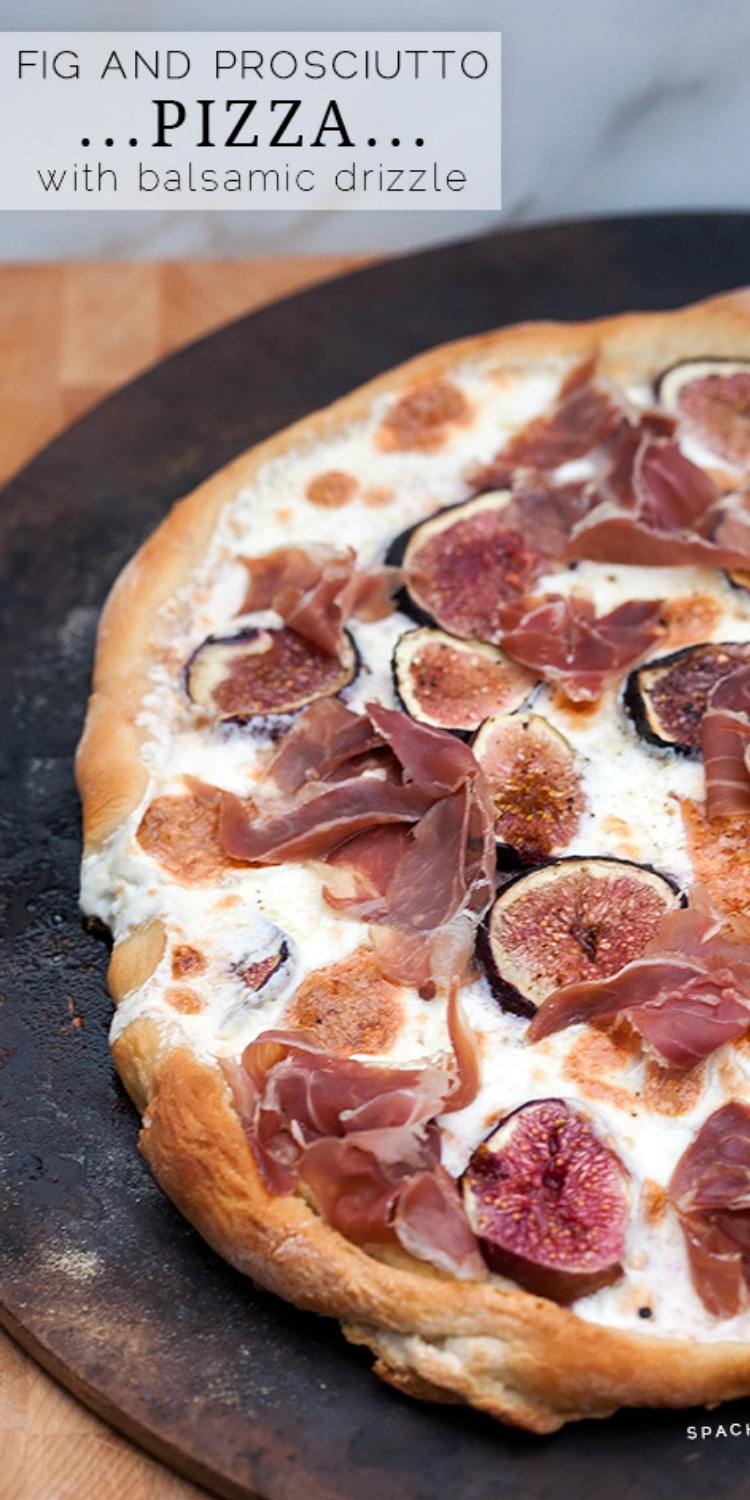 Source: Spache the Spatula
12. Shrimp Scampi Italian Gourmet Pizza.
Shrimp Scampi Pizza tastes just like the entrée it's named after. It's topped with a light garlic lemon sauce and mozzarella cheese that will keep you coming back for more. Pizza crust is such a great idea for when you need a break from pasta. This would make the perfect pre-prom or back-yard date night pizza!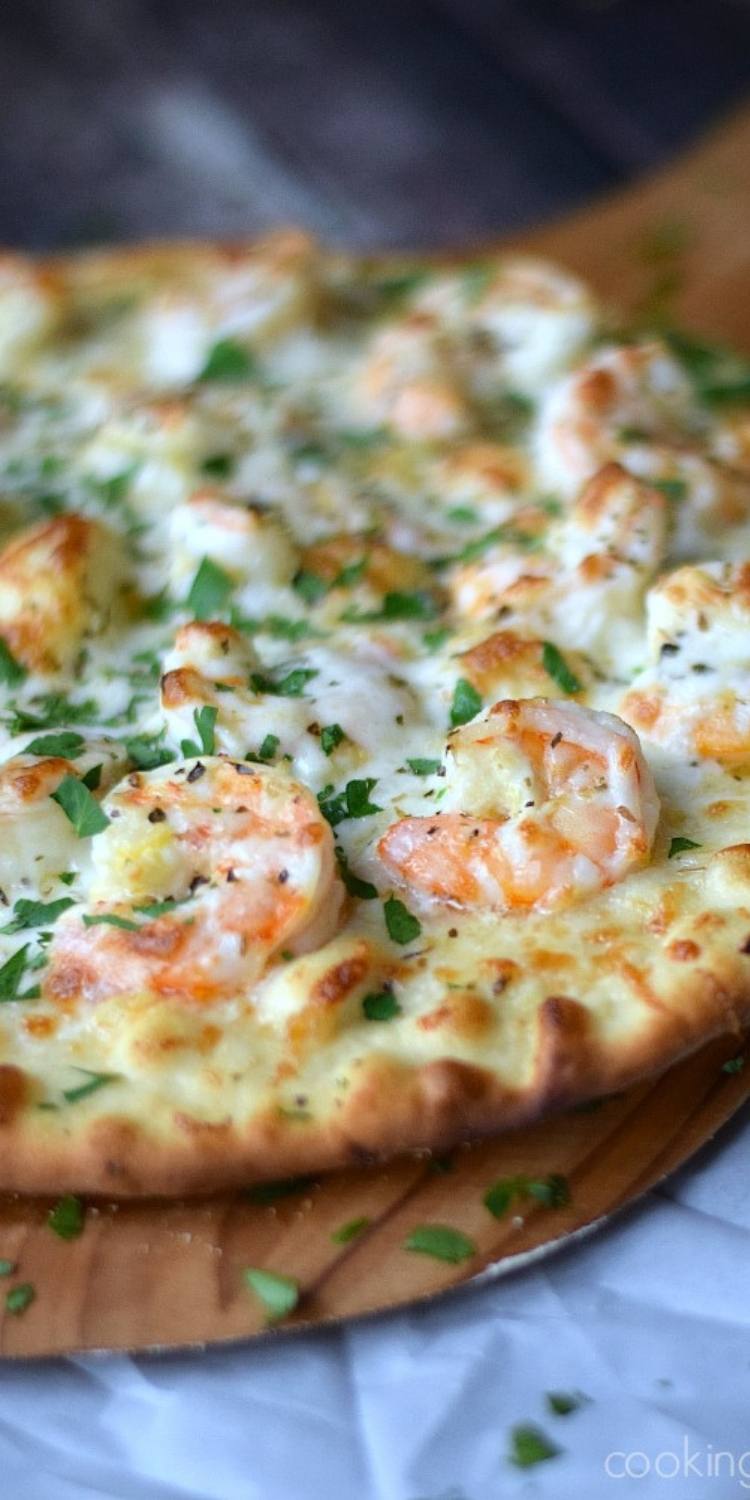 Source: Cooking with Curls
13. The Best Greek Pizza Recipe.
Decidedly unique and refreshing, we predict that this Greek Pizza will quickly become one of your favorites. This is a perfect summer day pizza. A tasty mix of mozzarella, Greek olives, red onions and tomatoes top this pizza. Colorful and crunchy, it will always hit the spot!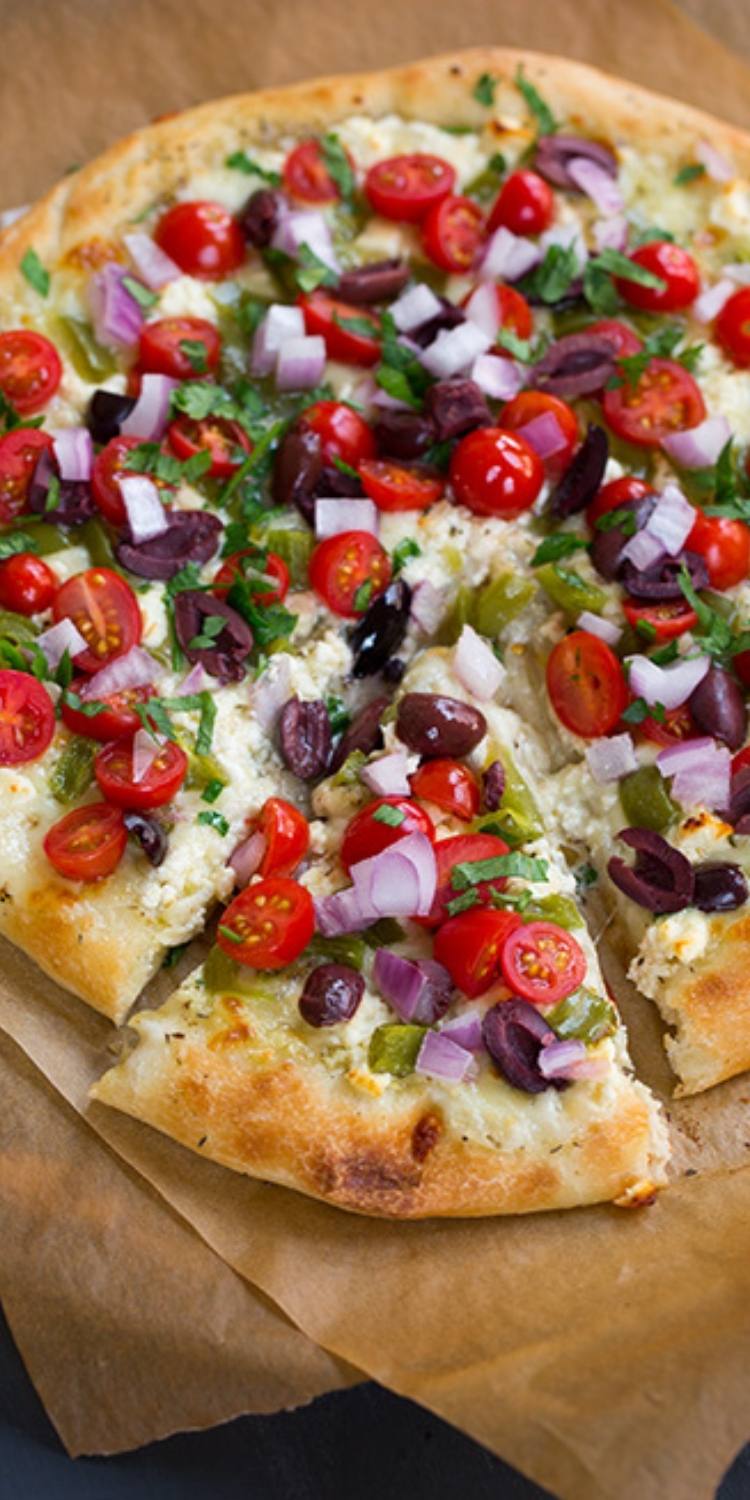 Source: Cooking Classy
14. Easy Cheesy Bacon Burger Pizza Topping Ideas.
Pickles on pizza? Just hear me out. After-all, it's a Bacon Cheeseburger Pizza…does it get any better? Right down to the pickle slices, you'll enjoy this recipe at least as much as you do its namesake! You will love pairing it with a yummy dipping sauce like ranch or ketchup. This is sure to be a new family favorite.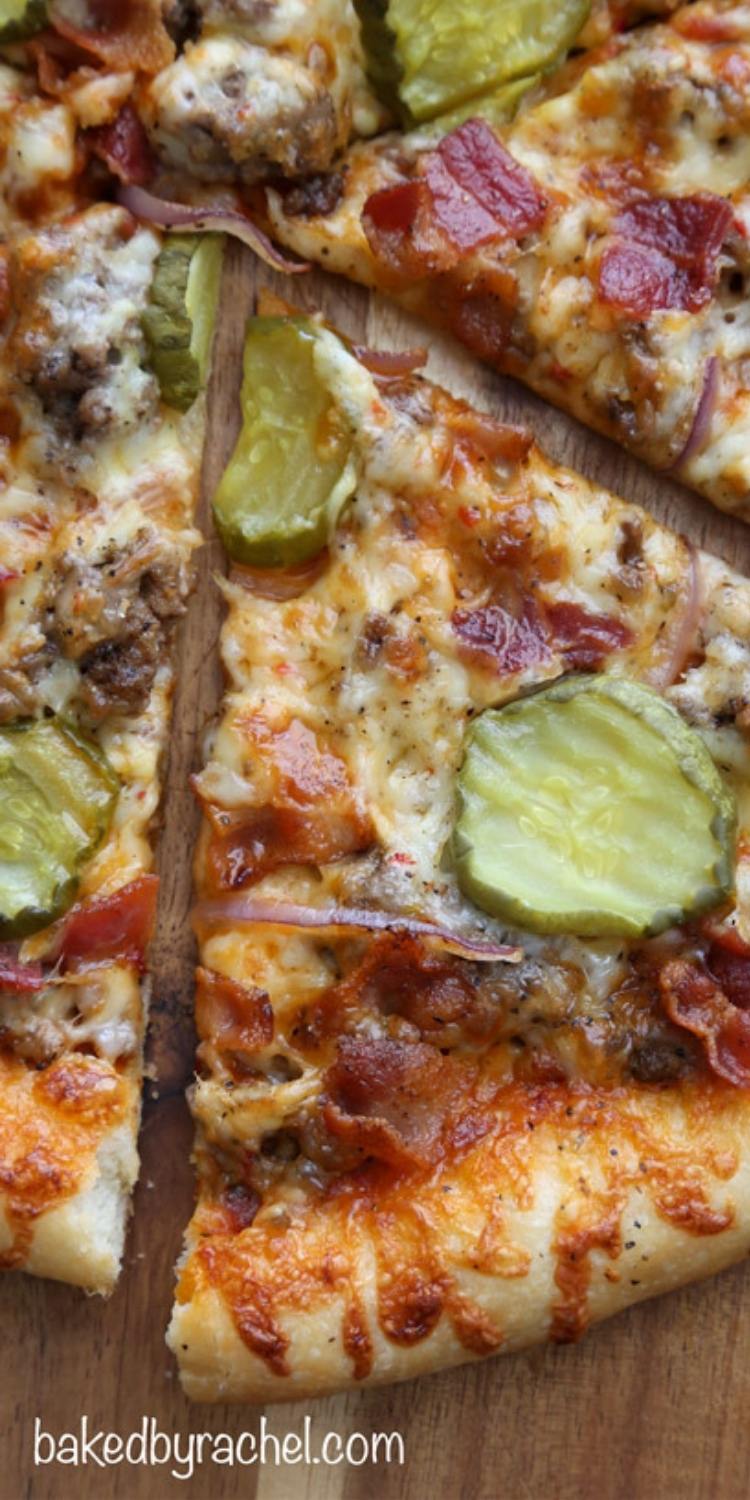 Source: Baked by Rachel
15. Gourmet Bacon & Spinach Pizza Toppings.
You had me at bacon…but pile on caramelized onions and this recipe for Caramelized Onion, Bacon and Spinach Pizza will have your mouth watering and your eyes popping! (Not  to mention your taste buds singing…). This is just the pizza you need when you want to feel a bit fancy. Dress it up even more by adding mushrooms or chicken. Or if you need a vegan option, leave off all the meat and use a vegan cheese.
Source:  Cooking Classy
The Best Unusual & Yummy Pizza Topping Ideas to Help You Find Your New Favorite Pizza
Turning your favorite dish into a pizza is easier than you think. To create an unusual and yummy pizza you really want to use flavors that contrast and compliment each other. It's really about creating a well-balanced flavor profile. We know you're inspired, now. So why settle for delivery pizza when you're armed with this list of the best pizza toppings to inspire you at home? Each one is enticing enough to make you feel like you've had a real break from the ordinary…enjoy!
Want More Food Hacks? Check Out These Fun Foodie Posts: