Pottery Barn has gorgeous stuff for the home, but if we're being honest, sometimes the items are out of our budget. Like, way out of our budget. So what's a girl who's strapped for cash going to do? Make one of these Pottery Barn hacks, of course. They look just as beautiful as the name-brand furnishings, but if you're not afraid of a little DIY, you can make them for a fraction of the price. Let's get a look at these ideas that are worth saving every penny for and give your home very good furnish.
Pottery Barn Hacks and Knock-Offs
1. DIY Pottery Barn Blanket Ladder
You can make your own blanket ladder for around $5 whereas the PB item is over $200. Unbelievable! The original amount sounds way beyond what you'd imagine for this simple tool. All you need for your DIY blanket ladder are a few appliances that you can easily get in your local store.
2. Pottery Barn Crate Dresser DIY
Working with wood and pallets is an exciting idea that makes me super energized to do it. One such thing to design is a crate dresser a great way to hide toys, as Pottery Barn no longer carries theirs. You don't have to worry though coz you can simply make yours by using crates that are easily available and voila! Your kids will have their own toy storage unit. And there is more functionality for this piece if at all you need it for yourself as an adult.
3. Coffee Table Pottery Barn Hack
Have you come across a table that was just meant to be in your space? This is that table. This knock-off coffee table offers not only a rustic aesthetic but also plenty of room for storage and can be built for around $100. It's a gorgeous piece to add to your living room or den.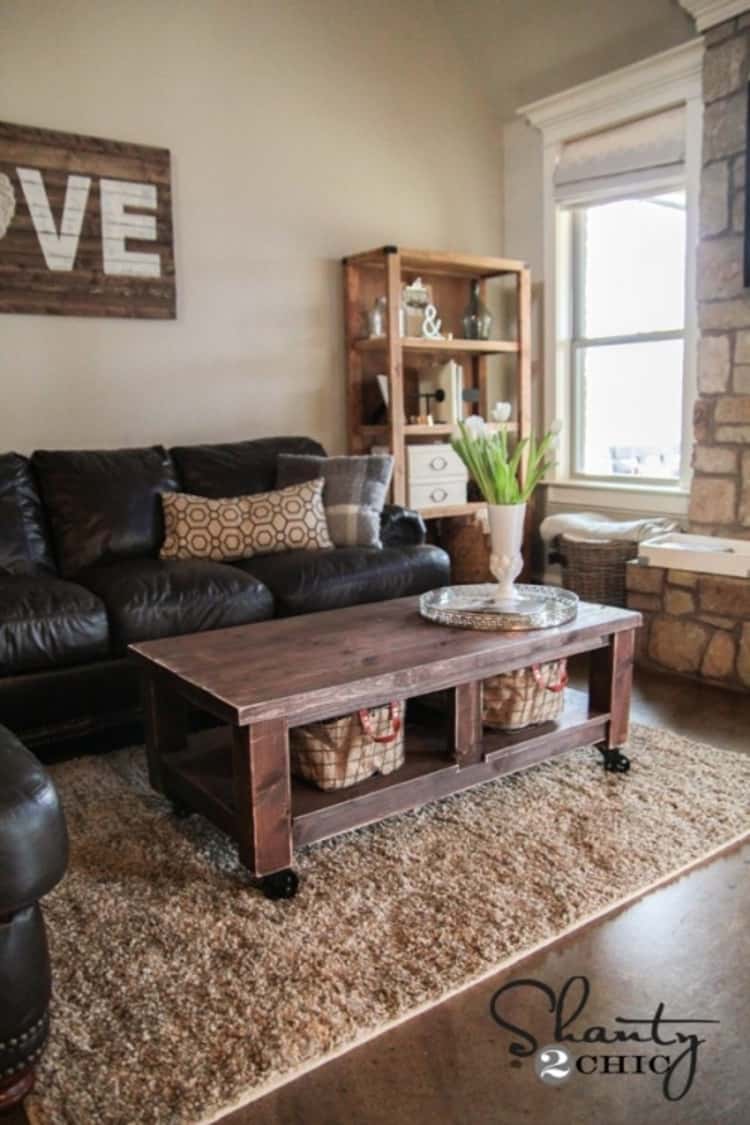 4.  Storage Crates Pottery Barn Inspired
I love the look of wood and canvas together, and these Pottery Barn Hack-inspired storage crates are even better than the store version. They're bigger, so they're perfect for storing blankets, pillows, toys, etc. Additionally, they don't have to occupy much space as they can be placed underneath your classic tables. What an easy project to be involved in!
5. Lockers DIY Pottery Barn Hack
Brace yourself for this wowing idea that is pottery barn-inspired and needs just a few bucks from you. Lockers are a genius idea for the mudroom or garage, and you can make them yourself. Here's an example that looks lovely. Aren't you jealous of all that storage space? A few tools and wood and this is what you'll get for your boys around the house.
6. Knock Off Pottery Barn Table Hack
Outdoor setups are among my favorite hangout ideas. They can be yours too. Simply create a super-stylish outdoor table for entertaining on your deck or patio at a fraction of the cost. Isn't the outlook just inviting! I can already picture my family enjoying a barbeque moment around it.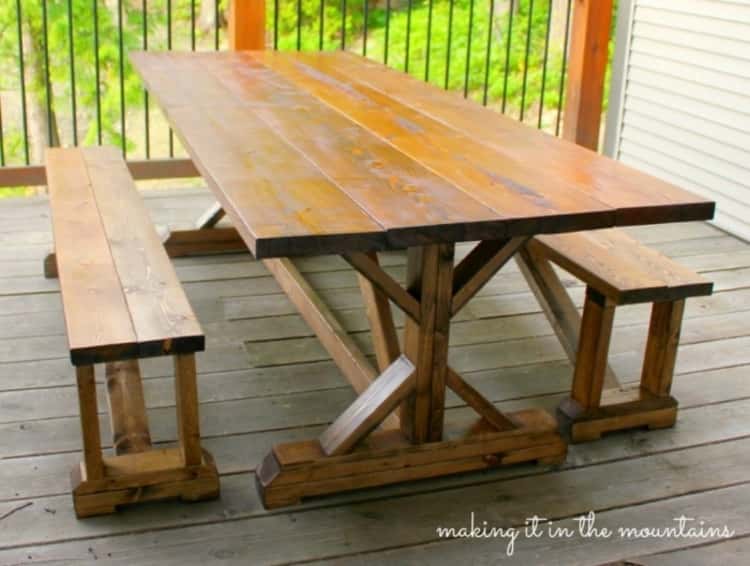 7. DIY Outside Side Table
Another Pottery Barn table idea is a side table for your outdoor hangouts. Make an outdoor side table for your seating area. Add a potted plant or two to make it look even more fabulous. Your hangout spot got a whole lot better as you enjoy a breeze and read a book sipping from a glass of champagne.
8. Pottery Barn Knock-Off Clock
I'm slightly obsessed with DIY clocks lately, so obviously I fell in love with this Pottery Barn knock-off clock pictured below as soon as I saw it. I found another one here. Big… rustic… *swoon*! I had to figure out a way to make my own though on a budget. It didn't disappoint at all. The old school Texas look is all I can see from the clock and having that I can make my own is so much exciting.
9. Jewelry Holder
Need something to store your earrings and neckpieces? This PB-inspired jewelry holder is so close to the original. Your jewelry won't tangle up as you can easily retrieve them as you hang them.  What a great job!  Then it is not as plain coz you can have some metal additions to it.
10. Pottery Barn Roman Numeral Art Hack
Roman numeral art makes a great addition to a console table or mantle, and you can get the look for around $10. It uniquely looks artistic placed right beside the picture frame. Plus it is a simple DIY to add to your art collection. The clock emphasizes the roman numeral art and the black and white colors are syncs with each other.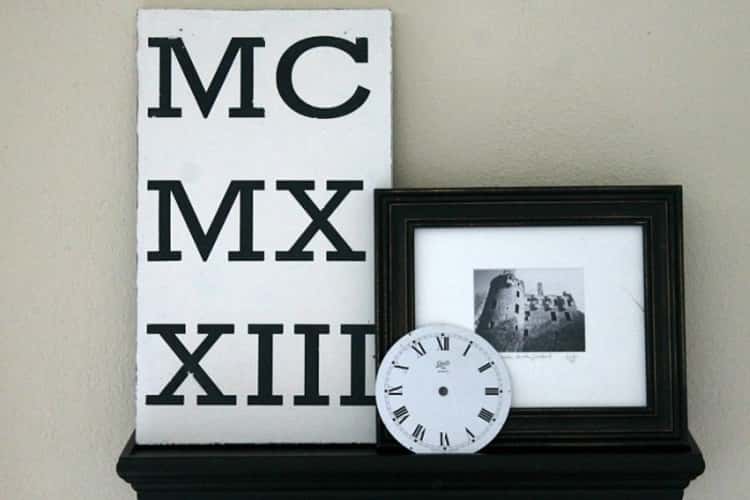 11. Pottery Barn DIY Nightstands
You'd never think that these DIY nightstands started off as tv trays. Wow! And you can actually build yours at a friendly budget given pottery barns ones are so damn expensive. I am so in love with this particular one and the color is so appealing.
12.  DIY PB Inspired Chelsea Nightstands
Another nightstand idea is here and I can't keep calm. These DIY Chelsea nightstands will make you want to bust out your tools immediately. They're so chic. And come with a storage unit as an additional package for your books. Oh my! I totally need this for my room.
13. Fabric-Covered Letters
Make fabric-covered letters for your kids' rooms super cheap by purchasing wooden letters at a crafts store (with a coupon, of course) and covering them in fabric yourself. Get crafty with your kids and enjoy while at it. Having your kids' names for their room is a project worth exploring and could use as many decorative colors as possible.
14. Pottery Barn Style Headboard
Dress up your bed with a DIY Pottery Barn Headboard. This rustic look is all you need for those cozy nights and for your bedroom to look super classic. It is easy to come up with your own customization of the headboard you want. The design and color of the item.
15. Pottery Barn Desk Hack
This lady hacked the IKEA Rast Dresser to recreate Pottery Barn's Ludlow Trunk Secretary Desk. Isn't it stunning? Plus it has that industrial rustic look that leaves you wanting to just own it. Your flower vase makes this a better outlook.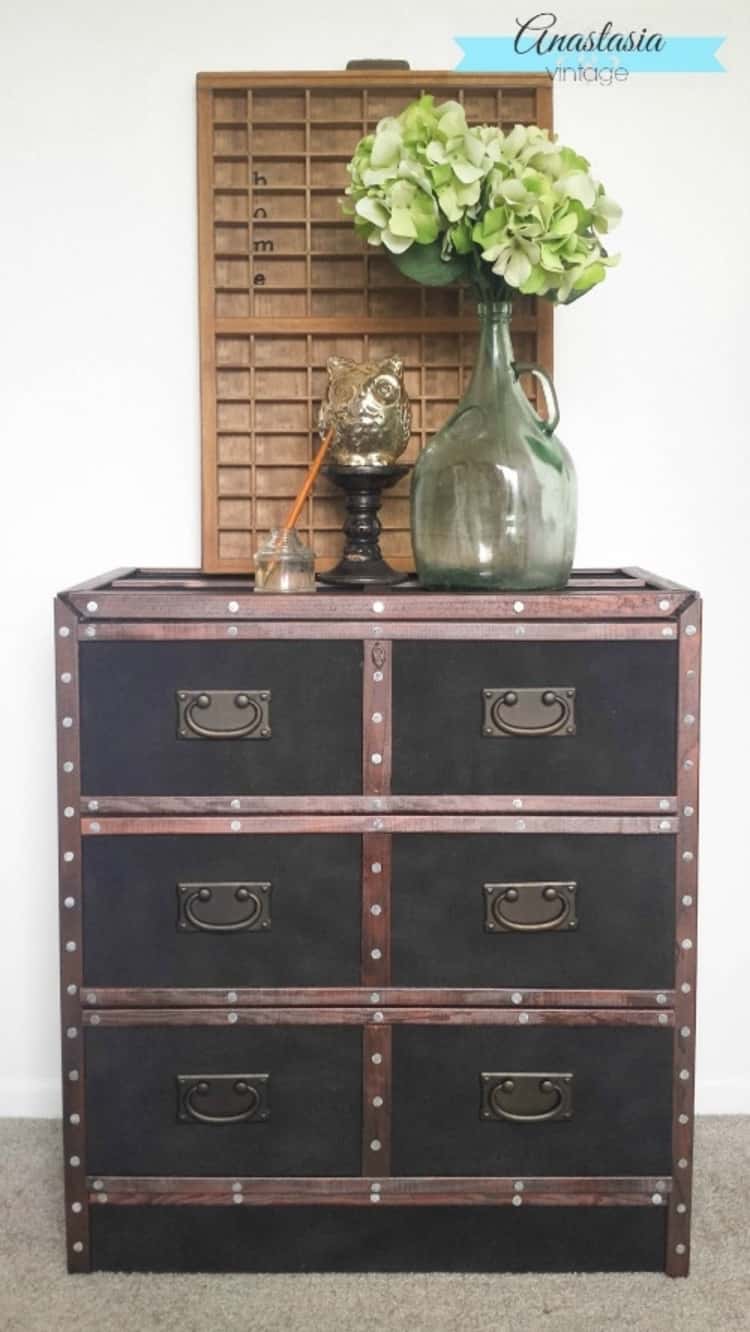 16. Black Pottery Barn Console Table Hack
My living space can't wait to look this beautiful. This interesting Pottery Barn black furniture look can be achieved with any piece you have. Great tips! And adding the vignette kind of look to it is the ultimate beauty of the whole project. Black is the classic and a subtle color that your house needs.
17. PB Console Table
This DIY console table is a surprisingly accurate depiction of the Griffin Reclaimed Wood Console Table. You can't imagine its price in a pottery barn! Just take a guess and you can't even imagine the price. It is a whole $1099!! I am literally shaking just thinking this is metal and wood brought together to make a simple console and I can easily DIY.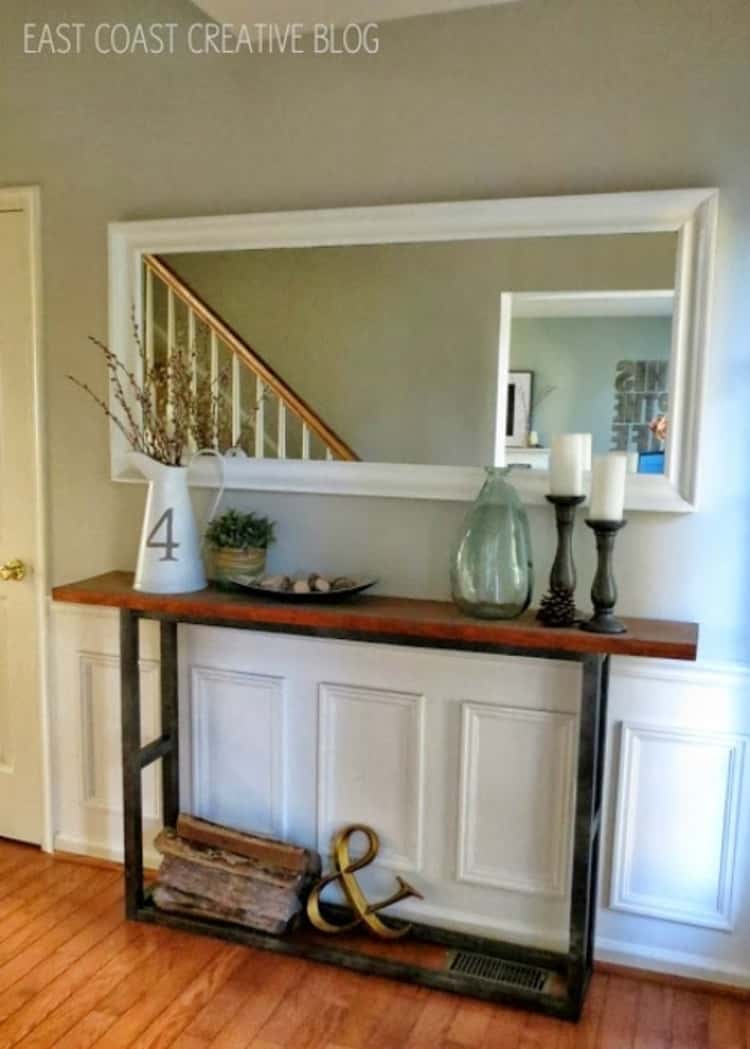 18. Fruit Crates PB DIY
Stackable fruit crates will make a beautiful addition to your kitchen. Love the chalkboard "labels", too, which you can change based on what type of fruit you buy. This a breezy project that need not give you a headache especially if you love furniture work. Colorful kitchen counters are a whole vibe. The fresh fleshy look will get you falling in love with this idea.
19. PB Inspired Rope-Wrapped Mirror
Rope mirrors are easy to make with just about any mirror you have. And they add a nice touch to nautical or beachy décor. You can make two to three of these mirrors and use them as your home embellishment. This touch of rusty versus modern makes it look far much classic.
20. Ruler Growth PB Chart
You'll want to keep this ruler growth chart forever. It'll be a sweet memento of your kids' growth as they get older. It also acts like something out of the ordinary home décor. I remember having such a thing while growing up with my siblings and we could all be so happy knowing we were growing taller. My kids have to enjoy that beauty.
21. Pottery Bar Kids Oar Décor Hack
Here's another fun piece for the kids: oar décor! Who could have thought that having an oar décor makes a pretty beautiful space? What a fun, whimsical touch to a nautical-themed room. Then the exciting bit to it is that you paint it according to your liking.
22. Pottery Barn Scented Home
Finally, do you want to make your home smell like a pottery barn? Simmer some lemon, rosemary, and vanilla in a pot. Mmm, I can smell it now! Your home will have a welcoming scent to everyone that visits. This scent lasts for a while and you can do the simmering as often as you can.
As we evolve, our homes should, too. – Suzanne Tucker
If you enjoyed these Pottery Barn Hacks, you may also like: