Is your rice cooker collecting dust because you only pull it out when you want rice? Well, dust it off, and get ready for a kick to your taste buds. We've found 17 delicious rice cooker recipes you need to try right now. You'll love these easy meals just as much as we do.
Rice Cooker Recipes You Can Try
1. Delicious Breakfast Rice Cooker Recipe
Old fashioned, honey nut steel-cut oats are delicious when made in the rice cooker. And the best part is that you don't need a recipe for this – just dump your chosen grains in the rice cooker to make that delicious and filling breakfast to start your day.
But since the recipe is available, why not share it with you?
You'll need:
1 cup steel-cut oats

1 cup

quick-cooking oatmeal or rolled oats

1/2 cup

dry light bulgur

3 1/2 cups

 water
pinch of salt

1/2 teaspoon

 cinnamon

1/2 cup

 milk
Toppings – honey, banana, sliced almonds, and flax, or your favorite toppings are.
To prepare:
Rinse the bulgur to wash away some of the starch and reduce cooking time. Once done, place the oats and bulgur in a rice cooker with water. Add the salt, cover, and allow it to cook until all the water is absorbed.
Check the oats and you may add more water, stir, and cook for another 5 minutes if they're too sticky or not soft enough.
Stir in the cinnamon, milk, and serve your honey nut steel-cut oats with your favorite toppings. Yum!
2. Easiest Dessert Rice Cooker Recipes
I don't about your home but at mine, speckled overripe bananas mean that I'm only a few minutes away from a banana cake. How about making a delicious, super moist chocolate banana cake for dessert using your abandoned rice cooker?
While I may want to assume we all have the ingredients at the tips of our fingers, it does no harm to share the ingredients for this particular chocolate banana cake.
Ingredients:
2 cups flour
3/4 cup good quality cocoa
1/2 teaspoon salt
1/2 teaspoon baking soda
2 teaspoon baking powder
1/2 cup butter
1 1/2 cups sugar
2 eggs
2 tsp vanilla extract
1/4 cup vegetable oil
1 1/4 cups mashed banana
3/4 cup milk
1 tablespoon lemon juice
Procedure
Sift together your dry ingredients and set aside – flour, cocoa, salt, baking powder, and baking soda.
Cream the butter, sugar, and vanilla until light and fluffy.
Add the eggs, one at a time, and beat well after each addition.
Incorporate in the banana and vegetable oil.
Sour the milk by adding lemon juice to it.
Fold your dry ingredients into the banana mixture, alternately with the soured milk. Always begin and end with the dry ingredients.
Pour your batter into your rice cooker and hit the Cake function. Your chocolate banana cake should be ready in about 45-50 minutes.
Cool your cake completely before frosting.
3. Easy Rice Cooker Mac And Cheese Recipe
Homemade mac and cheese is now easier than fixing the boxed kind when you use a rice cooker.
In your rice cooker, combine your macaroni, broth, and cream, and press Cook. You'll be stirring occasionally, and when your rice cooker switches mode to Keep Warm, add in the cheese and stir until all the cheese melts. Press on Cook again and as soon as it changes back to Keep Warm, your easy rice cooker homemade mac and cheese is ready to serve. Enjoy!
4. The Best Of Rice Cooker Chicken Recipes
Can making dinner ever get easier than making your chicken and rice together in a one-pot meal?
Marinate your chicken overnight and then sit it on top of the rice in the rice cooker. If you want, throw in your vegetables of choice under the chicken in the rice and your meal should be ready in 45 minutes. How phenomenal does this rice cooker chicken look?
5. Use Your Rice Cooker For Filling Breakfast Recipes
When scrambled and toast eggs become too boring, get more use out of your idle rice cooker by making a frittata.
A filling frittata is just what you need when you're craving a hot breakfast, but this particular one is so filling it might as well serve for brunch. And for those who have a leftover problem, they will be a thing of the past once you make this rice cooker breakfast/brunch recipe.
6. Wake Up To Some Easy Cheesy Rice Cooker Recipe
Ready for some southern comfort food? Make a batch of sausage and grits in the slow cooker.
Want in on a secret? This rice cooker recipe is so amazing that even for someone who's never cooked grits before, the White Rice setting on your rice cooker will let you know when your grits are done!
All you need to do after the grits are cooked is throw in the rest of your ingredients – butter, cooked sausage, milk, and eggs – give them a stir, and do 2 rounds of Quick Cook to end up with this easy cheesy comfort food even without turning on the oven.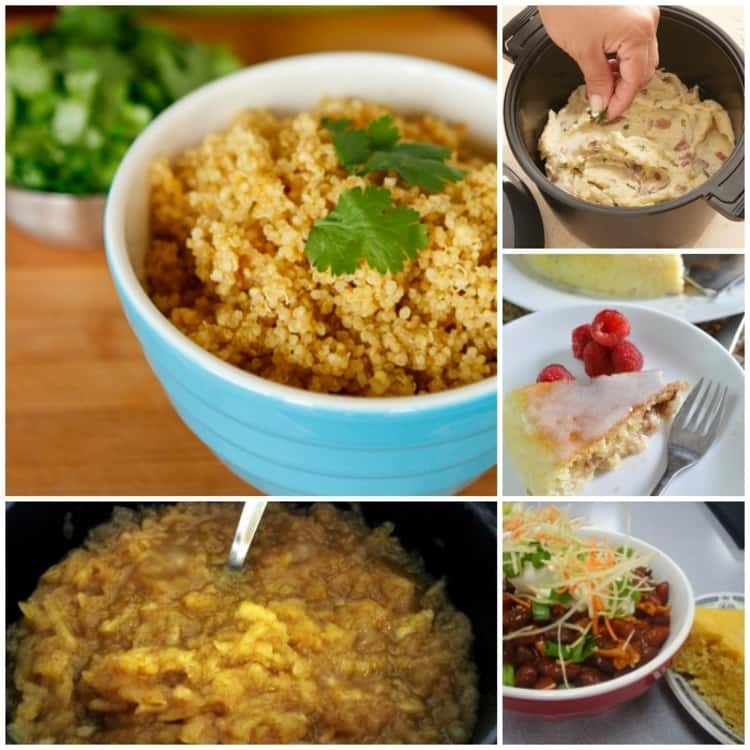 Surprising Rice Cooker Recipes
7. Care For Some Healthy Rice Cooker Recipes?
And this one doesn't involve any rice but the healthier alternative, quinoa. If you're planning on serving quinoa as a side dish with dinner, you can't beat this hands-off method.
Just like you'd make regular rice in your rice cooker, mix quinoa, your liquid of choice to flavor it, and some salt in the rice cooker. Set it on Quick Cook and your side will be done in about 30 minutes. I'd say this recipe leaves you plenty of time to prepare the rest of your dinner.
8. How About Trying This  2-In-1 Rice Cooker Recipe?
Craving cinnamon rolls? Or pancakes? You can have the best of both worlds by making this thick, delicious cinnamon roll pancake in the rice cooker. So easy!
And it's that simple – have your pancake layer at the bottom and the cinnamon mixture right on top of it, and Cook.
9. Fresh Homemade Mashed Potatoes From Rice Cooker Recipes?
It's so possible, and it gets better. Making mashed potatoes in your rice cooker takes less than half the time it does usually. Trust us on this, because making mashed potatoes has never been easier!
Place your potatoes and enough water to cover them in your rice cooker. Cover and microwave on high until the potatoes are done and tender. Remove the inner lid, drain the water, add milk and mash your potatoes. Don't forget to season your mashed potatoes and enjoy!
10. Got Any Rice Cooker Recipes That Will Be A Hit With The Kids?
Now you do because you're about to make this warm cinnamon applesauce that also leaves your kitchen smelling amazing. Grated apples, sugar, butter, apple cider, and cinnamon in your rice cooker cooking for about 30 minutes is all it takes to get this wonderful kid-friendly snack.
11. How About Quick & Flavourful Rice Cooker Recipes?
You can get that too especially if you want a super easy dinner that still delivers huge flavor. Just prepare chili AND cornbread in your rice cooker.
No worries if you never get your oven temps right – this cornbread recipe is super easy, you couldn't mess it up even if you tried to. And the chili will be done in 40 minutes, prep time included. Talk about a quick dinner!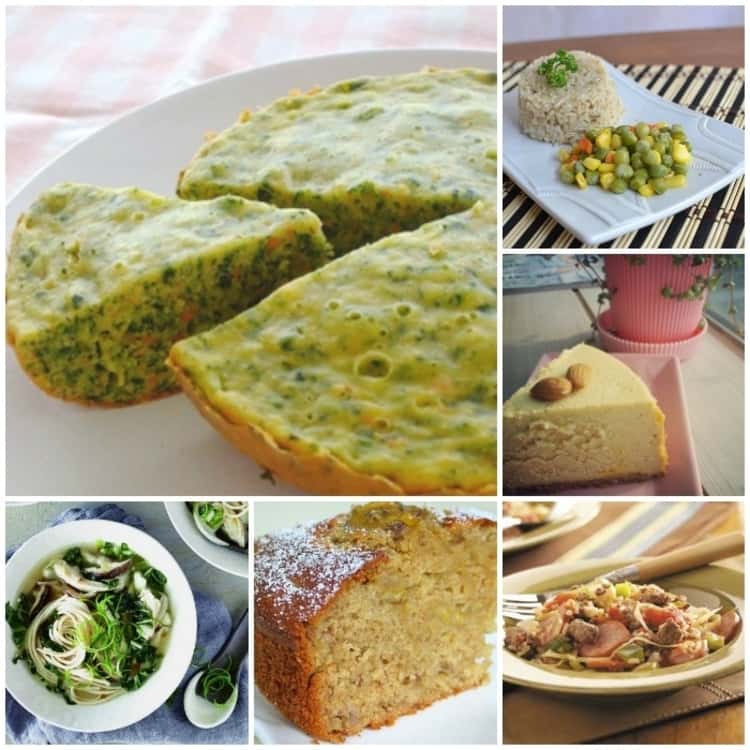 Here's A Couple More Rice Cooker Recipes
12. Making Cake In A Rice Cooker – Sweet!
Make a scrumptious pumpkin cheesecake in your rice cooker this fall. This super moist and decadent treat is probably the easiest 'baking' you'll ever do. No need to grease the bowl, worry about temperature or clean up a whole mess. You'd be surprised how easy it is to whip up this cheesy dessert!
13. Looking For Rice Cooker Recipes To Make Guests Come Back For More? Look No Further!
Banana bread is a favorite in our house. Probably is a favorite everywhere but anyways. I love how banana bread allows me to use my overripe bananas and is VERY forgiving. It is very difficult to mess this recipe up.
I'd probably add some walnuts to this recipe, but that's just me. You can personalize this recipe and make numerous variations of it without messing it up.
14. A Noodle Soup Rice Cooker Recipe You Must Try
Chicken miso soup will warm you up when it's cold outside. It is comfort food that is so easy to make and there's only one pot to clean! This dish takes under 25 minutes to make and is an amazing takeout substitute if you ask me.
15. Don't We Love Rice Cooker Recipes Where We Don't Have To Stand Over The Stove?
When you have to bathe the kids, help them with homework, finish up on a work project and spend quality time with a loved time, standing over the stove while making dinner for 2 hours is not something you want to be doing. This Meaty cabbage and rice is a hearty meal that you can whip up without standing over the stove.
16. Get Kids To Eat Veggies With This Quick Rice Cooker Recipe
Want your kids to eat their veggies? Put a veggie hotcake on the table! Be careful not to start a fight over this hotcake – yes, it is that good!
You just need to prepare the veggies you like – this recipe uses whichever vegetables you want, toss them inside the rice cooker bowl, mix and cook! What a creative way to eat boring vegetables!
17. This Rice Cooker Recipe Makes For A Great Healthy Lunch
Cook lentils and rice together for an easy and healthy lunch. Brown rice and lentils are both nutritious and easy to prepare meals that require little attention or expertise to make. The best part is that you can make them together in a rice cooker. Double the nutrients, half the hassle!
Loved trying out any of these rice cooker recipes? Here are more recipes you may want to give a go: