Are you having shoe problems? Whether it's shoes that are too tight, a little bit funky because of summer weather or in need of a bit of sprucing up, we've got you covered. Here are 16 shoe hacks that every girl needs to know to get the most out of her footwear.
Break in your shoes in just a couple of minutes. Put on socks, slip on your shoes and blow dry the shoes while wiggling your feet. Leave them on until the shoes are cool. Easy peasy!
via Coffee Light and Sweet
Prevent blisters with a dab of deodorant. Rub it along the sides and back of your feet before sliding on your shoes. It'll reduce the friction between your foot and the shoe, and hopefully, at the end of the day, your feet will be blister free.
via XO Jane
Use starch as a stain blocker for white sneakers (or the white parts on colored sneakers). If they do get dirty, use toothpaste to clean the white parts of your shoes.
via Real Simple
Put anti-slip tape (or duct tape) on the bottoms of slippery flats or heels. No one looks fabulous during a fall.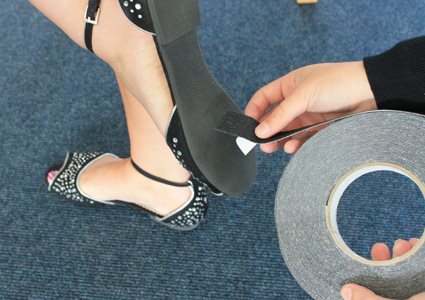 via Directa
Cooking oil makes a fine shoe polish in a pinch. Be careful not to get any on the bottoms! And do be careful of brown leather shoes… it can stain or darken them.
via Real Simple
Use Windex to clean and shine patent leather shoes. It works like a charm!
via The Krazy Coupon Lady
Make wedges a little more fabulous with some pretty crystals.
via Temptalia
Use sandpaper to make shoes less slippery. Rub the bottoms with a 50-grit sandpaper to create texture and traction.
via Wikihow
If you have a pair of rubber boots that are looking a little haggard but are still comfy and functional, give them a makeover with spray paint!
via At Home in the Northwest
Use an emery board to remove stains from suede shoes. Just rub the board over the problem spot a few times and adjust the nap when you're finished.
via Real Simple
Spiff up dull shoes with crumpled-up black and white newspaper pages. You don't even need polish!
via Good Housekeeping
Want to DIY some colored soles? Clean them with rubbing alcohol first, and then paint them with nail polish. Simple and pretty!
via Fashion Lush
If your shoes smell funky (especially in the summer when going sockless), slide a coffee filter into them and fill the filter with baking soda. They'll smell much better in the morning!
via Dappered
Put cornstarch (or talcum powder) on suede shoes to remove grease stains.
via eHow
Waterproof your canvas flats (or any shoes, really) with beeswax. Here's how.
via Amazing Beautiful World