Do you have an Instant Pot? They are all the rage!! I just started dipping my toes into the pool of Instant Pot recipes. There is so much you can do with these! Here are some super useful Instant Pot accessories that you won't want to live without! They are easy to clean and they are eco-friendly. Because of their durability and heat resistance, your money is getting its worth. You will love the versatility of these handy tools, including a 5-star restaurant experience in the comfort of your home – check out  #8.
15 Super Useful Instant Pot Accessories
If you are like me then you have a house with kids who break things! This instant pot lid is dishwasher safe and can also be used on the stainless steel inner pot in the oven up to 220c. We love it. You can use this in place of the pressure lid when slow cooking.
It can never hurt to have an extra lid or two on hand, am I right?
I just adore my silicon accessories! This little kit has three great accessories that are perfect for use with your Instant Pot. You get 2 oven pinch mitts, one silicone trivet mat and a silicone lid.
This lid is kid-friendly and the kids can place it on the pot by placing the lid on the rim and then pressing gently. I love that this can be repurposed to work on fry pans, bowls and cups. Another way to use this lid is as a microwave cover. How cool and easier does this make your kitchen life? The material is easy to clean. You will need just a little soap and a sponge. Whether you are cooking or storing leftovers in the fridge, grab this silicone cover.
How cute are the pinch mitts? You can slip them on and off with ease! Do you see that ribbed element? This makes your grip hold better with slippery material. There are so many ways to use these heat-resistant mitts. They can make an appearance at the family barbeque on a summer day, use them when taking your hot dish out of the microwave and handle a hot lid when cooking. They are not just for the oven!
The silicone mat is super versatile. Because it folds, you can use it as a pan holder, a jar opener or just anywhere you need extra grip. Feel free to use it as a hot pad, hot mat, Coaster protector, placemat, spoon rest, or drying mat.
This mesh basket is great for those dishes that need to be strained. Stick it in before you cook and then you can easily pull out the food without having to lift the hot pot to dump the liquid and getting that oh-so-hot steam facial that burns your eyebrows off!!!
The versatility of this mesh basket goes a long way. I don't need to use this for cooking only. I'll be washing my rice in it, coriander…anything that tends to run off under tap water!
Does it not make a great fruit or vegetable holder too? It sure does. Instead of storing it away when not in use, let it sit on your kitchen counter with fresh fruits.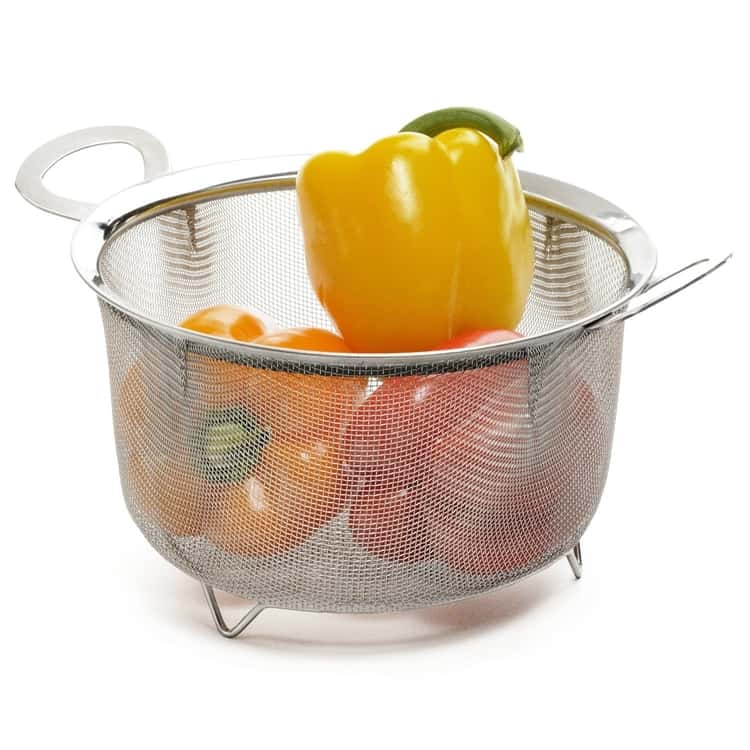 This non-stick pot is great for use with your Instant Pot. We love something that can cook and need elbow grease to clean up. Clean up will be a breeze which is always nice after family dinner! Just make sure it fits in perfectly with your pot.
How cool is this silicone suction ring? I don't know how to use it yet but I promise you I will master this and be doing whatever it is they are doing in the picture very soon!
Instant Pot Accessory for Steaming
I love steaming veggies. Add this rack above some delicious soup or chicken broth to get some delicious flavors in your food while you cook the soup!
It is fairly high so you don't have to worry if you're using it in lots of water. Because we love multi-functionality in the kitchen, I see all the many ways this can come in handy on the kitchen counter. Use it as a cooling rack when you take your baked stuff out of the oven. It can also act as a cake stand, right? I think so too!
This is another great tool for steaming. Add delicious flavor to your veggies with this easy-to-clean silicone steaming basket. You place it in the pot and it will not drop in due to its shape. Its material makes it safe to use too as it will leave no scratches on your pots and pans. Once your veggies are done steaming, just hold it by its handles and pull it out. Remember how we talked about using the steaming rack as a cooling rack? I believe you can place your steaming veggies on that before serving!
I am sensing a theme. Silicon is the way to go when it comes to Instant Pot accessories! This silicon lid is great for saving your meal directly in the pot.
You will love how handy they are too! Use them in the microwave, oven, stovetop, to store in the fridge, or serve food at the table. These lids will fit most of your smooth-rimmed containers including pots, pans, glasses and bowls.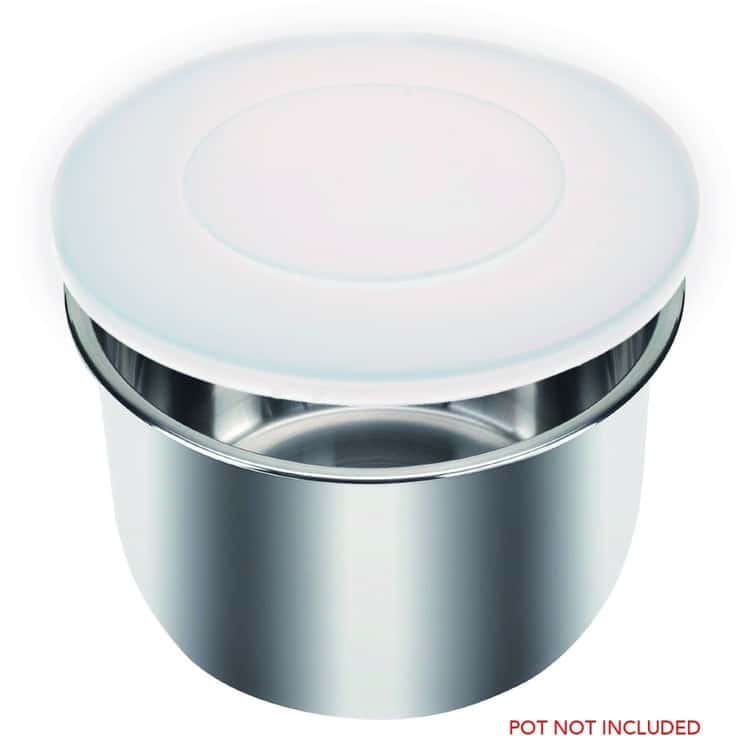 Fancy Instant Pot Accessory
This is a fancy and fun tool. There are so many awesome possibilities of what you can make with this fancy tool! Plus it doesn't have a fancy cost! If you have been afraid of overcooking or undercooking your meats, this is for you. It is great for maintaining an even cooking temperature so every meal is done right! Talk about a 5-star restaurant experience in your own kitchen!
I absolutely love how modern it is with its touch-screen element. This is 2021 and even kitchen accessories are getting an upgrade, cool right?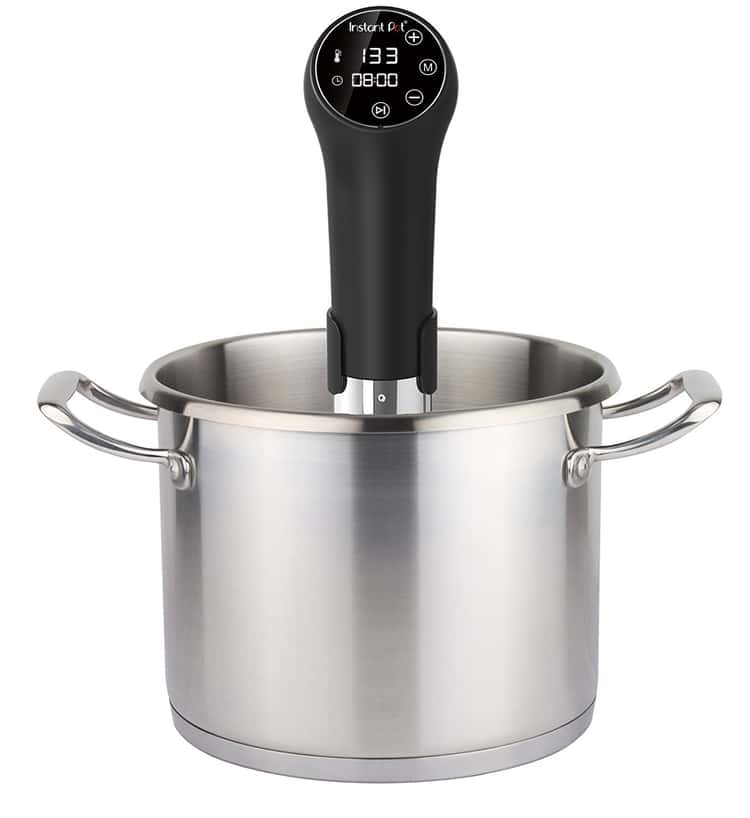 This is a great tool to keep your hands safe! No more burnt hands from grabbing a hot bowl or pot! These are strong and the grip is so solid. I can lift a heavy pot of broth with these without risking a slippage. What a lifesaver. Just make sure to grab heavier items with both hands. I have mentioned the amazing non-stick inner pot above and it will be so easy to pull out with this pan gripper.
You can use this to grab something from the freezer too.
These rings are bright and fun! Perfect for use with your Instant Pot. They come in different colors so you know which ring you use with sweet foods, and which you use with savory foods. Love that logic!
This pan fits right inside the Instant Pot. Uh yes, please! Now off to look for some yummy cake Instant pot recipes! I love that I can remove the cake without residue being left behind. I always feel like an amateur baker when the cake does not come out perfect. Haha! Now if you let this cool off on the steaming rack … bingo! Keep reading because I've got some delicious dessert ideas you can create with yet another amazing instant pot accessory.
Did you know you could use these silicon egg poachers in your Instant Pot? Yup, now go get some because of this one-mess free activity. It's so easy how this is too, your kids can make themselves
Here's how to use these eco-friendly egg pods:
Use a pot and fill it with about 2in water
Spray oil into the cup and crack the egg in each cup
When the water gets boiling, place your eggs in the pot and cover with a lid
Cook for about 5 minutes, and your poached egg is ready.
Instant Pot Accessory for Desserts
Ice cream in minutes? Whip up an ice cream mix in your pot and then use this fun ice cream maker to turn it into ice cream instantly! Yum, I guess we are having ice cream tonight!
This is a fun activity to do with your kids too! If you're looking for Homemade Ice Cream Recipes, check out these 100 recipes that are incredibly easy to whip up.
Here is another fun dessert accessory for the Instant Pot. These look delicious! I am no baking queen but I see how I can have a 3-layer cake with just these. What a way to impress!
Loved these Instant Pot Accessories? Check out these One Crazy House posts for more inspiration on Instant Pots: