With all the hustle and bustle of the holidays, the season can end up being more stressful than fun. Use these genius holiday planning tips to enjoy the season – without the stress!
From sending out the invites to cooking the meal, holiday dinners can be very overwhelming.
I'm sure Pinterest has some of you filled to the brim with anxiety because of all the recipes and DIY ideas out there.
Well, don't worry I've narrowed it down to make it simple. Here are 12 ways to make holiday dinner planning easier!
12 Genius Ways to Make Holiday Planning Easier (+ Stress-Free)
It's time to simplify the whole process of holiday planning, even if you're hosting.
Holiday Planning Starts With Not Comparing Yourself to Others
When you scour the internet and find all those beautiful pins of perfectly planned tablescapes and exceptionally plated dishes, it can cause more stress than fun. That usually stems from comparing our abilities with the level of perfection we see.
Don't compare yourself!
If there's any tip that you take away from reading this, it would be to stop comparing yourself, because no one is Pinterest Perfect!
Those photos are staged, that's not what a holiday family dinner is all about (or even really looks like). So focus on the family and the rest will fall into place.
Managing the Guest List
First, if you're planning on hosting more than 3-4 guests, skip the handwritten guest list.
We've created an editable guest list that you can download and use to keep your guest list nice and tidy.
Most of all, if you choose not to print it and just fill it out and save it on your computer, you'll go completely paperless!
Use your guest list to help you determine if other guests will be bringing a dish of their own or coming early to help.
Menu Planning for Holiday Meals
Plan out the menu a few weeks in advance. This will give you enough time to track down recipes and DELEGATE!
Making planning the holiday meals a family affair makes it so much more manageable (and less work) for everyone.
Have you heard the phrase "many hands make light work"? It applies perfectly here! Don't feel like you need to do it all yourself – let others help.
TADA! Here's a very simple editable meal planner just for you! Download your copy by clicking the image below, and have your menu mapped out in no time.
Related Post: Holiday Meal Prep Ideas – Make Ahead Christmas Dinner Ideas
Make Holiday Grocery Shopping a Breeze
First, let's be honest, grocery shopping isn't our favorite form of shopping…ever. But, it's even more crowded, chaotic, and frustrating during the holidays.
Everyone is seemingly out gathering the necessities for their own holiday dinners at the same time.
In order to make holiday dinner planning easier, get your shopping list prepared ahead of time.
If you downloaded the worksheet from above, you'll notice we slipped in a grocery shopping list and cooking schedule that you can edit right on your computer!
Pro Tip: Avoid shopping during high traffic hours. Try to go to the store either in the early mornings or in the late evenings because that's when the crowds will be lighter.
If you're a member of Costco or Sam's Club and like to go when they open, that tends to be a busy time since they open later than grocery stores. But, going in the late evening before they close is a great time.
Holiday Planning Kitchen Time-Savers
Even with the handy dandy cooking schedule, sometimes you need time savers.
Actually, we could always use time savers, huh? In my boost about 20 Things You Didn't Know You Could Cook in a Microwave, there are a couple of holiday recipes you may want to bookmark.
And, this ultimate list of kitchen hacks will get you ready for the big day!
Plan Out Your Holiday Table
Don't get too extravagant, keep it fun and simple. Take advantage of all the free printables available on the internet.
Honestly, I'm a huge football fan, so you'll normally catch me watching the game with most of the family. Yep, smack dab in front of the television! So personally, I don't put much effort in this area.
However, for anyone who is more interested in simple but lovely tablescapes, here are some fun ideas for holiday tablescapes.
You can print these out yourself and use let them double as table decor. Are they gorgeous? The best part is that they involve hardly any work at all on your part!
Free Printable Thanksgiving Place Cards
Make Thanksgiving entertaining easy! Decorate an easy Thanksgiving Table with these free printables. Get your free download.
Read more here.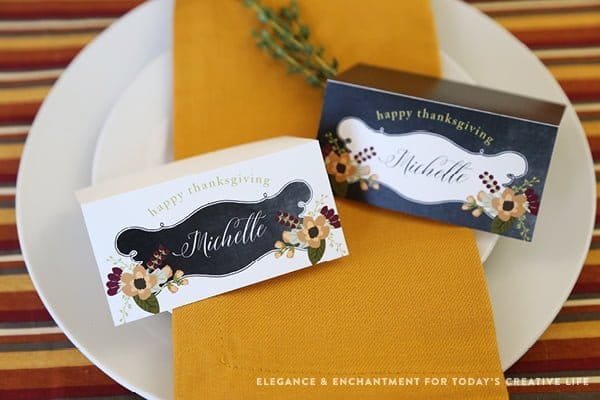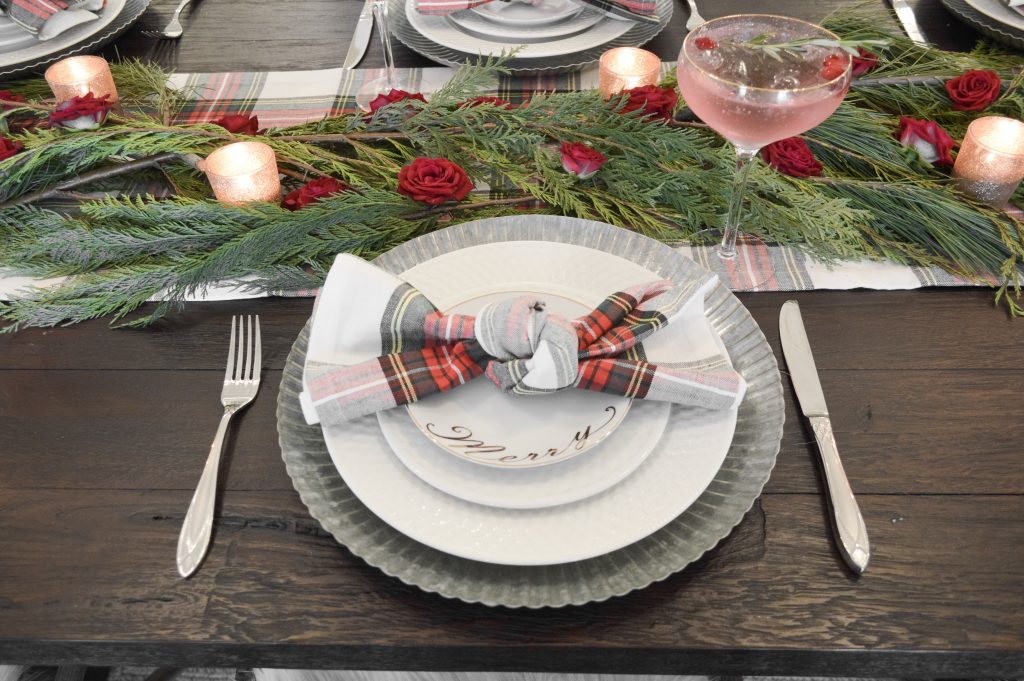 Making a lovely tablescape doesn't need to be time-consuming, expensive, or too fancy. This setup is not only quick and easy, but it's affordable and beautiful too!
I love the addition of the knotted plaid napkin!
A Simple Holiday Tablescape
There's no place like home for the holidays. I simply love hosting gatherings at home during the holiday season.
Read more here.
Plaid always looks lovely. Create a beautiful holiday tablescape using plaids. It's simple and easy to pull off so it won't eat up your time.
Plaid Tablescape
Plaid Tablescape Idea – An easy and frugal Christmas or New Years Party Table Decor Idea using Plaid Paper Plates and paper products from Target's dollar section.
Read more here.
A quick and easy way to set a festive holiday table is use nice chargers and add some greenery to your table. Easy peasy!
Simple Holiday Tablescape Ideas
Beautiful and simple holiday tablescape ideas that will provide you plenty of inspiration you can use to create a perfect centerpiece and place settings.
Read more here.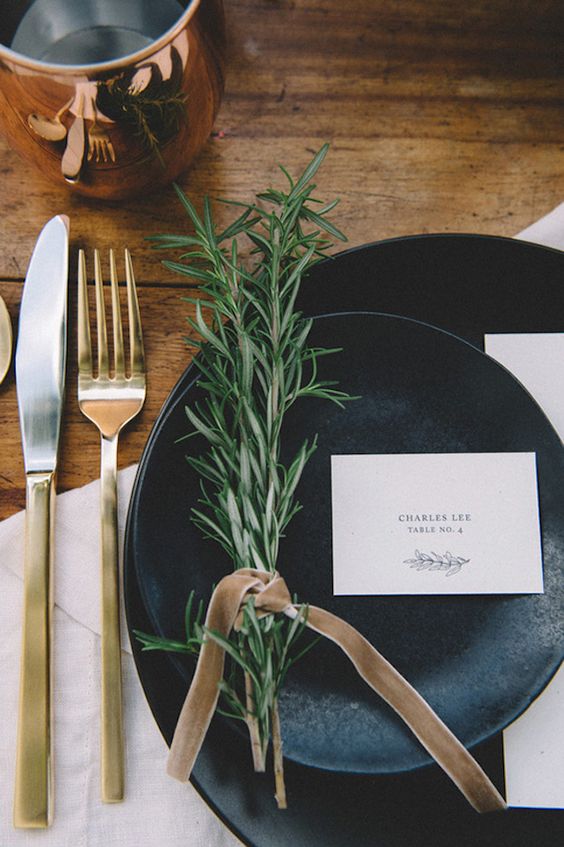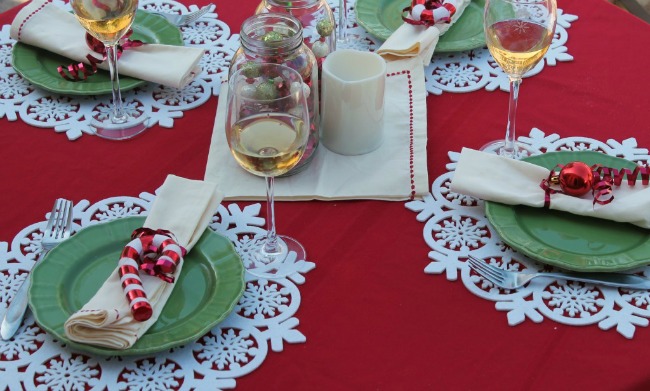 Snowflake placemats make a lovely addition to a bold, solid-colored table cloth. Use complementing colors and layers to quickly create a festive tablescape.
How to Make A Simple Christmas Tablescape
I usually plan and host several holiday dinners and potlucks during November and December. I don't have time to make complicated table settings, so I keep it nice & simple.
Read more here.
Preparing for Overnight Guests
Take a little time to prepare for any overnight guests you may host. The key to reducing stress is in the holiday planning!
A checklist that you can print out to prepare your home for those overnight guests will keep you on task and help your prioritize what you need to get done.
Make it even easier by splitting up the responsibility with other household members.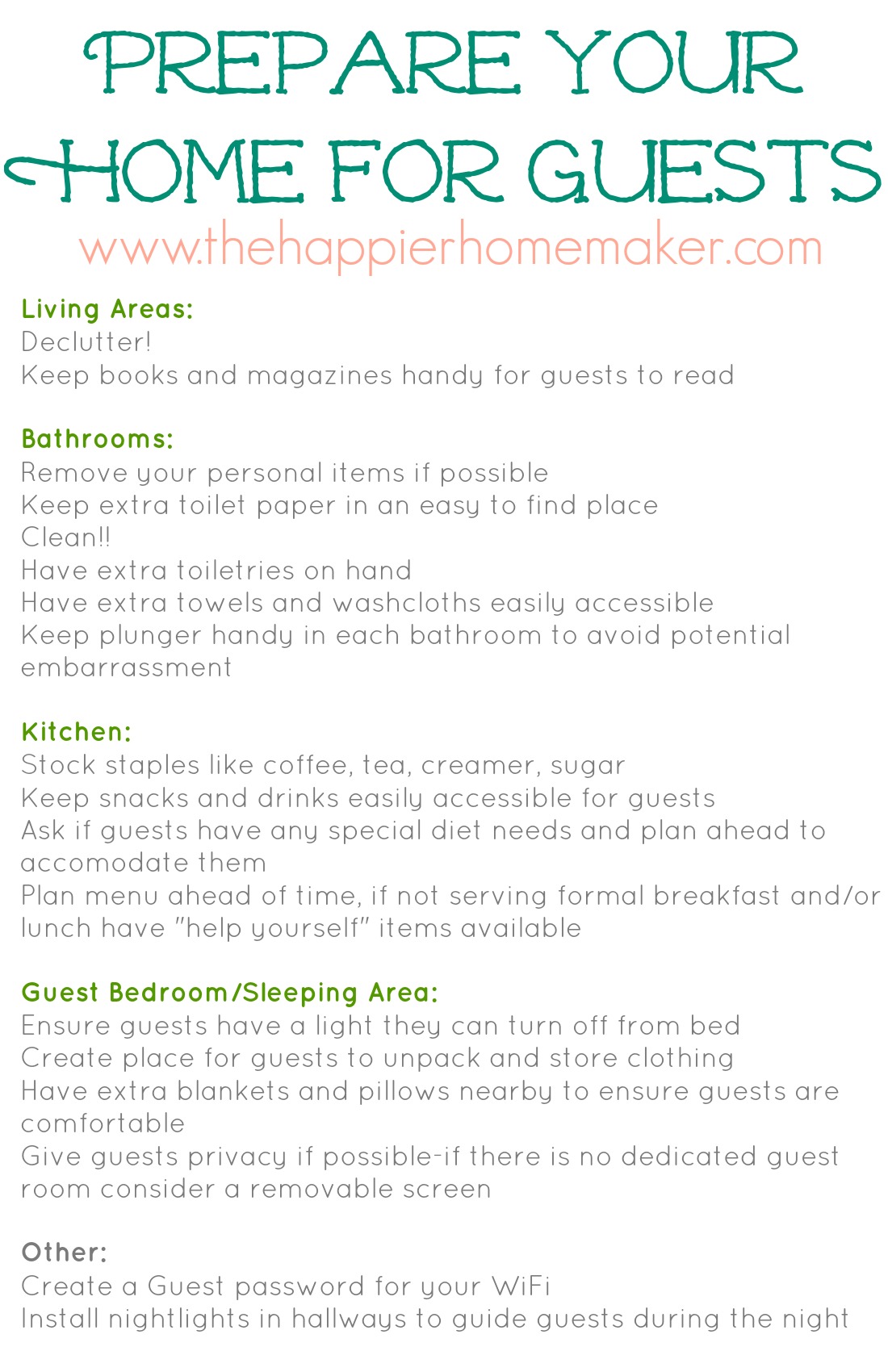 I don't know about you, but I always forget something when setting up the guest room and bathroom. This handy checklist walks you through all the guest room essentials that you might forget about.
Save yourself some last-minute stress by making sure your overnight guests have everything they may need.
Make the Kids Part of Your Holiday Planning
I'm sure at some point the kids will find their way to their tablets or parents' phones but have a few activities on hand so that you can focus on cooking or serving.
Have an area with board games, coloring books, crafts, or other independent play activities.
Keep the backyard open for play, there's nothing like all the kids getting together and letting their imaginations take over.
Have a picture table, where the kiddos can grab a camera and capture their favorite holiday dinner moments.
Memories Over Messes
Whether it's slaving in the kitchen with your favorite family members or preparing the dinner table, make sure you make the most of it.
Look past the work and see the moment. Inhale the love and laughter because tomorrow is never guaranteed.
If you are planning on hosting an upcoming holiday, make your holiday planning easier and less stressful with these 12 genius tips!
More Holiday Planning Help From One Crazy House