When decorating the front of your home for the holidays, use these ideas for Christmas porch decorations! They'll add just the right amount of holiday spirit and flair to your home. You'll be surprised at how easy and affordable these outdoor Christmas decorations can be. All you need is a little inspiration! And we've got you covered!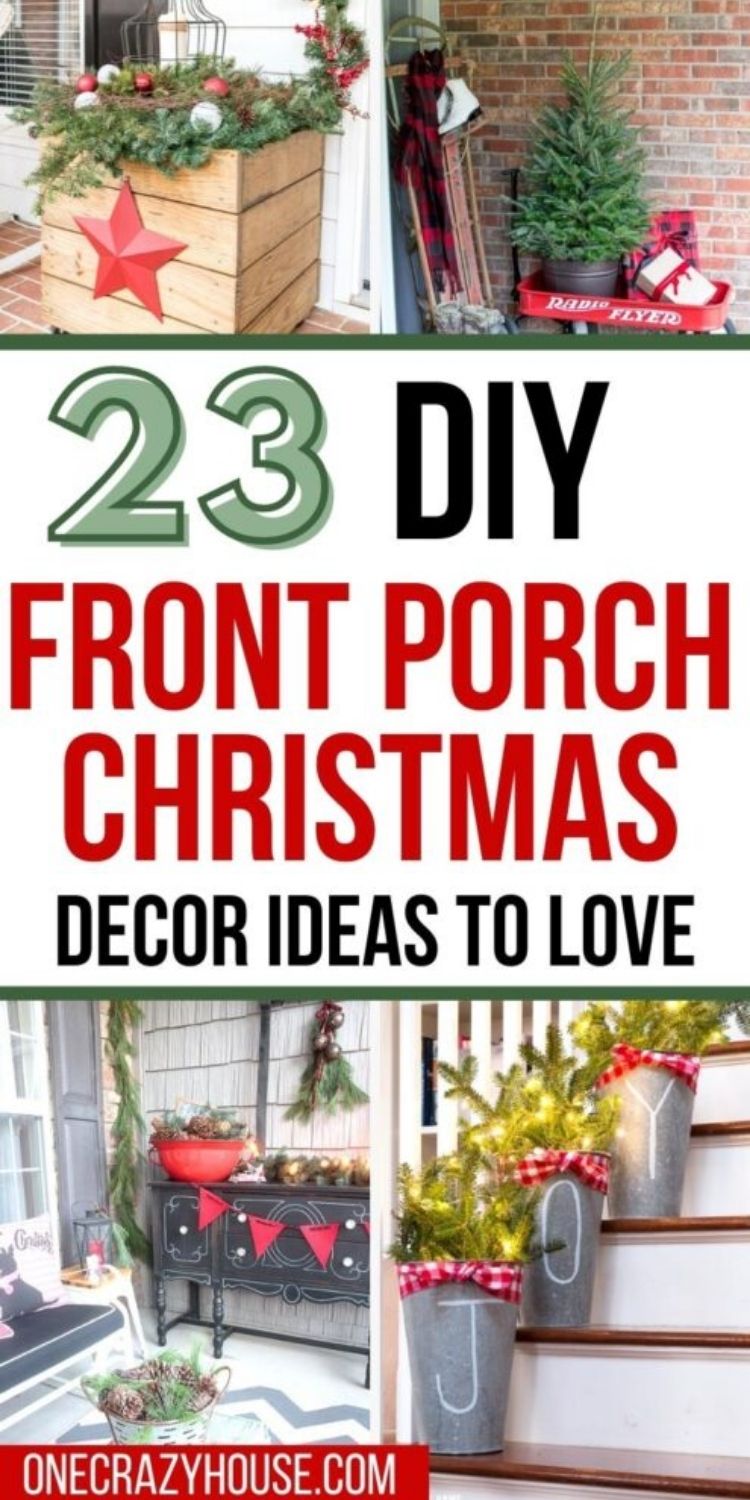 We can't be the only ones counting down the days until Christmas! To say we're obsessed is a bit of an understatement. And because we're big on holiday decor, we've found some fabulous front porch Christmas decorations to help you deck your hall's entrance and patio this holiday season.
Festive Christmas Porch  Decorations
Welcome to our Porch. Sit long. Talk Much. Laugh Often
This is what we want, right? We want to create a welcoming haven for our friends and family to gather for the Christmas holidays. We want our front porch Christmas decorations to make them feel the warmth of the season.
Are you looking for new ideas to spruce up your front porch so you can welcome friends and family to your home this Christmas? Use these front porch Christmas ideas to make the front of your home sparkle with holiday cheer!
1. Festive Holiday Front Porch Idea
We're bringing you our front porch and entryway decorations for the holidays. You may not have a wooden pew stashed somewhere, but odds are, that you have a wooden bench that you can use the very same beautiful way.
With some cozy pillows, a festive sign, garland, and two arborvitae bushes with twinkle lights flanking each side, you couldn't ask for a more perfect picture for your front porch.
2. Festive Christmas Front Door Swag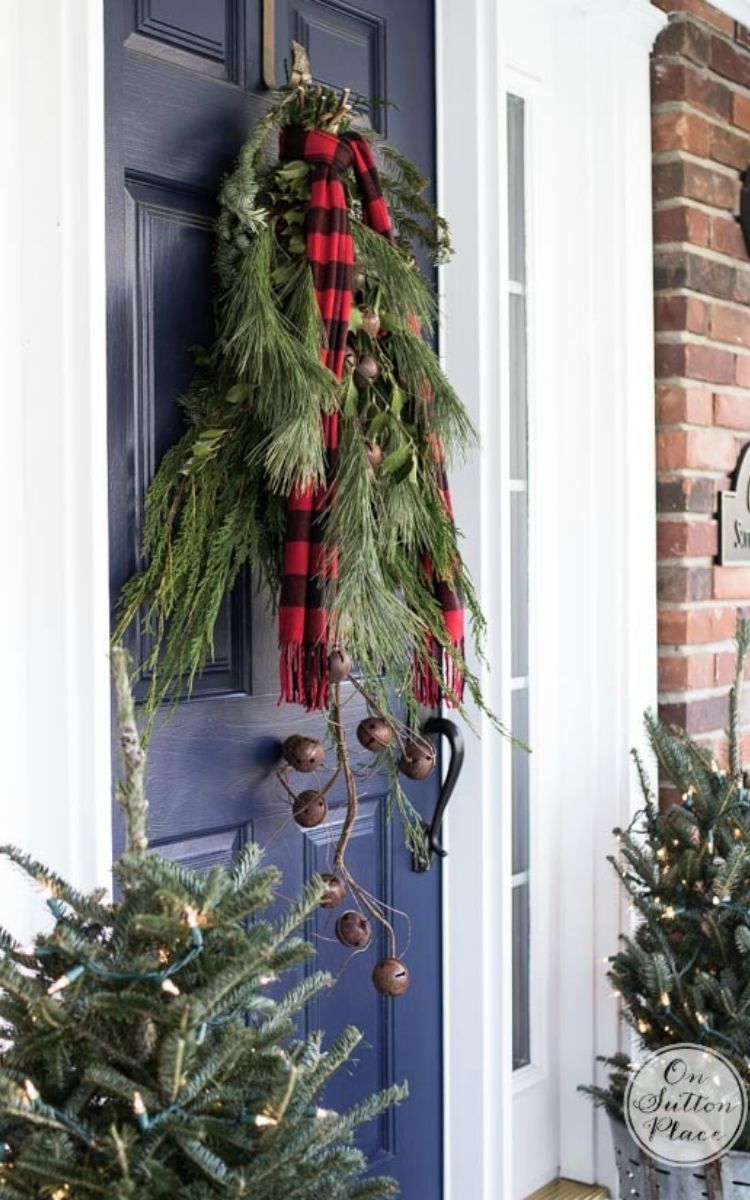 Although a wreath is a traditional Christmas decor, you can decorate your door with a minimal fuss swag using pine bunches instead. Add a scarf and some jingle bells, and your door is ready to welcome your holiday guests.
3. Create a Christmas Front Porch Lantern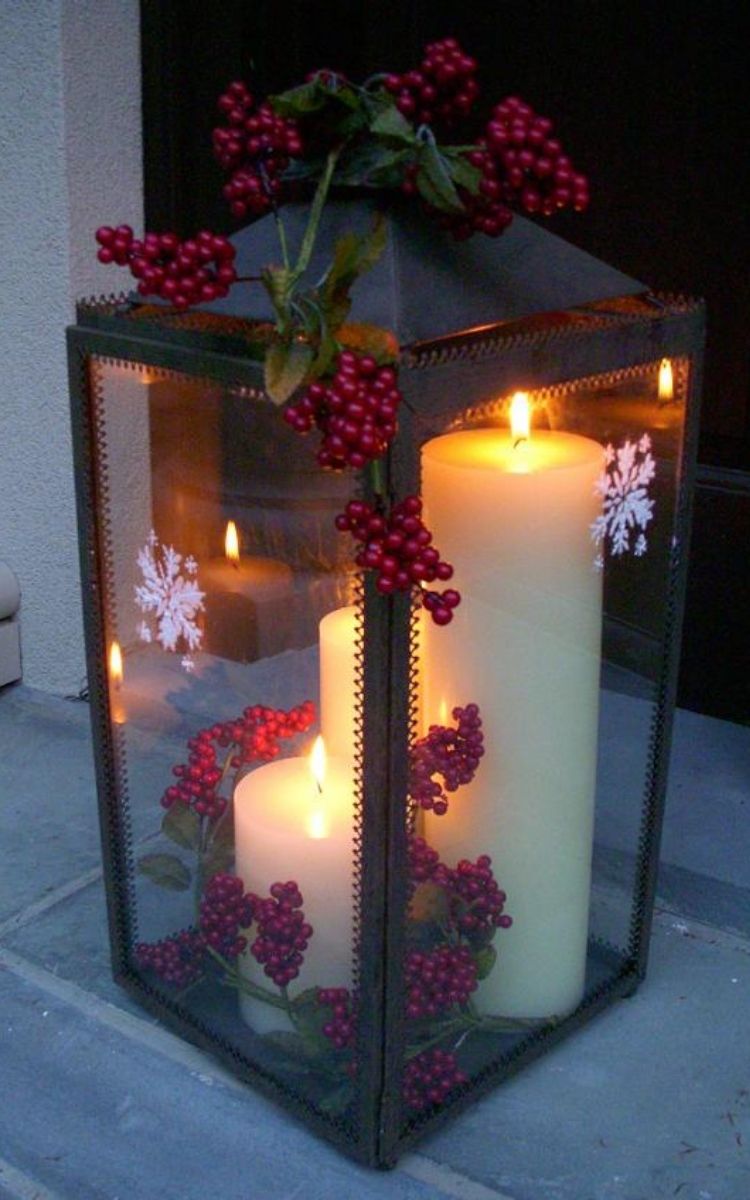 Make a Christmas Lantern from HGTV
Add ornaments or candles to empty lanterns for a rustic touch. It looks even better if the lanterns are old, but if not, they'll still look lovely filled with ornaments and topped with some greenery and bows. Why not create this decorative front porch lantern? So simple, yet so stunning!
4. Sharpie Art Tree Sign adds Colour and Flare to your Front Porch
DIY Christmas decor doesn't have to be difficult. This Sharpie Art Tree Sign is such a simple project that you can be modified to include your favorite Christmas carol.
Paint the board with red exterior paint.
Pencil on a simple Christmas tree shape and paint it white, outlined with thin line of black.
Paint on some ledger lines for you to carefully write some words of a Christmas Carol.
And the black painted border just finishes it off so beautifully.
Stand it beside a floral arrangement and arrange some large Christmas bulbs in the front of your display. So lovely! Isn't the contrast of red, black, and white is so striking?
5. Simple Winter Porch Pots
A simple porch pot just adds to any front porch, don't you agree? A bit of greenery, some pine cones, and some gold spray painted branches and….voila! I've never had a green thumb, so I have a hard time pairing things together. If you're the same way, try this tutorial for creating the perfect Winter Porch Pot to adorn your front porch.
6. Rustic Front Porch Christmas Decorations
Don't you just want to curl up on this porch swing with a book and some hot cocoa? These super cute burlap trees made out of 3 simple pieces of wood with lights stapled on them and then wrapped in burlap really add a lovely rustic touch!
A red flannel blanket and some decorative grey, red and white pillows give this porch a rustic touch that looks so welcoming (and cozy).
7. Just a Little Burlap and Some Poinsettias are a Lovely Touch!
Speaking of burlap, it pairs nicely with poinsettias to create a poinsettia and burlap Christmas theme. These two are perfect to add as part of any front porch Christmas ideas. I think the burlap ribbon on a porch Christmas tree, paired with a matching burlap ribbon on the door wreath adds such an add lovely touch and complements the red poinsettias so beautifully. And if you're worried about your pets, fake poinsettias look very nice too, are quite affordable, and last year after year.
8. Hang Oversized Ornaments in your Front Porch
Adorn your porch in oversized ornaments for an easy touch of Christmas flair that the kids are sure to love. Just enough colour to keep your Christmas Front Porch decorations simple, yet attractive. Choose ornaments to add to your own colour scheme of course, but I, personally am hooked on the different shapes of red and white. So inviting!
9. DIY "JOY" Outdoor Wreath Design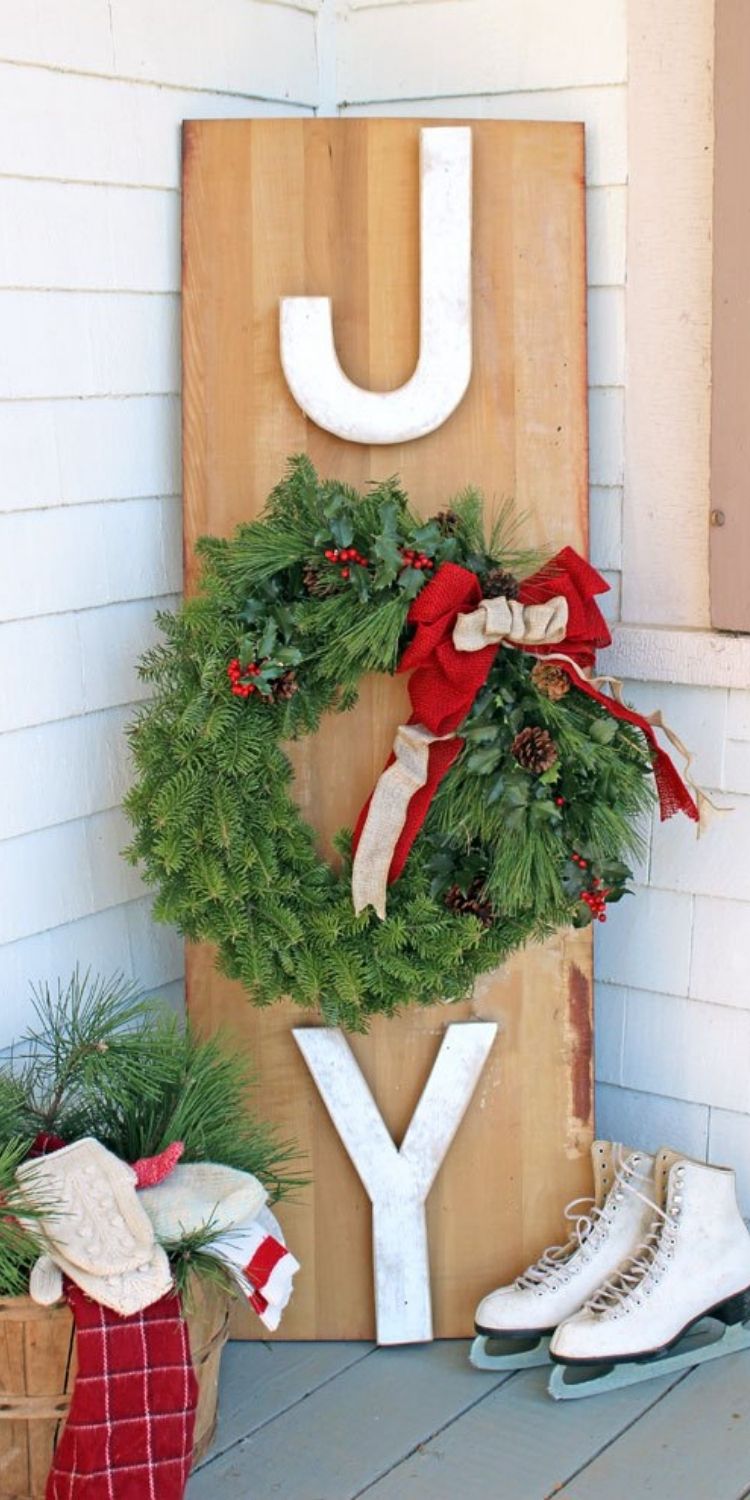 Now here's a Front Porch Idea that just screams Christmas fun! What's not to love about the wonder of the season! Create a "JOY" sign with wooden letters and a beautiful greenery wreath for the "O." We love the ice skates, mittens, etc., too. Nice touch for this outdoor wreath design, don't you agree?
10. DIY Christmas Arrow Sign
Christmas arrows tell the elves where to go! Okay, maybe not, but they sure will look cute on the porch or in the yard. I love the pole with the arrows pointing in different directions. Your kids will be thrilled. They may want to head to Candy Cane Lane to meet the elves! And if you buy pre-cut arrows, the project is a pretty simple one!
11. Farmhouse Front Porch Christmas Decorations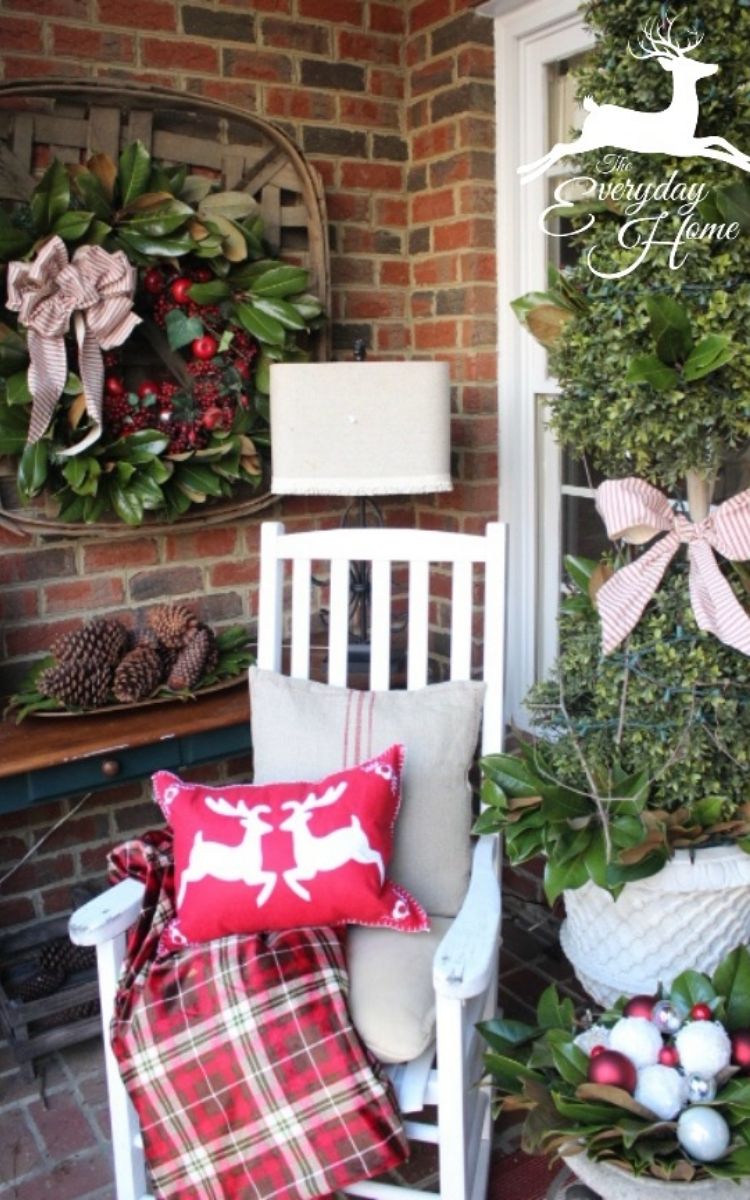 Nail the farmhouse Christmas porch look with a rocking chair, a plaid blanket, a cute Christmas pillow, and lots of greenery and pinecones. A simple tray with pinecones and greenery one one side and plate of holly and ornaments on the other side of the rocking chair makes for such a warm entry way. What a great way to welcome guests into your 'country' home!
12. Keep it Simple With a Wreath
Simple Christmas Wreath from the Morrison Blog
Now this is simple! Just add a wreath to the back of the rocking chair. You can always flip it over to the back if you plan to actually sit in them. Mind you, it's usually too cold for that here during December. Make this keep-it-simple wreath.
13. Dollar Store Snowflake Door Hanger
On a Dollar Store budget? No problem! Get some different size acrylic snowflakes and stars to make this stunning snowflake door hanger. Be sure to choose a variety of sizes, shapes and textures so that it will look more three dimensional. Just one of many lovely front door Christmas decorations on this list, you can arrange them any way you like… there's no wrong way to do it!
14. Candy Cane Wreath For your Front Porch
Speaking of front porch ideas on a budget, here's another fun and frugal project: a candy cane wreath. Use large acrylic candy canes and a star from the Dollar Store (or real ones if you prefer)
Arrange two candy canes at a time into a heart shape
Attach together with a hot glue gun and some string
Add a contrast colour star in the middle
It's easy peasy. This is certainly going to make some kids mouth water. You may want to have a stash of edibles on hand!
15. Chalk Pen Galvanized Buckets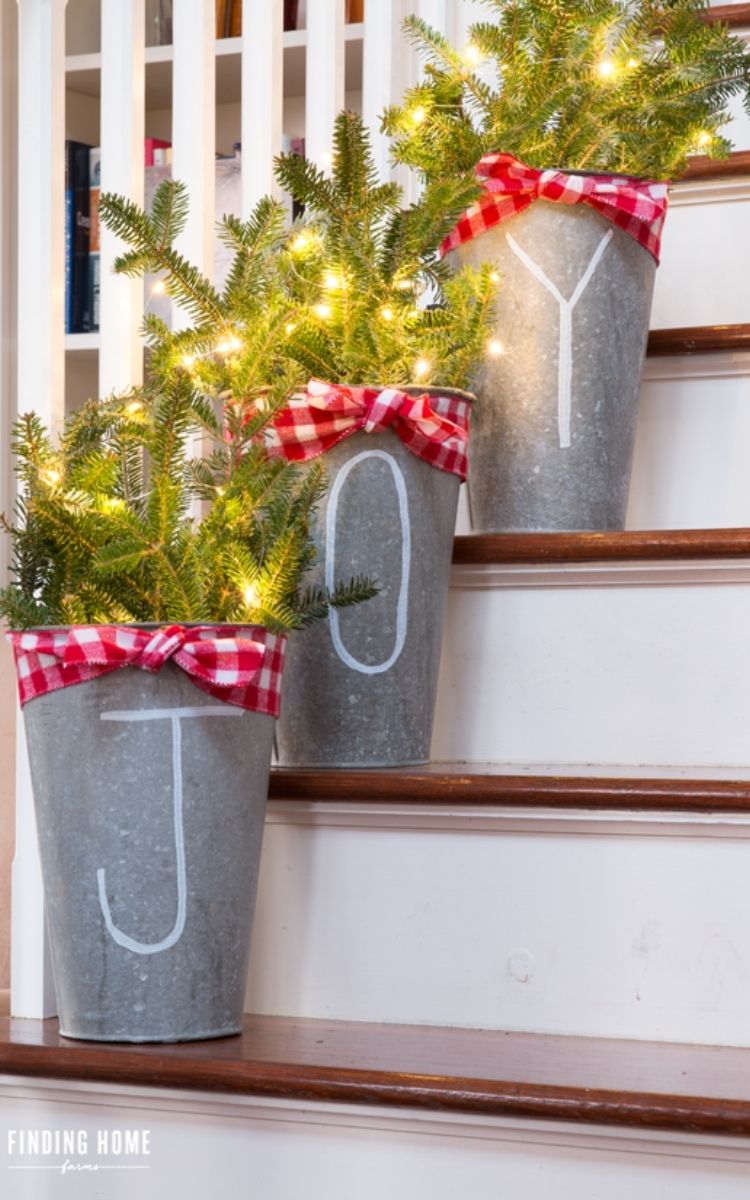 Aren't these chalk pen farmhouse Christmas porch darling? Fill three galvanized pails with greenery, add a plaid ribbon and some lights to bring some Christmas joy to every step on your front porch. The chalked J.O.Y. on the three pails is such a welcoming touch. Make sure you use outdoor safe lights if they're going to be exposed to the weather.
16. Snowman Porch Columns
If you already have white porch posts, this is a great base for your Christmas Front Porch decor. Snowmen Christmas ornaments are simple and so cute! Find some four by four posts for the body, use some fleece for the snowman's hat and scarf. and add some buttons. You can easily make these with materials you already have at home. The frugal decor is the best decor!
17. Terracotta Christmas Tree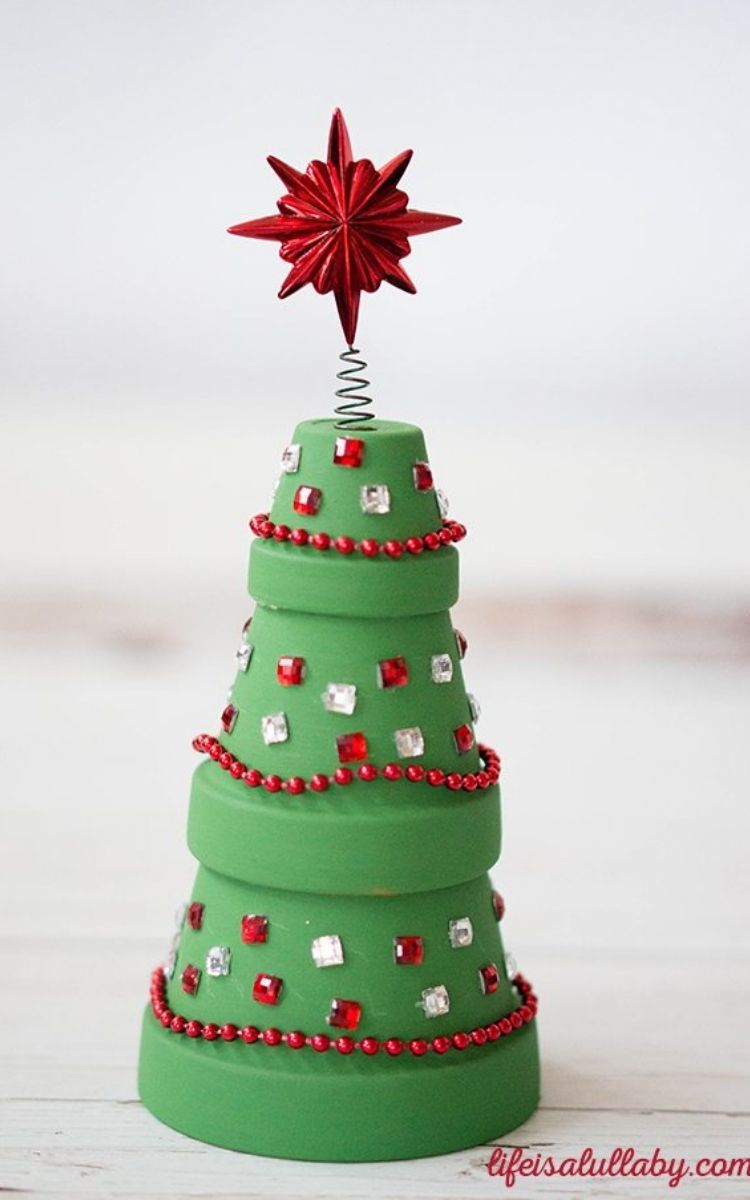 Create a terracotta Christmas tree with your old flower pots. This is a wonderful project for the kids! You just need to find different sized clay pots so they can be glued together to make the tree. Paint it green and decorate. The kids will be so excited to choose the decorations to add to their Christmas tree. There are so many options for decorating. (pom poms, buttons, beads, garland, sequins, gems) It's easy, peasy and they can't mess it up. Display it indoors or outdoors.
18. Add a Classic Element to your Front Porch

We've seen several variations of this, but if you have a Radio Flyer wagon, it needs to become part of your Christmas porch decor. It's like it was made for front porch Christmas decorations! Use fun vintage outdoor items including the red wagon, an old sleigh and some skates. Add some Christmas wrap boxes and you have the classic look you're going for. Oh and don't forget a small Christmas tree!
19. Add Pinecones to Your Front Porch Christmas Decorations
Bowls and buckets of pinecones add a wintry touch to just about any theme. Add a few sprigs of greenery to the bowl to make it more festive. You can even paint the pinecones, add glitter, or make scented pinecones. The wonderful cinnamon scent will welcome guests to your home and they may just come back sooner than you think!
10. Magic Santa Key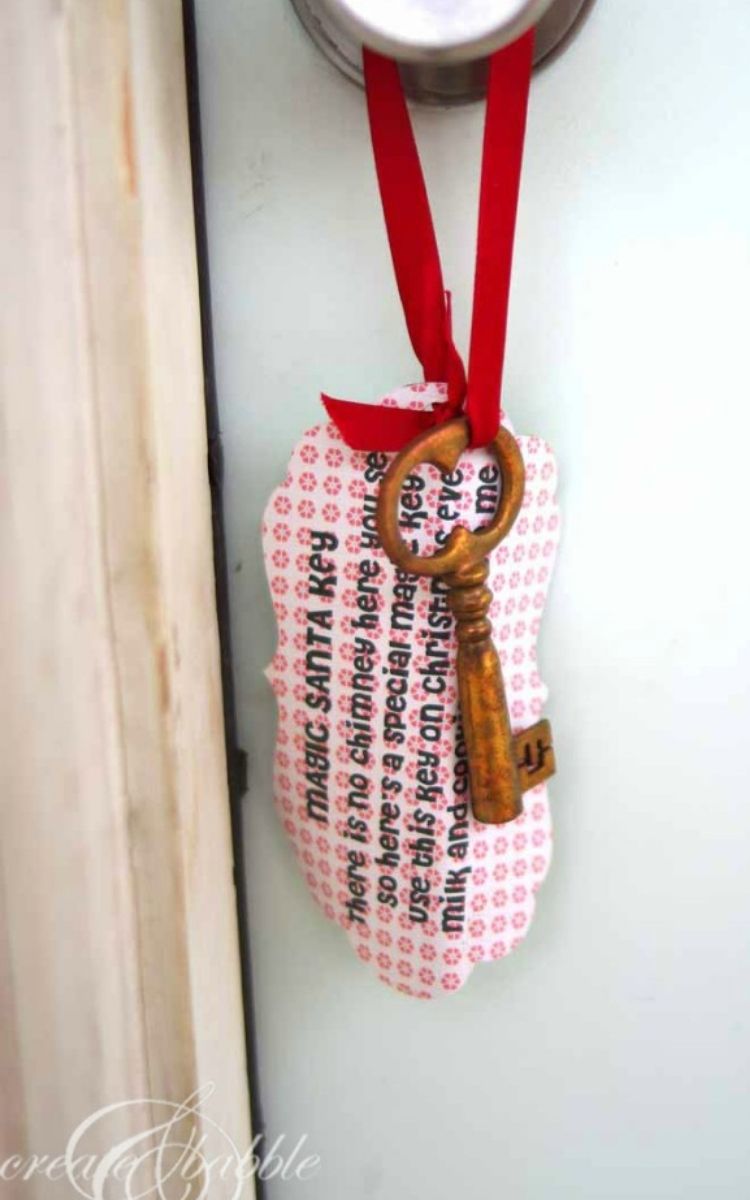 Don't forget to add a magic Santa key to your door so Santa (and his elves if your kids are into Elf on a Shelf) can get in without a hitch! This large magic wooden key attached to a pillow with the verse is so delightful. Any child or adult entering through your front porch is going to smile and chuckle at this. Great for adding some Christmas cheer to the season.
21. DIY Christmas Planters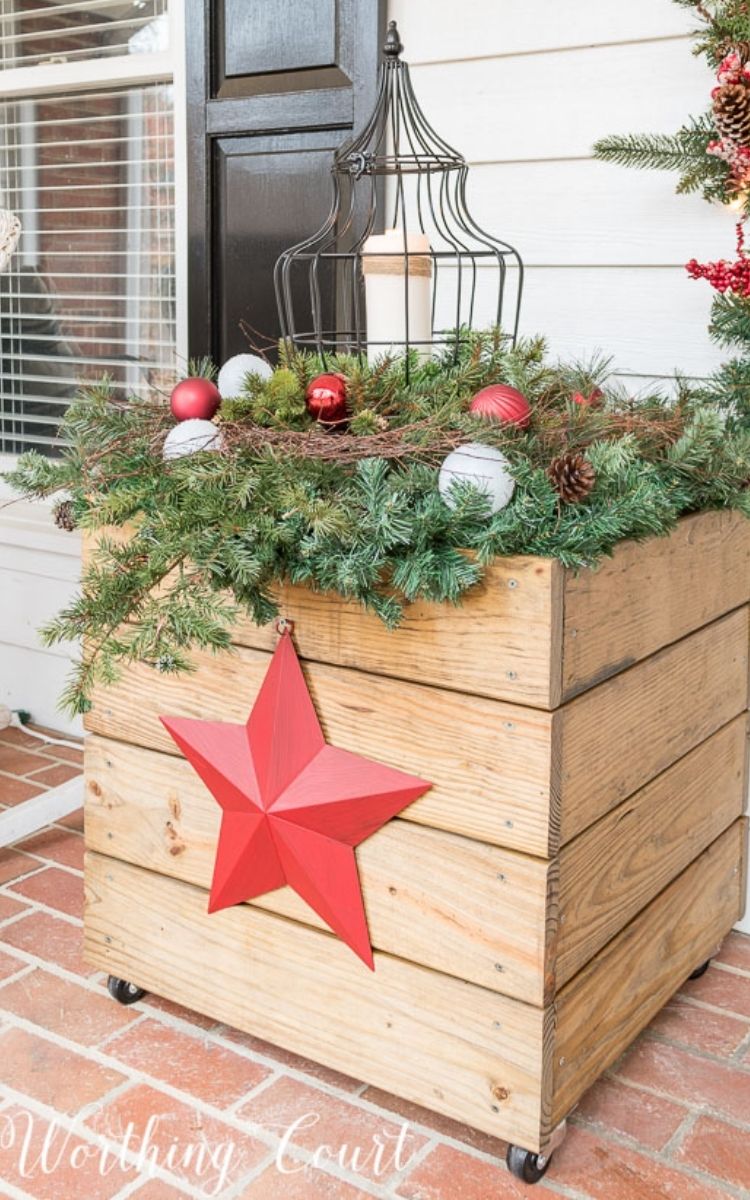 Build some plain wooden Christmas planters (or buy some) and fill them with greenery and ornaments. I love that this one is on wheels, so you can move it around easily. Add a lantern in the middle for some height and a grapevine wreath around it along with some decorative ornaments. the metal star on the front adds the finishing touch!
22. Use a Chic Color Scheme to your Front Porch Decor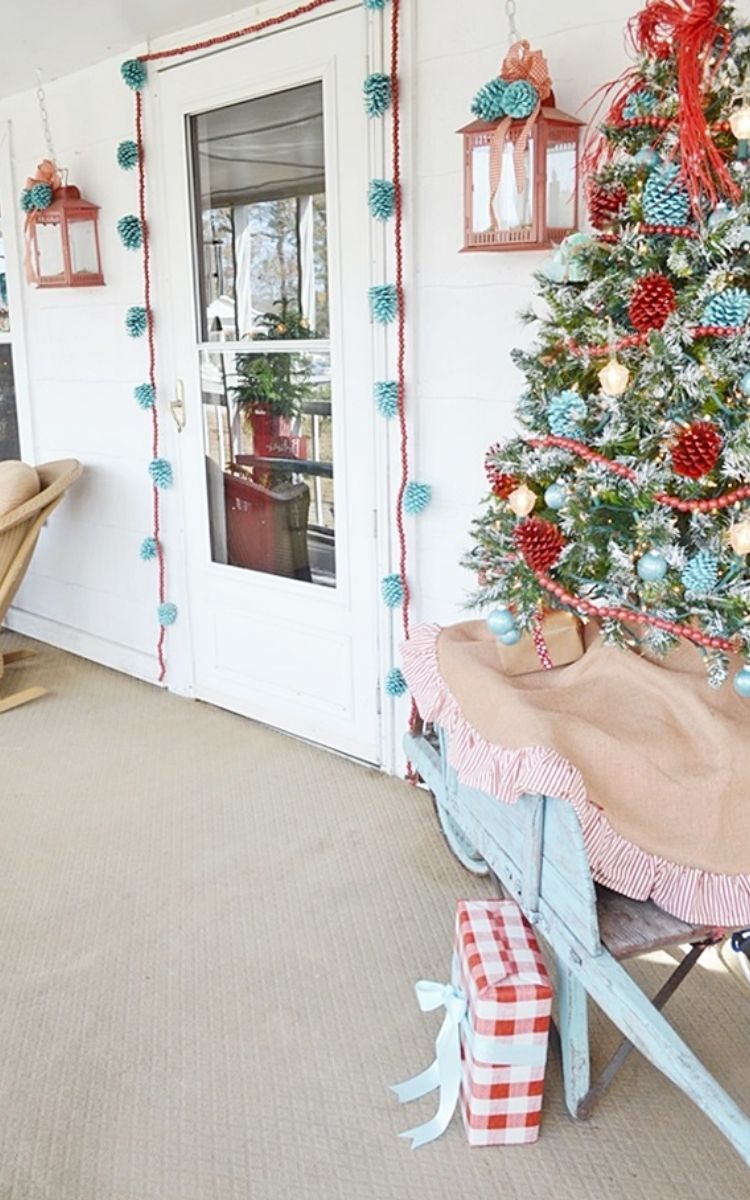 Welcome to this Christmas Porch! It's been decorated all red and aqua with a retro vibe! We couldn't pick just one thing that we loved about this retro red and aqua theme, but it's a great representation of how you can use non-traditional colors for your Christmas decor and still look wintry and festive. I love the aqua and red painted pinecones, along with the ruffled edge on the table cloth just add to the retro feel. Oh and don't forget to paint an old wooden wheelbarrow to finish off the look!
23. Giant Christmas Ornaments
And finally, we couldn't leave these giant Christmas ornaments off the list. All you need are some round cake pans, kids large plastic play balls, ribbon, gorilla glue, and some ribbon to hang them with.
Use a nail and a screw driver to punch a hole in the centre of the cake pan.
Weave a small ribbon through the hole to make a loop and tie on the inside of the cake pan.
Glue the upside down cake pan to the top of the ball
Attach a long ribbon to the small ribbon loop and hang from the porch.
Won't the kids love to help make these?
Aren't these great front porch Christmas ideas? No matter where you live, in whatever type of weather you experience, you can add some Christmas Decor to your front porch. Your door will be wide open to welcome friends and family to celebrate this wonderful season.  We hope you have found some front porch Christmas ideas you love and can add to your own holiday decor.
More Christmas Inspiration for Your Home
Which Christmas porch decoration is your favorite?