Halloween fun isn't just for the kids! Join in on the fun as an adult by dressing up in DIY couples costumes.  Nothing says love quite like a well-matched Halloween costume
This list of easy couples costumes for Halloween will have you ready to celebrate in no time.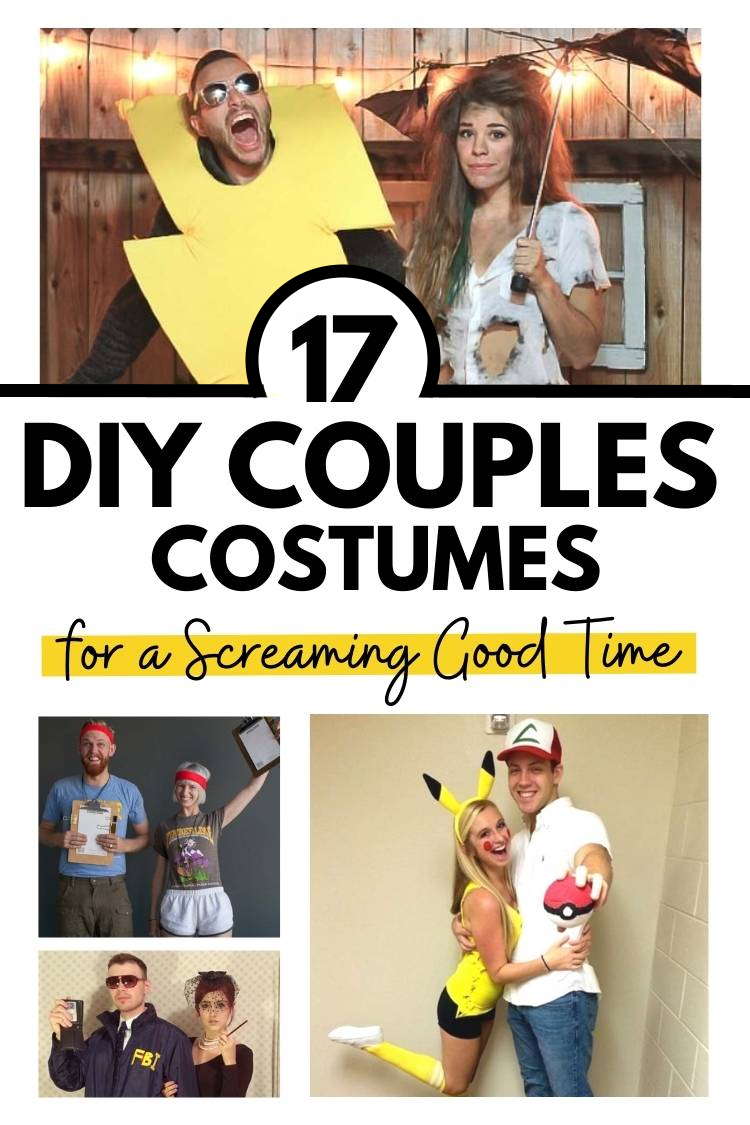 Unfortunately, all too often it seems like all the fun is for the kids after you become a parent. Adults can have just as much fun with Halloween as kids can – but it all begins with picking (or making!) the right costume.
That's why we gathered up these fun and creative DIY couple's Halloween costume ideas.
So grab your partner (in metaphorical crime) and have a blast making and wearing one of these ideas for easy couples costumes!
Simple DIY Easy Couples Costumes for Halloween
We've found 17 fun, easy (and sometimes hilarious) DIY couples costumes to inspire you as you plan your own Halloween fun. It's amazing how far some thrift store clothes or cardboard and paint can go!
Don't forget to check out our face painting ideas too!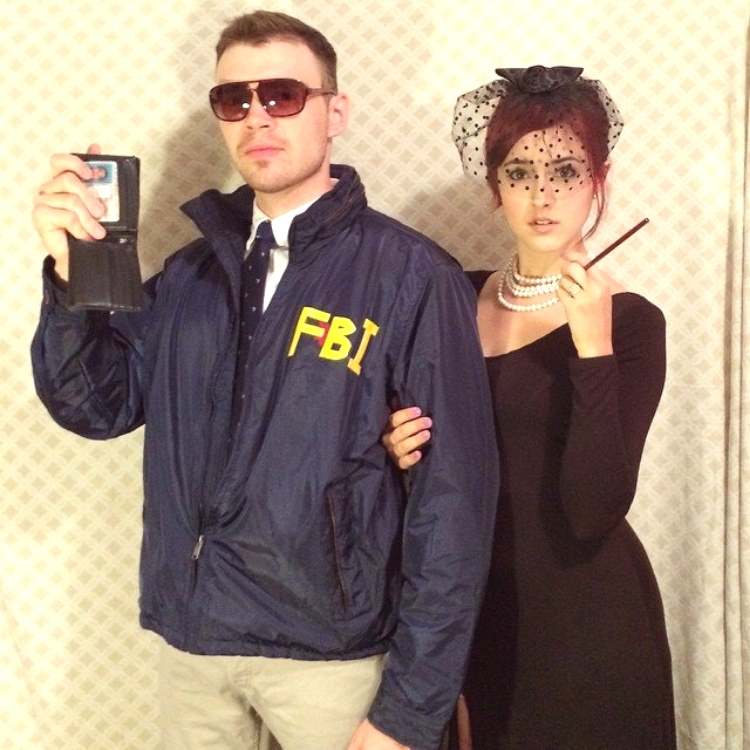 1. Burt Macklin, FBI and Janet Snakehole  
Parks and Rec is one of my favorite shows of all time. If you're a fan, you'll recognize Burt Macklin, FBI and Janet Snakehole from a mile away.  Who wouldn't want to dress up as this duo?   Wouldn't take much effort to make this easy costume! Time to start brainstorming your couples costume! This costume is easy to make and truly lives up to the quote by Lucy:
A person should always choose a costume which is in direct contrast to her own personality." — Lucy Van Pelt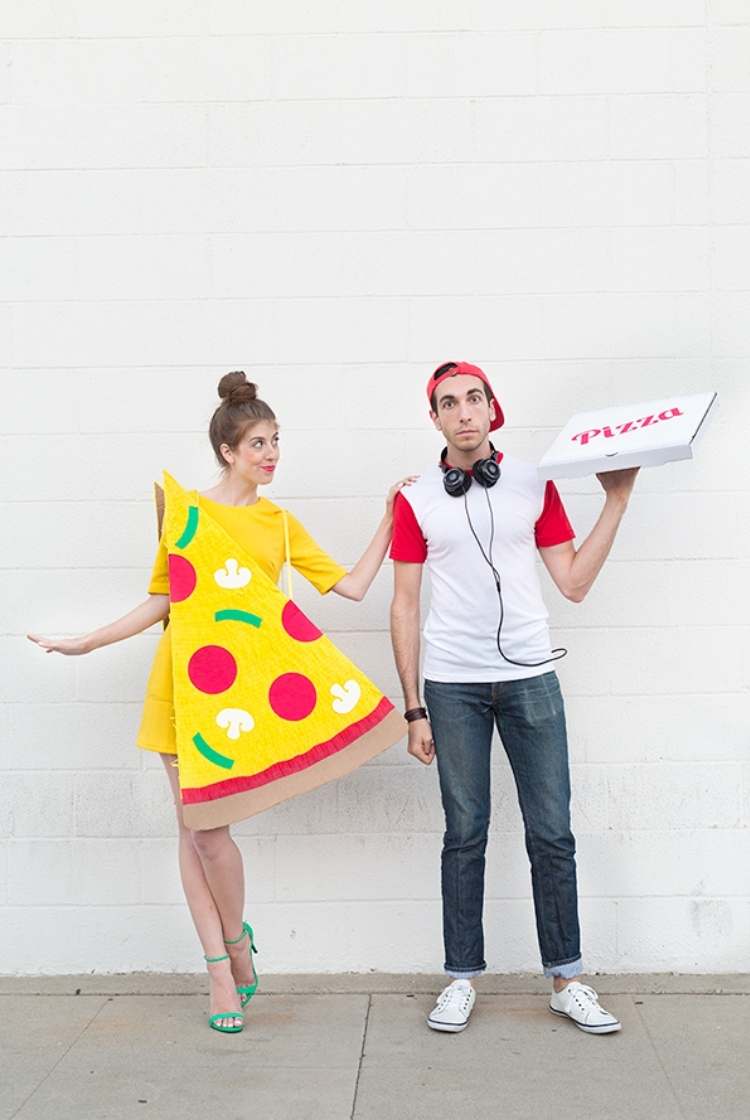 2. DIY Pizza Slice and Delivery Boy Costumes 
This pizza slice and delivery boy costume is pretty cute. All you need is some cardboard and paint for the pizza slice, and just reuse a take-out pizza box for the guy's costume. I would add the green heels if you have them, they look great with the "cheese".  Easy peasy!  This is a fun and easy couples Halloween costume you can make this year.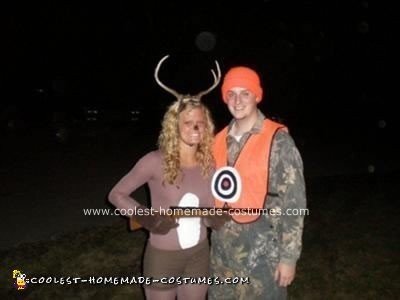 3. Deer Hunter and Deer Couple Costume
If your hubby or boyfriend is already a hunter, he's all set.  Dress him up in all of his camo and throw on his orange vest and toque.  Dress yourself up as a deer for this deer hunter couples costume, and feel free to have a little fun with it by switching up the roles of each costume! I dressed up as a deer and my husband dressed up as a hunter, but we had fun with it and reversed the roles!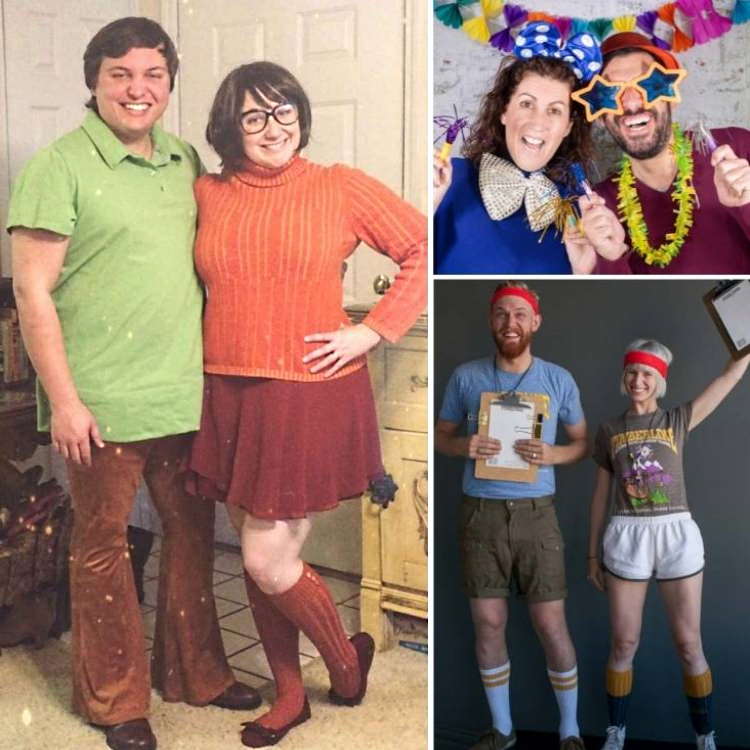 4. Shaggy and Velma
The most fun cartoon characters of all time. Dress up as Shaggy and Velma this Halloween. Just about any guy can pull off Shaggy – add a baggy shirt and a pair of bell-bottom pants.  Make sure to have him practice his best "Shag-isms", because are you really Shaggy if you don't talk like him?   Use this tutorial to dress up as Velma, the hop in the Mystery Van to go to that party!
5. Easy Last Minute Couple Costume: Be Camp Counselors
If you've ever been to summer camp, you know exactly what those over-eager camp counselors looked like.  Here's a throwback couples costume idea: overzealous camp counselor. Find your sweatbands, hike up those old tube socks, grab some clipboards and bring all of your enthusiasm and group songs to the party.  Here's a throwback couples costume idea: overzealous camp counselors!  Let's go, happy campers!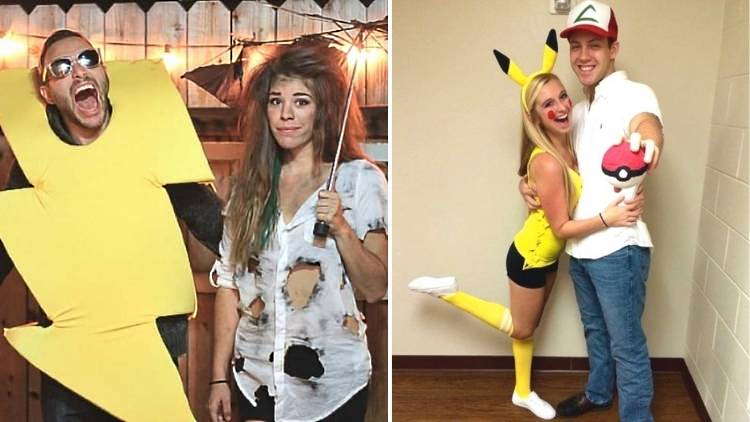 6. Struck by Lightning Easy Couple Costume 
This is a unique idea that someone else isn't likely to have at the party.   You don't need anything for this Struck by Lightning costume at all. Cut a lightning shape out of cardboard and paint it yellow. Do some destructive work to an umbrella and a shirt. Frizzy hair? Check (almost always).  A fun and creative costume idea for couples to make this Halloween!
Done!
7. Ash and Pikachu 
With a whole new generation of Pokemon fans now becoming obsessed, this Ash and Pikachu easy couples costume idea is sure to be a hit.  This is an easy DIY couples costume idea that you can make in just a few minutes!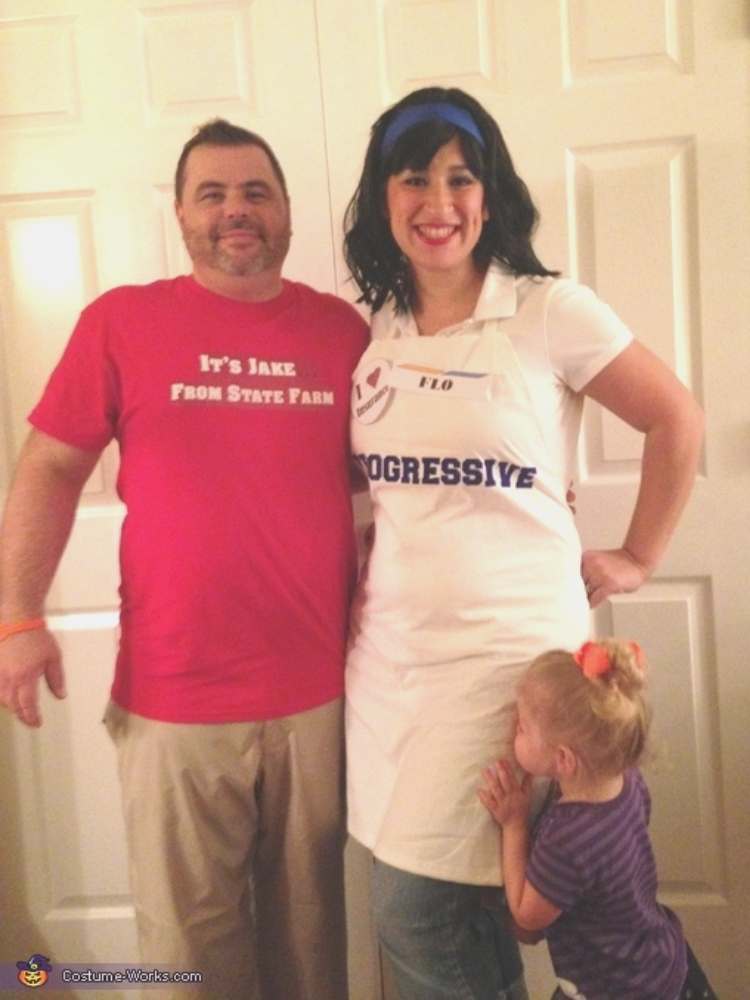 8. Flo From Progressive & Jake From State Farm 
Have a little fun with some pop culture references from the insurance world! Flo from Progressive and Jake from State Farm would be super fun to do as a couple.  We love Halloween and this year decided to do something a little simpler than past years, but unique yet popular at the same time. It's so easy you can do it too!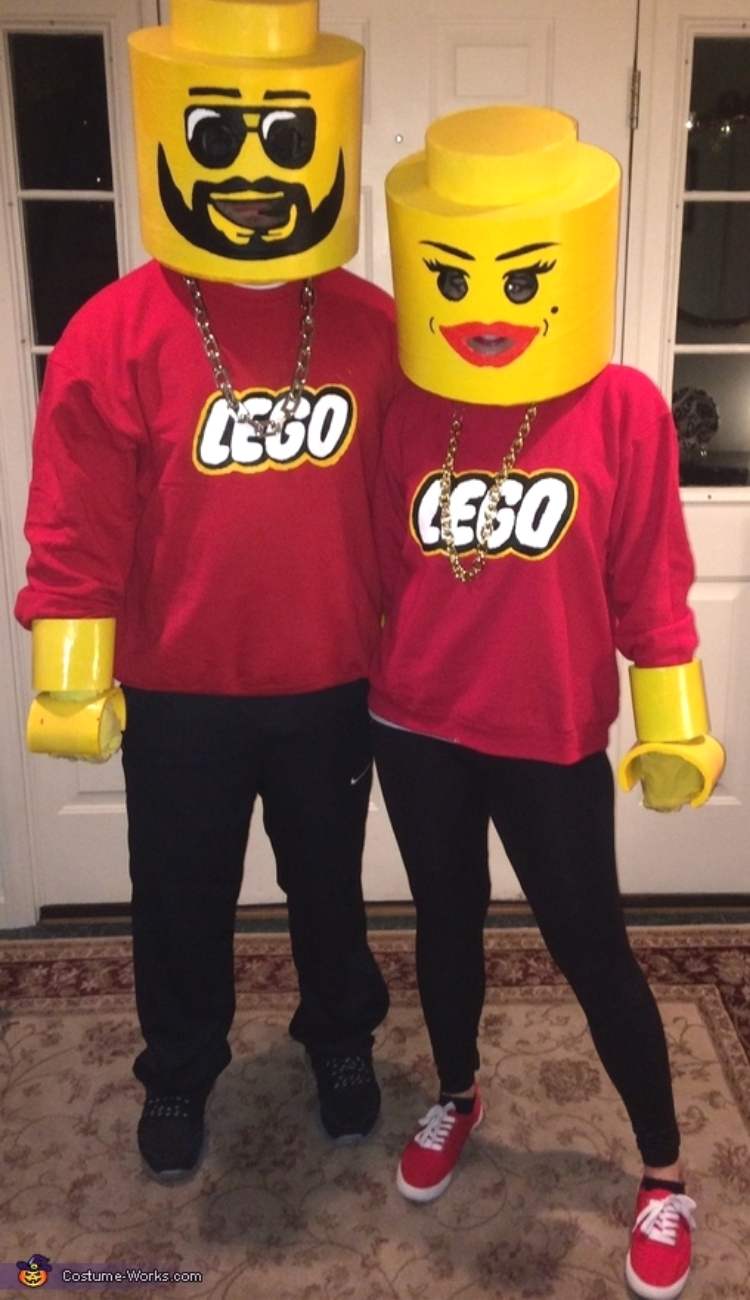 9. Lego Mini Figures Couple Halloween Costume 
If you're a parent, you've stepped on these at least half a dozen times… talk about a nightmare! But you have probably made a lot of great memories by building everything from spaceships to farm animals.  Dressing up as Lego Mini Figures can be lots of fun. Use this tutorial to make your own DIY couples costume. This costume idea is so easy and fun!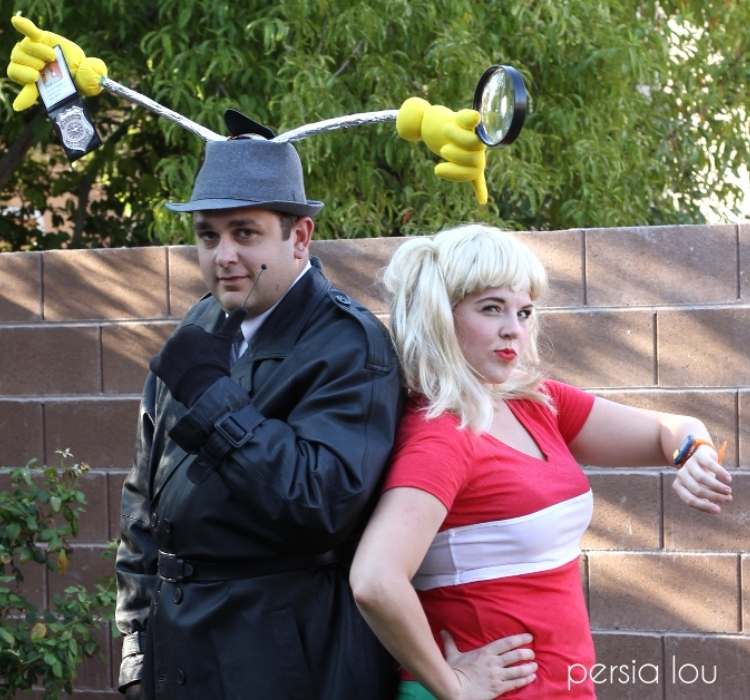 10. Inspector Gadget and Penny 
Go, go gadget hands! This Inspector Gadget and Penny costumes sure bring back memories. This one involves a little more work, but it'll be so fun to make and pull off!  And who doesn't want Go Go gadget hands? Not only is this costume fun to make – it's fun to wear! Grab the tutorial for a great couple's costume idea.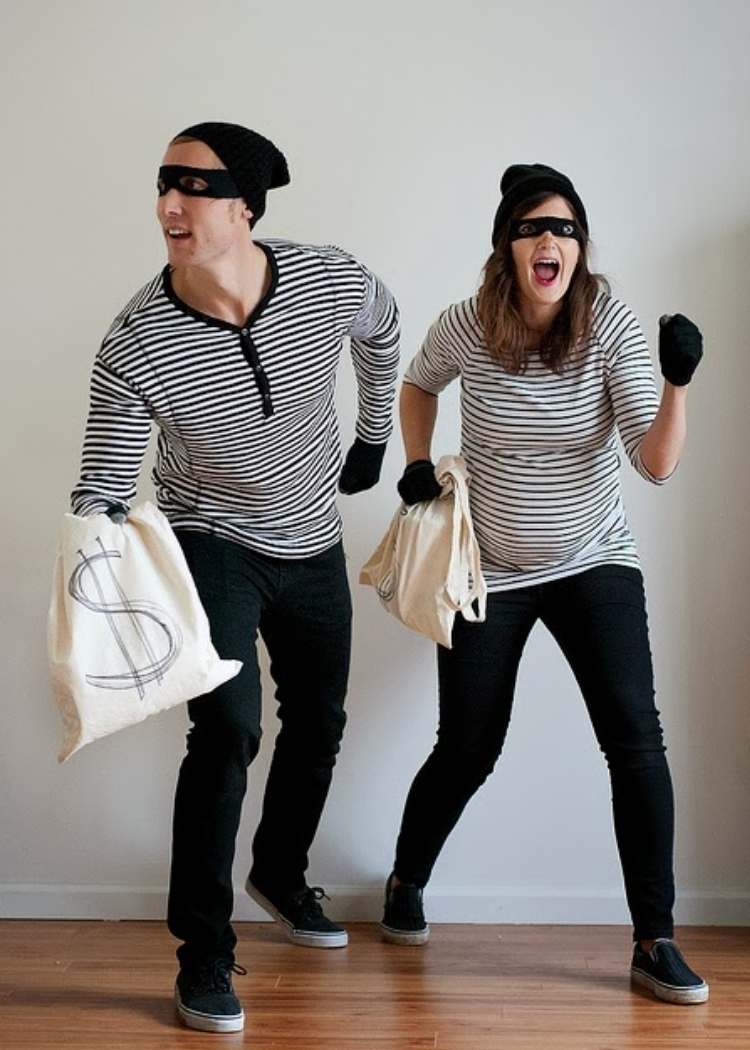 11. Bank Robbers DIY Couples Costume 
Be the most popular guests at the party with your bags full of money.  Black and white striped shirts, beanies, and eye masks are enough to turn you and your partner into bank robbers. Don't forget to fill up the bags with a money (or candy) stash!  You can't go wrong with Bandits. All you need are some striped shirts with black pants, eye masks, and loot bags!
12. Create Costume Puns (or even Hashtags!)
Okay, I have to admit that it took me a while to get this one. They're hash browns playing tag… hash  + tag. Get it? I love the creativity of this costume!  You will be the most fun couple all night while your friends guess your costume and then laugh like crazy once they get it.  Here's another punny couples costume idea from our collection!
13. Piñata and Birthday Kid 
What's a party without a pinata?   One of you can dress up as a pinata and the other as the birthday boy or girl. Just make sure there are no ill feelings before handing over that bat! (Make sure its a plastic bat just in case it gets into the wrong hands). You'll be the hit of the party with this DIY Piñata costume! No sewing required!
14. Pigs in a Blanket Easy Couples Halloween Costume 
This is super easy… Pigs in a blanket. That's a last-minute costume if I've ever seen one… no excuses to skip the party now!  Another one of our favorite couples costume ideas to inspire you this Halloween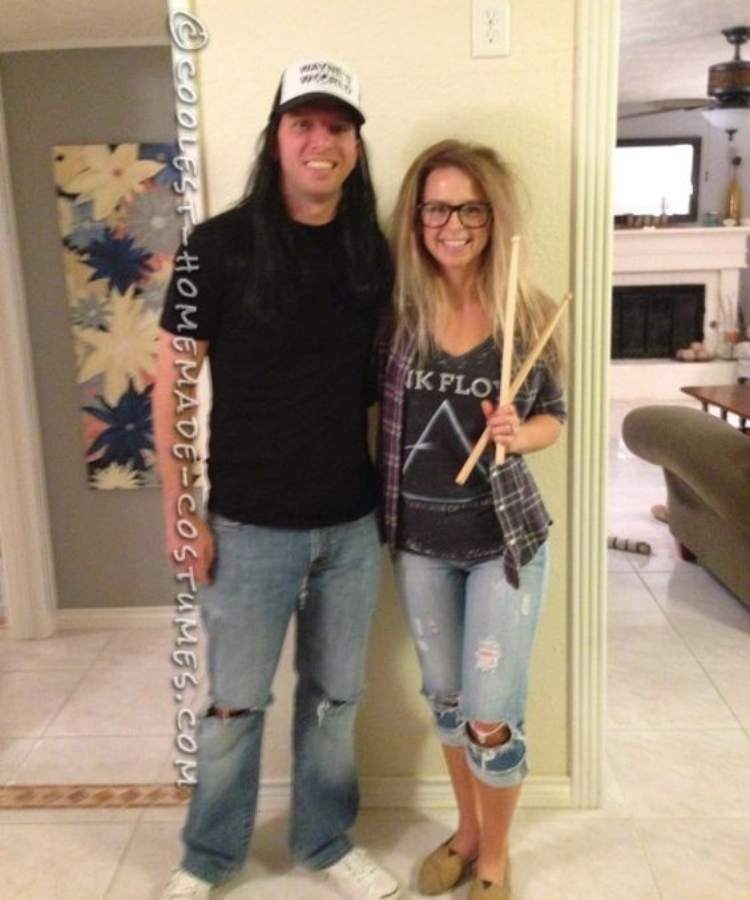 15. Wayne and Garth Couples Costume 
Party time. Excellent! This Wayne and Garth couples costume will be a big hit. If you don't have clothes in that style, a quick trip to the thrift store will fix that. We refuse to purchase costumes from those chain stores. Half the fun of Halloween is letting your creativity shine – like with this costume idea!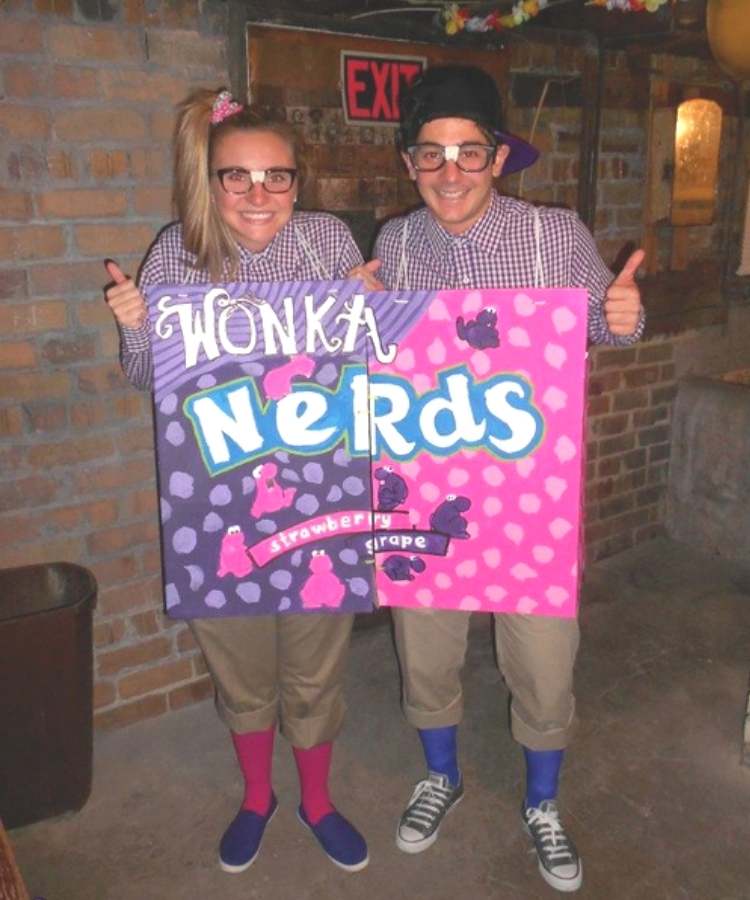 16. Couples Nerds 
Here's another cardboard costume masterpiece: Nerds! It's simple and brilliant at the same time. How cute is that?  And you will get to get your creativity on when you make the nerds box.   Don't like pink and purple?   How about orange and green?  Or yellow and red?  The idea came from a box of nerds from the convent store. The Box was made out of poster board for a simple but very fun costume idea!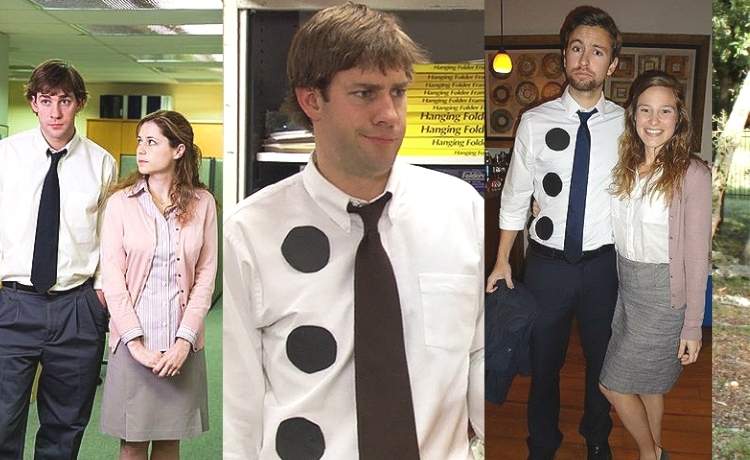 17. Jim Halpert and Pam Beesly 
And finally, just because they were so darn cute as a couple on The Office, here's a Jim Halpert and Pam Beasley couples costume. Aww!
If you & your boo (Halloween pun intended) love to geek out together, here's Halloween Costume Ideas for Geeky Couples that you both can try out this year!
See, Halloween can be for grown-ups too! You can use anything from old clothes to cardboard to make the magic happen, and the great thing is that it doesn't take much.
A few simple, cheap supplies and a little creativity are all that stand between you and your own easy couples costumes! 
What are some of your favorite couples costumes you've made?  Share your photos to our Facebook page or email them to us!! We love to share! [email protected]
More Halloween Fun Ideas: