Your bedroom should be your safe haven – the place you go to relax and unwind after a long, busy day. But if clutter and chaos are taking over your space, you'll find your bedroom is anything but a comfort. Get inspired by these bedroom organization ideas to turn your space into a tidy, welcoming space that you'll look forward to every night.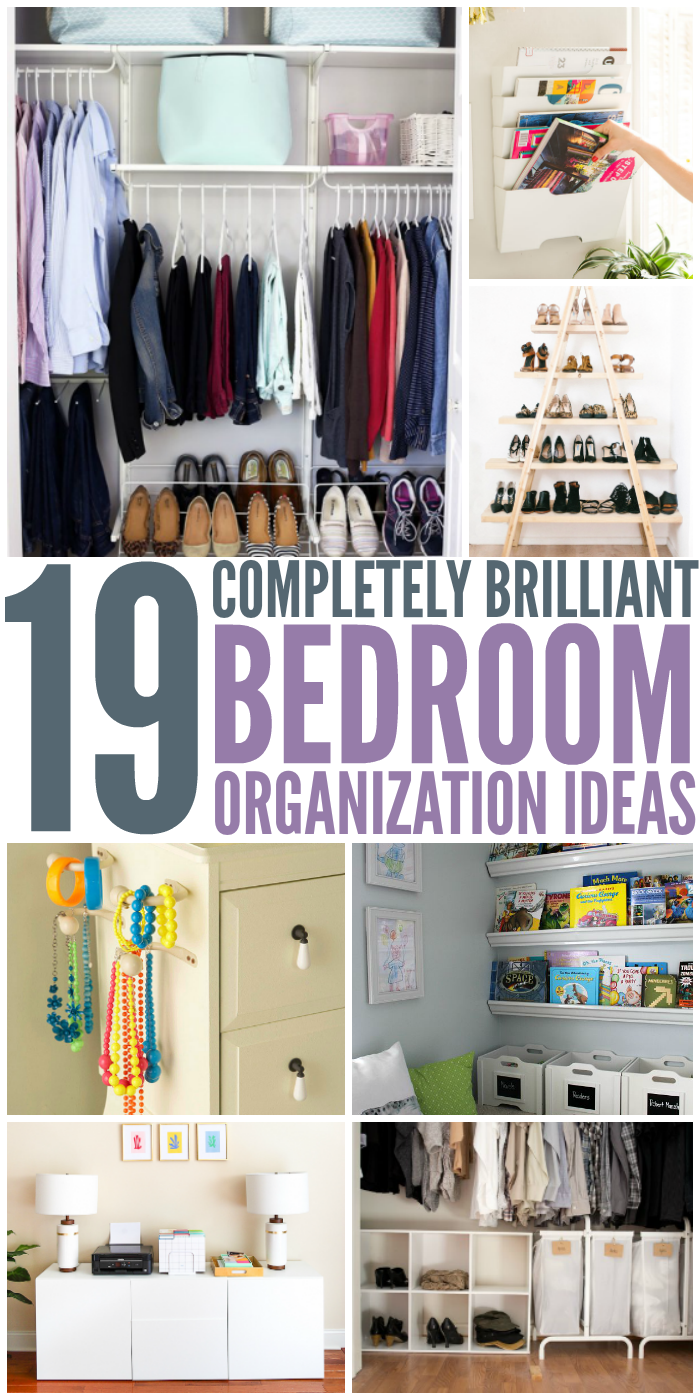 Brilliant Bedroom Organization Ideas
Before you even try to organize your bedroom, consider doing a room purge. Get rid of everything you don't need and that you don't absolutely love. You'll be surprised at how freeing it is!
via Just a Girl and Her Blog
Install floating corner shelves to maximize oddly-shaped vertical spaces.
via 4 Men 1 Lady
Need a cool way to organize your shoes? This ladder shoe shelf is a great way to display your shoe collection (you know you love it!) while keeping everything tidy.
via A Pair and a Spare
Install a painted pegboard to hang accessories, pictures, bags and anything else you can imagine. (Check out our other pegboard ideas!)
via BHG
Many of us are guilty of shoving things under the bed, but that's not exactly a good plan for organization. A better plan? This DIY platform bed with built-in storage. So smart.
via Chatfield Court
If you have a traditional bed, you can always slide some plastic bins underneath to store extra blankets, etc. This plastic bin is on wheels to make it easier to access stored items.
via Pins and Procrastination
This clever lady turned an IKEA bookshelf into window seating with storage. It's brilliant and beautiful and works for adult or kid bedrooms!
via Mommy Vignettes
Instead of piling magazines on your nightstand, use a wall-mounted magazine file instead.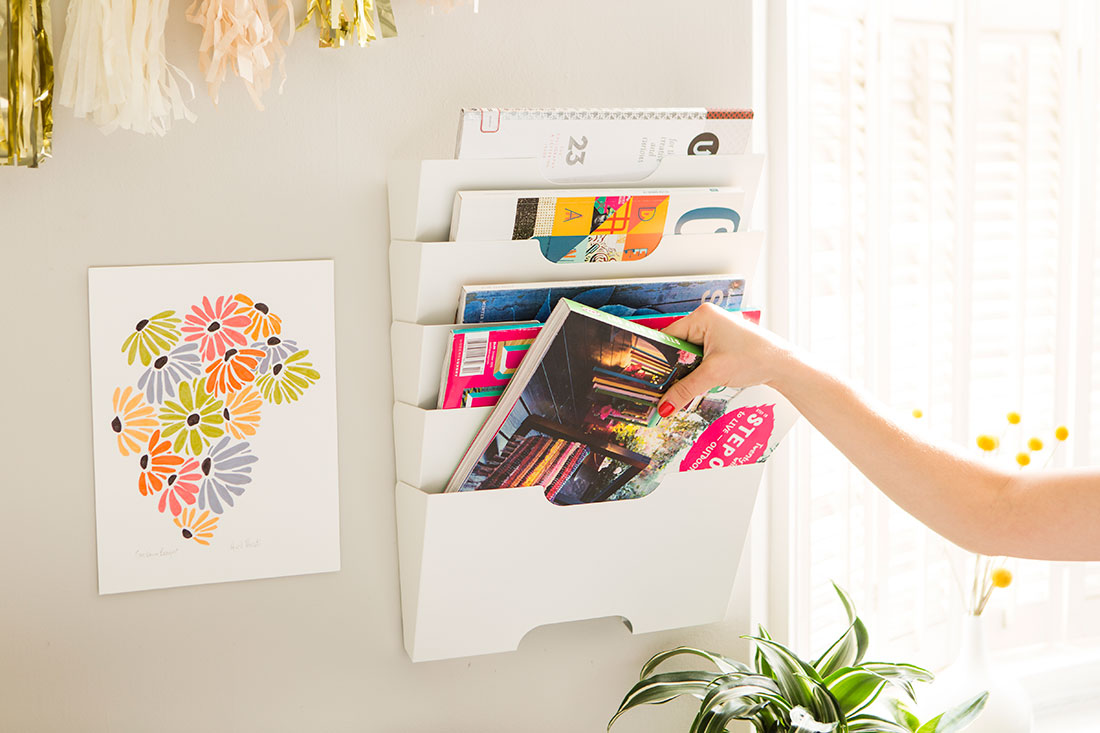 via Brit & Co.
Build storage towers around the headboard and ditch the nightstand altogether.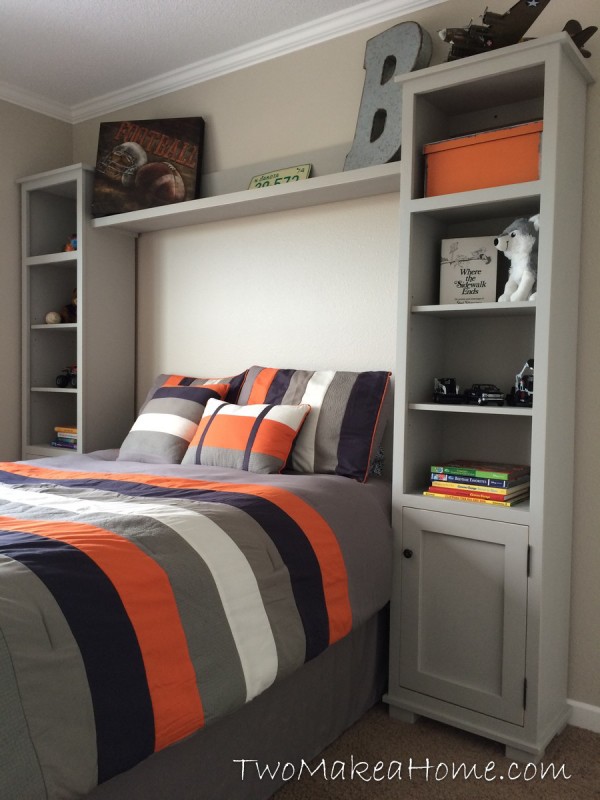 via Two Make a Home
Turn a wooden tray into the best jewelry organizer EVER! Install some knobs, and add boxes in the bottom to hold the stuff that doesn't need to hang.
via A Time for Everything
Or try a mirror that doubles as jewelry storage. Here's a tutorial to help you create your own!
via A Beautiful Mess
Install hooks on the side of a dresser or nightstand to hang necklaces, bracelets and scarves.
via BHG
Have a bedroom that doubles as an office? Closed storage is where it's at. You can hide lots of clutter behind doors or curtains, and the space still feels tidy.
via The Crafted Life
Add a small desk at the foot of the bed to keep your laptop and paperwork off the bed where you need to just relax.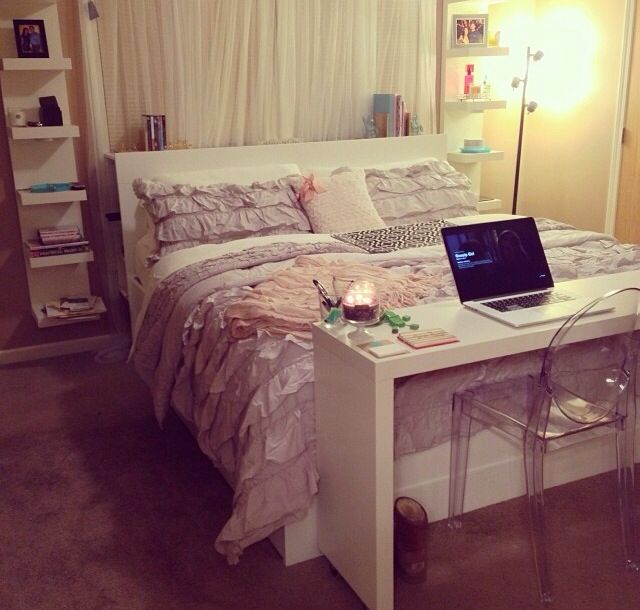 via Decoholic
If you have the space, consider adding laundry hampers to your closet. It'll keep them out of other rooms, and it's a natural spot for them since you're likely getting dressed/undressed near the closet, anyway.
via Hometalk
Ideas for Organizing the Kids' Rooms
Create a reading nook with lots of comfy pillows for sitting and baskets for books. The rain gutter shelving is genius! What a cheap and pretty way to display their favorite books.
via Clean and Scentsible
And here's a handy idea for storing and displaying LEGO mini-figures (or toy cars… whatever your child has way too many of).
via Clean and Scentisble
Label bins with helpful symbols to teach kids where to put their things. See the bins for pajamas and socks? Adorable!
via I Heart Organizing
Add shelves to the bottom of the closet to make the most use of that space. You can keep toys out of sight on shelves or in bins so the floor is less cluttered.
via Two Twenty One
Get even MORE organization tips here:
19 Game-Changing Closet Organization Hacks