Your bedroom should be your safe haven – the place you go to relax and unwind after a long, busy day and at the same time – the place where you prepare yourself for the next day. If clutter and chaos are taking over your space, you'll struggle to find comfort in your bedroom. Then, instead of getting rest, you'll be getting annoyed. And that's where we come to the rescue! Get inspired by these clever and easy-to-make bedroom organization ideas to turn your space into a tidy, welcoming space that you'll look forward to every night.
Can't wait already? Me too!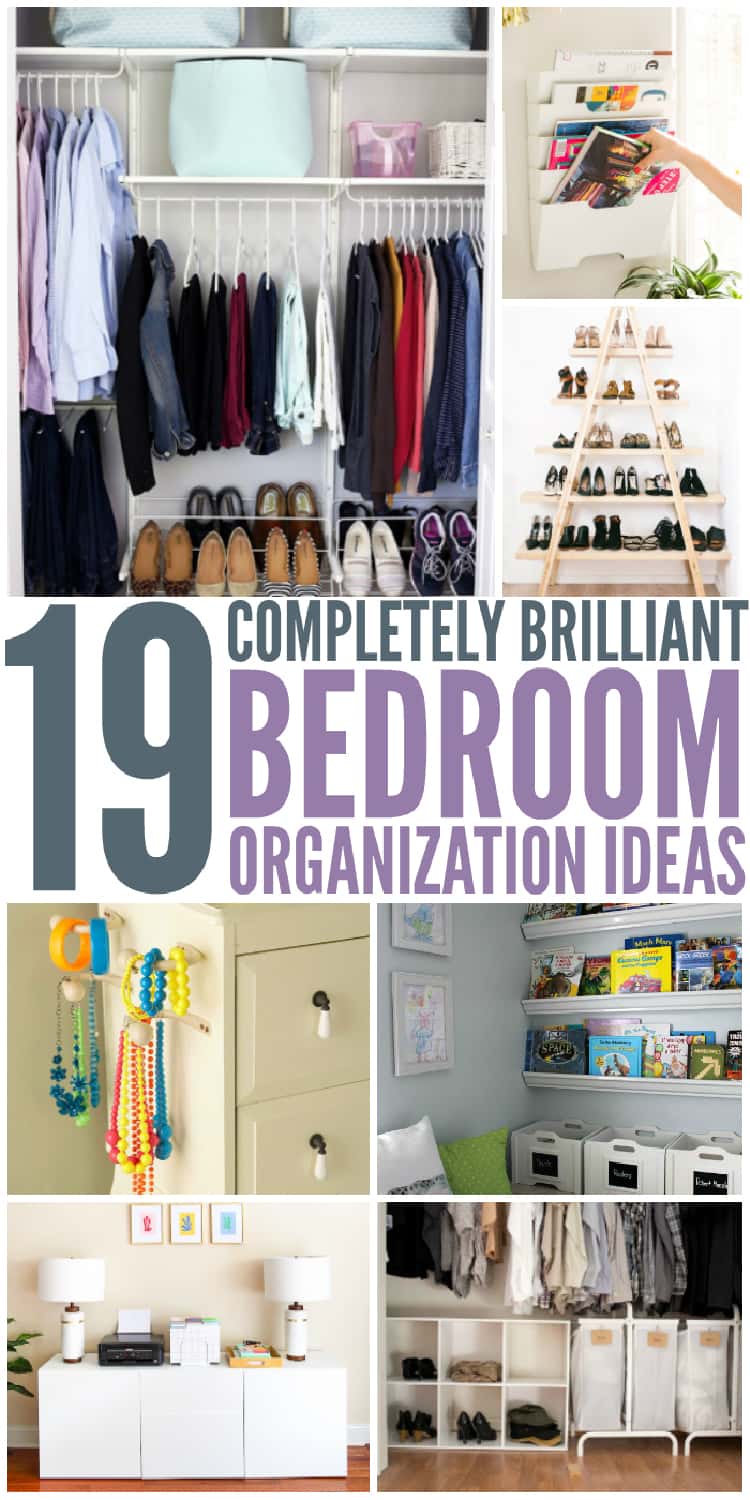 Brilliant Bedroom Organization Ideas That Will Transform Your Bedroom Into Your Personal Peaceful Oasis
1. Make a Room Purge Every Now And Then Is a Must
Before you even try to organize your bedroom, consider doing a room purge. Every human tends to keep different items that we don't usually need or use anymore, because of an emotional reason. Remember those jeans you wore in high school 20 years ago you felt so sexy with? Yep, exactly the pair on the bottom of your drawer. They need to go away.
Get rid of everything you don't need and that you don't absolutely love. You'll be surprised at how freeing it is! And how much more free space you will have to breathe!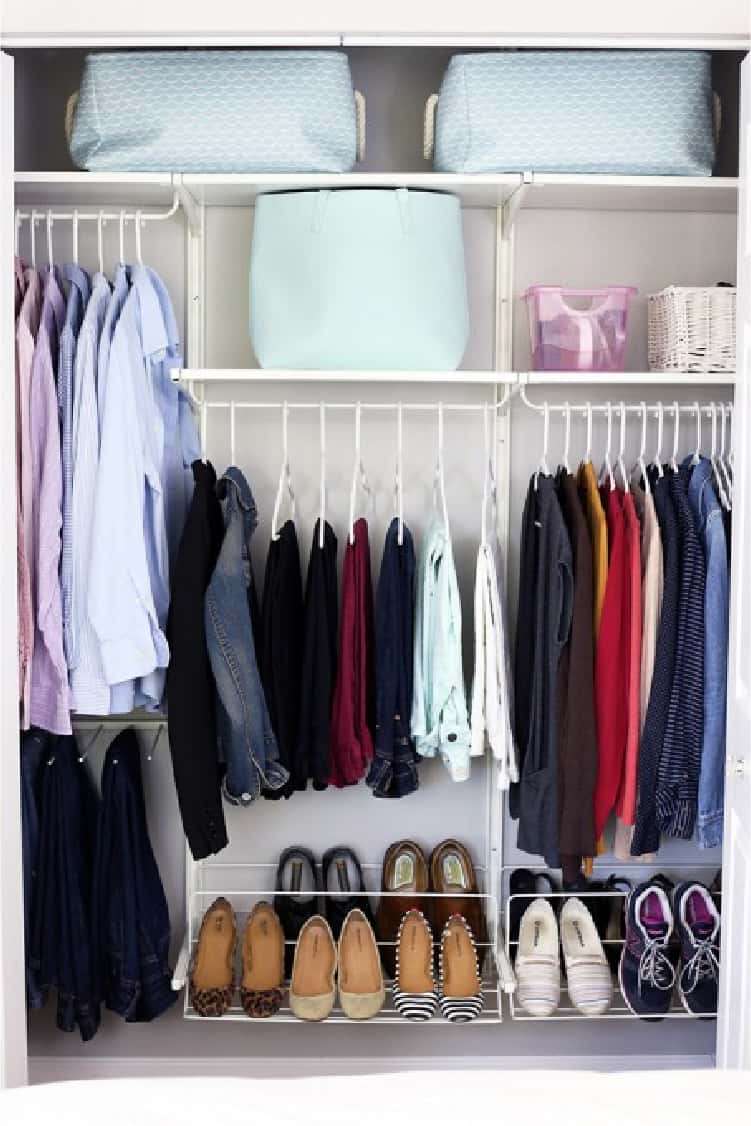 via Just a Girl and Her Blog
2. Completely Change Your Bedroom With Floating Corner Shelves
Does your home have some very oddly shaped spaces you could use for storage? Install floating corner shelves to maximize oddly-shaped vertical spaces in your rooms. You'll be surprised how much you'll be able to make with even the smallest space when you add shelves!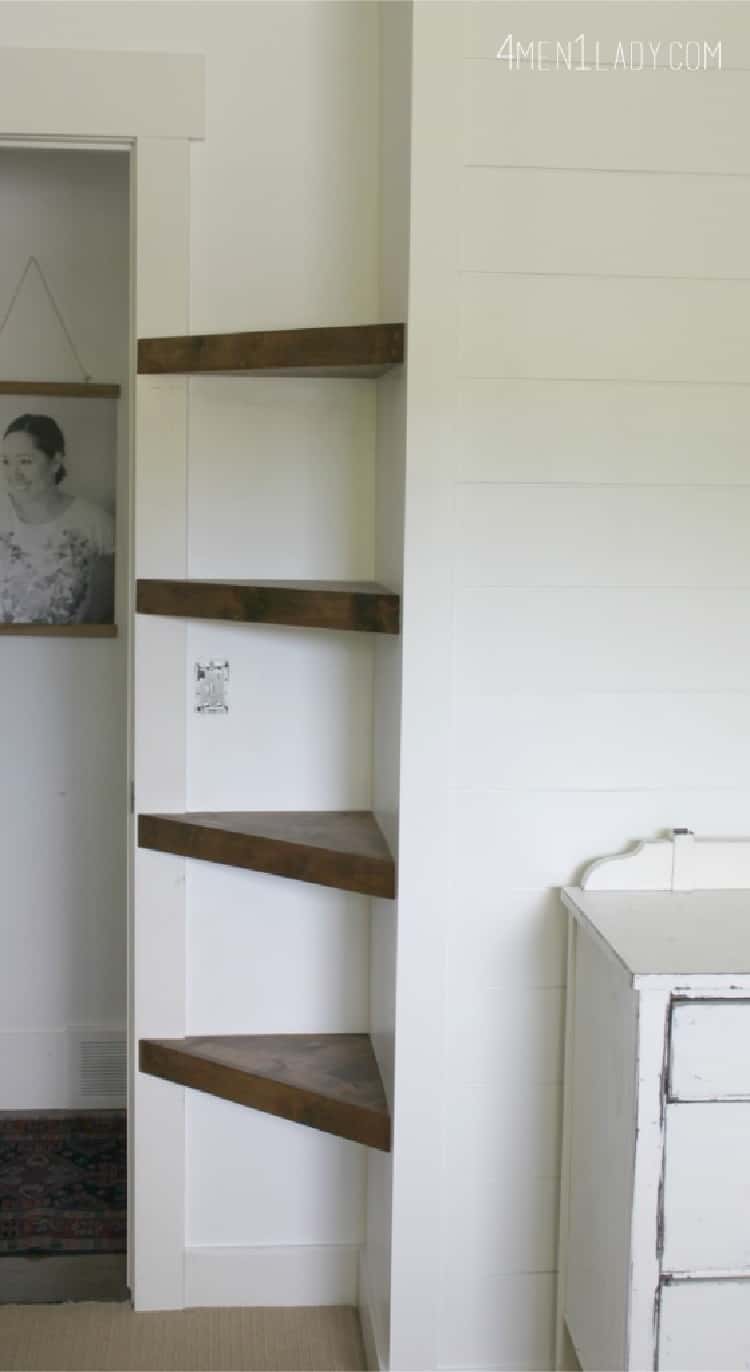 via 4 Men 1 Lady
3. A Ladder Shoe Shelf Is The Bedroom Organization Idea You've Been Looking For Your Whole Life!
Need a cool way to organize your shoes? This ladder shoe shelf is a great way to display your shoe collection (you know you love it!) while keeping everything tidy. And it will not break your bank! How could you not fall in love with projects like this one?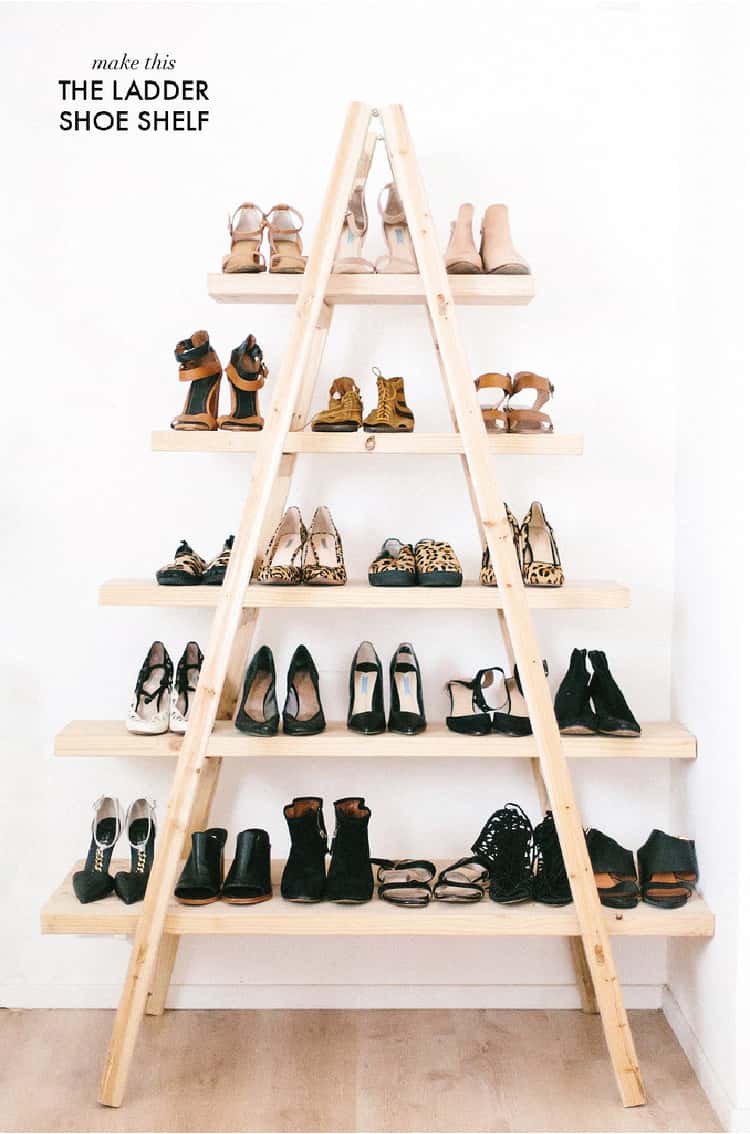 via A Pair and a Spare
4. How To Organize Your Bedroom With Painted Pegboard
Not enough space for your pictures or small jewelry? There's an easy way to fix this and add a colorful accent to your bedroom. Install a painted pegboard to hang accessories, pictures, bags, and anything else you can imagine. (If you liked this idea, you might also want to check out our other pegboard ideas!)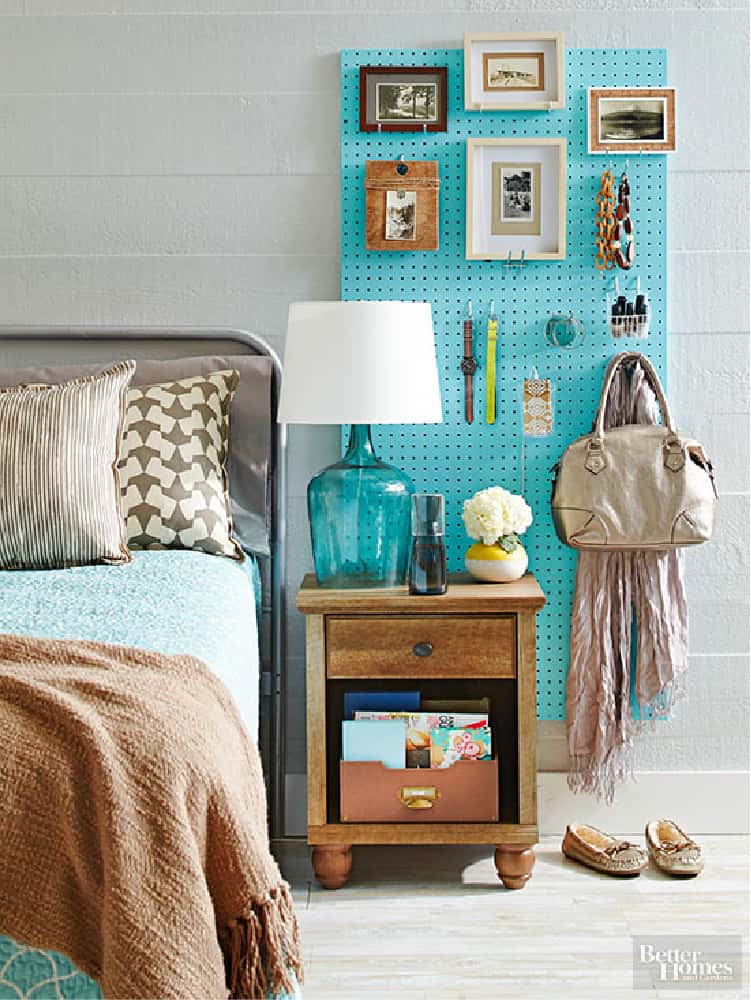 via BHG
5. A DIY Platform Bed To Solve The Bedroom Storage Problem For Good
Many of us are guilty of shoving things under the bed, but that's not exactly a good plan for long-term organization. What if there's a better way? A better plan? This DIY platform bed with built-in storage is what you need. So smart.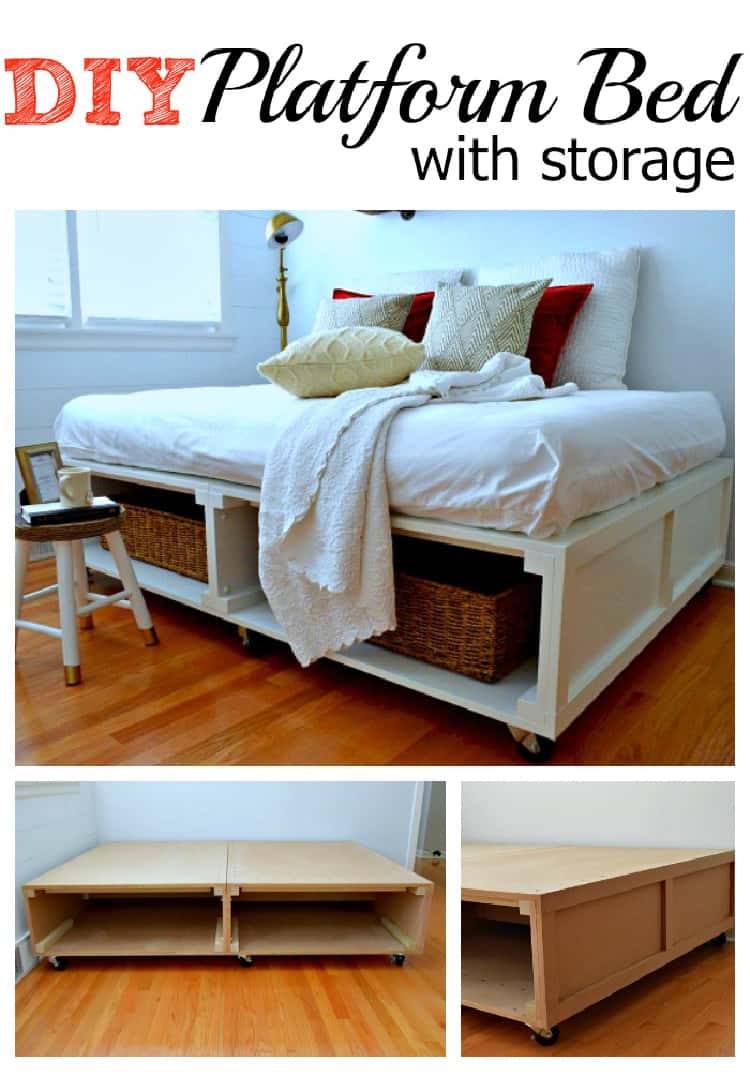 via Chatfield Court
6. How To Make The Most Of Your Under Bed Storage With Plastic Bins on Wheels
Even if you have a traditional bed, you can always slide some plastic bins underneath to store extra blankets, etc. This plastic bin is on wheels to make it easier to access stored items. So simple!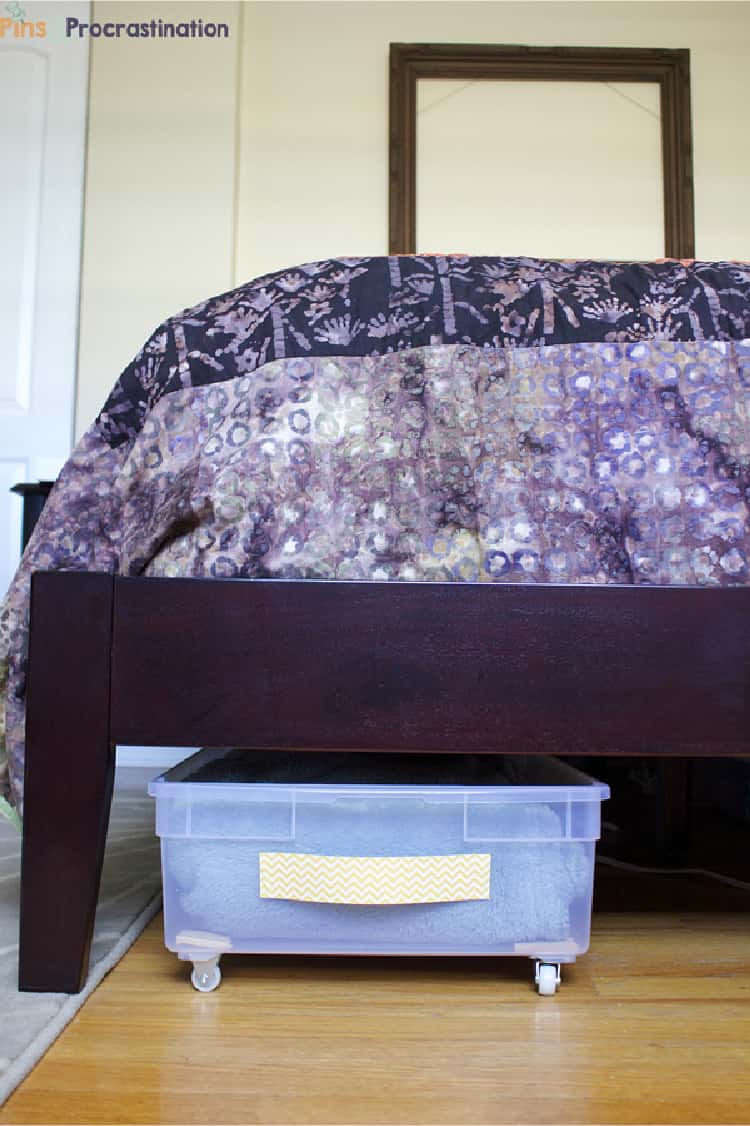 via Pins and Procrastination
7. Clever and Simple Bedroom Organization Ideas – Turn an Ikea Bookshelf Into Seating With Storage
Do you need more storage and seating space in your bedroom? What if there's an easy way you can shoot two birds with one stone? This clever lady turned an IKEA bookshelf into window seating with storage. It's brilliant and beautiful and works for adult or kid bedrooms!
The best part? It's fully customizable! You can paint it in any color you want, you can pick any type of storage bins (canvas, rattan, plastic, etc.)! Are you planning your next trip to Ikea, too? 🙂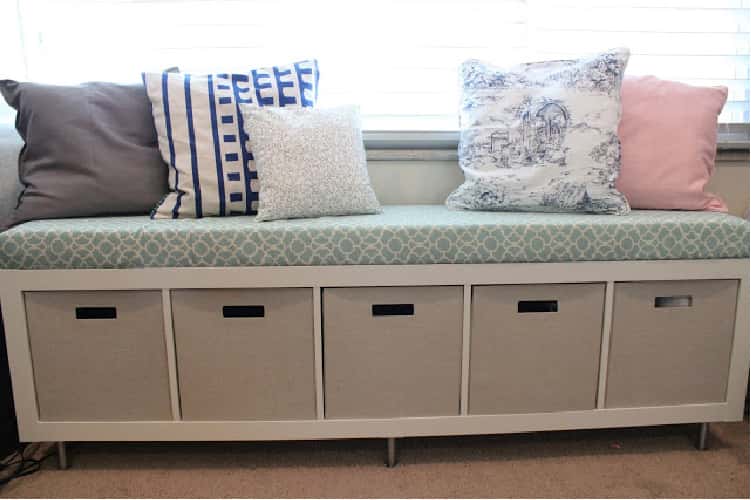 via Mommy Vignettes
9. How To Keep Your Bedroom Nightstand Organized? Install A Wall-Mounted Magazine File!
Instead of piling magazines on your nightstand, use a wall-mounted magazine file instead. It's a great way to keep your favorite magazines, catalogs, and books you're reading easy to access.
via Brit & Co.
10. Genius Bedroom Organization Ideas You Need For Your Bedroom – Storage Towers Around The Headboard For Nightstands!
Build storage towers around the headboard and ditch the nightstand altogether. It's a brilliant solution for small bedrooms, both for adults' and kids' rooms.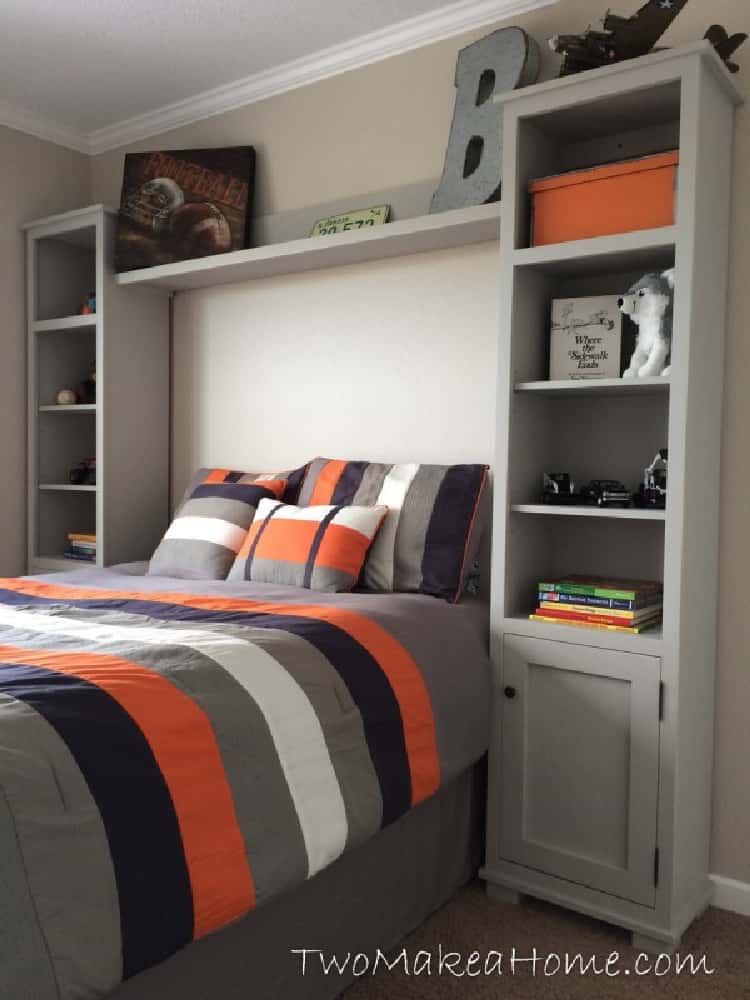 via Two Make a Home
11. Bedroom Organization Ideas For Jewelry – Beautiful DIY Projects With Wooden Trays
Looking for a way to keep your jewelry organized in your bedroom? Roll up your sleeves and get to work! Turn a wooden tray into the best jewelry organizer EVER! Install some knobs, and add boxes in the bottom to hold the stuff that doesn't need to hang. Quick and easy, and the result is stunning!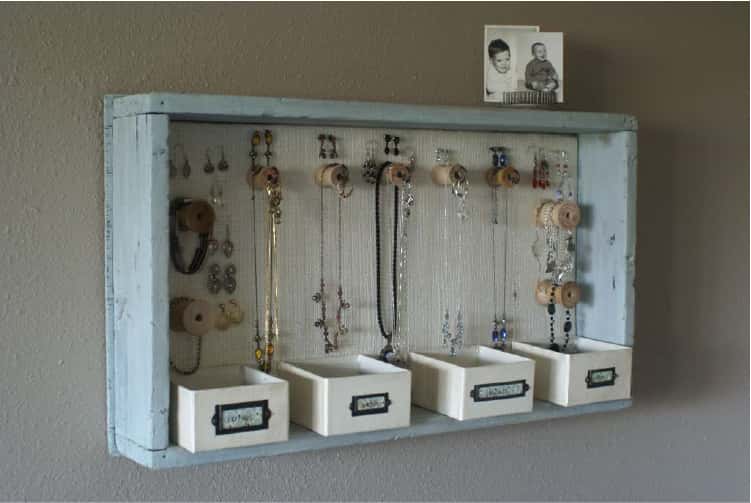 via A Time for Everything
12. DIY Jewelry Storage With a Mirror – A Must-Have Idea For Your Perfect Bedroom Organization
Or if you're really tight on space, try a mirror that doubles as jewelry storage. Here's a tutorial to help you create your own! You can easily add more hooks or shelves if you need to.
via A Beautiful Mess
13. On Budget Bedroom Organization Ideas: Attach Hooks On The Side Of A Dresser
Install hooks on the side of a dresser or nightstand to hang everything you need!
What you can use it for?
Necklaces
Bracelets
Scarves
Bags
Or pretty much anything else you can think of!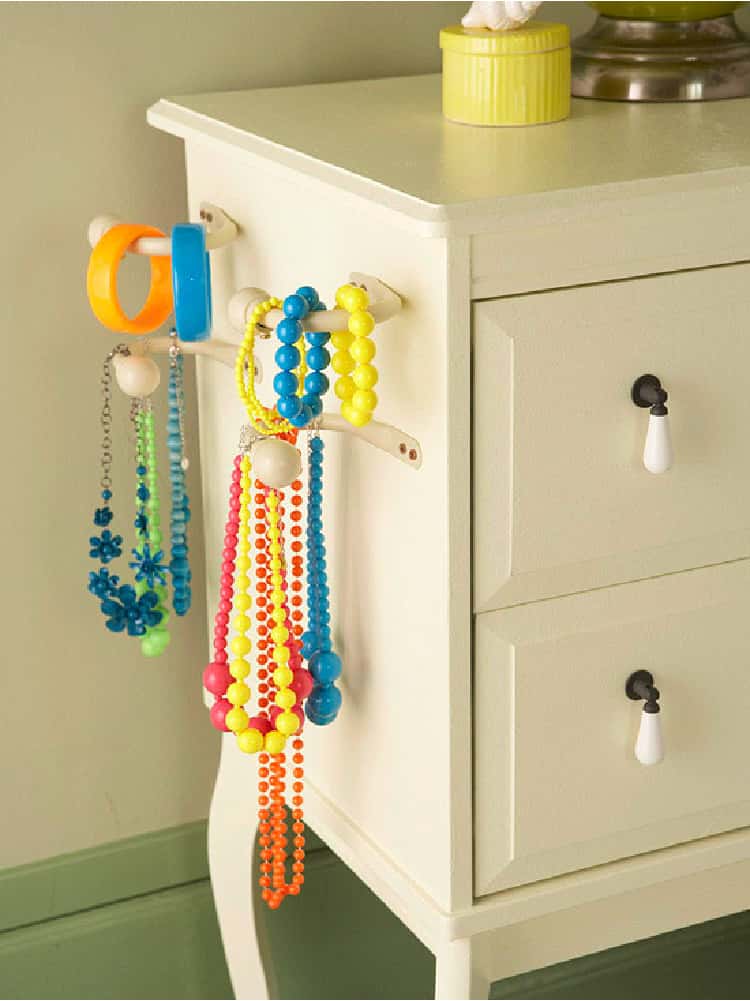 via BHG
14. If Your Bedroom Doubles As An Office, You Need This Simple Solution
Have a bedroom that you use as an office? If you do, I know what you're struggling with. CLUTTER.
Closed storage is where it's at. You can hide lots of clutter behind doors or curtains, and space still feels tidy. This is very important for your workspace. Clearing your desk and the room around you will improve your focus and decrease distractions.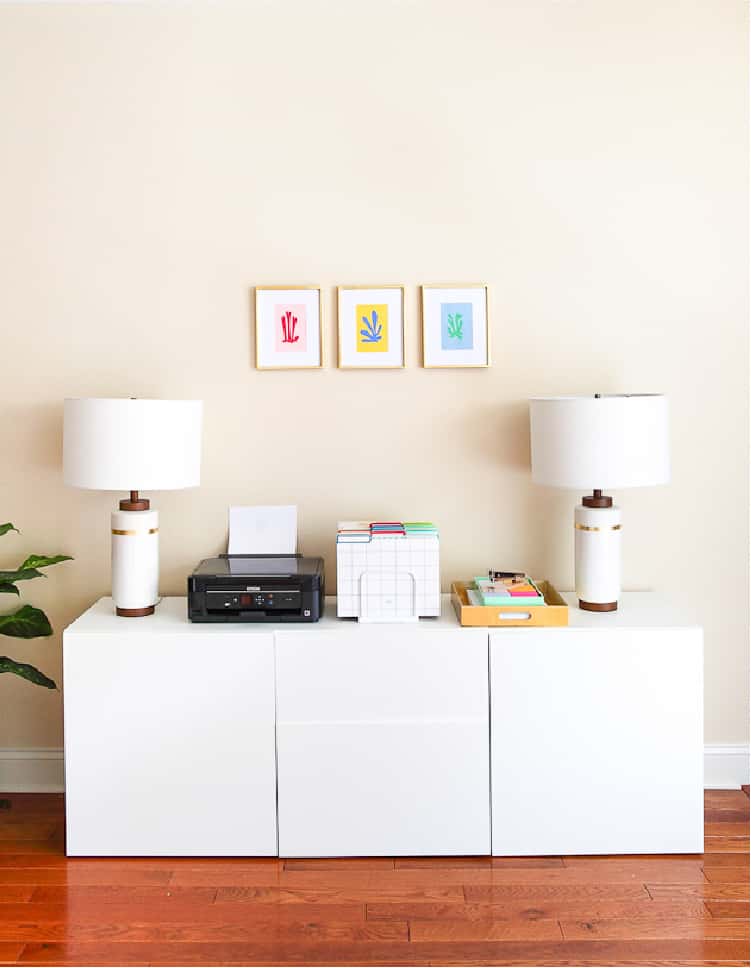 via The Crafted Life
15. No Space For An Office? How About a Small Desk In Your Bedroom?
At first, this idea sounds crazy, doesn't it? But it's actually a smart way to utilize the space in your room (especially in a small apartment). Add a small desk at the foot of the bed to keep your laptop and paperwork off the bed where you need to just relax.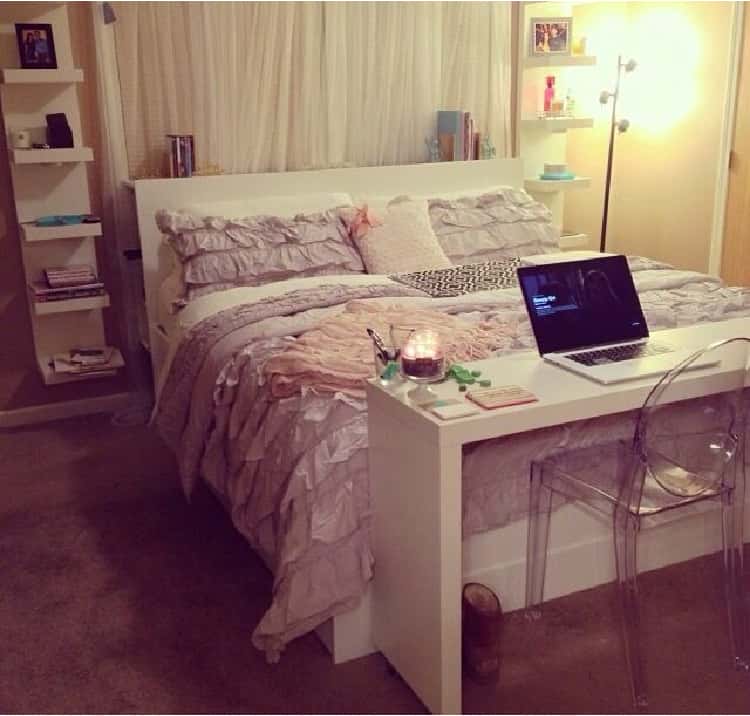 via Decoholic
16. Keep Your Laundry Out Of Your Sight In Your Bedroom Closet
If you have space, consider adding laundry hampers to your closet. It'll keep them out of other rooms, and it's a natural spot for them since you're likely getting dressed/undressed near the closet, anyway. A bonus would be if you have two hampers – one for white and one for colored clothes, so you have them presorted and ready for your laundry machine.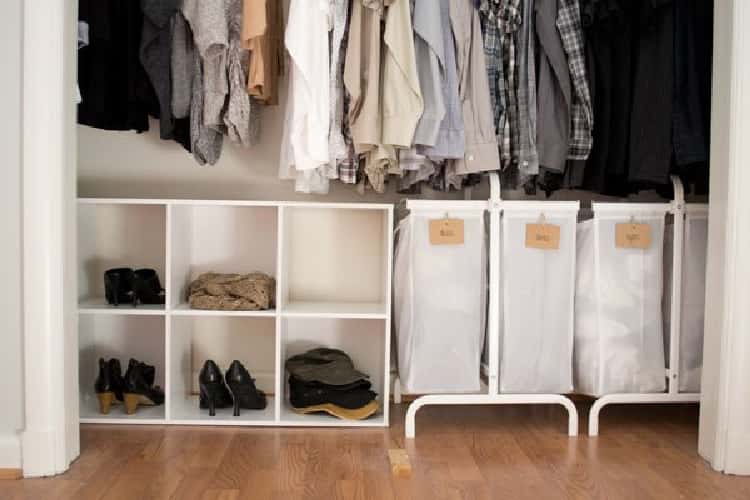 via Hometalk
Ideas for Organizing the Kids' Rooms To Keep The Mess Away, Even If You've Already Tried Everything
If the first thing you think about, when you hear the words "Kids' room" is "Chaos", then you're in the right place!
Don't forget that everything you do about your children's bedroom organization has to be done with your kids in mind. If we want them to keep their toys stored, they have to have easy access to their storage.
Here are some ideas to clear the clutter in your children's rooms and help them keep them that way!
17. Try Creating a Reading Nook And Your Kid Will Never Want To Read A Book Anywhere Else But There
Create a reading nook with lots of comfy pillows for sitting and baskets for books. The rain gutter shelving is genius! What a cheap and pretty way to display their favorite books.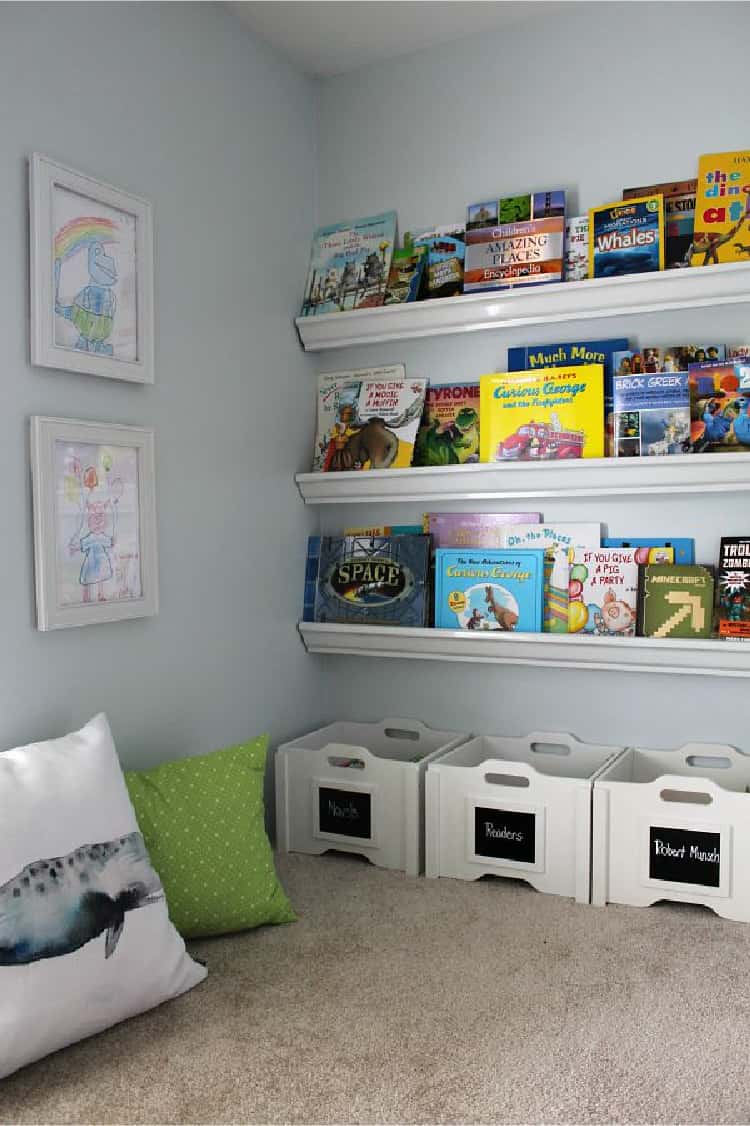 via Clean and Scentsible
18. Brilliant Bedroom Organization Ideas for The Little Lego Lovers! (Or Every Other Small Toy In That Matter)
Do your kids collect Lego pieces? Or cars? Or cicada shells? Are you tired of finding them everywhere in your little ones' bedroom? Well, here's a solution for you! Check out this handy idea for storing and displaying LEGO mini-figures (or toy cars… whatever your child has way too many of).
via Clean and Scentisble
19. One Simple Thing to Help Your Kids With Their Bedroom Closet Organization – Labels With Pictures!
If your kids are anything like mine, they would want to do everything by themselves. But… That doesn't always bring the desired results, especially with the smaller kiddos. The main challenge for the little ones is to remember where the different clothes are stored.
Here's how to help the kids (and yourself) with the clothes: Label bins with helpful symbols! Using visuals is always a great way to teach kids where to put their things. See the bins for pajamas and socks? Adorable!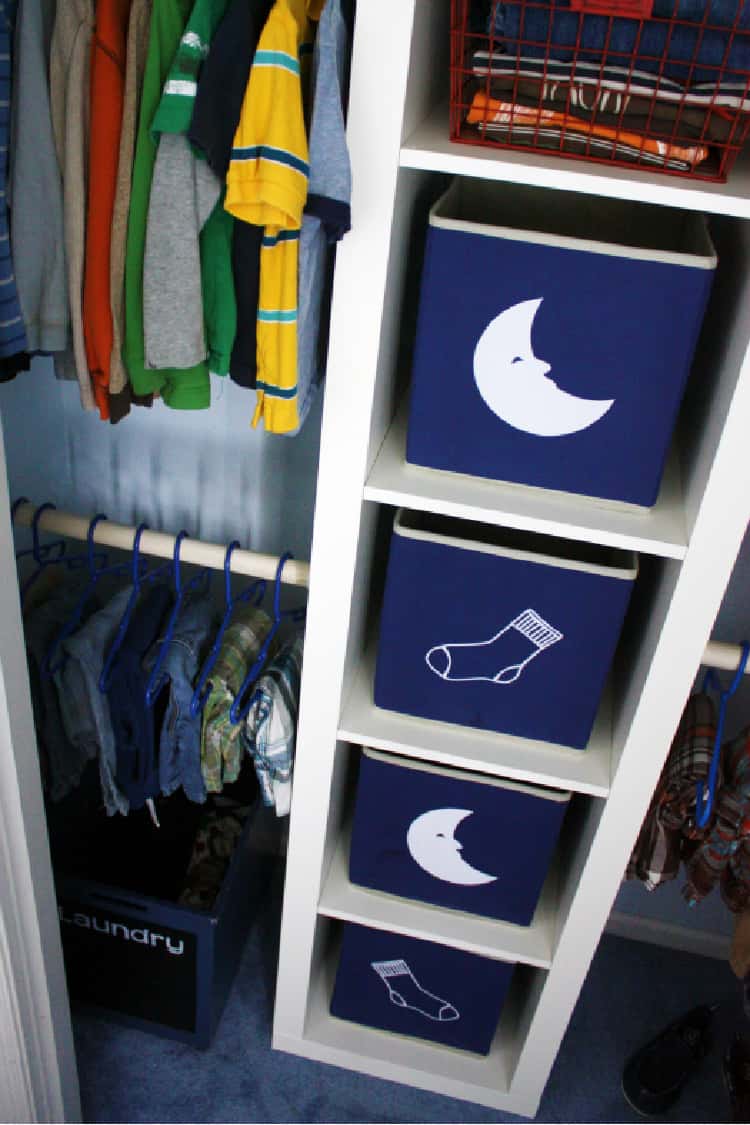 via I Heart Organizing
20. Getting Smart in Your Bedroom Storage Organization: Adding Shelves To The Bottom Of The Closet to Expand Your Storage Capacity
Are you struggling with keeping your kids' bedroom organized? Do you need more space in their closet? Then think about adding shelves to the bottom of the closet to make the most use of that space. You can keep toys out of sight on shelves or in bins so the floor is less cluttered.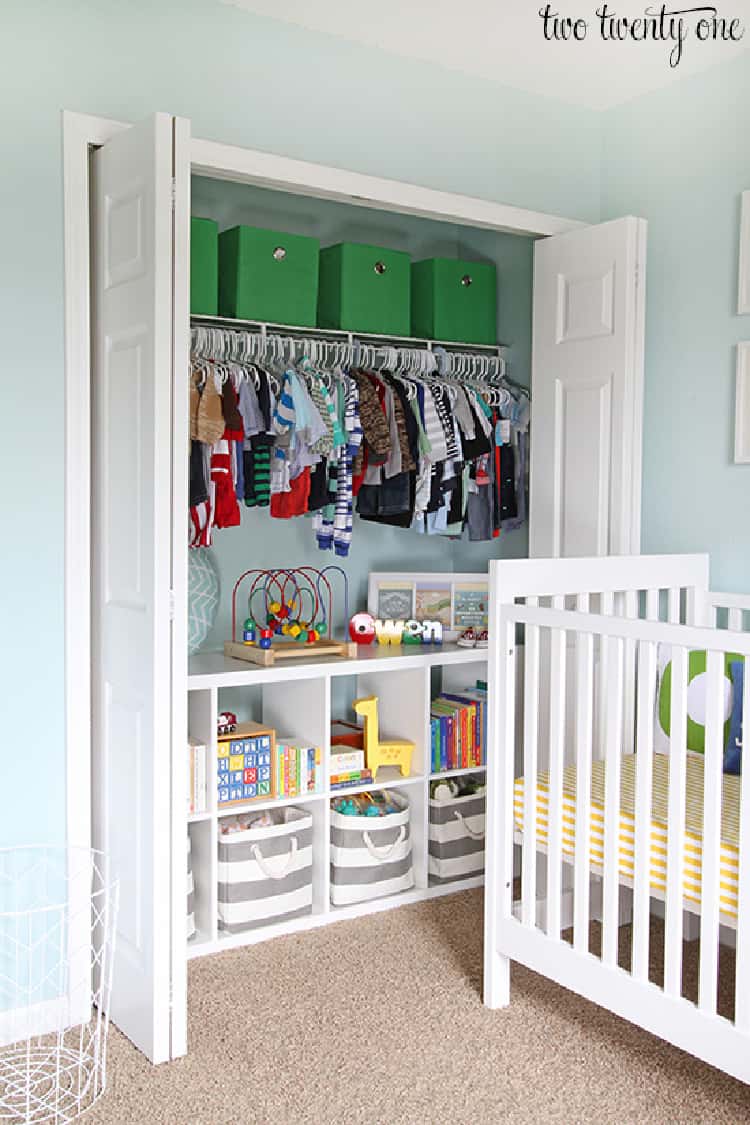 via Two Twenty One
20 Smart And Simple Ideas For Effortless Bedroom Organization
A bedroom is a sacred place for every single person. Therefore, we have to keep it as comfortable and as clutter-free, as we can, so it could be the place of haven it's supposed to be. This list of mind-blowing bedroom organization ideas will help you solve all of your organization and clutter challenges! Which one would you try out first?
Did you like these amazing bedroom organization ideas? You're gonna love those organization tips, too: