Spice up your Christmas Eve and Christmas Day food menu table with these creative and fun Christmas party food ideas. Make any of these 19 crowd-pleasing favorites that will delight both guests and kids!
The holidays are coming quickly, and before you know it, you'll be joining in on holiday get-togethers, feast, Christmas dinner and celebrations of all varieties. Feel prepared with these 19 Creative & Delicious Christmas Food Ideas that are a must-try this year! You don't want to show up with a boring veggie platter or that dreaded fruit Christmas cake most do not enjoy or any kind of roast – roast pork, roast beef, roast chicken – all the time. You want to come to your holiday gatherings bearing Christmas snacks, dishes and recipes that are creative and unique this year! It really is easy to bring something more fun that projects holiday spirit!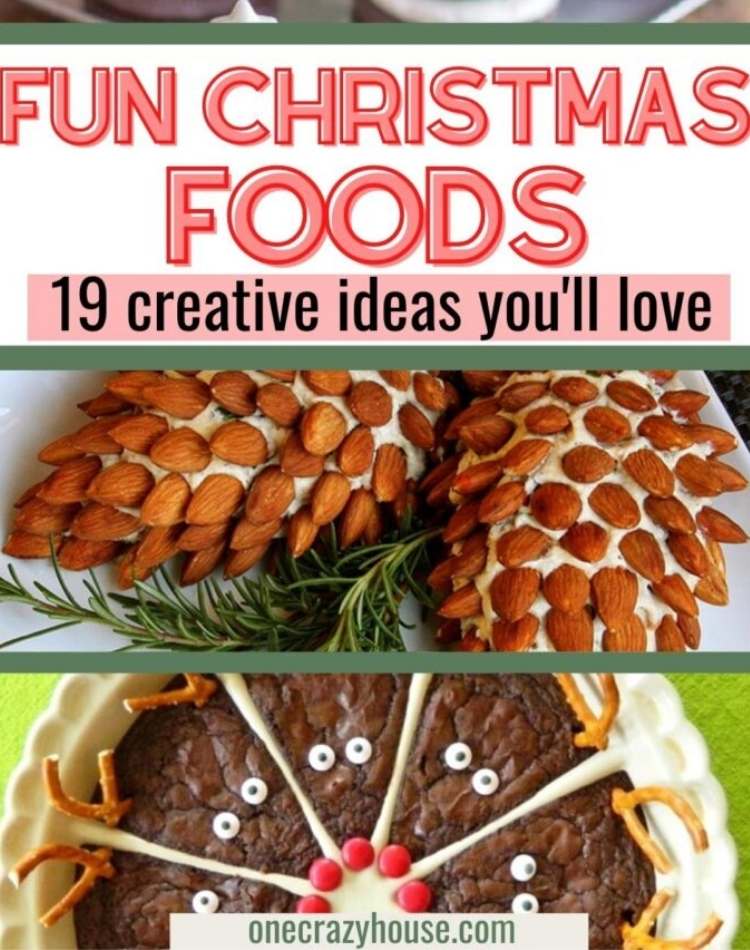 You will learn in this article how to create festive foods that are easy to make and take with you. Not feeling creative? Do you yearn to stand out but at a loss for ideas? Then it's a good thing we gathered up 19 creative Christmas party food ideas that'll make a big splash with everyone!
From appetizers to sweet treats, we've got you covered with cute, crazy, Christmas-y foods for lots of merry-making! So let's get started!
Creative Christmas Party Food Ideas that will Impress you for your next Holiday Party
This year, toss that old holiday appetizer stand-by to the wayside in favor of making one of these festive Christmas food ideas that will delight kids and adults alike. Are you one that craves sweet or savory foods? You are in luck as this list includes a little bit of both!
1. Chocolate Covered Strawberry Christmas Lights
Create an edible multi-colored chocolate covered strawberry Christmas lights with this unique idea for chocolate-covered strawberries. These multi-colored Christmas light strawberries are simply adorable, and they're edible! They'd make a cute garnish around a more elaborate dessert or it would be lovely as a snack themselves. If you are looking for a way to have a Christmas snack that is also a little more on the healthier side, this recipe is for you!
This also makes it the sweetest DIY holiday gift for loved ones and neighbors!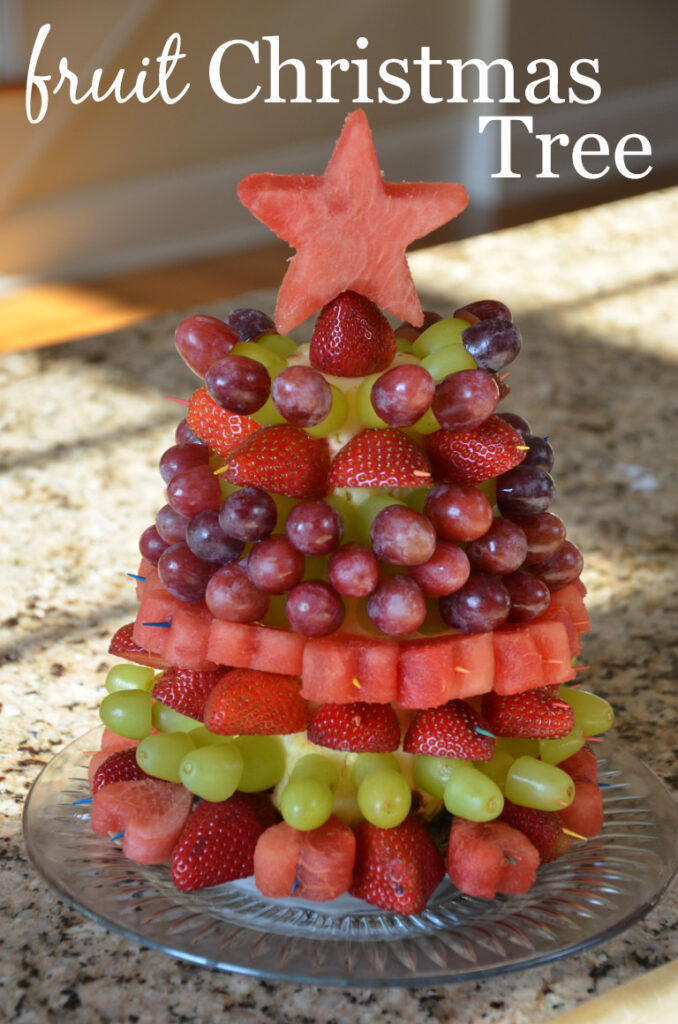 2. Fruit Christmas Tree
With such an overload of Christmas cookies and sweets, I love the idea of making a fruit Christmas tree—it's an unexpected, healthy and yummy holiday treat. Have you ever seen those fun Christmas tree appetizers but was not sure how to make one? Now you have the ideas and instructions to create it! I can't wait to make this fruit Christmas tree this year. At first, I was looking for the pineapple and then realized it's the "trunk" of the tree. I never would have thought to use a pineapple that way – what a smart idea!
3. Christmas Pine Cone Cheese Balls
Pine Cone Cheese Ball Appetizer with Almonds. Fun and Easy Christmas Party Appetizer recipes for the holiday season! I had seen cheese balls made into the shape of Christmas trees but never pine cones. I love this idea because pinecones are great for the holidays as well as all winter-y gatherings. Make something savory with this Christmas party food idea. These pine cone cheese balls are delicious paired with your favorite crackers. And almonds just happen to be one of my favorite nuts!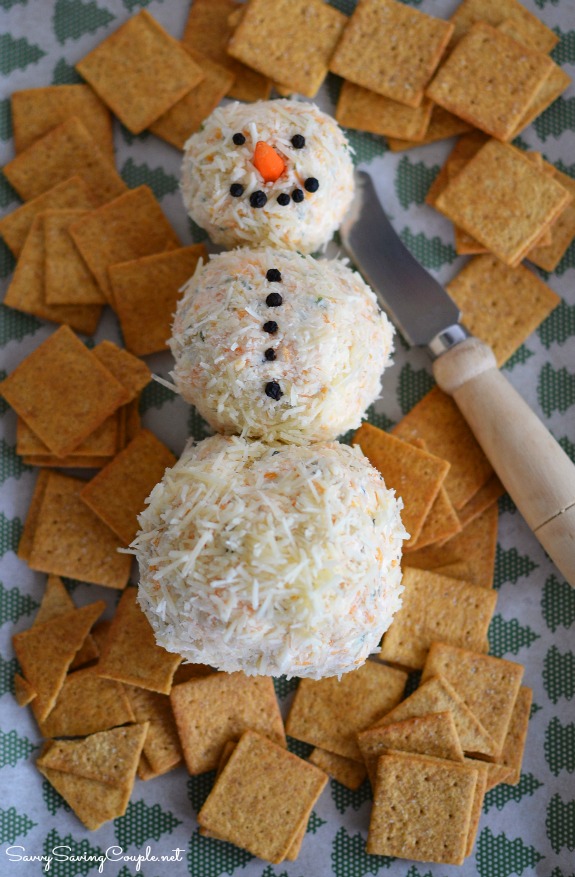 4. Christmas Snowman Cheese Ball
Easy Snowman Cheese Ball Recipe. A delicious and easy to make holiday entertaining staple! If you are looking for a cheeseball recipe that is more enticing for kids – how about a snowman cheese ball for a kids' Christmas party? This fun and festive appetizer will stand out on your holiday table. I thought it was SO cute! This Christmas food idea not only tastes good but will also make a great conversation piece.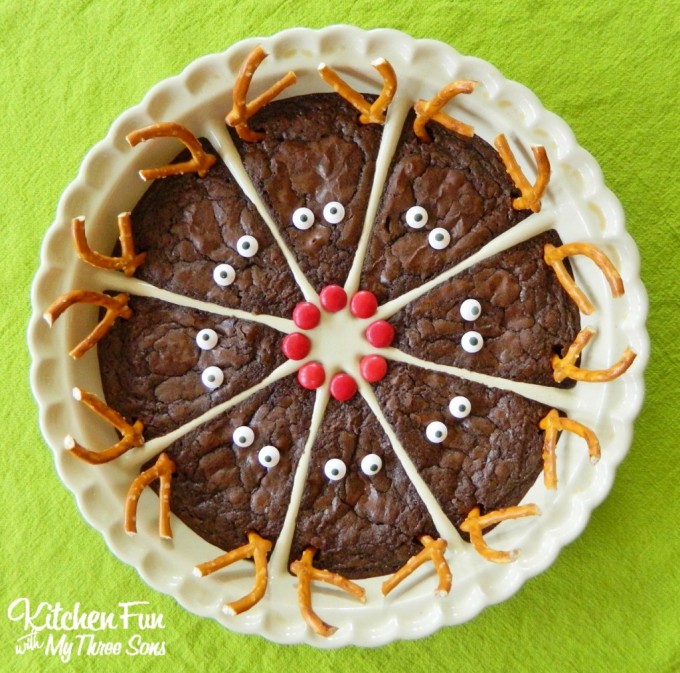 5. Rudolph Brownies for Christmas Party…Yum!
Rudolph the Red Nose Reindeer Brownies….a fun & easy Christmas treat that the kids will love having their own individual slices! Reindeer brownies are the perfect holiday dessert – no special recipe needed. Just make your favorite brownies, and decorate them as shown. I have had fun making these Christmas food ideas and then using it as inspiration for themed activities with my kids. You could make this recipe with your kids then read the book "Rudolph the Red Nose Reindeer" while sipping hot cocoa or eggnog for adults. It is amazing how food can play a big part in making special Christmas time memories with the ones you love.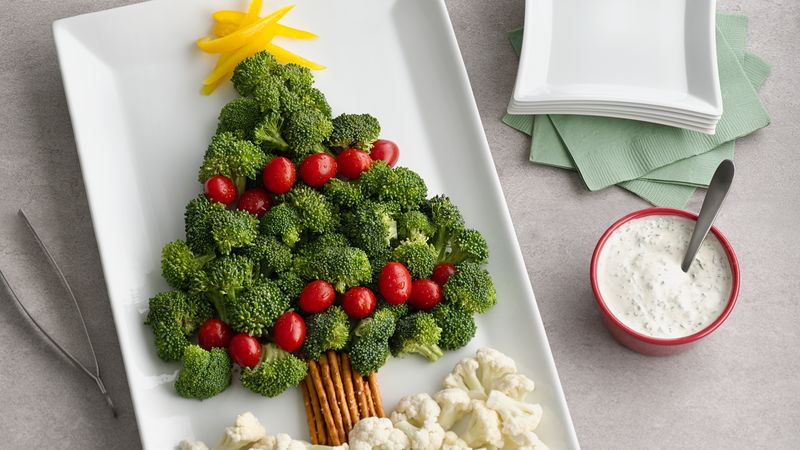 6. Christmas Tree Veggie Platter
Broccoli and tomato "tree" with pretzel "trunk" and cauliflower "snow" are delicious dippers for a cool and creamy dip. Get a huge dose of vegetables with this Christmas tree veggie platter. The tomato Christmas lights and cauliflower snow are a nice touch. It almost looks too good to eat and you get to get into a few healthy foods to balance out the treats most of us eat this time of year. You can also use a variety of vegetables to make different versions of this one like beans, red cabbage, onions and potatoes.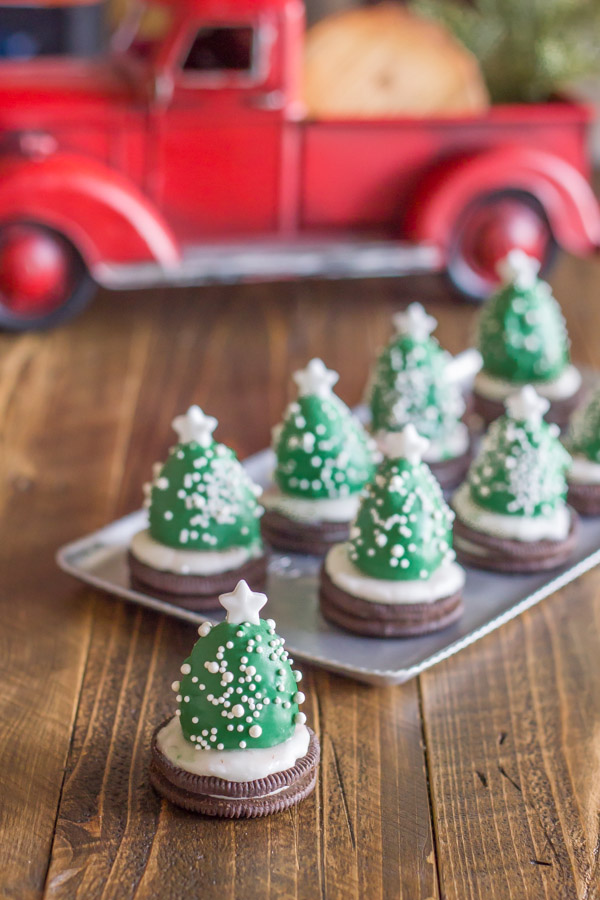 7. Chocolate Covered Strawberry Christmas Trees
These chocolate-covered strawberry Christmas trees are a fun and easy Christmas project to do with your kiddos! I just love recipes that are as easy to make as they are cute to look at, and I can't get over how amazing these Christmas trees look. Use everyone's favorite cookie as the base for these adorable strawberry Christmas trees. Don't they look magical?
8. Christmas Tree Tear and Share
This recipe was made for Christmas parties – perfect for sharing and as an accompaniment to all those other nibbly Christmas food goodies! Make a tear and share Christmas tree with warm bread and gooey mozzarella cheese. I promise savory Christmas food ideas too – and this is one of them. Don't forget the marinara sauce for dipping! So yummy.
9. Christmas Egg Snowman
These snowmen are a very nice addition to your holiday appetizer platter and salad. Oh, and this will make eating eggs more fun for your kids as well. Egg snowmen make a wonderful holiday appetizer or a fun breakfast for the kids. The eyes and buttons are made with peppercorns while the noses and hats are made with carrots… smart! I love that there are ideas that can also be healthy and nourishing.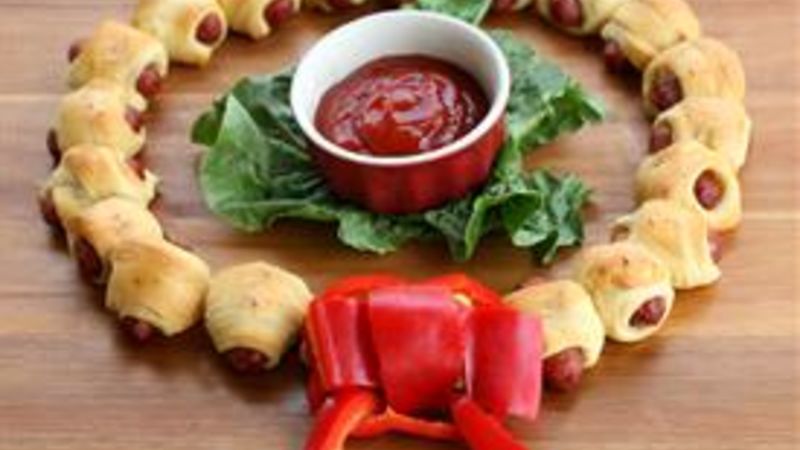 10. Mini Crescent Dog Christmas Wreath
Create a festive and edible appetizer wreath with mini sausages wrapped in crescent dough like dumplings and brushed with a seasoned glaze. Everyone will go crazy for these crescent dog wreaths made with cocktail sausages and crescent rolls. Are you really surprised? What's not to love about sausages wrapped in crescent rolls? Make several of these because they go fast! You can also use bacon as an alternative to sausages or mushrooms for a healthy option!
11. Pizza Christmas Stockings
Ho, ho, ho! These little stockings are stuffed with your kids' fave flavors. Make pizza stockings out of crescent dough, sauce, and cheese. This is a great time to work on more veggies (like bell peppers and tomatoes) side dish with the kids, too.
12. Christmas Reindeer Sloppy Joe Sliders
We created these fun Reindeer Sloppy Joe Sliders for a fun Christmas Party idea! This is a really simple idea that you can create in just minutes. Who doesn't love a hearty Sloppy Joe? These reindeer-style sliders include a few embellishments and turned out so well! I love the creativity of this recipe that is a fun twist to such a classic recipe. You can also try other animals too like pigs, bunny or anything you like!
13. Festive Christmas Pinwheels
Turkey Cranberry Pinwheels are the perfect appetizer for bringing to any holiday gathering, so check them out! Guests will gobble up a stack of these turkey cranberry pinwheels in a flash. Got it? Turkey… gobbled. I'll see myself out. ? Mediocre jokes aside, place these pinwheels in the shape of a Christmas tree for a very festive-looking appetizer. Not a fan of Turkey, you may change it to chicken instead!
14. Ho-Ho-Ho Hotdog Christmas Stockings
Turn ordinary hotdogs into Hotdog Christmas Stockings this holiday season! Stockings made out of hotdogs? I never would have guessed it! Ingredients are: a little parsley sprig, cream cheese, and pepper swatch finish everything off in a very cute way. The kids will love it, that's for sure.
15. Christmas Santa Strawberry Hats
Make these quick, easy and yummy strawberry Santas! A healthy alternative to so many of the heavily sugared desserts you find throughout the holiday season.
14. Krispie Treat Christmas Trees
These Christmas tree rice Krispies are super fun and cute too! Kick your Krispie Treat game up a notch. Shape them into trees, and add M&Ms (or raisins for a healthier option) and a marshmallow glaze to decorate the trees. It's easier than it might look, and the kids will go crazy for them! When was the last time you made a rice krispie treat?
15. Frosty Christmas Snowman Pretzels
Decorate white chocolate pretzels… These Frosty Snowman Pretzels are as much fun to make as they are to eat and kids and adults will love them. These pretzel snowmen are one of the cutest things I've ever seen. The pieces are held together by a fruit roll-up scarf and white chocolate. Isn't that genius?
16. Grinch Fruit Kabobs for Christmas
Grinch Fruit Kabobs are a fun and easy to make fruit appetizer for any occasion. They could also be referred to as Santa Fruit Kabobs. Maybe you'd like to offer the kids a healthier snack? These Grinch fruit kabobs definitely fit the bill (marshmallow aside… but what's one little marshmallow?).
17. Christmas Tree Waffles
Need a kid-friendly idea for Christmas morning breakfast? Try these Christmas Tree Waffles. Christmas tree waffles are the perfect breakfast for Christmas morning. Don't forget the chocolate candy "ornaments!" This may be eaten as it is or paired with Christmas ham or bacon!
18. Memory-Making Christmas Food:
The holidays are a wonderful time to have fun and enjoy special moments with friends and family. The foods we make and eat are part of the memory making of this magical time of year. What better way to add a little more cheer to any occasion than with some festive (and delicious) food ideas that leave a lasting impression on those you love this year!
Want to bring MORE fun to your Christmas festivities?
Here are 6 more ways to bring creativity and fun to the holidays: