22Altoids have long been my favorite mint. Curiously strong? Yes. Perfect? Again, yes. The cinnamon mints are my favorite, followed by peppermint. But I digress. I always keep my Altoids tins after I use them because they're so handy. Use them to organize drawers, make travel toys for your kids and so much more. Well, here are 17 Altoids Tin Crafts Ideas to inspire you.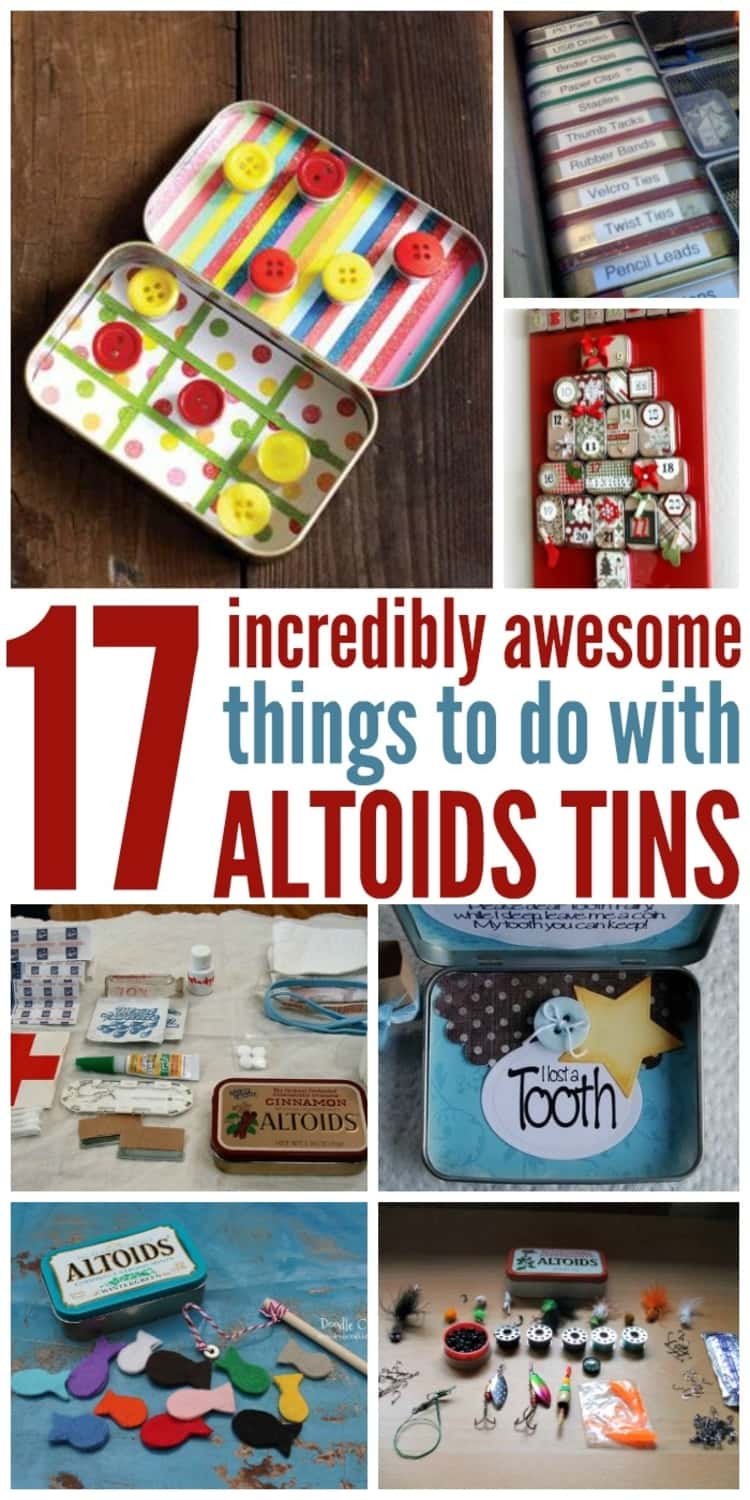 Creative Altoid Tin Crafts Ideas
1. Tangle Free Earbuds While Traveling
Keep your earbuds tangle-free in your purse or backpack. What a cool idea to keep your earbuds in a mint container so they won't get all smushed and tangly. I hate when I have to spend an hour trying to untangle them when I want to listen to something. Just wrap them in a little circle and pop them in the container. You can use any mint container that's big enough, like ginger mints or an Altoid tin.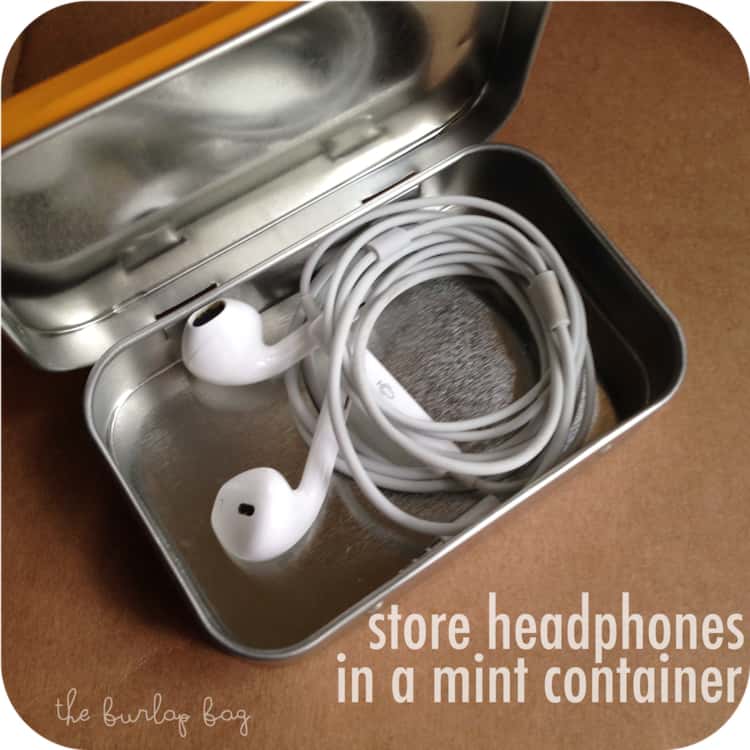 2. Altoids Tin Ideas for Christmas – Advent Calendar
Make a DIY advent calendar to use through the Christmas season. Each compartment can hold a nice little surprise, verse, or activity for the family. The tins at the top are mini Altoid tins, and the other ones are full-sized. The tins are attached to a magnetic board that can be easily bought from places like Amazon or any craft store. And you can decorate the tops of the tins with things like craft paper, stamps, pre-cutouts, or anything you want to make it festive.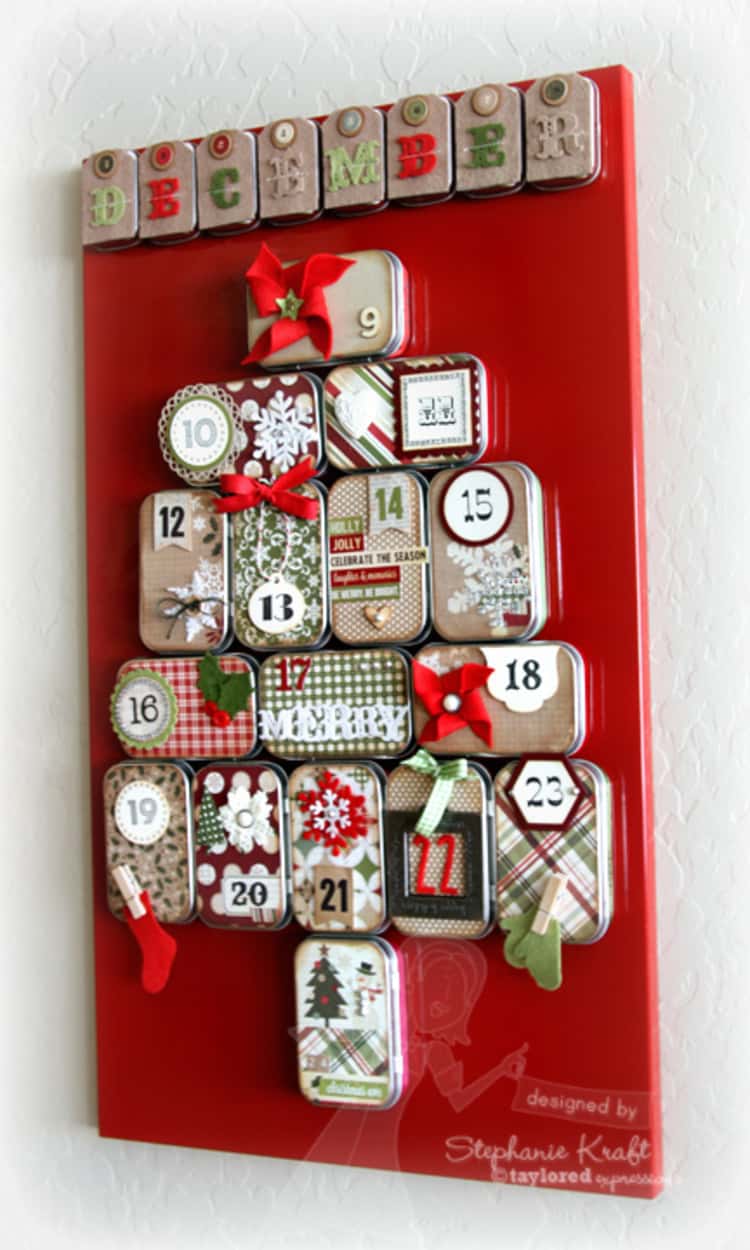 3. Pocket-Sized First Aid Kit for Easy Travel
Put a pocket first aid kit together to keep in the car, in your purse, or with your camping gear. This is the coolest idea when you're out hiking or on the go because the first aid kit fits conveniently in your pocket instead of lugging a bulky box. You can easily tape razors to the bottom of this tin so they don't move around. Then, you'll have room to layer other items on top like towelettes, aspirin in a little baggy, swabs, Betadine in a tiny bottle, super glue, plus there should be room to place a couple of bandaids on top. Once you close the tin, wrap a couple of rubber bands around it so it's secure, which will also serve as tourniquets if you need them.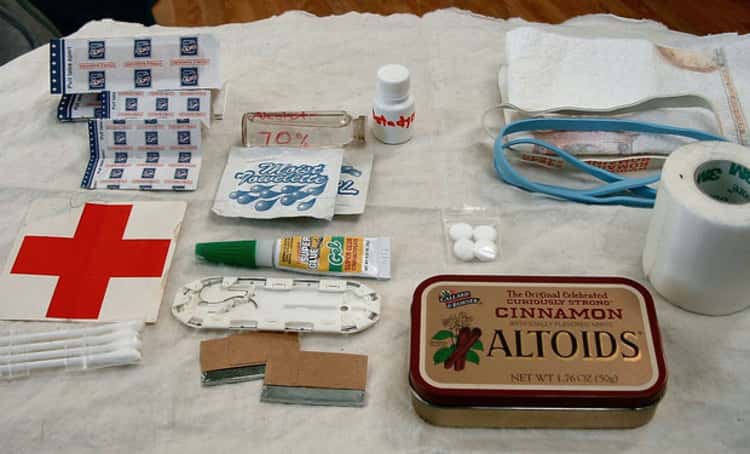 4. Travel Altoids Tin Ideas – Tic Tac Toe
Make a magnetic tic tac toe travel game for the kids. It'll make road trips so much easier and it's fun to make. Having the kiddos help you make this travel game can help you create memories that will last a lifetime. This just takes a few supplies you probably already have around the house.
Here's what you'll need:
Altoids tin
Colorful cardstock
1/4 inch Washi tape
Buttons (at least two colors)
Glue
Small magnets
Scissors
Pen or pencil
This is pretty simple to make. You'll need to trace a pattern to fit inside the Altoids tin on both sides and carefully cut the cardstock out (2 different colors). You'll use your washi tape to make a tic tac toe pattern onto the main compartment. You can make a separate pattern for the other side so you can store your magnetic buttons there. Glue a magnet to the bottom of each button so you have enough of each color for two people to play.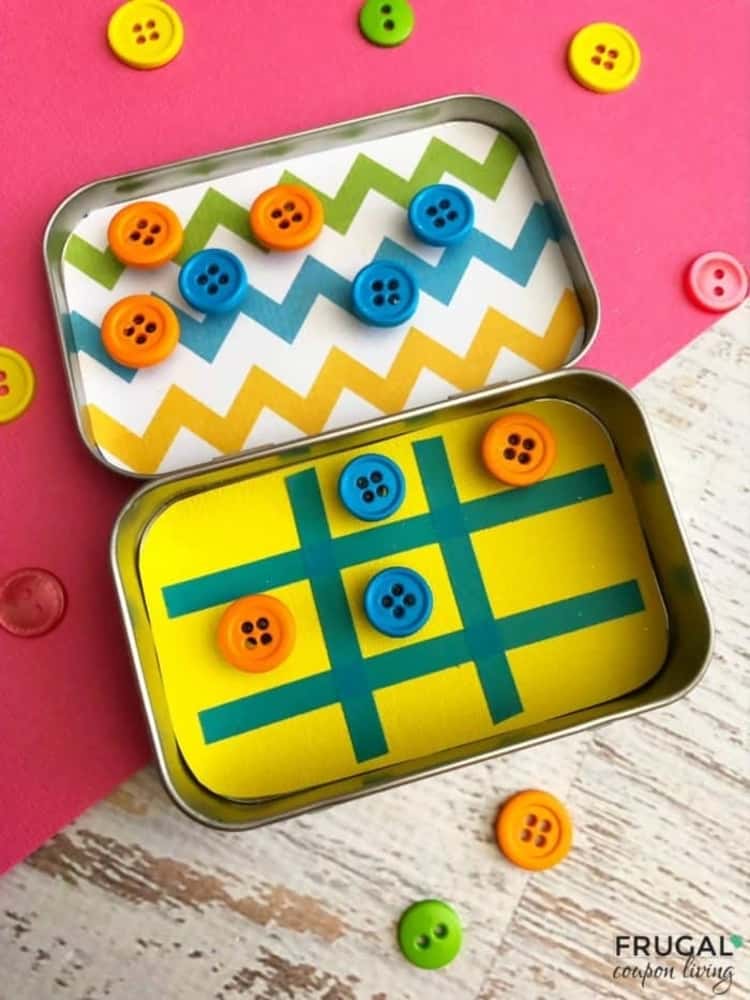 5. DIY Magnetic Fishing Game for the Kiddos
Speaking of entertaining the kids, this magnetic fishing set is just about the cutest thing we've ever seen. With some simple supplies like felt, a small dowel, magnets, string, metal discs, string, and glue, you can make this yourself. But, make sure you have some scissors on hand to cut the fish out if you're not buying precut shapes. The kids will have such a blast traveling with this game to pass the time. What a fun project!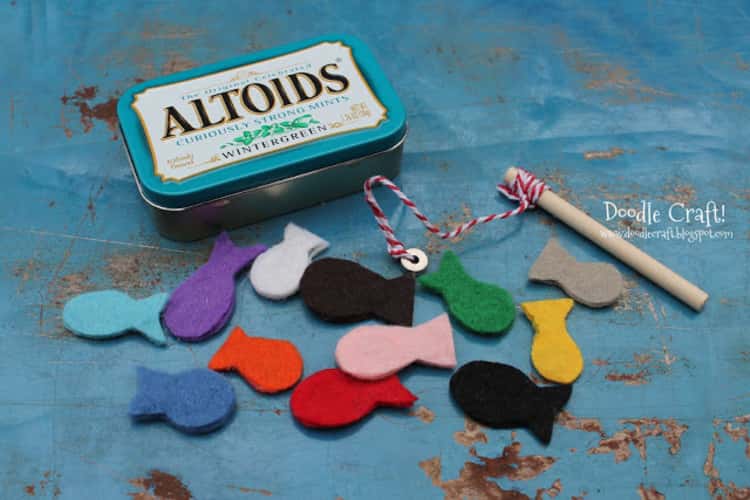 6. Turn an Altoid Tin into a Coloring Kit
A coloring kit can be lots of fun, too. Travel Pictionary! Decorate the top of the tin any way you like, and add some crayons inside the tin along with a small pad of paper. They make darling party favors, too. This little game will come in handy to pass the time while traveling because long car trips can be very boring. What a genius idea for the kiddos!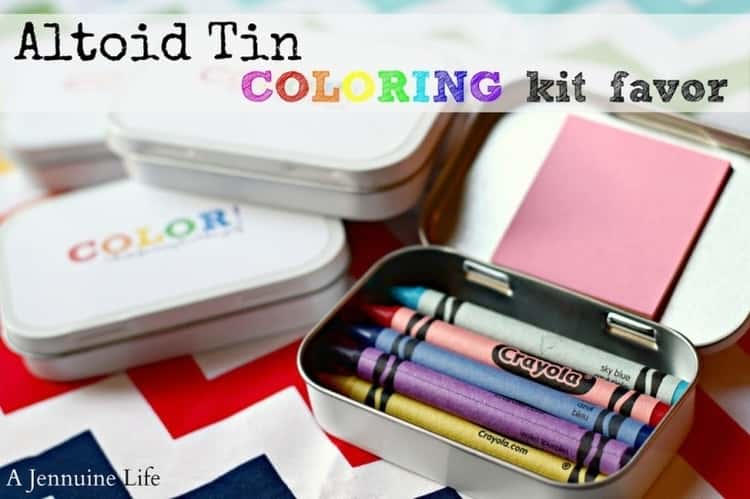 7. DIY a Mini Lego Kit with Simple Supplies
What a super fun idea for those kiddos who love to play with legos. Glue a small Lego board to a painted Altoids tin, and put mini-figures and pieces inside to create this fun mini Lego kit. You'll need some air dry clay to smooth around the outer edges of the lego board after you glue it on. Then spray paint it to match the rest of the tin. My boys will have such fun with this!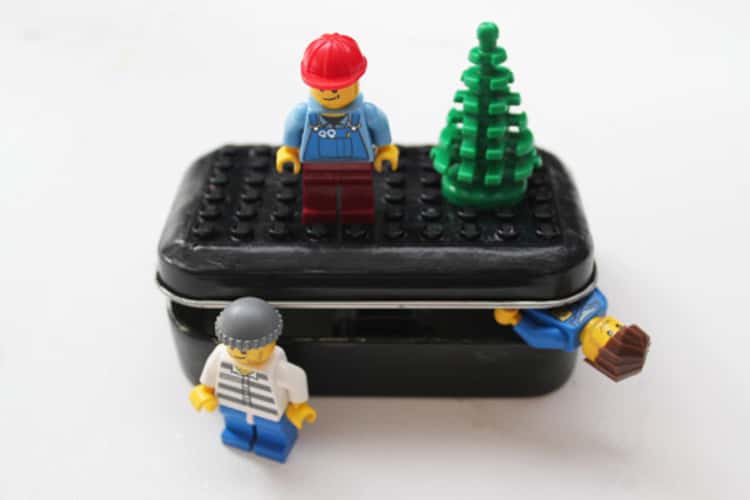 8. Scented Travel Candle Made from an Altoid Tin
Melt a candle into your mint tin to take your favorite scent with you wherever you go. Doesn't hurt to have one with you in case of emergencies, either. This is such a great way to repurpose candles and make them easy for travel. You can pick up wicks at any craft store and you'll wanna glue them to the bottom of the Altoid tin.
Then melt your candle with a double boiler, mix in some essential oils if you like, and pour the melted wax into the Altoid container.
Of course, you'll want to take precautions so everyone is safe as they take on this cool project. Use empty tin cans and hot water to melt the wax in place of your double boiler. This way, clean-up is so much easier. Also, you may want to pour the hot wax outdoors. I loved how PopSugar added the cardstock on top and spraypainted the tin to make it look super cool!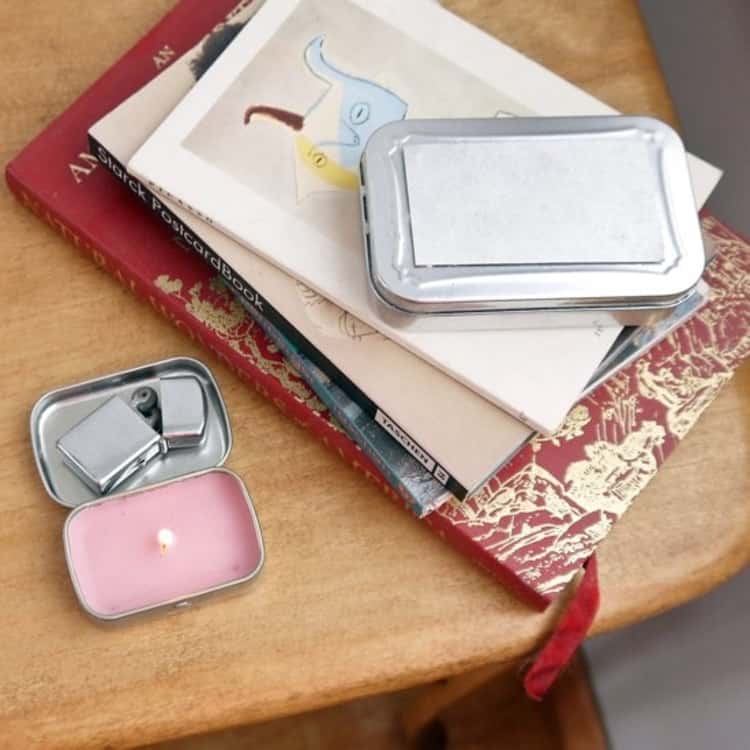 9. Bobby Pin and Hair Tie Holder
Dancers and cheerleaders, this bobby pin and hair tie holder is a lifesaver! You'll always have everything you need to pull your hair up before practice. This is the perfect size for your purse or even the glove box of your car. There's even room in this tin to add a couple of scrunchies. Decorate the lid any way you like.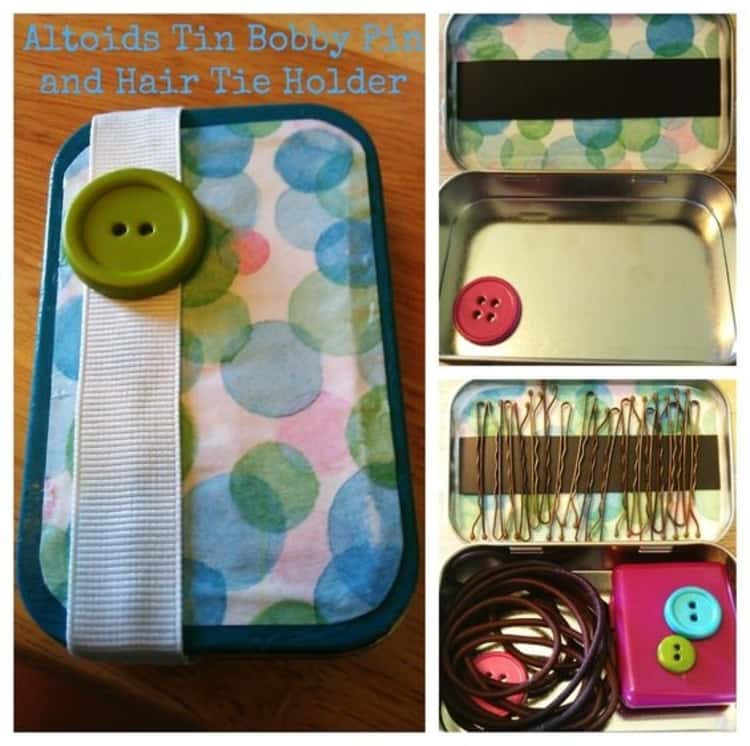 10. Empty Altoid Tin to a Pretty Prayer Box
This prayer box is such a sweet idea. What a great day to lift someone's spirits… even a stranger! This little tin can be transformed with some simple decorations on the outside, attached with glue. Glue your prayer on the inside top cover so you see it the moment you open your box. Add in a pen and a pad of paper and you're all set.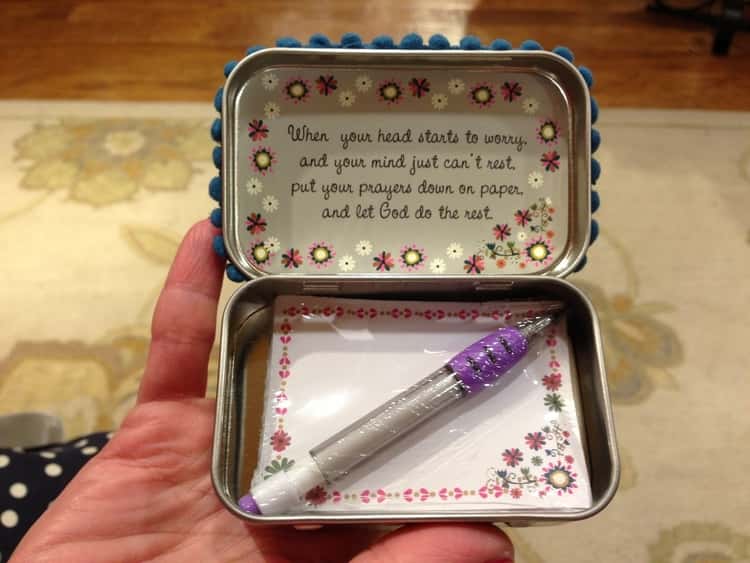 11. Mini Survival Kit from an Altoid Tin
If you're ever stranded, this survival tin can keep you going for a while. When building a survival kit, think about what you would need to actually survive, not just go camping. A survival knife is the most important item to have with you in my opinion. You could also include items like a whistle, a mirror, waterproof matches, aluminum foil, a compass, some crazy glue, and tweezers. There are so many more items you could add, but choose carefully, which are the most important if you should ever need them.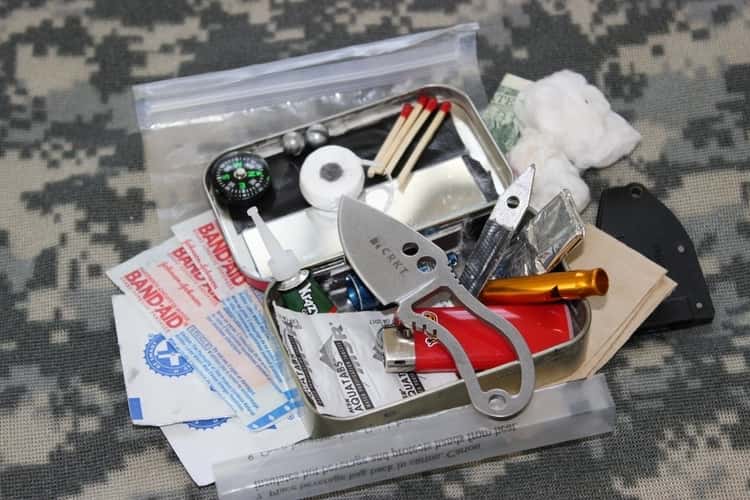 12. Use Altoid Tins to Organize Office Supplies
Use them to organize all the odds and ends in your office. Just add a label on the top or the side of the tin so you know what's inside. You could glue a flat piece of corkboard for the top and stamp the name, or you could even use cut-out cardstock and a pen or marker if you like. How cool would it be to have a whole bunch of these on a desk or in a drawer, all neatly labeled and organized? I've got to try this!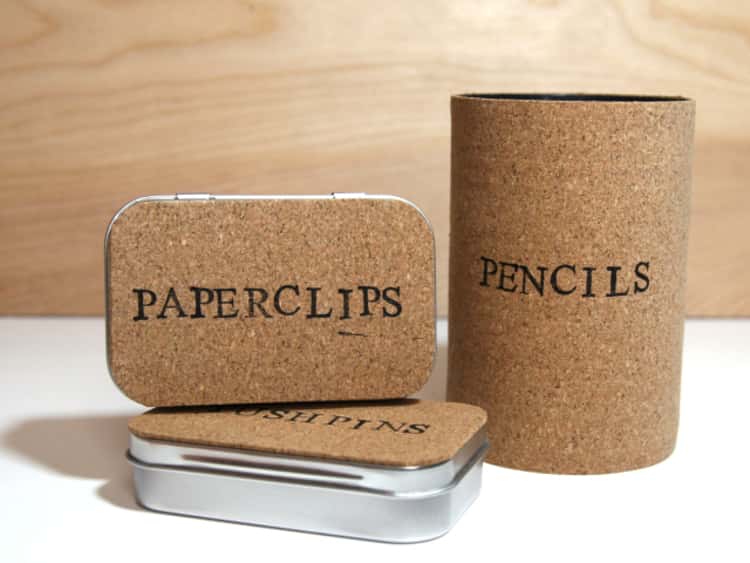 13. Fun Business Card Holder
How cute is this? Keep a stack of business cards with you to hand out wherever you go in your own DIY business cardholder. All you'll need is some mod podge, some scrapbook paper, your Altoids tin, and a little creativity. Also, remember to have your scissors nearby and measure the pieces you want to go on the tin, to make sure they'll be the right size. Of course, don't forget to put your business cards inside the tin so you're prepared when you need to hand one out.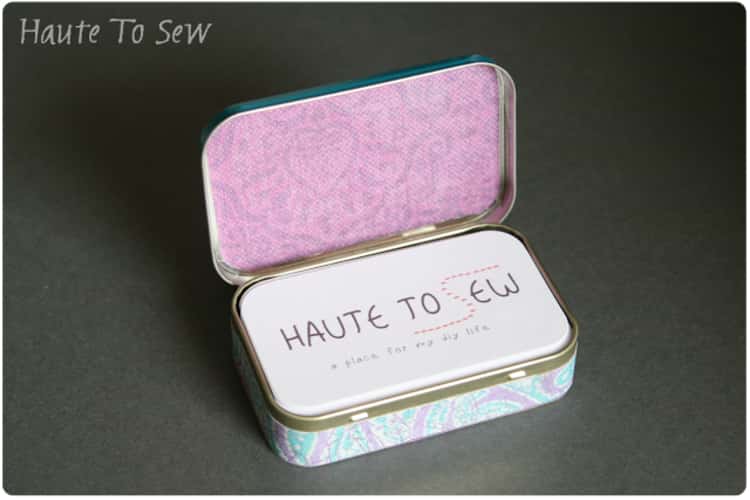 14. DIY Mini-Sewing Kit
A mini sewing kit can be a lifesaver when a button falls off. All you'll need is a miniature sewing kit that you can purchase from the dollar store. Then just transfer the items into a clean, empty Altoid tin. You can pretty it up by gluing cardstock to the insides of the tin and decorate the outside any way you like. It's small enough to fit inside your purse, so it's handy for whatever sewing emergency comes up.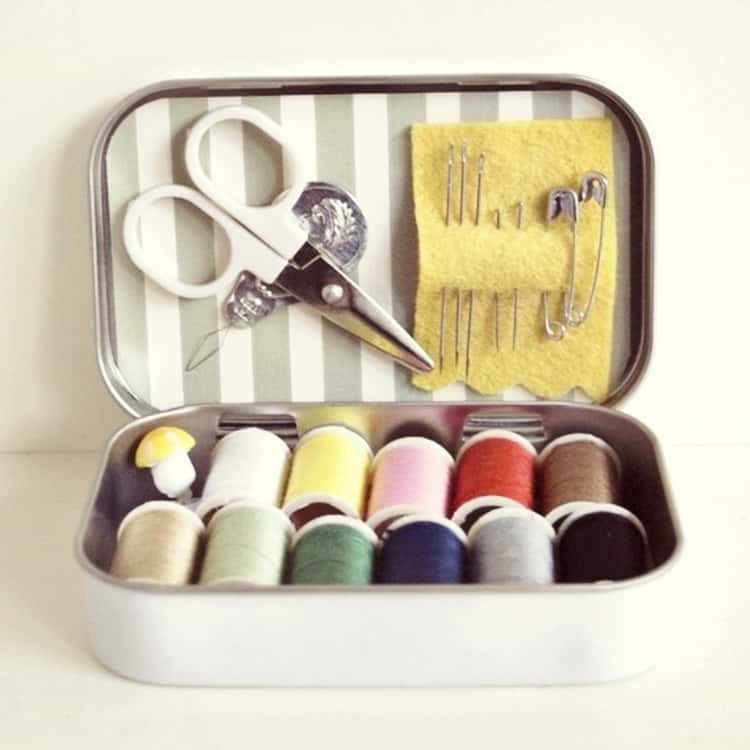 15. Tooth Fairy Box
Make a special tooth fairy box for each child. Add felt on the inside so it looks nice, and paint the outside of the tin. You can get as detailed as you like with this part. It'll become a treasured memory that he or she can pass down to their own children! What a great tradition to start.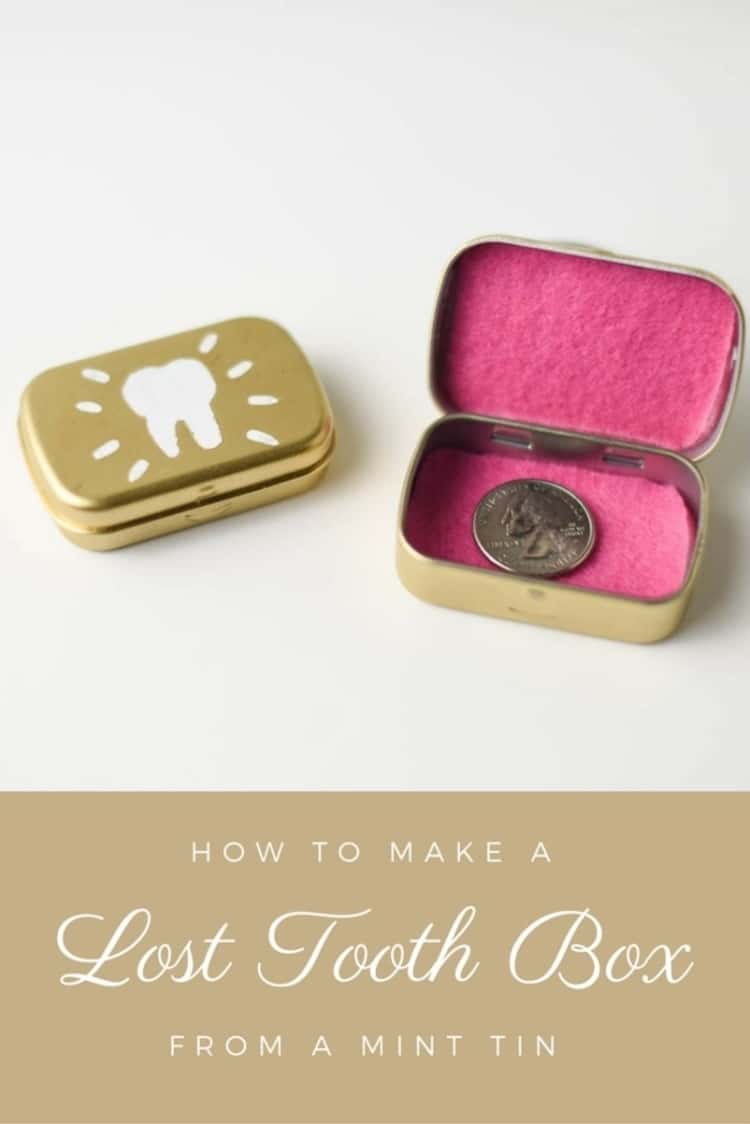 16. Make Your Own Mini-Tackle Box
Fish anytime, anywhere with a mini tackle box. This can fit right in your pocket so no need to carry a bulky tackle box. Just glue dividers into your tin with popsicle sticks, and add a spongey foam to go under the lid to protect your fishing items. If you like, you can decorate the outside of your mini-tackle box too. My oldest son will love this!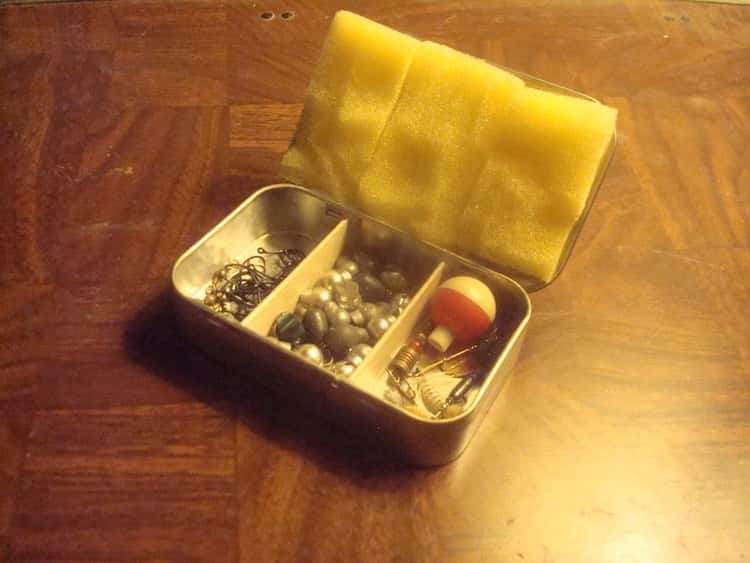 17. Ideas for Empty Altoids Tin – DIY Lip Balm
Refill the small Altoid tins with your own DIY lip balm. You can add your own essential oils to this homemade lip balm. You can decorate the top or you can leave it as is, it just depends on your preference. How cool is this?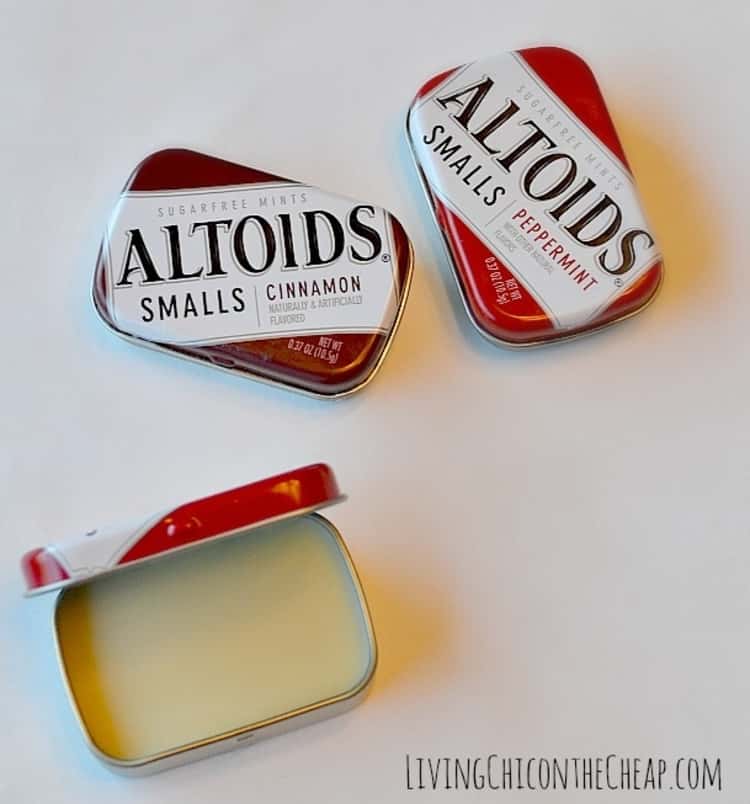 Here are More Ways to Repurpose Common Items: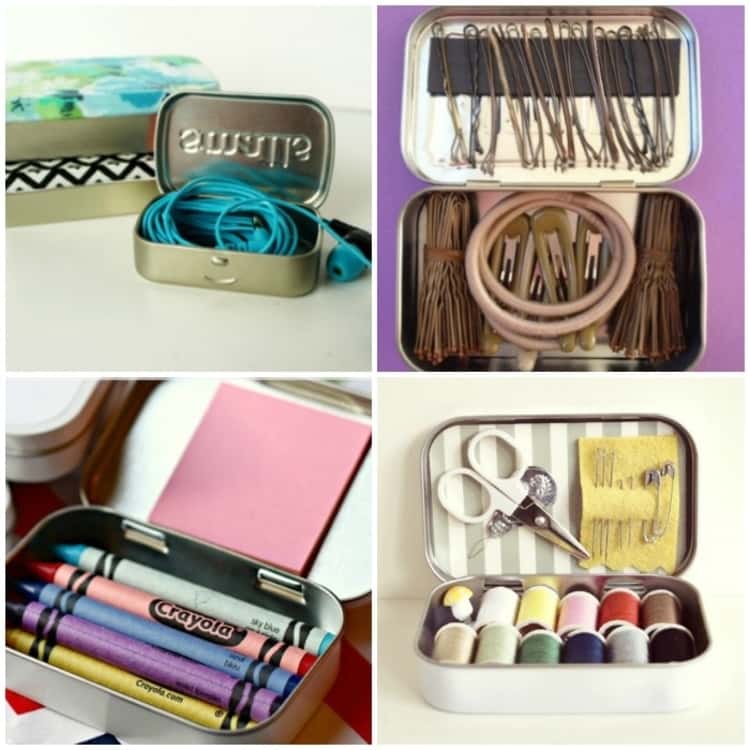 Which Altoid tin craft idea is your favorite?