Good baby care is not just about reading parenting books, taking Lamaze classes, or watching videos. It's about listening to the mom friends that have been there and have the right baby tips. Here are some baby tips that you wish your mom friends had told you. As a new mom, you'll need all the baby tips you can get! Ah, babies.  The baby and toddler phases may be a whirlwind of cuteness, laundry, messes, and photo-ops, but we all know how stressful newborn life can be.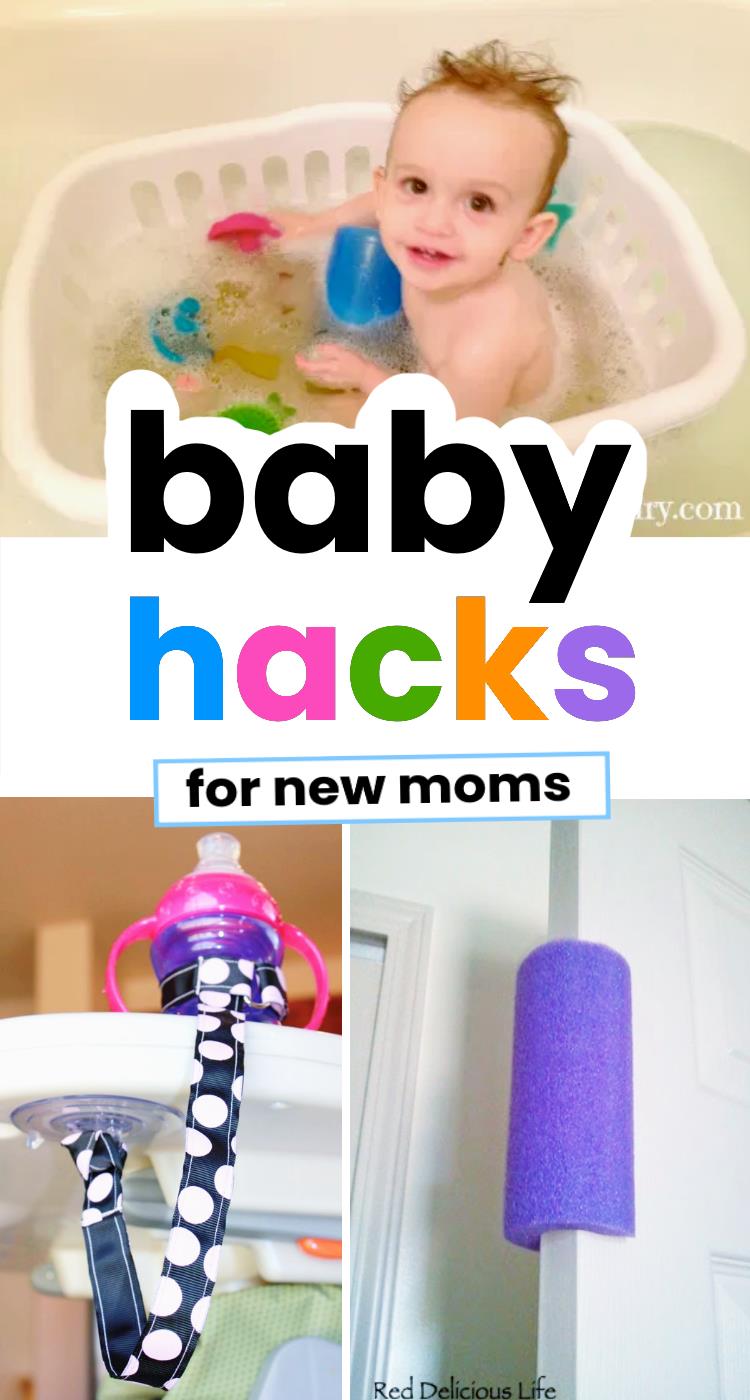 Baby Tips for New Moms
If you're a new mom, you've probably read the baby books arranged by months of age, asked for advice, argued on a few forums about the right way to do this or that and then just decided to wing it now and then, too. Some things you have to learn on your own, but some things… don't you wish your friends would have told you?  And yes, some days you will think of how easy this baby as in the womb!
You know… that exciting moment when you've figured it out with your new baby and tell a friend, and she says "Oh, yeah, we did that, too." You want to scream, "Why didn't you tell me?" Well, here are 15 of those baby tips that we wish we would have known during the toddler phase.
1. Keep Your Baby Contained in the Bathtub
If your baby has outgrown that infant sling (or the sink), you might be working your biceps to hold him steady in that big bathtub! Keep him and his toys secured in one place with this laundry basket trick! Don't worry about slipping and sliding or baby's head falling beneath the surface anymore. The laundry basket is the perfect size for him to sit up and play while you can use two hands now to ruffle his curls with suds!
2. Secure That Sippy Cup to the High Chair!
Sometime soon, your baby will think it's hilarious to throw his or her sippy cup on the floor. Repeatedly. This suctioned sippy cup strap will save the sanity of any new parent.
Grab a strap on etsy or make it yourself with a fabric strip, a suction cup, and some velcro. This way, the cup won't roll far out of reach, and you won't throw out your back (and your mind) repeatedly grabbing it off the floor during meal times.
3. Baby-Proofing Tip.  A Pool Noodle = Door Stopper!
Once they start opening and closing doors, all sorts of chaos can ensue. Use a pool noodle to create a door stopper for baby safe on the cheap.
Simply slice it down the middle and attach! Say goodbye to slamming doors and the stomach-turning fear of slamming fingers! Bonus: the pool noodle is nice and long, so you can cut it up to use on several doors in your home. Winner!

4. Keep the Baby Binky Clean
When you have a newborn baby, the pacifier doesn't fall far.  But as infancy passes so do the binky passes! We've all dug deep into our diaper bags for that needed pacifier only to find it dusted with crumbs or trash! Save yourself the trouble of finding a way to sanitize that binky by keeping it stored away in one of these perfect-size cups! You know those to-go cups you get for dips and sauces at restaurants? They're IDEAL for storing pacifiers in your diaper bag.
5. Create a Toddler Busy Board
Even with all the toys in the world, does your little one still play with things around the house? Try making a busy baby board like this one with the very things your kiddo keeps going back to! Just think of all the things: buttons, spinners, locks, things that boing and click and swivel! And you can grab.  While these are great for toddlers and even preschoolers, starting early with your kids makes the toys last longer.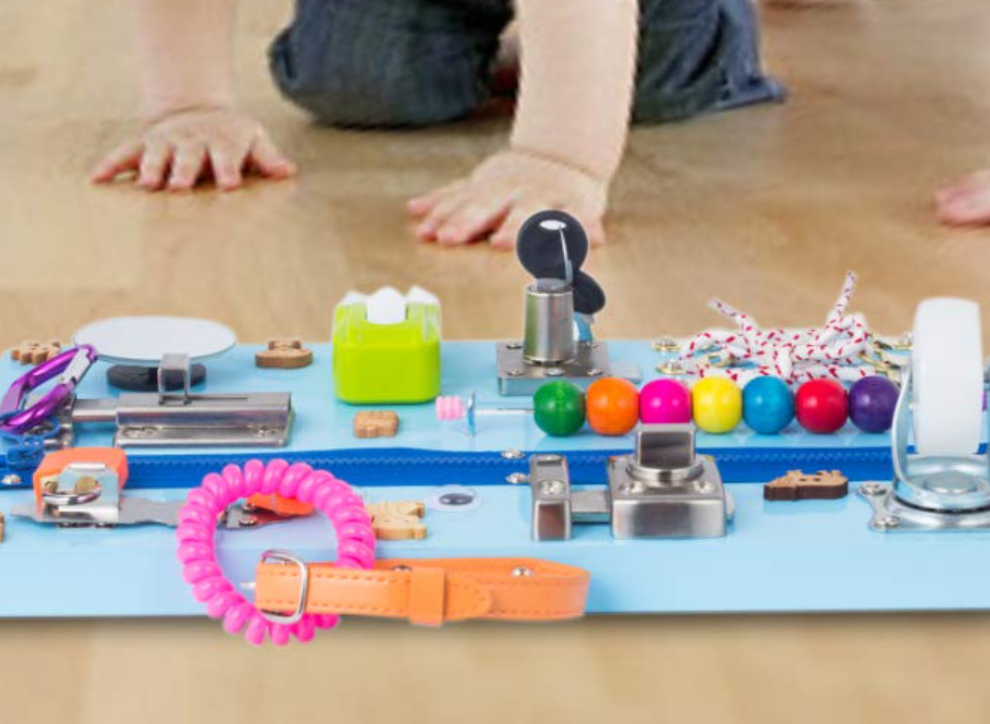 6.  Give Your Baby Some Shade Outside–with a Crib Sheet!
I wish I had thought of this when my kiddo was baby for sunburn prevention.   Have some yard work or an outside project to do? Take the pack and play outside, cover it with a crib sheet, and you'll have instant shade. Brilliant! Plus there's the bonus of being able to fill it with toys and also the breeze that blows through the netted sides! My baby always loved this for breezy summer naps.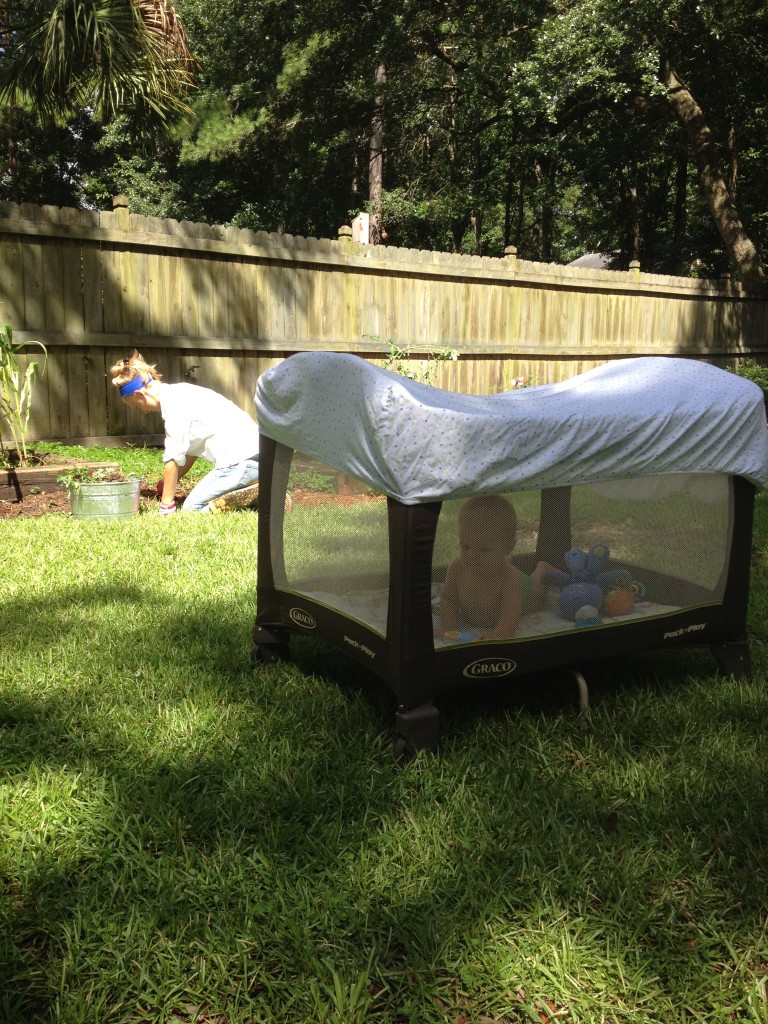 7. Create Cheerio Necklaces
Taking older babies shopping can be a nightmare. Seriously. Keep them occupied (and their tummies satisfied) with a Cheerio necklace. A teething baby can be a crying baby and this can help. This is a great trick beyond the first year for toddlers, too!
8. The Best Baby & Newborn Stain Remover!
The best baby stain remover we've tried is made from stuff you've got around your house! Whip up this miracle worker with Dawn, baking soda and peroxide.  Babies make the craziest stains from bowel movement explosions to spit up projections, these resources can be a clothes saver…and they might be yours!
Here are the steps:
1) Create your solution.
2) Scrub it into the stain with a brush.
3) Let it sit for one hour.
4) Then wash it like normal in your machine.
Your cute baby outfits will look absolutely fabulous!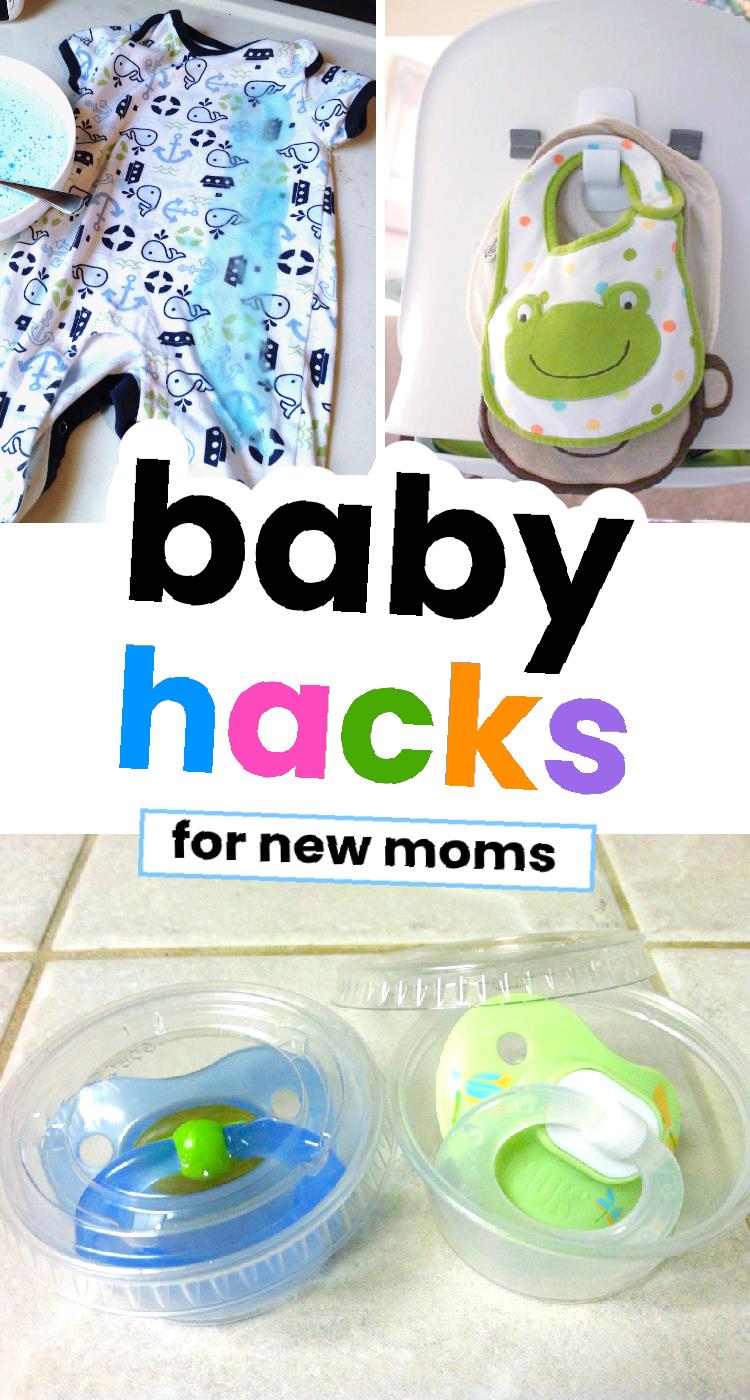 9. Keep Bibs Handy Where You Need Them
Moms are genius at coming up with solutions to everyday baby issues.  Like this clever baby tip – Put a command clip on the back of the high chair so you always have a bib handy.  Save caregivers a step and make it a habit to restock the bibs as soon as they come off the line or out of the dryer! 
10. Chart Baby's Doses on the Medicine Bottle
When your baby is sick, you won't be getting much sleep either. And a sleepy mom can sometimes be forgetful. Always keep track of medicine doses prescribed by your child's doctor by drawing a chart right on the medicine bottle and filling it in after each dose. Smart!
This also works great if you're not the only one giving meds to your baby. Make sure others in your house are on board with the tracking system so your baby gets what she needs when she needs it.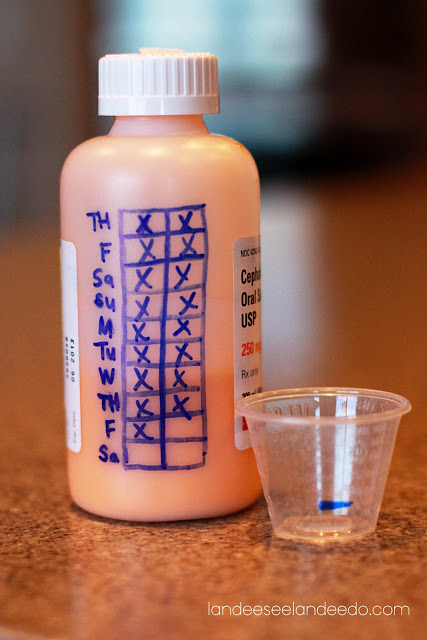 11. Transform a Phone into a Baby Monitor
Use your old phone as a baby monitor. Just install Skype on both the old phone and your current one, and you can take a peek at baby whenever you need to reducing parental anxiety. You'll need to set up the phone near a power source since the battery would drain fairly quickly otherwise.
Related: Also, if you are traveling, don't forget to check these amazing stroller hacks!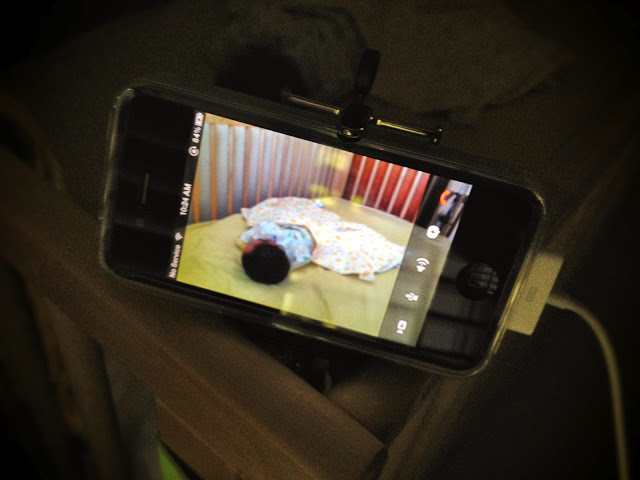 12. Baby Proof Your Cabinets with Dog Collars
Cheap dollar store dog collars make great baby proof devices!  There was a season when my 15month old discovered the cabinets and he would crawl in there and dump every item in the cabinets onto the floor.  All fun and games when it was our pots… but NOT something I wanted him doing with our kitchen cleaning items (even if they were/are non-toxic and "safe").
This!!  BEST baby-proofing idea ever!! The buckle takes too much coordination for baby fingers to undo, and these don't even look like dog collars once they're attached to the handles! Bet the baby experts didn't think of that one…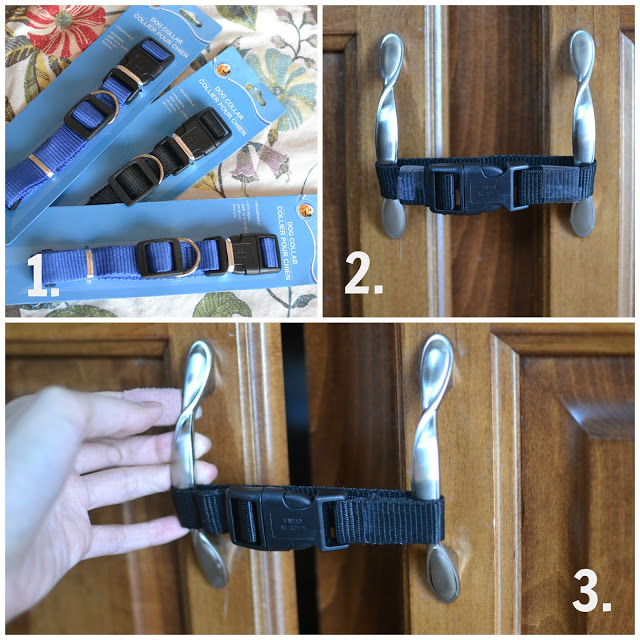 14. Make Homemade Frozen Yogurt Dots
Love yummy snacks for your baby but don't love the cost? Just put your favorite yogurt in a piping bag (or plastic bag), cut a hole about ½ inch in diameter, apply dots to parchment paper on a baking sheet, and freeze. It's so ridiculously easy…and healthy! You can eat them right away or store them in an airtight container for up to a week for an easy daytime snack. These are simple and fast, and everyone in the family loves them from baby to us moms!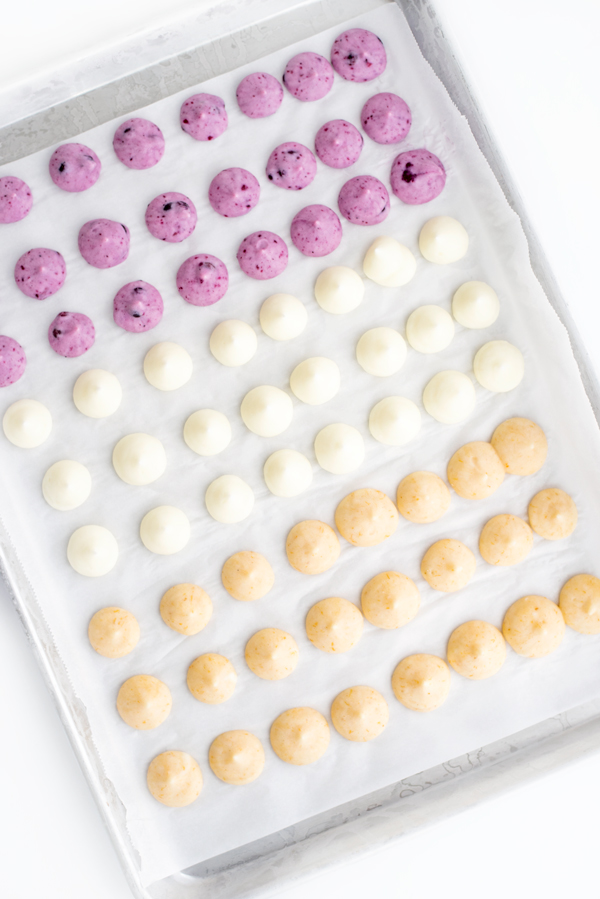 15. Organize Your Baby Bottles When Bottle-Feeding
Are your baby bottle parts taking over your kitchen counter? Try using those inexpensive plastic organizers to keep everything handy! Bottles seem to have a million parts, and when you're sleep-deprived and balancing a million other things, let these drawers help you assemble bottles more simply…then hopefully by muscle memory! 
These recommendations will keep everything handy whether you are using formula or breast milk. Why must bottles have so many pieces?!
16. Transform a Pacifier into a Frozen Teether
Teething is such a trying time.  Help your baby feel better with a frozen teether.  You can do this with any diy frozen pacifier! Simply dip it in water, squeeze the air out of the nipple, and allow it to fill with water — then freeze it! It'll soon be ready to soothe those little gums. It's a perfect way to give your baby some comfort with something he's already familiar with and wants to put in his mouth!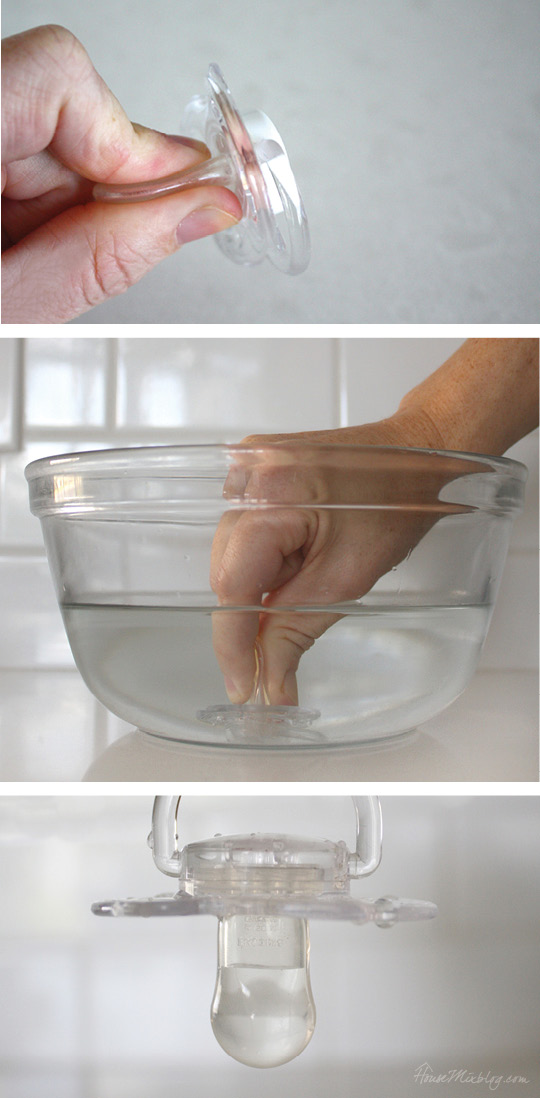 You know what? Parenting is hard. But hacks like these really do help! Of course, you will still feel tired and overwhelmed at times, and that's NORMAL, but it's also why we need to help each other out with ways (like these!) to make everyday stuff less stressful.
Make Cuddling a Part of Your Daily Routines
The bottom line is this: there are never enough hacks to make parenting easy. We as parents will always struggle with the ever-changing ways of our children. But that doesn't mean we should just give up. But rather we should be leaning on each other for support and encouragement. So maybe you come up with some great hacks of your own, we'd love hear them!
So enjoy that baby cuddle time today and make sure you add it to your schedule! 
If you've got a trick to share, we'd LOVE to hear it! We're all leaning on each other for support and encouragement . . . and tips too!
More Baby Tips & Fun You Don't Want to Miss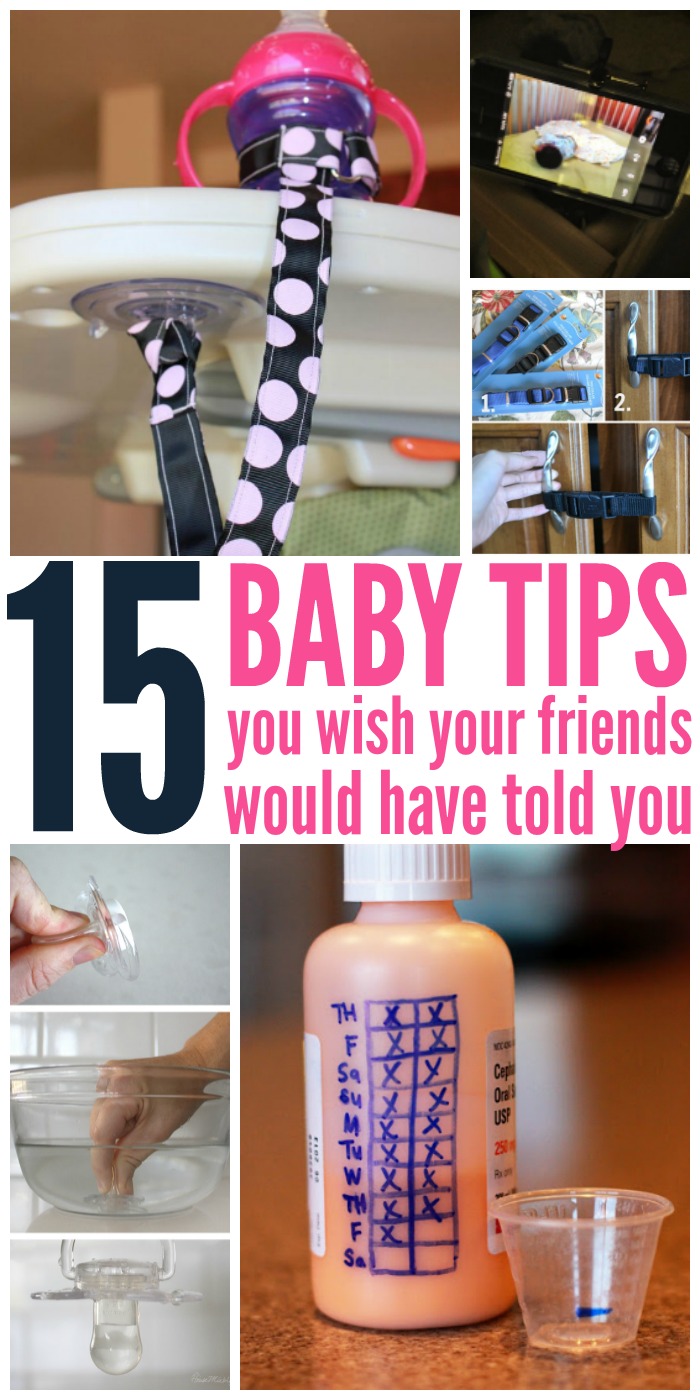 Do you have any baby tips that you wish you'd known? Share them with all the new momma's out there!