The hot summer months are quickly approaching. While there are many fantastic things to enjoy this summer, lukewarm beverages at a party are not one of them. This DIY cooler is a simple, effective solution to keeping your drinks icy cold. Plus, using frozen balloons is both affordable and festive too. 
Have you ever reached for a drink at a party gathering only to pull out something soggy and warm? Me too. Gross, right?
Ice can be great at keeping drinks cool, but how long the cooling effect will last is highly dependent on how hot it is outside. Here in Texas, a standard cooler may only work for an hour or so!
Of course, you could always purchase a highly efficient cooler, but if your budget doesn't allow for a $300 cooler, I've got another solution for you: frozen balloons!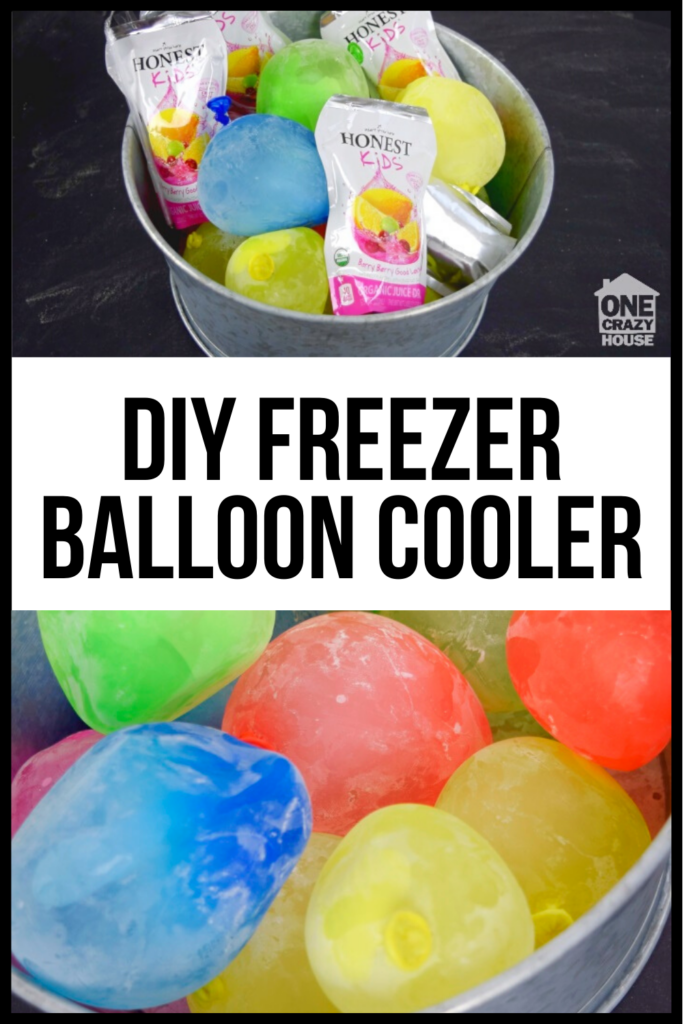 DIY Balloon Cooler
This is one of those why didn't I think of that earlier moments. My mind was blown!
To keep drinks icy cold and completely dry, use balloons! Simply grab a bunch of balloons and fill them up with water.
Because the water will expand as it freezes, you want to make sure not to fill them too full. Knot the end of them to keep the water from leaking out, then freeze the balloons.
You can even use these self-sealing water balloons – then all you have to do is fill them and stick them in the freezer!
Once they are completely frozen, you can pull them out and add them into a standard cooler or even a cute bucket.
What I love about this method is:
Drinks that are made of cardboard (like juice boxes) won't get soggy sitting in water for hours. As the liquid melts, it's contained within the ballon.
Because these frozen balloons are much larger blocks of ice than a standard cube, it takes much longer for them to melt.
This method is CUTE! Think about it – you can make your balloons match any theme or decor you have for your party. For example, these adorable safari-themed balloons could be perfect for a child's party, while these pretty pastel balloons might work well for a bridal shower.
Video: How to Make Frozen Balloons into a DIY Cooler
Here's a cute short video I put together to show you all how fun this frozen balloon idea is.
How to Use the Frozen Balloons in Your DIY Cooler
Immediately before your event, remove the frozen balloons from the freezer and arrange them in your tub. Layer your drinks around the ice balls.
We chose to keep the ice cubes inside the balloons, but it also looks really cool if the balloons are cut open revealing the large balls of ice.
Frozen balloons are seriously the perfect DIY cooler solution for a party event! Give it a try and let me know what you think.
More Simple Party Ideas to Try: