Does your home have a weird smell? A smell you just can't figure out? We've all been there and sometimes, getting rid of it is so hard! But, these air freshener for home ideas will make it easy to eliminate any odor. In this post, there are 16 of our favorite DIY homemade natural air freshener and natural air freshener recipes to get your home smelling as clean and fresh as a summer breeze!
Nothing beats coming home to a good-smelling house at the end of the day, but you don't want toxic chemicals in them too, right? 
But, sometimes your house may not smell that great. You know… after the dog has been out in the rain, or after you've coffee grounds sitting in the trash for a little too long.
If you are looking for best DIY Fall Scent ideas, then read this amazing post!
Either way, you can get rid of those funky smells easily and naturally! From DIY air freshener sprays to natural cinnamon sticks, I've got you!
Air Freshener for Home Ideas Without Using Glade
These are some of my favorite hacks to getting rid of those underlying odors and leaving your home smelling good as new.
1) Homemade Dried Citrus Wheels
The easiest option ever is to make your own dried citrus wheels! Who doesn't love the smell of citrus fruits?
It's really quite simple. Firstly, thinly slice a bunch of lemons, limes, and wild orange. Secondly, bake them in the oven at 200 degrees for 3-4 hours, until they are dried. Thirdly, place them wherever you'd like to freshen up.
Your house will smell incredible as they bake. The wheels can be ground up to use in salt and sugar scrubs or make a lovely potpourri. You can even put it inside your closets. Win-win!
It's not only a superb air freshener. But the scent is also great for easing anxiety and boosting your mood!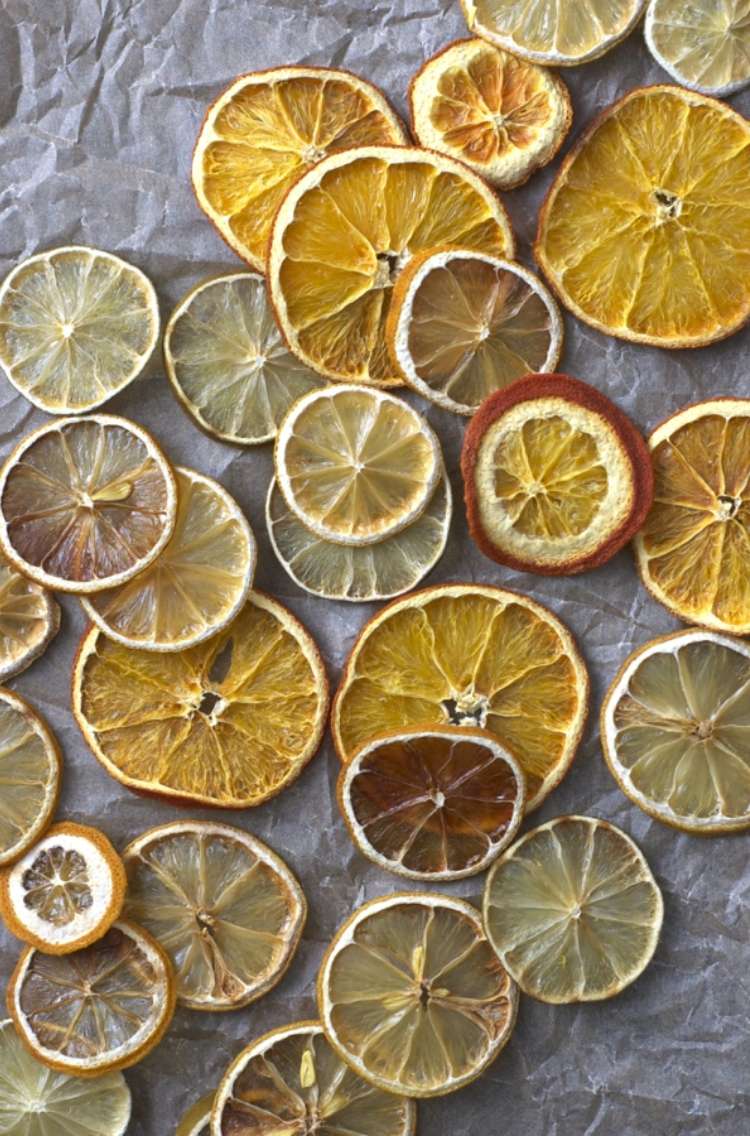 2) Fresh Room Spray With Essential Oils
Say goodbye to commercial air fresheners. Our fresh room spray is easy peasy. Just use your favorite combo of essential oils, some witch hazel, and water to make a scent you'll love!
All you need to do is give the bottle a little shake and spray away. Peppermint? Eucalyptus? Tea Tree Oil?
If you want some smell inspiration here are a few of my favorite essential oil combinations:
Burst of Spring Air – ylang ylang, lavender, and mandarin
Fresh Summer Breeze – lavender, grapefruit, lemon, and spearmint
Sweet and Cozy Fall – sweet orange, cinnamon, clove, and nutmeg
Peaceful Winter Holiday – frankincense, myrrh, cedar-wood, and orange
Which one will you try?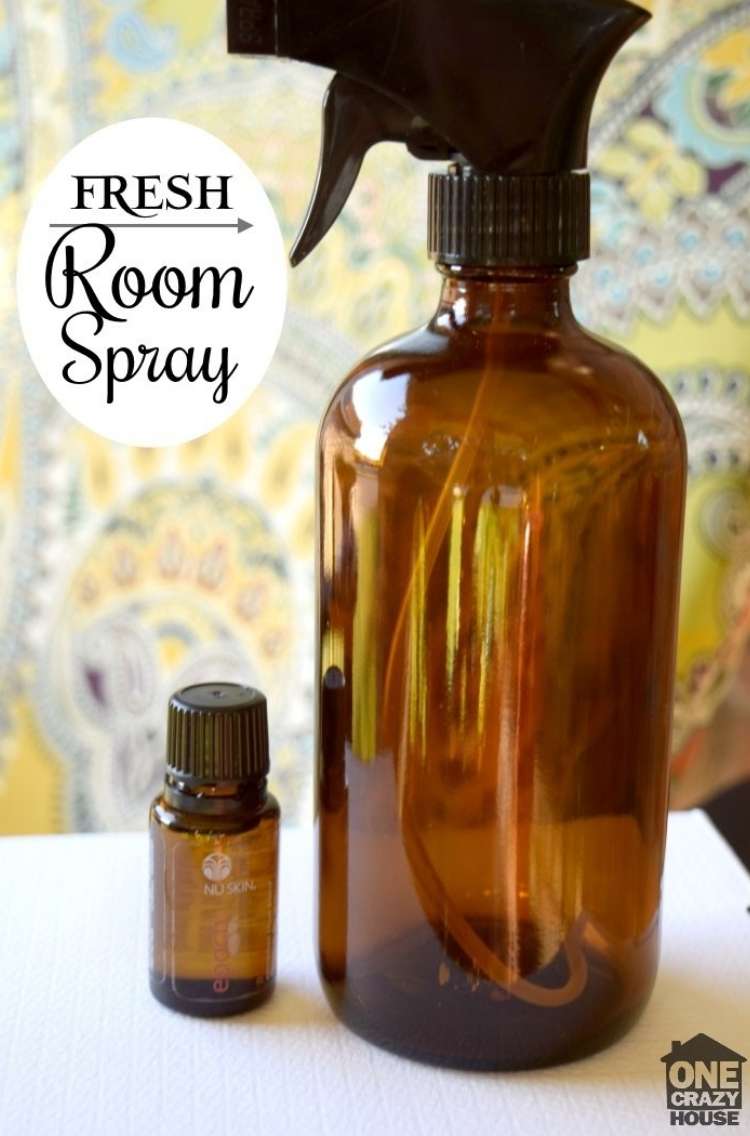 3) Cinnamon Spice And Everything Nice
If fall scents are your jam, this DIY air freshener hack is for you!
This cinnamon and spice air freshener uses a combination of cinnamon, nutmeg, pumpkin pie spice, cloves, oranges, and black tea for a pleasing aroma.
Throw the ingredients in a pot with water and simmer on the stove-top. Can be used it again and again, just add more water as needed. It will fill your home with the scent of warm cinnamon buns baking the oven.
If you make the citrus wheels from above they can be used for this!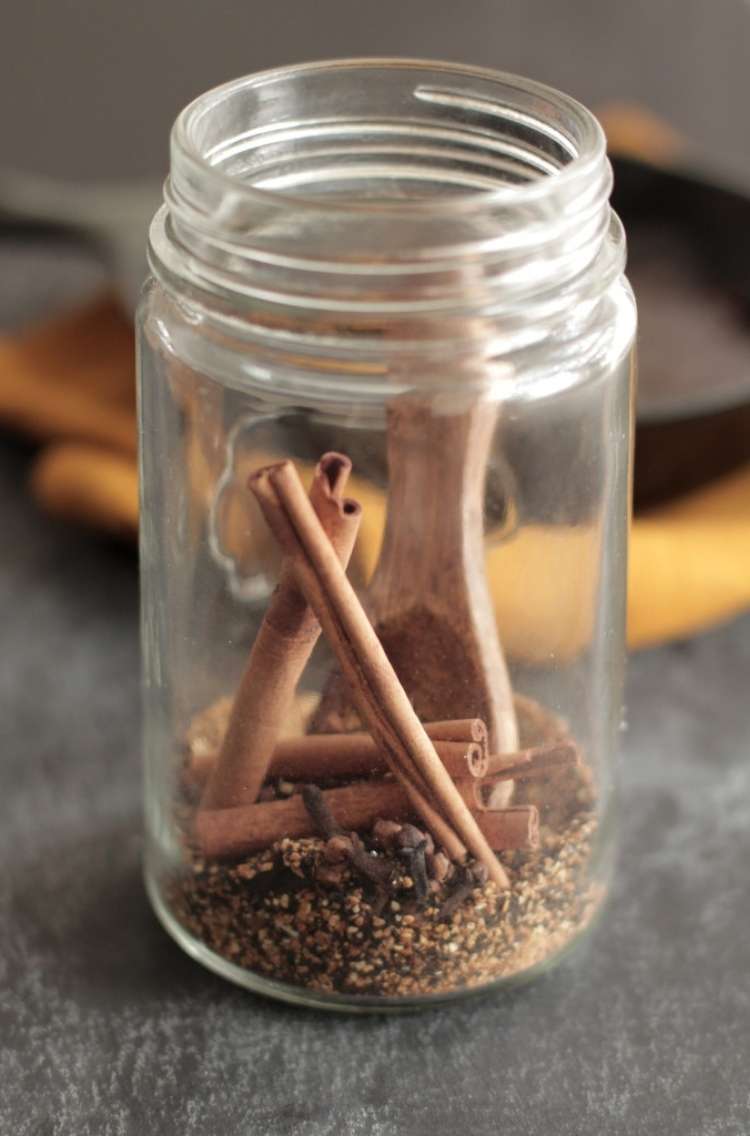 4) Simmer Pot Mason Jars
Don't ya just love the smell of the holidays? I sure do. All of it! The baking, the food, the lingering scent of spices in the air-it brings back so many memories. One of my favorites was being curled up on the cozy chair with my fleece blanket, sipping on some warm mulled apple cider gazing at the beautifully lit Christmas tree.
I feel the peace and calm just thinking about it. Can you?
So when I found this idea to make these simmer pot mason jars as holiday gifts, I thought what a delightful idea! Not only are they a great DIY gift for the holidays but it's something I know many of my mommy friends would use in their home.
Who wouldn't love them?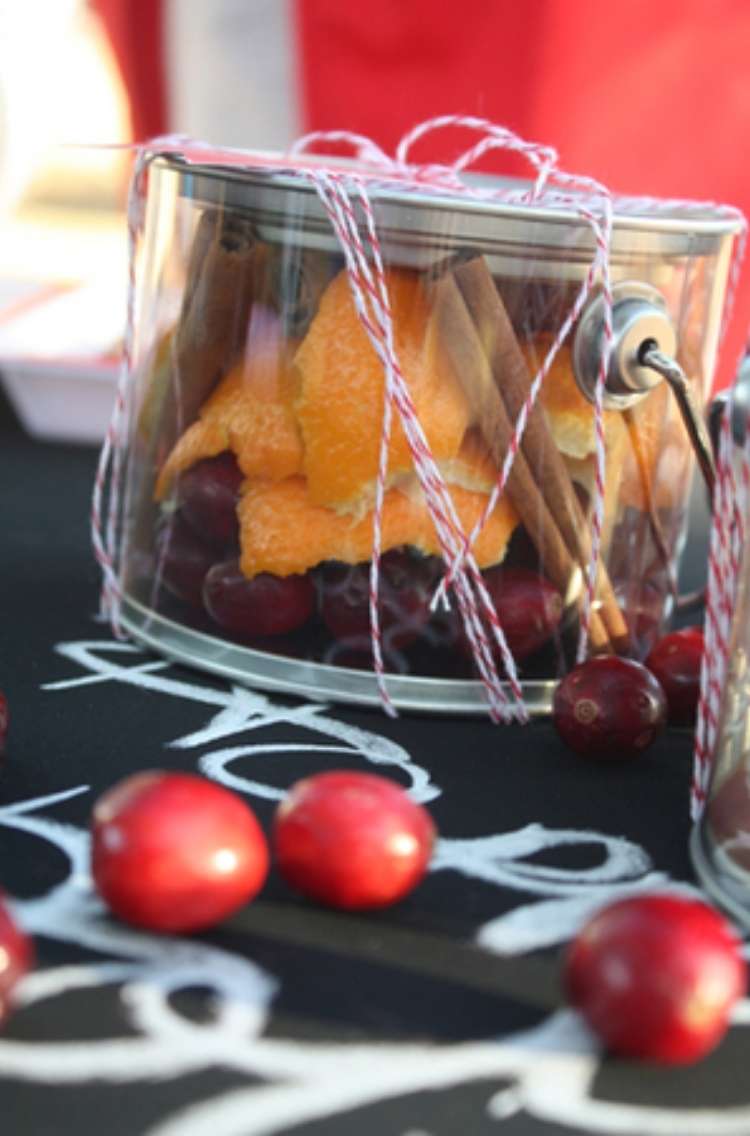 5) Homemade Mason Jar Diffuser
You can't get much simpler than this baking soda air freshener in a homemade mason jar diffuser.
The air freshener is made with only two ingredients:
1 cup baking soda
20-30 drops essential oils.
That's it! All you do is put them in the jar and mix it up. Create a fancy lid or just poke holes in one you already have.
The baking soda neutralizes and absorbs bad odors while the essential oils create a pleasing aroma. Likewise, it's also a beautiful home decor piece that can be placed in any room of the house. I mean, just look at it!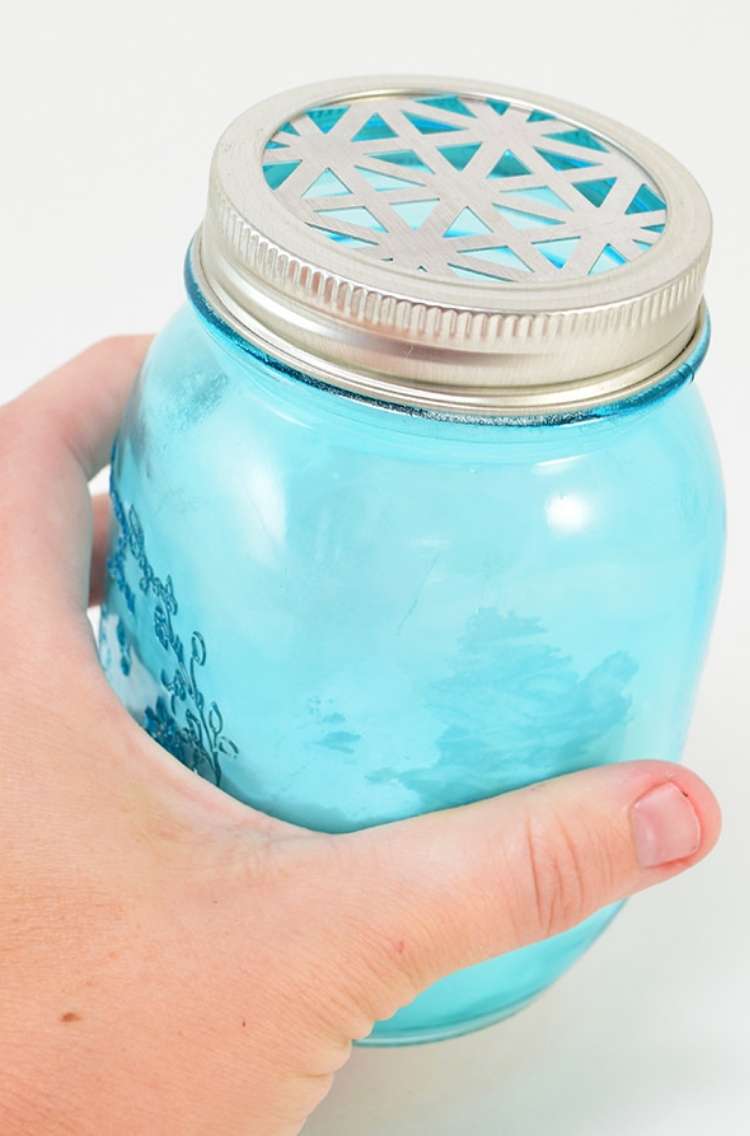 6) DIY Gel Air Fresheners
Do you remember the Glade gel deodorizers? These are like those but without the synthetic fragrances, which are full of hormone disrupting chemicals.
The gel air fresheners are a better alternative to sprays as well, because the scents seem to last longer.
Here's a DIY gel air freshener made with unflavored gelatin and essential oils. You can even toss a few decorative pieces like seashells inside.
I've found that making these particular air fresheners are a great craft to also do with the kiddos!
7) Air Freshener Discs
Here's another baking soda based idea: air freshener discs. They, too, use baking soda, and essential oils, along with dried flowers if you fancy.
These are baked in a muffin tin to create pretty discs that are perfect for gift-giving.
You need:
2 cups baking soda
1/2 cup water
Favorite essential oils

Mix baking soda and water to make a paste.
Fill each paper lines muffin tin 1/4 full.
Bake in oven at 350F for 20 minutes, until firm.
Allow disks to cool and top with 3-4 drops of essential oil.
Sprinkle on some dried flowers if you wish.
Use anywhere around the house that need a touch of freshness.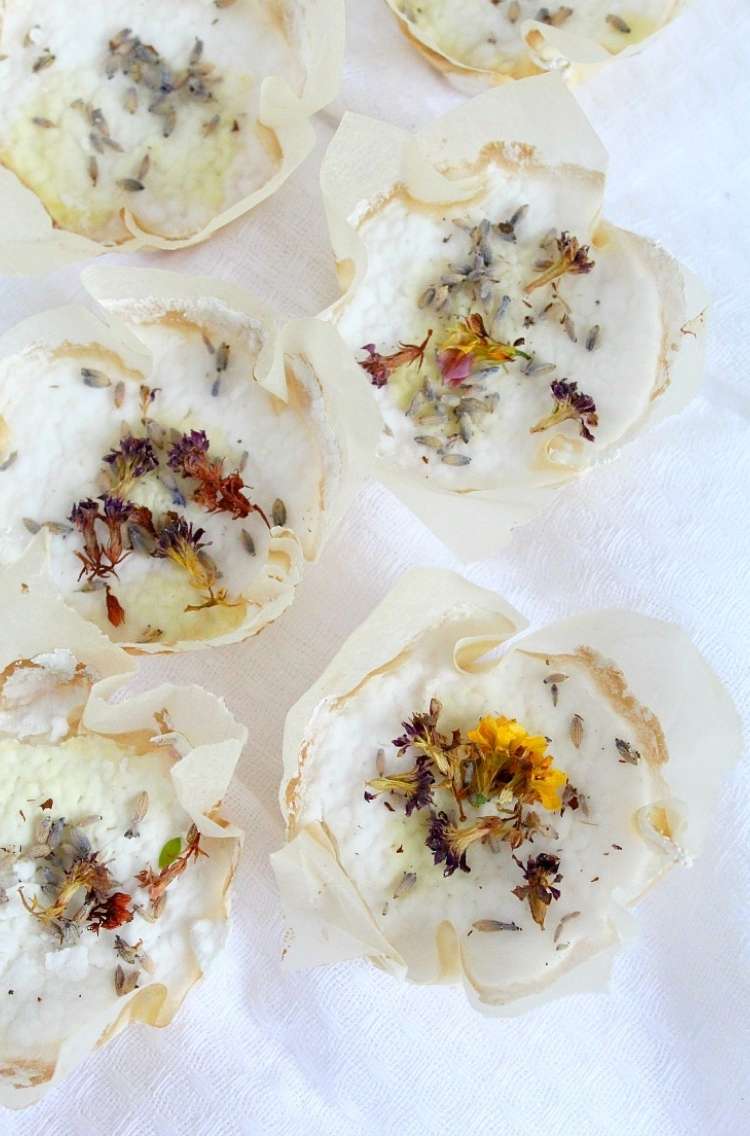 8) DIY Citrus Air Freshener Spray
Citrus scents are my go-to when it comes to air fresheners, and here's a DIY citrus air freshener made with only 4 ingredients!
You can use oranges, grapefruit, or lemon (or any combination of those) for this recipe.
Firstly, you'll need to make infused vodka. Combine in a mason jar – 4 cups of high proof vodka with peels from 2-4 citrus fruits. Place jar in a cool dark place for 7-14 days.
Secondly, fill a spray bottle with equal parts of infused vodka and water. Put the spray top on and your ready to go! Can be used in any room of your home.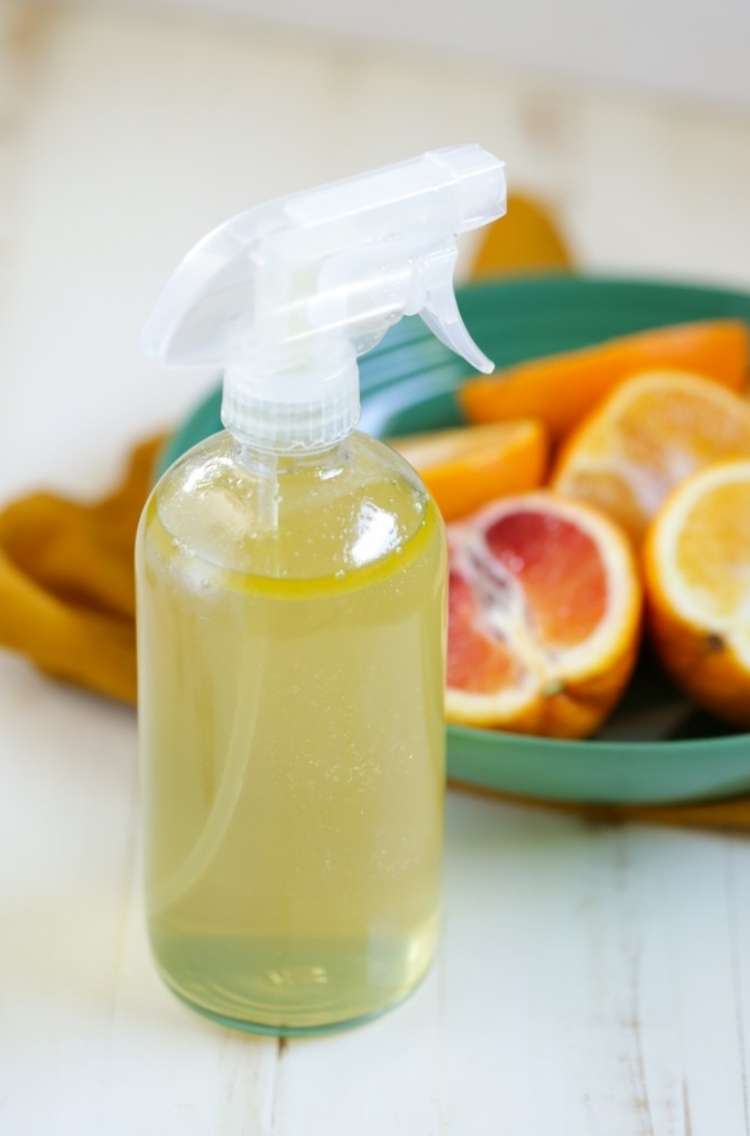 9) Sandalwood Rose Air Freshener
If citrus scents aren't your thing, make a romantic aromatherapy spray to use in the bedroom. This sandalwood rose air freshener is just the ticket!
To make this you'll need:
1/2 cup of distilled water
1/2 cup of vodka or witch hazel
15 drops of sandalwood essential oil
15 drops of rose essential oil
Vodka and witch hazel apparently work the same, so use which ever one you like.
The tutorial even comes with printable labels. It's highly likely that if you get a frosted glass bottle it could even pass as an expensive scent for gift giving. Isn't it beautiful?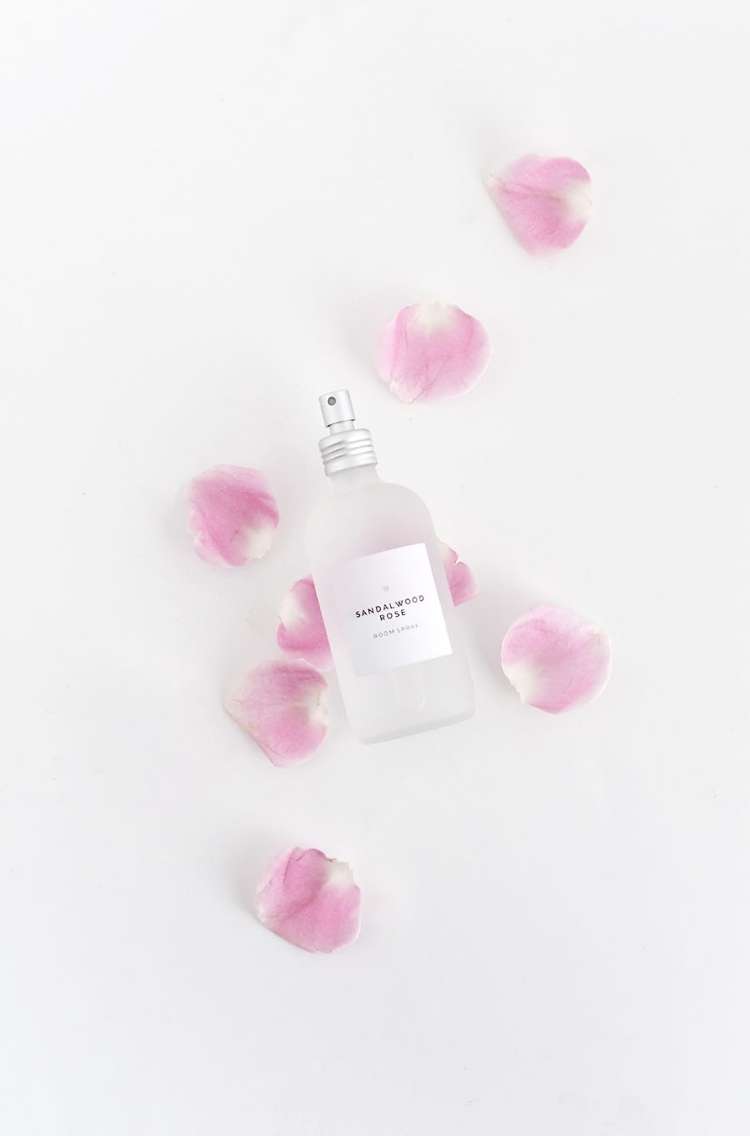 10) Simmering Crock-pot Potpourri
Lime, vanilla, and rosemary are an amazing scent combination for springtime. Use this crock-pot potpourri idea to make it!
Slice two limes and throw them in the crock-pot. Next add 3-4 sprigs of rosemary and 3 Tablespoons of vanilla extract. Top it off with 4 cups of water. Now turn the crock-pot on low and let it simmer. 
Sit back, relax, and smell the spring freshness!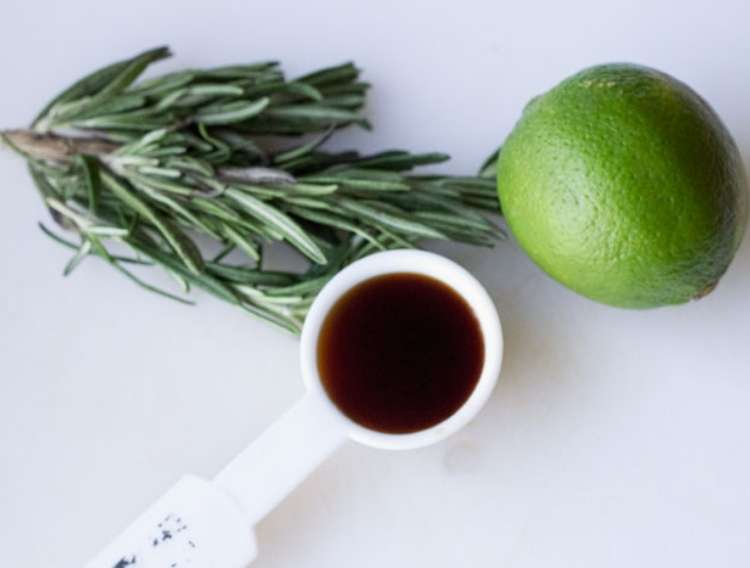 11) Homemade Mojito Gel Air Fresheners
Another gel air freshener recipe!
For a fun, seasonal summer scent, make some mojito gel air fresheners – it's colorful and smells amazing!
Gather these ingredients:
4 packets of gelatin
Green food coloring
2 cups water
2 tablespoons salt
Lime essential oil
Mint essential oil
Bring water and salt to a boil. Add to a large glass measuring cup with a drop or two of green food color.
Next quickly whisk in gelatin until completely dissolved. Stir in several drops of essential oil. Whatever suits your fancy!
Pour into mini glass jars, leaving space at the top. Let sit overnight until set.
They'll gradually dissolve over time, and keep your home smelling fresh for 2-3 weeks.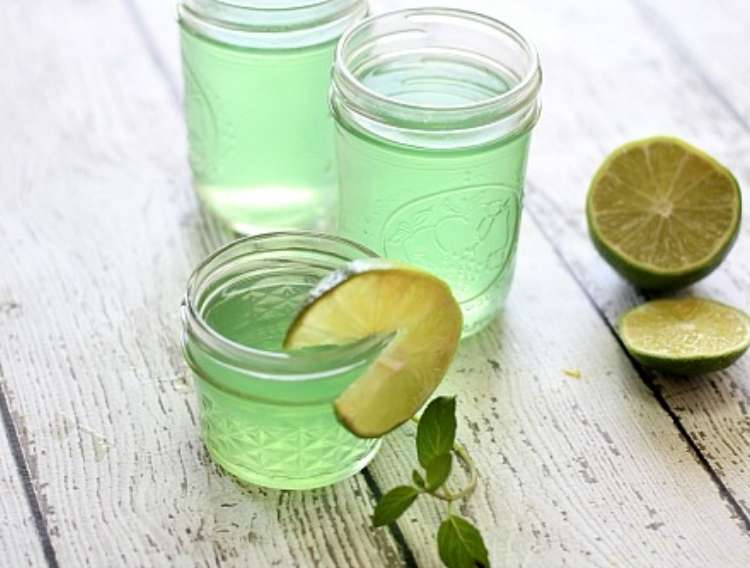 12) Homemade Reed Diffuser
Make a homemade reed diffuser for just pennies using your favorite essential oils, some almond oil, reeds and an old glass bottle.
It's as easy as pouring 60ml of sweet almond oil in the bottle. Then add 30 drops of your favorite essential oil and sticking the reeds in.
Enjoy this budget-friendly air freshener hack and be sure to place it out of reach of little children and pets.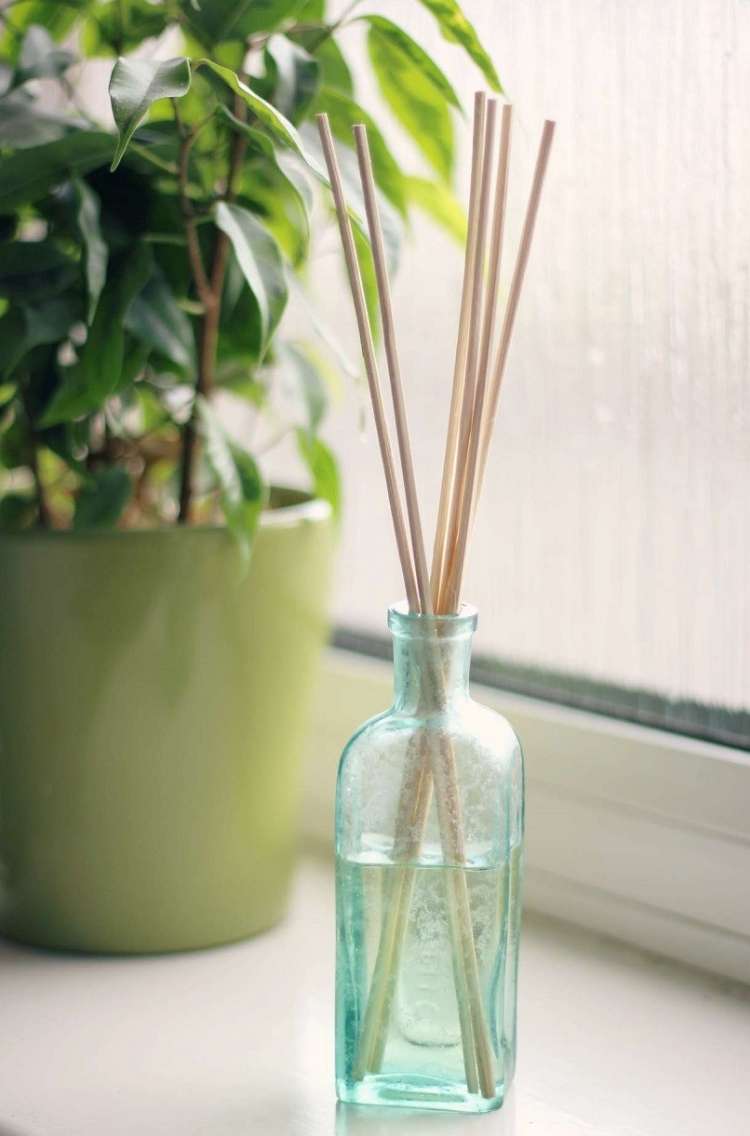 13) Toilet Paper Roll Air Fresheners
For super frugal DIY air fresheners, try this trick to make homemade air fresheners using items you probably already have in your bathroom.
Stuff some toilet paper rolls with tissue and add a few drops of essential oils. Wrap with colored paper to match the decor in your home.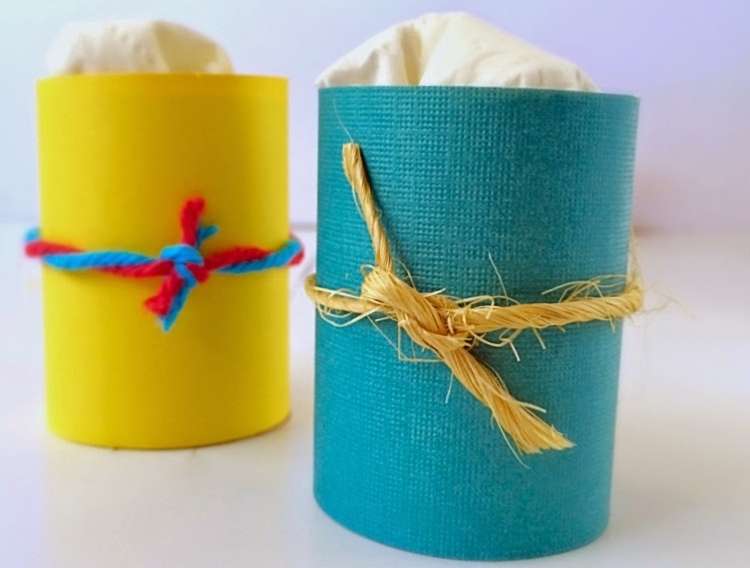 14) Chemical Free Air Freshener
Does your house have an overall musty smell, or a strong aroma that no detergent or room spray seems to help?
Treat every room at once by focusing on the source: sprinkle a few drops of the essential oil of your choice onto your air filter when you change it out.
The best part of this is that it's completely natural and chemical free!
15) DIY Pumpkin Spice Air Freshener
These pretty fall air fresheners double as decor and scent-makers. Just "paint" your favorite scent on the back. So smart!
This one is a bit more time consuming, but if you are crafty this one is for you!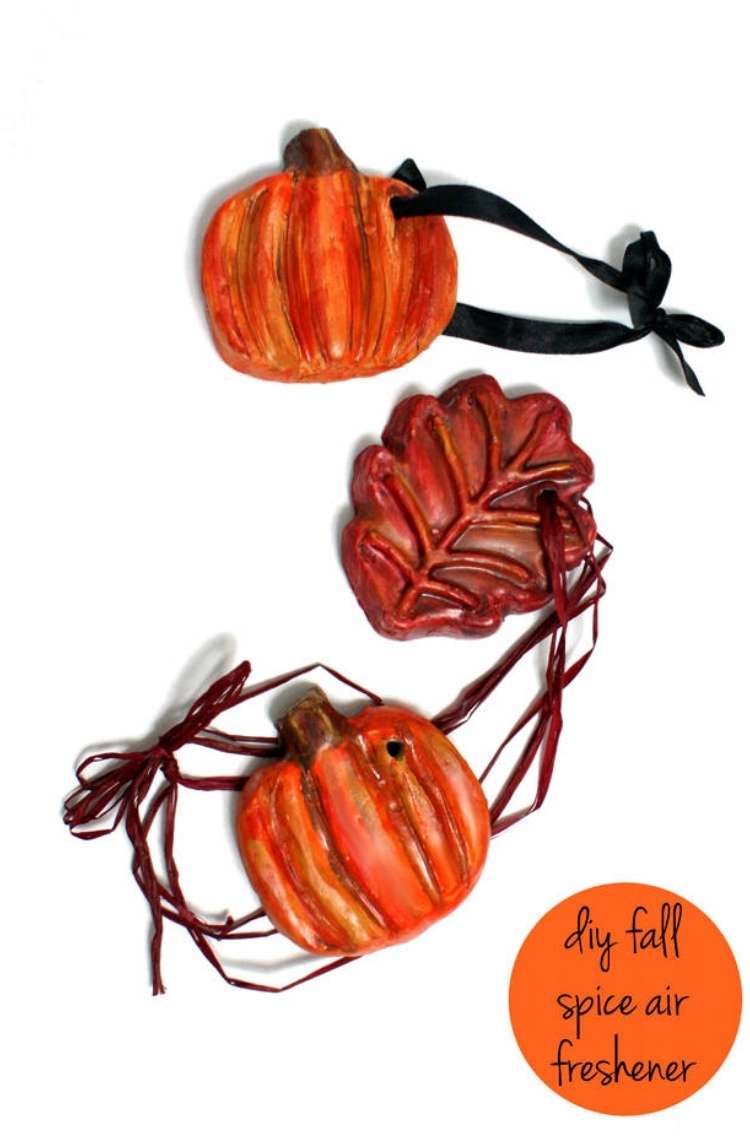 16) DIY Air Freshener Plug In Refill
Did you know the store bought plug-ins this can be reused? Check out this hack. Simply refill your plug-ins with essential oils and water!
Take off top and fill it half way with the essential oil you love the most, then add water leaving space for the wick to go back in. That's it! Now plug it in and enjoy!
More DIY Air Freshener Ideas to Try from One Crazy House:
Love these DIY air fresheners? Here are even more ways to make your home, car, and life a little fresher: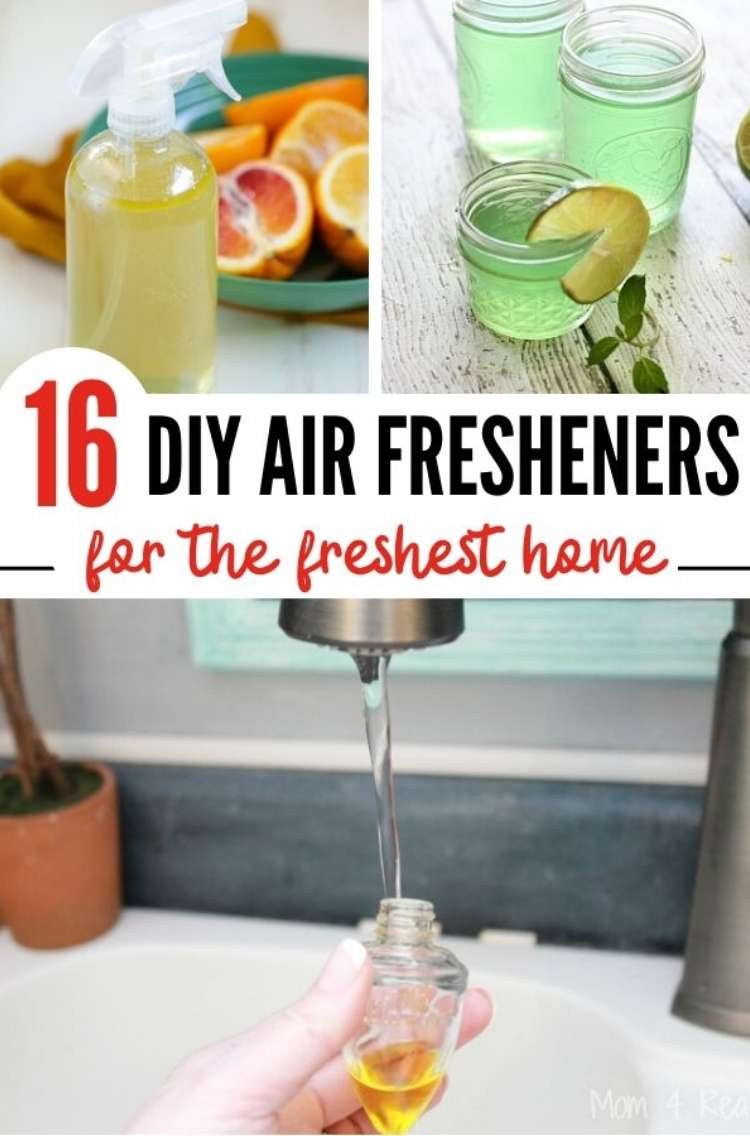 Which natural air freshener is your favorite?