If you're looking for some fun and simple Man Cave DIY ideas, look no further than these. They're simple and easy to do and most can be done in a weekend or less!
Every man needs a place to call his own. While most guys are willing to let the lady of the house decorate most of the living spaces, the man cave is a fuss-free environment where sports memorabilia, half-finished projects, giant TVs and plenty of drinks live in harmony.
These man cave DIY ideas are sure to spruce up your space. And the best part? These are all fairly easy projects that you can easily tackle in a day or less.
If your space is in the garage, you don't want to miss our post on garage organization ideas!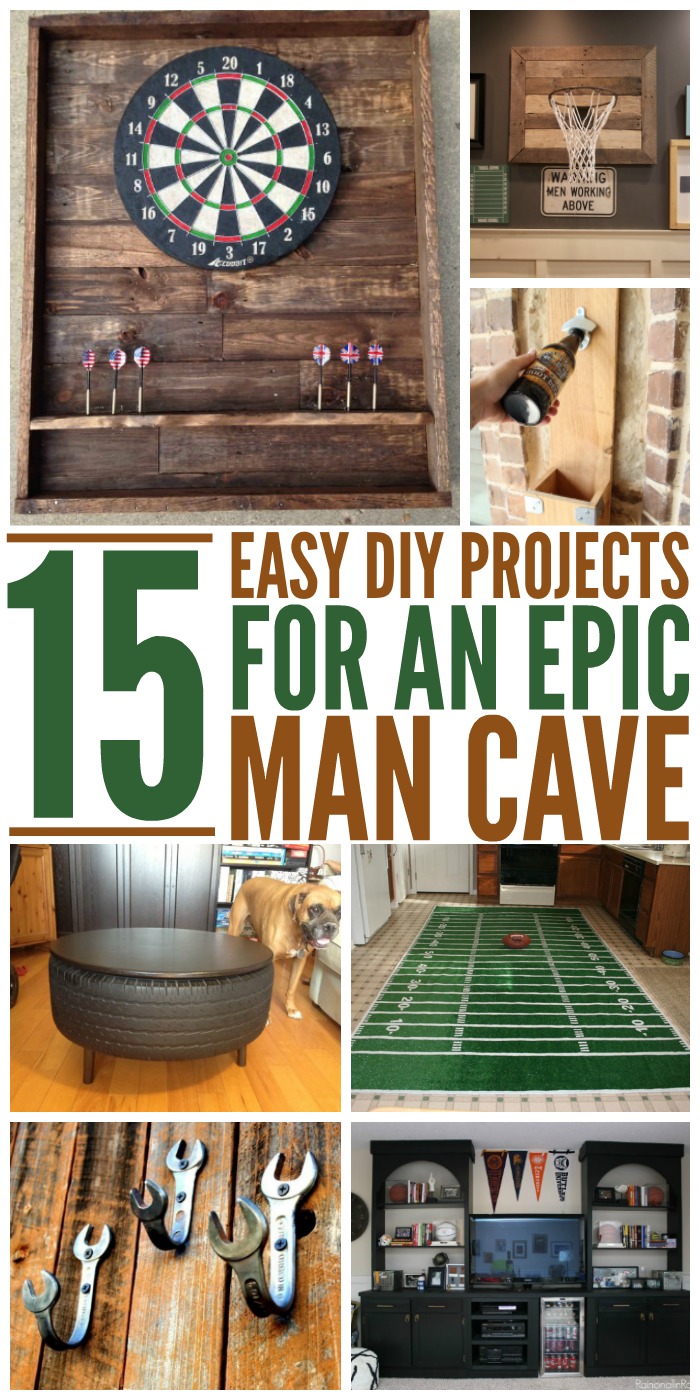 Man Cave DIY Ideas You Can Complete in a Day
Sports jersey pillows are a fun way to show some team spirit. But, for the love of all that is holy, do not take his lucky jersey. You'll be responsible for every team loss from now until forever if you do.
Built-ins are great, but you don't have to pull out existing units to give them a manlier look. You'd never believe that these built-ins were once a panel-clad nightmare, right? The faux stone finish is a nice touch.
Turn an empty Jack Daniels bottle into a soap dispenser for the bathroom.
Make some beer coasters to avoid those dreaded water rings on the furniture. Aren't these cool? You won't believe how easy they are to make!
This string of mini red solo cup lights would make a fun addition to the room. Since man caves are usually in the basement, a little extra lighting never hurt anyone, right?
Hang your hat on these awesome wrench coat hooks.
Or if hunting is more your hobby, a shotgun shell coat/hat rack is just the thing you need.
Any motocross fan would love these dirt bike tire shelves in the man cave. How cool do those look?
And speaking of tires, this tire coffee table is pretty sweet, and it has plenty of storage inside for remotes, magazines and other items that tend to clutter up surfaces.
I don't think it's officially a man cave until it has a dart board. This one is made from pallets… cheap and fun!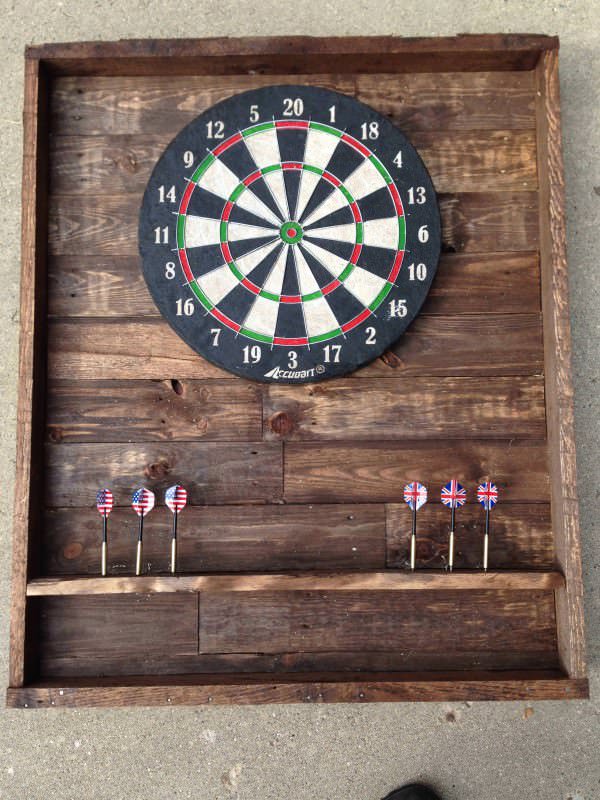 And if you have some pallet boards left over, try your hand at this DIY basketball hoop with pallet backboard.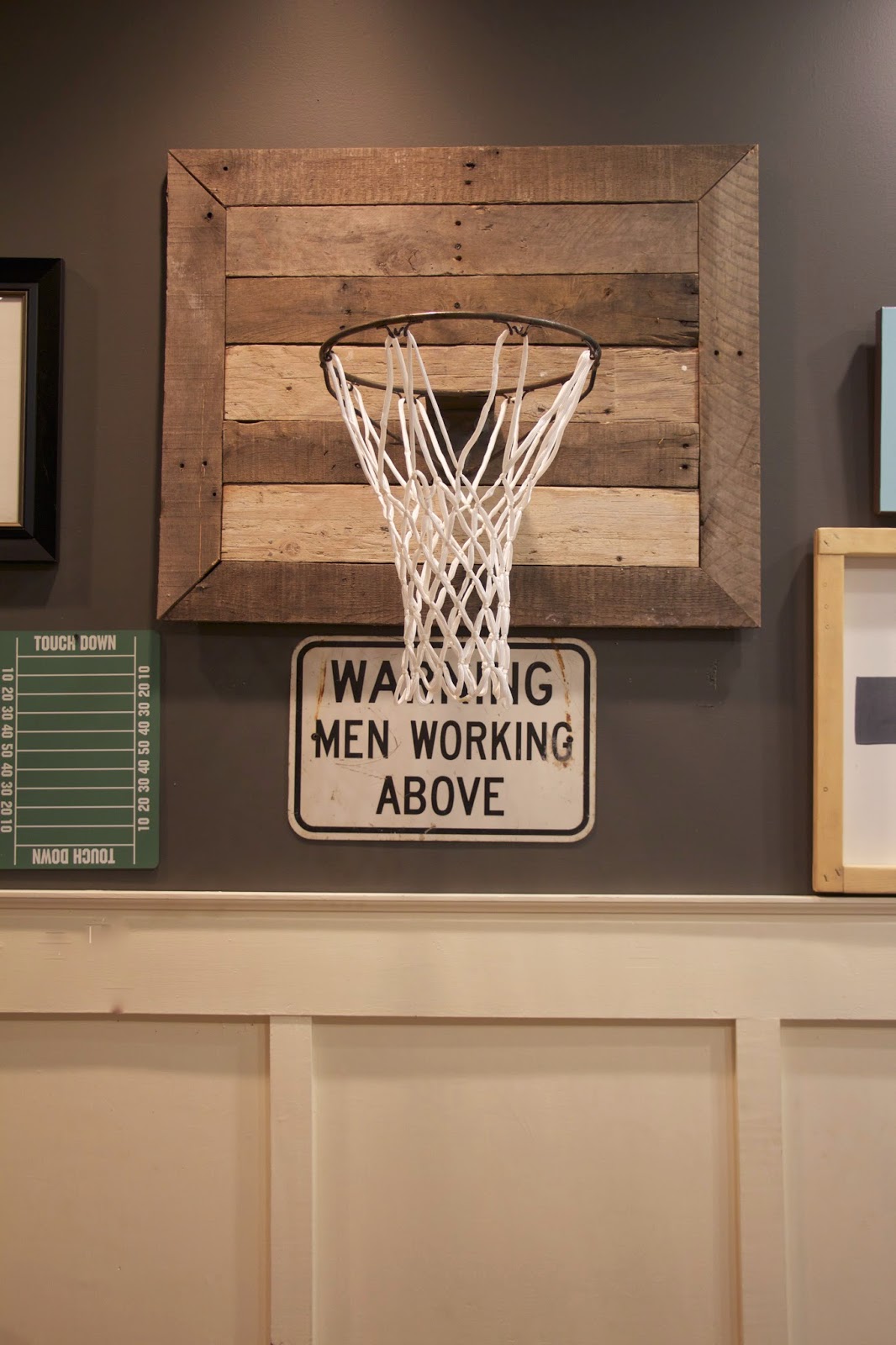 Keep the biceps bulging with a DIY pull-up bar.
Make your own Marquee letters for the bar area.
And what's a bar without a cool DIY bottle opener? You can make this baby in about 10 minutes using scraps of wood from other projects.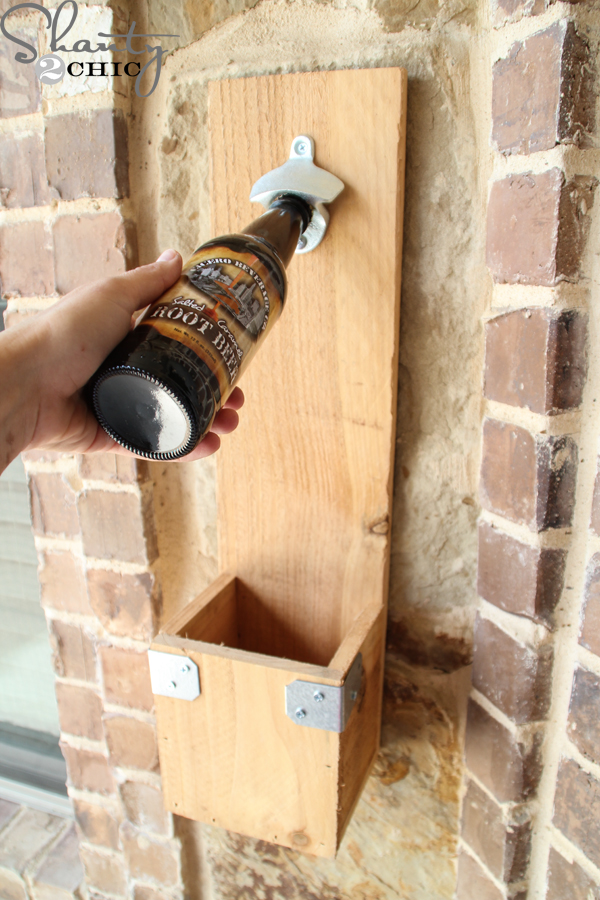 Can you believe this football field rug costs only $25 to make? Genius!
Get more ideas for the "guy spaces" in your home!
20 Garage Storage Ideas to Eliminate Clutter
And if you want a truly easy man space spruce up, just ask them what they want. Any addition to their man cave that you can do to surprise them is always fun! While these ideas below may not be DIY, they are still some fun surprises that can be great additions to their man cave:
New recliner for their movie area
Mini fridge for their beverages
Posters showcasing all their favorite sports teams
Awesome speakers for their music
Snacks in their cabinet area
Magazines and books
And those are just a few fun additions to really take their man cave from good to great! Adding in a few store-bought ideas can bring in an element of fun as well.
Do you have any other man cave DIY ideas to share?