If you're looking for some fun and simple DIY Man Cave ideas and inspiration, look no further than these. They're simple and easy to do, and most can be done in a weekend (or less)!
Every man needs a place to call his own. While most guys are willing to let the lady of the house decorate most of the living spaces, the man cave is a fuss-free environment where sports memorabilia, half-finished projects, giant TVs, and plenty of drinks live in harmony.
These man cave DIY ideas are sure to spruce up your space. And the best part? These are all fairly simple projects that you can easily tackle in a day or less. Enjoy these best man cave ideas, and get your man his own man cave!
If your space is in the garage, you don't want to miss our post on garage organization ideas!
DIY Man Cave Ideas You Can Complete In a Day
1. Make Him DIY Pillows From His Old Sports Jerseys
Is your man a sports fan, prepping to watch the next big game? Sports jersey pillows are a fun way to show team spirit. But, for the love of all that is holy, do not take his lucky jersey. You'll be responsible for every team loss from now until forever if you do.
Instead, use those jerseys that he no longer wears, but refuses to let go, that are currently cluttering your closet. Now, he can really have his cake and eat it, and they'll be awesome conversational pieces for him and his boys. What a perfect man cave idea for sports lovers!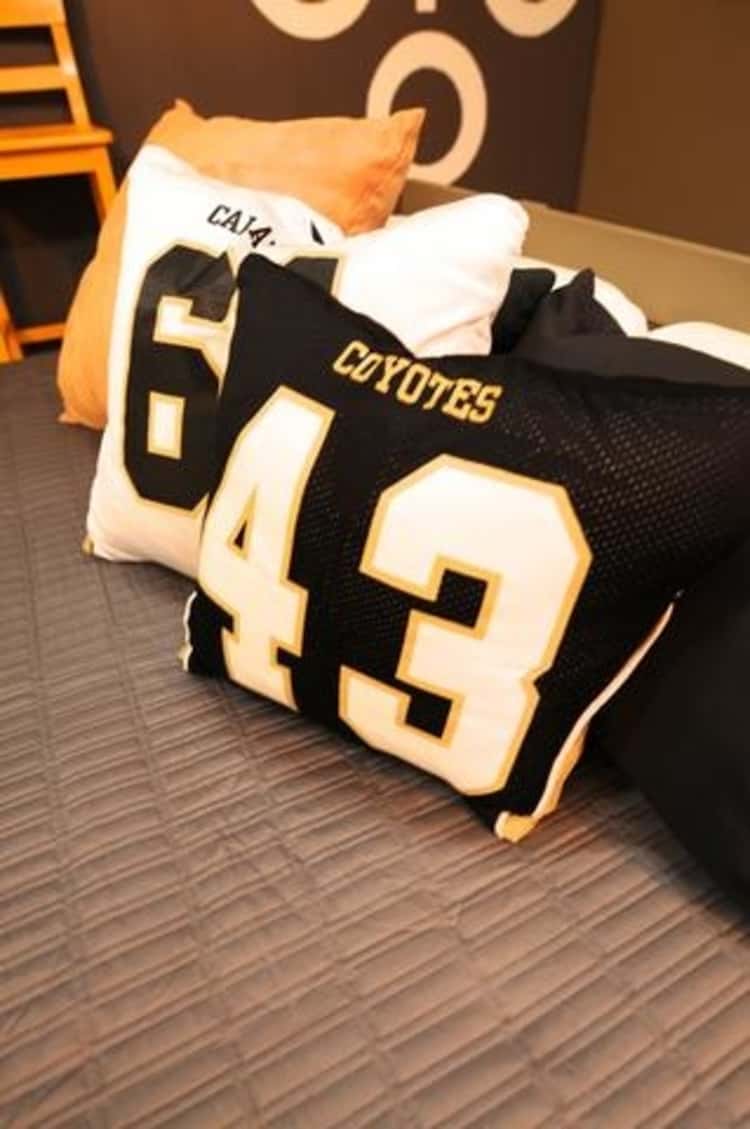 2. From Unsightly Built-In To a Cool DIY Man Cave
Built-ins are great, but you don't have to pull out existing units to give them a manlier look. You'd never believe that these built-ins were once a panel-clad nightmare, right? The faux stone finish is a nice touch. Your man now has a place he can call his own! Put up some movie posters, and your man will have his very own home theater for some personal (or family) entertainment.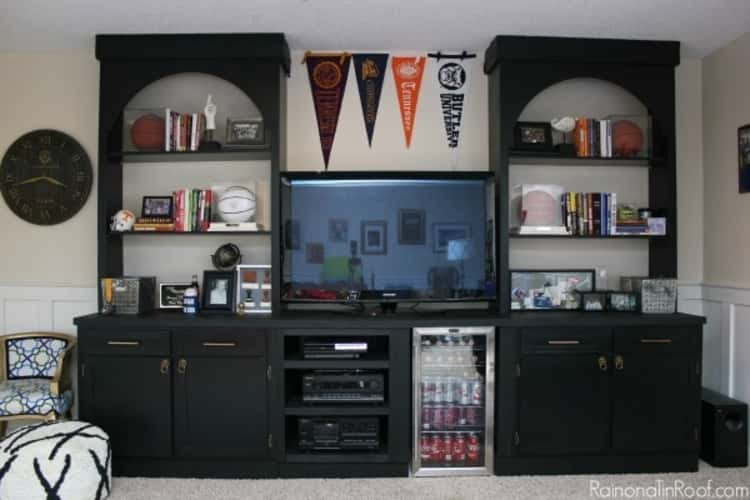 3. Out Goes The Booze, In Comes a Cool DIY Soap Dispenser!
Before returning those empty Jack Daniels bottles, save one–or a few! Turn them into soap dispensers, one for his man cave bathroom, and the others can be cool DIY gifts for friends and family. All you'll need to add for this DIY Jack Daniel's soap dispenser man cave idea is a few fancy pumps, and a bottle of liquid soap.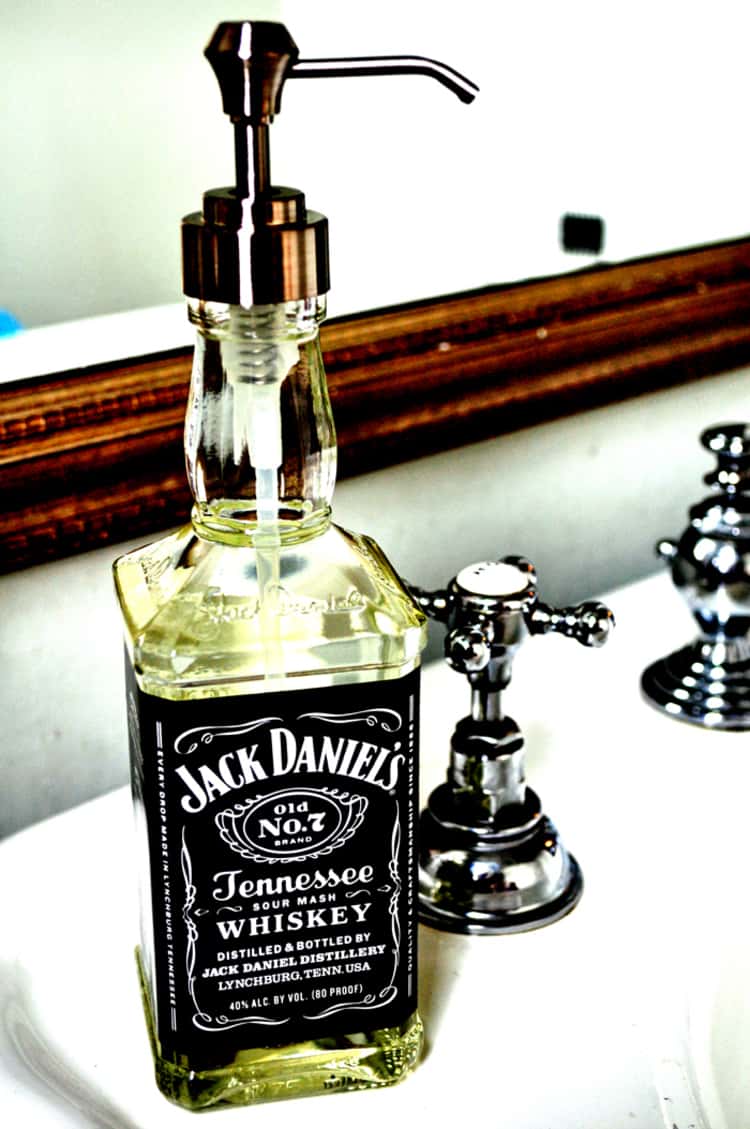 4. Impress Him With Beer Coasters By Upcycling Beer Carriers
Yes, it's his man cave, though, it's highly likely that keeping it clean and tidy is firmly your forte. Protect the furniture, and make beer coasters to avoid those dreaded water rings. Aren't these cool? You won't believe how easy they are to make!
All you need is to upcycle the carton beer carriers, using some ModPodge, 4×4″ tiles, adhesive felt pads, clear polycrylic protective finish, a sanding block, and an afternoon of best man caves DIY fun for you and the kids.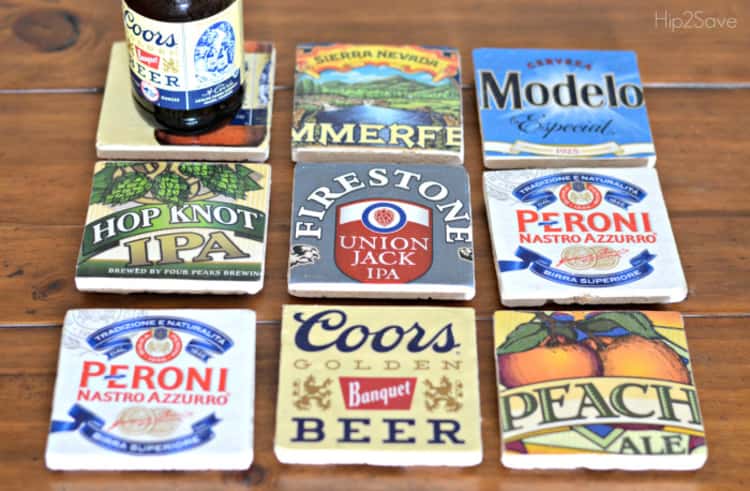 5. Light Up The Man Cave With Mini Red Solo Cup Lights
How about some man cave bar light fixtures idea? This string of mini red solo cup lights would make a fun addition to the room. Since man caves are usually in the basement, a little extra lighting never hurt anyone, right? A strand of LED lights, mini red cups, and a screwdriver is all you'll need!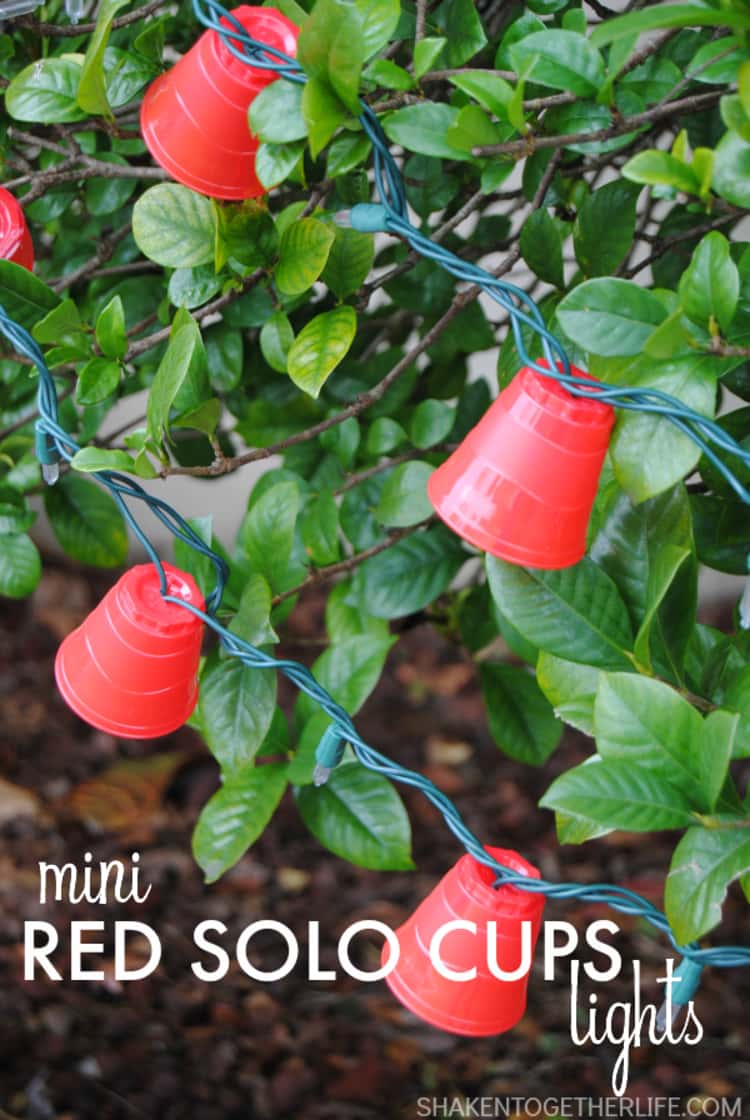 6. Rustic Wrench Coat Hooks
Transform a few handy tools into a different set of handy tools. Tap into vintage vibes when you make the ultimate man cave hook hangers. These are best left as you DIY man cave idea that he'll execute, because some brute force is required to shape the wrenches into coat hooks. Though, it will be totally worth it after! He can now have a place to hang his hats or coats on these rustic wrench coat hooks.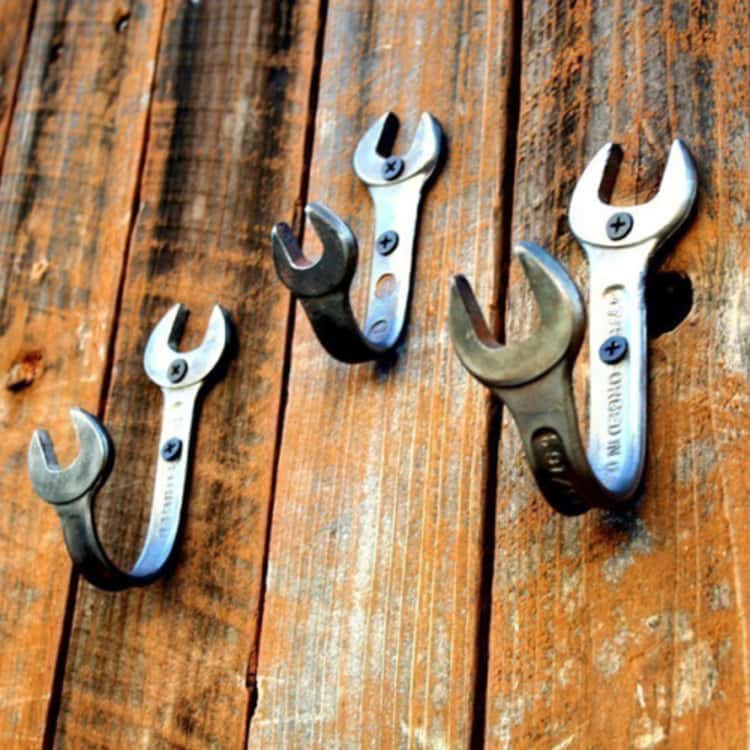 7. Coat Rack With An Edge
Is hunting among his hobbies? A shotgun shell coat/hat rack is just the thing you need to add an edge to his man cave. Collect a couple of empty shotgun cartridges, attach them to a wood plank using dowels and screws, and you've got an edgy addition to his man cave.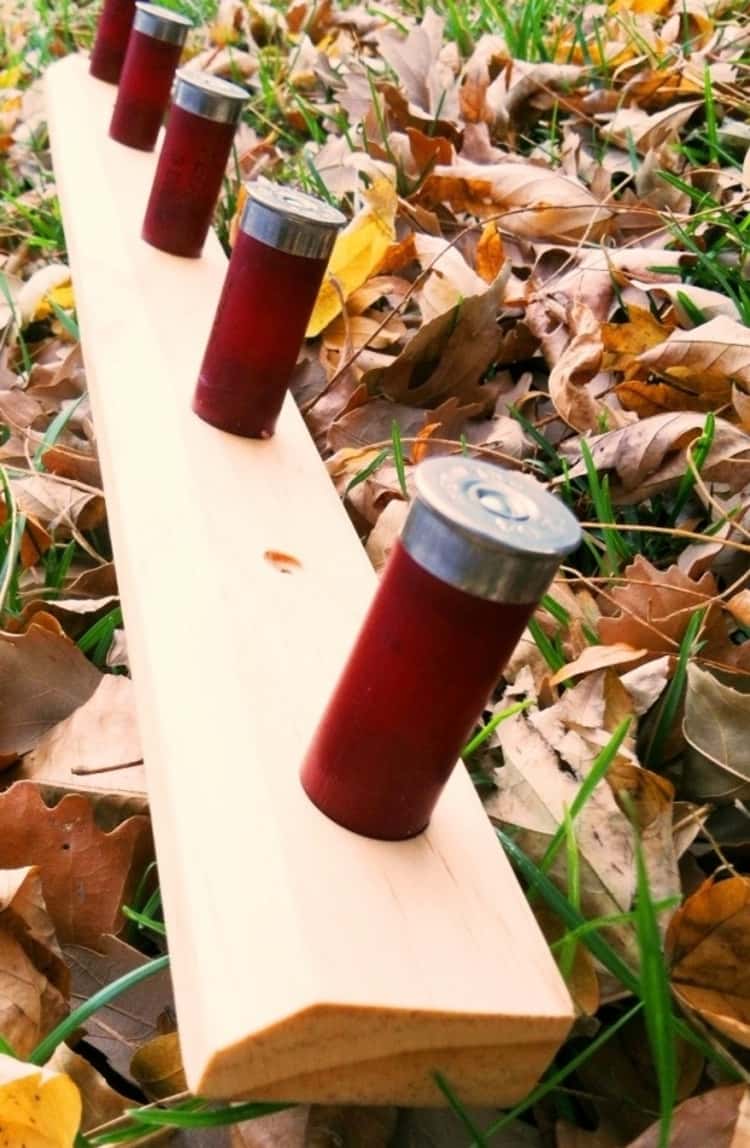 8. Gift Him With Dirt Bike Tire Shelves For His Man Cave
You might not be in a position to get your hands on a real motocross fan gift, but If your man is a fan, he'd sure love these dirt bike tire shelves. They're a wonderful addition to his man cave–and how cool do they look?!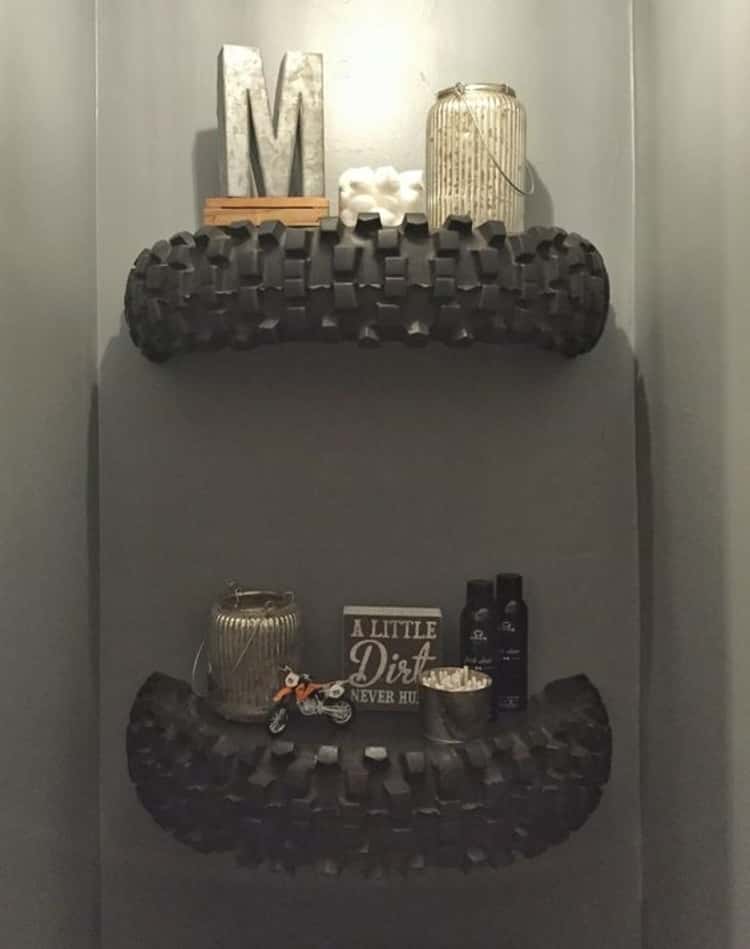 9. Repurposed Tire Into a Coffee Table
If his man cave is in the garage, how about keeping up with the theme, and have this tire coffee table? It's a pretty sweet addition, with plenty of storage inside for remotes, magazines, and other items that tend to clutter up surfaces. This DIY man cave idea is quite some task, though. Your man will really appreciate the addition!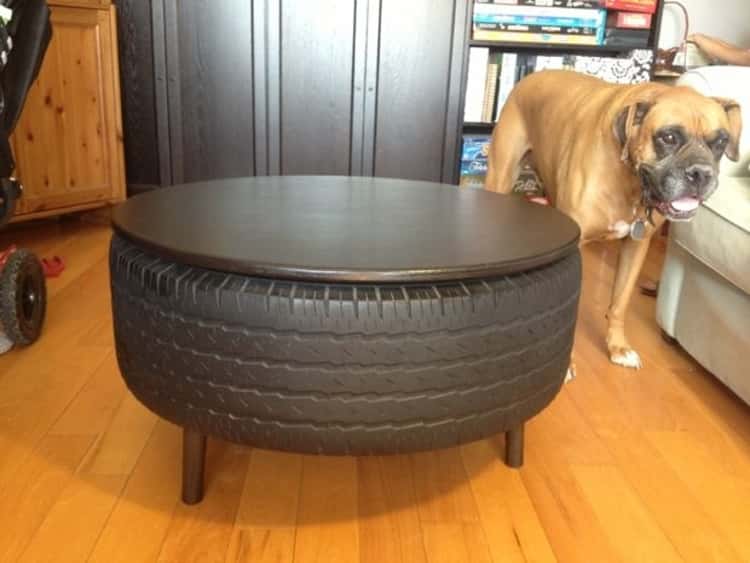 10. Let's Throw Some Darts!
You don't have to be a beer drinker to shoot darts, but it sure helps – Picturequotes.com
Here's one of the best garage man cave ideas that will complete the list. I don't think it's officially a man cave until it has a dartboard. How about this handmade rustic dartboard made from pallets… cheap and fun!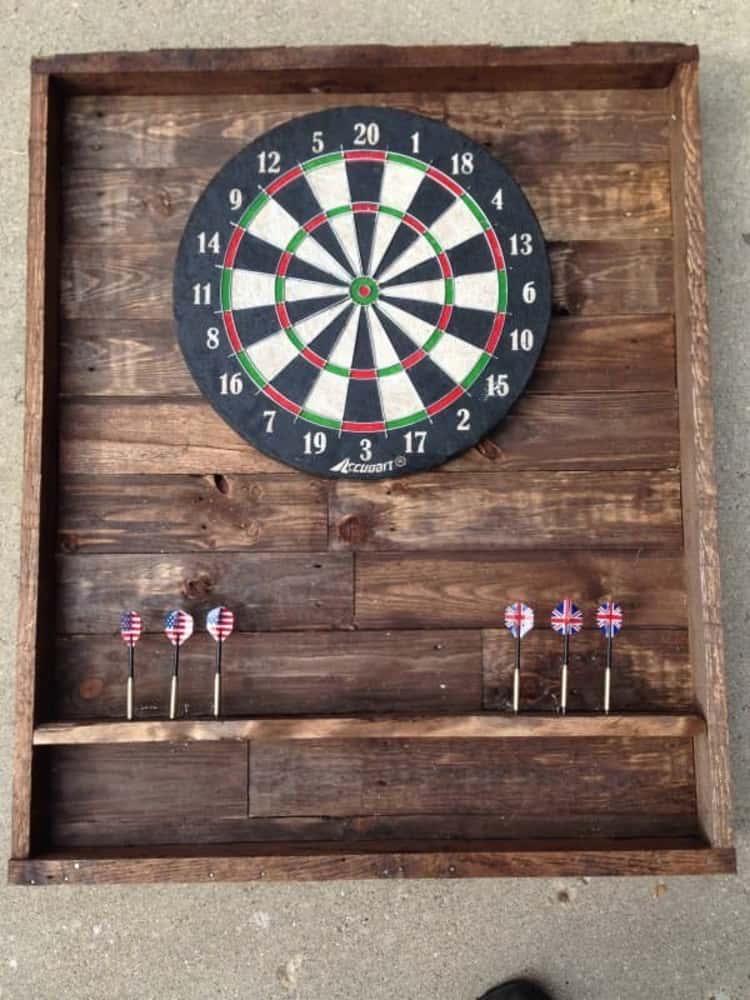 11. Wanna Shoot Some Hoops? It'll Be 24/7 With This DIY Basketball Hoop
I don't know about you, but I sure hope all that binge-watching of Magnolia Farms on HGTV ought to count for something! Whether or not you have pallet boards left over, try your hand at this DIY basketball hoop with a pallet backboard. Thrift around for the old hoop, and net to get this perfect addition to his man cave.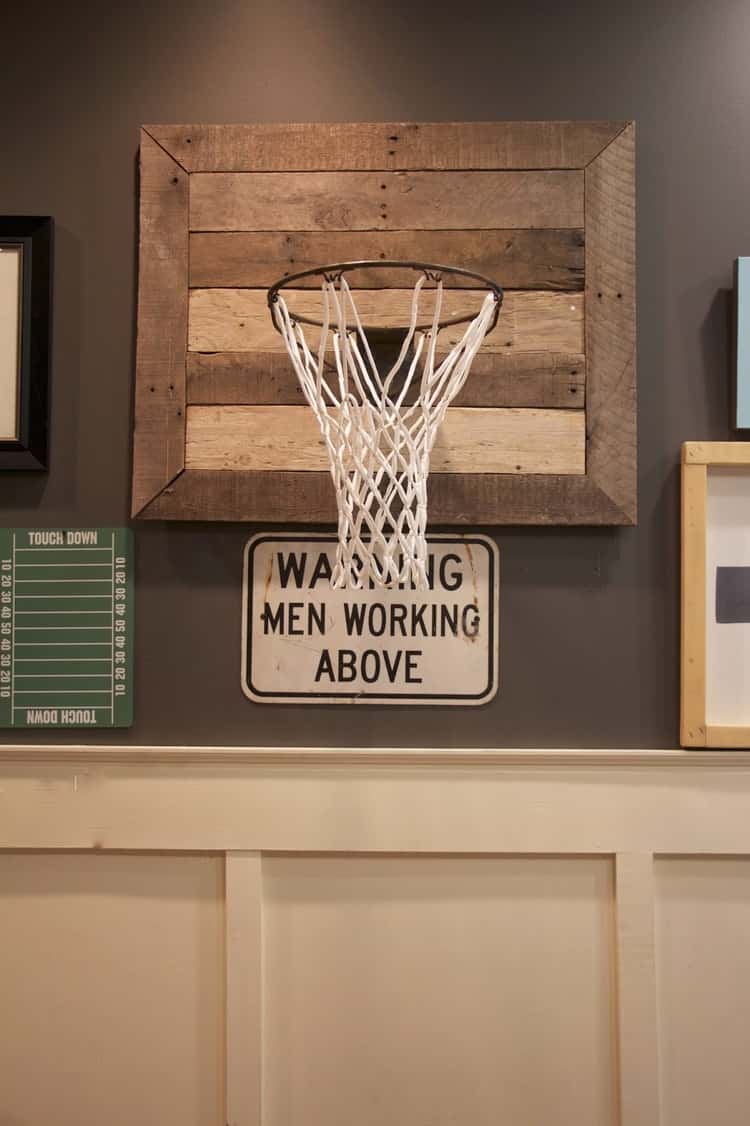 12. Let's Be The Couple That Sweats Together On Our DIY Pull-Up Bar
Find someone who shares your passion and do it together – cnqrapparel
We'll sure be adding this to his man cave–not only for him, but for me, too! This is an incredible idea for us to bond in his space and keep our biceps bulging with a DIY pull-up bar.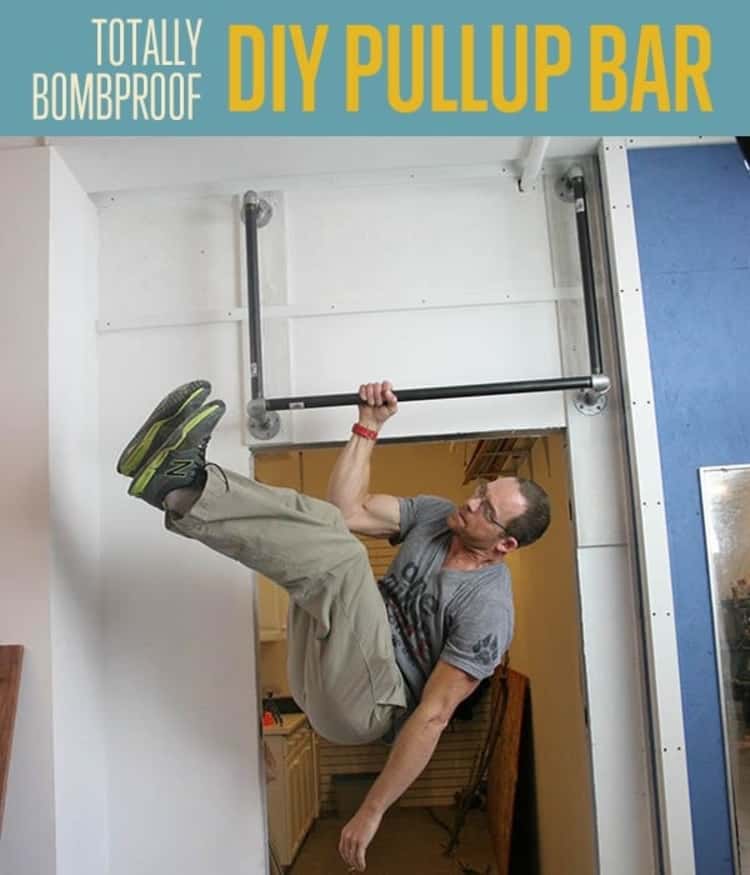 13. Light It Up With A Marquee
Lighting has a huge role to play in creating mood and atmosphere. Use lighting to create an ambiance, and you can easily do this using a marquee. Make your own Marquee letters for the bar area, and these can also be quickly and easily be switched up when hosting the kiddos' parties too!
While you could choose to make your own marquee letters, life has been made simpler such that you can now buy your DIY marque letter kits, with each kit coming with its 3D marquee letter shape, a LED light strand, and a set of clear round bulb caps. In addition, there's also a template you can use to help customize your letters, with endless embellishment possibilities.
Embellish the letters to your preference and then insert the clear bulb caps that are made from plastic, giving the letters the classic, authentic real marquee look.
PS: The LED light packs that come in the letter kits are battery-operated. You never have to worry about hanging cords because the cording fits neatly into the back of each letter.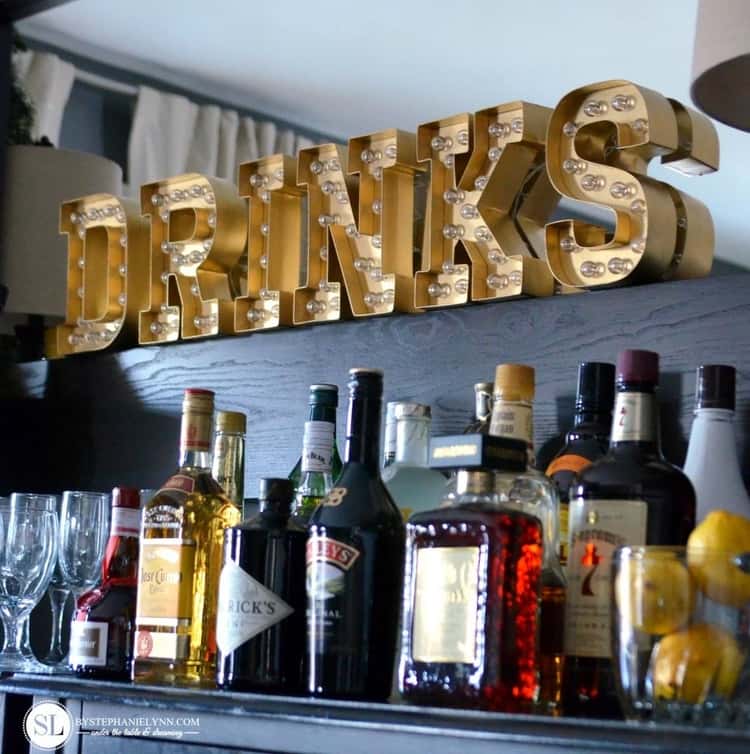 14. Complete The Wine Cellar Bar With A Cool DIY Bottle Opener
The bar will definitely be incomplete without a cool DIY bottle opener. It doesn't have to be. You can make this baby for pennies in about 10 minutes using scraps of wood from other projects. All you'll be buying is the metal hardware and the bottle opener. Simple!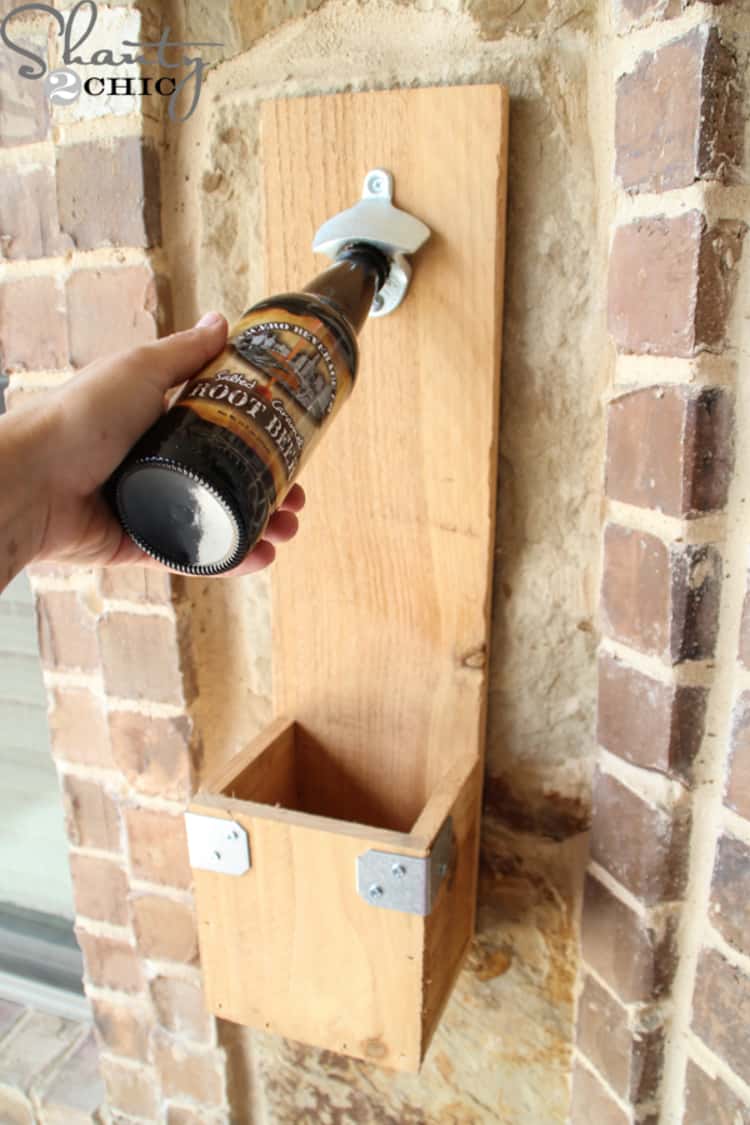 15. Score Big With Inexpensive DIY Football Rug In Man Cave
I couldn't think of a better way to accent the man cave than with a football rug if your man is into football. While it's a time-consuming project if you DIY, it's worthwhile because of how cheap it is!  A few hours, measuring tape, astroturf, tape, and a knife is all you need. You could also skip out on the tape and instead paint the lines and numbers. Remember to tape the edges to prevent the edges from getting frazzled.
If you keep it a surprise, he'll never know his football field rug costs only $25 to make. Genius!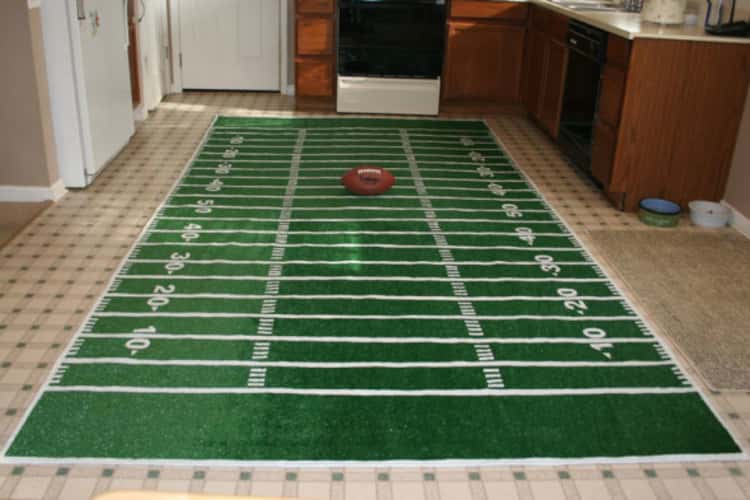 A man's cave, his holy abode, is an extension of his heart and soul. It is nothing more than a mirror of all our frat-boy dreams, tossed up and tacked on for everyone to see – Jack Hansen
More Man Cave DIY ideas for the "guy spaces" in your home!
And if you want a truly easy man space spruce up, just ask them what they want. Any addition to their man cave that you can do to surprise them is always fun! While these ideas below may not be DIY, they are still some fun surprises that can be great additions to their man cave:
New recliner for their movie area
Mini fridge for their beverages
Posters showcasing all their favorite sports teams
Awesome speakers for their music
Snacks in their cabinet area
Magazines and books
And those are just a few fun additions to really take their man cave from good to great! Adding in a few store-bought ideas can bring in an element of fun as well.
Have a look at these other DIY ideas you could try out for your house:
Do you have any other man cave DIY ideas to share?