Short hair is easy maintenance and the style are versatile. You will love all the creativity that you can have with this new look! Short hair can be sexy and feminine. These hair tutorials make it easy to choose the right cuts and styles, especially if you're working with a limited amount of hair. Here are 18 easy styles that you HAVE to try at home and we added in some classics that are traditionally for longer hair that can be cheated into shorter and medium hair styles.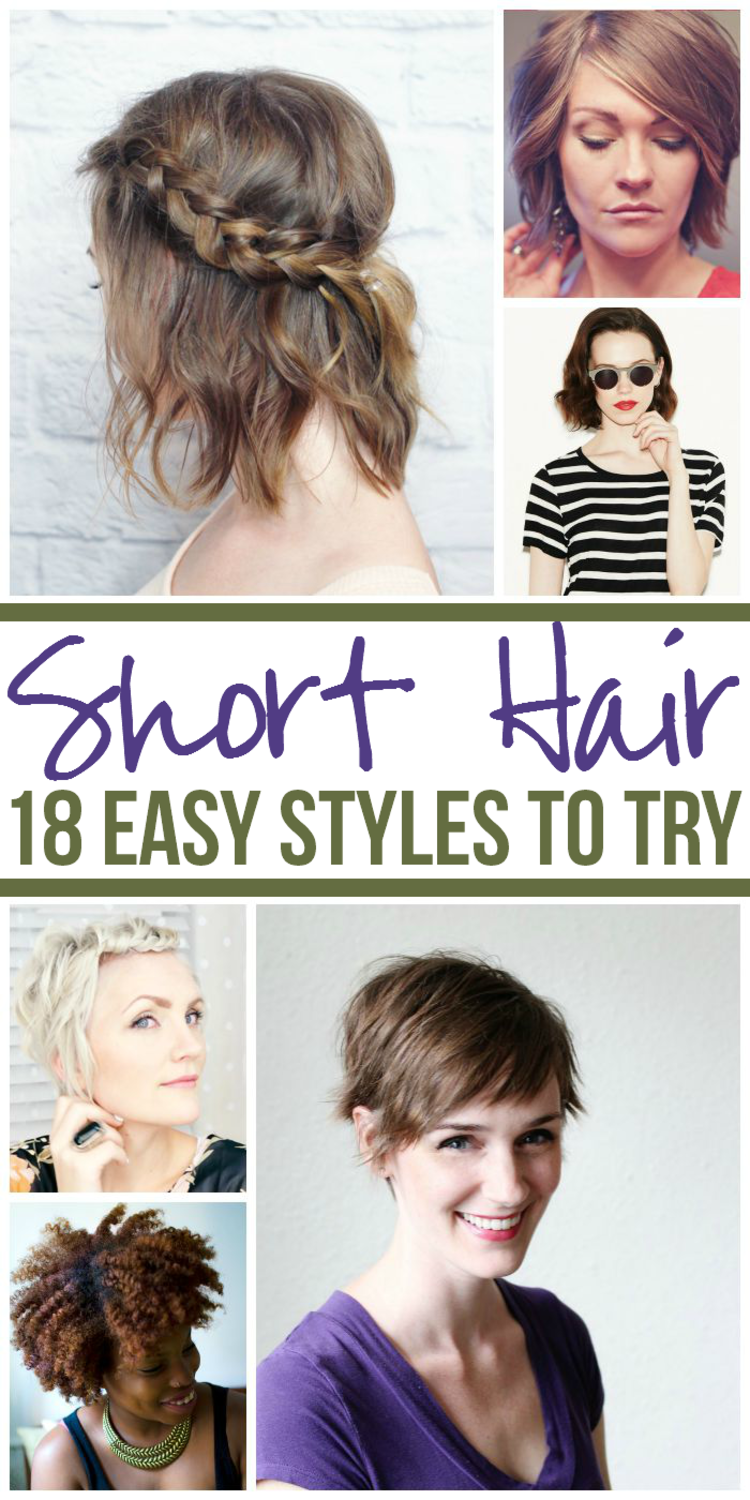 Super Cute Short Hair Styles that are Easy
Sometimes, when you're sporting the short hairstyle easy maintenance look, it's easy to fall into a style rut. Having short hair doesn't mean you can't be stylish. Read this article to find out easy ways to get great hairstyles.
Short hair styles can really emphasize facial features and allow your true beauty to stand out.  Whether you have thick hair, wavy hair, thin hair or fine hair there is a style that can give you the salon inspiration for today!  No matter your hair color…grab a few essentials: curling wand, gel, styling cream, texturizing spray, hair serum, mousse or whatever you have in your bathroom cabinet and let's get styling!
A short haircut still has lots of creative potential. Whether you're looking for a different everyday style or an easy updo that takes literally five minutes, we've got you covered!

Simple Medium Length Hair Styles To Rock Every Day
1. Create Beachy Waves That Last With a Flat Iron
Get beachy waves even for everyday looks by using your flat iron to curl and tousle your hair that looks like you just came from the stylist. If you are looking for a wavy summer look that does not look too perfectly done, this one will do. The trick shared here is to curl about 3/4 of your hair and not all the way to the end. Then straighten out your ends with the flat iron. Remember to use a heat protector before you get started and spray it repeatedly during the process. Absolutely love the finished look!
2. How To Create A French Twist With Ease
Even a sleek french twist is totally doable at home if you follow these instructions. This 10-step process looks daunting to beginners with but you will appreciate how sleek your mane looks after this. It seriously gives me some Paris vibes! You want to start this with natural texture or natural curls to your hair so the pinning becomes easier.
3. Must Try Headband Tuck
For another fun updo, try this headband tuck. You will LOVE how younger this look makes you feel. Do you have a hairband and a curling iron? That's all you need. The crown effect starts to come together beautifully as you tuck in the curled hair into the headband. You can wear this as a casual or dressy look. Super cute!
4. DIY Bohemian Braids You'll Love
Her hair is technically medium length, but if you're into braids, you should try these Bohemian braids. Start off with braiding your hair into four parts directed southwards towards the neck. They're just simple braids wrapped together, so anyone can do it with a little help from a hair clip of two! Whether you are having a bad hair day or freshly blow-dried, this will work.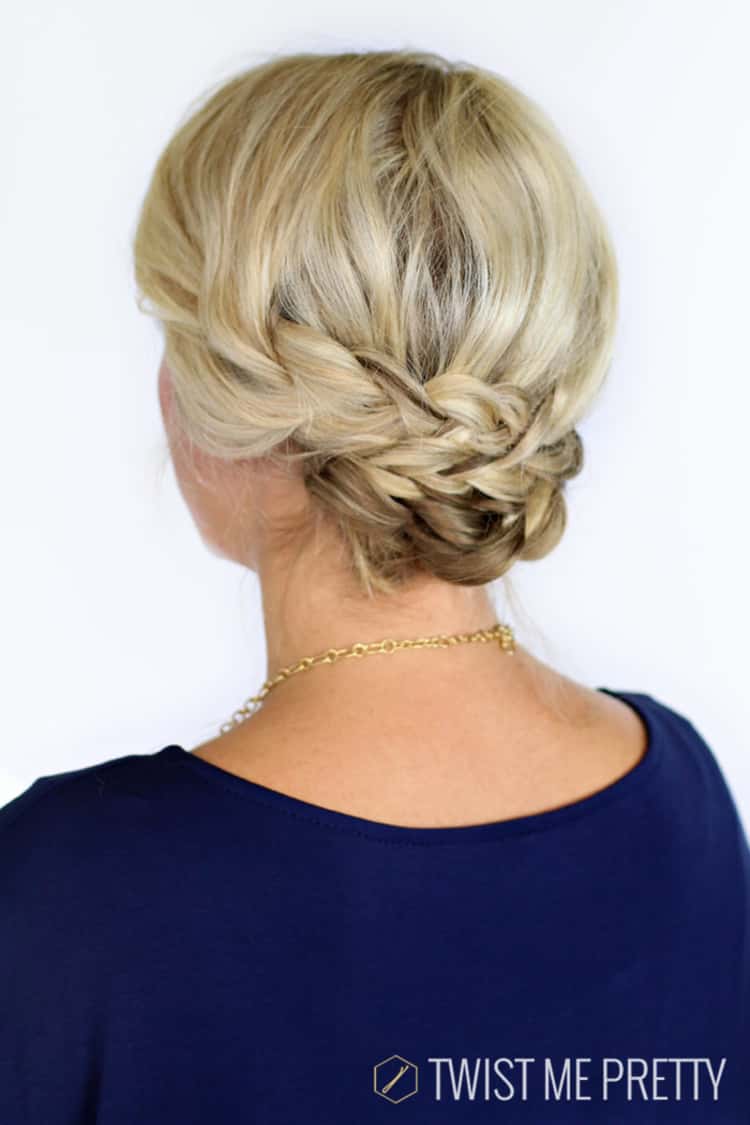 Simple Short Hair Styles to Rock Every Day
5. Twisted Bangs for Natural Hair
Twisted bangs are an easy way to cover up messy or dirty hair. You only need to grab a portion of hair and swoop it to the side, then pin it. A whole new look and you will look like you put some effort before stepping out! You can have fun with this look by using colorful pins, or something that is not too plain.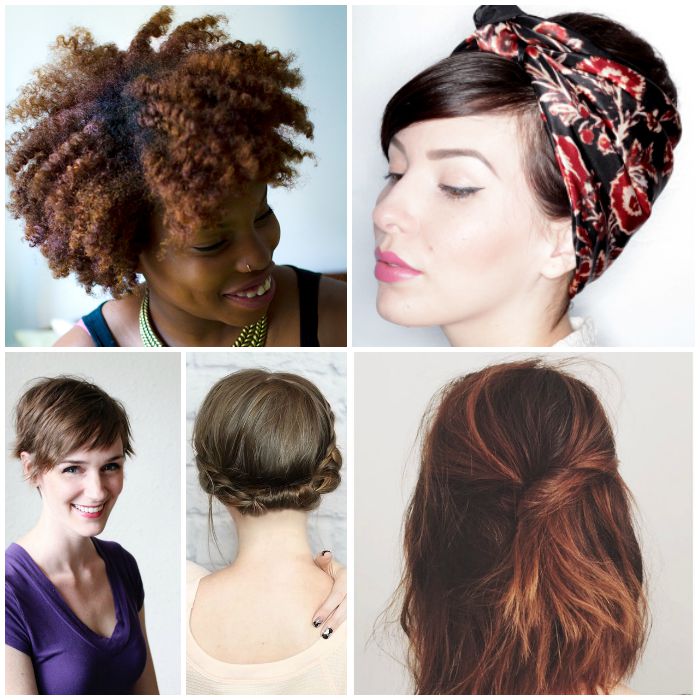 Alternative Hair Styles You MUST Try
6. The natural hair two-strand twist out
The two-strand twist out looks great on natural hair, and it's easier than you think as long as your layers are not too short! You will need some natural hair products to prep your hair and keep it moisturized. If you have thick natural hair, you are advised to do the twists during the day so your hair can dry naturally instead of sleeping in with damp hair.
Once the twists are done, have them on for 24 hours or as long as it's still cute. To take out your twists, apply some moisturizer along with the twists and use a wide-toothed comb to take them apart. The results are amazing! This twist out is also coin-friendly so you get to save your bucks!
7. A Simple Faux Updo Tutorial With A Scarf
Get the big hair look without actually having a lot of hair. Check out the faux updo! Because your hair is short, you will need a good number of bobby pins to secure the hair at the back of your head. Not to worry. This tutorial shows you how to hide the bobby pins with a scarf. It's even cuter when wrapped in the scarf. I love the front and side view!
I love when the trends can go for different hair type and lengths too! Oh, and who doesn't love good hair accessories?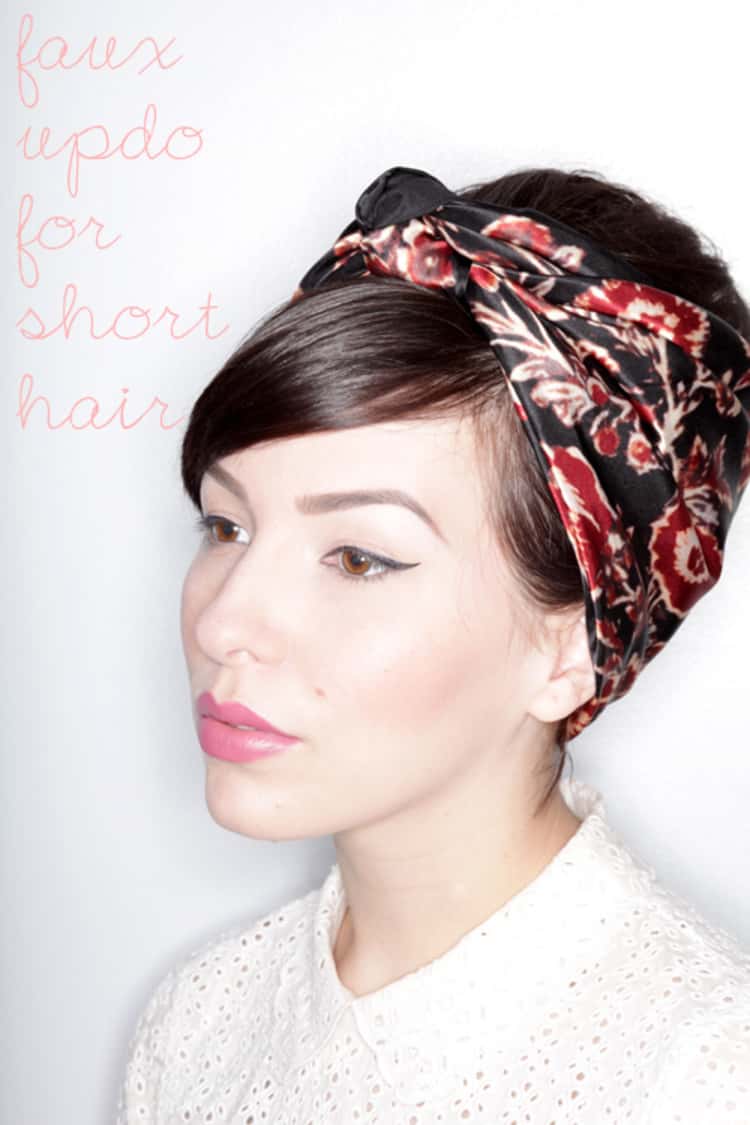 8. A Half Updo With No Heat Needed
A half updo can get you through even the worst of bad hair days. It's so easy to pull off and looks great with most face shapes. You can do this with a bob haircut or without the bob. The trick is in teasing the crown with your fingers or a tail comb and then using a hairspray that will give you that extra hold. I know I have tried some of these hair tricks and the crown fell apart before I even left the bathroom! It's not just me, right?
9. Style a Classic Pixie Cut In 3 Fun and Easy Ways
Rocking a pixie? A short pixie is one of those hair looks that totally look great on their own or with a cute bow. But here are 3 fun and easy ways to style a pixie cut. You can mix this in for several days of the week. A little texture is needed in the beginning to manage the hair. Bobby pins are your best friend for these looks!
10. Quick Rolled Braid Updo
This quick rolled braid updo is a pretty way to get your hair out of your face for a while. Your hair may need to be of a certain length because we are making a braid at the top of the head and bringing it to the back of the head. So cute! This will be great for when your hair is not too short anymore. You know that period when the strands are growing longer, but you are not ready for the next cut? This is perfect for that in-between period.
Make The Most Of Your Curls With Short Hair
11. Brushed Out Waves That Last All Day
Go for low-key glam with brushed out waves. Sometimes we step out of the house with lovely waves and by mid-day, well, there's no evidence of that! The secret shared here is to maximize on your hold. That means starting off with hairspray and ending the process with hairspray. It's the hold, people!
Here are the steps to pull this off like a pro:
Start with dry hair or finish blow-drying with a round brush

Prep the Hair With Hairspray from the roots to the tips

Brush Through Hair With a Smoothing Brush

Curl Small Sections Away From Your Face

Hairspray Your Waves While They Cool

Brush through your curls to create the loose-waves effect

Finish Off With Shine Spray
12. A  Messy Braided Crown Tutorial
A messy braided crown can help you disguise oily hair when you don't have time to wash it. Who doesn't want that? This works great for when your strands have grown to shoulder-length, or you have recently cut your hair to that length for a classic bob. We are pulling a braid from the top of our head and directing it to the back to achieve this look. Only 5 minutes are needed and voila! If you are doing this for your little girl, you can add some fun pins along the braid to keep it fun.
13. Make Your Hair Look Longer With a Ponytail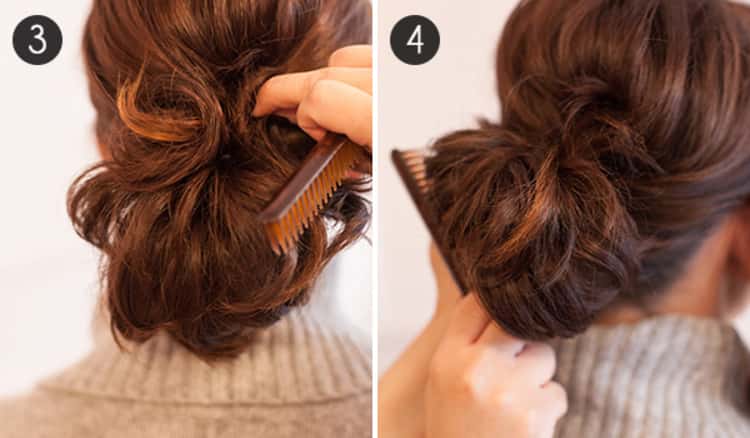 There's more to a ponytail than simply pulling your hair back. Make your hair look fuller in a ponytail with these tips. You are advised to use a good teasing comb for lasting volume and bounce. It really looks like a hair extension was added to this ponytail, but it's all in the technique.
14. Hot Crossed Buns For Shoulder-Length Hair
If you have enough hair to braid, the hot crossed buns style is lovely! If you are rocking shoulder-length hair, this is perfect. Beautiful updo for a wedding or formal event. I love the addition of wispy bangs as well.
15. The Pieced Messy Look
A pieced, messy look is easy to achieve a day or two after washing your hair, especially when super straight hair just isn't cutting it.
More Fabulous Hairstyles Worth Trying
16. Twisted Reign Hairstyle
This Reign-inspired hairstyle is TV inspired and we can't get enough of it! Such a cute and feminine half updo! Another hair trick to keep attention on the twisted reign hairstyle is to use a clear elastic band! It can barely be seen and your style steals the show.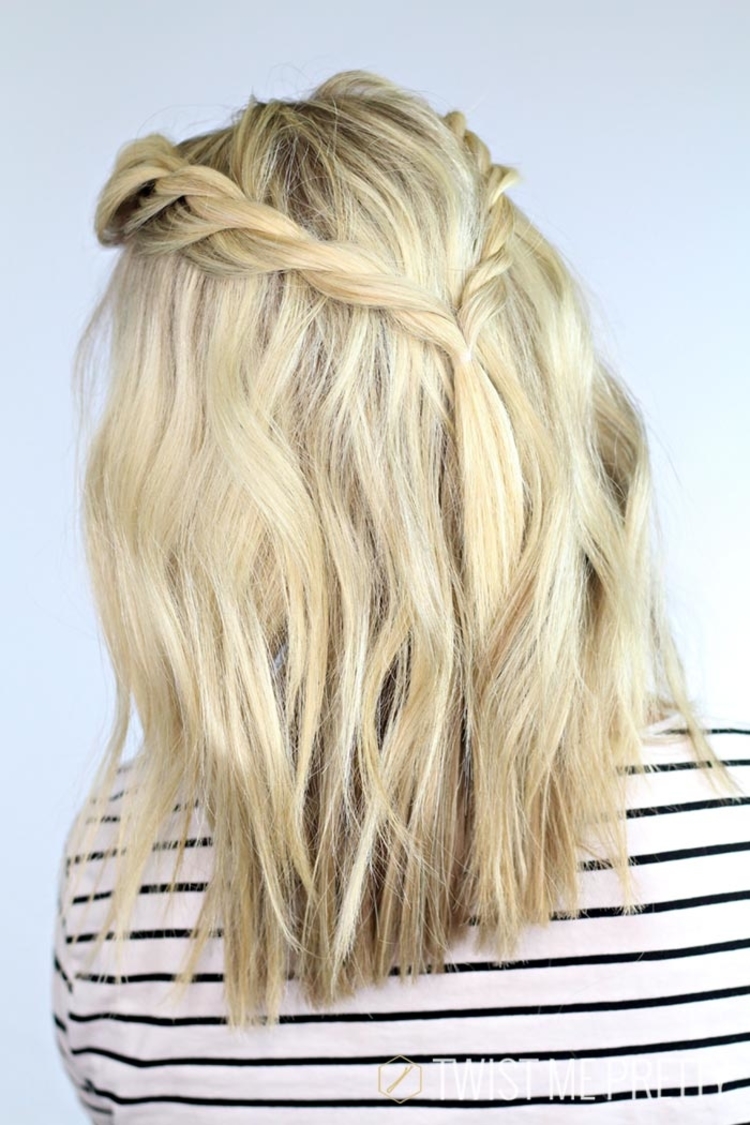 17. Create Beachy Waves With A Hair Straightener
Here's another beachy waves tutorial with a hair straightener. This look has a little more texture than the one above. A very special technique has also been shared here if you are getting frustrated with ending up with straight hair in minutes! They say to BEND the straightener around the hair rather than curling it! Try this trick and let us know the results.
18. How To Make Gorgeous Curls And Make Them Last
Find out how to curl your hair and make it last. Do you tend to run your fingers through your hair immediately after curling? Eeeek, this could be the hugest mistake you're making! She gives several options for wearing the curls even days later, and the ponytail was our favorite! Which one do you like most?
This all reminds me that I need to go get my blonde highlights (ok, they may be getting a bit platinum) touched up so the shades of my short hair are added dimension and not a straight line!
Did you enjoy this fun post? We have got more inspiring hair posts at One Crazy House. Check them out below!