No time to wash your hair? Flat iron or curling iron out of the question? Looking for easy hair ideas for moms? No problem. We've put together a list of 15 easy updo hairstyles that will take you seconds to do. Bonus: You'll look super pulled together even if you rolled out of bed just minutes ago.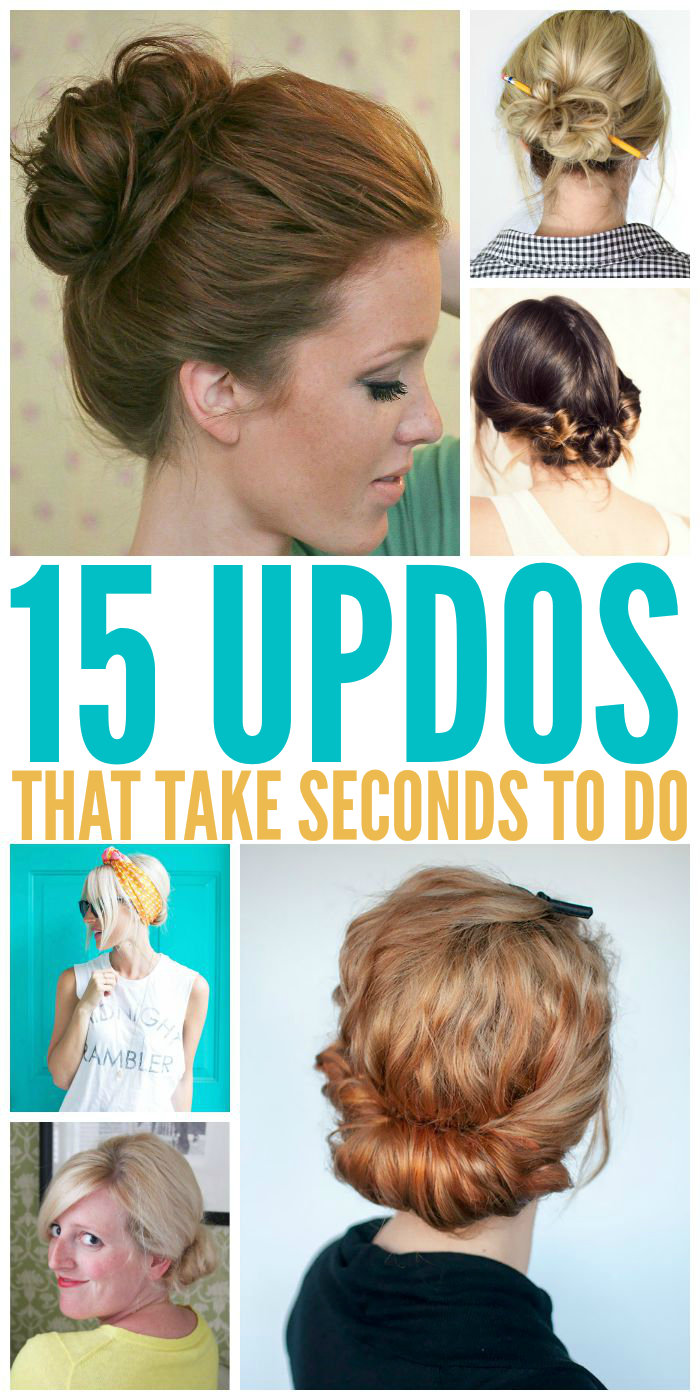 EASY Updo Hairstyles
This pretty 10-second top knot is a lifesaver on busy mornings.
Here's a 20-second updo that can be dressed up or down with a pretty barette.
We LOVE this one. It works for just about any hair texture, whether it's straight, wavy or super curly. It's called the headband tuck, and it's literally just the way it sounds. Put on a headband, tuck your hair in, and roll it up. Easy!
This criss cross low bun tutorial says it takes less than 5 minutes, but you can get it done in less than a minute. Divide the hair into three sections, put the middle in a low bun and wrap the sides around it. So simple!
A trio of twisted buns uses the same concept. Part the hair into three sections, and twist each one into a bun. You can also roll the side sections a little like they did here before securing the buns for a romantic effect.
We've shared this hairstyle with you before, and we just love it! Here's the video tutorial to show you that it really can be done in no time flat.
A french twist is super easy, especially when you use hair sticks instead of multiple bobby pins to secure it.
Learn how to do the perfect messy bun. It's a great everyday style!
You can easily recreate this side chignon in a few seconds on a busy morning. If you have thin hair, you may have to do a little teasing first for fullness. Still easy peasy, though.
Remember pencil buns from your school days? You can still rock that look… at least, you can around your house.
Updo Hair Ideas
Make a topsy ponytail into a low rolled updo for a chic boho look.
Pair a chignon with a knotted scarf when you haven't had time to wash your hair in a few days.
A low knot is easy to do, and it can even work on short and medium-length hair.
Part your hair in the middle, tie the sections in a knot and then style into a bun for this gorgeous twisted bun look.
A 5-second messy side bun that you have to see:
https://youtube.com/watch?v=MAzkBO0HnQY