Searching for some presents or crafts for dad to gift him on Father's Day? Well, search no more! These 15 Father's Day mason jar gifts will surprise and thrill any dad. How amazing is your dad? He has helped you through problems, taught you how to ride your bike, patched up skinned knees, embarrassed you with his silly jokes, and more. 
Feel free to check off presents for dad from your headache to-do or to find a list. You're welcome 🙂 
DIY Father's Day Mason Jar Gifts for Dad
I don't know about you, but trying to come up with great presents for dad on Father's Day is always a huge challenge! He always says he "doesn't want anything" and the truth is that he would just go out and buy whatever he wants or needs. Whenever I find myself feeling stumped about gifts, I try to turn to DIY gift ideas. DIY gifts are unique and special, making them even more meaningful to the person you give them to! 
With Father's Day being just around the corner, you're probably looking for a couple of easy but thoughtful DIY gifts that he'll actually use and love. If you also find it hard to find good gifts for dad, we've found 15 great homemade ideas that you can fit in a mason jar! 
Mason Jar Gifts You Can Give Dad
Whether the dad in your life is a sports fan, a serious foodie, or a guy who loves spending quality time with his family, one of these Father's Day mason jar gifts will for sure be a winner!
1. A Mason Jar Piggy Bank Sure Makes A Cool Present For Dad  
Every guy needs a stash of cash to use for the little things he wants to splurge on here and there. And the best part is that this cash will come from his spare change. Why not make him this adorable mason jar piggy bank with a mustache drawn on it, as the world's greatest pop gift for this special event?
It's a cute and practical idea that dad will enjoy for years to come and think of you every time he sees it. And I'm pretty sure it will always bring a smile to his face. 🙂 
2. This "We're Nuts About You, Dad" Jar
Is Such A Thoughtful Present For Dad 
Great inspirations are coming up! Let's be honest and appreciate that dads work really hard for their families! Why not give dad a thoughtful present by giving him a snack jar to keep on hand at work. This "We're Nuts About You, Dad" jar is such a great idea. 
Fill it with his favorite nuts (peanuts, almonds, cashews, etc.) for a healthy and delicious snack. This present for dad is one that's gonna make him really go nuts about his Father's Day gifts! 
3. This "World's Greatest Pop" Jar
Is Gotta Be Among Presents For Dad That He'll Love
The "World's Greatest Pop" jar is filled with pop-themed goodies like soda, pop rocks, push pops, ring pops, and more. Any guy with a sweet tooth will appreciate this gift, and he just may laugh at the pun, too! This is one of the fun diy mason jar gift ideas you can do for both mother's day and father's day.
And don't worry if he's not the sweet tooth type of guy – the kiddos will love seeing the reaction on their Pop's face when they give him his Father's Day present and we can't think of a priceless gift other than the happy smiles from the kiddos, lol. 
4. This "Love You to Pieces, Dada!"
Mason Jar Present For Dad Is So Adorable! 
Here's another play on words using candy because my husband's favorite candy is Reese's Pieces, and so I had to include this idea in the list – because we really love him to pieces 🙂 What's dad's favorite treat?
It's a jar gift idea with a free printable label that reads, "Love you to pieces, Dada!" Could Father's Day presents for dad be more fun to make? And be so sweet and adorable (literally!) Just be careful with the glass containers, okay?
5. Need A Cute Father's Day Present For Dad? Make This DIY Handprint Jar
Every dad needs and always has a place to stash his loose change, random loose screws, and more. For the next Father's Day gift ideas, replace those dirty and greasy tins and replace them with a couple of cute handprint jars. Get a large mason jar and fill it with some beautiful mess. You must agree with us that these make the perfect containers to keep odds and ends where dad can easily find and, actually see what's in them. 
Bonus: Using kids' handprints on the jar is a cute and fun way to keep them close to dad's heart when he has to be away, or even for when the kids are all grown up and out of the house. Talk about a lasting Father's Day present – as long as the mason jars don't break! 
6. This Spicy Chipotle BBQ Sauce Makes For The Perfect Present For Dad 
Maybe dad's not a hershey kisses or reese's peanut butter cups fan. For those dads who love to barbecue (whether he's a BBQ dad or not ;)), this barbecue sauce jar gift (that reads "Dad, you're 100% awesomesauce") is the perfect can't-miss present for dad! Isn't it super cool that there are even free printable labels that you can download to put on the jar? 
We think our dad is pretty awesome and you gotta love the perfect phrase for this spicy chipotle BBQ sauce! Both are #awesomesauce at a grill with some ribbon wraps!
7. Remember To Add This BBQ Rub
To Your Presents For Dad Ideas 
What I love about ideas for Father's Day gifts for dad, is that I can be as practical as possible with my gift ideas for him. And so if you went with the previous present for dad idea, dad will definitely need a jar of BBQ rub to go along with the #awesomesauce. 
Barbeque just isn't quite as good without a robust rub to flavor the meat. This recipe is a quick and easy one to make and dad will enjoy it for quite a while. The ingredients are easy to find too! Best if this one's got a matching apron for dad.
8. This "
Daddy Days" Daddy Date Jar Is Top Among Presents For Dad Ideas
Hands down, this is one of my favorite presents for dad!
Scrapbook paper and handmade gifts are always on the trend, so here's one! For the dad who thrives on quality time with his kids, give him this "Daddy Date" jar. It's filled with father-son date ideas, but you can easily create some prompts for father-daughter or father-and-all-the-kids. 
9. Easy DIY Present For Dad? This Building Memories with Dad Jar
Sure Is 
Building memories with dad is what it's all about, right? Here's another idea that appeals to dads who value quality time spent making memories with their family. This lego jar gift idea continues the tradition of making memories.
Make an entire list of the building blocks you love when you do it with dad! How clever!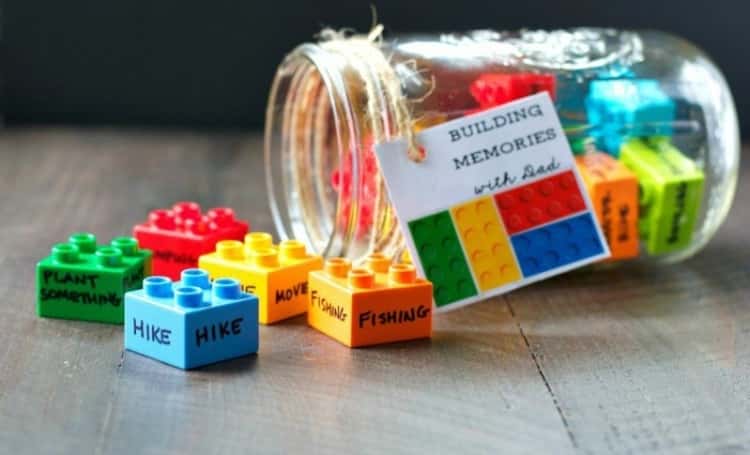 10. Gotta Gift This Tee-Rific Golf Ball Jar As Present For Golf-loving Dad  
For the golf enthusiast, try this "You are tee-rific" golf ball jar gift. I love the creativity of this one – it's adorable AND practical because it's a gift that will actually be put to use with the least likely chance of being re-gifted!
A wonderful idea for dad or grandpa!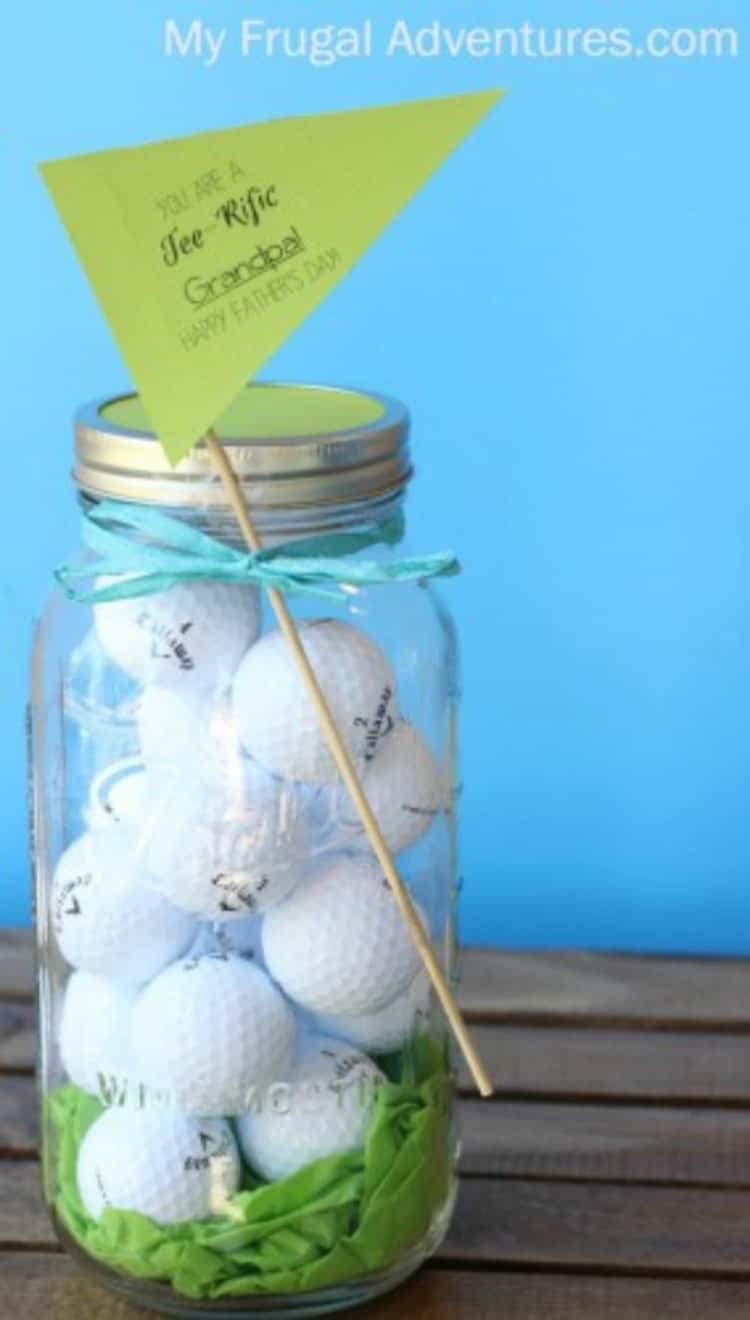 11. The "Play Ball" Mason Jar Gift Makes For Best Presents For Dad Ideas
Grab a mason jar to create this amazing "Play Ball" mason jar gift. Add tickets to see Dad's favorite team inside along with a nice team t-shirt perhaps.
For the sports-lover, this mason jar gift idea will go down as one of the best presents for dad! 
12. For The Next Father's Day, Pamper Him With This Cleans Up Well Jar Gift
Dads need pampering too! And this "Cleans Up Well" jar gift is perfect for that man in your life for any holiday.
Stuff you could include in this Cleans Up Well jar include:
Moisturizer

DIY sugar scrub

A razor

Cologne in mini bottles

Shaving cream

Facial scrub

A grooming set.
To make sure everything fits into the jar, remember to take them out of their original packaging. 

13. Superhero-Themed Jar Gifts
Make The Best Presents For Superhero Dads
Dads are superheroes in more ways than one, and this present for dad is a plus if they're superhero fans, because they will go nuts for these superhero-themed jar gifts.
Add something that goes along with the theme for each superhero or just add a different yummy snack to each one.
14. This DIY Mason Jar Gel Air Fresheners Could Just Be The Right Present For Dad
If the man in your life is one of those guys who take pride in having a super clean and fresh car, this mason jar air freshener for their car would be most appreciated. 
15. Need A Practical Present For Dad? This Mason Jar Matchbox
Is The Real Deal
And finally, a mason jar matchbox is a great gift for outdoor enthusiasts. It's such a proper and practical present for dad because he's guaranteed his matches will always be dry and ready to light a fire.
Pack it with your camping gear so you'll know that you always have what you need to start a fire!
I hope the 15 ideas of good gifts of dad on this list spurred your imagination so that you are ready to make one of these or some other homemade mason jar gift for your dad this year!
More Ideas for Father's day Gifts from One Crazy House: 
What were your favorite presents for dad ideas?