Let's face it… Our busy lives make it difficult to get enough rest. Whether you're up all night with a baby or pulling an all-nighter to finish a presentation, a lack of sleep can be a serious drain on your appearance. If you want to perk up your face even when you haven't had enough pillow time, and you don't have awesome eye products, try these makeup tips & tricks to look your best and well-rested.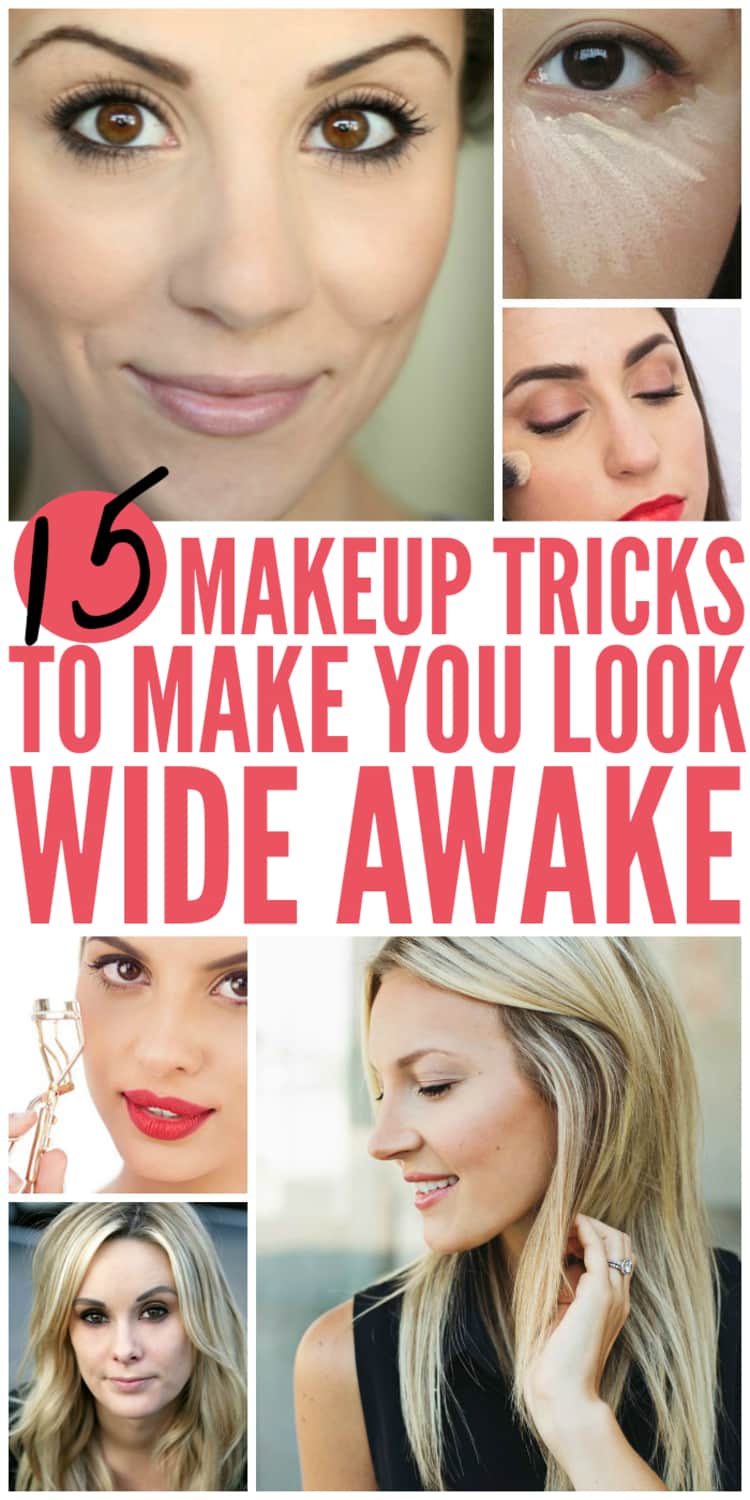 How to Use Makeup Tips to Look Well Rested
1. Bright Eyed & Ready To Go Makeup Tips
Too many all-nighters can really take a toll on your eyes and your skin. Get ready to look your best with this routine starter. Start with a steamed washed cloth over clean skin. Then make your eyes brighter with this easy concealer and eye makeup tips tutorial! You're sure to look bright-eyed and ready to go in no time at all. Get ready to feel refreshed with this 5-minute natural eye tutorial. You'll love how quick and easy it is.
2. Illumination Make Up Magic Tips
Sometimes lack of rest can catch up with us. It shows up in our tone of voice and affects our skin. Another classic way overtiredness shows up is in our appearances. No worries, though! You'll love this makeup tip to help you feel more awake. Follow this easy 4-step Lumin-Eyes tutorial to brighten, highlight, conceal and illuminate the eye area in all the right places to make you look more awake and lively.
3. Shadows Be Gone
Remember when shadows were sexy? Not so much when you're exhausted. The last thing you need right now is a smoky eye look, no matter how much you love it. Go light on the shadow to lessen that tired look. This neutral eye tutorial makes you look wide-eyed without being overdone, making it just what you need. Now, go take on the day, gorgeous!
4. Energizing Make Up Tips
When you look your best, you feel better! Start with concealing dark circles under your eyes in 5 easy steps. This is perfect for those days when you have no energy due to lack of sleep! No naps? No problem with these energizing tips:
Start with a glass of water
Enjoy a high protein breakfast and go light on the carbs
If possible, get in a quick mini-workout; it's a great way to get the blood flowing.
Wash your face and then follow it with one of these tips.
If all else fails, you'll be made up and ready to go. Grab a cup of coffee or green tea to put a little spring in your step. Nothing like a cold brew with an extra espresso shot to get your energy up even more!
5. Thick Make Up Tricks You Didn't Know You Needed
We're all about these makeup tricks today! Here is one that might surprise you. Did you know that wearing your eyebrows thicker can draw attention away from undereye bags? Don't let them get too unruly, though. Check out the attached tutorial for a guide you'll love. It shows you the right way to thicken things up!
6. Makeup Tips For Bright Eyes
Jetlagged and just beyond exhausted? Use white eyeliner on the inner corner of your eye and on the waterline to brighten up tired eyes. White creates the illusion of expanding and opens up the eyes. There are several creative ways to utilize white eyeliner to look more lively. From wearing it alone on the lid to using it for a fun take on winged tipped eyes, there's fun to be had.
7. Peachy Keen Makeup Goddess Tips
Ready to feel peachy? The color of concealer you use on your dark circles' matters. Orange or peach-colored concealers work best because dark circles tend to be bluish, and you have to use the opposite color on the color wheel. Doing this helps them disappear in no time at all. Want to counteract redness? Use a greenish concealer. Using a concealer with a thin consistency goes on easy and the lightweight is what your eyes need.
8. Let The Light Lead The Way to the Best Makeup Tips
Have you heard of the triangle of light? It refers to applying your concealer in a triangle shape rather than just on your dark circles. It instantly "lifts" the face, giving you a more awake (and more youthful) appearance. Who doesn't want to try this make-me-younger makeup tip? Yes, please!
9. To Die For Curled Lashes
I used to be terrified of curling my lashes. Then I found a few tutorials and started feeling a little braver, once I had more knowledge. Now it feels like my best-kept secret. My quickest pick me up for tired eyes, curl the lashes, add mascara, and roll on out the door. Curling your lashes will open up your eyes, making them appear more lively.
Longer lashes give you the edge you need on a tiring day. Have trouble getting them to stay curled? Run your eyelash curler under hot water for about 30 seconds first. Add mascara after curling to prevent pulling out eyelashes, as well as preventing build-up on your lash curler.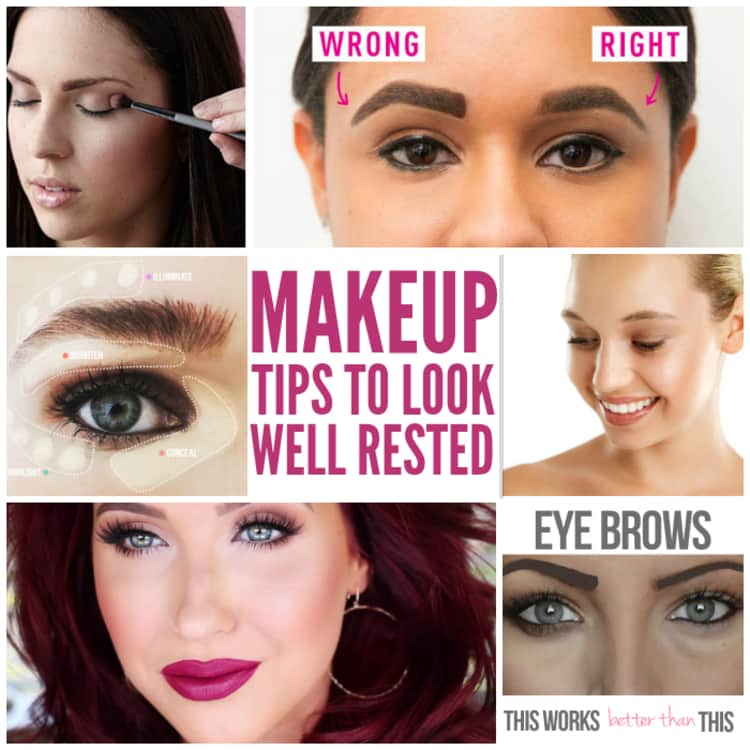 10. Cover-Up Tired Eyes
If you're like most of us, your skin looks pale and colorless when you're tired. A sweep of blush to highlight the cheekbones adds some color and makes your entire face brighter. A creamy concealer is usually helpful, too. You'll want one that dries with a light powdery finish. Sheer concealers are a great way to go! Take things a step further and check out this simple Contouring Basics tutorial, by Anna Rose.
11. Makeup Tips 101: Avoid Pink Shades
Stay away from pinks if you want to look well-rested and ready for anything. As for eyeshadow, medium shades, especially shades of taupe, help eyes look brighter. Most people should avoid colors with pink or red undertones because they make tired eyes appear even more exhausted. Go for taupe, and a kicking playlist for a mood lift.
12. Put It All In Neutral Make Up Tips
Neutral makeup tips never seem to get the love it deserves. Here's your chance to try this neutral eye look! It makes eyes look bright and fresh, even if they're puffy. Plus, this gal is SO FUN to watch. Seriously… Check out all of her videos. You're sure to be a neutral eye makeup expert if you do. It's kind of like a makeup school for everyone. One more tool to add to your personal beauty arsenal.
13. Make Your Eyes Glow From The Inside-Out
Nothing is tired, like new-mom tired! If you're a new mom, you will love this tutorial. It shows you how to get rid of the tired-eye-up-with-the-baby-all-night look and replace it with a healthy glow, just like the title says. Share with all your mama-to-be friends. I have so much love for moms supporting moms! Fake it till you make it, ladies.
14. Self-Care Is The Best Make-up Primer
Make your skin look fresh and dewy to look well-rested. And if you're having trouble falling to sleep at night, you may want to try a homemade bedtime massage oil to soothe the senses. A little self-care goes a long way. Even 10 minutes a day is enough to create a starter habit. Then work your way up towards more, because you can't be your best self without it!
15. Bright & Wide Eyeliner Makeup Tips
Use different shades of eyeliner to make your eyes look brighter and wider. Also, line both your upper and lower lids. If you only line one or the other, it makes your eyes look more closed. You can use red lipstick to line the eyes, as the red hue cancels out dark circles with ease. Follow it up with concealer. For fair skin, use orange-yellow lipstick, and green to cancel out any redness.
16. Lashes For Days
Finally, don't forget to finish off the eyes with mascara to lengthen the lashes and open up the eyes. If you can, use a mascara that gives your lashes a full look, like falsies. To replica falsies, look for a mascara with all-natural fibers, that goes on easily and washes off comfortably. If you're trying to grow out your lashes, give them a break from mascara for a while. You'll love the length they get from the break!
Need an idea for a good lash & eye-make-up cleanser? Try using a micellar cleansing all-in-one waterproof cleanser. This gentle cleanser cleans, soothes, and is great for all skin types!
Products We LOVE:
This eye cream is terrific at lessening the dark circles and puffiness that tired eyes often have. A little bit goes a LONG way! With all these makeup tips and tricks, you're sure to always have what you need to look wide awake, even if you don't feel it. And if you have fine lines around your eye, try using the Instant Line Corrector. It reduces fine lines immediately and the effects last for 12 hours! How's that for an extra tip? Nifty!
More Makeup Tips & Guides: