Always losing hair elastics? Tired of rummaging through disorganized drawers to find your daughter's favorite headband? Organize your hair accessories with these clever tricks.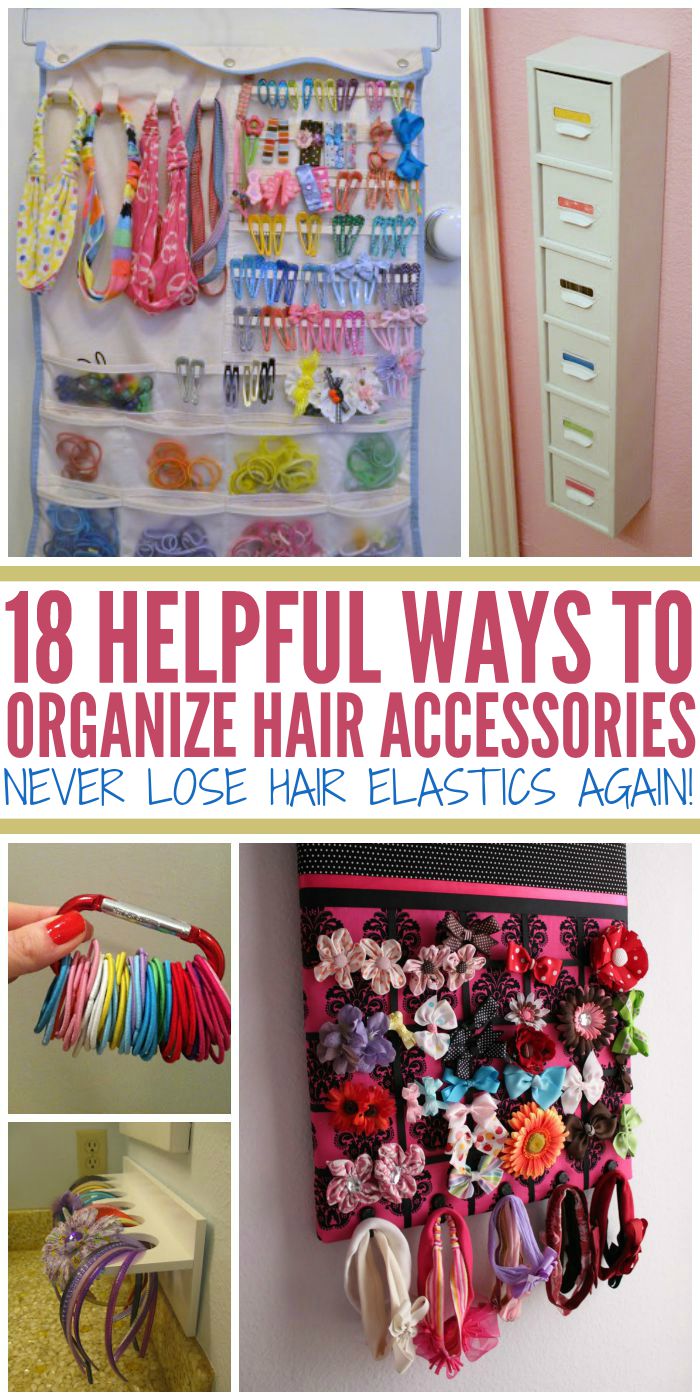 Hair accessories can easily overtake your bathroom counters, drawers and medicine cabinet, especially if you have little girls. Trying to find just the right bow or headband in that mess can be a real pain. Get your hair accessories organized once and for all. Here are 18 ideas to inspire your hair accessories makeover.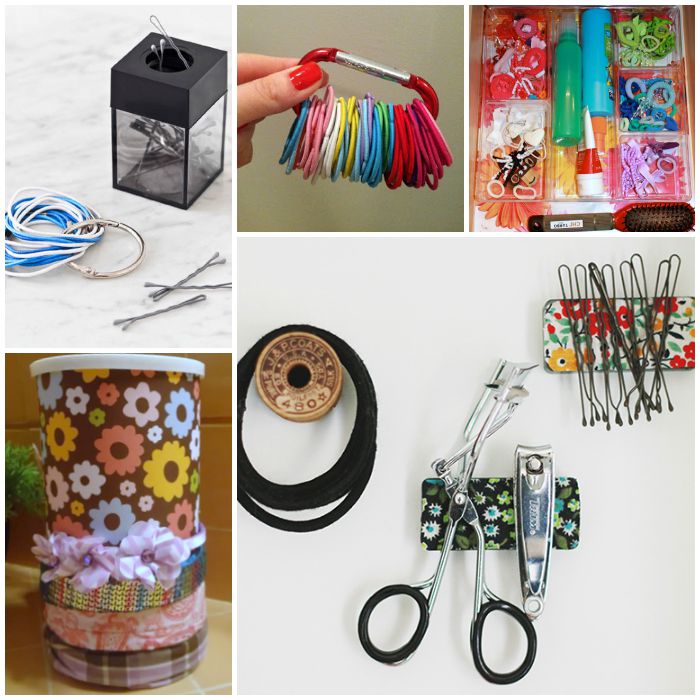 Hair Accessories Storage Ideas
Decorative magnets are a smart way to organize bobby pins! And a magnetic knob on the back of your medicine cabinet can hold your hair elastics.
Use acrylic trays (or even silverware trays) to organize hair accessories in your drawers.
Put your bobby pins in a paper clip holder. They're so easy to grab thanks to the magnetic opening.
A carabiner or shower curtain ring can hold loads of hair elastics with ease.
Cover an oatmeal container with scrapbook paper or contact paper to make it pretty. It can house lots of hair accessories, and you can wrap your head bands around the outside of the container.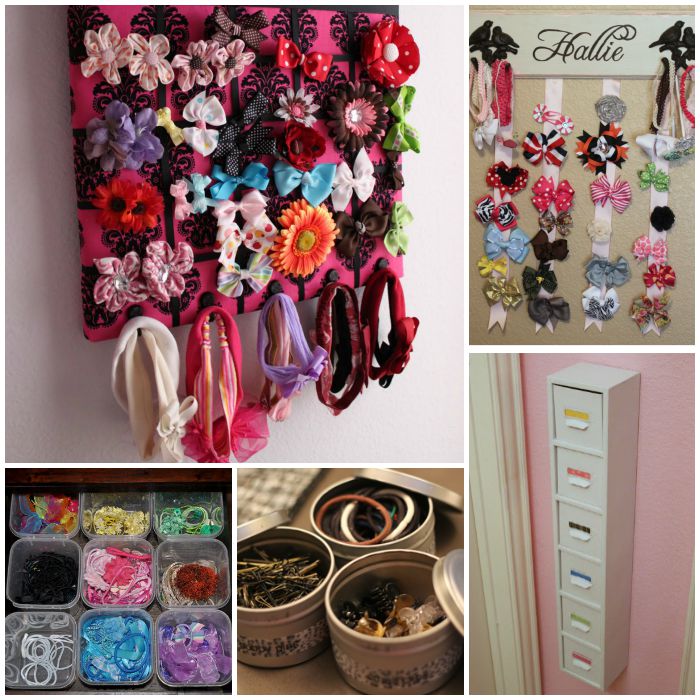 How to Organize Hair Accessories
Attach some pretty ribbon on the back of a decorative board or plaque, and you have a lovely hanging bow board to display your little girl's bows.
This DIY bow keeper has ribbons to attach bows to, but the hooks on the bottom are perfect for headbands. So smart!
Use small bowls inside your bathroom drawer to organize hair ties by color. It makes it easier to coordinate them with your child's outfit each morning.
These drawers are neat and tidy, and Mom uses scrapbook paper to color code the hair accessories.
Small 8 oz. tins are the perfect size for storing bobby pins, tiny hair clips and hair elastics in your drawers or medicine cabinet.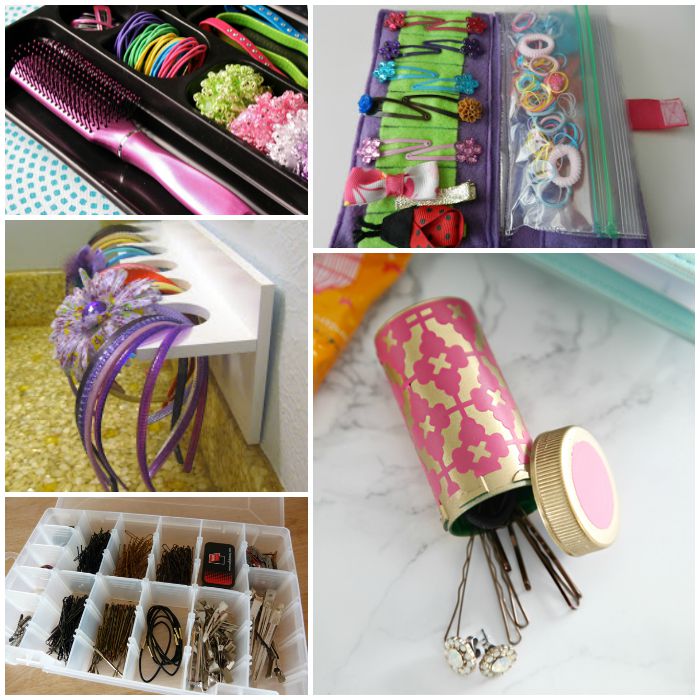 Organize Hair Bows and Headbands
Use a craft embellishment holder to hang on to all of your kids' headbands. They're so neat and organized!
A desk tray is a simple organizing solution for hair accessories.
This Clip-tastic Carrying Case takes the cake for organizing hair accessories on the go. Even beginner sewers can tackle this project!
For a grown-up version, create an updo kit to keep in your bathroom and a smaller version to keep in your car. Perfect in case you're having a bad hair day and need a simple updo to fix it.
Never lose bobby pins and barrettes in your purse again. Put them in an upcycled prescription bottle for safekeeping!
Organize Your Hair Accessories to Declutter Your Bathroom
This headband holder is functional and beautiful. Make one yourself with a rustic board and some clothespins. Lovely.
A jewelry organizer makes a fabulous hair accessories organizer. Bonus: they're also really cheap!
Add a colorful touch to your daughter's bedroom with a crocheted flower hair bow holder.

More
More Hair Ideas:
Learn how to make your own DIY hairbands from swimsuits or a mix-and-match headband!