Hey fashion-lovers! You know accessories are that thing you can't walk out without. But it can get hectic trying to keep them in order. Have you cleaned out your drawers and closets lately? You may have found lots of accessories in piles or boxes that you can't seem to find a place for. There are times when you need to find a particular type of jewelry and my! It feels like a nightmare trying to find just exactly what you are looking for coz of the mess the accessories are in. It can be so frustrating and time-consuming. We have to find a solution for all this. So if you need to overhaul your collection of jewelry or scarves, you'll love what we've found! With sixteen ways that are amazingly thought out to help organize accessories, you'll never have to dig through a tangled mess again.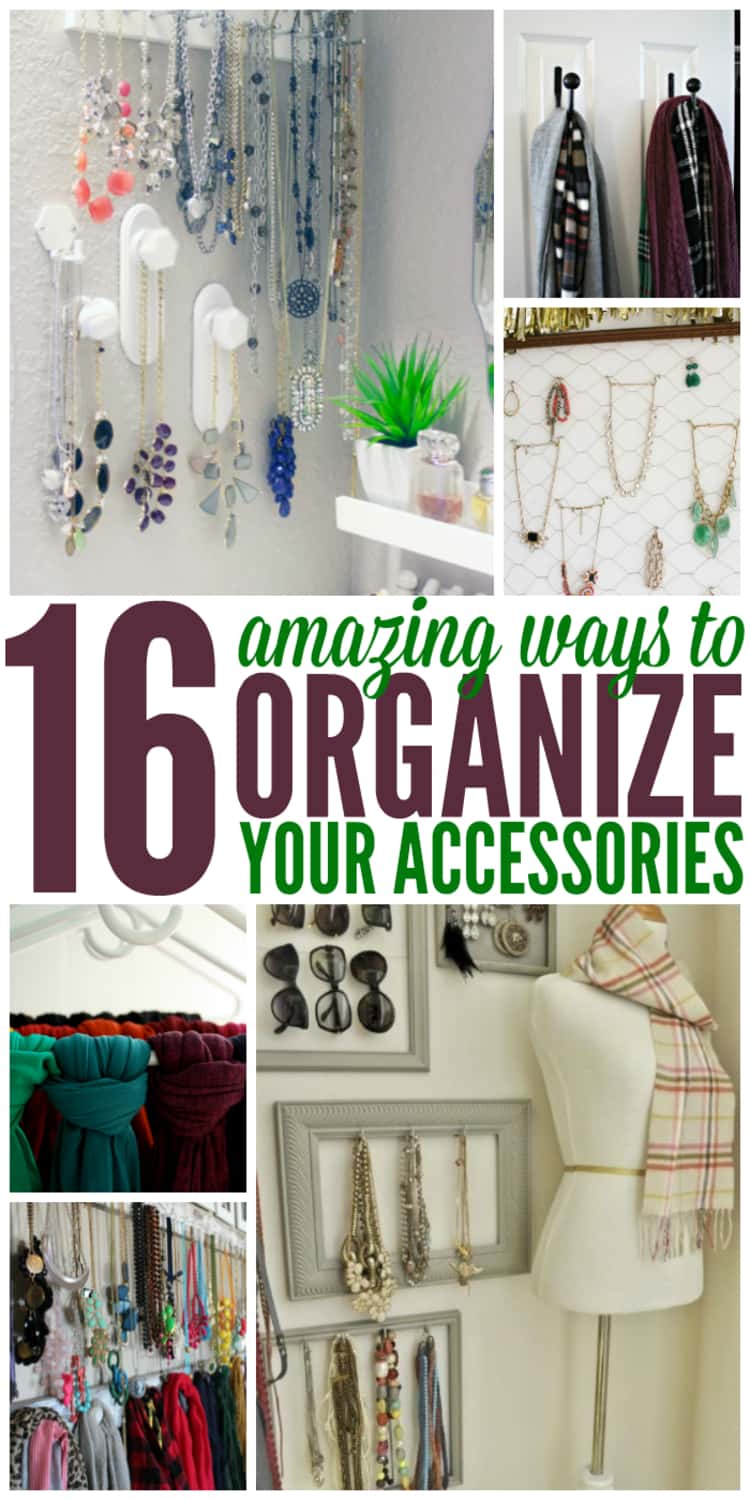 Clever Ways to Organize Accessories
1. Jewelry Organizer from Trim Boards
Make a fabulous jewelry organizer with leftover trim boards, some hooks, and screws. If you have a lot of jewelry this is a fabulous way to organize them and even acts as a showcase for them. You can have a particular type arranged in its own row and get to easily access them with knowing exactly where a particular type is. The first row can be for necklaces, the second row for loops, and so forth. So easy to come up with.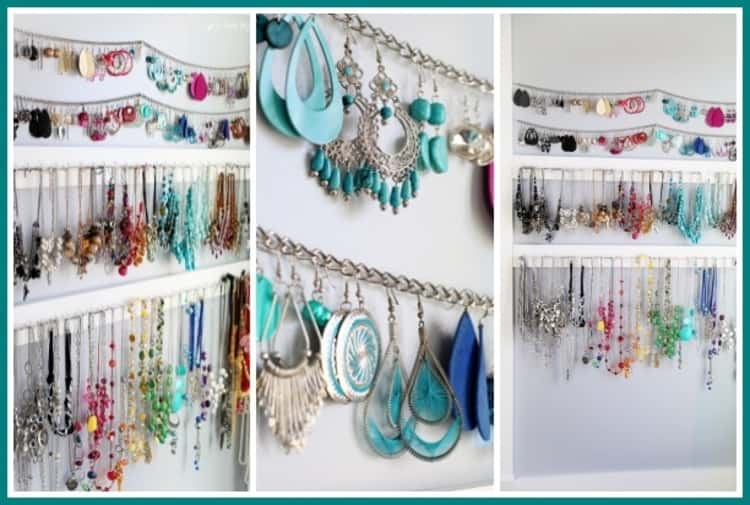 2. Frames as Jewelry Hangers
There are a lot of things that need upcycling and unused or old frames are such things. They can come in handy in so many ways that will help you get organized with your jewelry. Hang sunglasses and jewelry inside frames. What a beautiful display this is! You'll need to add string across the width of the frame for sunglasses, a few hooks for the other jewelry, and a board for those that need to be pinned on something such as studs. This is an inspiring way to have your accessories organized.
3. Coat Rack Accessories Organizer
Repurposing! My best activity. Who said coat racks are just meant to be used for hanging coats? Simply use a coat rack to hang necklaces and bracelets from. With this simple idea, all your accessories can get a spot where they need to be placed.
Here's another version with a different type of coat rack!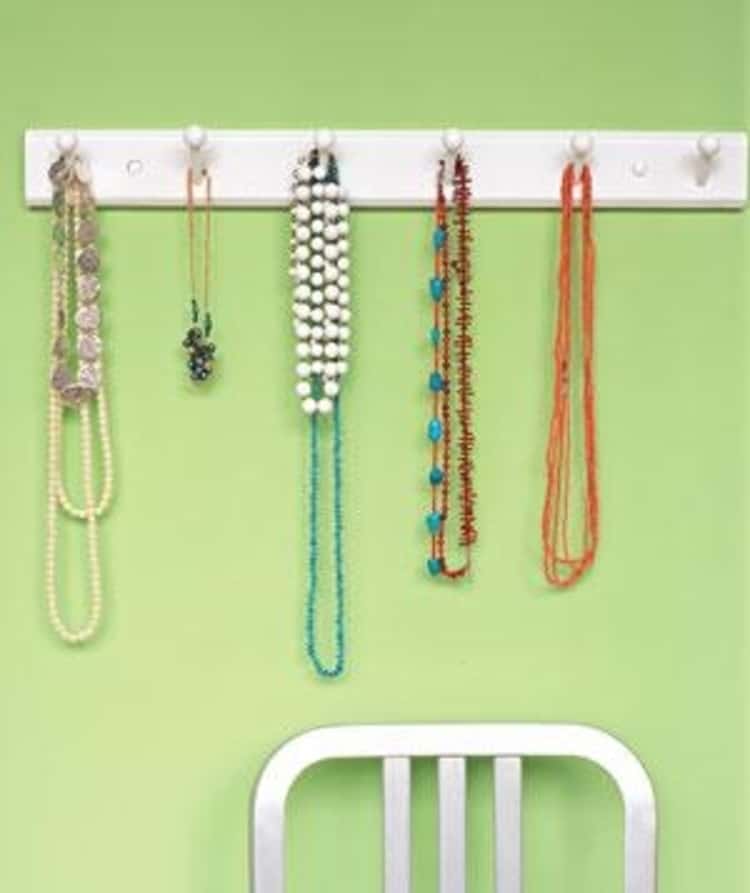 4. Wine Rack and Frame For Accessories
Handbags and clutches are a total additional chic way of complementing one's look. Most of them however lack places to be stored for future use. A workable solution is to repurpose an old wine rack to hold clutches and handbags. Also at the side, we can see a frame with a mesh and hooks for hanging other jewelry on, an idea that we can also borrow. Aren't these just unique ways of organizing your accessories!
This is another way to try it!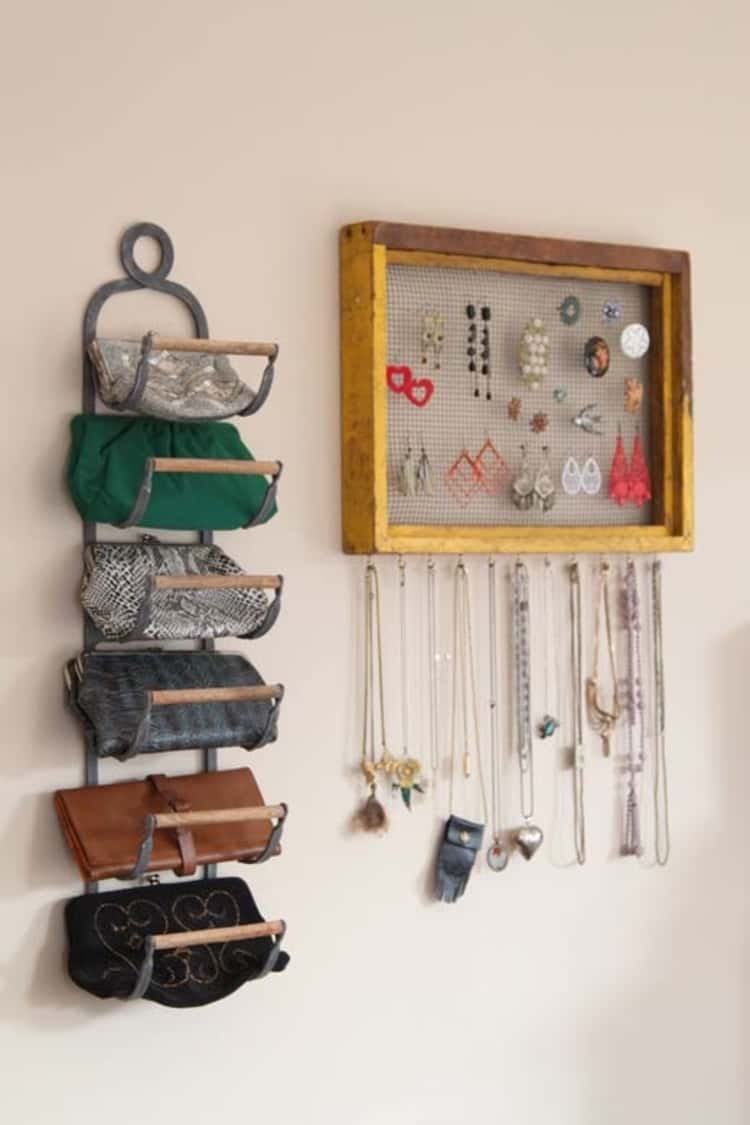 5. Shower Curtain Rings to Organize Accessories
Shower curtain rings are great for hanging heavy, bulky items like purses and tote bags on a rod coz the normal hangers are pretty light and thus can be easily broken. Ladies, we all need our bags looking all new and well packaged and maintained whenever we use them. So this is a pretty ideal way to store them until when you need to step out in them. My leather bags need to be all looking good.
Here is another way to make this amazing closet hack work for you!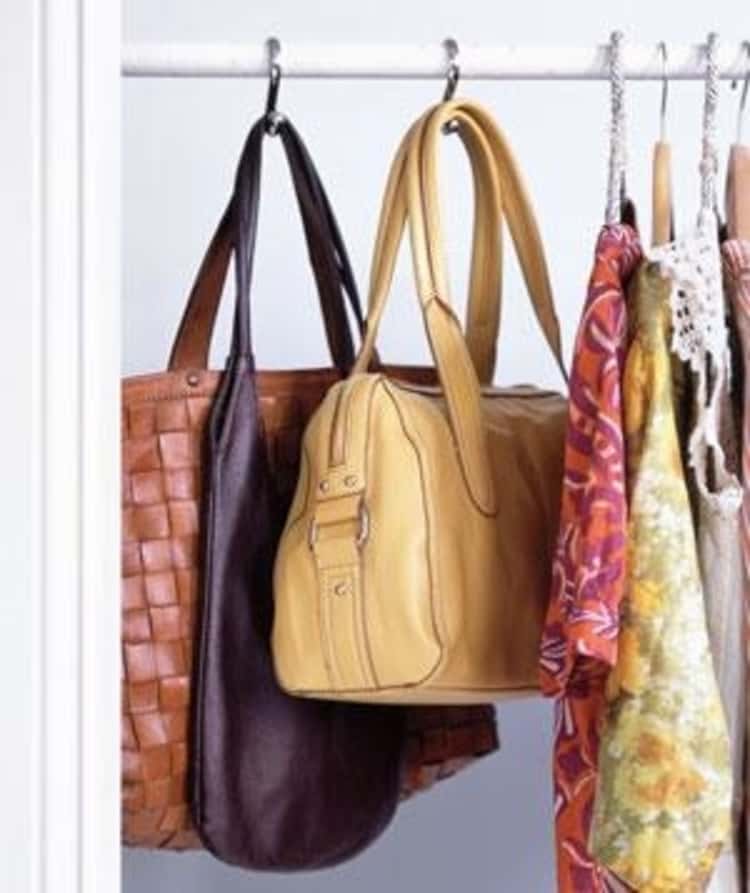 6. Towel Bars for Bags
The closet can have so much unused space. You could make good use of it by fixing DIY additionals to it. Add some short towel bars to the sidewall of your closet (valuable unused space) to hang your purses. Ladies are known to possess lots of bags coz well, almost every outfit has its specific handbag to accompany it. And a lady doesn't get tired of acquiring more bags. So this created space for all bags is very convenient and comes in handy.
This hack also works for storing scarves!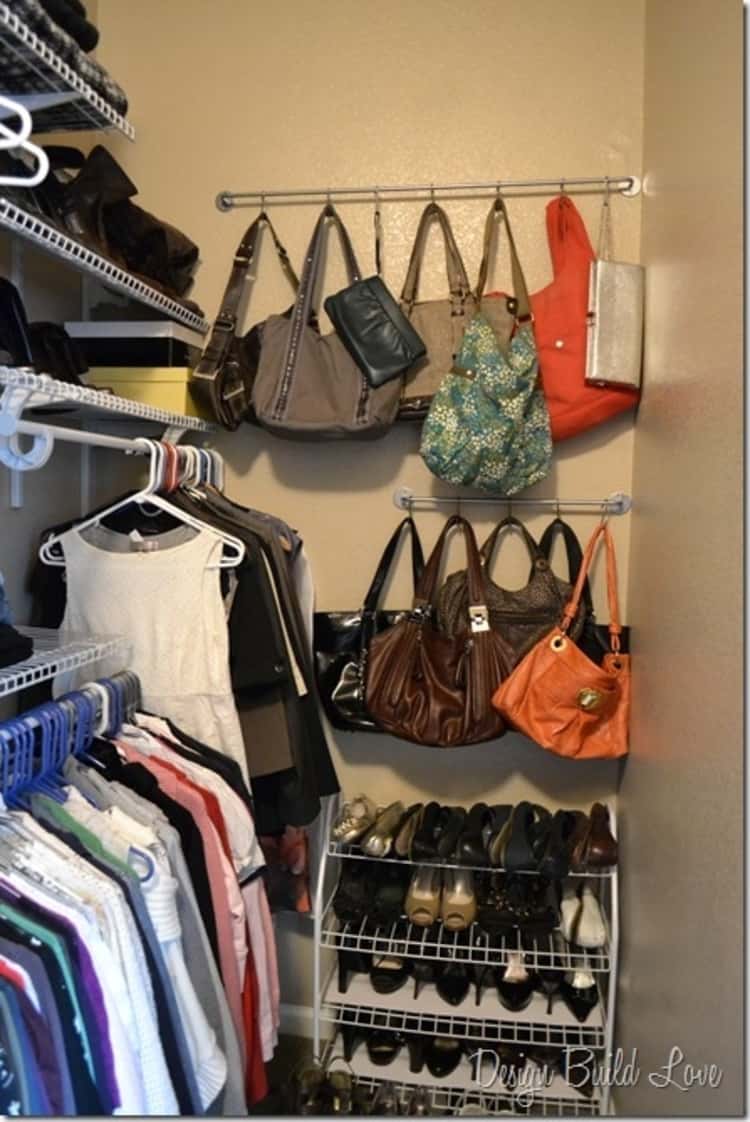 7. Belts in a Clear Vase
Corral belts in a clear glass vase so you can see all of your belts at once. Coil into spiral shapes then stuck them on top of each other in a clear vase. This is a pretty sharp idea for one to be able to see the belts easily and keep them in an organized and retrievable manner. Also, this helps them to last longer as they are touched only when needed.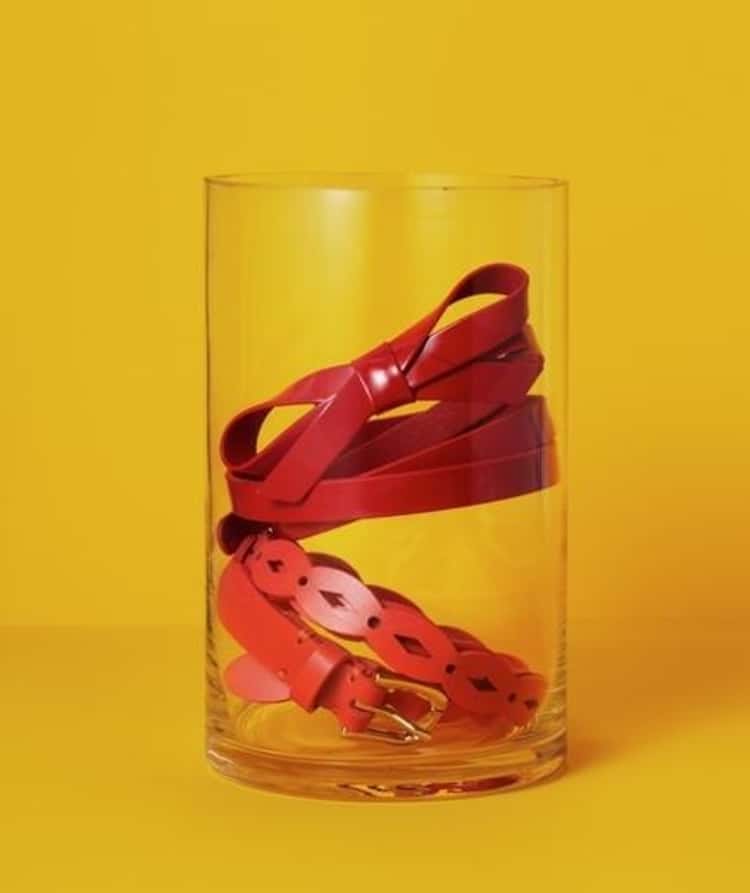 8.DIY Earrings Holder
A metal sheet and a pretty frame are all you need to create this DIY earring holder. Isn't it lovely? Plus it has a lot of room and space for all the jewelry anyone could ever have. So simple and chic at the same time. You could hang it by your closet door to have it in place for hanging your accessories whenever the need arises.
9.  Rain Gutter Guard  to Organize Accessories
This clever blogger used a piece of rain gutter guard for earring storage instead. That's smart and easy! It also gets all your earrings displayed in a very nice way. The simple look of it makes one want to try it right away. Plus the many holes provide enough space for the jewelry to hang on.
10. Hanging Basket in Closet
Install a hanging basket in your closet for scarves, belts, and other accessories. Love this idea… it's low-maintenance! You can divide each basket for the different accessories you have. One can be for scarves the other one for belts and even clutches can get their own spot. The dangled baskets could be as many as you wish as long as they balance well and can't fall off from where they are hanged on.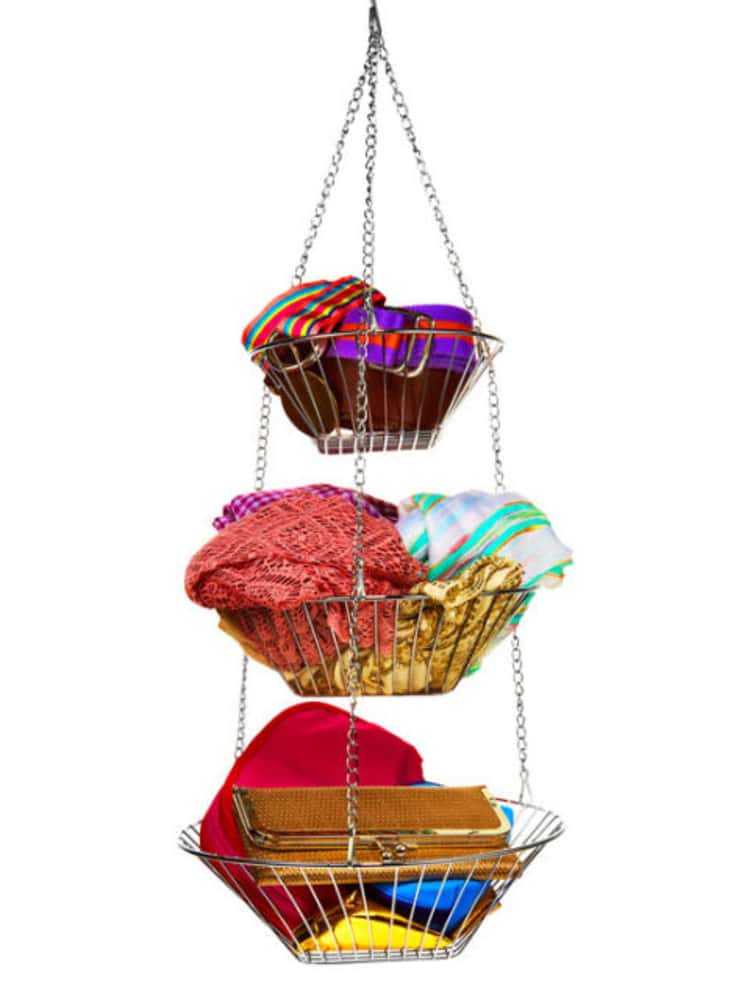 11.  Drapery Tie Backs For Hanging Scarves
Put drapery tie-backs on the back of your closet door to hang multiple scarves on. Having two is just enough coz these things are rightly big in size to hold as many scarves as you have. They are also strong to be able to hold heavy stuff on them. Your spouse can have one while you have the other one. Kids can also get theirs on their own closet doors so as to not be left behind.
12. Chicken Wire DIY Accessories Organizer
I never thought I'd want chicken wire in my house, but this DIY jewelry organizer is the epitome of chic. With a frame big enough and a spare mesh from your chicken house, you can have this jewelry organizer. All the stuff you need to build one is so available even at your home. You just need to upcycle them. Such a functional and simple organizer we've got here.
13. Knobs in Closet
Install pretty knobs in your closet to hang bags, belts, jewelry, etc. Doesn't this idea look so chic and make the accessories stand out! So cool. The knobs could be of different sizes and shapes which add to the aesthetics. Having a white background and the knobs in white as well as seen in the image makes the colors of the jewelry pop. Makes such a beautiful sight. And your jewelry is easily accessible, too!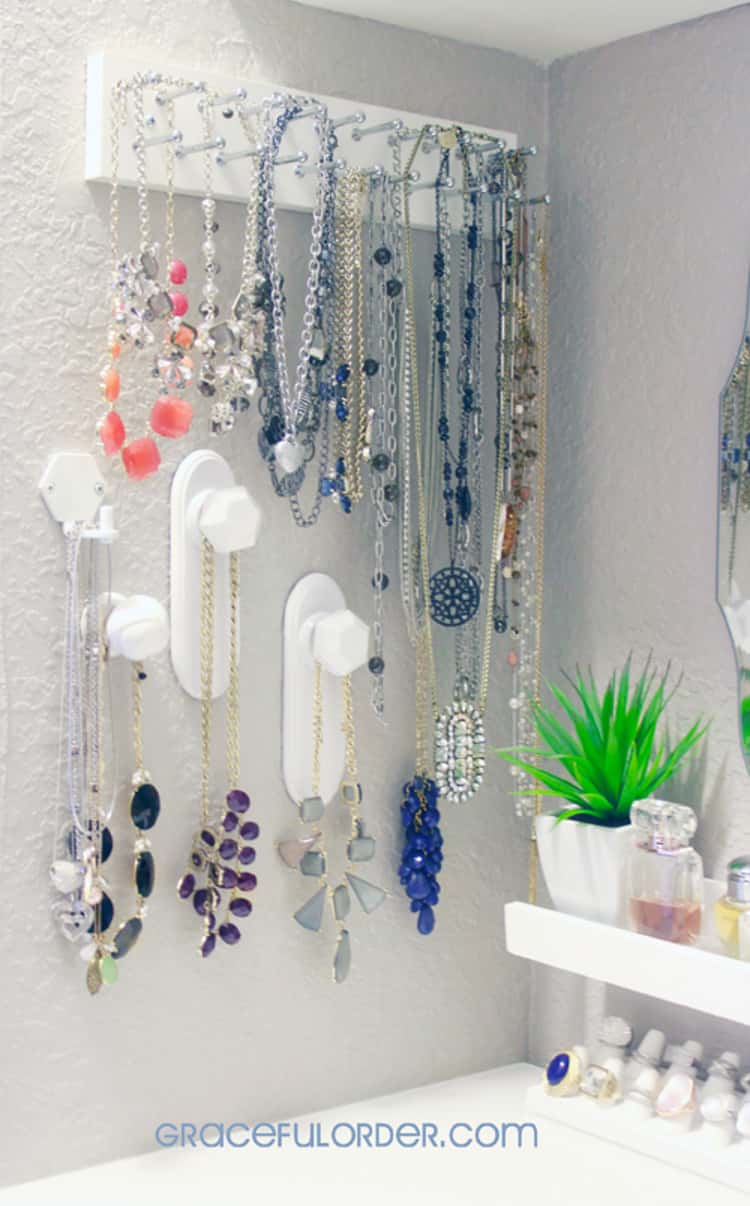 14. Scarves Tied on Clothes Hangers
Organize tights and hosiery by tying them on clothes hangers like this. By hanging them this way, your scarves won't fall off from the hangers and can be easily accessed when in need of them. This idea makes it all the more possible to have your scarves in one place and display them with beautiful knots.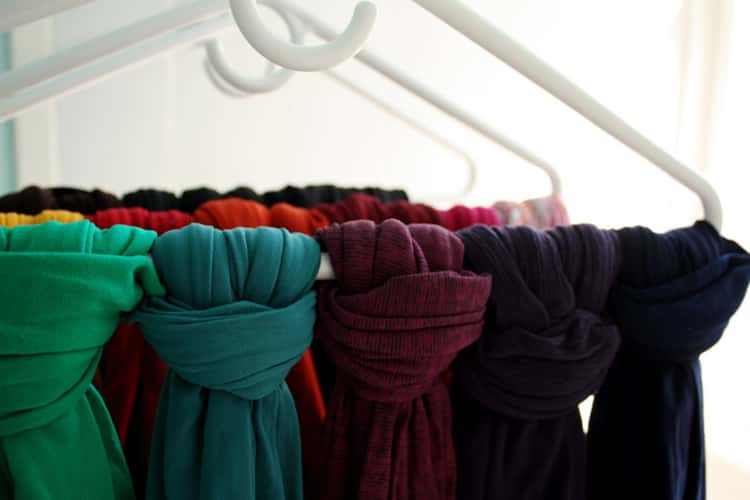 15. Rustic Jewelry and Scarf Organizer
If you'd like something a little prettier (and rustic) for your accessories, you have to take a look at this distressing jewelry and scarf organizer. It's big enough for all of your accessories. With so many hooks on these rustic boards, you can never exhaust the space for your accessories. The organizer is also so simple to come up with. Just need old wood divided into two and many hooks to attach to the wood pieces that have been attached to the wall. Plus this is a very low-budget hack that you can bet will save you lots of money.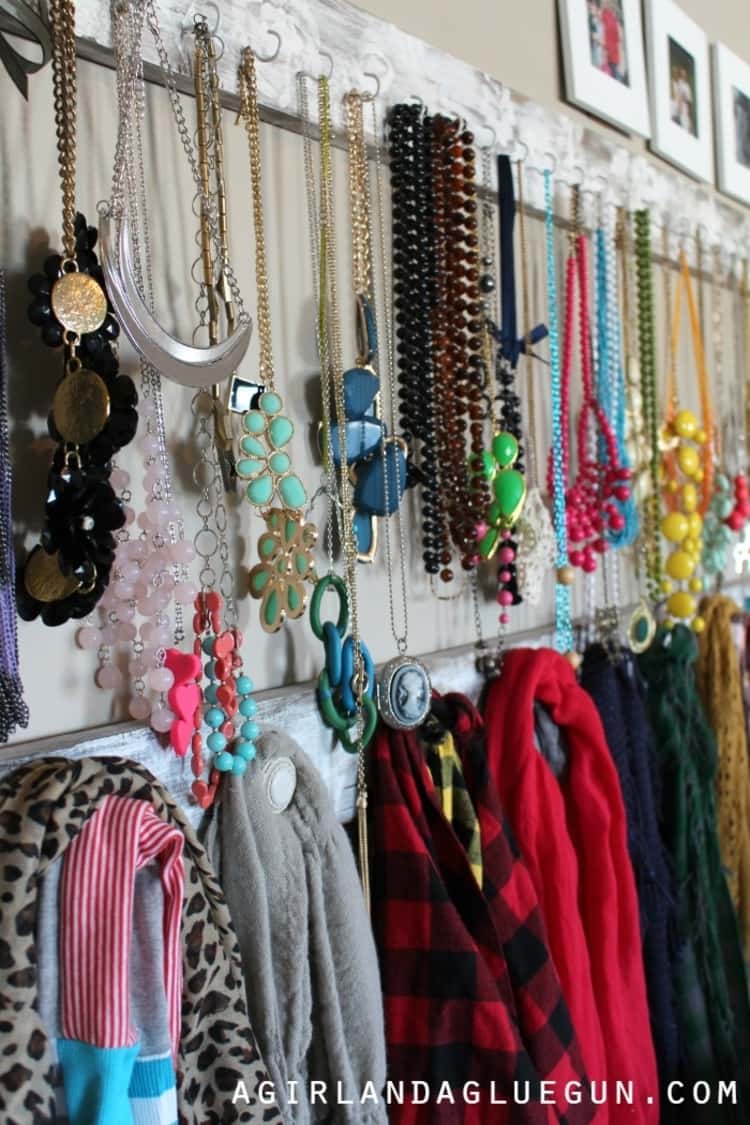 16. Thread Rack
Lovers of wood you are all gonna love this idea. I bet you ain't ready for this yet! Keep an eye out for a thread rack at a yard sale or craft store. They make great jewelry organizers! The rack provides enough space for you to be able to hang your necklaces and earrings. More so it gives your accessories a very chic display such that you can admire all your accessories. With this rack, your favorite jewelry won't keep on being tangled and will have much durability. Plus it makes it easier to access the jewelry that will complement your day's outfit.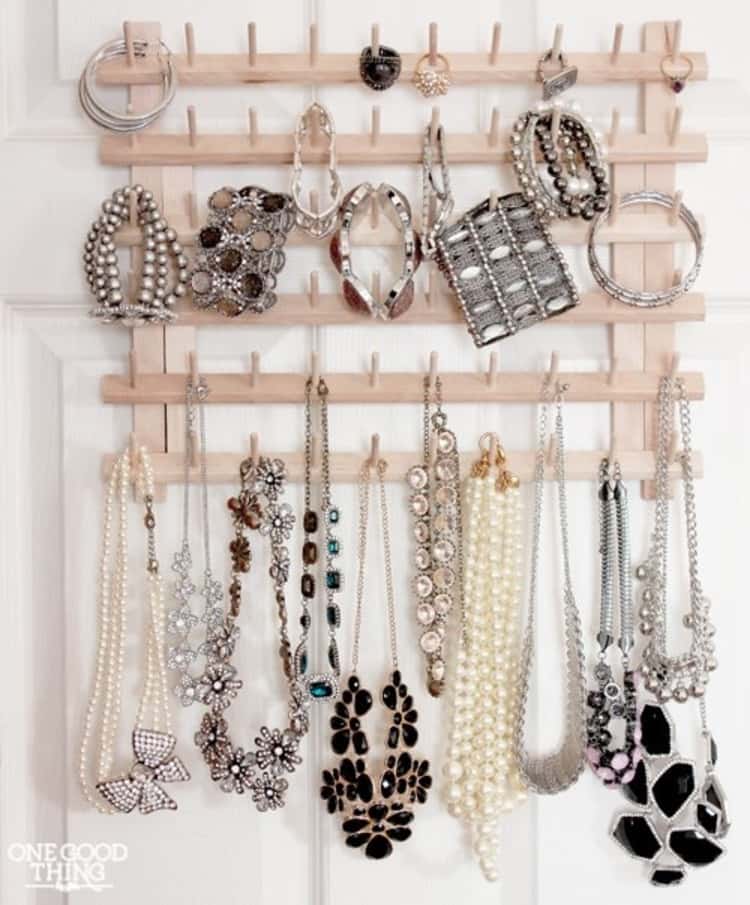 Accessories are like vitamins to fashion, such that you should use them liberally. – Unknown
If you liked these ideas on organizing accessories we lined up for you, you'll also want to check out more organization ideas: