How many tin cans do you empty each month? And how many do you throw away? If you haven't been upcycling them, you're missing out!  The cans from canned foods are the perfect size as a basis for so many lovely DIY simple tin can crafts and projects. They are easy to find.  Free!  And can be easily transformed into something useful and gorgeous.
Here are 19 beautiful, useful, and just plain fun tin can crafts to inspire you to put them to use.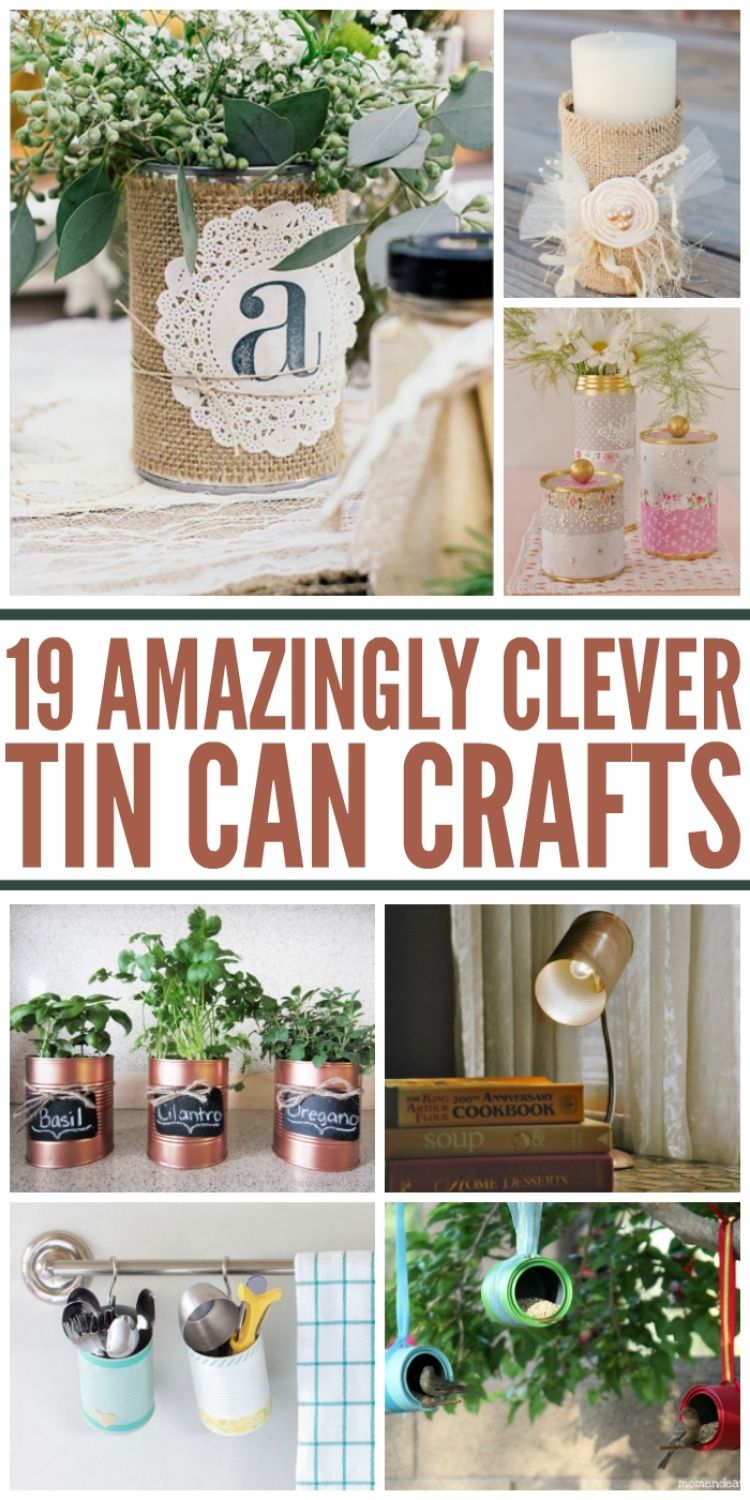 Awesome Tin Can Crafts
1. Bang those drums using these salvaged tin can crafts
These toy drums tutorial are beautiful and could be a lovely gift for a child or it could be a great activity to do with your kiddo.  Imagine a whole set of these recyclables. Your kids will have hours of fun. You'd never guess that they came from tin cans!
Materials needed:
different-sized tin cans
small pieces of leather
decorative fabric
leather laces
wooden dowel and small ball
cotton batting
You may need a punching tool to make the holes for the lace wrap. I love the padded drumsticks. Your little drummer will be making music for hours at a time.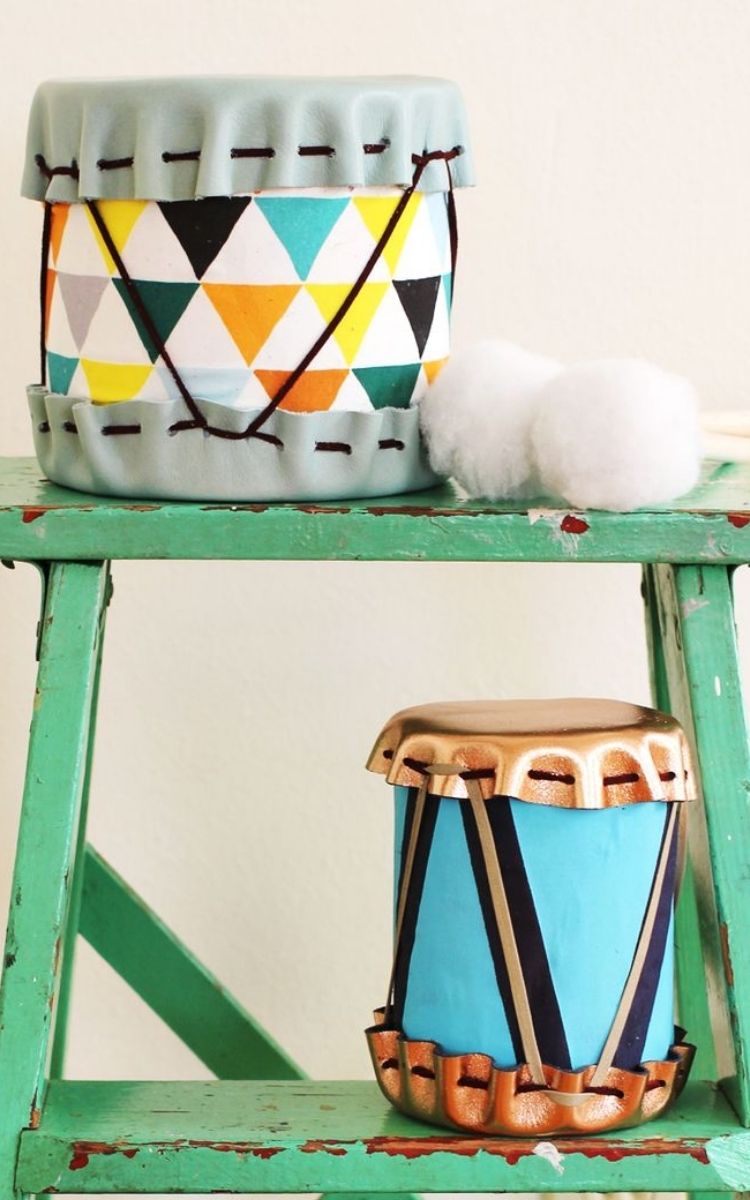 2. Design these whimsical tin can crafts floral centerpieces
Finding a unique, inexpensive centerpiece is like finding a treasure! And who could've imagined something so lovely from a tin can craft? Collect tin cans, grab some burlap and doilies. Add your initials or a special date to make rustic (and cheap!) centerpieces or vases for a wedding or for another special occasion.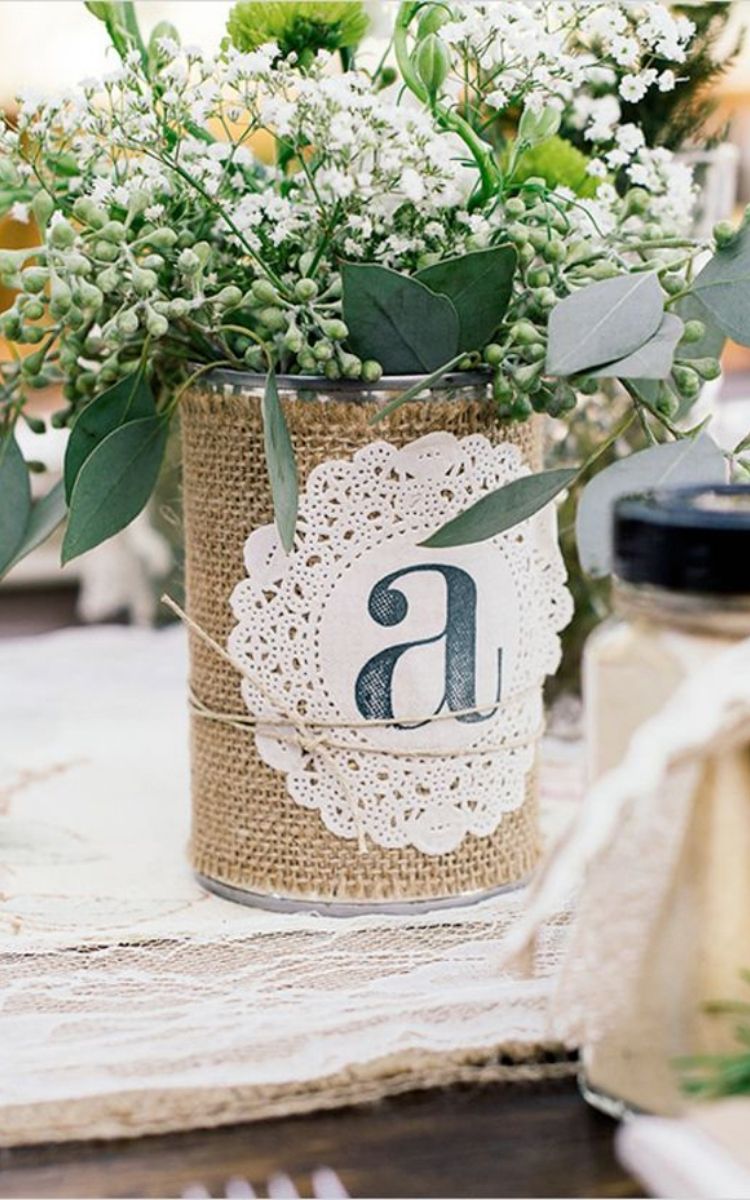 3. Candle holders are great tin can crafts
This is a great upcycled tin idea when you need an inexpensive base for those pillar candles and it has such a rustic, yet classy appeal. It's so simple to make these tin can holders home decor and is especially great for that last-minute outdoor dinner party. Who doesn't love the ambiance of candles glowing while entertaining your guests?!
4. DIY tin can pendant lights
This is the coolest idea to make with your old tin can and craft supplies! Who knew that you could build your own hanging lights? Now that's keeping your budget in mind!  Thinking like mom now! And with the right tin cans, you could even make a grouping of varied-sized lights. These DIY Pendant Lights would look amazing in your first apartment or in a farmhouse kitchen.  You will need:
empty tin can
paint & paintbrush
something to make a hole in the can
a light kit from your local hardware store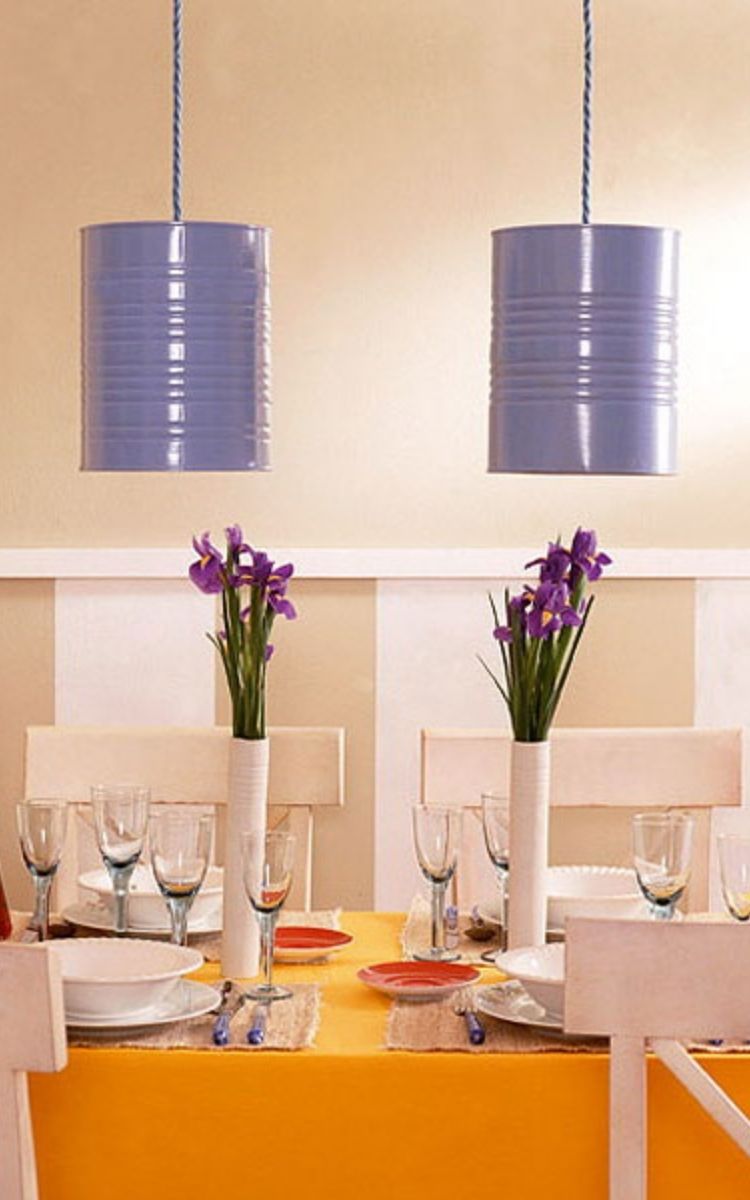 5. Make tin can crafts into herb planters
Growing herbs is so fun and rewarding. And this collection of tin can pots adds to the beauty. Copper spray paint and chalkboard labels turn these tin cans into lovely herb planters or even succulent planters that you'd be proud to display.
You can grow herbs indoors on a windowsill that has full sun. Good choices include basil, cilantro, dill, oregano, rosemary, sage, and thyme. Of course, grow what you love; after all, you'll be eating them! Yum, yum!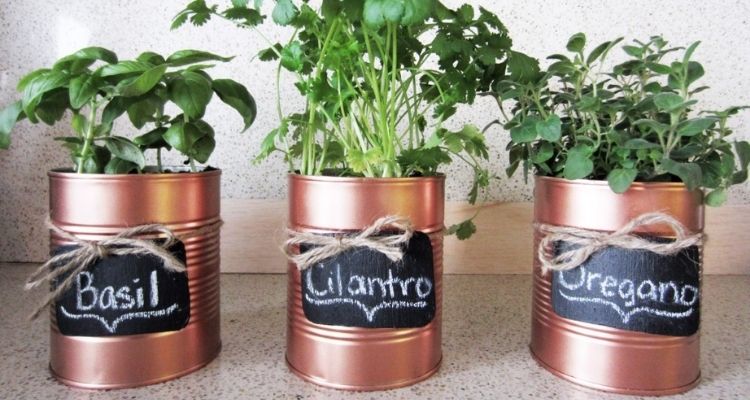 6. Create bird feeders with these tin can crafts
It's so beautiful to watch birds in your own backyard. Set out some easy DIY bird feeders tin fun craft for your feathered friends. It's amazing that all you need to do is set out some bird feed in a simple feeder and they will discover this food source.
All you need is small paint upcycle tin cans and a small dowel. Use hot-glue to attach the dowel and some ribbon or twine to hang it from a limb. You may need to use something stronger than ribbon if you have small rodents or larger birds that are also hungry. Perhaps you can try some finch or black oil sunflower seed.
Get those binoculars and bird books out for your backyard bird identification!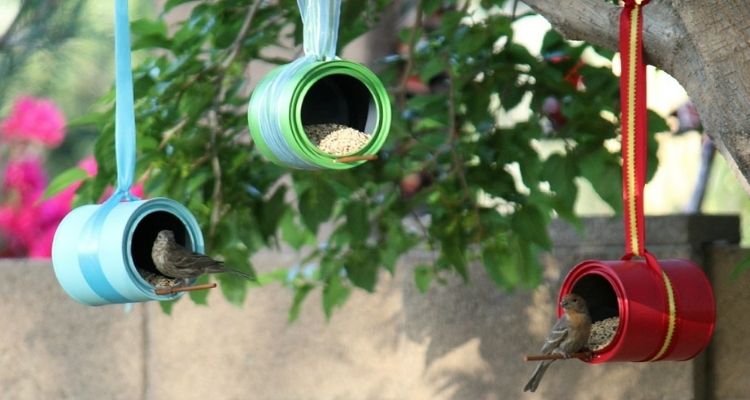 7. Wall mounted tin can tea lights
Make some wall-mounted tea light holders. out of recycled tin cans! They can add a soft, glimmering touch to any room. Use spray paint for inside and outside and decorate them with some decorative paper. Or you could use a nail punch and create some patterns to let more light shimmer through. You can hang them on your wall using little foam sticky squares.
This is a great way to add some flickering ambiance to your room and keeps the candles out of reach of children and pets.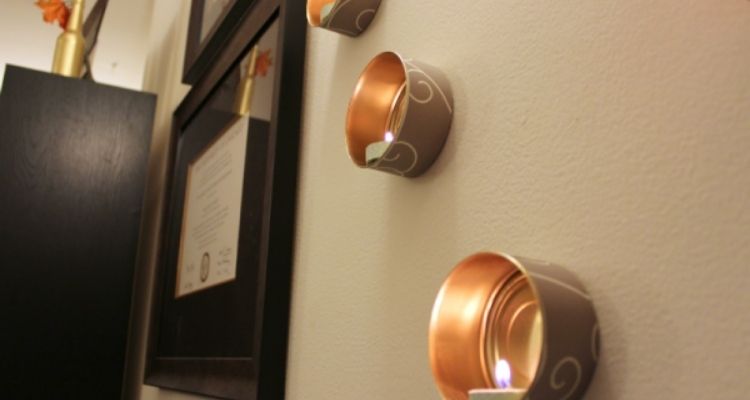 8. Tin Can desk lamp
This is my favorite tin can crafts project so far… a can lamp! Use an old lamp, disassemble the wiring and remove original shade. Using it as a template, drill all appropriate holes in your can. Spray paint the exterior with hammered copper and interior with silver. Rewire the lamp and you're golden. I love that it makes it look old and worn.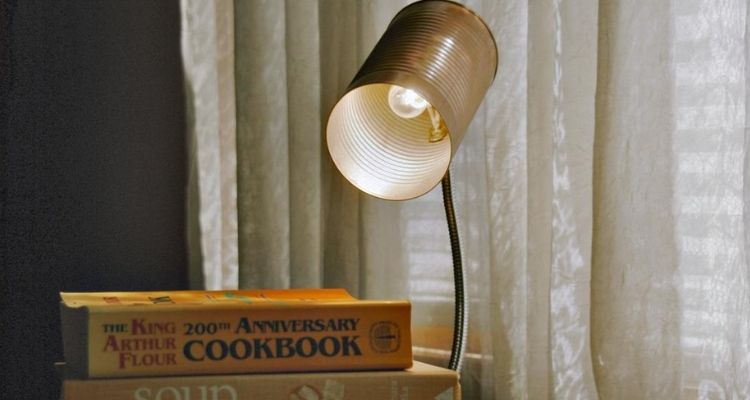 9. Tin can wind chime
The tinkling sound of tin on a breezy summer day is so relaxing. You can make a tin can wind chime with the kids. for a summer vacation activity. Paint tin cans, hammer a hole in the middle of the can. Use a metal hoop or The inside of an old lamp share. Cut the waxed string at different lengths. Tie a knot and burn the ends of each string so it's firmly in place.
Of course, your kids will want to decorate their own tin can!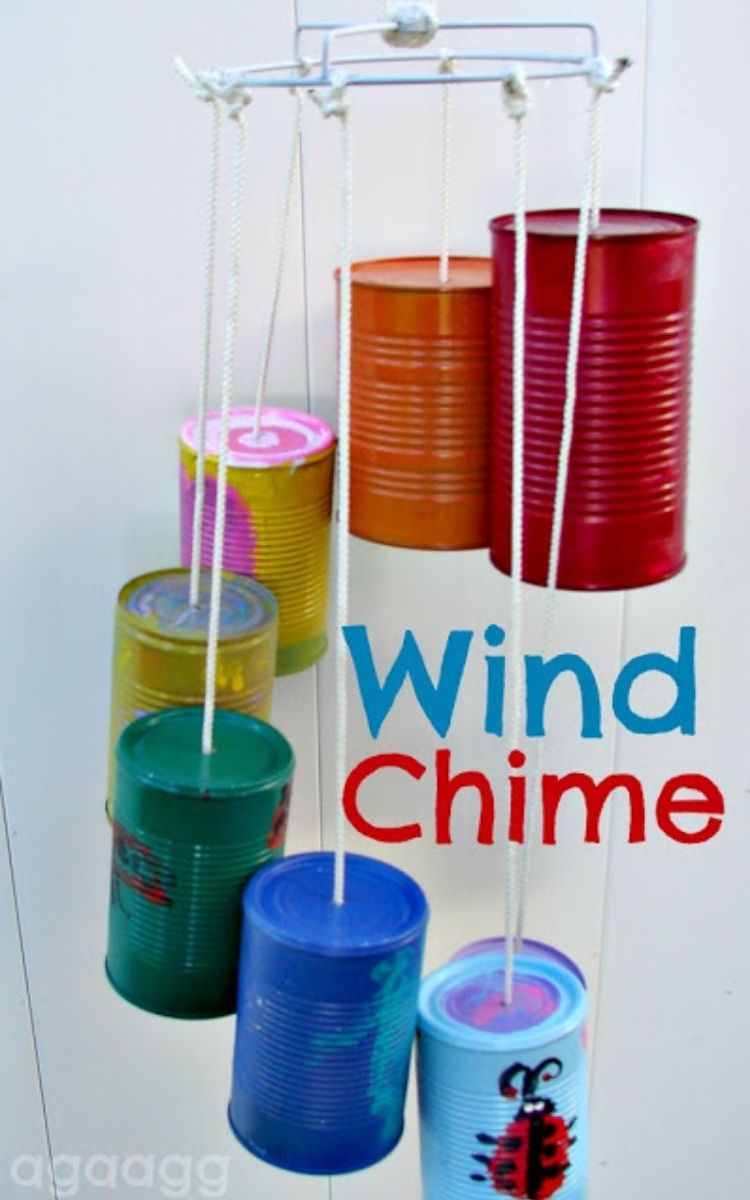 10. Tin can patriotic windsock
Show your patriotism on the 4th of July with a set of fun patriotic windsocks. They're great for Memorial Day and Labor Day, too!
Use a can opener to remove both ends of the tin can. have fun painting the cans variations of red, white, and blue with stars. And glue different lengths of ribbon to the inside of the cans.
These will look so lovely hanging from your tree and are sure to attract attention.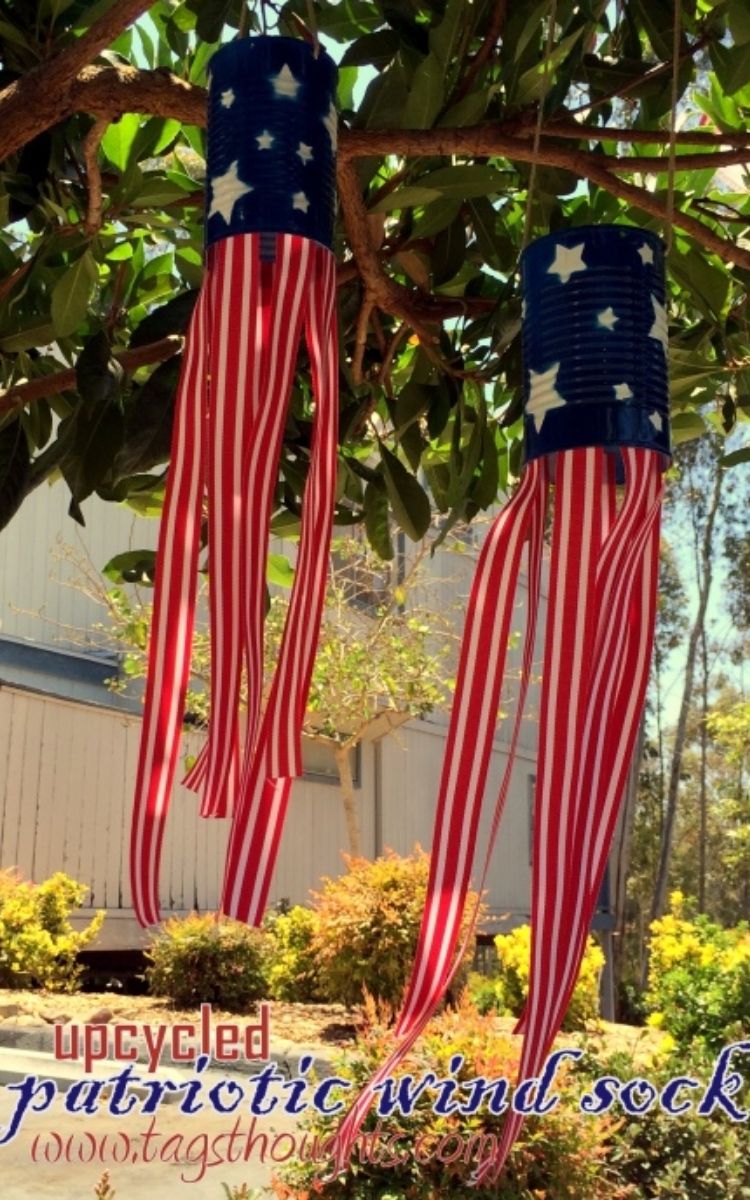 11. Make a Wizard of Oz tin can man
Isn't this adorable? This would be so fun to do make with your kids, especially after they've read the book or watched the movie. Gather an assortment of tin cans, spray paint them silver and arrange them to create your tin man. And of course, spray paint the funnel, too! Add this tin man to your porch or garden.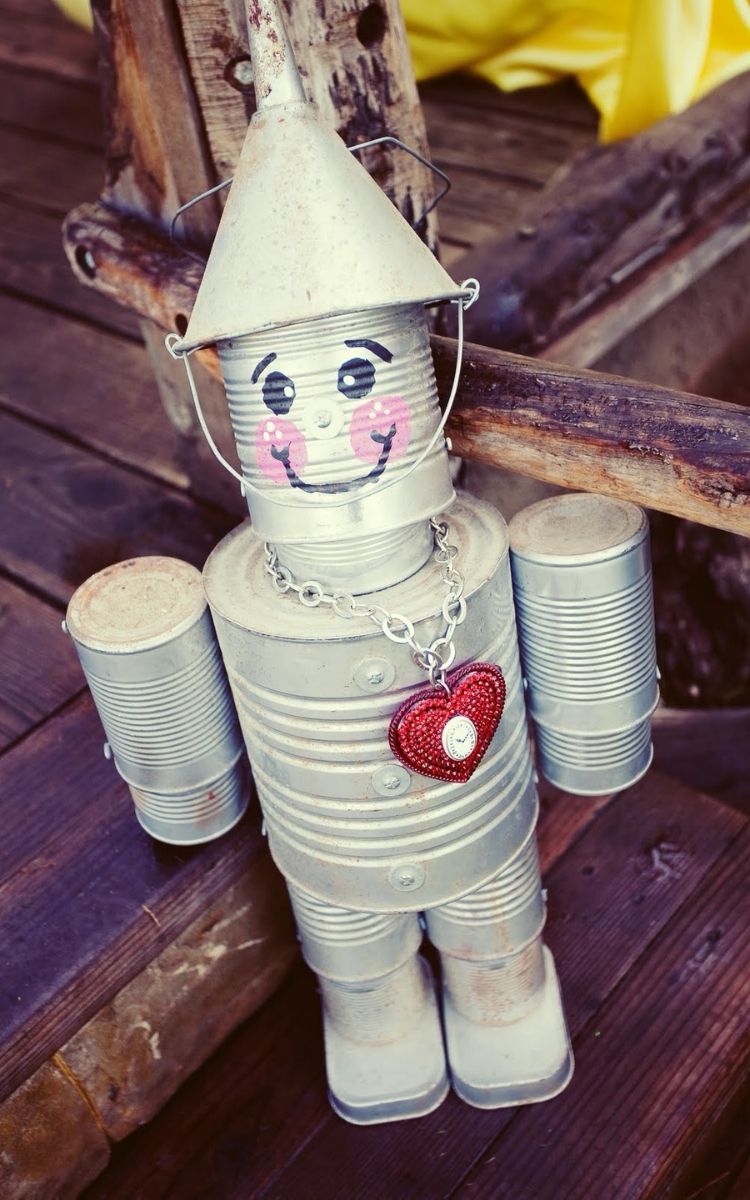 12. Tin can Bowling
Finding things to entertain your kids during summer vacation can be challenging. This activity is a two-fold win!
First, it's an activity that you can do with them – planning it and painting the cans.
Then, they will have hours of fun setting up an outdoor bowling game. Use a ball or bean bag!
Bowling is such a classic sport! Kids of all ages will enjoy this summertime fun.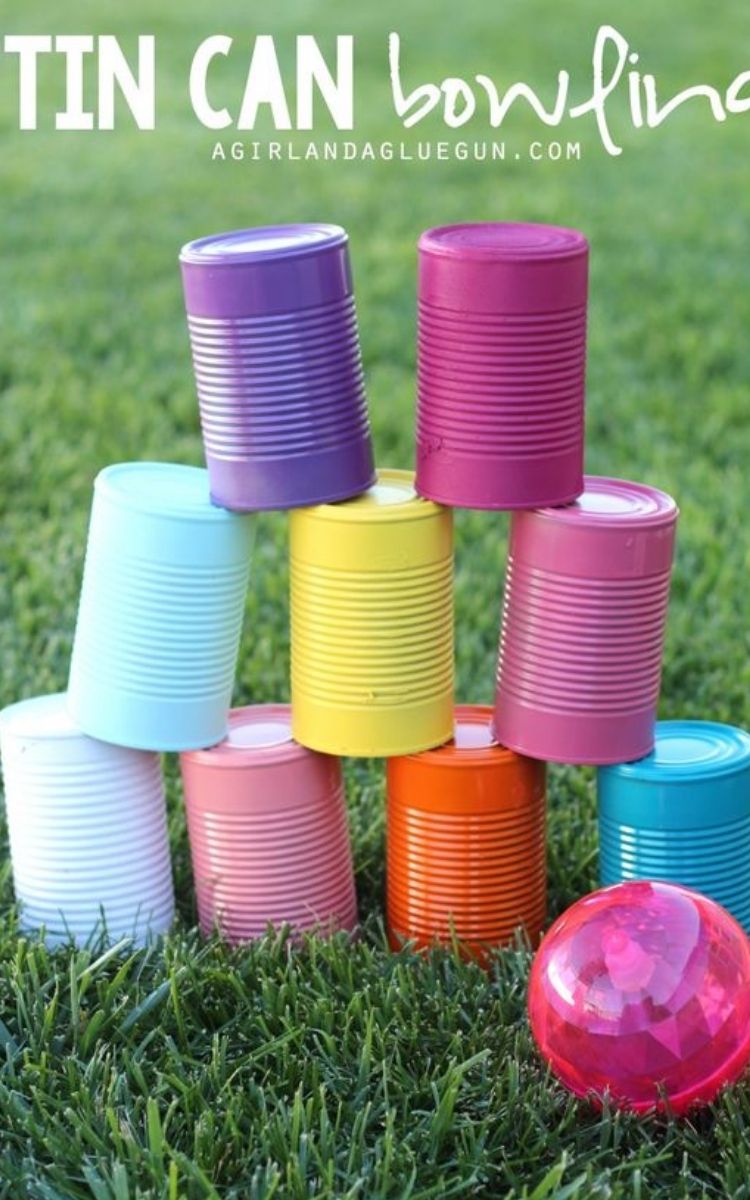 13. Tin can portable rocket stove
This little stove is amazing! You can boil water in just minutes with only a few sticks of wood!  This tin can crafts idea is not a simple, throw-together project to do with your kids, but it is so cool! You can make a lightweight, portable rocket stove to take on any adventure.
All you need is a gallon can with both top and bottom, pineapple juice can, two bean-sized cans. And yes, some tools (hammer, tin snips, and pliers) And you'll probably want some gloves to protect your hands and goggles to protect your eyes.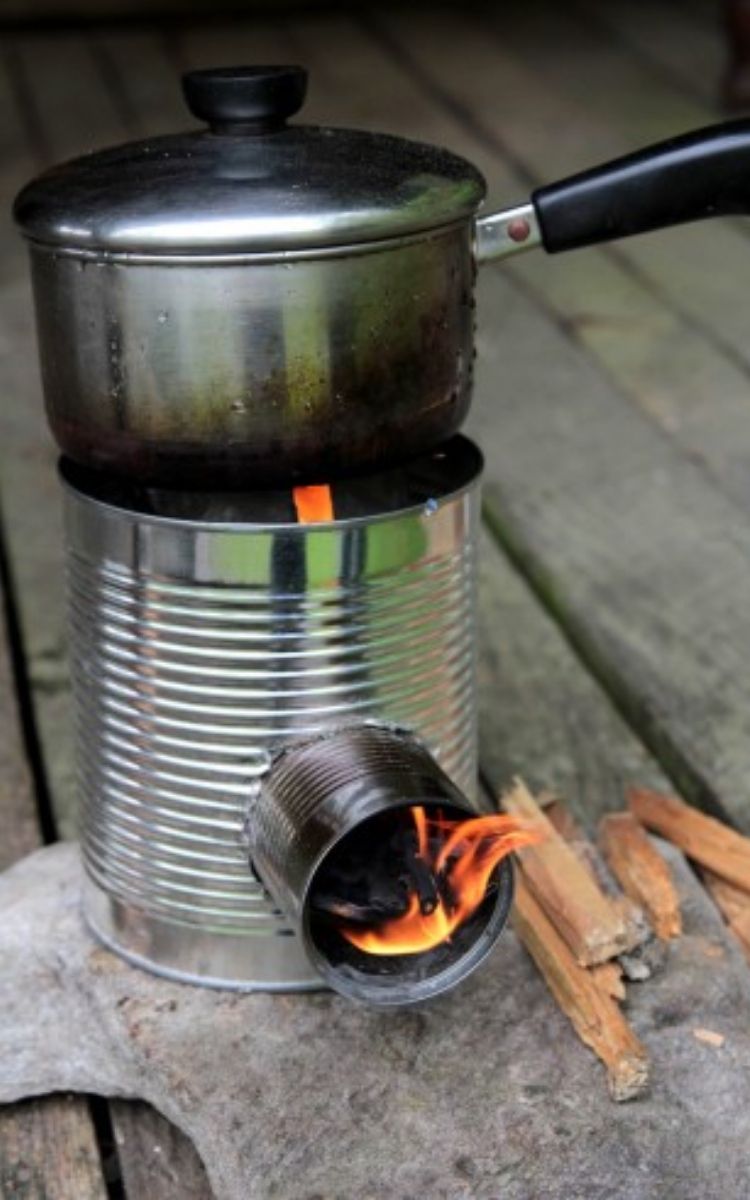 14. Tin can bag dispenser
Now this tin can bag dispenser is super simple and so practical! Use a large coffee can to create storage for your plastic grocery bags or trash bags. Paint the can to match your decor and it would even look nice on your countertop. No more bags in a bag under your cabinet!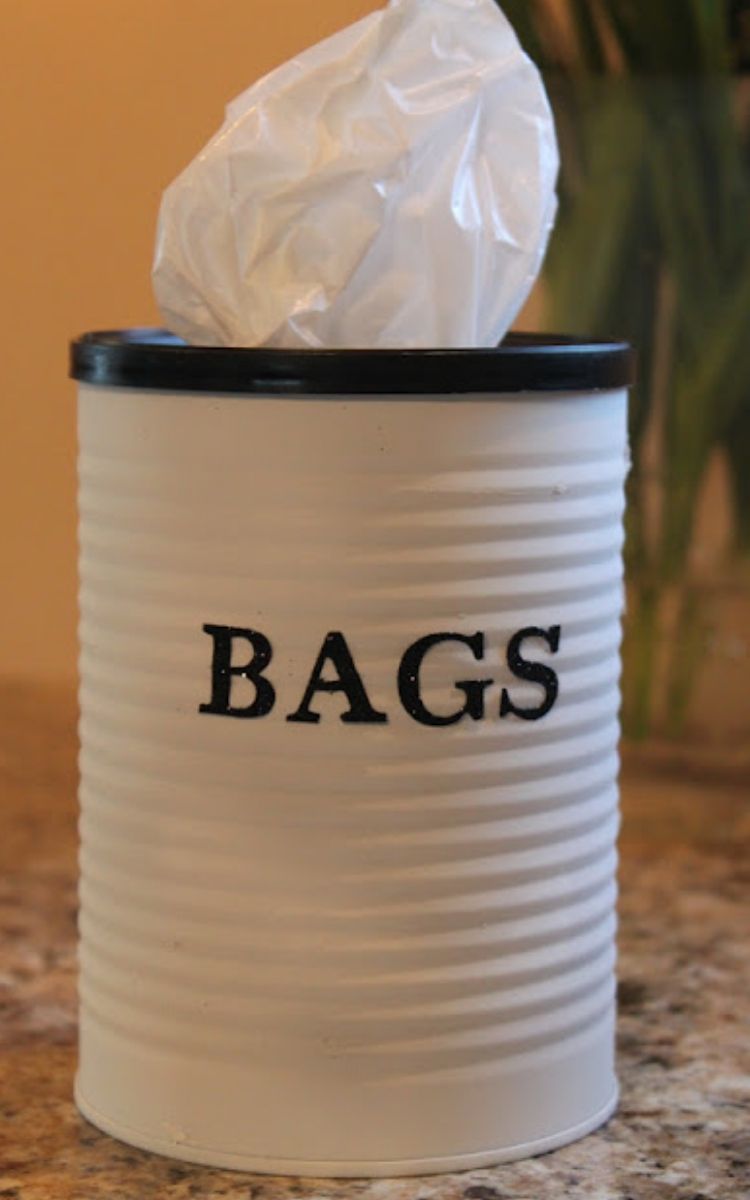 15. Hanging tin can organization station.
You've seen these kinds of cutlery holders for sale and thought about buying them. Isn't this great? You can make it yourself! Grab some tin cans, paint and decorate them and use s-hooks to hang them from a towel bar to create your own utensil organization station.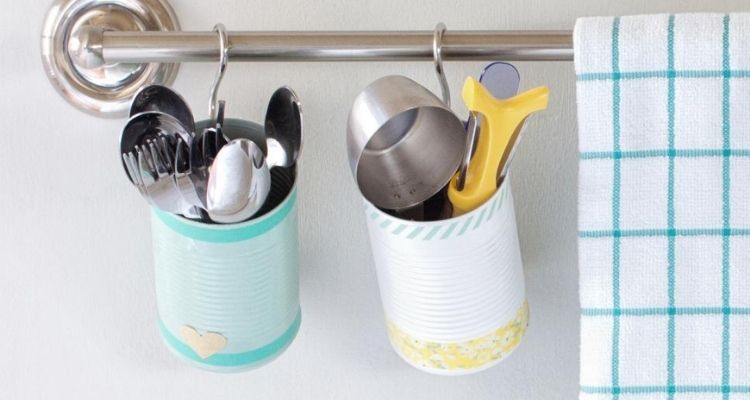 16. Tin can portable cutlery holder
Or here's a portable cutlery holder that's perfect for taking to parties, picnics, cookouts, etc. Or..this can be used for art coloring or painting supplies, too.
Paint cans inside and out with rust-proof paint. Paint a piece of wood to match. Once dry, punch a hole into the can and then screw to the piece of wood. In order not to damage the paint, you may want to add a piece of felt between the wood and the tin can.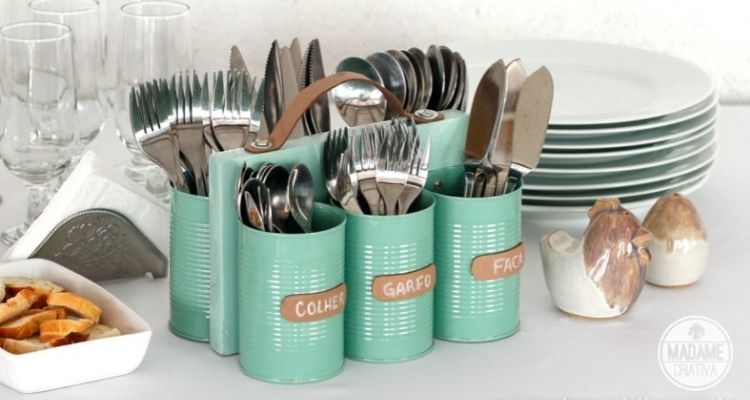 17. Tin can craft organizer
Tin cans make great stuff organizers! Use leftover fabric and trim to create an organizer for your desk or craft room. Different heights for different supplies. Now, this is such a great, practical way to find things when you need them.  To make these creative organization solution tin cans:
empty tin cans
fabric leftovers and fabric scraps
spray paint
embellishments
glue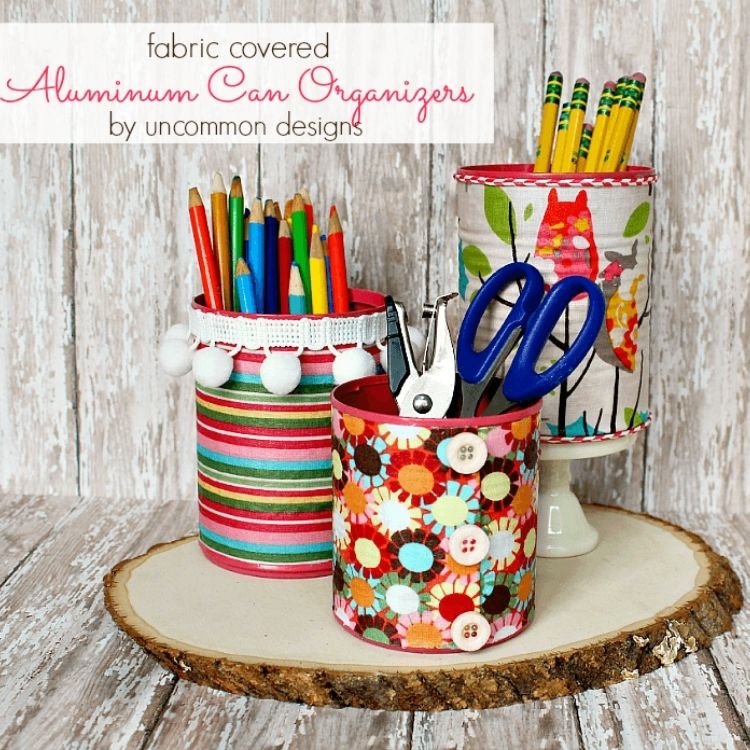 18. Tin can lanterns
Make tin can lanterns to adorn your porch or deck this summer. Decorative patterns are nice, but it's really as simple as punching holes in the can and adding some paint to make it pretty. All you need is tins cans, wire coat hangers or 1/10 in (2mm) diameter galvanized fencing wire, and a nail or nail punch. And your creativity will add the flair!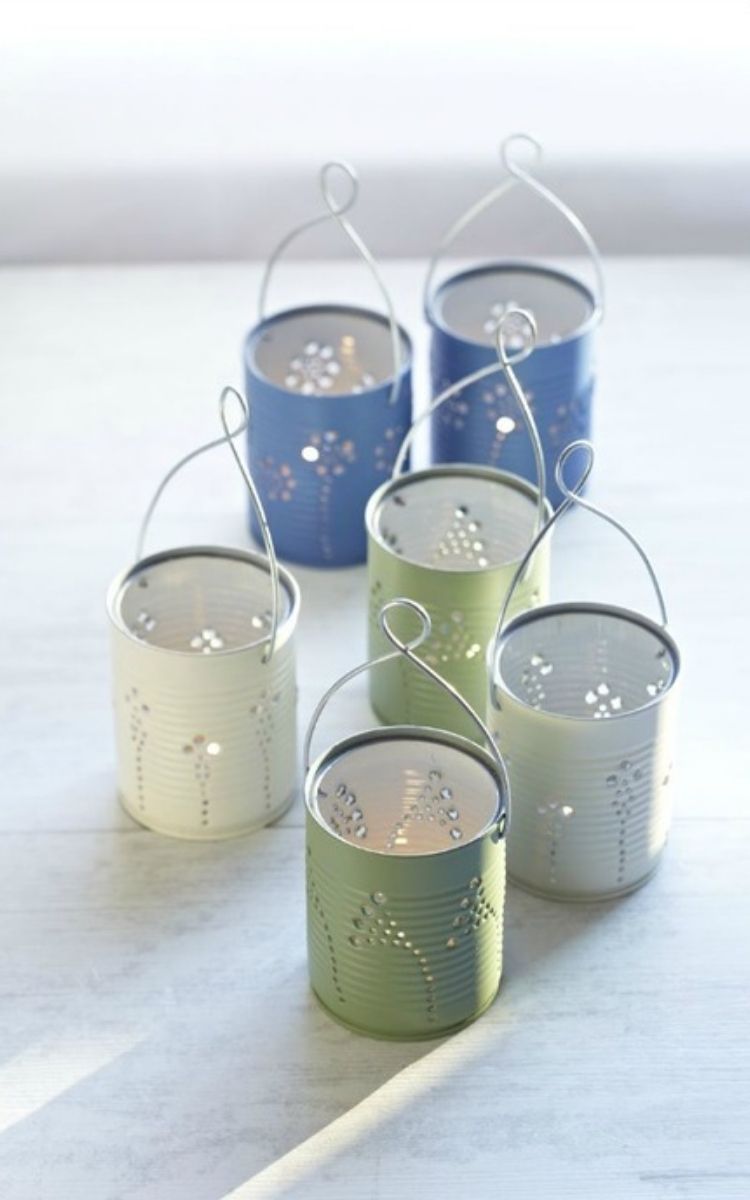 19. Tin can powder room storage containers
All powder rooms need a place to keep necessities handy. I love the daisies as part of the grouping. And keeping the lids and adding a small knob adds such elegance to these DIY storage containers. Of course, you could use this idea for crafts supplies, trinkets, and more. Make sure you get rid of any sharp edges.
Upcycling Tin Cans into Tin Can Crafts is so much FUN!
Once you get those creative juices flowing, the options seem limitless.  A little bit of paint and some creativity goes a long way. Besides adding some cool ideas to your decor, you've recycled and saved your pennies. Enjoy the experience!
For more creative DIY, upcycling crafts, check these out:
Which of these fun tin can crafts do you like the most? Let us know in the comments!