Have you ever needed another roll of toilet paper, pronto, only to find that there's none nearby? What a nightmare! Or do you find that you have so much toilet paper these days and don't know where to store the rolls? The struggle is real, especially if you have a smaller bathroom like me when lack of storage is a constant challenge.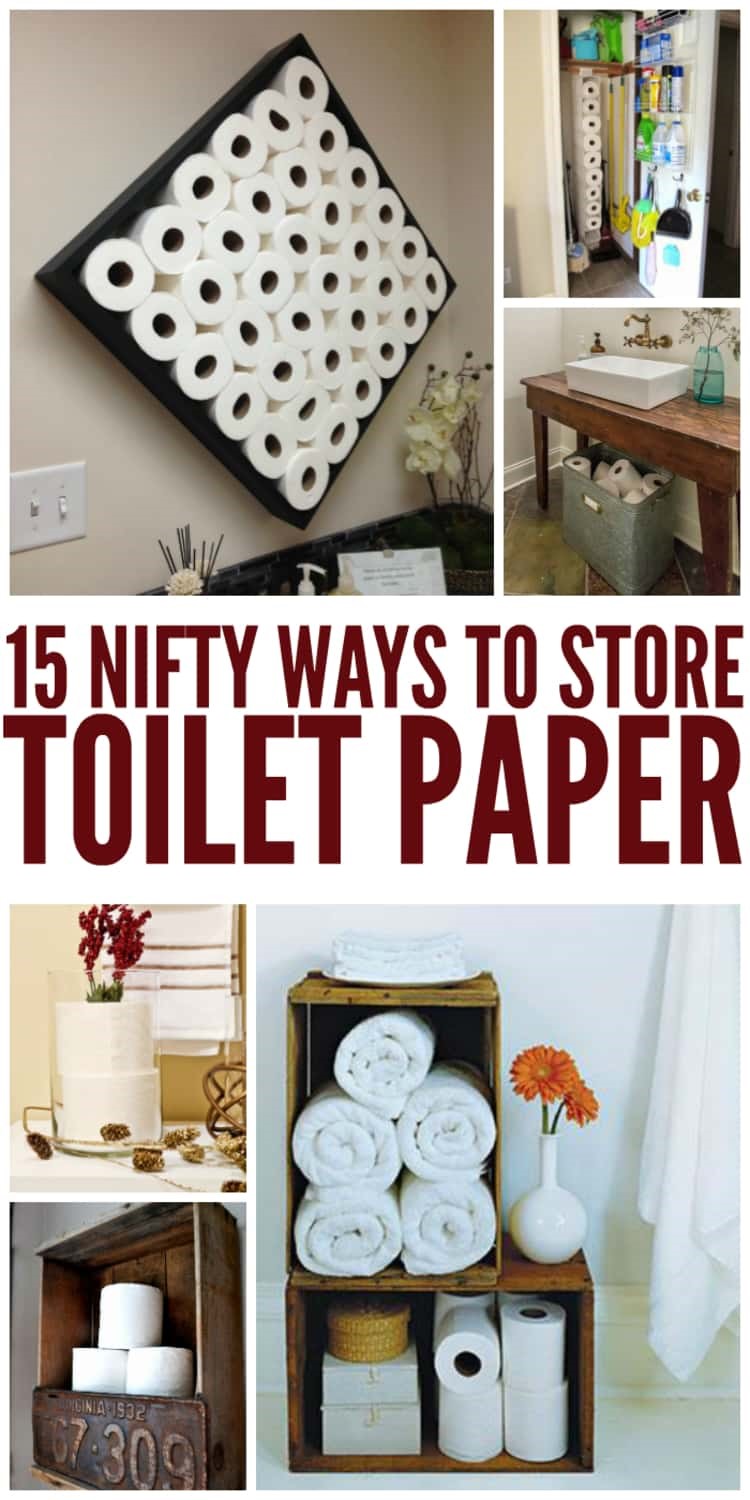 Having toilet paper close at hand is essential, and yet keeping extra rolls in the bathroom isn't always an easy task, especially if your space is limited. And just piling up the toilet paper can make your bathroom look cluttered and messy, not clean and tidy. We need a place to store those extra toilet paper rolls.
"One of the most jolting days of adulthood comes the first time you run out of toilet paper. Toilet paper, up until this point, always just existed. And now it's a finite resource, constantly in danger of extinction, that must be carefully tracked and monitored, like pandas?"

― Kelly Williams Brown, Adulting: How to Become a Grown-up in 468 Easy(ish) Steps
Do you also struggle with toilet paper storage? Well, do we have good news for you! We've found 15 ways to store toilet paper that work for almost any space. Not only practical but these creative hints will also up your decorating game. And you will never be at a loss when you have a toilet paper emergency.
Some of the storage ideas that we share include:
Repurposing items you already have in your house to store your toilet paper
Easy DIY toilet paper holder ideas that you can do at home (and make with your kids!)
Options for an elegant look (for toilet paper storage! But read on to find out more!)
Making use of unused space
Creative Ways to Store Toilet Paper
If you are struggling to figure out what to do with your toilet paper, one or more of the following 15 Ideas for Toilet Paper Storage will provide you with the perfect solution! You will find at least one tip that will work perfectly for you (and probably more than one). Some of the ideas are re-purposing what you already have available, but there are suggestions for crafters as well. And the ideas range from shabby-chic to industrial to elegant enough to impress the pickiest of in-laws or visitors.
But most important you will have toilet paper readily available when you need it while keeping your bathroom clean and tidy. This is a win-win solution for you, your family, and your guests!
1. A Freestanding Toilet Paper Holder – So Practical and Tidy!
A rolling cart in the bathroom can be so handy! Store your toilet paper, toiletries, towels, and more, and move it around whenever you need to. You can use the white cart to keep it nice and tidy or add a bright color to match your decor or add a little fun. And if you are expecting guests, how about adding a small vase with some flowers? The ideas are endless!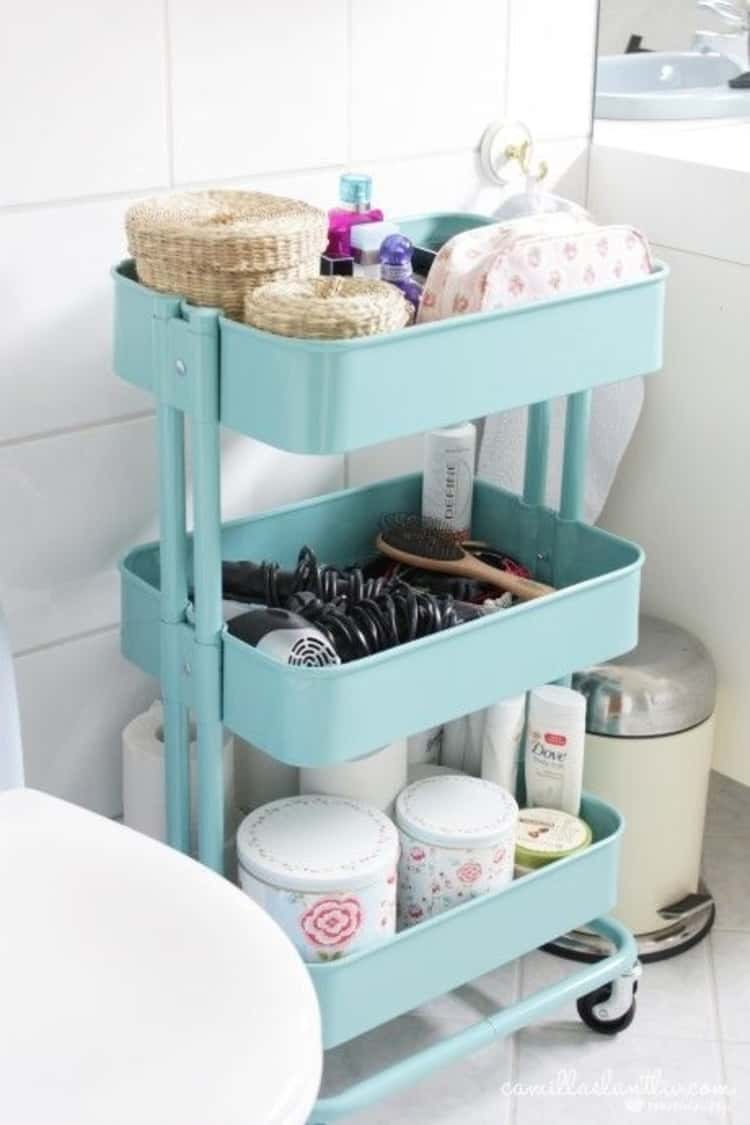 2. Keep Your Toilet Paper Mounted On The Wall For A Shabby-Chic Look
If you are like me, you have so many baskets and no idea how to use them. But how about putting them in the bathroom? Easy to use and pretty as well, you can install a cute wire basket that you can mount over your toilet or on a nearby wall. No one will have any questions on where to find the next roll, only where you found the adorable basket!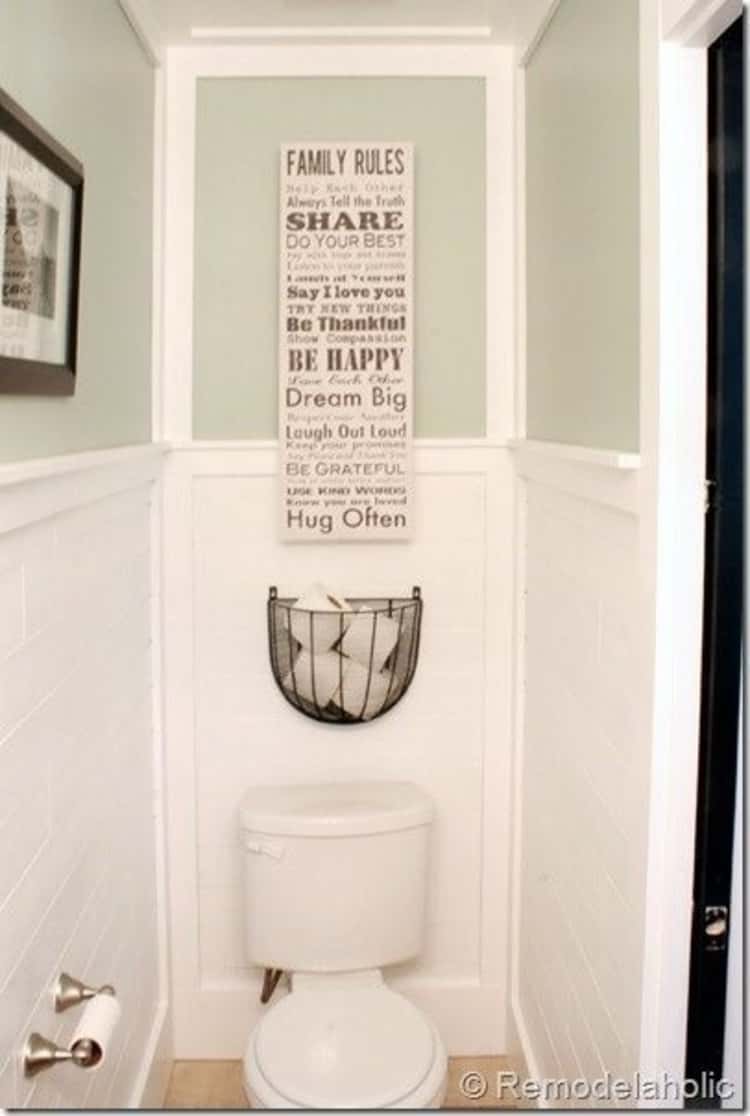 3. Repurposing Magazine Holders – A Perfect Way To Organize Toilet Paper
What a great idea for taking something that you might already have and using it for something completely different! Add a magazine holder beside the toilet – but not for magazines! Put those toilet paper rolls inside! You can put it on the floor or on the countertop. This is such a clever idea to help keep everything tidy. If you can't find one that matches your bathroom perfectly, you can get creative with paint, wallpaper, or even decoupage!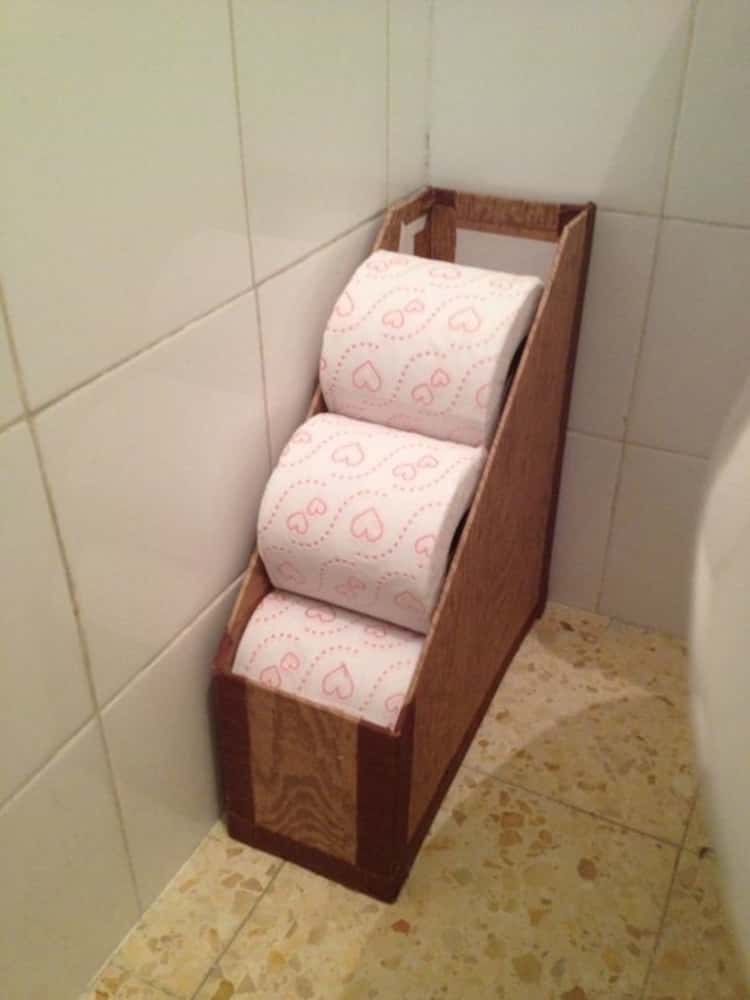 4. Are You a Crafter or a DIYer? Make Your Own Toilet Paper Storage
This is just so tidy but also versatile. These super easy 2-roll toilet paper holders hang down from your current toilet paper roll, so are easy to install without making a lot of changes. Depending on the type of fabric you use, you could create a feminine look, a masculine look, or a fun look for the kids' bathroom! I'm just imagining a cute one for the kids with fish! And just throw it in the wash when it is time to clean.
5. Creative Vintage Look For Your Bathroom And Toilet Paper
How great is this! It's an old crate with a vintage license plate attached. This is a clever use of an old license plate you might have hanging out in your garage or you that you picked up at the local flea market. You can also find them at online stores like Etsy. You could also decorate the sides of the crate with maps or stickers for a travel theme. There is an old one in my parent's garage that I'm itching to use!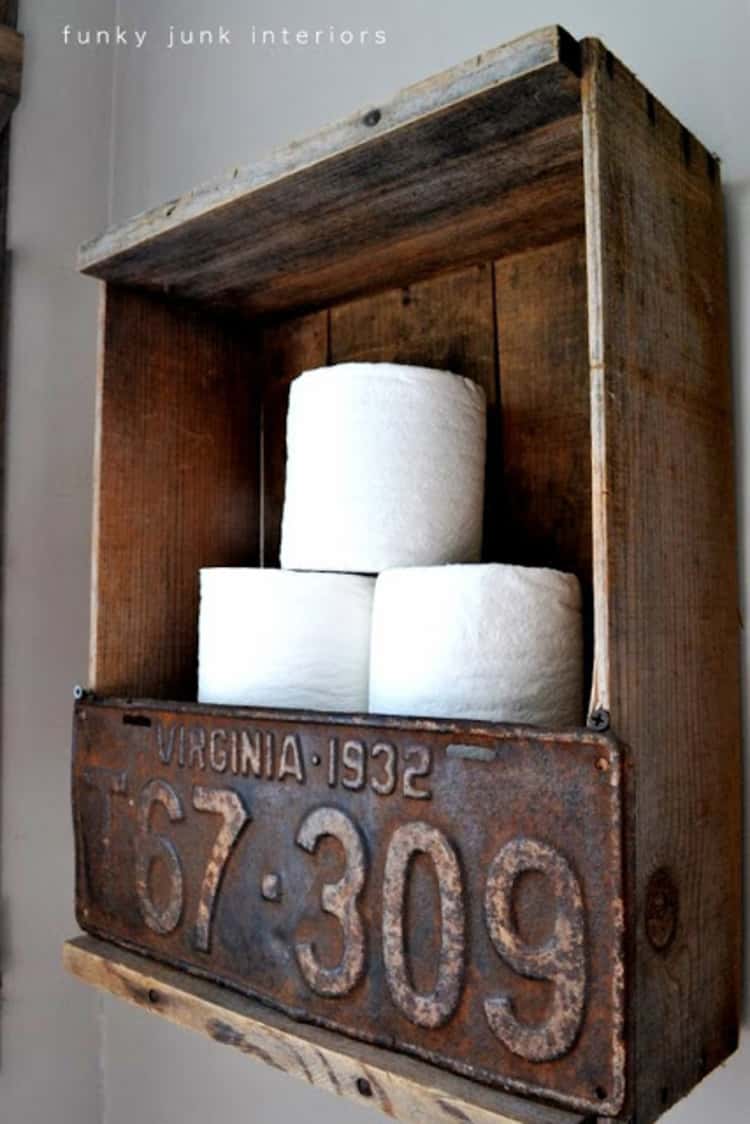 6. An Elegant and Tidy Way To Store Toilet Paper For A Polished Look
A tall hurricane vase makes for chic and modern toilet paper storage. Make it look even nicer by adding some decorative touches to the vase – update the decorations according to the season or go for year-round elegance. This can be placed on the floor or the nearby counter depending on how tall your vase is.
7. Decorate a Hurricane Vase to Match the Season
Make it look even nicer by adding some decorative touches to the vase.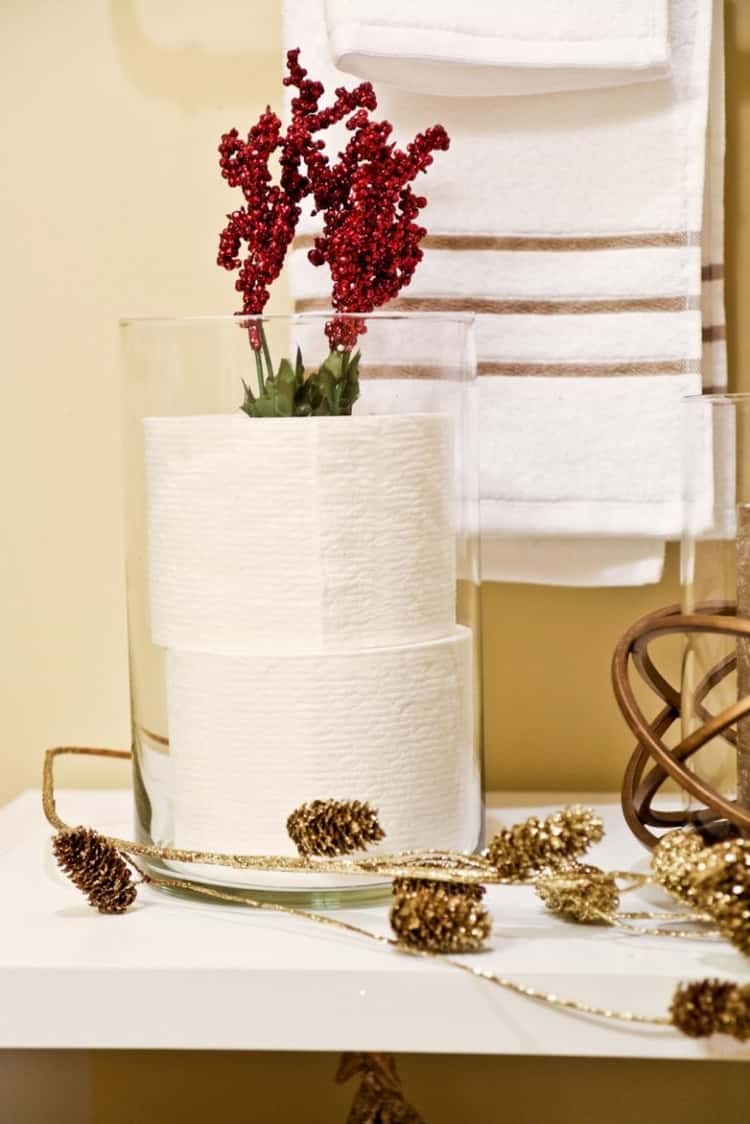 8. Clever Recycled Way To Keep Your Toilet Paper
Turn an oatmeal canister into frugal TP storage with a bit of wrapping paper. It's as easy as that! And like the last hint, you could also decorate it with a ribbon or other decorative touches to update it for the season. Practical, good for the environment, and adorable! And don't think you are limited to just one – having several makes sure that you will never have a toilet paper emergency!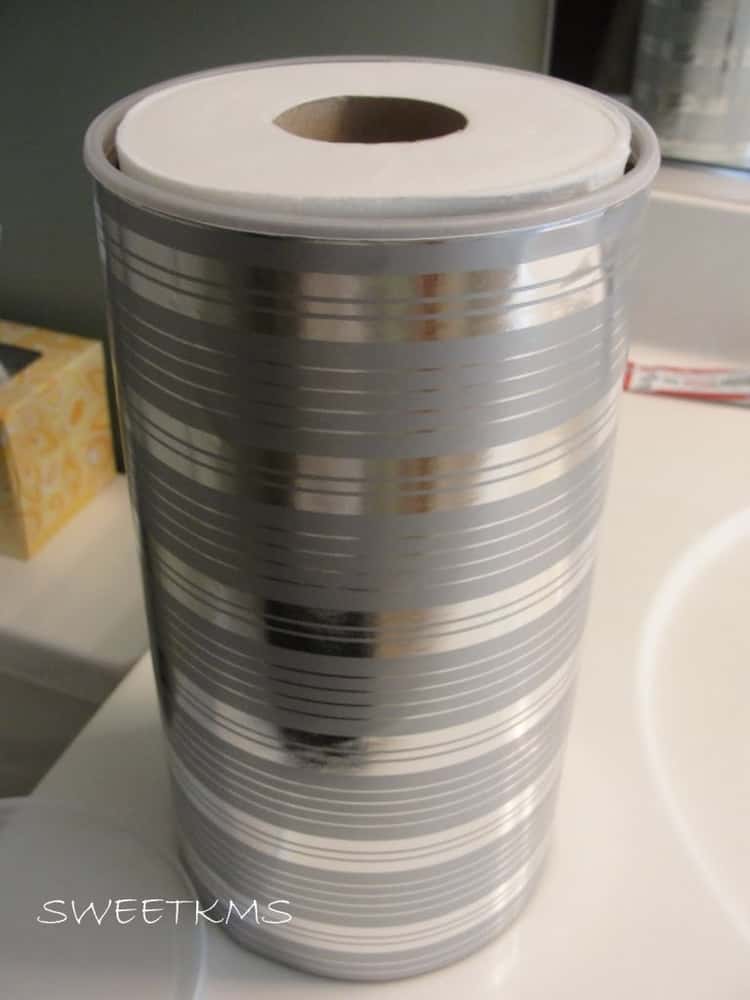 9. Use Toilet Paper as Wall Art
Wall art? No way! Yes!
You can turn your toilet paper into an interesting visual piece in your bathroom by mounting a box or a container on the wall. You can use a smaller container if you don't want to make quite as big of an impact with your toilet tissue. Stain, paint, or wallpaper the box to make it stand out.
10. An Industrial Loft Look For Your Bathroom
This industrial pipe toilet paper holder holds two rolls, so you can keep an extra roll around at all times. Look for steel, black, or copper pipes to suit your decor style. As these have a "stop" at the end, you could have a few facing different directions. You can also combine this with one of the other storage ideas for the best of both worlds.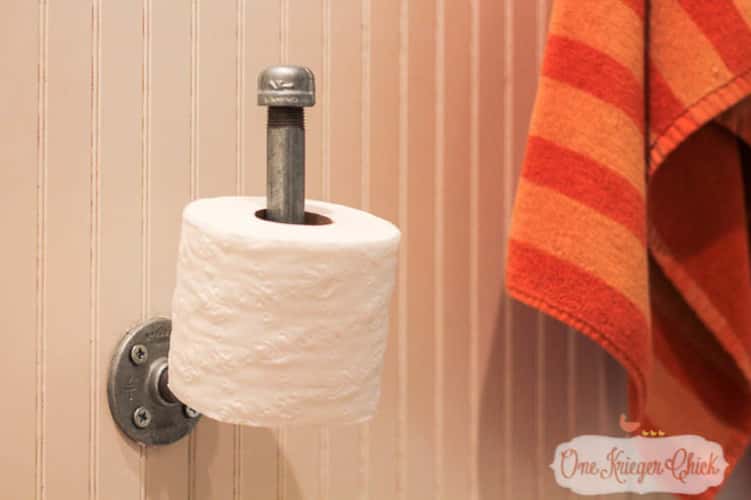 11. Store Toilet Paper On A Shelf Over The Door
The space above a door is often a forgotten or lost space, especially in the bathroom. But it can be used to maximize storage. Install a shelf over the bathroom door to house your toilet paper. It's totally out of the way, but within easy reach when you need it. If you prefer to keep your toilet paper hidden, you can put small boxes or containers on the shelf and put the toilet paper inside.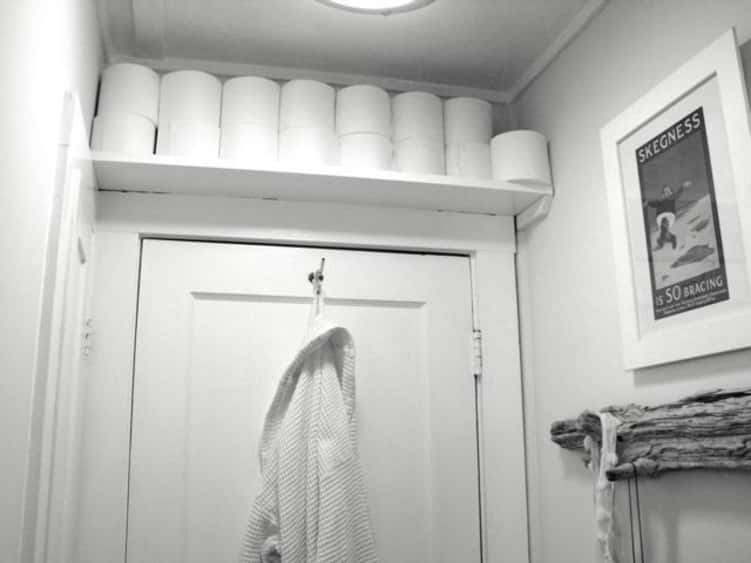 12. Organize The Toilet Paper In Your Linen Closet
It turns out that an old shoe organizer is a perfect size for holding multiple rolls of toilet paper! Here, it's pictured with paper towels, but you get the idea. It is also a good way to check if you need to buy some more. And – bonus – it is low enough that you can encourage even the youngest child to get a refill roll. It is never too soon to teach your kids!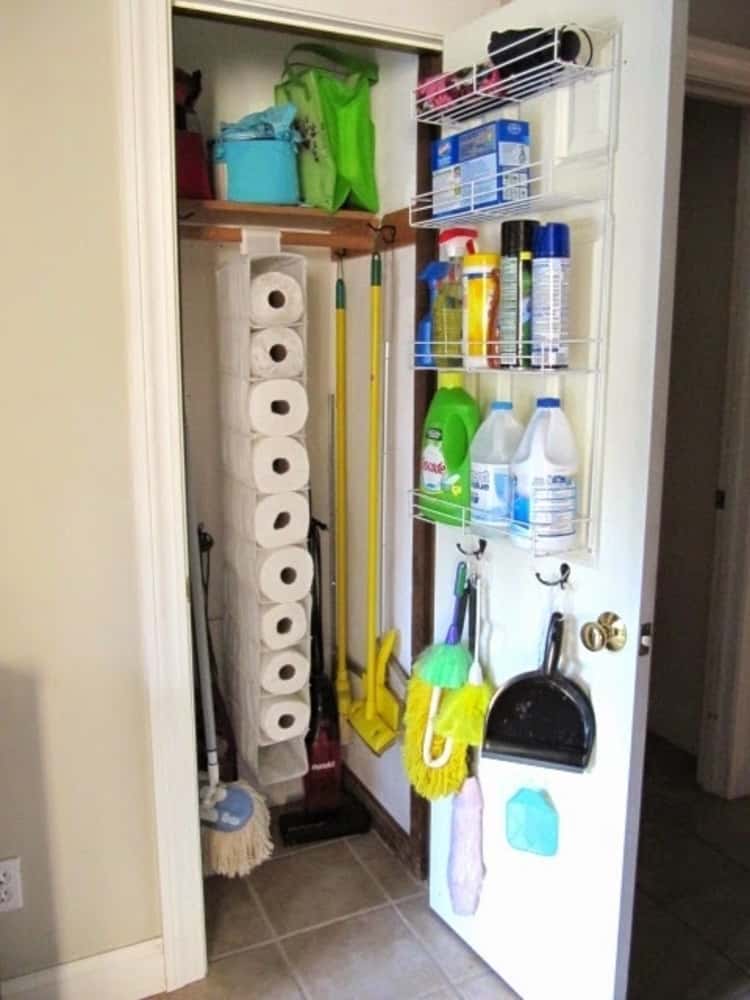 13. Keep Toilet Paper Under Your Freestanding Bathroom Sink
How trendy is this rustic look? Put a galvanized tub under the sink and throw your toilet paper in it. You could also experiment with other types of tubs or containers for a different look. The ideas are endless!
14. Another Vintage Idea To Put Your Toilet Paper In Order
Stack crates to create instant (and easy) storage in your bathroom. Good for toilet paper, but also the towels and the little bits that seem to multiply in the bathroom. Just pop those bits in a nice basket to keep everything tidy and in its place. You can paint the crates white for a tidy look, or leave them natural for a trendy vintage feel. These can go on the floor or up on a wall. The tops of the crates can also be used as extra shelving.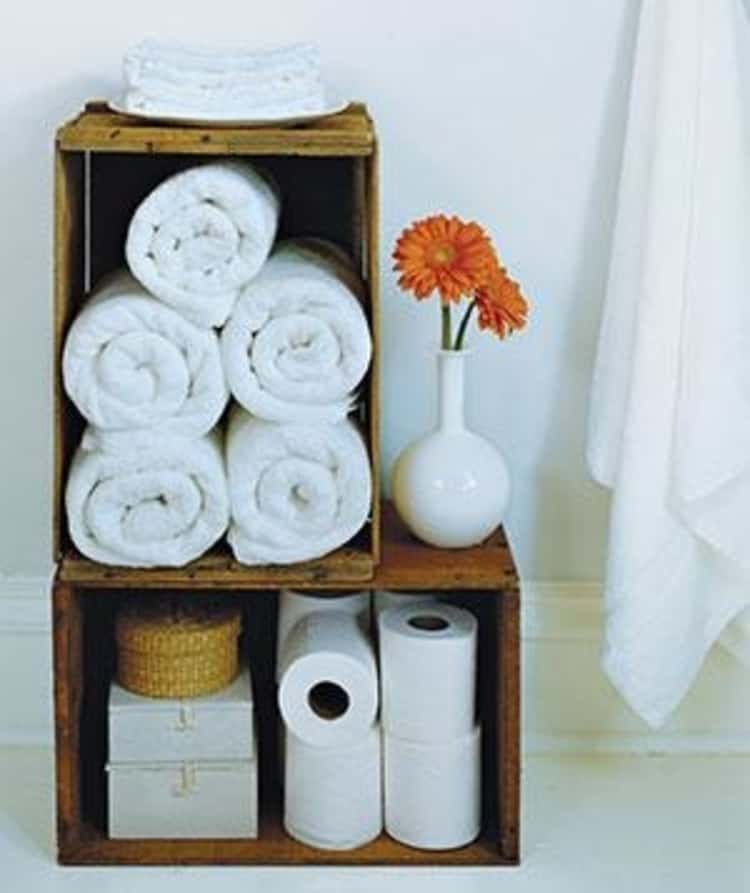 15. Easy, Practical, No-Sew Toilet Paper Holder
This no-sew decorative toilet paper holder is easy enough for anyone to make. All you need is some glue, fabric, ribbons, and a piece of cardboard. You could even get your kids involved – have them choose the ribbon and fabric and help with the assembly!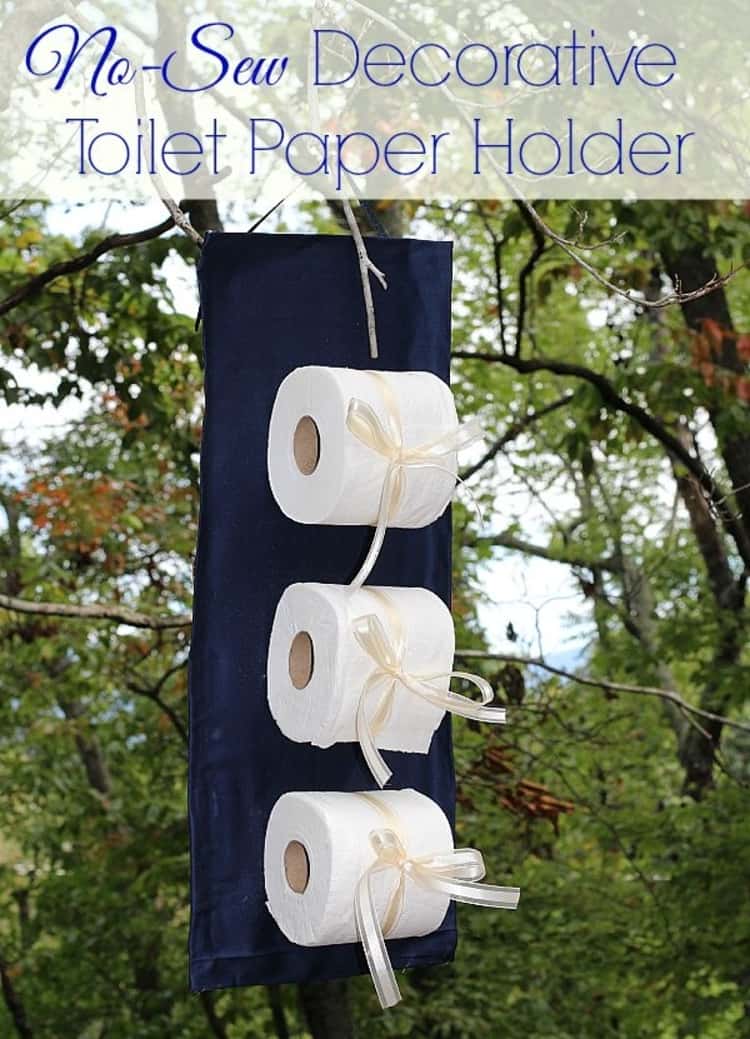 A tidy house is a useful house – no more running around trying to find something that you need RIGHT NOW. The following posts are just some of the great storage ideas that you can find on One Crazy House.
More Organization Ideas for a Tidy House: