Do your spices literally fall out of the cabinet when you are looking for the one you need in your recipe? Are you stacking them on top of one another because you have no more room in the cabinet? We bet you find yourself buying duplicates because you think you are out of something when really, you just can't see your spice inventory. Oh boy, have we been there!  Don't worry…we have the best solution to how to store spices.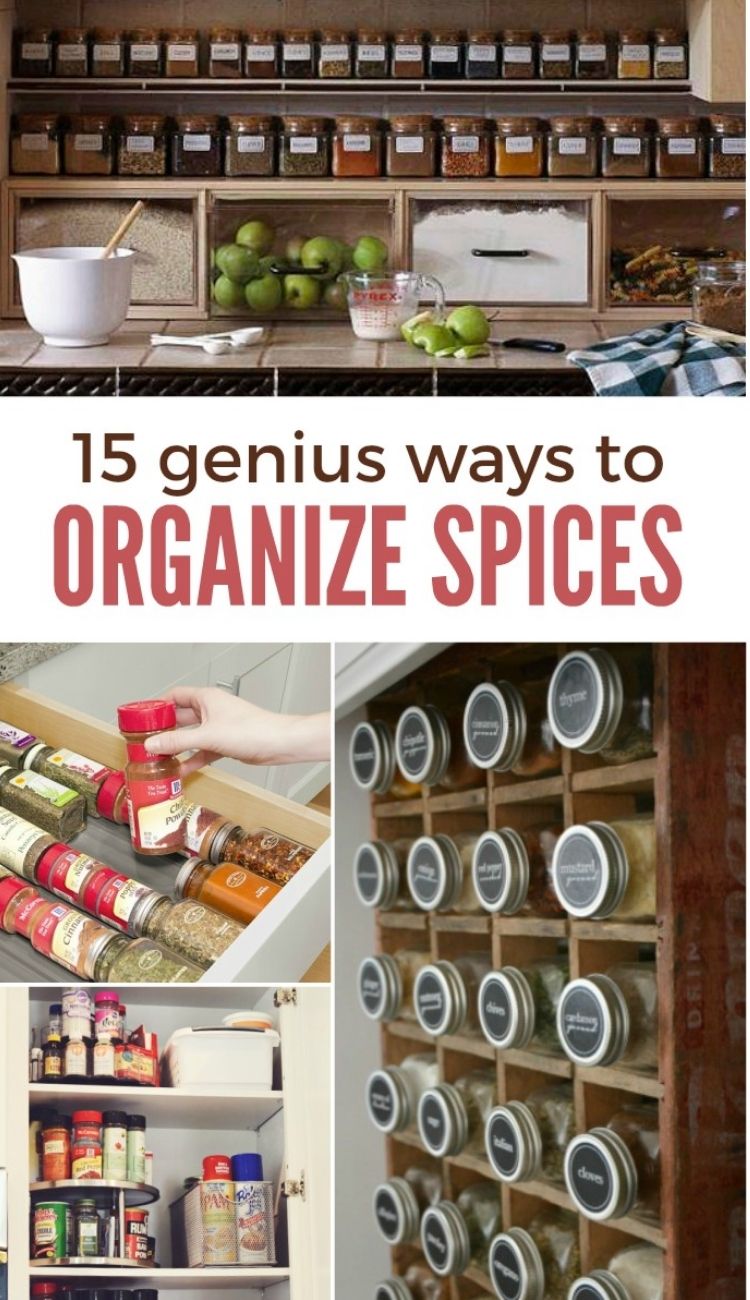 Smart Ways We Found To Organize Your Spices
We have found 15 smart ways to organize your spices that we are confident will inspire you to pull out all those spice bottles and find a system that works for your kitchen. And if you are looking for something to do with some old spice racks, we have that covered, too.  Baking spices are one of those things you absolutely need when you need them!  But in between time, you might forget about them.  These spice storage solutions will help those glass spice bottles, spice blends bottles and individual spices be found in a second when you need them and stay out of the way when you don't!
Oh, and as for the expiration dates being 5 years overdue…this will help you there too!
1. Organize Your Spices In An Old Crate
Don't you just love the look of an old historic crate? You can just see all the stories in the wear of the crate. This crate from the Dr. Pepper company looks fabulous filled with these small, beautifully labeled spice jars. She created these free printable spice labels that you can add to the tops of your custom jars. We encourage you to take a trip to your local thrift shop, you might just find a gem like this one. Isn't this spice rack idea fab? We think so too!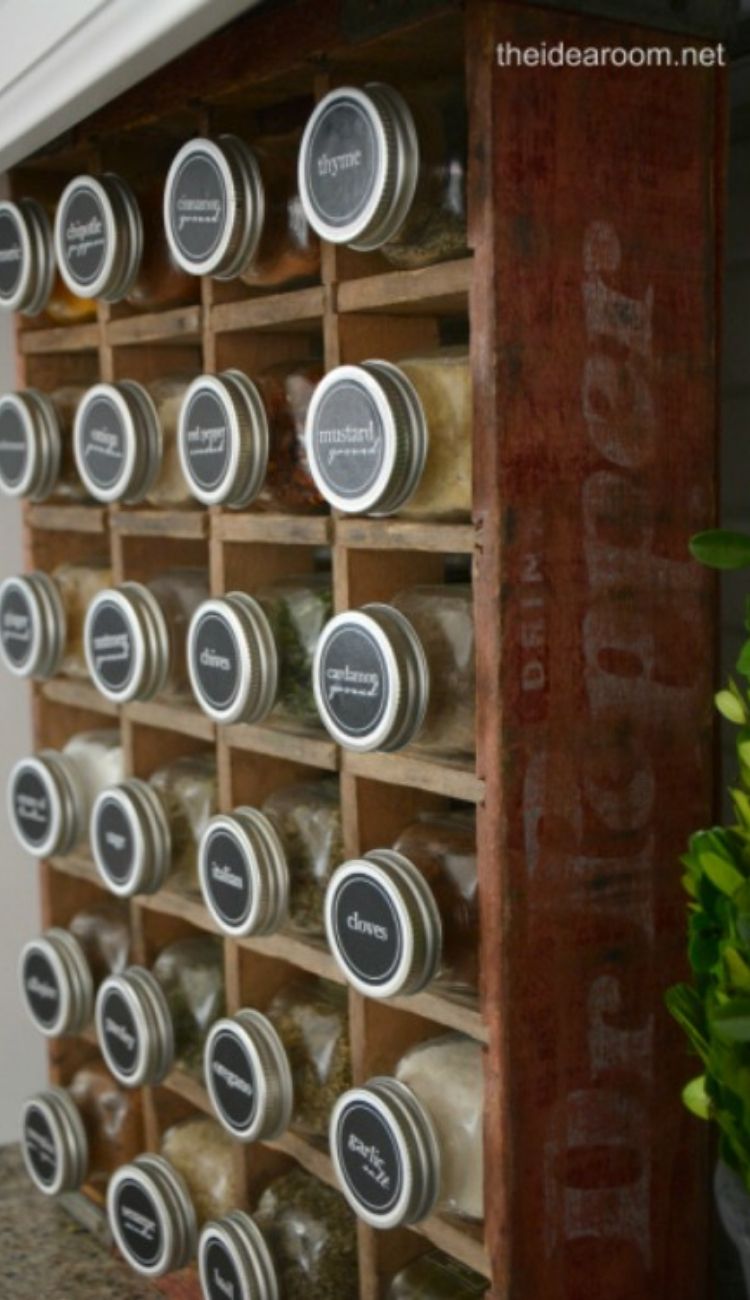 2. Organize Your Spices In Metal Tins
Small metal tins are so perfect for organizing things. Why not organize our spices with them? We love these spice tins, and they stack so easily and neatly on one another and it turns into the cutest of all spice rack ideas. The customizable black labels are a cute touch as well and easy to change the wording if you need to. Keep in mind, if you decide to go this route when organizing your spices, you'll want to put your most-used spices on top for sure. Digging to the bottom of the stack will not be ideal for a popular spice. Or may we suggest getting one of the tiered spice racks… we listed that link below in tip #11.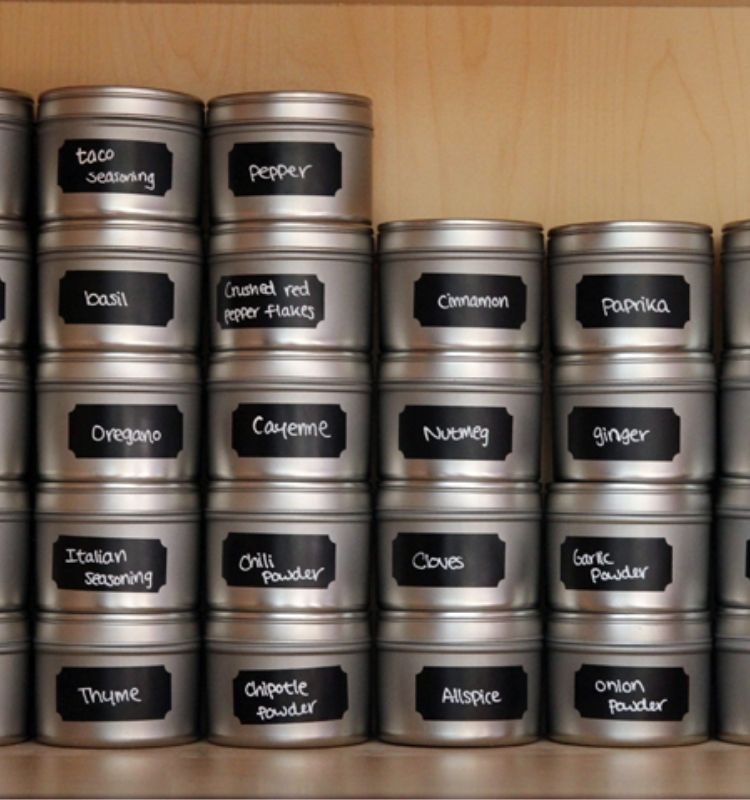 3. Your Spices Organized In Wire Baskets
Do you need to squeeze your spices into a small kitchens spaces? For a simple solution, we got you covered on this one. This pantry spice organization idea is so clever and such good use of the space. She made the most of the unused wall space by attaching these small wire baskets to the wall and putting her spices in them. These wire racks are inexpensive and we love the idea of using the space up to the top of the wall to maximize your storage. It looks like it was meant to be there all along.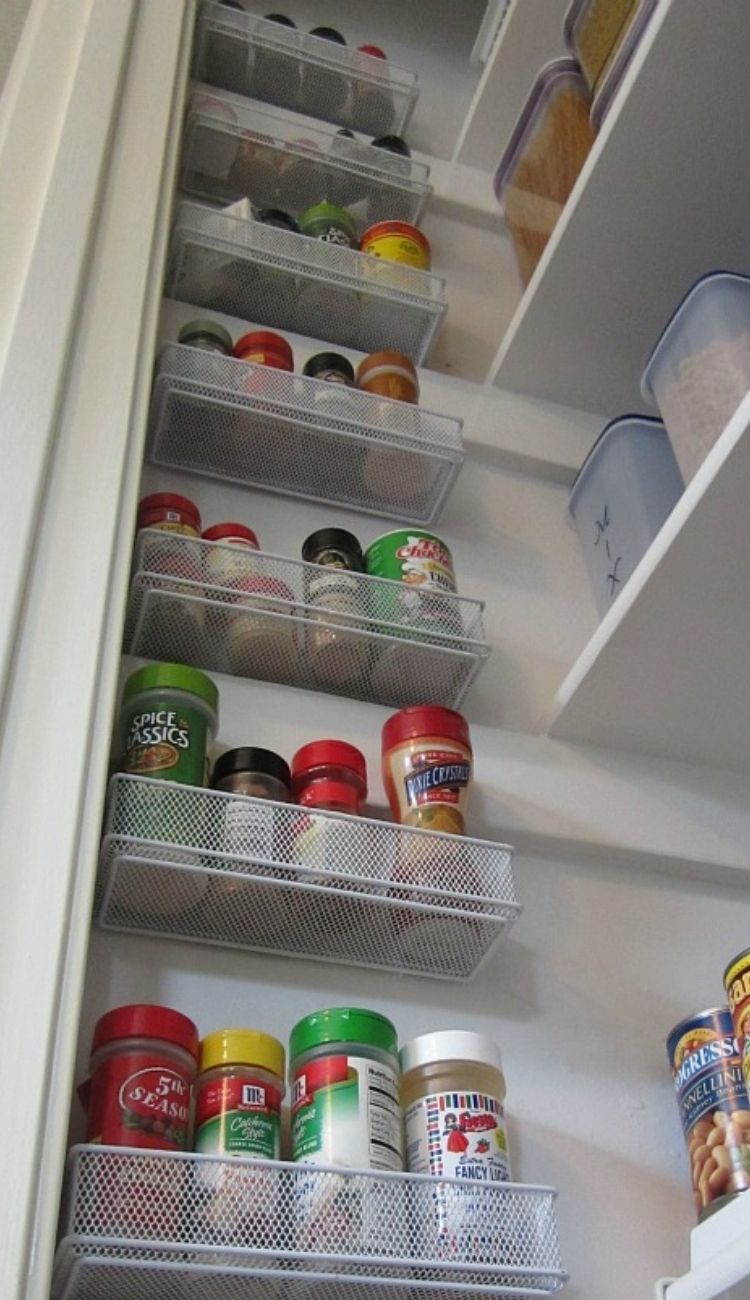 4. Organize Your Spices With Spiceliners
Drawers are a great place to store your spices but you don't want them rolling around inside in the dark place. We found this spiceliner idea and it is a fantastic way to organize those spices in a kitchen drawer. The drawer inserts keep the bottles from rolling around inside the drawer and it is easy to remove and clean when necessary. These liners can also be cut down to custom fit your drawer perfectly as well.  This means you can grab the spices you need with ease: red pepper flakes, garlic powder, oregano, cinnamon, cloves, basil, ginger, nutmeg, cumin, bay leaves or any other herbs you need at your fingertips.
5. Spice Organization With Baby Food Jars
When there is a baby in the house, we tend to end up with a lot of empty baby food jars that we just don't know what to do with. Paper clips? Tacks? Extra screws? How about your spices?! We love this idea to organize your spices with baby food jars! Fancy them up a bit by painting the lids and adding pretty, custom labels to them. They will not only look amazing but so functional as well. What a perfect way to upcycle those jars and keep them out of the landfill!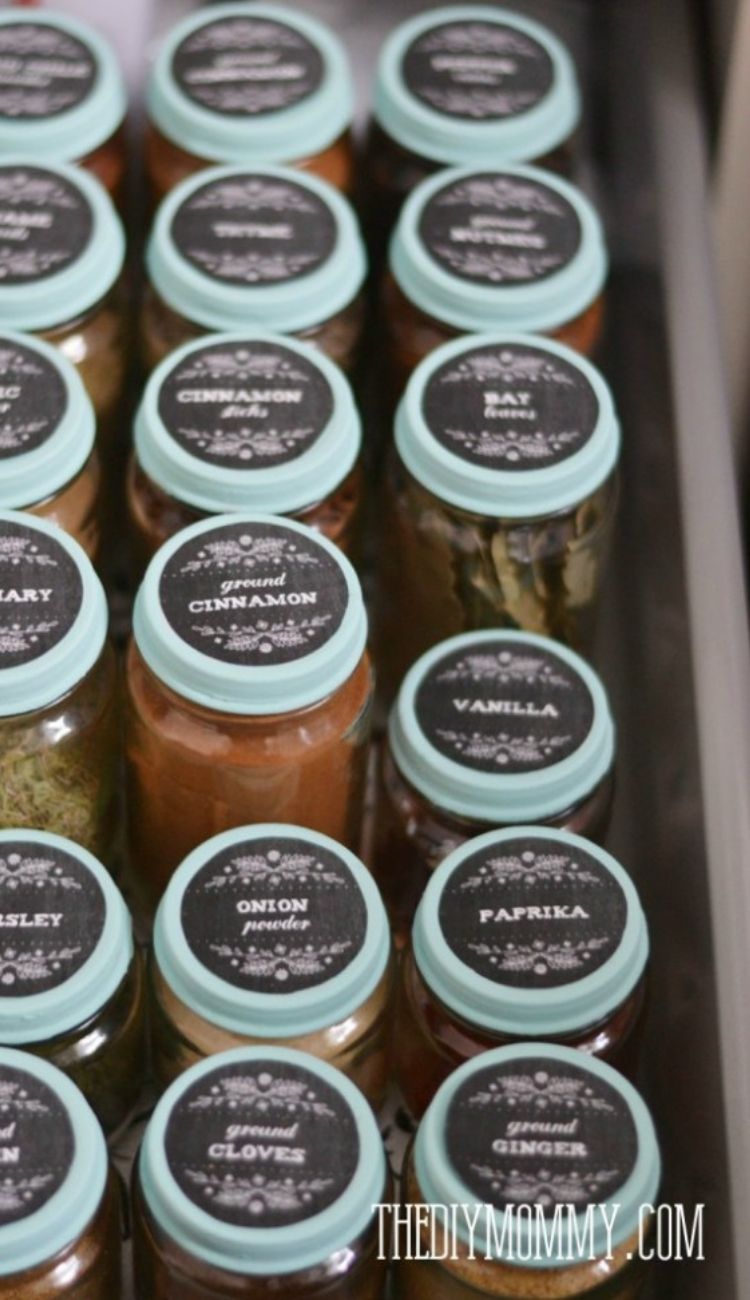 6. Organize Your Spices In An Old Orange Crate
One of our contributors made this rustic-looking spice box from an orange crate. So simple, yet so effective. We love the added paint and word stencil making it a one-of-a-kind storage bin for your spices. Make more than one if you can and line them up on the shelf for more storage. Take it a step further and get matching jars with custom labels on top to see your spice selection more easily.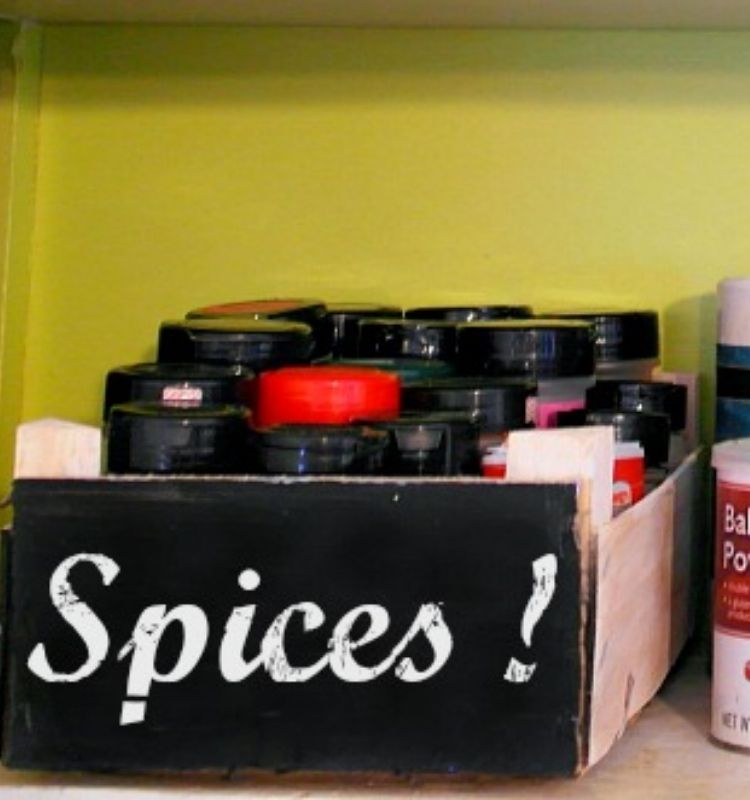 7. Organize Your Spices With An Individual Spice Cabinet
Are the kitchen cabinets overflowing with other items that you have absolutely no space for your spices? You don't have to give up any cabinet space at all to store your spices. This genius DIYer made an individual spice cupboard that attaches to the end of her cabinets. With the see-through door, it not only looks cool but shows what you have on hand easily. If you have the additional space, attach two of these to make even more spice storage. We think this is just brilliant!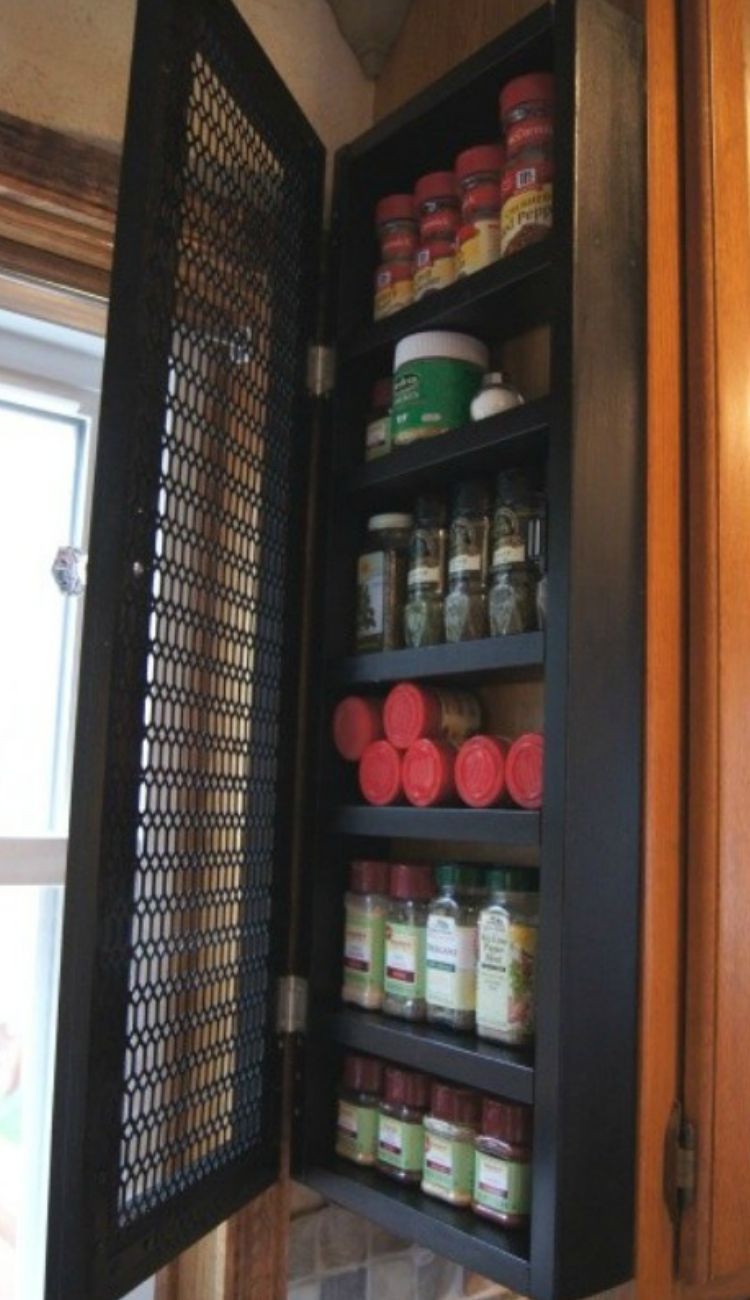 8. Spice Organization With A Rolling Rack
Some of us are space-challenged. For those tiny kitchen spaces, this slim sliding spice rack is just pure gold. You can squeeze it in between the fridge and cabinets or any space it will fit, and pull it out when you need it. It tucks away nicely and can coordinate with the existing cabinets like it was meant to be there. We love that it has the capacity to hold a large number of spice jars too.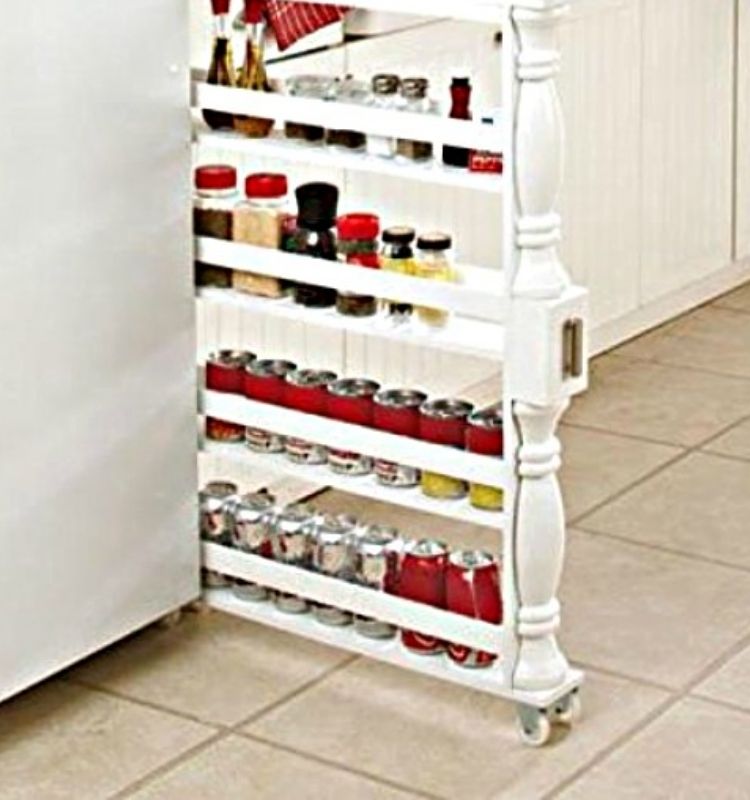 9. Organize Your Spices With Test Tubes (Yes, You Read That Correctly)
This test tube spice rack idea is so creative. It gives an earthy look to your space that we just adore. It would be perfect for an RV or a getaway home where you are not there frequently enough to use full-size containers of spices before they go bad. You can also make the wooden holder as big or small as you need depending on your space. We just love this one and are sure you will too!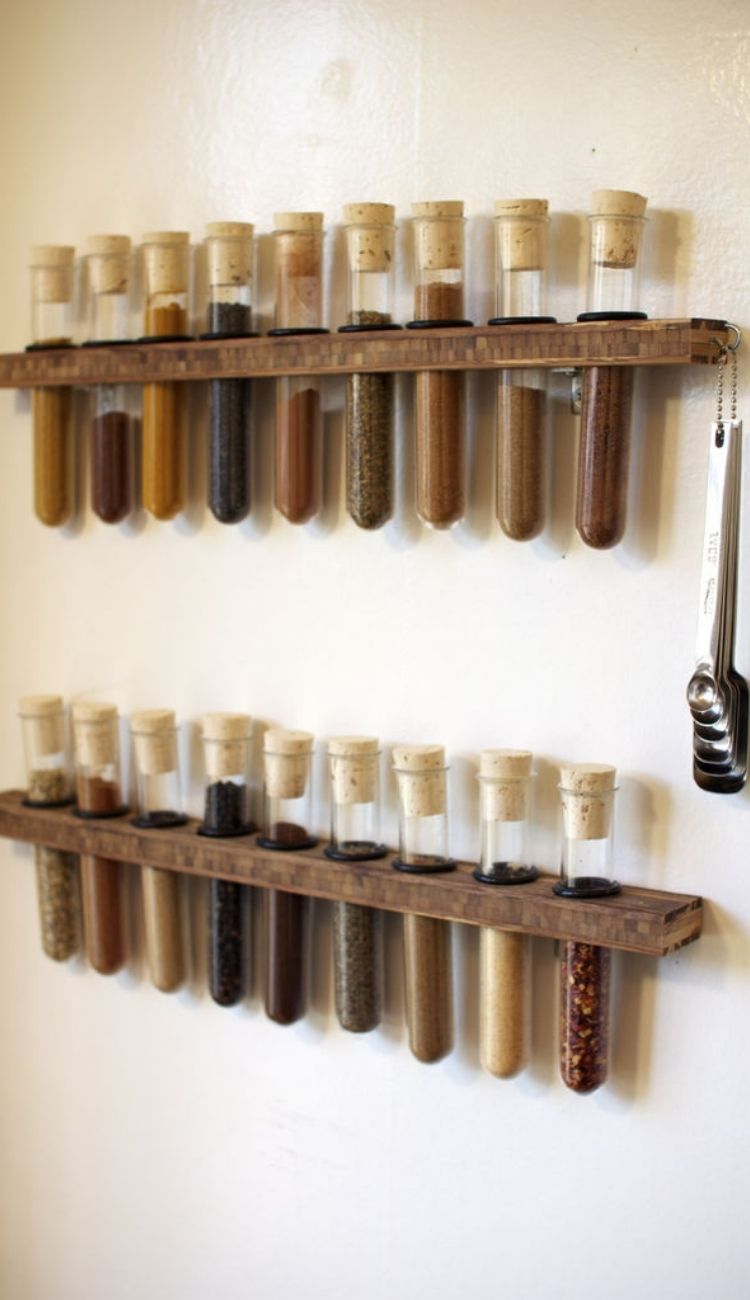 10. Organize Your Spices With Bins
I don't know about you, but I find garlic skins in my cupboard all the time. They seem to get everywhere. Bins like this one work great to keep them organized and from making such a mess. Use them for other items in the pantry too like your onions and potatoes. The bins are easy to clean and most of the ones we found are also dishwasher safe. Bonus tip: get stackable bins to store even more!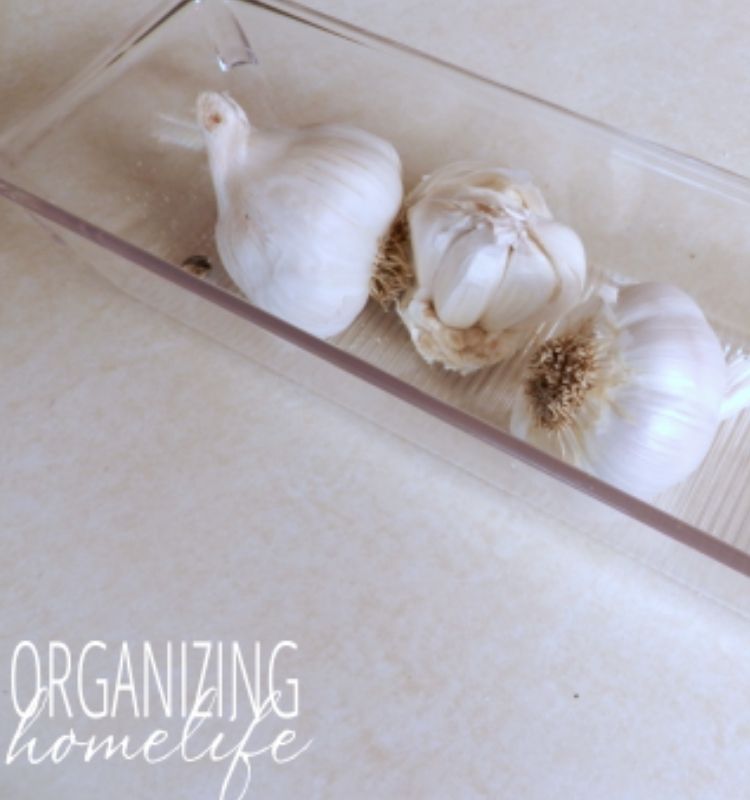 11. Organize Your Spices With A Tiered Rack
If you must keep your spices inside one of your cabinets, save space by using a tiered spice rack rather than keeping them all on one level. Not only is it so much easier to find the spice you need at a glance, but you will also find you can store so much more this way. Get two of these if you have the room in your cabinet. That will allow you to use the maximum amount of your space in the cabinet.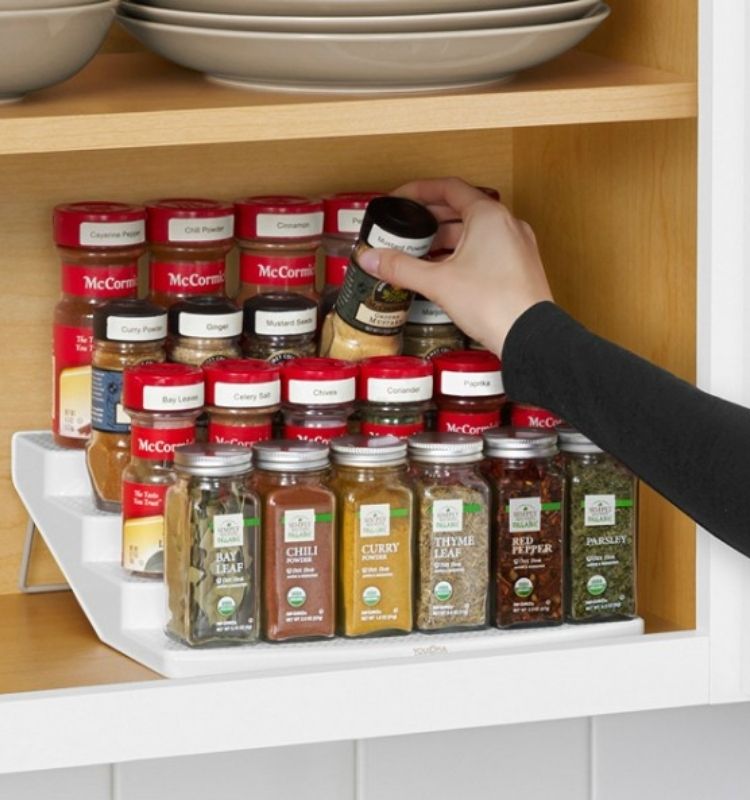 12. Organize Your Spices Under The Kitchen Cabinets
Here's another way to keep the spices out of your cabinets: Put them beneath the kitchen cabinets on these convenient, slim shelves. You can even stack the shelves on additional storage bins for other pantry items like your flours and sugars. What a beautiful idea that looks incredible in your kitchen and it is so easy to access what you need when you are preparing a meal! Your guests will be asking you how you did this!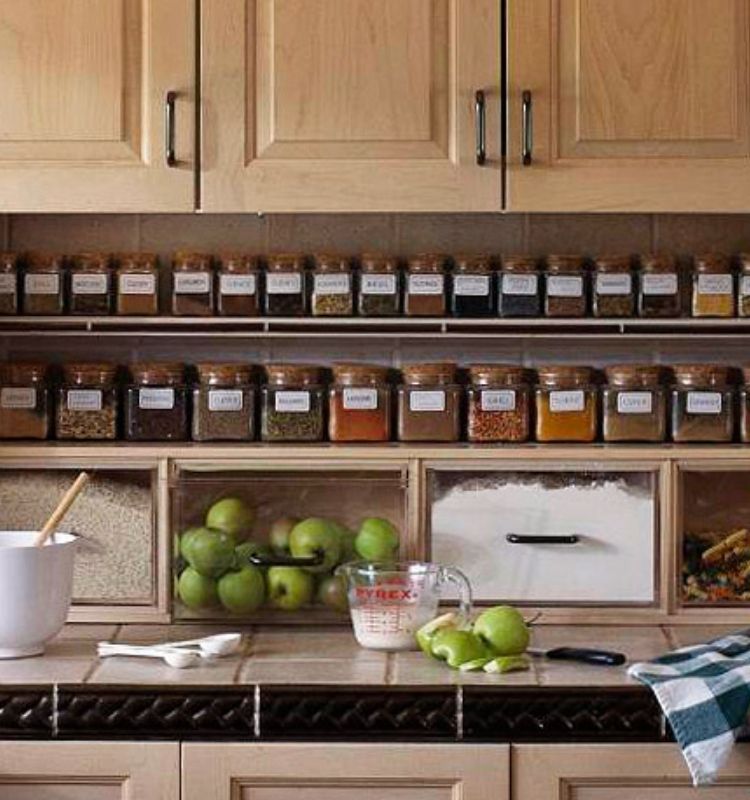 13. Organize Your Spices With A Lazy Susan
Did you forget about the infamous lazy susans?! We didn't! There are so many uses for these handy gadgets and organizing spices is one of them. They are terrific for finding exactly what you need without pulling out every spice you own (and forgot you owned) to find what you are looking for. Get a stackable version like the one below and you can store even more spices. These also look great on a countertop if that is the only space you have for storage.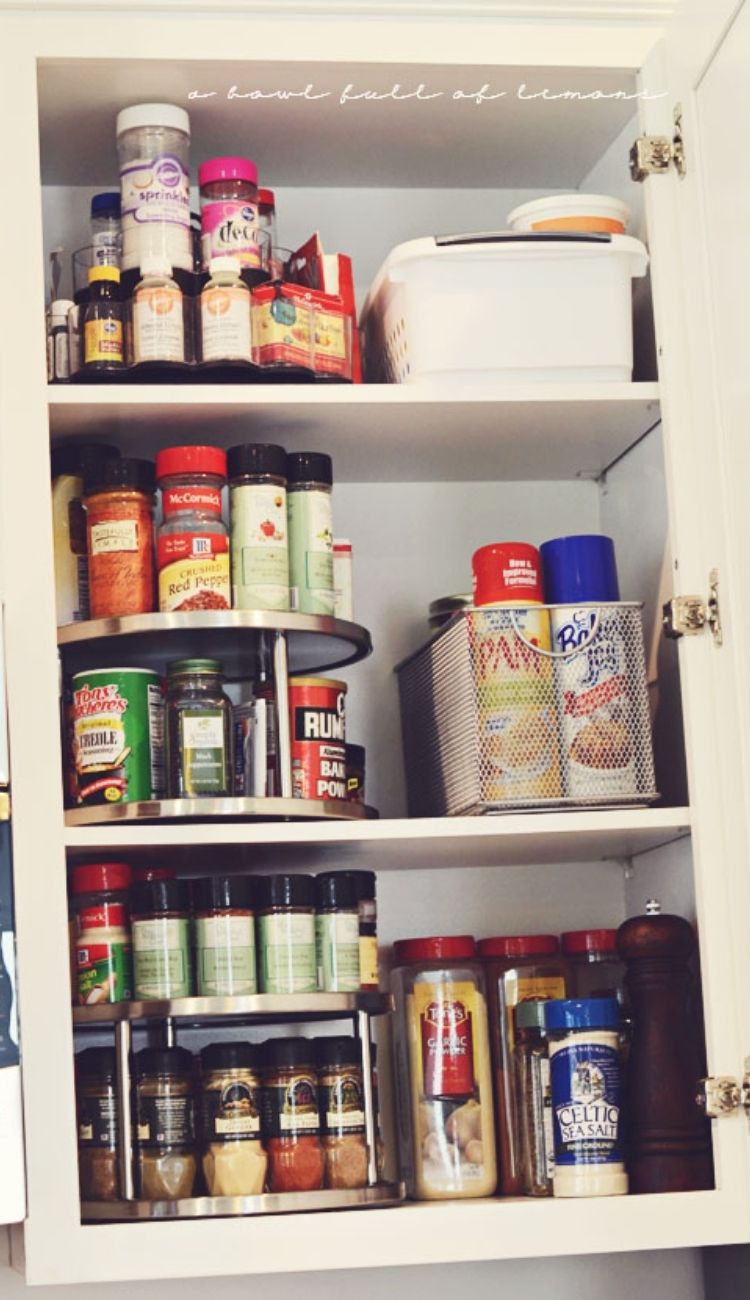 14. Customize Your Spice Organization
Maybe you are looking for something more custom-built for your kitchen? You will love this idea we found! Follow this tutorial to create an easy spice drawer organizer that can be customized to fit any size drawer. It is beautiful and can be perfectly placed right next to the stove where you need it most for easy access. The total cost of this project was very reasonable and the end result looks amazing!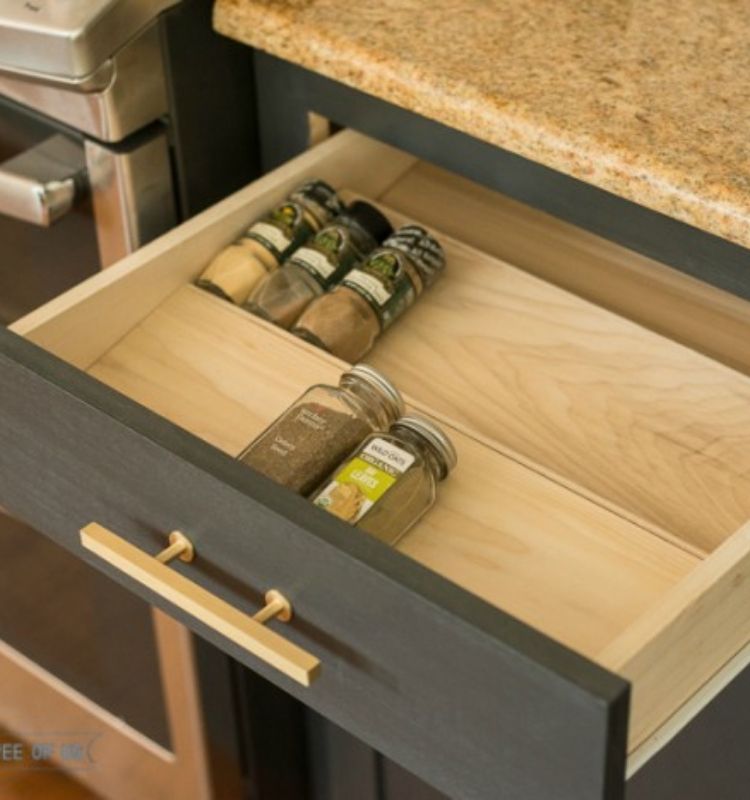 15. Organize Your Spices With Cooling Racks
This clever DIYer bent and twisted cooling racks to turn them into cheap spice racks. Say what? Why didn't we think of this?! She gives detailed step-by-step instructions that are easy to follow and the final product is perfect for your spices. And did we mention these project materials are dollar store items? The whole project cost only $3 to complete! We say that this one is genius.
He who controls the spice controls the universe. – Frank Herbert
Now that the spices are in order, want more kitchen and pantry organization ideas and tips? Check out these posts: