Do your spices fall out of the cabinet when you're looking for the one you need? Do you end up buying duplicates because you think you're out, when really, you just can't see your inventory? We've been there! We've found 15 smart ways to organize spices that'll inspire you to pull out all those spice bottles and find a system that works for your kitchen. And if you're looking for something to do with old spice racks, we have that covered, too.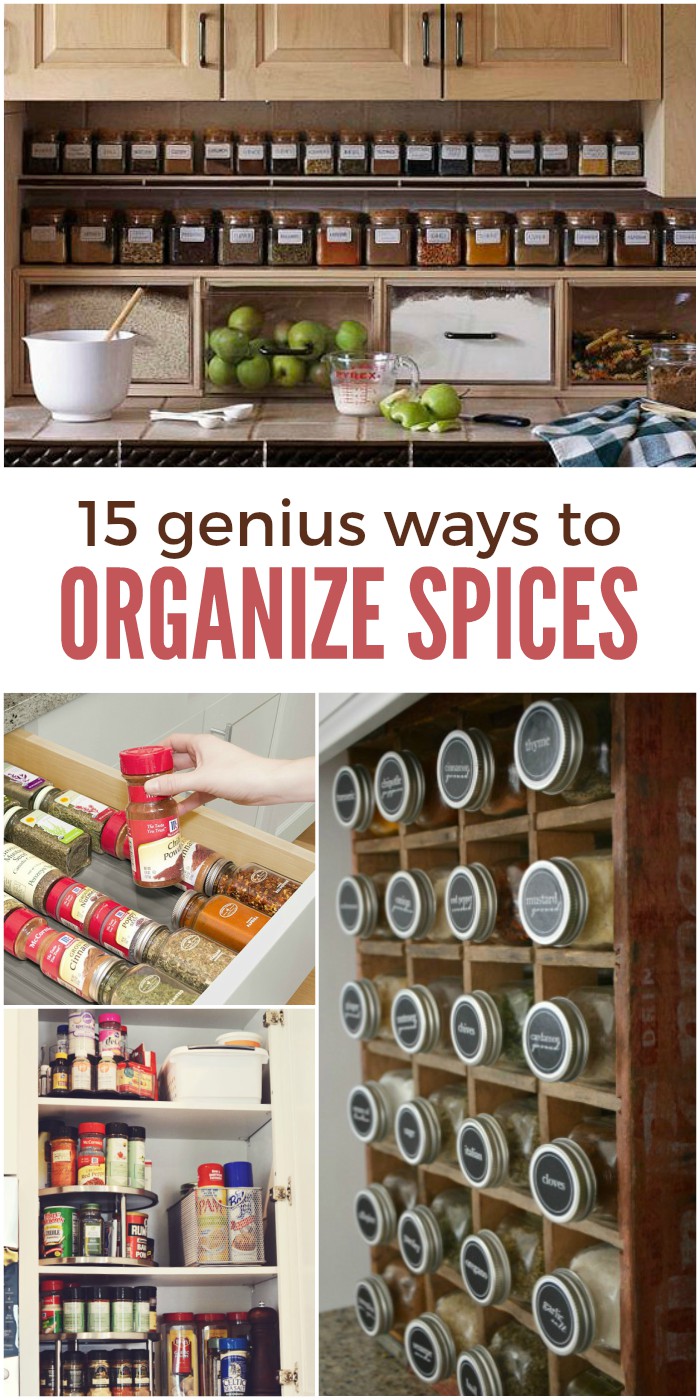 Smart Ways to Organize Spices
This old Dr. Pepper crate looks fabulous filled with small spice jars from Target. And she created free printable spice labels to go with them that you can add to the tops of your own jars. Isn't that fab?
I love these little spice tins, and they stack so neatly on one another. The black labels are a cute touch as well. I wonder if they fall down easily? If you go this route, you'll want to put your most-used spices on top for sure or get one of the tiered spice racks (linked below).
Need to squeeze your spices in a small space? This pantry spice organization idea is so clever. She made the most of the unused wall space by attaching small wire baskets to the wall and putting her spices there.
If you only use a handful of spices, this spiceliner idea for a draw may work just fine for you. It keeps the bottles from rolling around inside the drawer.
Want a free spice organization solution? Try baby food jars! Fancy them up a bit by painting the lids and adding pretty labels to the lids.
One of our contributors made this rustic looking spice box from an orange crate. Simple, but effective.
You don't have to give up any cabinet space at all to store your spices. This genius lady made a spice cupboard that attaches to the end of her cabinets.
For tiny kitchens, this slim sliding spice rack is pure genius. Just squeeze it between the fridge and cabinets, and pull it out when you need it.
This test tube spice rack would be perfect for an RV or getaway home where you're not there frequently enough to use full-size containers of spices before they go bad.
I don't know about you, but I find garlic skins in my cupboard all the time. I don't know why I never thought to put it in a slim bin like this one to keep it from making such a mess.
If you must keep them inside one of your cabinets, save space by using a tiered spice rack rather than keeping them all on one level. It's so much easier to find what you need when your spices are tiered.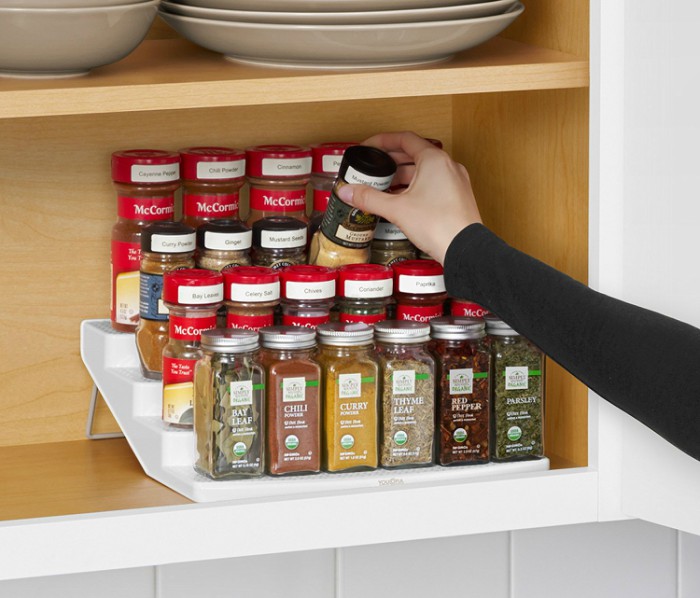 Here's another way to keep the spices out of your cabinets: Put them beneath the cabinets instead on pretty, slim shelves.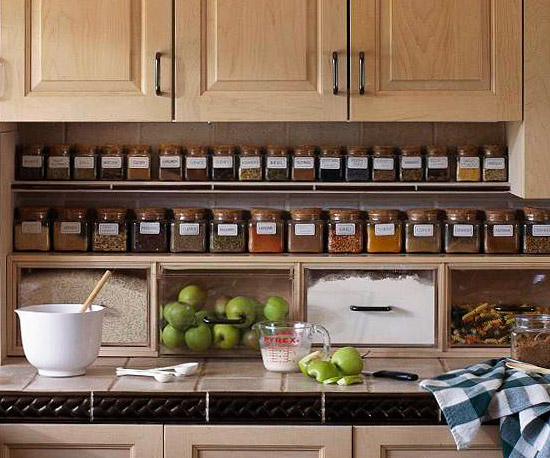 Don't forget about lazy susans! They're terrific for finding exactly what you need without pulling every spice you own out of the cupboard.
Follow this tutorial to create a spice drawer organizer that can be customized to fit any size drawer.
This clever DIYer bent cooling racks to turn them into cheap spice racks. I never would have known that they were cooling racks before!
Want more kitchen and pantry organization ideas? Check out these posts: