They're holding up your shower curtain, if you have one. You probably even have some old ones lying around in your junk drawers. As it turns out, shower curtain rings and hooks are incredibly useful all around the house… not just in the bathroom. And at only a couple of books per dozen rings (for the cheap ones, anyway), they're a frugal tool in your organizational arsenal. Here are 16 surprising ways to use shower curtain rings in your home.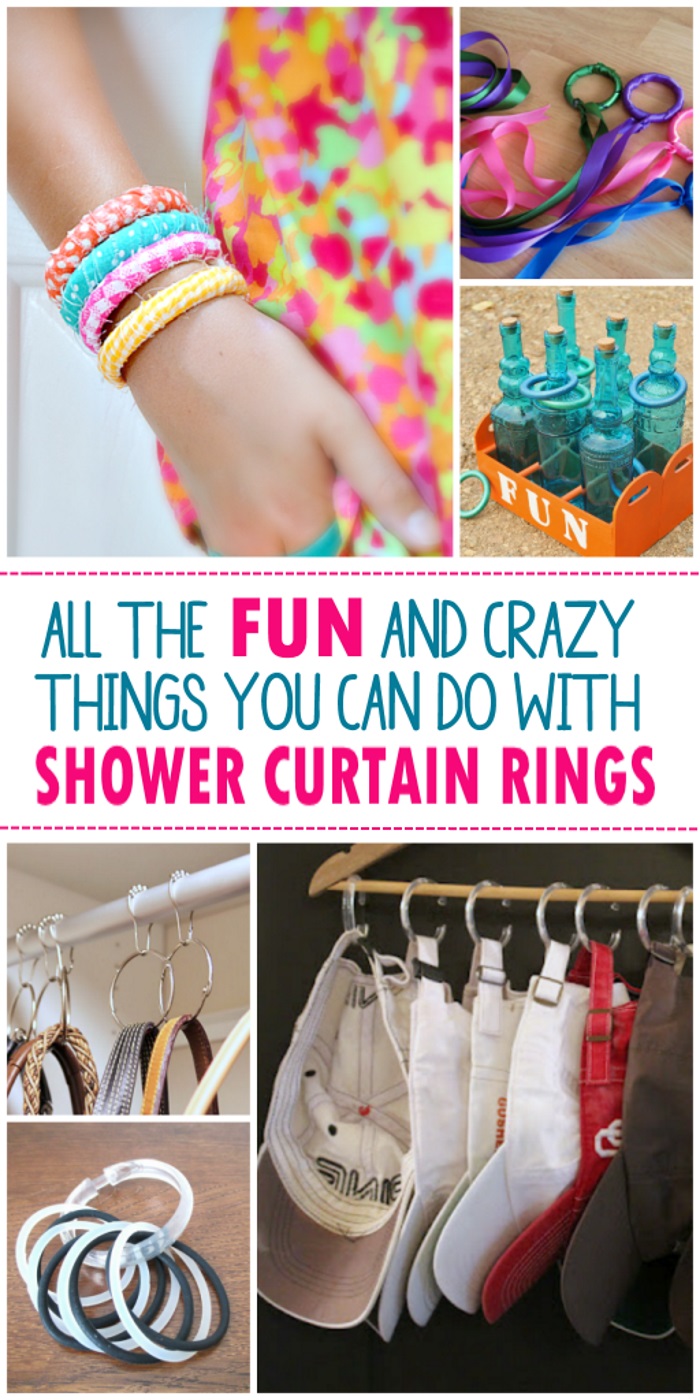 Surprising Uses for Shower Curtain Rings
Create cute bracelets for yourself or your kids. Wrap with fabric, ribbons, etc. The options are endless!
Make an impromptu ring toss game for your kids or for a party using shower curtain rings and bottles.
Hosting a formal dinner? Make the perfect napkin rings for the occasion. Embellish them according to your party theme.
Are you the crafty sort? Organize and hang your ribbons on shower curtain rings.
Get your purses off the floor of your closet. Hang them with shower hooks and rings instead!
Ways to Use Shower Curtain Rings
Add a shower ring or two to the handle of your dishwasher or oven to let your dish towels dry out between uses.
Organize your hat collection with shower curtain rings and a clothes hanger. Note: You may need to glue the shower curtain rings in place to avoid them toppling to one side.
Always losing your hair elastics? Keep them all together on a shower curtain ring! Just don't lose the ring…
Use several to hang your jewelry to prevent tangling.
They're the perfect size for making mini wreaths to decorate your Christmas tree or to use as place settings.
Your kids will love these ribbon rings for dance and play.
Clever Shower Curtain Ring Hacks
For practical storage in the shower, hang baskets from shower curtain rings to an extra shower curtain rod to store soaps, shampoos and loofahs. Add one down low for the kids' bath toys!
Use shower curtain rings to hang those cute little baby shoes. (And try not to get baby fever when you look at those cute little boots!)
Recycle old shower curtain rings to make an alphabet and sight word toy for your kids.
Hang your belts on shower curtain rings for easy storage. Organize them by color, width or any other system that makes sense.
No space in your drawers for your bras? No problem! Store them on shower curtain rings to help them hold their shape.
Want a Daily Dose of Hacks?