They're holding up your shower curtain if you have one. You probably even have some old ones lying around in your junk drawers. How big was my surprise when I found out that shower curtain rings and hooks are incredibly useful for all around the house… not just in the bathroom! At only a couple of bucks per dozen rings (for the cheap ones, of course), the rings can easily become an essential tool in your home organization arsenal. Here's a list of 16 surprising ways to use shower curtain rings in your home.
16 Surprising Uses for Shower Curtain Rings That Will Make Your Family's Life Easier
In this list, we've tried to include some of the most unexpected ways to use shower curtains in your daily life. You might want to save this list of ideas for later reference because some of these hacks are just genius!
Read below and check out for yourself!
1. DIY Bracelets For The Kids And You
If your kids are interested in crafting, this idea is a simple and easy way to keep them busy and doing something fun.
Create cute bracelets for yourself or your kids. Just grab your spare set of shower curtains and pretty much anything else you have on hand to decorate them.
You can easily turn it into a small recycling project, too. Try wrapping them with scraps of fabric, leftover ribbons, yarn, etc. The options are endless! And they would make great handmade gifts or friendship bracelets, too!
2. Improvised Ring Toss Game To Do At Kids' Birthday Parties
Hosting a young kids' birthday party? Let me guess: the food is devoured in mere seconds, there are pieces of gift wrap all around the house and the children are running wild. Yep, it's time to find a way to keep them busy for a while before the cake arrives.
So, here's a no-prep fun game to set up in under a minute. Make an impromptu ring toss game for your kids or for a party using shower curtain rings and bottles. Get the kids to team up with a pal and play in teams. This will add some additional time for you to prepare for the big surprise.
3. Boho DIY Napkin Rings That No One Would Believe Are Actually Shower Curtain Rings
Hosting a formal dinner? Make the perfect napkin rings for the occasion. But because I love boho and tropical themes (and I always have burlap at home…), I couldn't miss showing you these simple but so elegant napkin rings.
Embellish them according to your party theme. And think outside the box – add flowers, feathers, or anything else that would suit your dinner theme.
4. A Brilliant Way To Organize Ribbons With Shower Curtain Rings
Are you the crafty sort? Do you make wreaths? How do you store your ribbons?
As a mom and a crafter, we usually have very limited time to do practice our hobbies. That's why keeping all of your supplies organized and stored well is key to work quickly and efficiently.
If you're looking for a way to put your ribbons in order, try hanging your ribbons on shower curtain rings. So simple!
5. Use The Shower Rings From Your Bathroom To Hang Your Handbags In Your Closet
You know what they say…
"Clutter is not just the stuff on your floor – it's anything that stands between you and the life you want to be living."

~ Peter Walsh
This means it's time to get your purses off the floor of your closet. If you're running out of space, don't worry! Just hang them with shower hooks and rings instead!
6. Use Shower Curtain Rings To Hang And Dry Towels On Your Dishwasher Handle
Do you use multiple towels in your kitchen, too? Tell me I am not alone! What usually happens, is that we plan hangers only in one place in our kitchen, while we actually need and use them in several spots. But there's an easy fix and you don't even need to make new holes for hangers.
Add a shower ring or two to the handle of your dishwasher or oven to let your dish towels dry out between uses. Easy to reach and perfect to dry them out! Woohoo!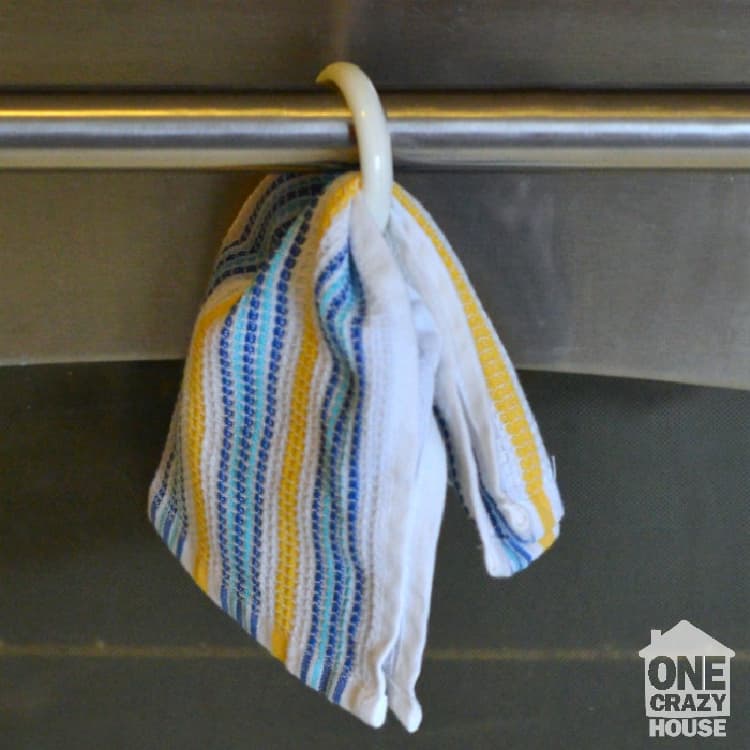 7. Use Shower Curtain Hooks And A Hanger To Organize Your Hats
Are you on the look for a way to put your kids' hats in order? I stumbled on this great idea you might like, too!
Organize your hat collection with shower curtain rings and a clothes hanger. Note: You may need to glue the shower curtain rings in place to avoid them toppling to one side.
8. Never Lose A Hair Elastic Again By Keeping Them On A Shower Curtain Rings
Always losing your hair elastics all the time? Or do your daughters have hundreds of thousands of them and you need to put some kind of order in their hair styling tools drawers?
Try to put them in order with a few shower curtain rings! Sort them by style, colors, or whatever way you could think of. It's so easy! All you need to do to keep them all together is to put them on a shower curtain ring!
Just try not to lose the rings…
9. Organize Your Necklaces In A Practical And Beautiful Way
Are you a necklace junkie? I know I am… I own so many necklaces that storing them in a jewelry box was just not a good option anymore.
While I was looking for a solution, I found this incredibly simple way to store necklaces just by using a rod and shower curtain hooks. Use several to hang your jewelry to prevent tangling. Sort them by color and rock with your favorite accessories again!
10. Make The Most Adorable Christmas Mini-Wreaths By Using Shower Curtain Rings
Christmas time is my favorite time to craft! Wonder why? Because there are SO MANY things you can make and (usually) the kids are in a crafty mood all the time, too. One afternoon, while looking for fun projects to do with the kiddos, I stumbled on this idea and instantly fell in love!
And the main item you need for your project is shower curtain rings. They're the perfect size for making mini wreaths to decorate your Christmas tree or to use as place settings. And it's an activity you can do with smaller kids, too!
11. DIY Ribbon Rings For Your Kids To Dance And Play
Don't you just love how much fun the kids are having, when they pretend-play as dancers and gymnasts? Help your kids with their imaginary games by providing them with play requisites that will give them hours of fun!
Your kids will love these ribbon rings for dance and play. They are very simple to make. In fact, making them with your kids will make the project even bigger success. And I promise that the dance routines you'll see will be worth recording.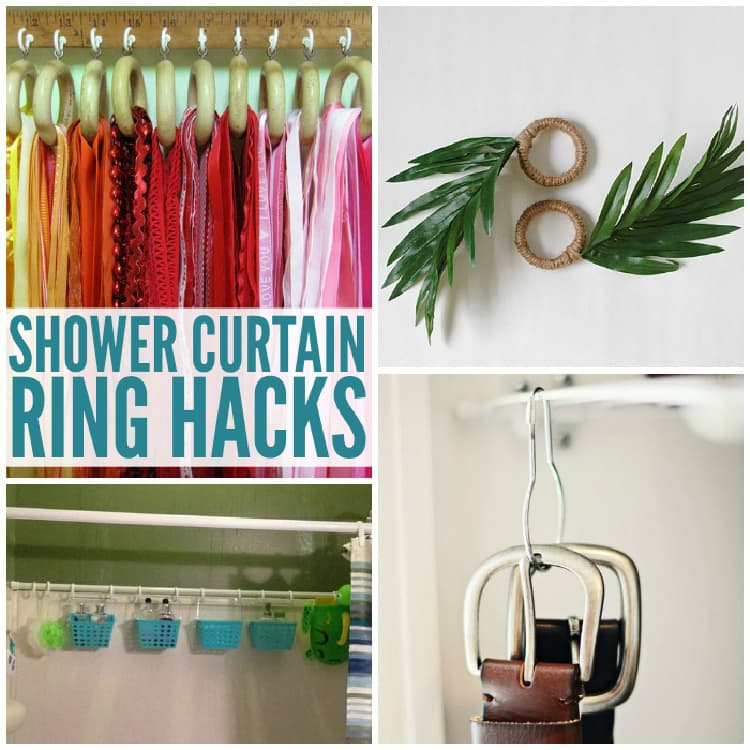 12. For Some Extra Storage Space In Your Bathroom – Add A Second Shower Curtain Rod With Hooks
For practical storage in the shower, hang baskets from shower curtain rings to an extra shower curtain rod to store soaps, shampoos, and loofahs. Add one down low for the kids' bath toys!
13. Organize Those Adorable Baby Shoes On Shower Curtain Rings
Small shoes could be a challenge to organize. They are also too small and too cute to be kept stuffed in shoe boxes.
Use shower curtain rings to hang those cute little baby shoes. (And try not to get baby fever when you look at those cute little boots!)
14. Learn And Practice The Alphabet With Your Kids Using Shower Curtain Rings
I love spending quality time with my kids but I also need them to be able to have fun by themselves, so I could prepare dinner or deal with the neverending piles of laundry. That's why I am always on the look for fun educational activities, that are really easy to set up. And this one is a hit!
Recycle old shower curtain rings to make an alphabet and sight word toy for your kids. They can practice so many things with this toy, like:
Sorting the alphabet in order
Writing their names
Writing short words
practice sight words
etc.
15. Use Shower Curtain Hooks To Hang And Store Your Belts
Do you own a lot of belts? Are you storing them in a way that they're easy to see and easy to get? Here's a simple way to do it!
Hang your belts on shower curtain rings for easy storage. Organize them by color, width, or any other system that makes sense. Easy-peasy!
16. Keep Your Bras On A Hanger With Shower Curtain Rings
No space in your drawers for your bras? No problem! Store them on shower curtain rings to help them hold their shape. Even though the thought might seem crazy to you at first, I promise, the result is great!
By hanging your bras on bathroom curtain hooks, you keep them from losing their shape by being squished in between other clothes and they are easy to find. Real win!
In Conclusion
Aren't some of these ideas just pure genius? Simple and so effective! Or impressive, like the "Alphabet and Sight Word Toy" from shower curtain rings under number 14 in our list. So many of these are worth trying out right now!
Are we missing something a cool way to use shower curtains in our list? Let us know in the comments section! Someone might be looking exactly for your genius.
Did you like these clever shower curtain ring hacks? Then, you're going to love these ideas, too: