Do you have old CD cases lying around? You know, from the era when music was still not available just a click away on your phone? Bet you do… Since they are very rarely used anymore, we stored ours in catalogs and I was wondering what I could do with all those boxes! The hoarder living inside of me didn't want to throw them away, I just had to do something with them. And I dug deep online to create a list of all the CD case crafts you can do to satisfy the hoarder and the artist in you.
Some of these are genius! Others, you'll wonder how could you not think of yourself! In this post, you'll find the best uses for those old CD cases and everyone's gonna love how you gave them a second life!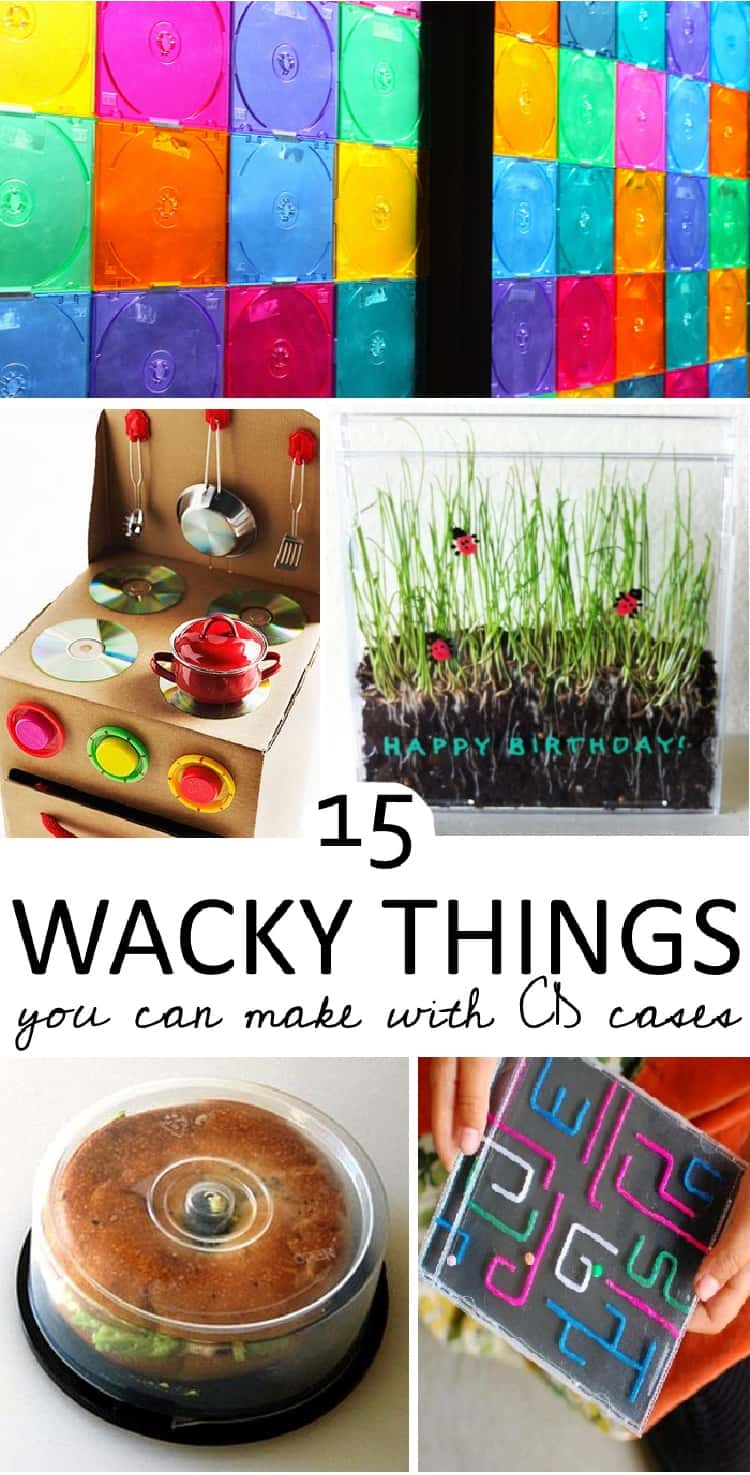 Clever Ways to Create CD Case Crafts
1. DIY Safe Stained Glass Window With CD Cases
If you have a collection of colorful DVDs and CD cases, and a room you want more privacy in, consider creating a fake stained-glass window using the CDs as a window covering.
Easy and effective! It's also a perfect solution for rentals where you are not allowed to make significant changes to the interior.
2. Cardboard Play Kitchen With CDs For Stovetops For Hours Of Fun For Your Little Kids
It's a wide-known secret that kids (and cats) love to play with boxes. So, if you happen to have a big cardboard box you are thinking about throwing away, you might want to reconsider doing that.
Instead, use old CDs and CD cases as accessories and an oven window and stovetop in a cardboard play kitchen that you make for your kids. Check out these instructables!
Needed Materials:
12x12x22-inch box
craft knife
cutting mat
thick rope
3 brads
3 Play-Doh lids
3 plastic caps
4 CDs
20×12-inch piece of cardboard
scissors
3 adhesive-backed kitchen hooks
Have in mind that most of the items in the list are easily replaceable with anything similar you have on hand at home for repurposing. And your little chefs will love it!
3. A DIY Living And Growing Birthday Card Everyone Would Love
Make a living display of art, while teaching kids how seeds germinate and grow. Recycle CDs the fun way! This CD case hack became a birthday card and a science lesson all rolled into one!
And it's super simple to make! Truly, a wonderful project to do with the kids. You can frame it as well.
4. Best CD Case Hack Ever – Use It As A Bagel Box
Do you love bagels? I mean, who doesn't? But a lot of the pleasure of eating a bagel is its fluffiness. Nom! So, carrying it for lunch in a sandwich bag can actually make your food less enjoyable. Well, not anymore!
Try this genius CD or DVD case hack. Transport your bagel to and from work or school in a CD case. It's just the perfect size and it will keep your bagel whole. Win!
5. A Complete Guide To A DIY Maze Puzzle To Keep The Kids Busy For Hours
When we were kids, these mazes were huge! We lost countless hours trying to get the small balls to get from point A to point B. Ahh, (finally!) getting them there was such a rewarding feeling! Do you wish your kids could experience this, too? I might just have found a cool way!
Make your own maze toys using those unwanted CDs and some wax string! It keeps the kids entertained and when they get bored, you can change the puzzle out and make a new one! You can use slim CD cases, or just any old CD jewel case you've got. These are great for those dreadful long car rides and plane trips with young children, too!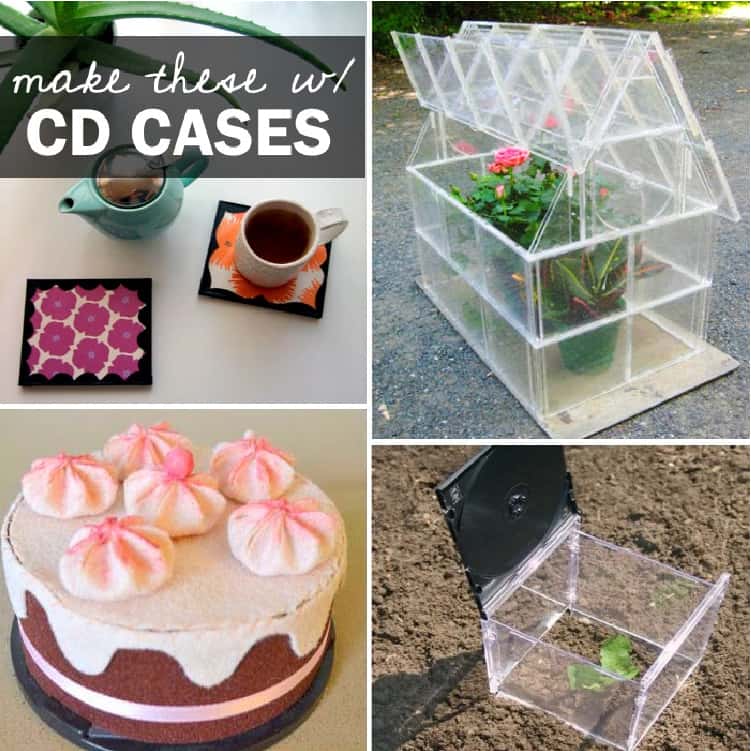 Things To Make With An Old CD Case When You're In A Crafty Mood
6. The Cutest DIY Drink Coasters From CD Cases You Didn't Know You Needed
A great way to add a colorful accent to your daily meal is a fun drink coaster. They will both keep your furniture from water circles and boost your mood at the same time.
If you're into decoupage, then you'd totally love these adorable coasters, made from paper-covered CD cases. How cute are these DIY projects?!
You can print out and use your own pictures or inspirational quotes, too! So many opportunities!
7. Greenhouse From CD Cases To Level-Up Your Greenthumb Skills
If you're even a bit like me, then you admire all types of creative solutions the handy people around the world make. Sometimes the imagination of some individuals just leaves me speechless! This is the case with this project.
A girl made a greenhouse for her roses out of a bunch of CD cases. This is probably the coolest CD hack I have ever seen! Ah, don't you just love seeing what amazing things you can create with just a little bit more imagination?
8. The Most Adorable Felt & CD Case Cake Every Play Kitchen Needs
If you have already made the play kitchen from idea #2, I'd highly recommend you make this cute addition to it!
Create a fake play cake made out of felt and a CD case! You'd be impressed by the simplicity of the project – it requires minimal sewing! But the result turns out so stunning, you'd be surprised yourself.
9. Reuse Old CD Cases As A Mini-Greenhouse That Your Plants Would Love
Looking for ways to upcycle a CD Case for your garden? Are you starting your early preparation for planting? We've got a great idea for you!
Here, theses DIY ideas just keep on coming. Consider making a mini-greenhouse to contain your growing plants. It's simple to make and you can reuse them multiple times per season and for multiple seasons, as the plastic is pretty durable. Awesome, right?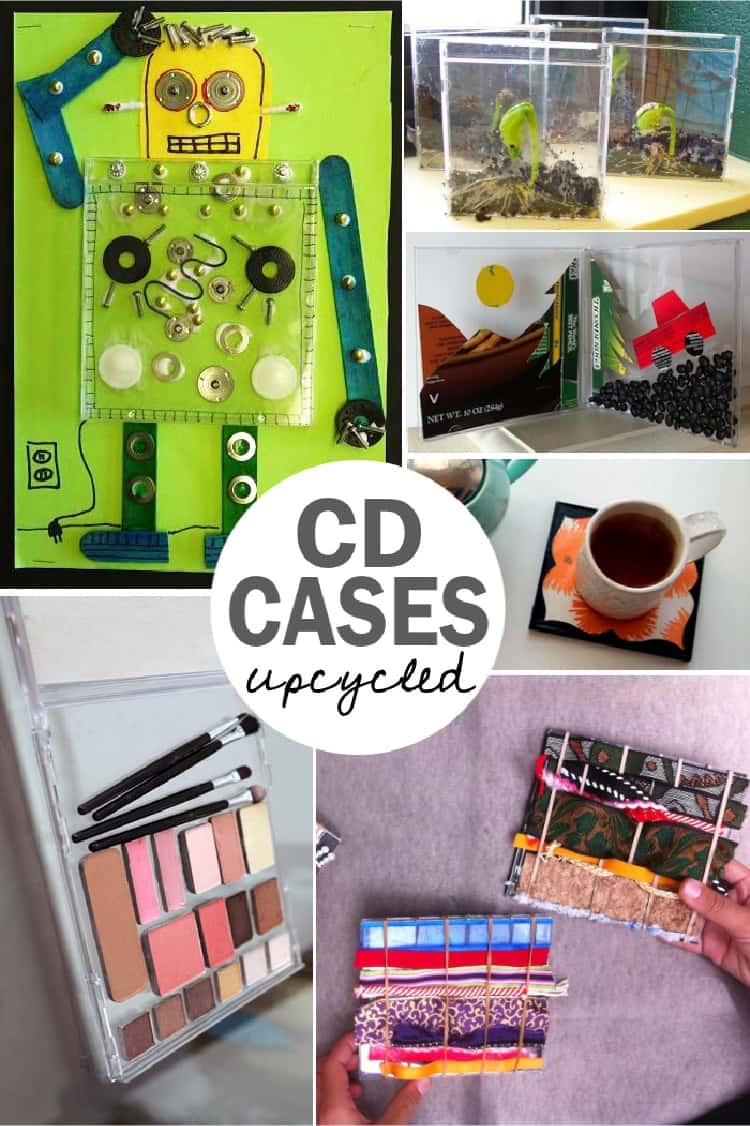 10. The Robot CD Case STEM Project Your Preschool Kids Will Love
Great CD case craft for kids who are into robots or technology! This is one of the best robot crafts I've personally seen online, not counting the movies, of course. The best part is that children can create these robots with minimal assistance from an adult.
Use a clear CD case as the body of a robot and draw the rest of him on the construction paper. Then, add bowls of metal washers, small bolts, plastic parts, and other small metal pieces. Be sure to secure them well and let the little ones have tons of fun!
11. Reuse A CD Case As A Mini-Greenhouse And Start Your Plants Safely In A Tiny Space
Instead of using a zip-lock bag to grow beans, try it in an empty CD case. It's so much easier for the kids to handle and observe because it's not able to be squished like a plastic bag would be. What a great science project to learn about the parts of a plant and watch the roots grow!
12. Simple Creative Projects For Kids – Create An Art Diorama From A CD Case
Are you looking for new ways to keep your kids quiet? If they're into crafts, here's an idea that you might have never thought of but will provide you with some quiet time and it will keep the children busy. Ready?
Create an art diorama from a CD Case – it's an art statement! You can get the kids to outline their images first, then cut and glue them to the CD case. This is a great fine motor practice and it will help your little ones improve their handwriting.
13. Genius Ways To Carry Your Makeup In Your Purse – DIY CD Case Makeup Palette
Every woman in the world knows that you never know when you're going to need your makeup handy! So, if you're in need of an on-the-go makeup palette, there's a simple solution for you!
How about one made out of an old CD case? Its small sleek design is perfect for a purse or diaper bag. The best part is that it will keep your makeup from getting messy, too. Sounds perfect, doesn't it?
14. A CD Case Calendar Craft Project To Do With Your Kids
If your kids and you are into crafting, I promise, you'll love this project! It's quick, easy and so simple, you're going to make it again and again!
Create a  CD case calendar to keep on your desk. It's small, you can put it literally everywhere because it takes up very little space and it very, very handy. And it makes a great handmade gift, too, especially around Christmas!
15. Turn A CD Spindle Into Your Dream Earring Stand Today
How many earrings do you own? Wait, I know the answer. A LOT! And I am sure you're keeping them stuffed in a box and you've forgotten about the existence of almost half of them.
But what if I tell you there's a way to store all of your ear jewelry in a handy and pretty way? Make your own CD Case Earring Stand and put in order all of your earrings! You can make more holes on the inside of the CD for studs, too. They'll be neatly organized and on display for you to use all the time.
CD Case Transformation is Fun!
Is your mind blown by all these amazing ideas for things you could do with a CD case? Some of them are so simple, it's shocking!  Which one are you eager to try out first?
Are we missing something brilliant in this list you want us to add? Tell us in the comments!
Check out these other hacks on reusing and repurposing:
Did you like these fun and easy ideas on things you could do with a CD case? Which one is your favorite?