These sewing tips will have you pulling out your thread and needle again. I'll show you how to easily make a seam allowance, create sharpening tools out of everyday household objects, replace a missing button fast…and so much more!
These are the sewing hacks grandma should have showed you a long time ago!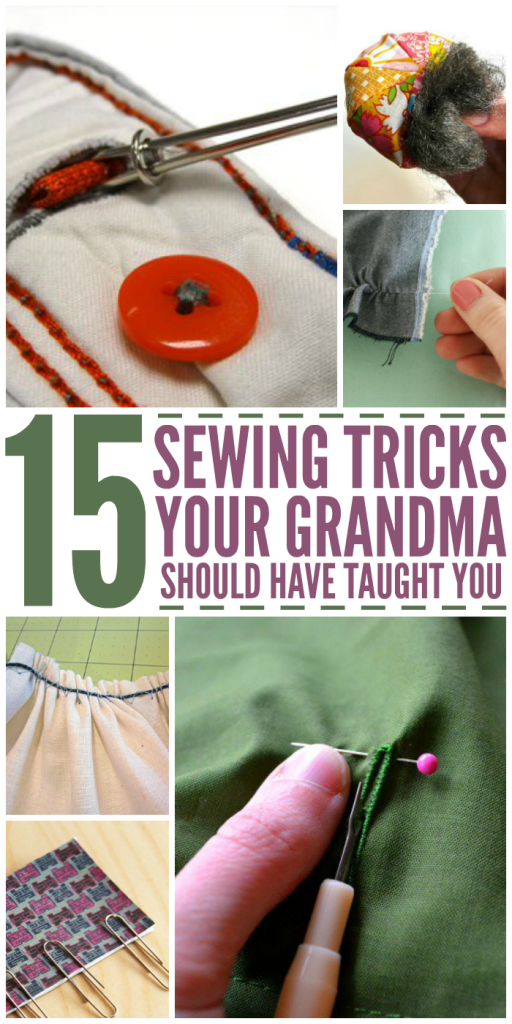 17 Sewing Tips Every Crafter Needs to Know
I remember learning to mend from my grandmother, and have watched my kids learn to fix a zipper, sew on a button, and mend a seam from their grandmother! Now it's your turn to get these great tips.
Here are 17 sewing tips and hacks no matter your sewing level: beginner, intermediate, or pro!
1. Use Clear Nail Polish to Easily Thread a Needle
Threading a needle can be one of the hardest parts of sewing for beginners, but no longer thanks to this simple sewing tip! Coat the thread in nail polish before threading to give it a stiffer edge. 
You can also use this trick to keep buttons in place! After sewing buttons on, cover them with a coat of clear nail polish to keep the thread from unraveling and to hold the button in place longer.
By the way, you probably will never look at nail polish the same after reading this post about 21 Clever Uses For Nail Polish (Not On Nails).
2. Pull Out the Power Drill to Quickly Store Embroidery Thread
If you work with embroidery thread, this will be one of your favorite sewing tips for storage. Grab a bobbin winder, add it to your power drill and use the drill to quickly wind the thread onto a card. 
3. Fabric Weights Make it Easier to Cut Fabric
Tired of pinning fabric when cutting it to hold it in place? Make your own heavy-duty fabric weights using washers and a hot glue gun. Wrap them in fabric to help them not slide around on your project. This is going to take your sewing projects to the next level! Genius!
4. Help Pins "Glide" by Using a Bar Soap to Hold Your Pins
Put dull, stubborn straight pins in a piece of bar soap to help them go through fabric much easier. Just try it!
Then, make sure to check out these 15 Unusual Ways To Use Bar Soap. You'll be amazed!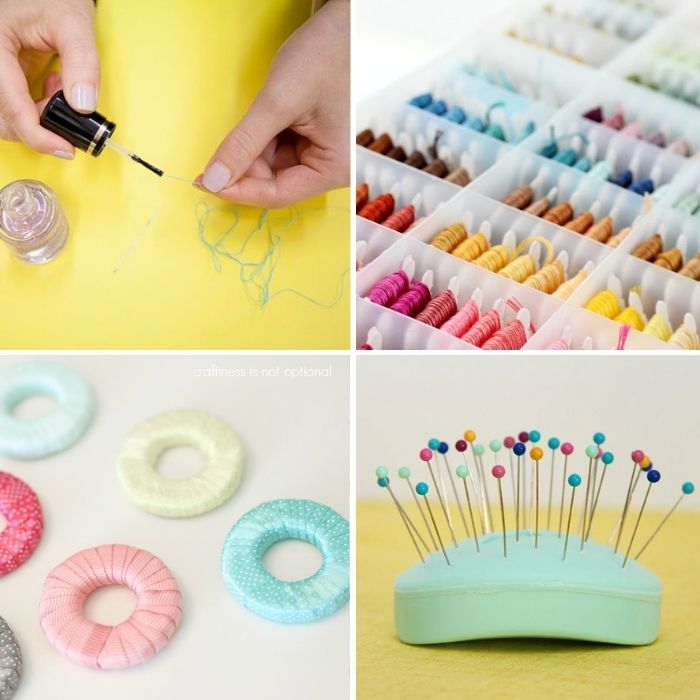 5. Adapt Any Pattern – Genius Sewing Tip!
Use a rubber band and wrap it around two pencils together to easily create a seam allowance. The pencils will be about 8 mm apart. That makes it exactly what you need to go up or down a size! Pattern making is going to be a cinch with this sewing trick!
6. Get a Perfect Hem Every Single Time
This is one of the best sewing tips ever! To get a straight, perfect hem every time, make a DIY hem guide out of a piece of cardboard. Use a ruler to add lines at 1/4″ intervals to your cardboard. Then, take your fabric and fold it over the cardboard until it hits the appropriate line. Give it a good pressing with your iron and start stitching!
7. Sewing Tip: Learn How To Sew One-Step Buttonholes
Do you find sewing buttonholes to be intimidating? You can easily get it done in one step with an automatic button hole stitch! Check out this tutorial sewing one-step buttonholes. I am so thankful for that sewing instruction because it changed everything.

8. Sew with Your Finger as a Stitch Guide!
Make marks to measure on your finger when you are sewing embroidery stitches. Your finger becomes your pattern! You will be able to sew faster and have no marks on your fabric using this trick.
9. Use Washi Tape as a Sewing Guide
Machine sewing becomes easier when you can follow a line, especially a brightly colored tape acting as a way to highlight your machine's seam allowance guide.
And that's just one way to use washi tape—it is invaluable in the sewing room! You can mark fabric, use it to make bias binding, mark out seams, etc. It's 1/4″ wide, so it's a handy seam measuring tool too.
By the way, there are so many other things you can do with this craft supply! Here are 16 Incredibly Cool Things To Do With Washi Tape.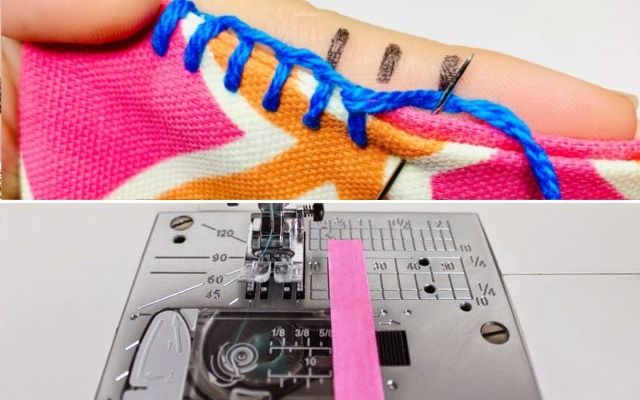 10. Graph Paper Doubles as a Hem Guide
Create your own hemline tool using graph paper. As you sew, line up the fabric with your graph paper. It is thinner than regular printer paper which helps your machine needles last longer.
This will help you iron perfectly straight hemlines and folds every time. This is one of the sewing tricks that will improve your sewing skills immediately.
11. Sew as if You Have an Extra Set Of Hands with Clips
When sewing, you'll often wish you had a few more hands. This sewing hack will help you feel like you can! Use binder clips as an extra set of hands when quilting. They're perfect for holding your binding in place or making a quilt sandwich – especially for slippery fabrics! Binder clips fit with 1/4″ seams too.
You'll find SO many amazing things to do with binder clips after you read this post about 15 Binder Clip Hacks That Will Blow Your Mind. They are a seriously underrated tool!
12. Hack a Second Spool Holder to Use a Double Needle 
A double needle can come in handy for many projects. If you have an older machine or a model that doesn't have a double spool, don't worry! You can still get that pretty double seam by adding an extra spool to your machine. Simply tape on a wooden dowel that fits your thread and sew away!
13. Did You Lose the Elastic in Your Waistband?
If so…no problem! Simply use a bodkin to draw elastic out of a waistband!
You can also use it to find missing cords in drawstring pants and hoodies. I can't even think about all the times I have lost a cord…this is genius.
14. Make A Needle Sharpening Pincushion
Fill a pincushion with steel wool to make your own needle-sharpening pincushion. Keeping your needle nice and sharp will make pushing it through the fabric so much easier! Such a smart idea!
15. Create Sewing Gathers Faster with the "Cheating" Method
Create gathers in fabric using the cheating method (aka the corded zig-zag method).
Simply sew a large zig-zag stitch over a piece of yarn, and use the yarn to gather the fabric before using a straight stitch to sew the gathers in place. This is such a smart and simple way to get those lovely fabric gathers!
16. Sharpen Scissors with Aluminum Foil
Sharp scissors are a must-have for any sewist! If your scissors are getting dull, lightly rub them with aluminum foil. This will help you keep the blades sharp. You can also cut through the foil a few times if your blades are especially dull.

17. Grab Any Paper Clips Lying Around
You can't pin leather; any holes made in the fabric will remain. Instead, use paperclips to keep pieces of leather together!
But don't stop there! There are SO many useful ways to use the humble paperclip! Here are 15 paperclip tips and hacks to make your life easier
Learn How To Sew The Right Way With These Sewing Tips and Tricks
Some of the most frustrating parts of sewing have now been solved and you are ready to tackle your next sewing project. Dust off your sewing machine, grab a needle, thread, fabric, straight pins…and go for it!
Do you have some other sewing tricks you'd like to share?
Get More Sewing Tips With These Posts: