Plastic bags are destined for the landfill… if not for these nifty plastic bag ideas. We all have them right? I know I'm not the only person who collects them by the dozen. While shopping with reusable shopping bags is best, it is not always practical. And at least in our area, the recycling center does not process plastic bags.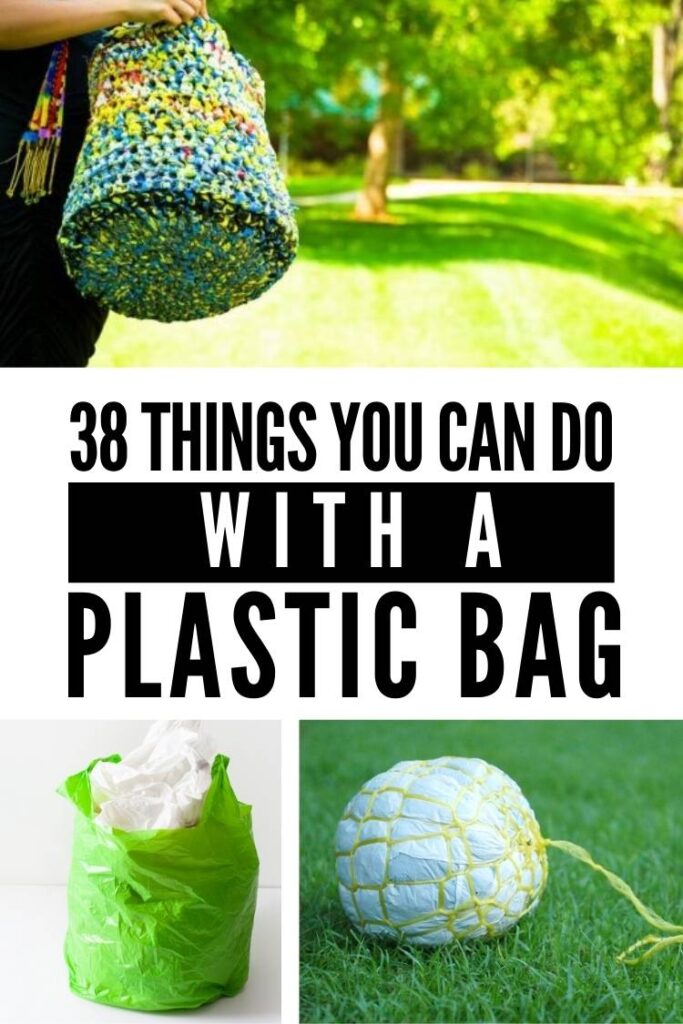 38 Ways to Use Plastic Bags, When You Can't Recycle Them
1. Travel Packing Hack
Packing for a trip, I think, is one of the hardest things. Especially for over packers. One great packing hack is to pack your shoes in plastic bags while traveling to protect your other clothes. Cling film works too!
Here are more brilliant cling film hacks!
2. DIY Plastic Bag Outdoor Pillow
Picnics are great. Having your head on a soft, comfy pillow while cloud-watching is awesome. Having your favorite pillow get a grass stain or fade or get rained on is NOT interesting. Plastic bags make terrific stuffing for an outdoor pillow. All you need is a few plastic bags and a dishcloth! This way, you don't have to worry about ruining your favorite pretty pillow.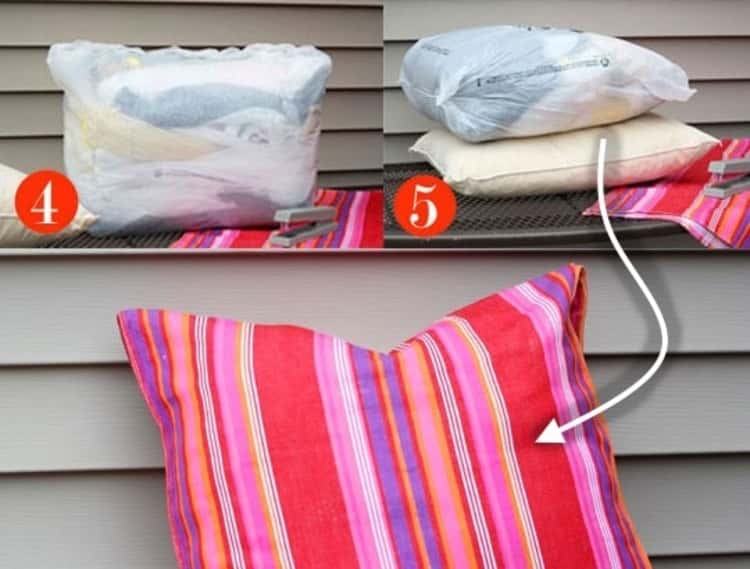 3. Put Plastic Bags Inside Shoes To Keep Their Shape
Put plastic bags inside out-of-season shoes so they don't lose their form. This is also a great packing hack that can save you a lot of stress if you don't have other small items that you can stuff into your shoes.
4. Plastic Bag Idea: Make A Crinkle Toy
Toddlers between 3-4 months love crinkle toys because of the noise they make. They find them amusing and stimulating. Make a crinkle toy for your little one and use a plastic bag as stuffing.
5. Upcycle Plastic Bags With This Creative Crochet Craft
Crochet a water-proof bag from your plastic bags. Simply cut plastic bags into thin strips then string the strips together to make a single long strand. Use the plarn (plastic bag yarn) to replace yarn and crochet yourself a water-proof bag. It's perfect for beach trips! What a way to upcycle!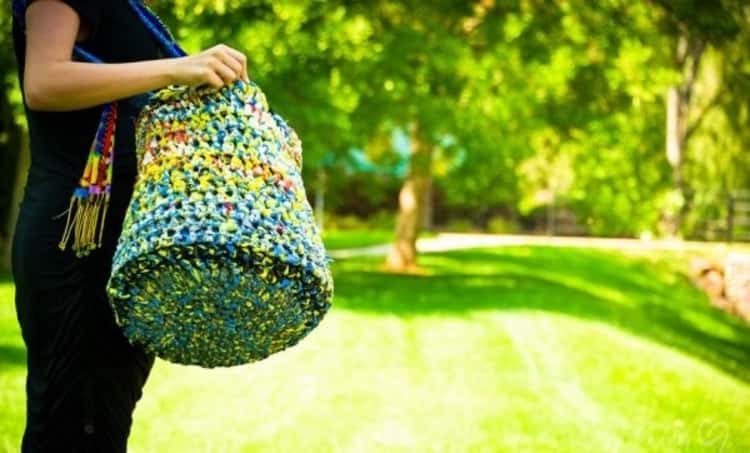 6. Plastic Bag Idea:  Use them as packing filler.
Moving Soon??  Don't get rid of your plastic grocery bags. Keep them.  Wrap glassware and other breakables in a couple of plastic bags to keep them safe when moving.  Especially useful for long-term-storage items as they don't hold moisture.
7. Use a Plastic Bag To Wrap Up A Stinky Diaper
We love babies at One Crazy House. What we don't love, and I'm sure neither do you, is stinky diapers. Wrap up a stinky diaper in a plastic bag to contain the stink. Especially if you're changing baby on the go.
8. Clean Up After Your Pooch During A Walk
Sometimes, during long walks, your pup will drop you a little gift. Clean up after your dog while taking a walk. Simply scoop up the poop and toss it in a plastic bag then dispose of it properly.
9. Plastic Bag Idea: From Trash To Trashcan
See those plastic bags you're planning to throw into the trash? Weave them together to make a trashcan. Here's how:
Supplies
Lots of plastic bags, different colors, and sizes
A hot glue gun
Your hands
How To
Cut the handles off the bags
Cut the bags into 2″ wide strips
Tie and braid the bags together into one loooooong braid
Glue the braid together in circles to make a basket using a hot glue gun
10. Remove The Word 'Mess' From Your Painting Sessions
Line the paint tray to make cleaning up such a breeze. Once you're done painting, just fold and toss!.
11. Quick Plastic Bag Storage Hack
I have more plastic bags than I could care to count. Every grocery store trip, I end up with around 10 more bags and they can be a kitchen nightmare and health hazard if not stored properly. If you can relate, here's a helpful and neat way to keep your bags and hopefully avoid getting more. Store the plastic bags in an empty Lysol wipes container to reuse later.
12. A Plastic Fun Idea – DIY Plastic Bag Jump Rope
Skip those store-bought jump ropes that are bound to get lost with this cheap, and fun, hack. Braid the plastic bags into a jump rope for hours of fun! You can even get the kids to help for that extra family time.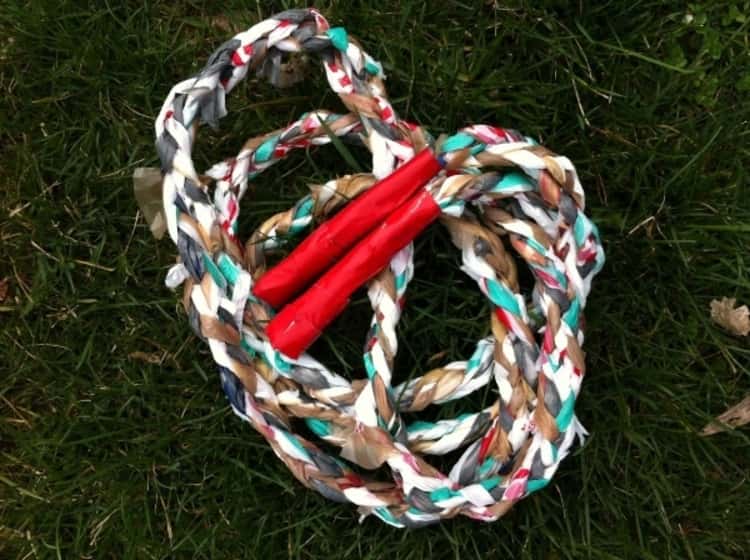 13. Use A Plastic Bag To Easily Clean Your Showerhead
To clean your showerhead, pour some vinegar and dish soap into the bag and wrap around your shower nozzle. It will clean the buildup!
14. Empty Your Trash Can Neatly – Use a plastic grocery bag
Emptying trash cans can be icky. Especially where food remains are involved. Make the process easier to stomach by lining your trash cans with plastic bags. You can then just remove the plastic bag once it's full and replace it with another one. This will probably only work for small trash cans though.
15. Plastic Bag Idea: Weave a Basket, from Bags
Create a basket from plastic bags.  Roll the bags together and then weave ribbon around the coils. You can now use this basket for your groceries and ditch the gazillion plastic bags.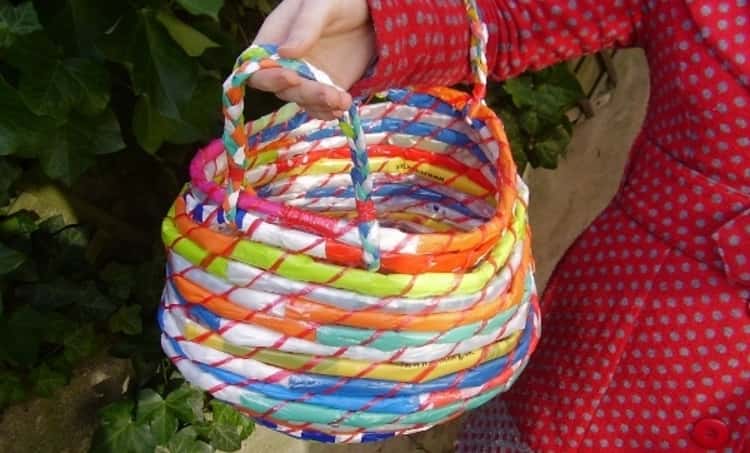 16. Be Original With This Plastic Bag Wreath
Make an outdoor wreath for your door for a whopping $0 and give your home a unique feel. It's a great and crafty way to use excess plastic bags. Use different colors if you're a vibrant person.
17. Cover A Cast With Plastic Bag
Cover a cast for a broken arm or leg so you can bathe without ruining your cast.
18. Clean Out Kitty Litter Effortlessly
Line kitty litter pail with bags to make replacing the litter easier. You'll thank me later!
19. Let's Talk About Plastic Crafts!
Make plastic rope or yarn from plastic bags. There's so much you can make from plarn!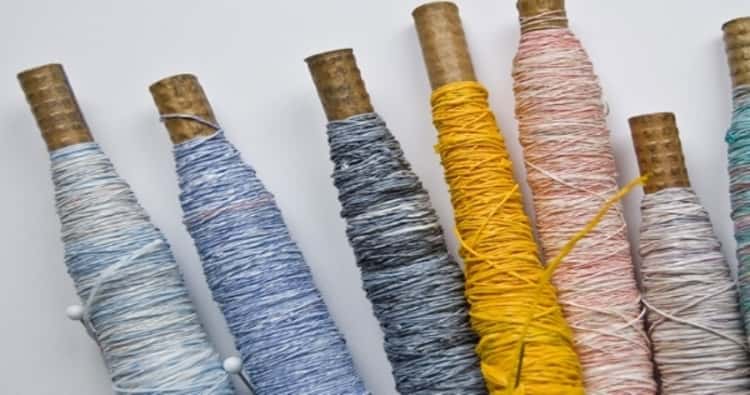 20. Create Your Own Gift Filler Paper From Plastic Bags
Shred plastic bags to make filler grass for Easter Baskets or other gifts. They make great fillers and cushion breakables perfectly!
21. Ball For Environmentalists
If you're passionate about Planet Earth, making this ball will be a walk in the park. Literally. Take a bag with you to the park and fill it up with the trash you see. When it's full, play ball!
Read On For More Need-To-Know Packing Hacks:
22. Save Time On Snowy Mornings With This Packing Hack
Wrap a bag over the mirrors of your car before a snowstorm. You won't have to scrape them in the morning. Place two clean plastic bags over each mirror and tie the straps together or secure with a rubber band.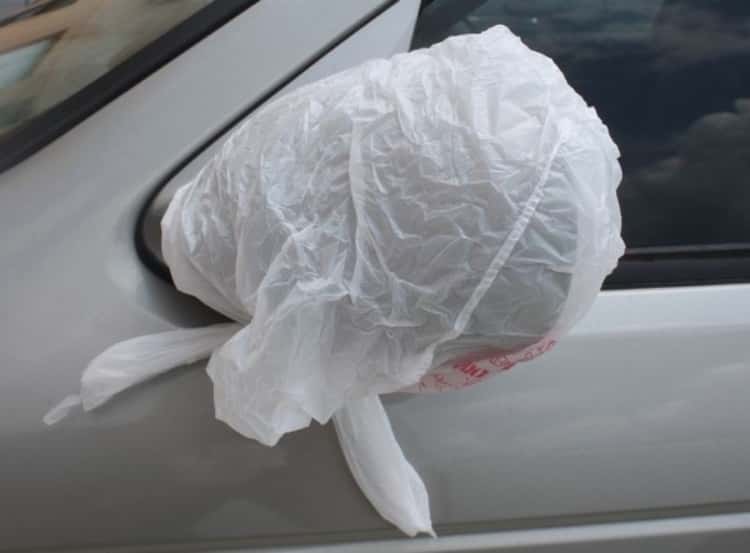 23. You Can Never Have Too Many Trash Bags
Best Plastic Bag Idea:  Use them as a Car trash bag – you always need a spare!
24. Use Plastic Bags As Barf Bags
Forgot to buy barf bags, no worries! Keep a few plastic bags in the car or in your bag to use as barf bags if you or your kids have motion sickness. They also come in handy for other emergencies such a food spills.
25. Save Your Drains – Put the Grease in the Bag to Discard.
Draining your greasy steak in your sink is NOT a good idea. Put the fat from cooking to dispose of it and save your drains.
26. Keep Your Paintbrush From Drying Out
Nothing throws your creative juices out of the window more than a dry paintbrush. When painting, wrap a bag around a wet paintbrush or roller so it won't dry out during a lunch break.
27. Use A Plastic Bag As A Smock
Anything to cut down on cleaning time, right? You're in luck. Here's a plastic bag hack you never knew you needed. Use a plastic bag as a smock when cutting kids' hair. It will make cleaning up easier. You're welcome!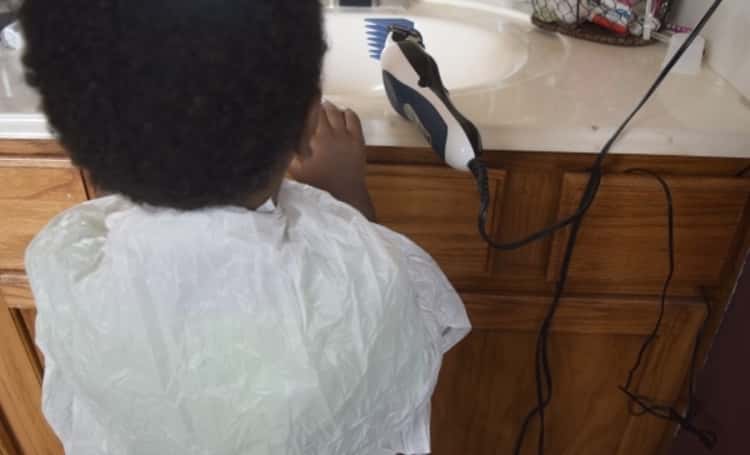 28. DIY Plastic Bag Kite
Excite the kids on a windy day with cheap, easy-to-make kites.  All you need to do is tie some string around the handles of a plastic bag. Easiest kite EVER!
29. Foolproof And Waterproof Packing Hack
No ziplock bag? Bring a plastic bag or two to the beach to wrap your electronic devices so they don't get wet or sandy. Be sure not to leave them there though!
30. Suffocate Those Weeds!
Layer plastic bags in your garden under your mulch as a weed deterrent. Take care not to cover the roots of plants though. Plastic bags can suffocate them.
31. Cheap And Cheerful Plastic Ball
If you have boys that love soccer, this ball is a must-make! It is durable, cheap, needs no pumping, super-bouncy – okay, you get the point. Make toys from recyclables – a ball. Your kids can be resourceful and you can save a few bucks on balls. At least before they join the school team.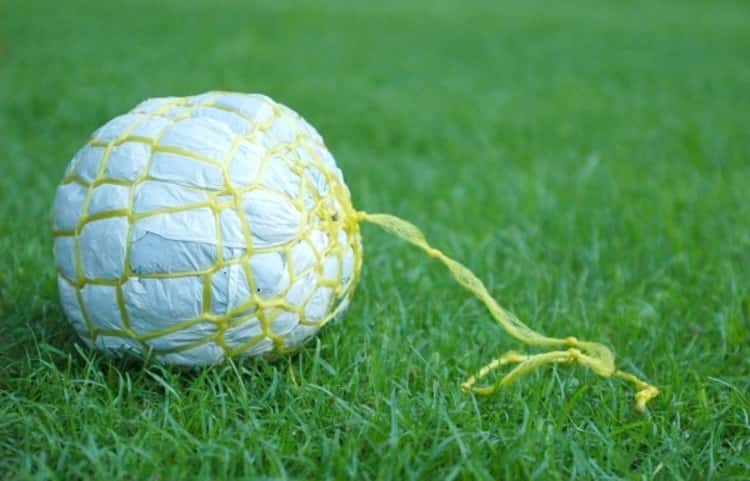 32. Protect Fragile Plants From A Frost Bite
The plants that survived the storm in Frozen weren't real. In reality, plants do get damaged by frost. Something like frostbite. Protect fragile plants in the event of a frost by covering them with plastic bags. The bags will act as insulation and save your plants.
33. Separate Laundry When Traveling – Use Plastic Bags
If you don't have an extra bag for dirty laundry while on a trip, use a plastic bag as a dirty clothes bag while traveling.
34. Sort Your Recyclables – Plastic Bag Ideas
Sort recyclables. Use plastic bags to categorize recyclables for a bit more sanity in your cupboards.
35. Craft A Plastic Bag Rug With This Cool Plastic Bag Hack
Weave plastic bags into a rug. All you need is a lot of plastic bags, sturdy ribbon or garbage bags, cardboard the size of the rug you want to make, a pair of scissors, a pencil, and a meter stick. This would make a fun project for kids.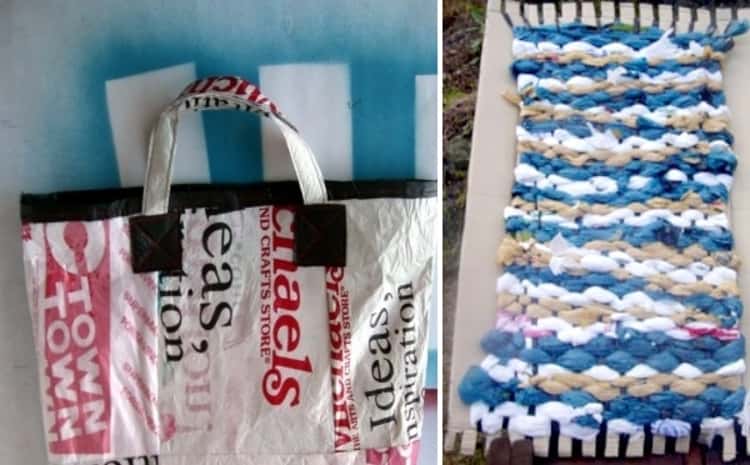 36. A One-Of-A-Kind Bag – transform grocery bags with this idea
Make a bag… like for real, iron the plastic bags to fuse them together and make a one-of-a-kind bag!
37. Plastic Bag Ideas: Protect Your Clothes When Packing
Cover out-of-season clothes in the closet with plastic bags to protect them while they are not in use. Make sure to seal the plastic bags to prevent moisture from dampening your clothes.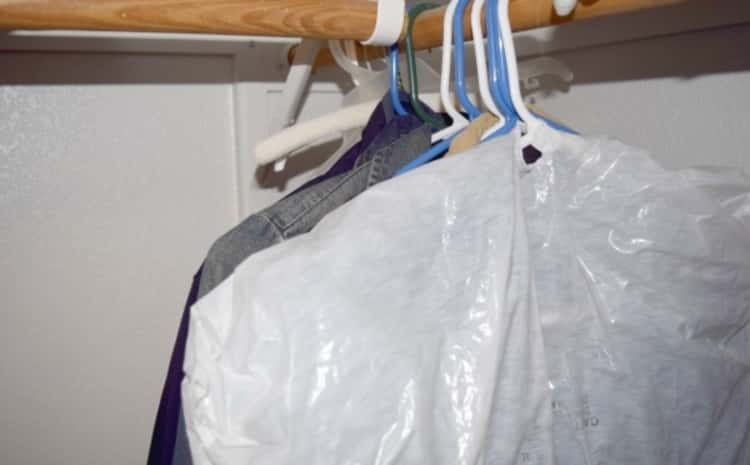 38. Spice Up Play Time With This Plastic Bag Parachute
Play parachute for the kids! Plastic bags are perfect for making toy parachutes because they pick up a lot of air and will therefore actually leave the ground.
39. Get Creative On A Budget
Whether you're looking for extra help from the kids or you're trying to teach them a few painting tricks, use plastic bags for sponge painting with your kids. They'll have a lot of fun and you'll love the results!
40. Create A Leather Wall Effect Using Plastic Bags
Texture paint your walls. Use a scrunched-up bag to make an interesting marbled effect and get textured walls that look amazing!
41. Create Your Own Spring Time With This Gorgeous Flower Craft
Make a flower craft out of different colored plastic bags. It's fun and engaging for the kids.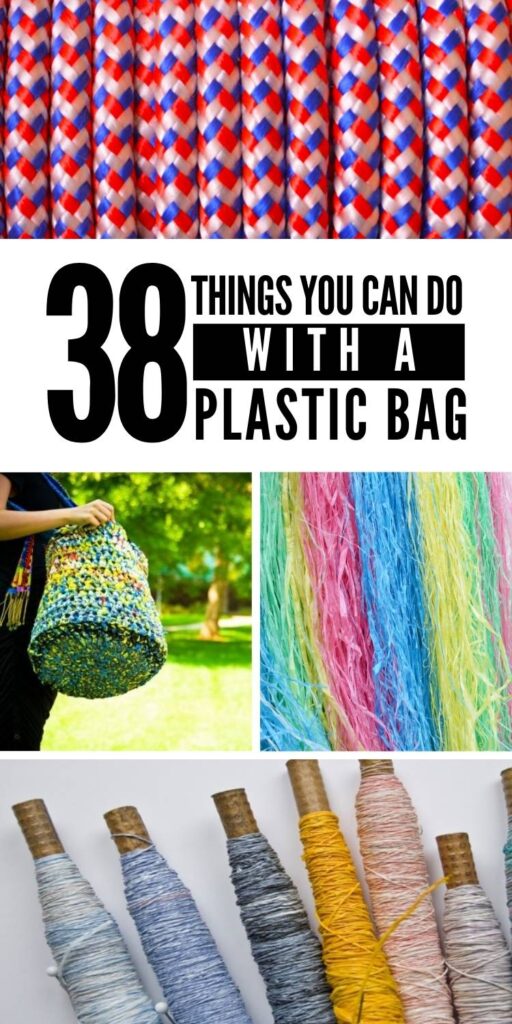 Found Useful Plastic Bag Ideas?
Here Are More Ways To Recycle Stuff You've Never Thought Of: