It's boot weather season and I'm here for it! However, boots can present several challenges and opportunities at the same time. Use these boot hacks, tips and tricks to get the upper hand, and keep them looking new and always looking super cute.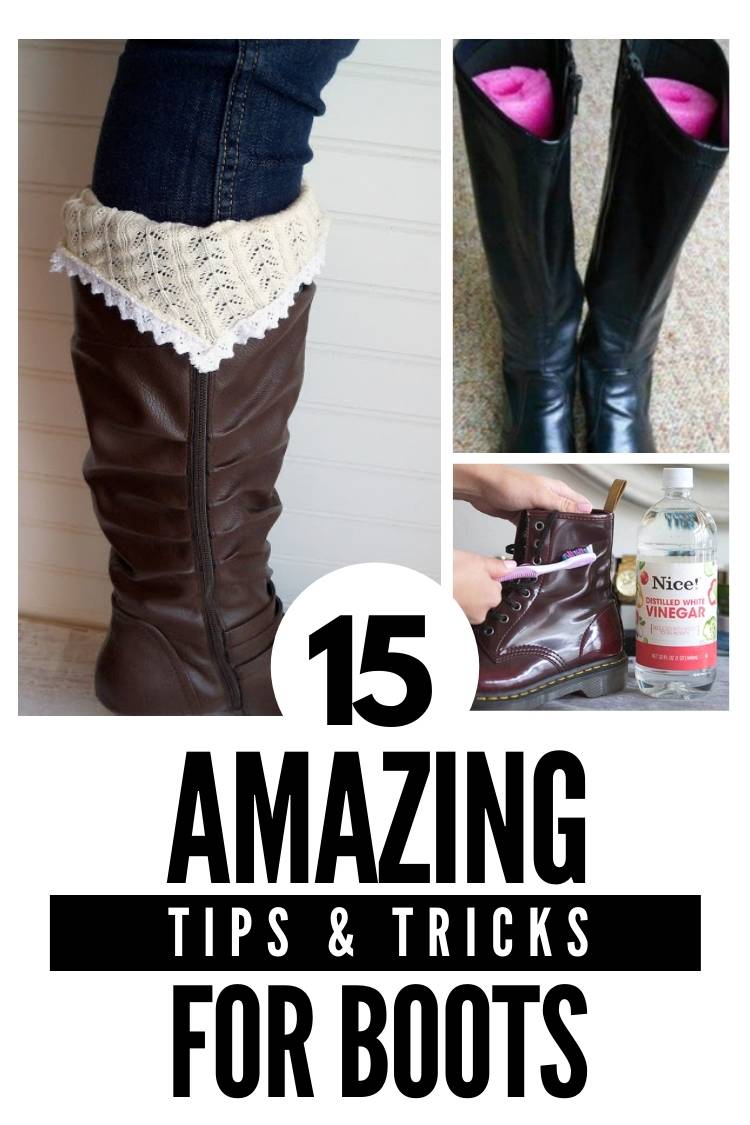 The days are getting shorter, the leaves are turning colors and falling to the ground, and the temperature is dropping.
Yes, fall is finally here, and that means that it's time to break out the boots. Ah, finally…boot weather! Welcome back, we missed you. ?
However, boots present their own fashion, cleaning, and storage challenges (and opportunities!). To keep your new pair of boots looking amazing even in the messy weather you'll surely deal with this winter, try these tips and tricks for boots.
"I firmly believe that with the right footwear one can rule the world" – Bette Midler
Varieties Of Boot Types
Ankle Boots and Booties
Mid-Calf Boots
Knee Boots
Over The Knee and Thigh Boots
Cowboy Boots
Rubber Boots
Hiking Boots
…and all of them need to be looked after so they last longer and stay looking great.
Boot Hacks, Tips, and Tricks to Keep Your Boots Looking Amazing
Be on top of the boots season! These boot hacks will show you how to remove stains, make super cute boot cuffs, keep your feet warmer, and much more! And for all of you shoe-obsessed gals, we have more shoe hacks you'll want to check out, too.
Are your boots falling over each other?  Nobody wants that! It creates ugly creases that don't go away. Keep the new look of your boots by doing this easy pro tip: All you need to do is cut off pieces of pool noodles and insert them into your boots to keep them straight and tidy. No more wasted space or bent boots! If you want to get fancy with your pool noodles, you can color code them for different sizes.  Pink for size 6, Green for size 7, Blue for size 8 and so forth. Smart boot linings hack in a super short amount of time!
If you live in a snowy or rainy areas, you must know how to remove salt stains from leather boots.  Salt stains are the worst because they wreck your super cute boots by turning them white, which isn't very appealing on any boots.  It makes them look old and worn long before their time is up.  Clean up your boots with leather conditioner and make them as good as new.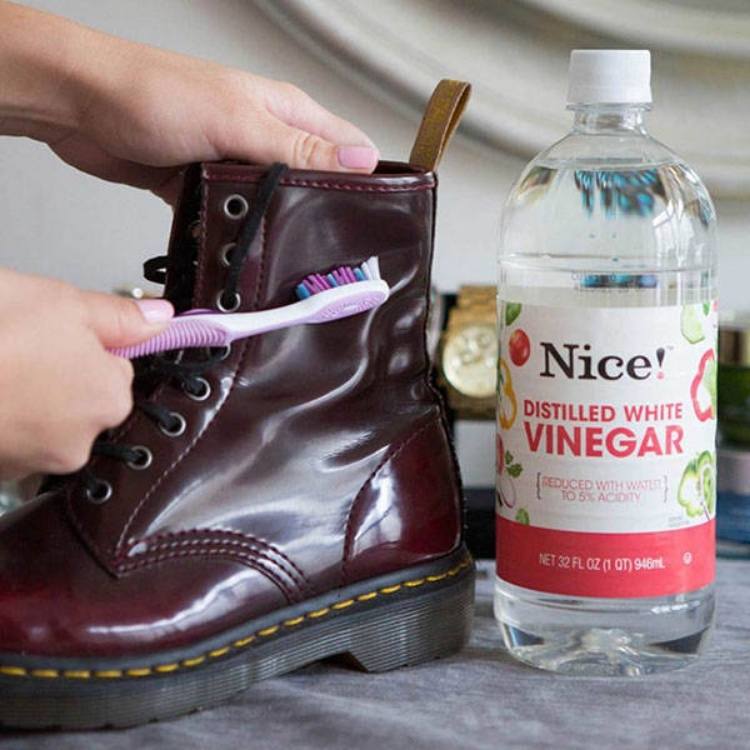 A soft-bristled brush dipped in white vinegar will help to remove water, snow, or salt stains. Simply dip your soft-bristled toothbrush in white vinegar then gently scrub that stain away, get your boots looking good as new in no time. This will extend the life time of your favorite boots and make them look brand new again without the blisters from breaking them in. The soles of your feet will love your boots even more!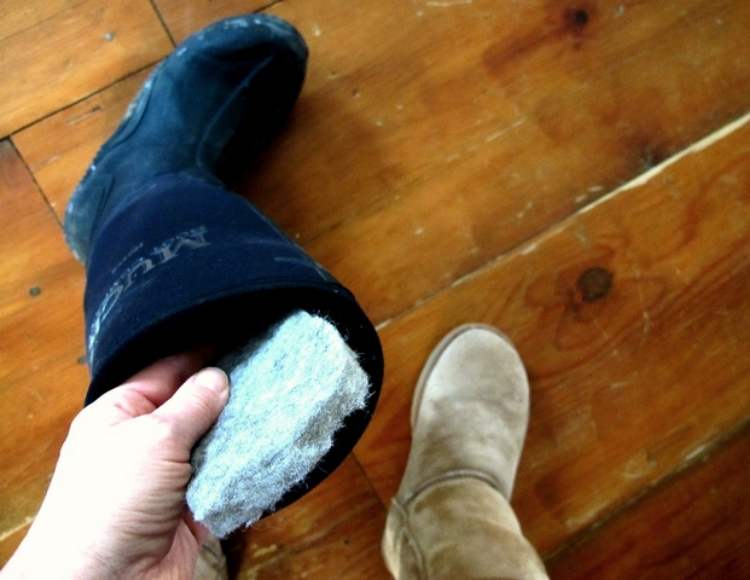 For those with perpetually cold feet (like me!), making some Do It Yourself wool insoles can go a long way toward keeping your feet extra toasty.  This idea is life saving for anyone who suffers from cold toe (and heel!), but it also add extra comfort and cushioning.  You don't have to live in the Arctic to appreciate these beauties.  A win/win situation all around!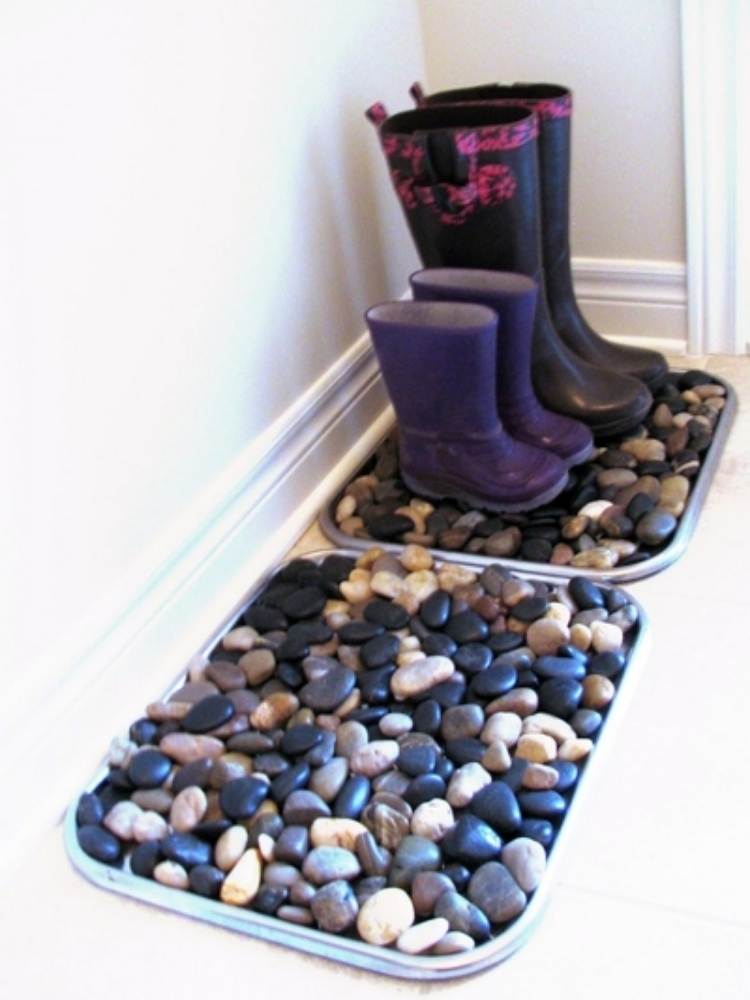 If you hate wet, muddy boots sitting on your floor as much as I do, this DIY project is a must for you! Make a boot tray with river rocks to allow your boots to dry mess-free. Get different colored rocks to match your decor. Plus, it's a great looking addition to your front doorway.  Bring the outdoors inside and compliment and other rock features in your home.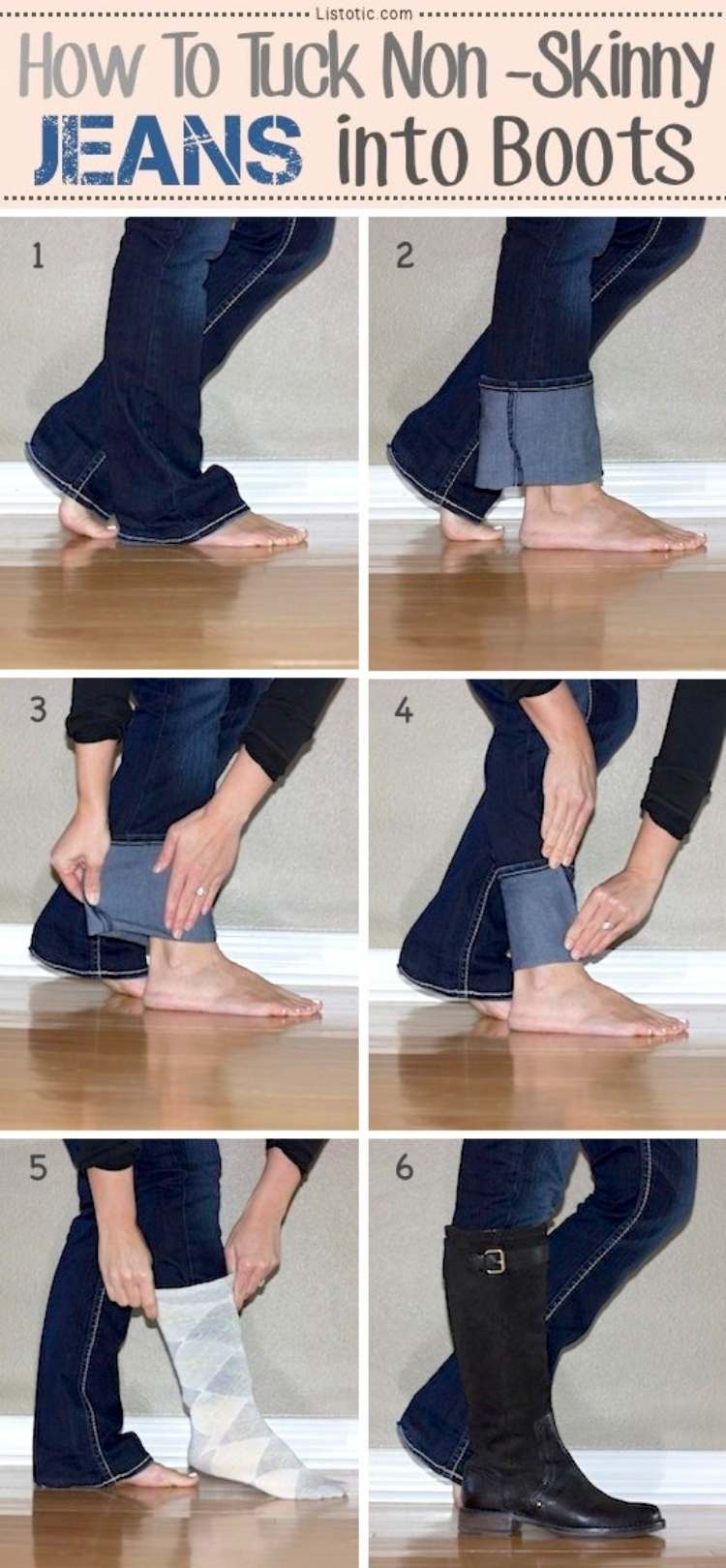 I'm not a skinny jeans gal, and have fallen into the mental trap of thinking I can't wear my cute boots with my bootcut jeans. Not anymore!
Tuck any jeans (even non-skinny jeans) into boots by rolling and tucking them the right way. Now you can wear any pair of jeans while still looking cute in boots! Life hacks every girl should know!  Get a long pair of socks or legwarmers peeking out the top and match it to your sweater or jacket.  Now you can wear any pair of jeans with any pair of boots and stay looking chic all year round.
Remember the stirrup pants from the 80's?  Make your own with your jeans!  Use mitten clips on the bottoms of your jeans so they always stay in place when you wear your boots. This is such a great idea!  Yes – finally – here's the secret to keeping jeans from bunching up and riding your leg that nobody will ever know about. Get the elastic mitten clips here. Here's a trick you'll wish you had known long before now!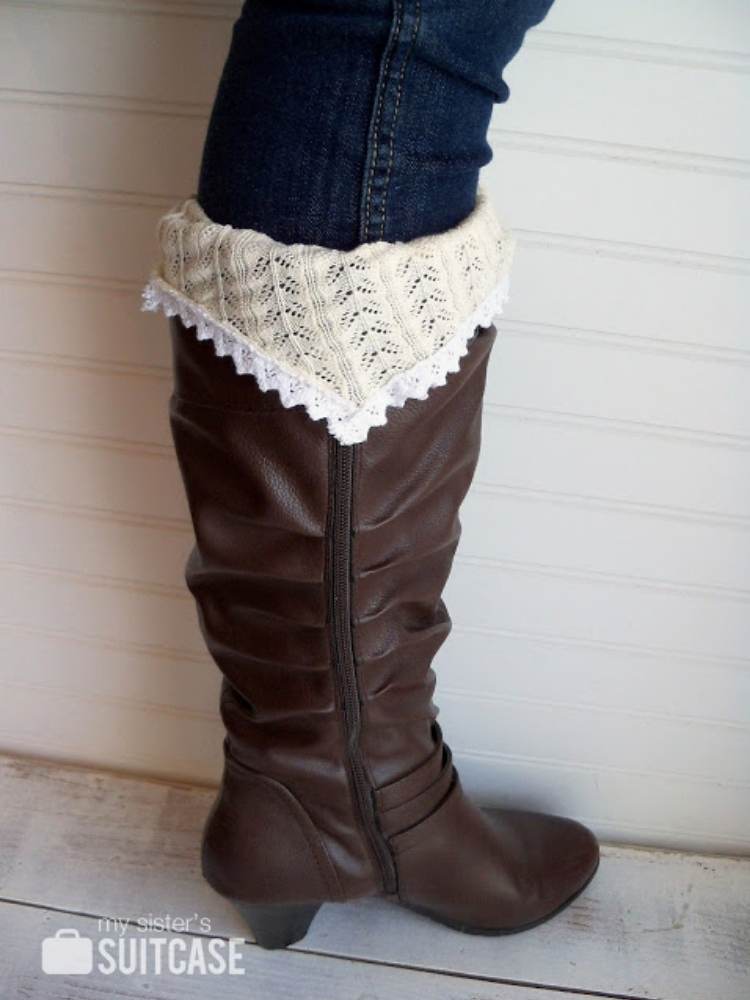 Love the frills and knitted topper on boots, especially in this cream color.  But if you did the topper in a neon color like green or pink or blue and matched it to your outfit, it would be a real hit.  You could have one for everyday of the week! 
Create sweater boot socks by snipping the sleeves off an old sweater that you're just not grooving on anymore. I love how cute and cheap this project is!  I found a few old sweaters in my closet that I was planning to give away, and I knew they would make the perfect Do It Yourself project. Check out how easy they are!

Here's another boot cuff to try: finger knit boot cuffs. Taking only about 30 minutes to complete, they're easy enough to make that beginners can do it. Plus, they double as a great gift idea!  Learn how to finger knit a pair of boot cuffs in only 30 minutes and keep your legs warm and trendy!
Looking for a cool way to tie your Bean Boots? Try dusting off this old method for tying – so cute!  I'm in love with these LL Bean Boots, but didn't think that normal tying looking quite right on them. Try this tying technique.  Your boots look like they have their own pig tails.  Love!!
How many times have your kids (or you) taken off wet boots and left them sitting on the floor to dry out? I've done it more times than I can count, only to come back the next day to put them back on and find they're still wet!  
That's not a problem anymore with this boot hack. Stuff newspapers into wet boots to help them dry quickly.  Now you can help those wet boots dry out quickly so that next time you go out in the wet and snow they are dry and ready to go.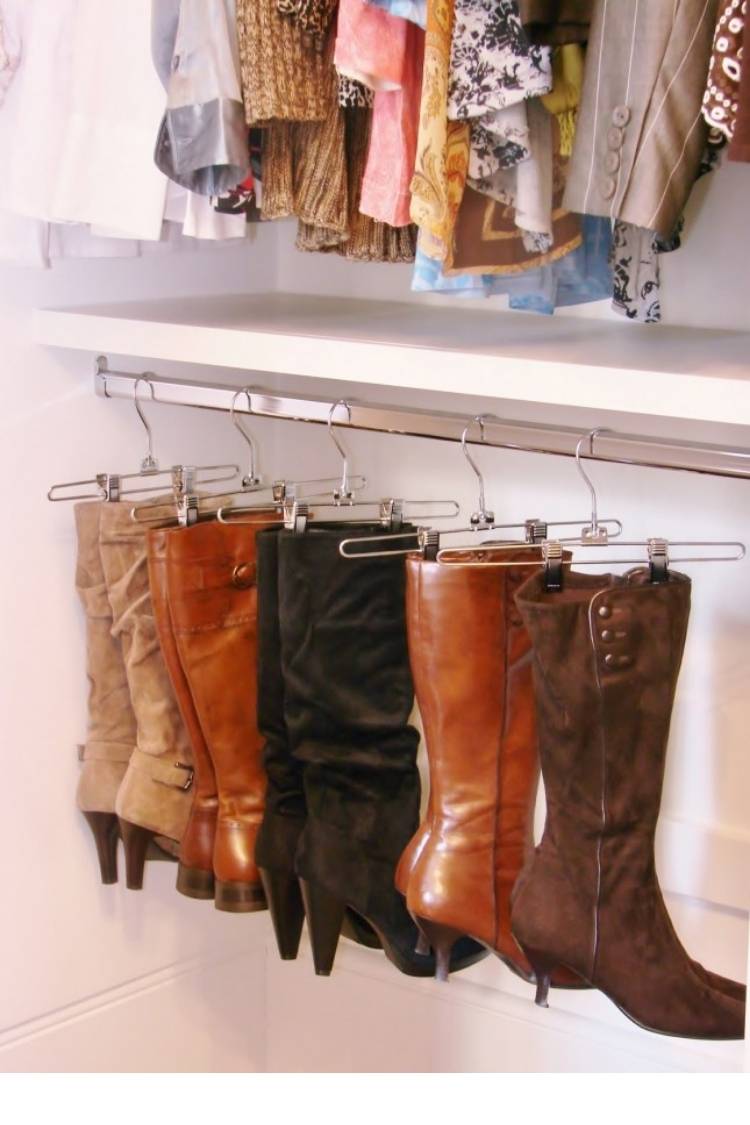 Add another rod near the bottom of your closet to hang boots instead of sitting them on the floor. Don't they look pretty that way?
Plus, it keeps them organized and prevents slouching over and taking up your entire closet floor.  No more mismatched mates and digging in the dark with these hacks.  Seriously, this is the best tip ever!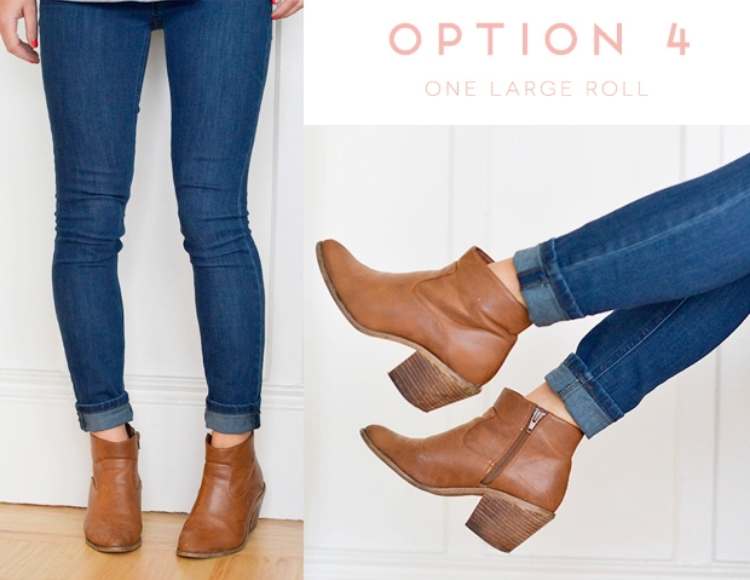 Ankle boots are all the rage right now, but you want to make sure you are wearing them right or you will miss out on the trend.  You need to show off those ankles! If you have short legs, keep the cuff small, but if your legs are long and lean, have fun with a bigger cuff!  Finally, the answer to how to wear booties with skinny jeans!
Spray paint rubber boots to give them a cute and cheap makeover. It's an easy (and cheap) makeover that will feel like you are wearing brand new boots without having to buy new boots each year.  We usually only wear rubber boots for a few days a year, so change it up with new paint.  It is easy enough to do that you could simply repeat the process next season, if needed!  Transform an old pair of rubber boots with this easy boot hack.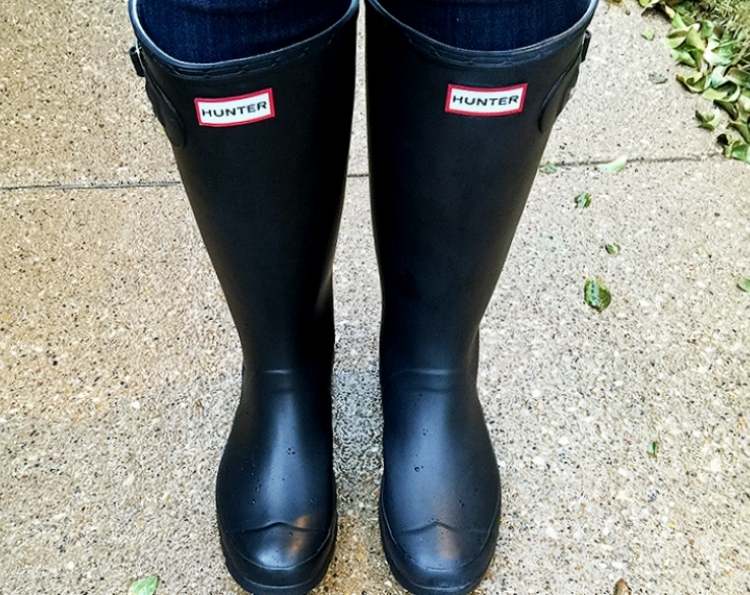 If your rain boots have started blooming (turning white) use these tips to clean them up. Who knew olive oil and tire shine could do so much? Do you own Hunter boots that turned white? Clean them with olive oil!
Aren't these tips and tricks for boots amazing? Now you can store them, clean them, and look super cute all with ease!
I hope you have had all of your questions answered on how to wear and properly look after your boots and inspired you to wear boots all year round.
Need more shoe tips? Read this post on 15 Storage Ideas for People With Way Too Many Shoes.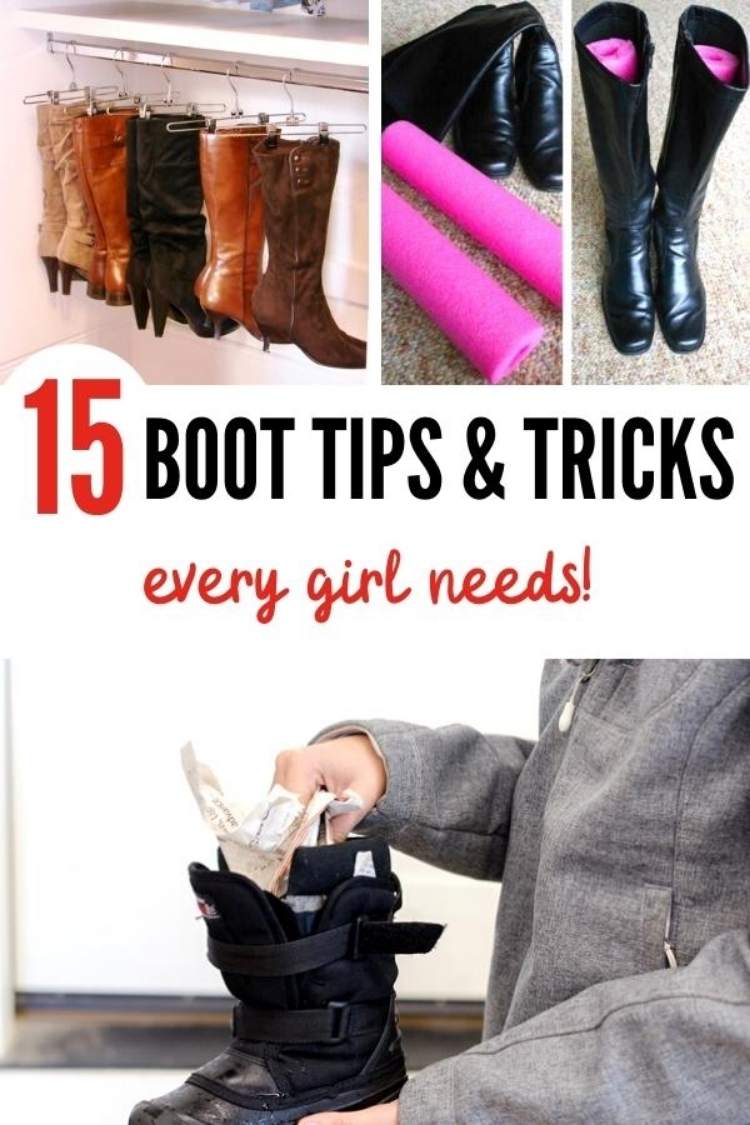 More Fashion Tips and Tricks From One Crazy House:
Which of these boot hacks and tricks have you tried?