On a search for the best car air freshener? I got you! There are so many types of car air fresheners, and picking the best one can be tricky. The fragrance of each are different, so I'll bet you'll pick the one with a very nice scent, so I've got some recommendations and options that come from popular choice.
In addition to the car cleaning supplies tips and car organization hacks we've already shared in other posts, we wanted to bring you 15 ways to make your car smell good FAST with super easy DIYs and more!  Don't worry, none of these DIYs will break the bank or waste your time! They are fast, affordable ways to get rid of those stinky odors and get your car smelling fresh and clean.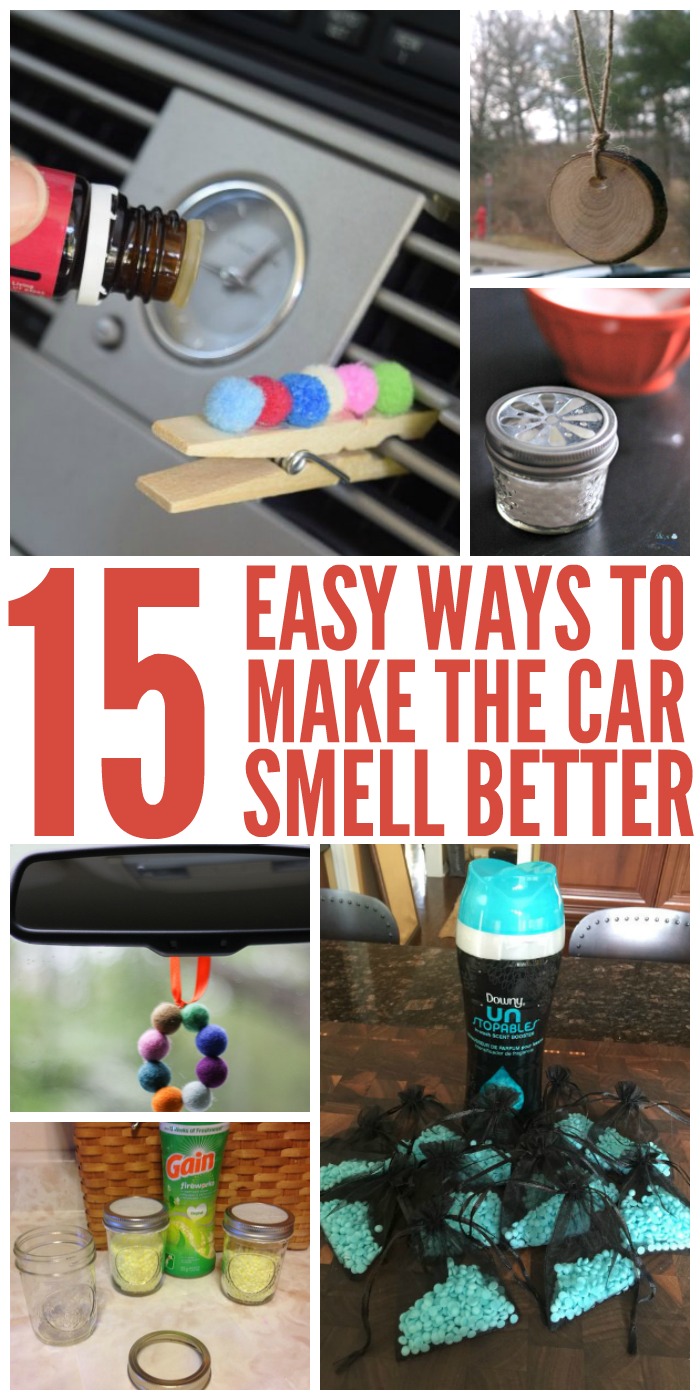 What is it about cars that causes them to be stinky all the time? If you have kids or pets that could absolutely be part of the problem. Kids in sports. Wet dog smell. Ugh, those odor particles linger. But even if you don't have kids or pets, after a while, especially in the summer, the car just develops a weird smell. Wouldn't it be nice if there were a quick, easy way to get rid of that smell? After all, that new, clean car smell is so nice! But how do you make your car smell better?
Make Your Car Smell Good FAST with the Best Car Air Freshener
1. Essential Oils DIY Car Freshener for a Good Smelling Car
Want some custom car air fresheners with proven longevity? Glue cotton balls or pom-poms to a clothespin, and add 5-10 drops of your favorite essential oils. Clip it to your vents, turn on the air or heat, and your car will be smelling sweet in just a few seconds. The nice thing about this DIY is you can easily change scents! Get a few of your favorite scents and rotate them to fit your mood.
Want to get your kids involved? Have them pick the cotton ball colors, or if they're old enough, ask them to help you glue the cotton balls to the clothespins. Now they get to help you make the car smell great faster in full color, and you keep them entertained!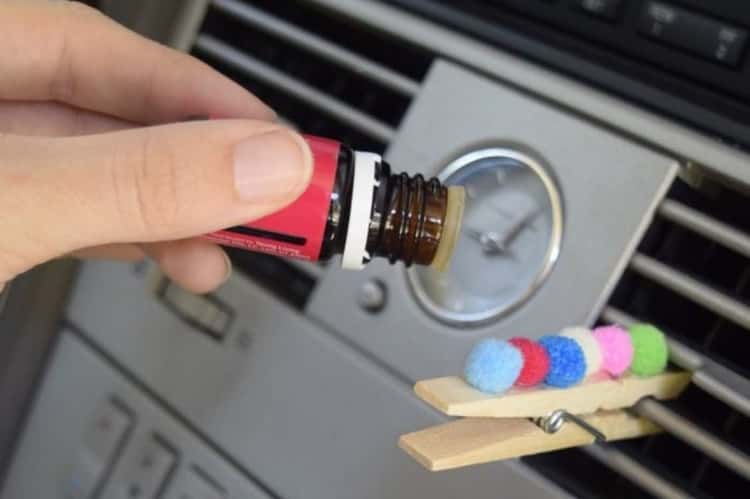 Here is another good choice of essential oils' hack using a pretty decorative ribbon with a cotton ball tucked inside. Again, you can get the kids involved by asking them to help you pick the ribbon, or if they're old enough, by asking them to cut the ribbon for you.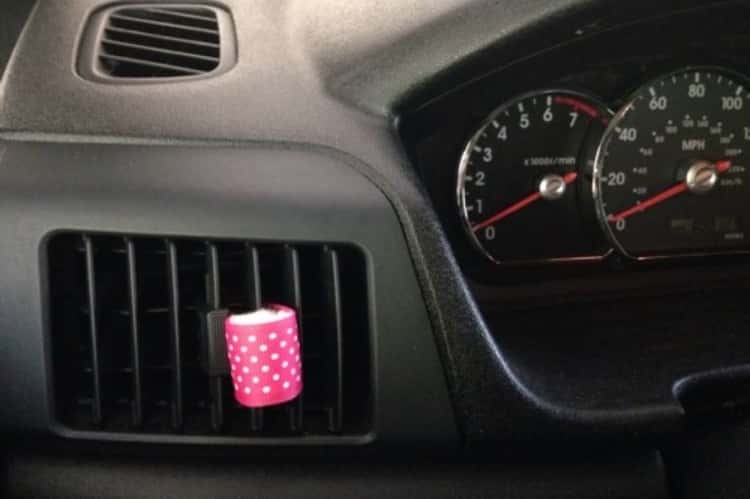 2. Laundry Isle DIY Car Fresheners for Clean Car Smell
Chase the bad smell out of your car's interior with this pleasant smell idea! Use Gain Fireworks (or Downy Unstopables) to make these mason jar air fresheners. Put them in your cup holder, and voila! The instant clean, fresh scent in your car. Note: If you don't want to lose valuable cup holder space, check out the next hack (number 3).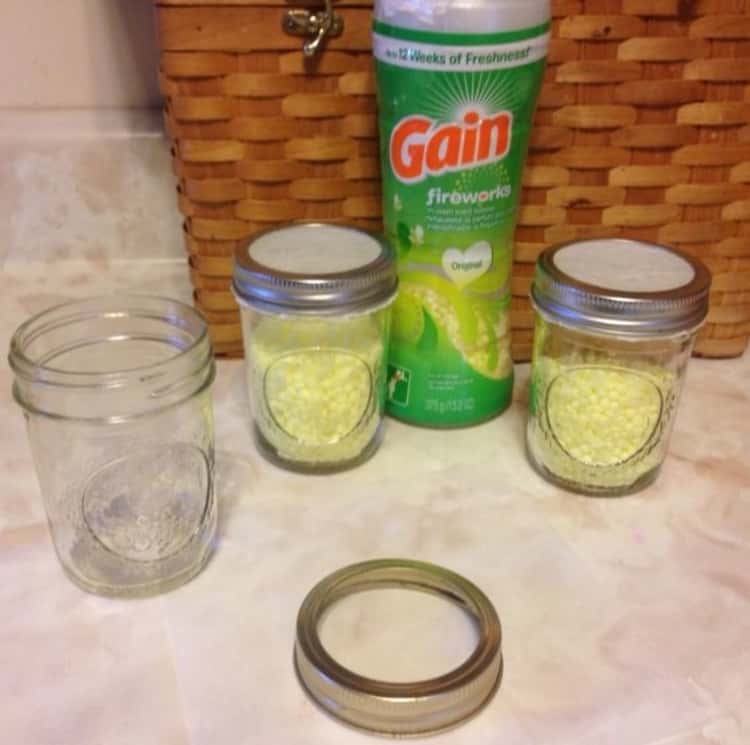 If you live in a humid location (or want to use this hack for a smelly bathroom), you could also try using half Gain or Downy and half-dry rice. The rice will keep any humidity from causing the Gain or Downy to get sticky and clump. Shake it every few days and it should last for weeks!
Need a better visual for how to do it yourself? Here's an example of an essential oil and rice air freshener DIY done step by step.
3. Laundry Isle DIY Car Fresheners – Non-Visible Option
Keep your car equipped with pleasant scent by doing having these little perfumes. This DIY keeps your cup holders free, but gives you that same laundry-fresh scent! Simply buy wedding favor bags at the Dollar Store, add some Downy Unstopables, and put them under your car seats or glove compartment or another hidden spot in your car for a fresh, clean smell. Just like the tip above, use some rice for some extra moisture absorbency.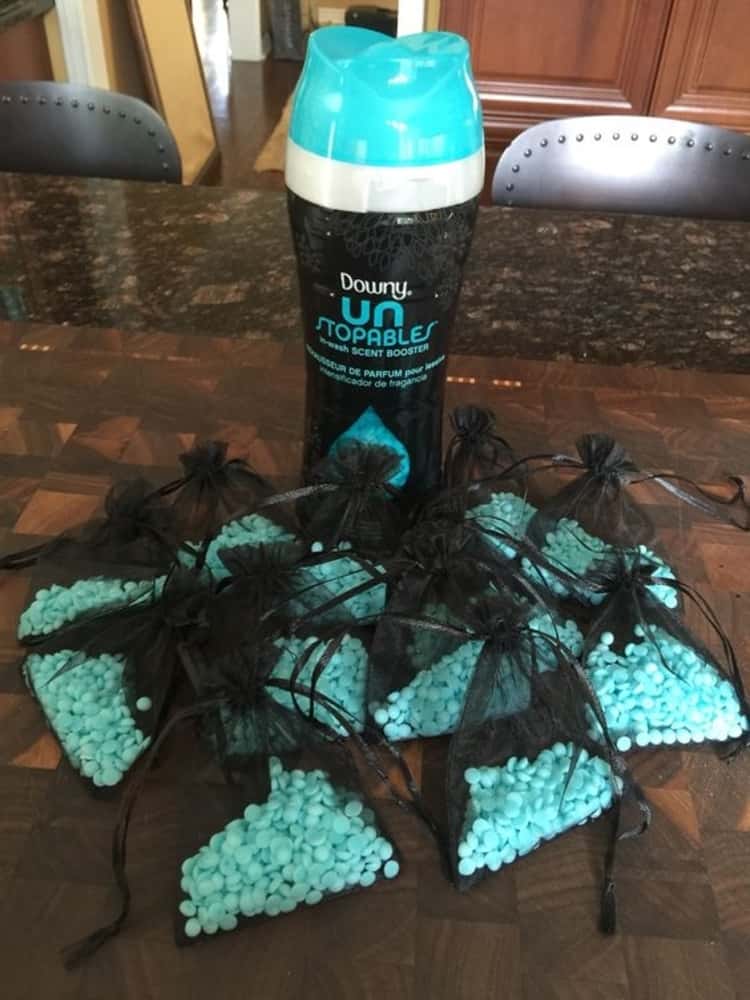 4. Baking Soda Non-Toxic Air Freshener for a Fresh Car
Want a classic, fragrance-free air freshener? Here's an easy, DIY non-toxic air freshener that you can make with baking soda and essential oils. The baking soda absorbs any bad odors while the essential oils add a pleasant aroma to your car. This is a great option if you have pets or small children in your car and want to limit the types of materials used. However, even though this hack is non-toxic, it is still best to keep this car air freshener (and all the others in this post) out of the reach of children and pets.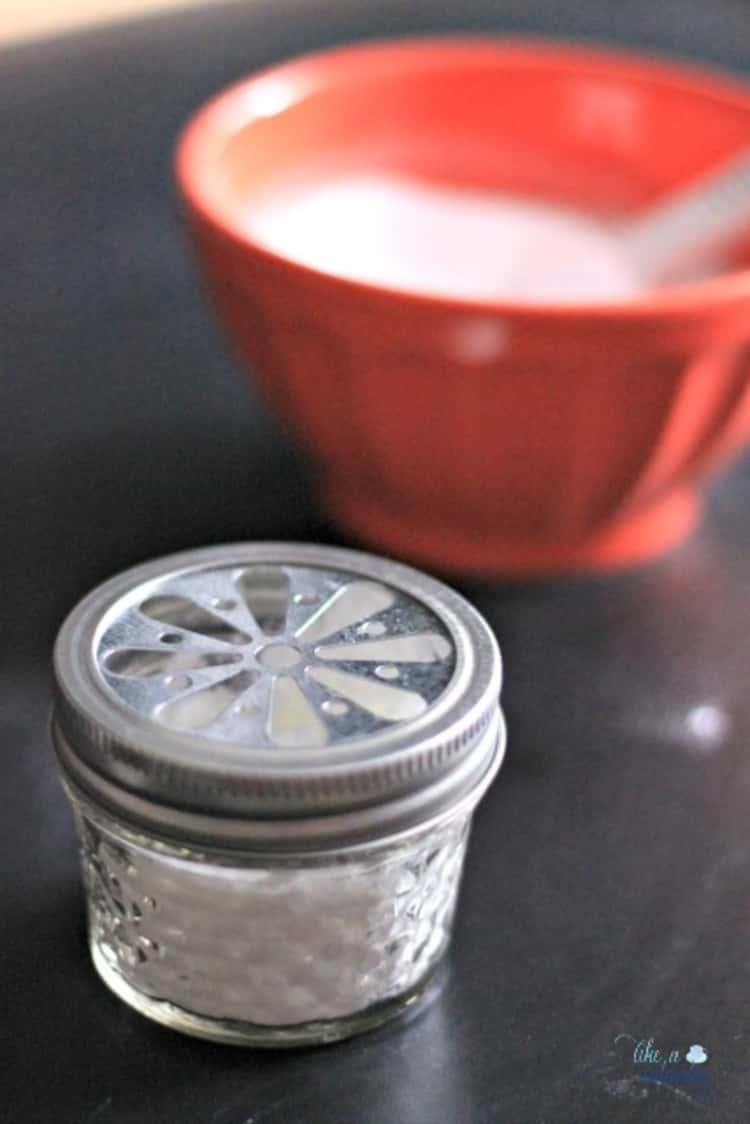 5. Scented Candle Wax DIY Car Freshener
Drop some scented wax cubes in a jar and screw on a top with holes to create an air freshener that smells FABULOUS in a hot car as the wax melts. This is a great option if you live in a warm, summer climate as the more the wax melts, the more scent will be released! What a fun way to keep you car fresh-smelling for a couple hours! Rotate different jars (or just different wax cubes) to keep the scents fresh and a nice variety of fresh scents for your senses!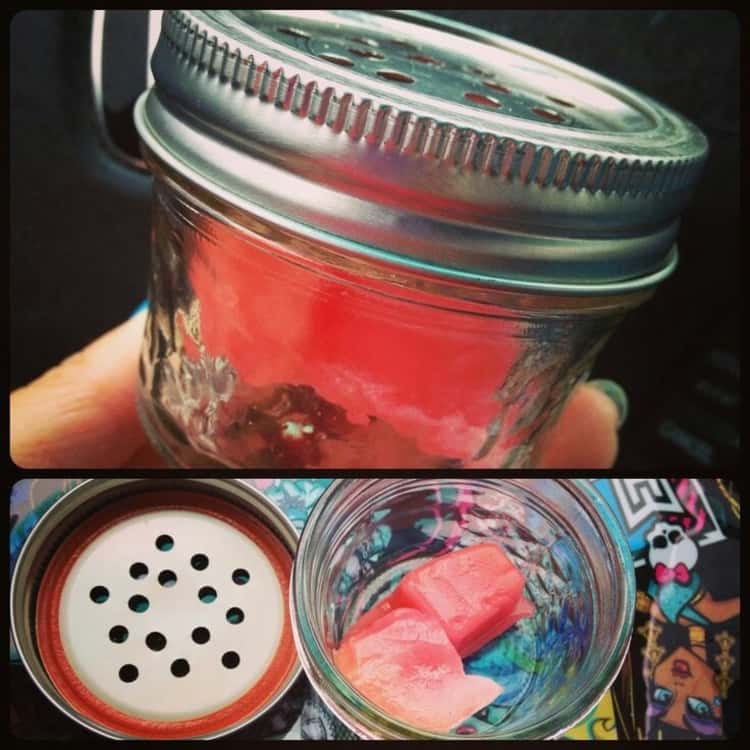 6. DIY Gel Air Fresheners to Make Your Car Smell Better
Say goodbye to cigarette smoke! Here's a new-car scent you will love, with less harmful chemicals in it! Make your own gel air fresheners using this step-by-step tutorial. Not only are they pretty, but they also smell great! What a fun, easy way to keep your car (or even your home) smelling fresh year-round!
You will need:
1 cup water
2 envelopes of unflavored gelatin
1 tbsp salt
20 drops essential oils
heat-safe containers
food coloring (optional)
silk flower (optional)
How To:
Heat 3/4 cup water over medium-high heat
Add the salt and stir until dissolved
Add gelatin and stir until dissolved
Remove from heat and add remaining 1/4 cup water
Pour into containers and add essential oils, food coloring a silk flower, if you choose to
Let cool, then cover with a vented lid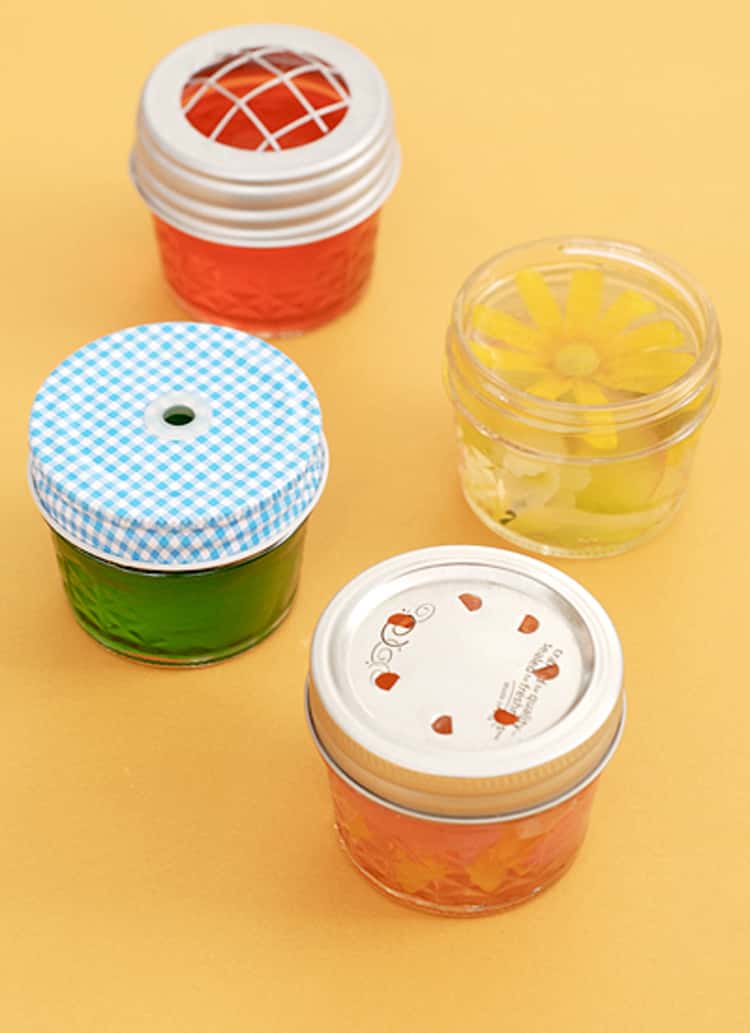 7. Incense Oil Gel Air Freshener DIY for a Fresh Car
Here's an air spencer you can squash to make your car smell great. Make a gel air freshener using water beads and incense oil. You can make bunches of these for just a couple of bucks! Make some for you, make some for your friends! Put them in a jar with a lid (with holes) so it doesn't spill. These are a great way to make any space smell better and look decorative at the same time!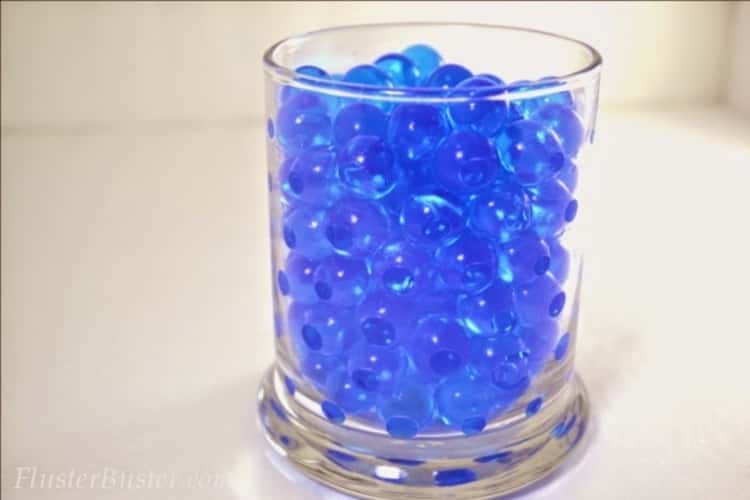 8. DIY Spray Air Freshener for a Better Smelling Car
Get a two-ounce bottle, add rubbing alcohol or vodka, essential oils, and a pinch of salt. That's it! Now you have an easy DIY spray air freshener for the car that you can put in the vent clip and take with you wherever you go. It won't hurt your car seat's leather! Planning on staying in a hotel or Airbnb…freshen the space when you arrive or leave it smelling better than you found it with this easy, portable air freshener!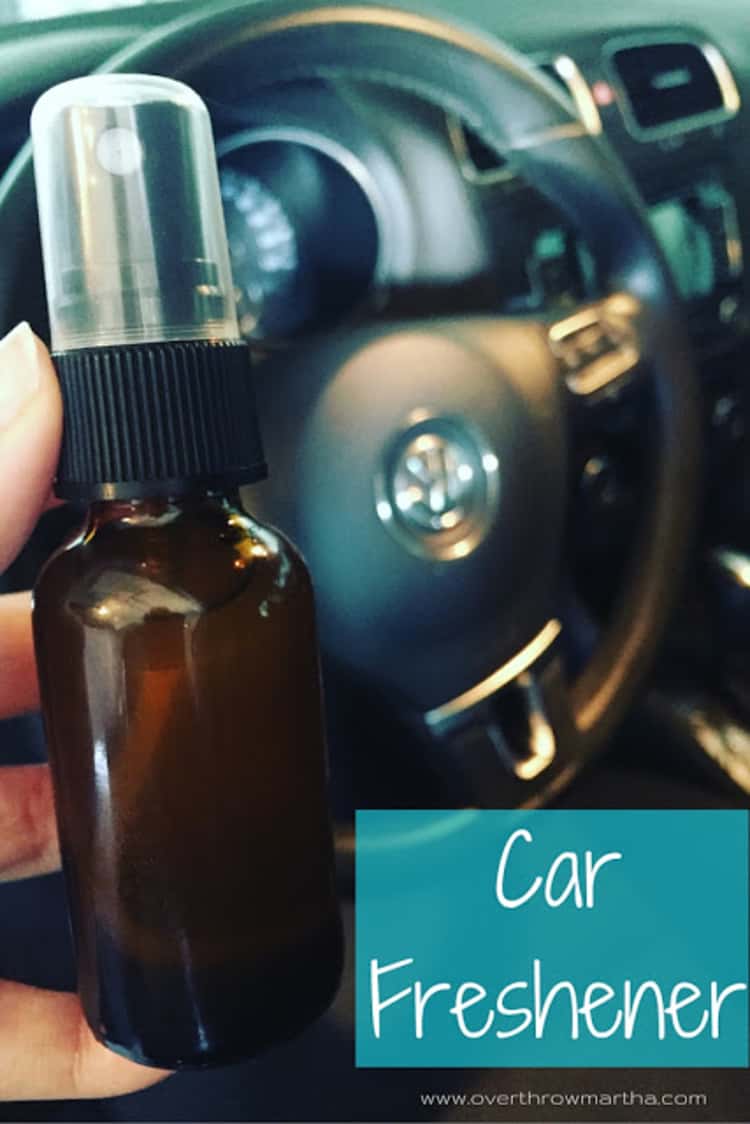 9. Scented DIY Car Rearview Mirror Decor
Not a fan of chemical guys? Here's one for you! Scented tree branch slices with essential oils are a great, decorative way to eliminate car odors. Simply add a string to a tree branch slice and hang it from your rear-view mirror. You can have bamboo charcoal scent in there! Note: In some places in the United States, it is illegal for objects to dangle from your mirror. Be aware of your local laws.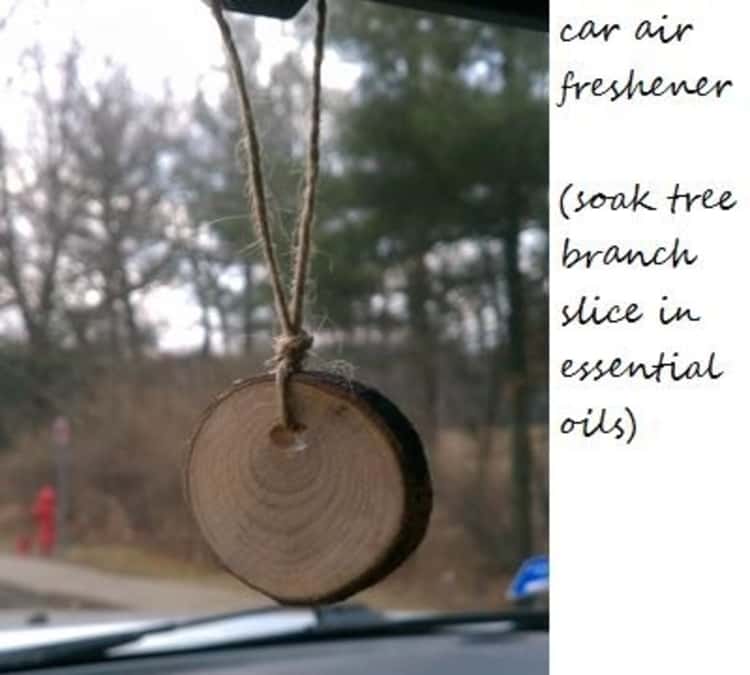 10. Scented DIY Car Rearview Mirror Wreath
Thread wool felt balls together into a pretty wreath. Add your favorite essential oils as needed. If you want to get the kids involved, you can ask them to glue the felt balls together into a shape of their choice! When they're done, attach a string, and add their artwork (and air freshener) to the car. Note: In some states, it is illegal for objects to dangle from your mirror. Be aware of your local laws.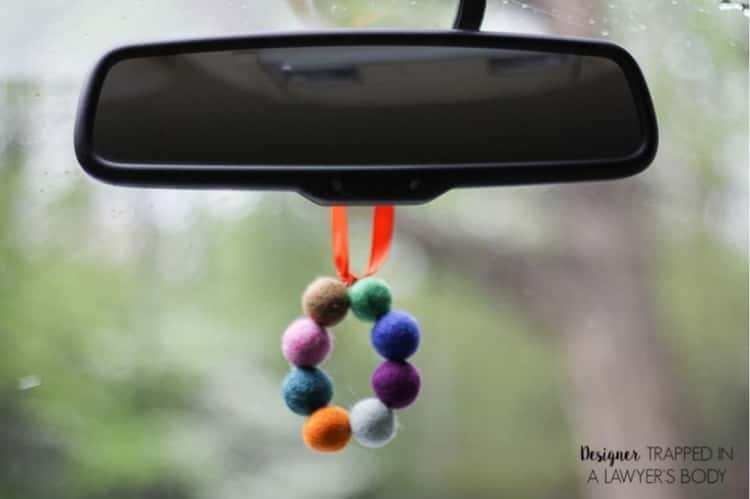 11. DIY Fabric Refresher Spray to Keep Your Car Smelling Fresh
Make your own fabric refresher spray to get smells out of upholstery in your car. All you need is a fabric softener, baking soda, warm water, and a spray bottle.  BONUS: this hack works great in the house too for getting rid of pesky odors from furniture, bedding, and more! If it's fabric, then this hack works great!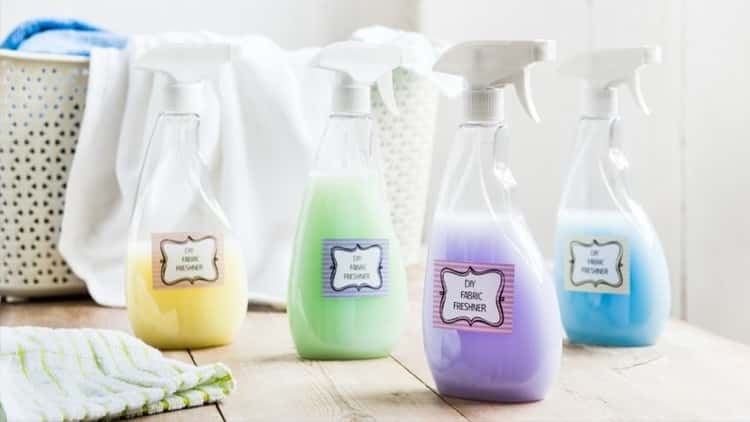 12. All-Natural DIY Hanging Air Fresheners for Your Car
Use this DIY for all-natural air fresheners with dried herbs, spices, teas, incense, essential oils, potpourri, and so on. Package it all up in a cute bandana, and hang it in your car. These also make great gifts!
Here is another easy way to make an all-natural car freshener from herbs…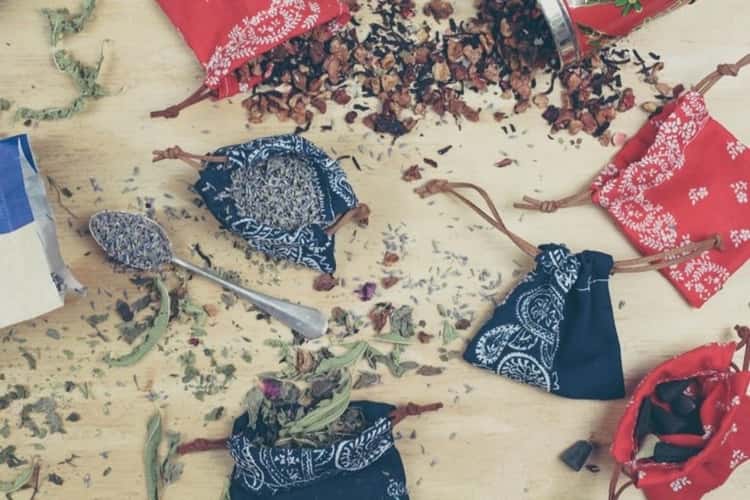 13. Charcoal to Eliminate Car Odors
Let's face it, in recent years we have learned charcoal can be great for a lot more than just barbecues. But did you know, Charcoal also absorbs scents? Simply grab a chunk of charcoal and leave it in your car for a few days (probably best to put it in a dish or baggy first so you don't leave behind a charcoal smudge). 
Activated charcoal (found in the aquarium section of pet stores) works best when you're dealing with organic odors like sweat, food, or mold. Of course, an easy alternative is using charcoal grill briquettes (just make sure you buy some that don't contain lighter fluids).
14. Vacuum Away Bad Car Smells
Believe it or not, most smells are stuck in fabrics. So, if you find you just can't get that new car smell back, try breaking out the vacuum! The more powerful, the better, as it will pull the most smell (or small particles holding the odors) out of the fabrics and leave your car smelling fresh again!
15. Check for Mold for a Better Smelling Car
You may have some mold or some other issue with your AC vents that are causing a bad odor. If you suspect that is the case, use an A/C odor treatment before adding any of the above air fresheners to your car. If you're not sure, but you can't seem to get your car smelling as fresh as you want, try cleaning your vents before trying one of the DIYs in the above hacks.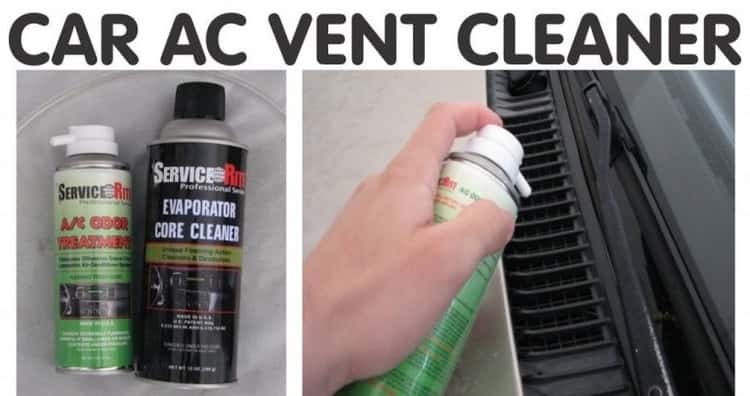 We all have nice smelling stuff around the house. Why not put it to use in your car? If you have a favorite hack we didn't share above, let us know in the comments!
Check Out These Other Car And Odor Removal Hacks From One Crazy House:
Which of these is the best car air freshener for you?