Sitting on the front porch has to be one of the most relaxing things in the world. If you don't spend enough time on yours, get out there! Time just seems to move a little slower when you're sitting and enjoying the outdoors. If your outdoor space needs a little sprucing up, try a few of these front porch DIYs. They'll improve your home's curb appeal and make your porch time so much more enjoyable.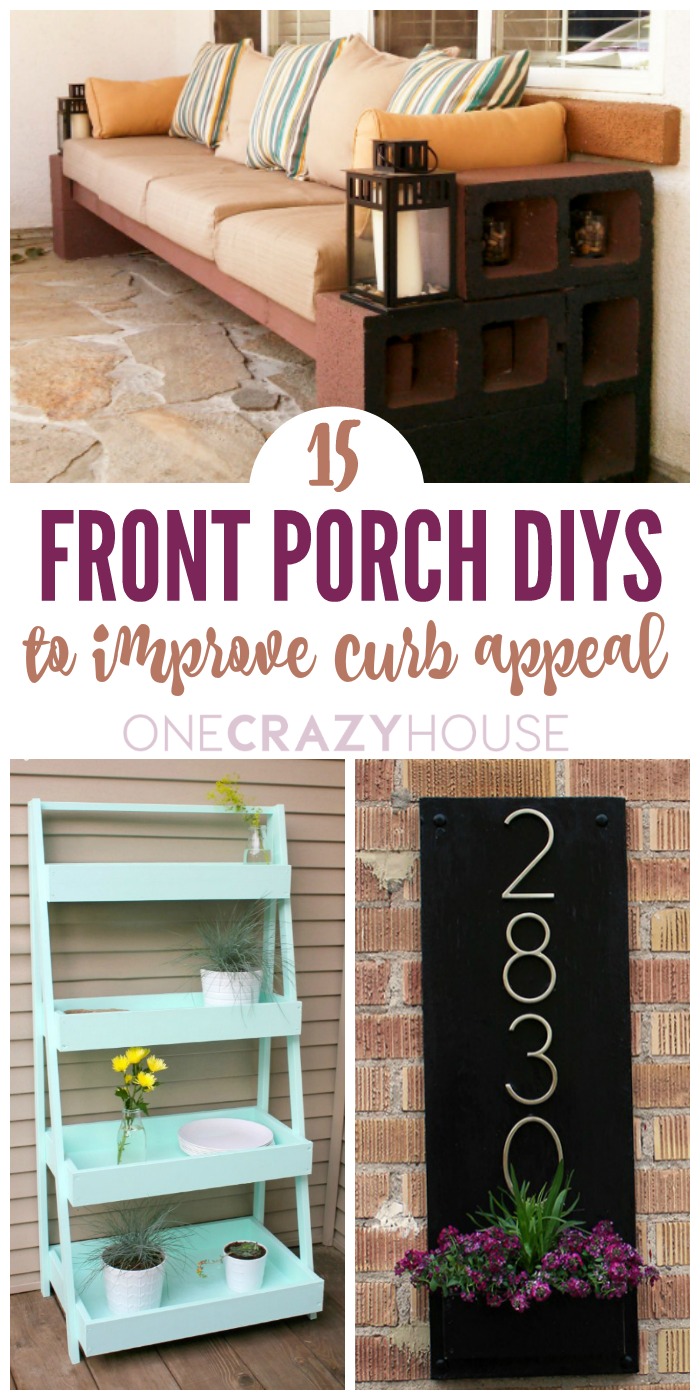 Front Porch DIYs to Add Curb Appeal to Your Home
Nothing is as relaxing as swinging on a porch swing while drinking sweet tea and feeling the evening breeze. Nothing.
Also, check these front porch Christmas decorations, which you must definitely give a try!
These address planters are an excellent way to add some greenery, and they serve a practical purpose, too!
An address plaque is another lovely idea. The plant at the bottom is pretty, and I have a friend who keeps dog treats in hers for visitors to give her pup upon their arrival.
Want some outdoor pillows on the cheap? Get some weather-resistant fabric, and make your own. Stuff them with plastic grocery bags to recycle the ones you know you have stuffed in your drawers or cabinets.
Add a bit of rustic charm with these DIY mason jar solar lamps. This is perfect if you don't have electricity on your porch or if you just don't want to add to your electric bill.
This outdoor bench only costs $13 to make, and it's positively gorgeous. It'll make a nice additional seating area or a great place to put some potted plants.
A ladder shelf is another addition if you like decorating your porch with potted plants. Love the pop of color!
If you need extra privacy, make outdoor curtains from drop cloths. They actually add quite a bit of coziness to the space, don't they?
A tiered herb garden would look amazing in the corner of your porch. And if you plant something like lavender, it'll smell lovely, too.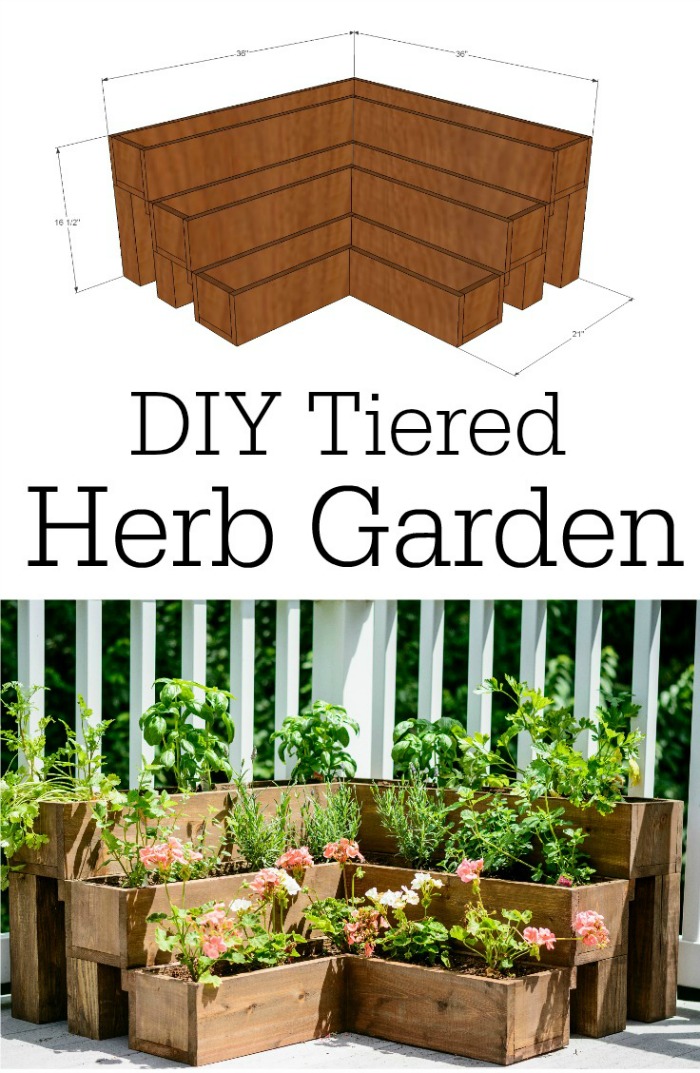 Create an outdoor seating area more affordably than you think! Paint some cinder blocks, insert some 4x4s in them, and then add cushions and pillows.
If you love hanging baskets but don't have a roof on your porch, this hanging basket wood stand is a practical and beautiful option. I actually prefer this to baskets hanging from the ceiling!
Stacked planters add height and color to your porch without taking up much floor space.
If you watch Fixer Upper much, you know that they're fans of wooden columns and beams both inside and outside the home. So are we! This simple makeover really kicks this porch up a notch. Instead of replacing the beams, they built the stained wood columns around the existing ones. It looks so much better.
What can beat sitting on the front porch with your friends and family? This large wood sign encourages them to gather in your favorite spot. Charming!
If you have the space, this wire spool and metal tub coffee table adds rustic charm and valuable space to sit drinks, etc. when entertaining.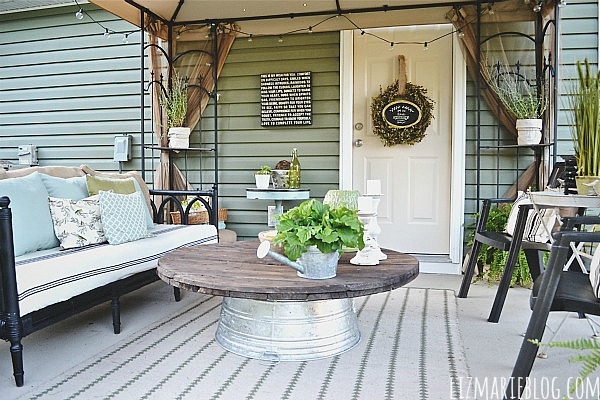 For more outdoor living ideas, check out these posts: