Who knew shower racks could be so useful? Get your home and car in order with these shower caddy organization tips.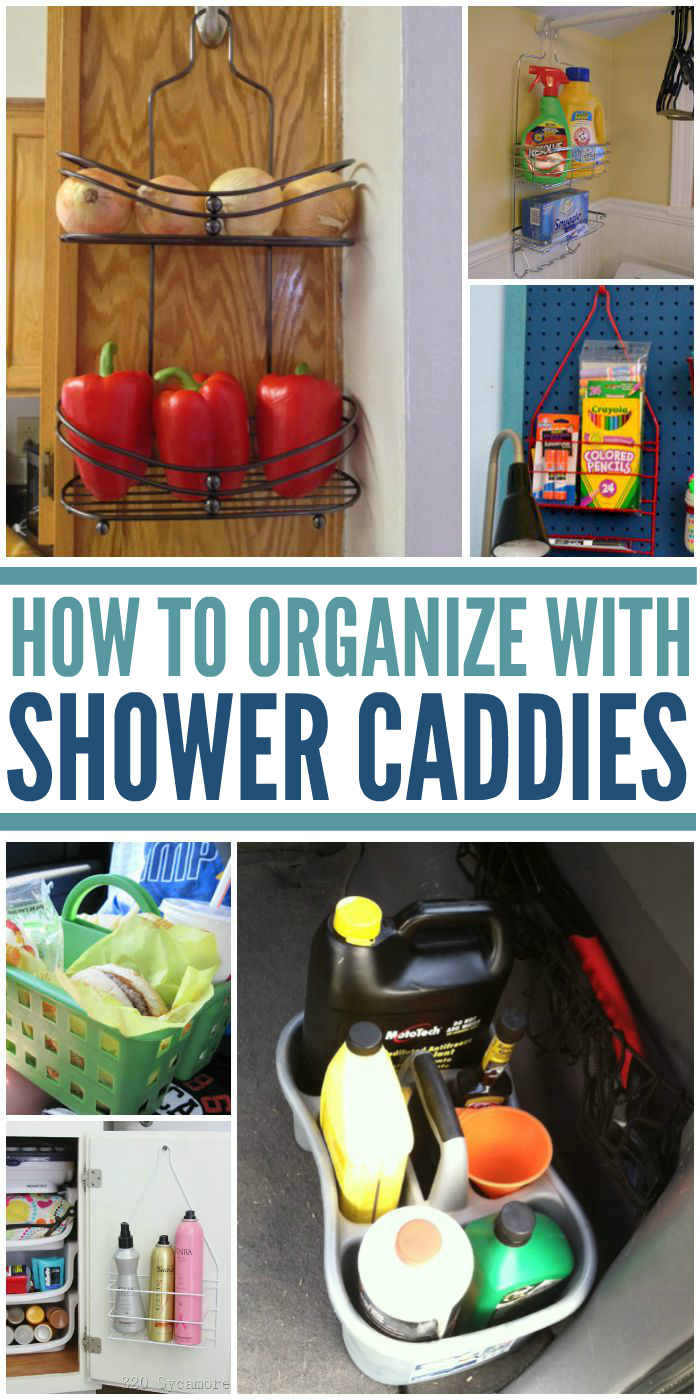 You may have a few in your home or in the basement. We have a couple of spares because we didn't like them for our bathroom. Little did we know that shower caddies could be so useful in other rooms of the home. Keep your kids organized in the car or tidy up around the house with these shower caddy hacks and tips.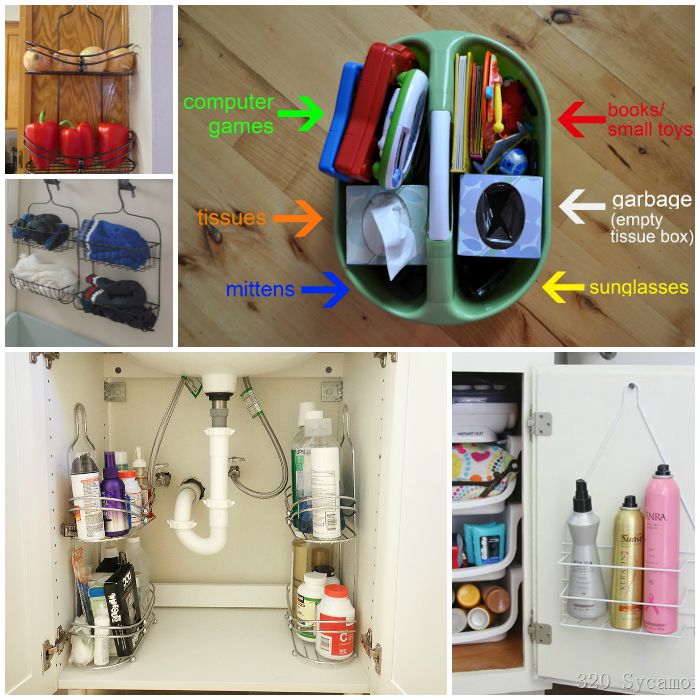 Super Smart Shower Caddy Hacks
Assign a shower caddy to everyone in your family to store hats, gloves, scarves and backpacks in the mudroom.
Store produce in a wire shower caddy to keep it off your counters but within easy reach.
Make movie night stress-free – give each kiddo a caddie with their own drinks and goodies (Thanks to reader Sabrina for sharing this photo with us on Facebook)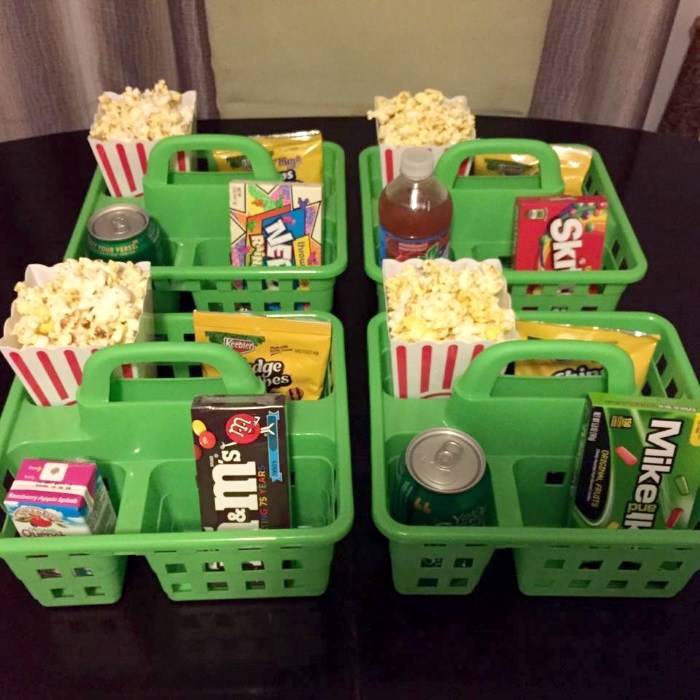 A grab and go shower caddy works great as a car organizer for the kids' toys, books, sunglasses, tissues and other miscellaneous items in the car.
A couple of shower caddies under the sink can make a world of difference! No more knocking over cleaners or toiletries to find what you need.
Shower caddy too big for your cabinet? Trim it down to fit your cabinet door.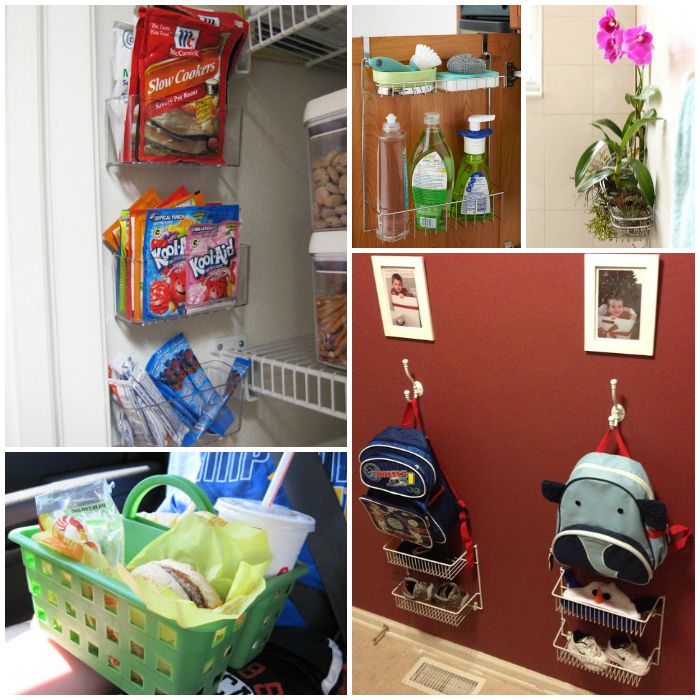 Ways to Organize With Shower Caddies
Get an over-the-door wire organizer for a fraction of the price by using a shower caddy! Use it to organize the kitchen sink. Smart idea for storing extra dish detergent and sponges.
Create a kids' organization station on the cheap with a couple of hooks and some shower caddies trimmed to fit your space. Hang backpacks up and keep shoes off the floor. Clever!
Hang a little garden in your bathroom with a loofah, flowers and a shower caddy.
If you're often eating on the go, a shower caddy makes a brilliant fast food tray, especially for the kiddos.
Small caddies for the sink or shower are ideal for storing seasonings and other small food items in the pantry.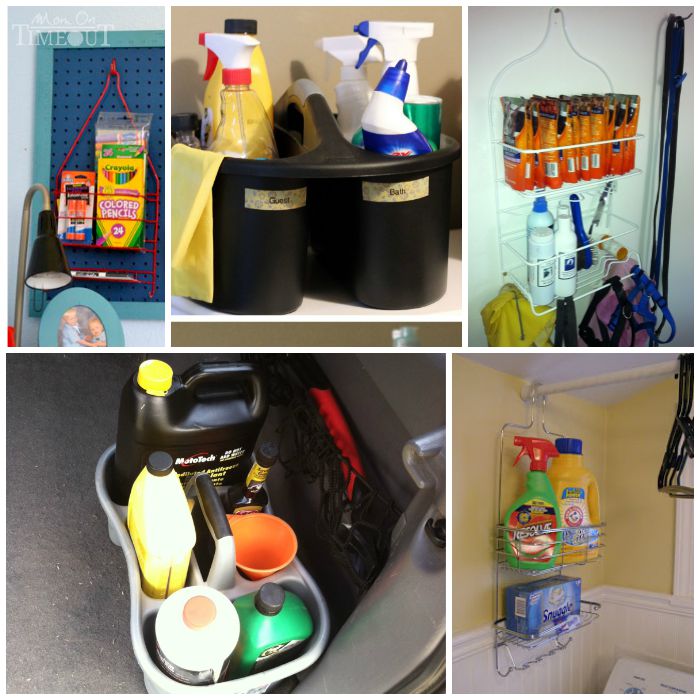 Shower Caddy Ideas for Organizing
Pet owners can keep shampoos and brushes (and other pet products) tidy in a shower caddy. You can even hang your dog's harness and leash on it!
Be ready for a road trip anytime with a caddy full of fluids for your car.
Put a caddy full of school supplies near your homework station so the kids have their crayons, calculators, pencils, etc. handy when they need them.
Add one to your laundry room for stain removers, fabric sheets and detergents.
Create a cleaning caddy for each room so you never have to go looking for supplies!