For me, fall is the perfect time for a picnic. I know most people prefer summer, but if you're not a hot weather person (and I'm certainly not), autumn weather is ideal. So pull on a sweater (and your favorite fall boots), pack up your basket and head outdoors. With these picnic hacks and tips, your picnic is sure to go off without a hitch.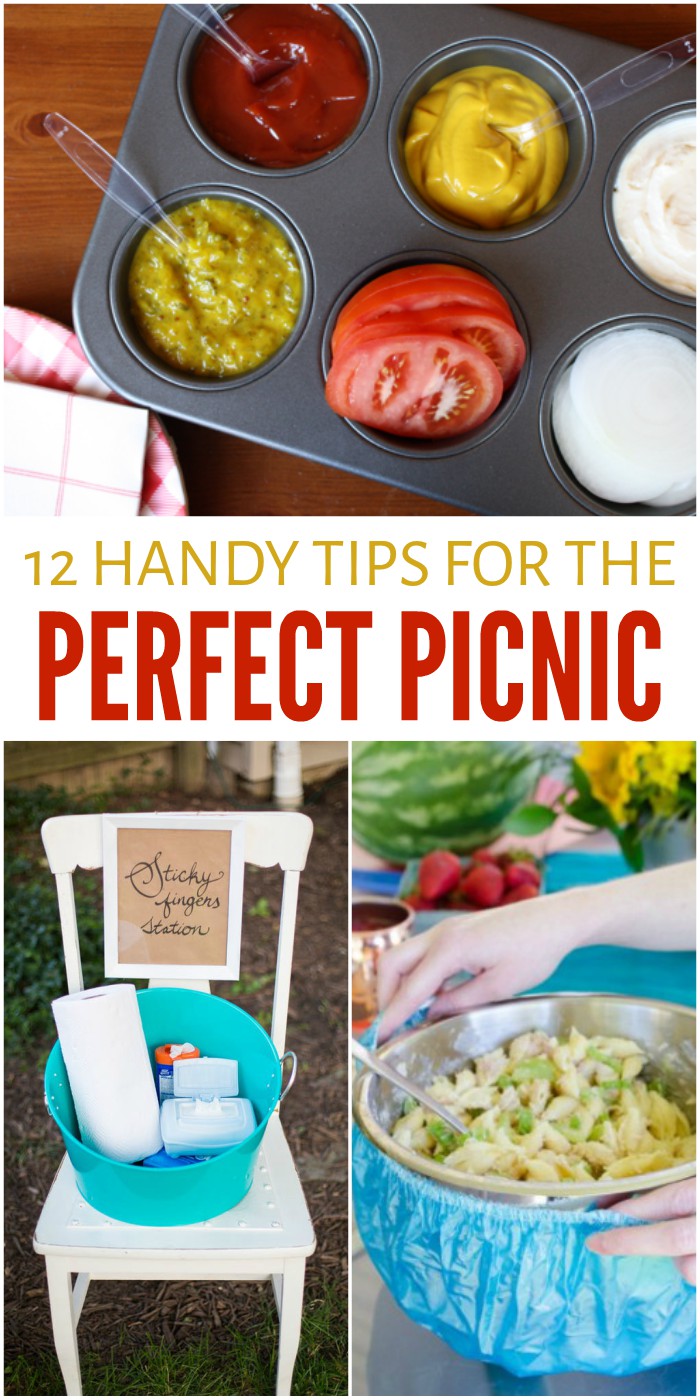 Picnic Hacks and Tips
Don't worry about bringing along salt and pepper shakers or containers of your favorite herbs. Put them in Tic Tac containers instead. Small, portable… win!
Freeze water bottles to put in your cooler rather than bags of ice. It's less messy, and your water will be ice cold.
Keep cut apples from browning by tieing a pipe cleaner or rubber band around the slices. This is a terrific lunch box hack for the kids, too.
Having trouble with your straw always popping up in your soda can? Use the soda can tab to hold it in place.
Turn a chip bag into a bowl by pushing in the bottom a bit and folding the top in on itself. It's such a handy trick — you'll never have to bring along big bowls to pour the chips in again.
Enjoy bug-free drinks by simply placing a cupcake liner over your glass and punching your straw through. I'm so going to try this at our family reunion — it is always by a creek where the bugs are rampant.
A six-pack drink container can be converted into a utensil caddy in a pinch. Put your spoons, forks, knives, napkins, and straws in the compartments.
Or make a picnic caddy like this one, using small pails (or old tin cans) on a wooden round.
Use a shower cap to keep food cold. Just add ice, insert the bowl, and it should all stay in place nice and cool.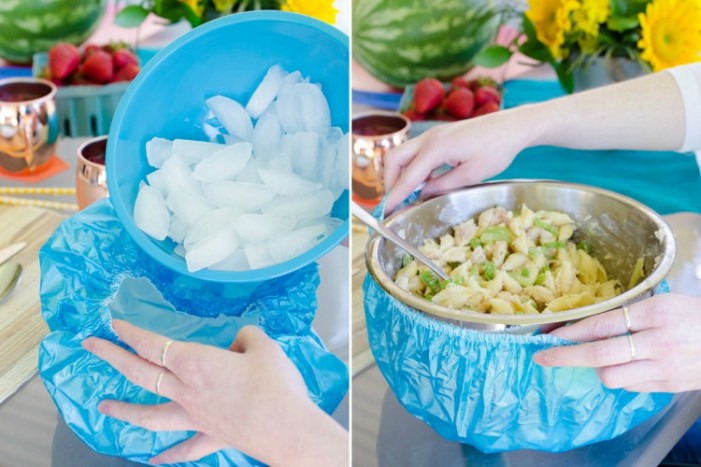 Tired of your tablecloths blowing in the wind? A fitted twin sheet makes an excellent picnic table cover.
Put condiments in a muffin tin (or two) to make it easier for everyone to customize their sandwiches or burgers.
Kids love watermelon, but man is it sticky! Put watermelon on a stick to make it a little more convenient to eat.
No need to build a big fire if you want s'mores at your picnic. Terracotta pots convert very easily to DIY s'more pots with tinfoil and charcoal.
And if you have s'mores, this sticky fingers station is a MUST! Put wipes, paper towels, spray bottles of water, and hand sanitizer in that area.
Cooler corn is probably the easiest way ever to cook corn on the cob. Try it at your next picnic!
For more ideas for the perfect picnic, check out these posts: