No purse is perfect. Some may come close, but eventually they wear out. And what about having a matching purse for a special event, or to have fun matching your outfit? These purse organization tips and DIY projects should help you to organize contents and save you time as you go throughout your day.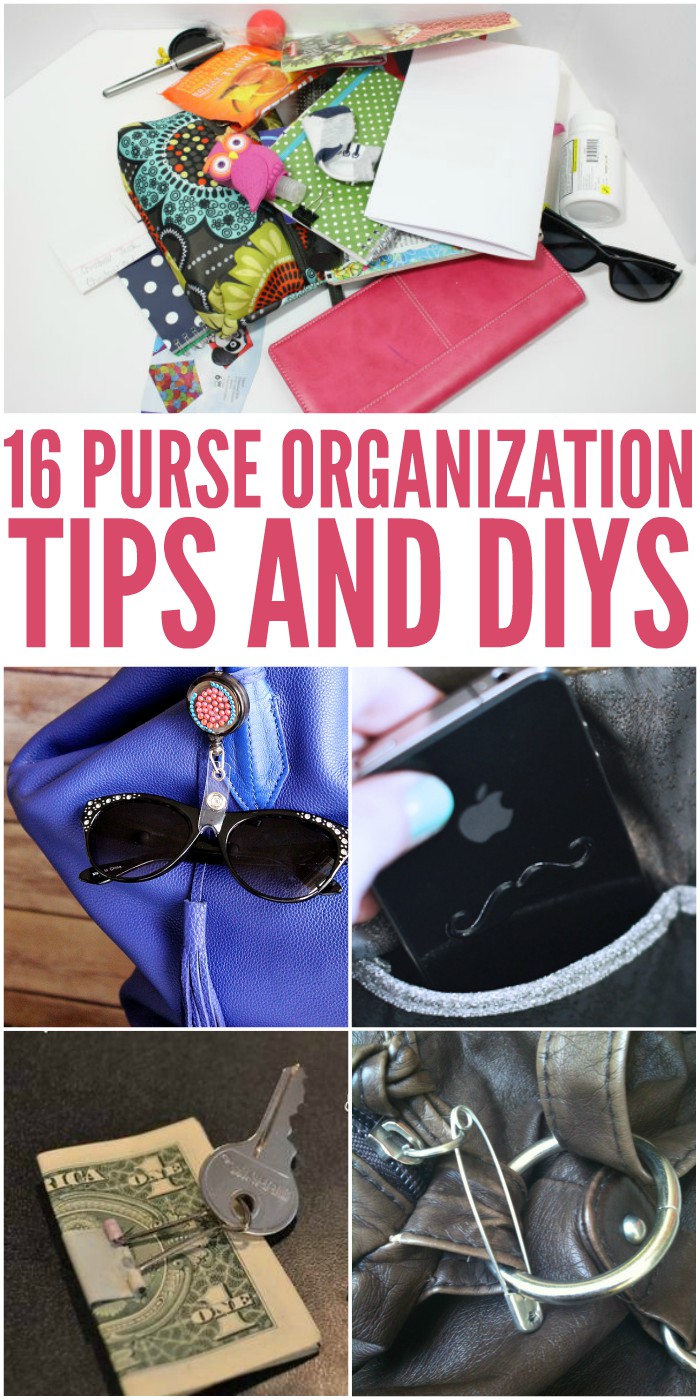 Purse Organization Tips
Related: Get diaper bag organization ideas here!
Once a week, take time to clean out the excess in your purse. Throw out trash, consolidate change and make sure everything that goes back into your purse is essential.
Put the most important things in easily accessible pockets; this way they will be at fingertip reach. Things like lip balm or your phone should be kept in small pockets.
Consolidate cards by using a card-organizing app on your phone so you don't have to carry as many cards. Stash the cards you take out of your purse in a safe place at home though, so they don't get lost.
No-Mess Money Clip: Practicality is great; alligator clips make a great money clip that can also hold a key. Just unhook the silver handle, slide the key on, and put it back in place.
If you are constantly losing your keys, try using a carabiner to hook your keys within easy reach.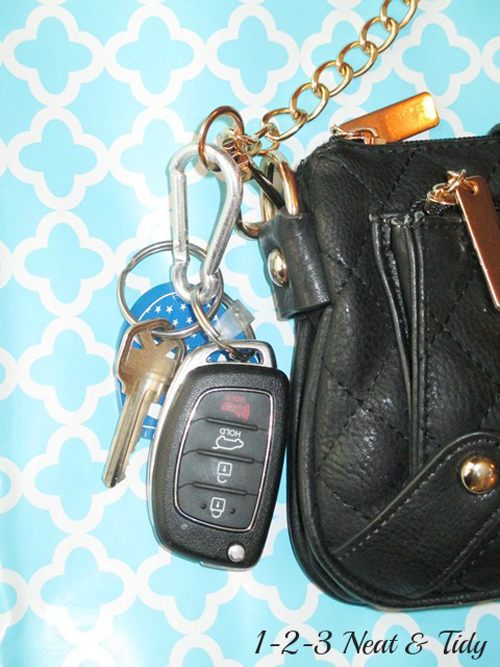 Safety Pin fix: If the zipper on your purse breaks, have a safety pin ready to improvise a zipper pull until you can fix it properly. Or keep one to clip your zipper to your purse handle if you leave your purse unattended now and then.
Use an old Altoid tin to hold small items within your purse. You can decorate it so that it looks different from the tin with actual Altoids in it.
Bobby Pin sighting: Put bobby pins on a playing card to spot them easily in your purse.
Try making your own purse organizer out of a place mat. It can be customized to fit your favorite purse, and transplanted if you're the type of girl who likes to change purses often. Get the instructions here.
Quick-switch organizational system: If you do not want to DIY a purse organizer, search around online to find other solutions for quick-switch purse organization.
Organize everything in unique bags and cases so that you can easily spot them in your purse and grab them quickly. Keep different types of supplies in their own bag so you do not have to search back and forth between bags.
DIY pocket organizer: Another DIY from a place mat, this one takes a slightly different approach to help you choose how best to organize all the different contents.
Use a badge clip to hold sunglasses. Glasses can usually get crushed if they don't have a bulky sunglasses case. Keep them outside the purse to save room inside.
Clear bags: Make your own clear organizational bags to keep contents organized but easily seen. Customize them with cute patterned fabric or color-code them for easy identification.
DIY Elastic Catch-All: If you want something to keep cords organized quickly, try this catch-all organizer. Elastic strips securely hold cords and other items of varying sizes.
Stain remover: If your purse gets stained, keep a small container of baby powder handy to help remove grease stains like makeup for food. The faster you treat a stain, of course, the more likely it is to come clean.
Will they ever make a purse that is perfect for everyone? Probably not. But with these quick and easy purse organization tips, anyone can effectively find items within her purse.