If you have a bunch of rubber bands and no idea what to do with them, you're in luck! Try some of these rubber band tricks, and you'll see just how handy they are. You won't believe how many ways you can use a stretchy elastic band!
Rubber Band Tricks You Need to Know
Rubber bands are useful for all sorts of things. From pulling your hair back in a pinch to creating fun props and charms for the kids, to securing things together, every home and office should have a few (hundred) rubber strands. Not sure what to do with this elastic tool? Here are 15 ways you should be using rubber bands.
1. Make Rubber Band Rings
Make fun rubber band rings for the kiddos. It's loads cheaper than costume jewelry purchase and the kids are going to love it. These rings are so easy to make that once you show them how to make them, they'll do it on their own every other time! Keep them busy and save money on plastic rings! For more variety and fun, get different colored rubber bands and see what you can create.
Video: Rubber Band Hacks
I put together a short video showing you all kinds of genius ways to use rubber bands. Check it out!
2. Practice Light Packing With This Simple Rubber Band Trick
When you've gotta save space in your backpack or luggage, use rubber bands to keep outfits rolled up together neatly. This trick works best for the great outdoors where you don't have to worry about creases. It is useful for organizing your bag and planning your outfits so you don't have to pull out all your clothes looking for one physical item.
Simply place clothes in one outfit on top of each other with socks and underwear at the top and roll them up! Secure with a rubber band and place in a plastic bag to keep them dry.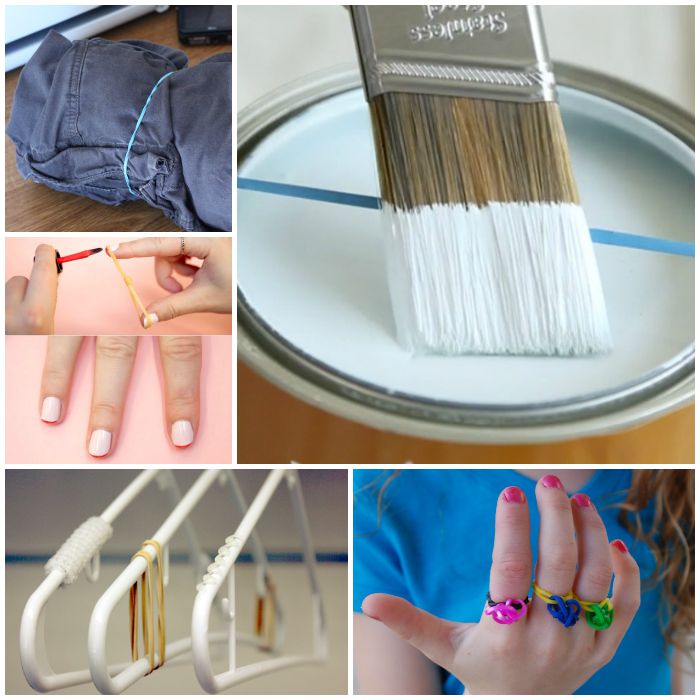 3. Do Your Manicure Like An Expert with Rubber Band!
You don't have to be a pro to make your nails pop. Try out this easy hack and you might never go back to the salon. Easily create French tips by using a rubber band for smooth nail polish transitions. Just take a rubber band and tie it in the middle. Loop one end of the rubber band over your right thumb and left thumb  to create tension and the other over the top of your nail and just below the edge to create the French tip shape. Using the rubber band as a guide, paint the tip of your nail, and voila!
4. Keep Your Clothes On The Hangers With This Quick Rubber Band Trick
Clothes that won't stay on the hanger are a threat to an organized wardrobe. Avoid breaking the bank by buying non-slip hangers with this cheap hack.  If your clothes are always falling off the hangers, use rubber bands to create non-slip hangers for those wide-necked tops. This way, make only as many non-slip hangers as you need at no extra cost.
5. Use a Rubber Band to Get Excess Paint Off the Brush
Taking on a painting project can be intimidating for those of us without a creative side. Here's a tip that will get you one step closer to feeling like an expert. And all you need is a rubber band! Put a rubber band around a paint can to remove excess paint from the brush. This will help avoid getting paint on the rim of your paint can.
6. Keep Sliced Apples Fresh With This Clever Rubber Band Trick
Kids love apples. Same with moms. They're available, affordable, and easy to pack. Kids hate brown apples. Same with moms. Keep apples from turning brown in a lunchbox by securing them with rubber bands after you slice them. Slice the apple into thirds, cut the middle piece into thirds again, secure the pieces with a rubber band and never have to worry about brown apples again!
7. Keep Doors Open With Rubber Bands
Here's a great idea if you have toddlers: prevent doors from latching (and locking) by securing a rubber band around both knobs to press the latch in. It also works great if you're moving in and out of the house with your hands full.
8. Amazing DIY Car Phone Mount Using Rubber Band
No GPS on your car? No problem! Mount your phone to the rearview mirror using rubber bands and paper clips for an easy-to-see navigation system.
9. A Clever Rubber Band Trick To Save Money On Handwash
Kids are always being encouraged to wash their hands and if not monitored, can get carried away and use too much handwash – especially if it smells nice! If your kids are using too much soap when they wash their hands, limit how much they can get by putting a rubber band around the soap pump. When the dispenser is pushed down, it only goes halfway, giving them just the right amount of soap. Genius!
Hygiene is two-thirds of health

–  Lebanese Proverb
10. Cut Out Unnecessary Dishwashing With This Genius Rubber Band Trick
Kids can go through 101 drinking glasses a day. Mark each glass with a different colored rubber band for each kid, and you'll save loads of time on washing and guessing which glass belongs to whom. Let the kids choose their colors and put the bands on their cups so that they remember and won't switch glasses with one another. You'll also save water, soap, and money. All this from some cute, colorful, AND cheap rubber bands. You're welcome.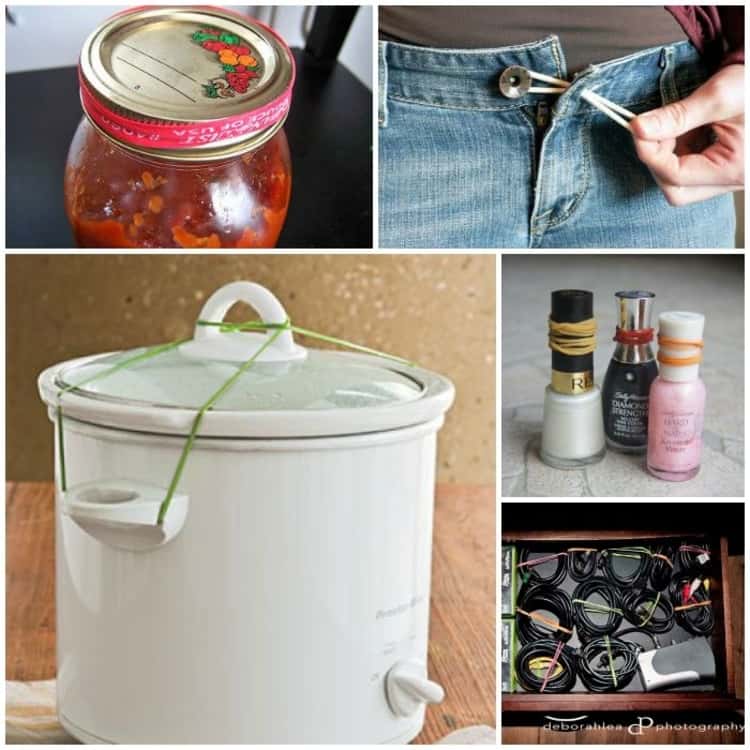 More Genius Rubber Band Tricks
11. Give Neighbors A Taste Of Your Cooking Without Hassle By Doing This Rubber Band Trick
Whether it's Thanksgiving or you're just taking dinner over to the neighbors, keep the goodness from spilling with this easy rubber band hack. When transporting a crockpot without a lock top, secure the lid with rubber bands to make sure you don't spill anything.
12. Use Rubber Bands As Jar Lid Grippers
When in the kitchen cooking up some magic, nothing kills the vibe more than a jar that won't open. Especially when you have to seek help from the whole family! Slippery hands are no longer a problem when opening jars. Pry open those stubborn jars with this clever trick. Put a thick rubber band around the lid, and give it a twist. The rubber band helps your hand maintain a firm grip. Turn a slippery lid into an open one.
13. Get That Nail Polish Open Using A Rubber band
Unless you do your nails every week, your polish is bound to dry and shut tightly. You don't have to twist those polish caps with your teeth. Secure a rubber band around the cap to help you get a better grip while twisting it open. 
14. Control Cord Clutter With This Brilliant Rubber Band Trick
In this digital age, a house is most likely to have multiple gadgets, each with a cord or two. No doubt, cords can be difficult to organize and things can get messy really fast. Control cord clutter by wrapping great little rubber bands around each stored cord to prevent tangling.
If you don't have rubber bands on hand, use TP tubes. They'll do the trick just as well.
15. Use a Rubber Band to Secure Those Tight Pants
Whether you purchased a pair of jeans that don't quite fit or you want to wear your favorite jeans a bit longer even if they don't fit, you'll find this little rubber band hack a life-saver. If your pants are a little too snug, wrap a rubber band around the button, loop it through the buttonhole, and wrap around the button again. Zip up and wear a long top or shirt and no one will notice! You may want to carry an extra rubber band or two just in case, though. For a more secure closure, use an elastic hair tie. This is less likely to break.
16. Make A Cute Rubber Band Ball-Cum-Eraser With This Creative Tip
Wondering why anyone would need a rubber band ball? Here's why. A rubber band ball keeps all your rubber bands in one place, is fantastic for bouncing around, can be used to strengthen hand muscles, is a handy eraser, and if it's big enough, makes a great chew toy for furry friends! Here's how to make one:
Supplies Needed:
A first rubber band
Second rubber band
More rubber bands!
How-To:
Make a core using a thick rubber band (first band) and a thin one (second band)
Wrap rubber bands around the core, starting with two crisscrosses over the core – something like the main latitude and longitude on a globe
Continue wrapping rubber bands around the core, starting with the small ones, until the ball is smooth
Add rubber bands to form a tennis-sized ball for extra spring
Enjoy your rubber band ball that can be used as an eraser
Found These Clever Rubber Band Hacks Interesting? You'll Be Blown Away By These Uncommon Uses For Common Stuff:
If you're always looking for new ways to organize and save money, check out these cool clothing pin hacks that will make your life easier.

Recycling and repurposing are good for the environment, but do you know possible other uses for toilet paper tubes? Find them here.

Instead of throwing away empty formula canisters, you can make all kinds of crafty things from these containers.

Check out these useful tips on using aluminum foil around the house.

Learn about dozens of other vinegar uses and how to take advantage of them.
These easy cleaning hacks will revolutionize your bathroom cleaning routine.
Check out this list of things you can do with Vaseline that you probably never thought of before.
Which of the rubber band tricks will you try first?