If you have a spare flower pot or two that you're not using, don't toss them aside or give them away just yet. We've found 15 fabulous ways to use flower pots that have nothing to do with gardening. From backyard entertainment to whimsical decor, you'll love these ideas!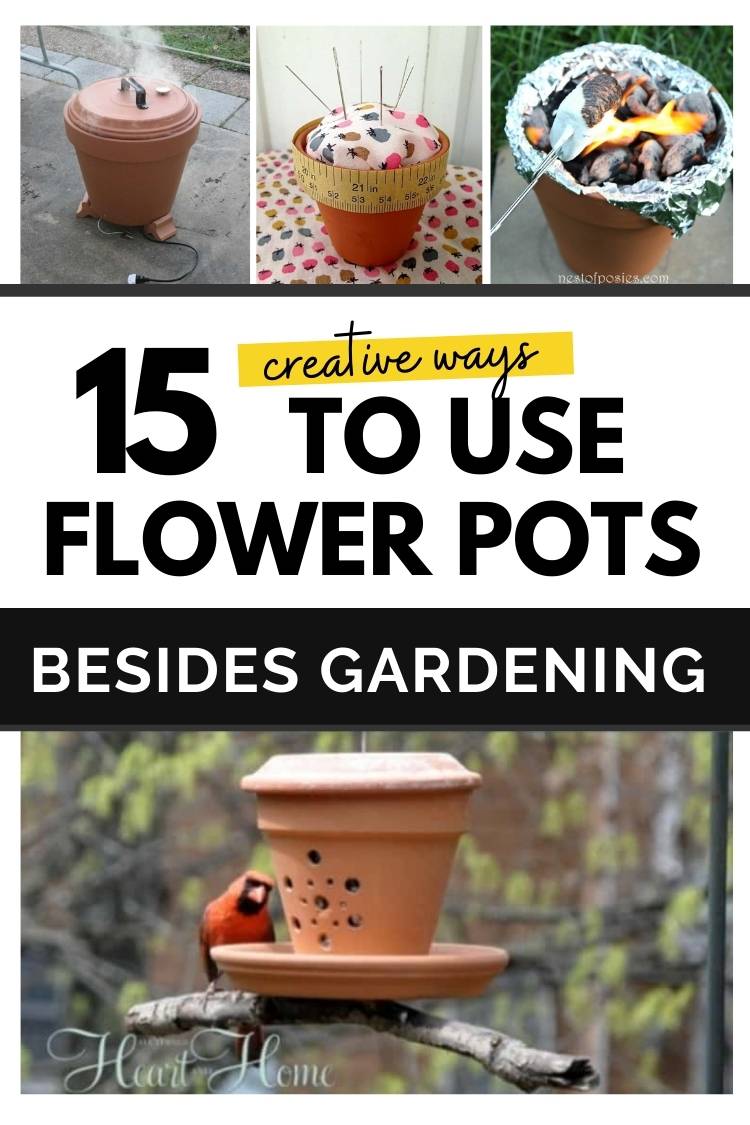 Clever Ways to Use Flower Pots
At One Crazy House, we love finding alternate ways to use things we already have around the house. It's so fun to repurpose things to cut down on waste! Since many of us will be digging out our gardening tools in a couple of months, we put together this list of ways to use flower pots, just in case you have a few extras. From practical to decorative, you'll find a great tip or two here to turn that empty pot into something useful.
1. Making A DIY Bird Feeder Is One Of The Many Ways To Use Flower Pots
Speaking of birds, they're sure to appreciate this DIY bird feeder, too. If you love feeding birds but you'd rather not earn the 'crazy bird lady(person)' title, here's the ultimate DIY project for you. Whether you keep your own birds or you love feeding birds in the great outdoors, this bird feeder is what you need. Making use of a flower pot, two clay saucers, and a plastic bottle, this project will help you upcycle a lot!
2. Party-Themed Flower Pots Condiment Station
Paint flower pots according to your party or holiday theme to create a utensil and condiment station. All you need is a total of 4 supplies. And all for about $7! This party decor is so easy the kids can do it. Talk of whimsical decor!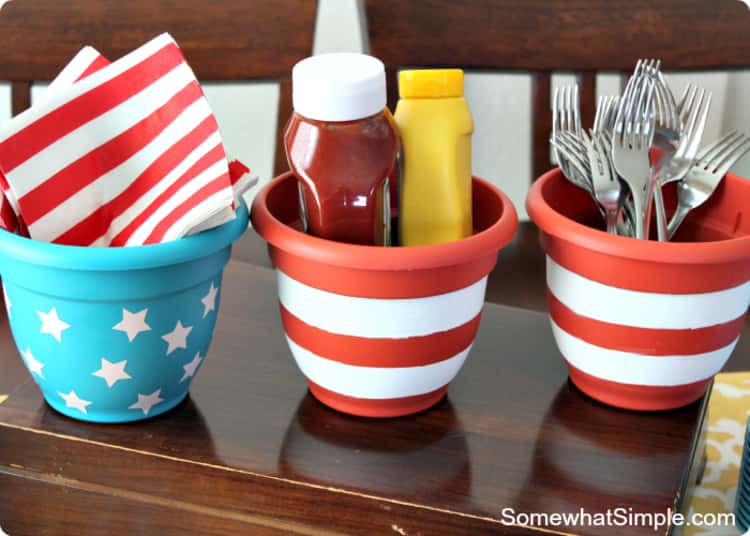 3. Creative Plunger Holder Courtesy Of Your Flowerpot
I am a sucker for unique decor. Imagine using the washroom in someone's house and finding that instead of a boring plastic plunger holder, they have a colorful clay one? I would be impressed, to say the least. Wow, your house guests with this creative trick. Use a pretty flower pot as a plunger holder. What a clever idea!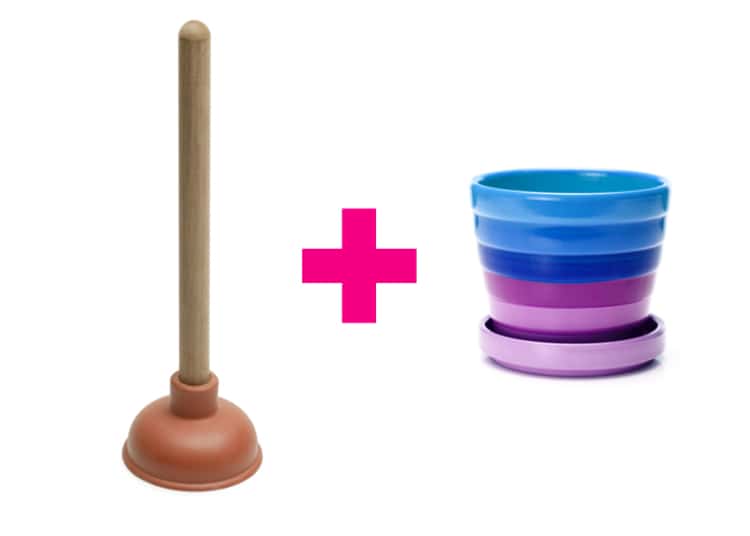 4. DIY Outdoor Cooker Using A Clay Pot
Nothing gives a homely, night-in-the-woods vibe like some smoked meat or fish and no, you do not need hardwood, a smoker house, yada, yada. You only need stuff you can pick up from your local store or, get this – from your garage! Cook up some flavorful meat in your clay pot smoker. This DIY project might need a bit of skill but there's always room to learn new things, right?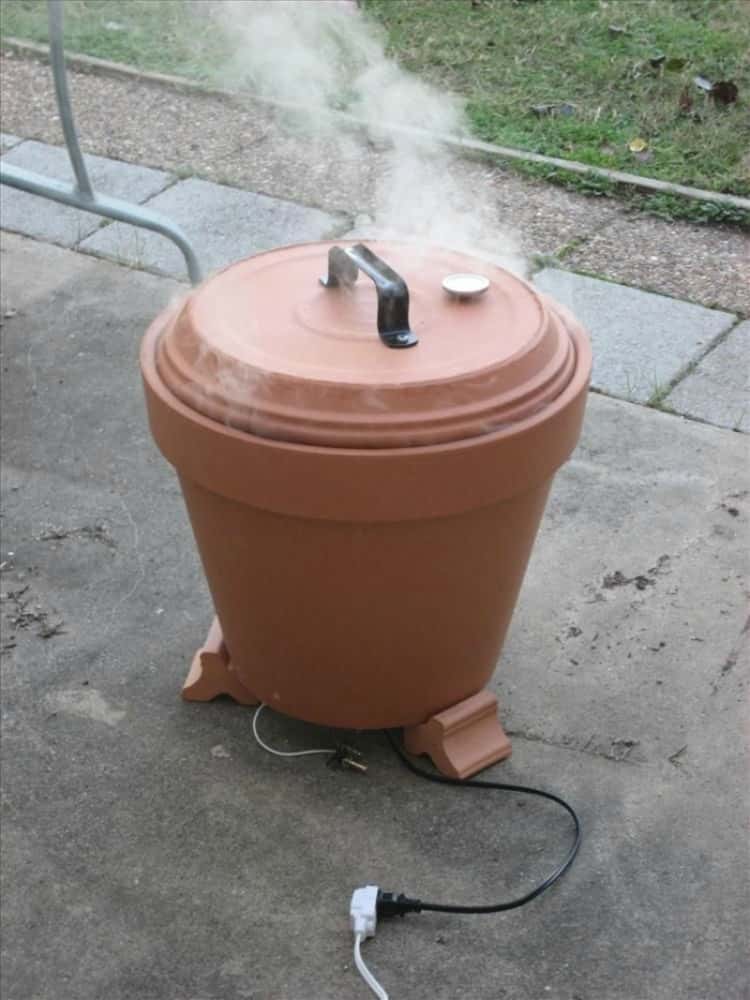 5. Terra-cotta Bathroom Organizers
Add some bright paint to create pretty organizers for cotton balls, q-tips, and more in the bathroom. You might even get to ditch those tiny shower caddies that don't hold all your products, anyway. You can use scrapbooking stickers to add some cute patterns to your terra-cotta organizers. These flower pots are way better than soap dishes if you ask me!
6. These Terra-cotta Food Covers Are Pure Genius
Add a coat of paint to your flower pot and a piece of knotted rope through the hole in the bottom to create a handy contraption to protect dishes and dips during your outdoor parties from those pesky party-crashing insects. Who knew flower pots belonged to the food table?
7. Use A Flowerpot To Roast S'mores – Yum!
Set up a little s'mores roasting station using a terra cotta pot, foil, and charcoal. This way, you get twice the fun making s'mores, half the clean-up time, and a lot less heat than you'd have roasting s'mores in a giant firepit!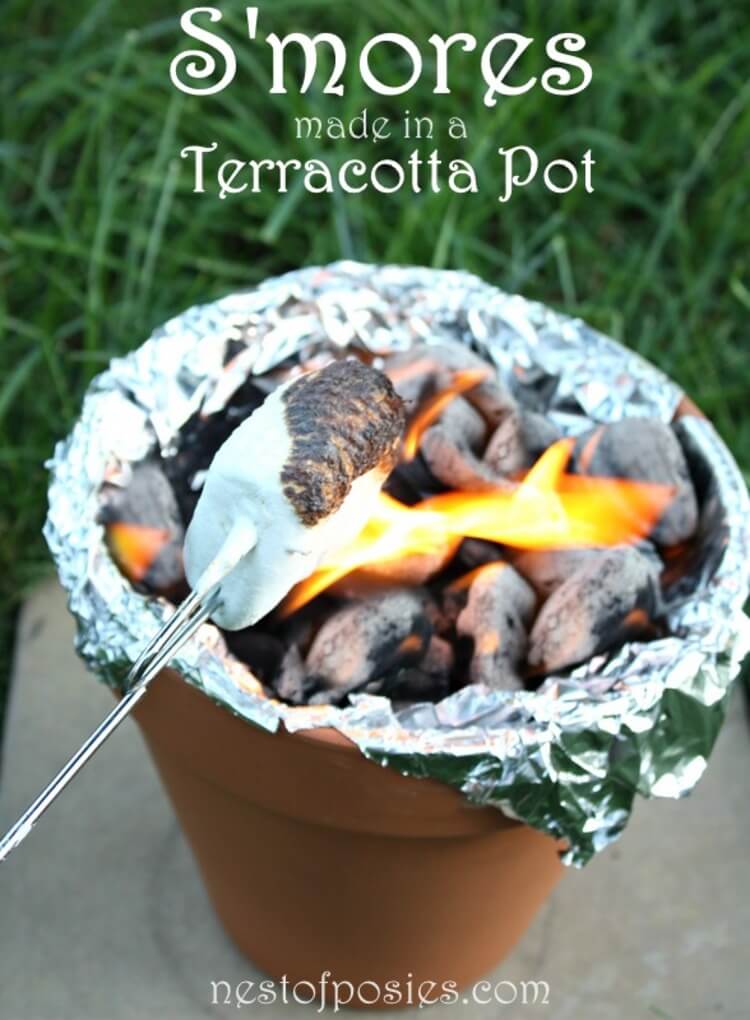 8. Love The Sound Of Birds Chirping? This Birdbath Is A Must Have
Do you have a habit of constantly pinning awesome home decor ideas you never try out? We all do. Here's a super easy DIY home decor idea that you will have a breeze doing. Create a pretty birdbath for the backyard. You can get all your supplies from your local home improvement store and you need absolutely zero gardening (or creative) skills. Your backyard will look lovely and maybe, just maybe, you might wake up to the sound of birds chirping.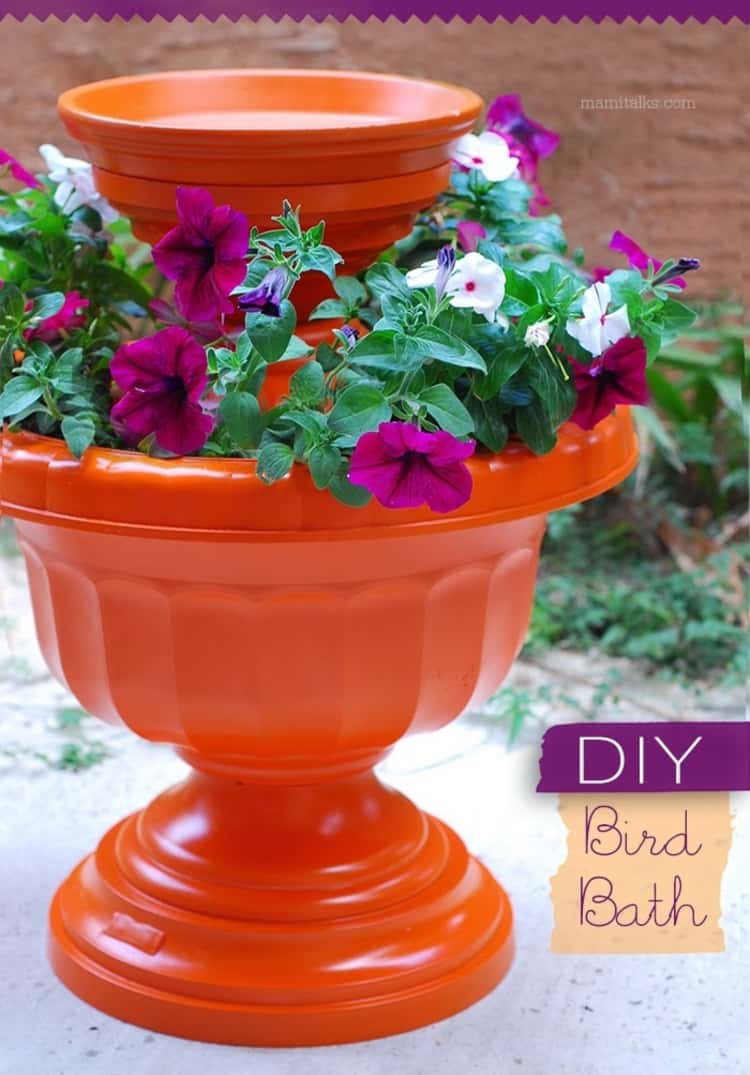 9. Create Your Own Flowerpot Fridge
Ever wondered why ancient communities had a lot of earthenware? Here's why. Terra-cotta pots make for great 'refrigerators' because of their porous nature. You can borrow from ancient wisdom and convert a jumbo flower pot into a cold drink cooler for summertime get-togethers. You'll be surprised how long a flowerpot can keep things cool.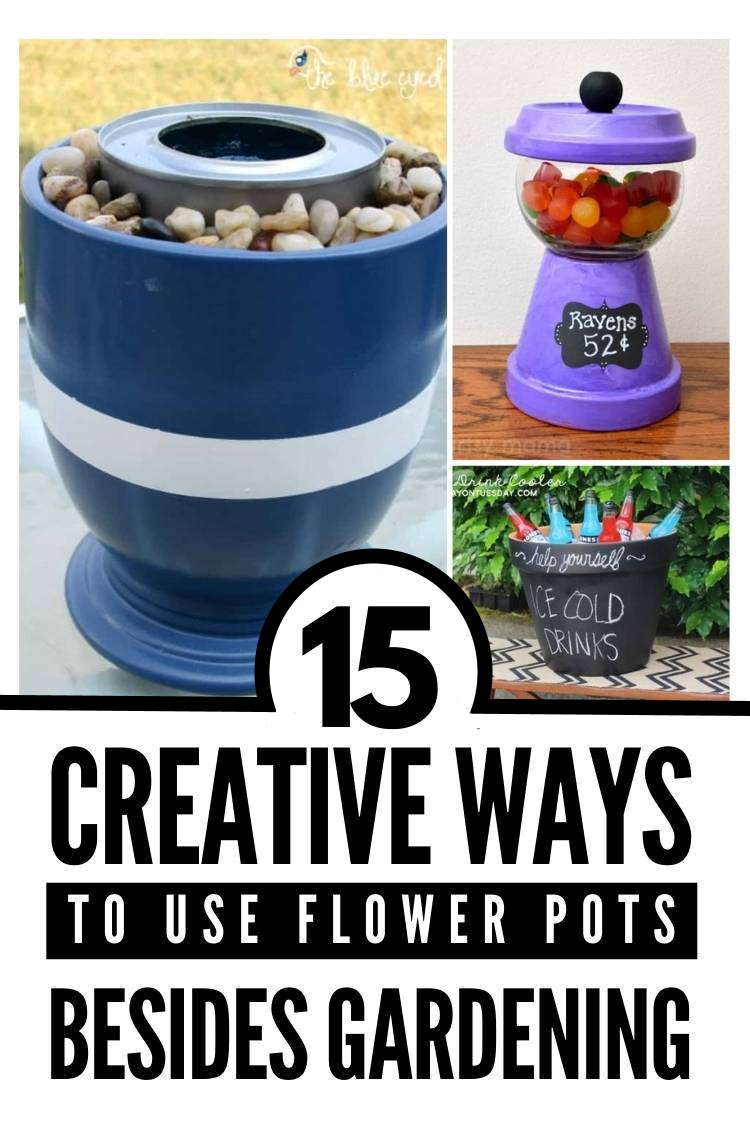 10. From Flower Pot To Fire Pit
Turn a giant flower pot into a small fire pit for the backyard or patio. This is way better than a huge man-made fire, especially when you want to make some s'mores. Just repaint the pot, put a can in the middle for a fuel gas canister, and some stones along the inside of the flower pot as decoration.
11. Gumball Machine Craft: Genius Way To Use Flower Pots
Want to be the 'cool' adult? Here's an awesome gift that'll make the kids love you, and only for a few bucks! Kids will love snagging a piece of candy from this gumball machine-inspired candy holder. It's also really quick and easy to make.
You Will Need:
A terra-cotta pot
Terra-cotta saucer
Acrylic paint
Glass Bowl
Wooden Bead
Mod Podge
Hot glue gun and glue
Adhesive Vinyl
Scissors
Chalk
How To Do It
Paint pot and saucer. Let that dry
Paint wooden bead as well.
Coat everything that's painted with Mod Podge to seal the paint.
Glue bowl to the bottom of the pot and glue bean to bottom of the saucer
Fill the bowl with candy and use the saucer on top as a lid
Cut out vinyl and write on it for a customized gumball machine!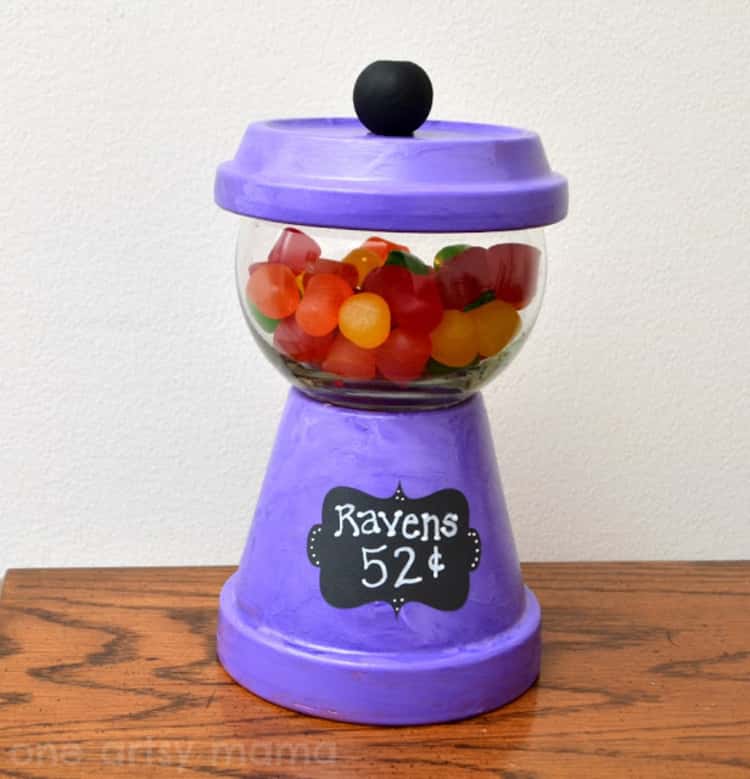 12. This Flower Pot PinCushion Is Pretty And Cute
If you're the crafty type when it comes to sewing (or know someone who is), this flower pot pincushion will come in handy! It also makes your sewing area look pretty and keeps your needles and pins organized. The flowerpot pincushion would make a wonderful gift for someone who loves sewing as well. All you need is a small terra-cotta pot, a few cotton balls, scrap fabric, scissors, hot glue, and a paper tape measure.
Fill up the pot with cotton balls and stuff it. You'll want to let some overflow to give the pincushion its cushion shape. Cut a piece of fabric to fit over the top of the cotton. Add a strip of hot glue along the inside rim of the flowerpot. Place the fabric over the cotton, press it over the glue strip on the inside and hold it in place until secure. Cut the paper tape measure to fit around the pot and attach it with hot glue.
13. Flowerpots Don't Just Hold Flowers – They Catch Rain!
I find joy in the simplest of things. No wonder this terra-cotta rain chain made me so happy when I first came across it. I am yet to make mine but don't let me stop you! Make a rain chain with mini terra cotta pots. It's a breeze to make. Get it? I'll see myself out.
14. Bake Cupcakes In Flower Pots – Words You'd Never Thought About
Baking things in unconventional containers seems to be a hit with people who love experimenting. Lucky for you, we at One Crazy House are that kind of people. Bake cupcakes in mini flower pots for a fun spring-themed dessert. Just drop a cupcake liner in each flower pot, fill it with cupcake batter, bake for about 35 minutes, and voila! You can add some chocolate frosting for that garden soil feel. You might end up throwing a spring party just to try this out.
If You Liked This Post On Fun Ways To Use Flower Pots, You'll Enjoy These Posts On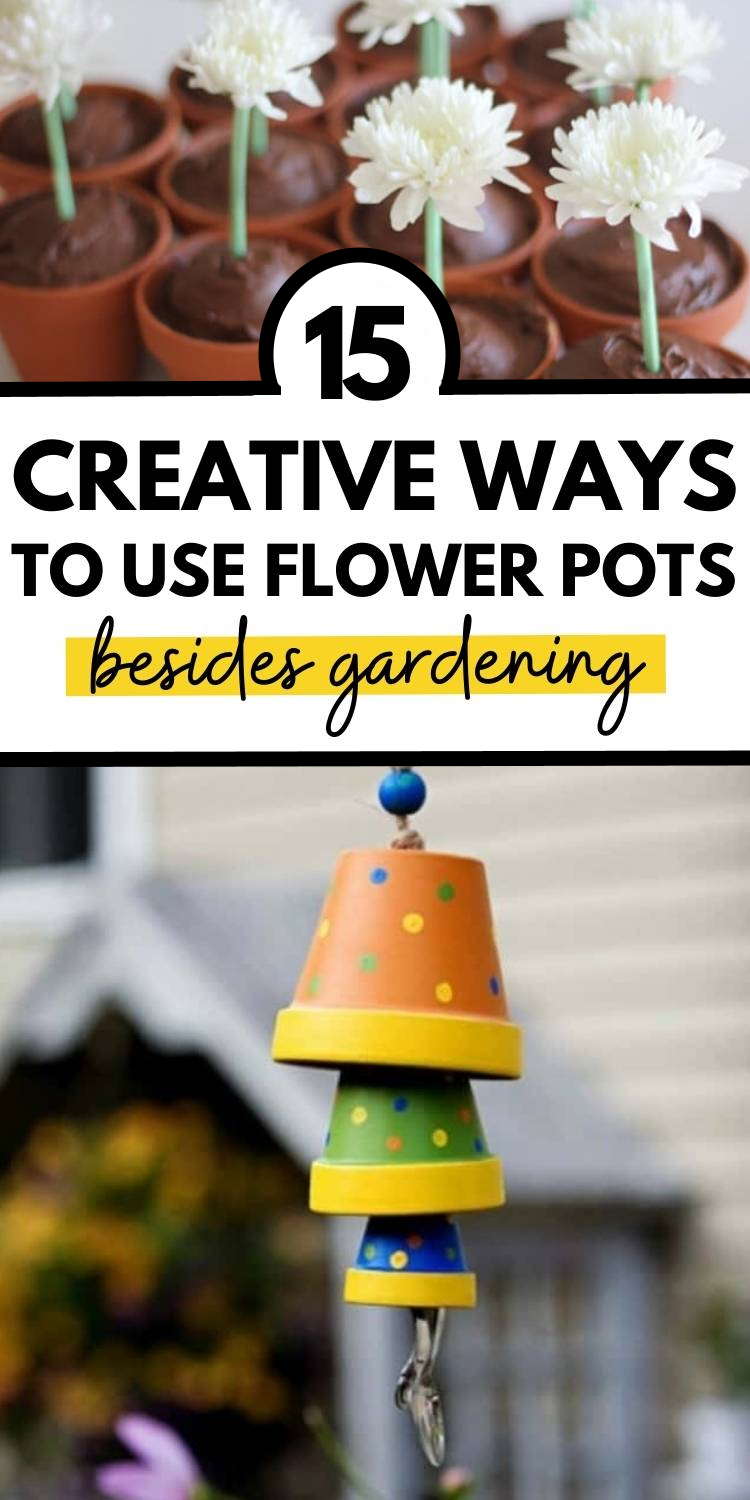 15. Give Your Patio More Color With This DIY Flower Pot LightHouse
Entertain the kids with some gorgeous clay pot lighthouses for your patio or garden. They also add a bit of life and color to your garden. I can't believe how simple they are to make! All you need is:
Supplies
Clay pots in various sizes
Solar light
Hot glue gun and glue sticks
Paintbrush
Paint
Procedure
Paint the pots. Start with a white base coat and let it set then move on to other colors of your choice. You might want to let the pots dry overnight.
Glue pots together. Add a bit of glue to the inside edge of the pots and firmly place them together. Let the glue set for some time.
Add the light to the top of the lighthouse and hold it in place with some glue
Add windows and a door to your lighthouse using some black paint
Display the beauty for the world to see!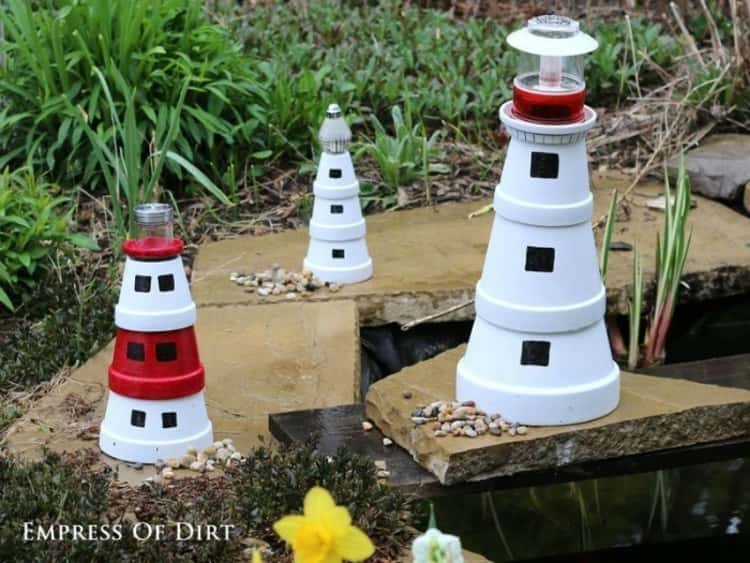 Ways To Use Common Household Items!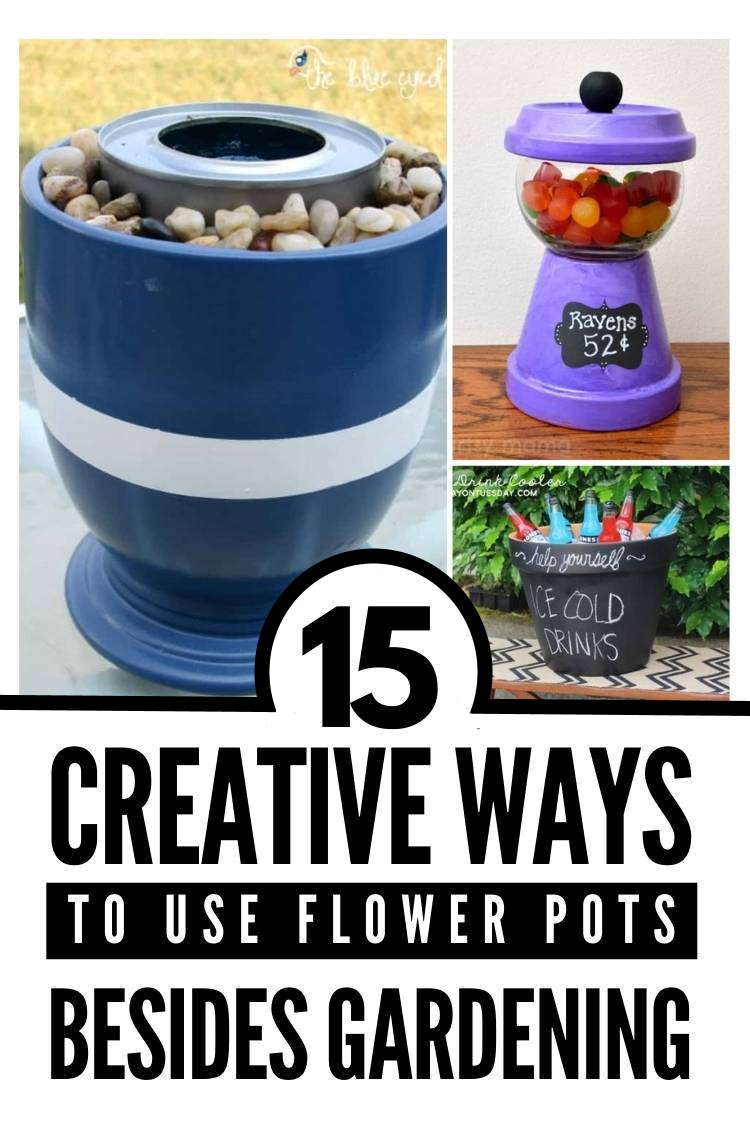 More Gardening Fun: