Think magnets are just for the fridge? Think again! They're the perfect organizational tool for the bathroom, the garage, and even the playroom. Seriously! We've found 15 clever ways to use magnets to organize clutter hot spots in your home.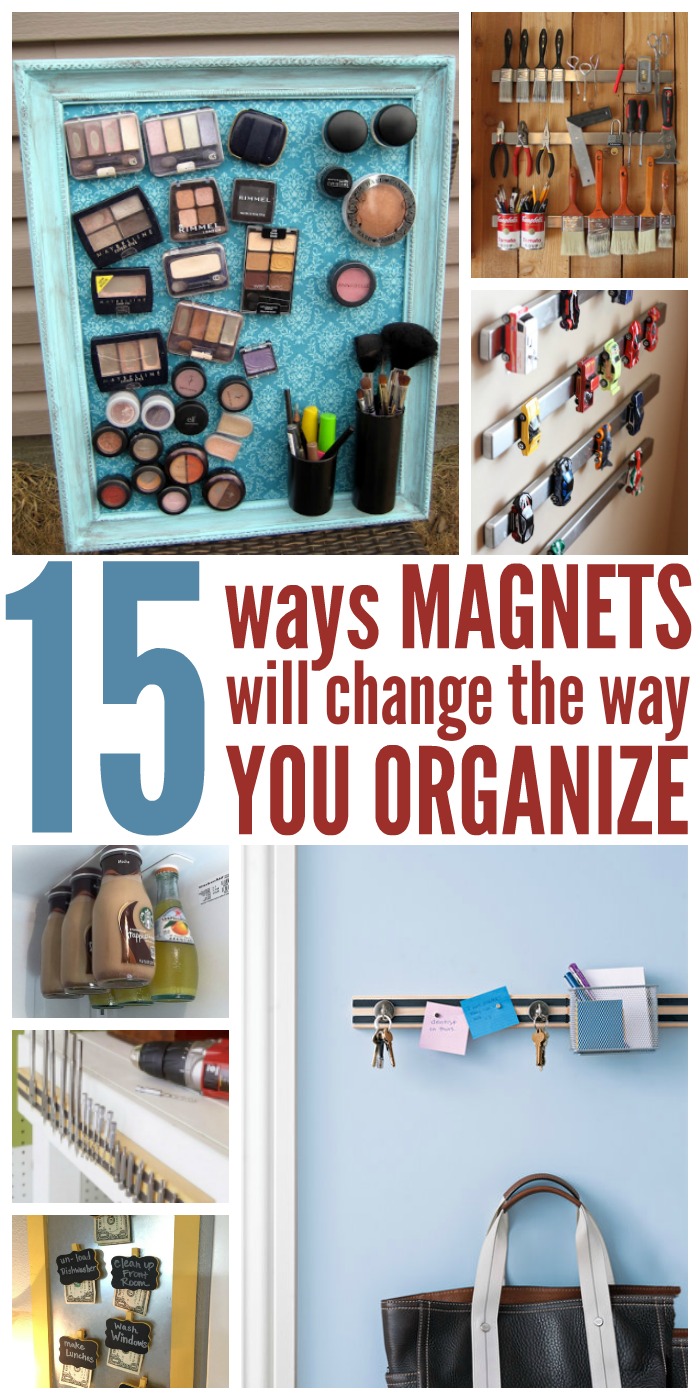 Clever Ways to Use Magnets to Organize Your Home
Keep your bathroom vanity clear by installing a magnetic makeup board on the wall instead.
Install a magnetic strip to the underside of a cabinet shelf, and use containers with metal lids. Voila, you have magnetic spice storage that frees up so much cabinet space!
Add a magnetic strip to your bathroom for bobby pins, nail clippers, tweezers and more.
Use magnets to hold trash bags in place on metal trash cans. No one likes finding the bag at the bottom of the bin (especially with a bunch of garbage piled on top of it).
Attach magnets to small baskets for on-the-fridge storage. This is another great way to store spices that keeps them within easy reach when you're cooking.
Maximizing Space
Clear up fridge space with magnetic bottle holders. These sure would have been nifty with my small fridge when I was in college.
Unclutter the toy box a little by hanging matchbox cars on the walls on magnetic strips. Love this idea… it adds a punch of color and boyish charm to the room's decor.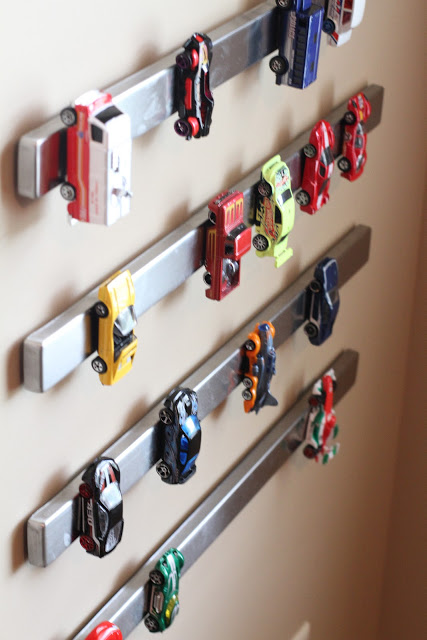 Dry erase memo magnets are a great idea in the kitchen. Write down items for your shopping list as you run out rather than scrambling around trying to find a pen and notepad. These are great for lockers, too.
Put a magnetic strip in the entryway for keys and important notes.
Use a magnet to attach a flashlight directly to the fuse box. Now when you blow a fuse, you'll know exactly where the flashlight is.
Install magnetic strips near your power tools in the garage to hold on to your drill bits and small metal tools.
Here's another fabulous idea for those strips: storing paint brushes and hand tools.
This chore board idea is pure genius. In order to encourage your kids to do extra chores, offer an incentive! Attach magnets to clothespins labeled with specific chores, and include a buck for each one.
And cookie sheet chore charts (for the regular chores) are a big hit. Instead of fussing with stickers, the reusable magnets are moved to the "done" section as each chore is completed.
Cut down on dirty dishes by assigning everyone their own magnetic drinking cup. During the day, the cup is placed back on the fridge between uses.
Check out these organizational ideas for more inspiration!
18 Insanely Awesome Home Office Organization Ideas