Unsightly clutter can really detract from your home's aesthetic. Whether it's an ugly hose coiled on your home's exterior or all your electronic devices taking over the countertops, eyesores are no fun to look at. But we're here to help with clever organization ideas. Here are 17 outside-the-box ways to hide common eyesores around the home. Check out our other tips for hiding clutter while you're here!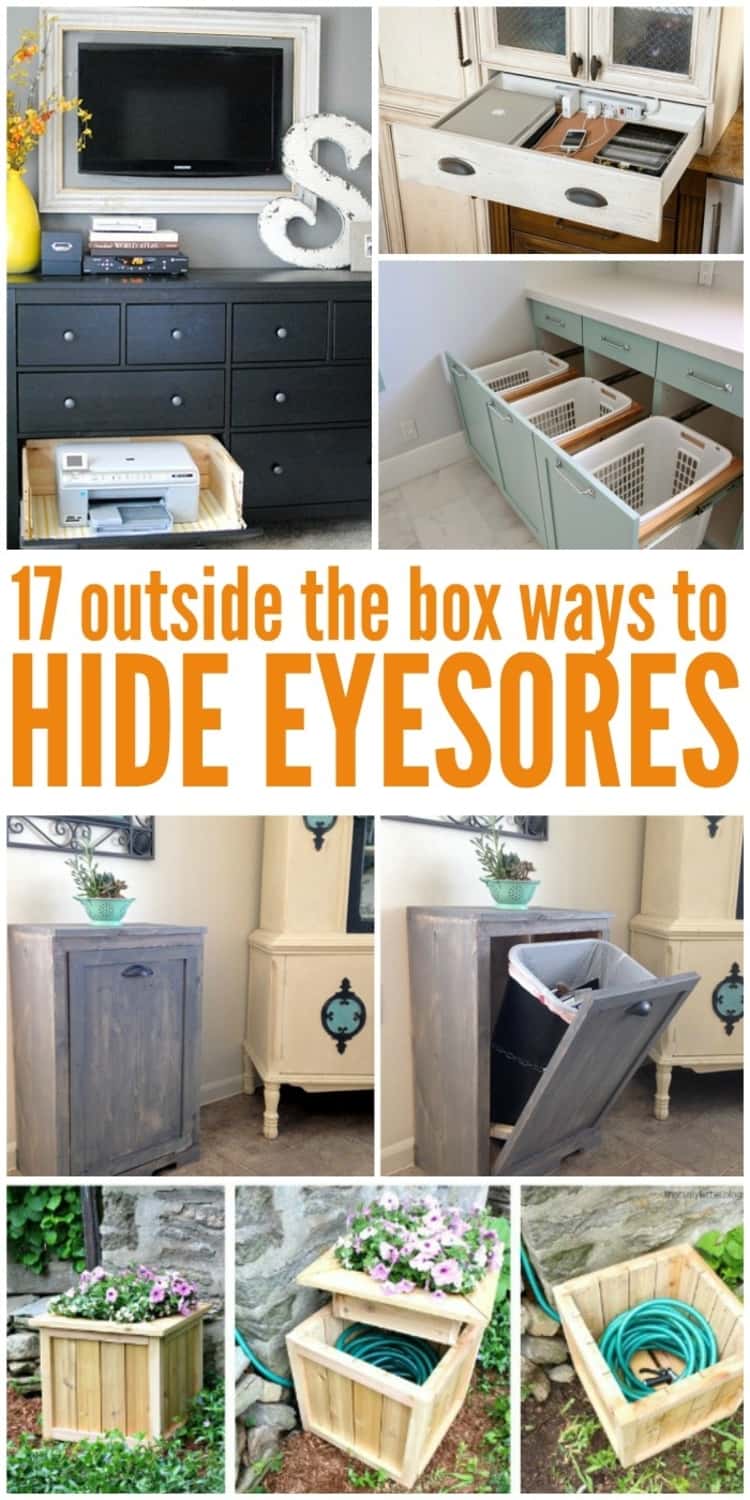 Clever Organization Ideas to Hide Eyesores
1. Hide Laundry Baskets Inside Cabinets
What a clever organization idea because who wants laundry all over the floor or in piles in the corner of the room! Tuck laundry hampers away so they're not taking up valuable space in your bedroom or the kids' room. You can have the laundry pre-sorted with this system, like a basket for darks, delicates, and whites. Then, close the cabinet door and your laundry is hidden away beautifully. Put all those socks, t-shirts, underwear, sweaters, and all the washable stuff inside, hidden. Drawer organizers are a clever hide-a-way for laundry room!
2. Hide the Garage Door Opener with a Frame
Home organization ideas are intended for the entire home, even the garage. Hide the garage door opener with a frame, a doorknob, and a little ingenuity. All it takes is some spray paint on the picture frame, some scrap wood, a hinge, and a crystal doorknob, or whatever kind you like. Attach the scrap wood around the back of the frame so there's room for the garage door opener to sit behind it. Add another piece of wood in the middle with a hinge. How cool is this?
3. Clever Organization Ideas with Artwork
Here's a clever way to make use of your wall space. Use hinges to install a canvas on the wall near the thermostat. No one will ever suspect it's there! The hinge attaches to a set of wall anchors in the drywall to keep the artwork in place. Swing the loose edge of the painting out to gain access to the painting, and swing it back to hide the eyesore at a moment's notice. This is one of the most creative things I've ever seen!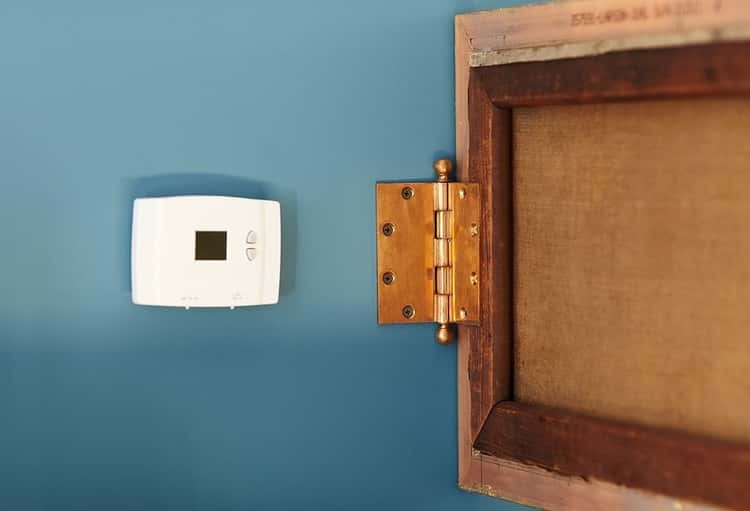 4. Hide Your Router and Modem with a Magazine Holder
You'll need just a bit of craft supplies from a dollar store in this organization hack. Sometimes, electronics, like routers and modems become an eyesore, especially if you've got an open shelving in the house. Looking for wise storage solutions for that? Hide your router and modem inside a magazine holder. They're neat and tidy, but still within easy reach. Nobody will ever know they're sitting on your end table because it's such a clever hiding place. This gives your room a classy look as well. What a great idea!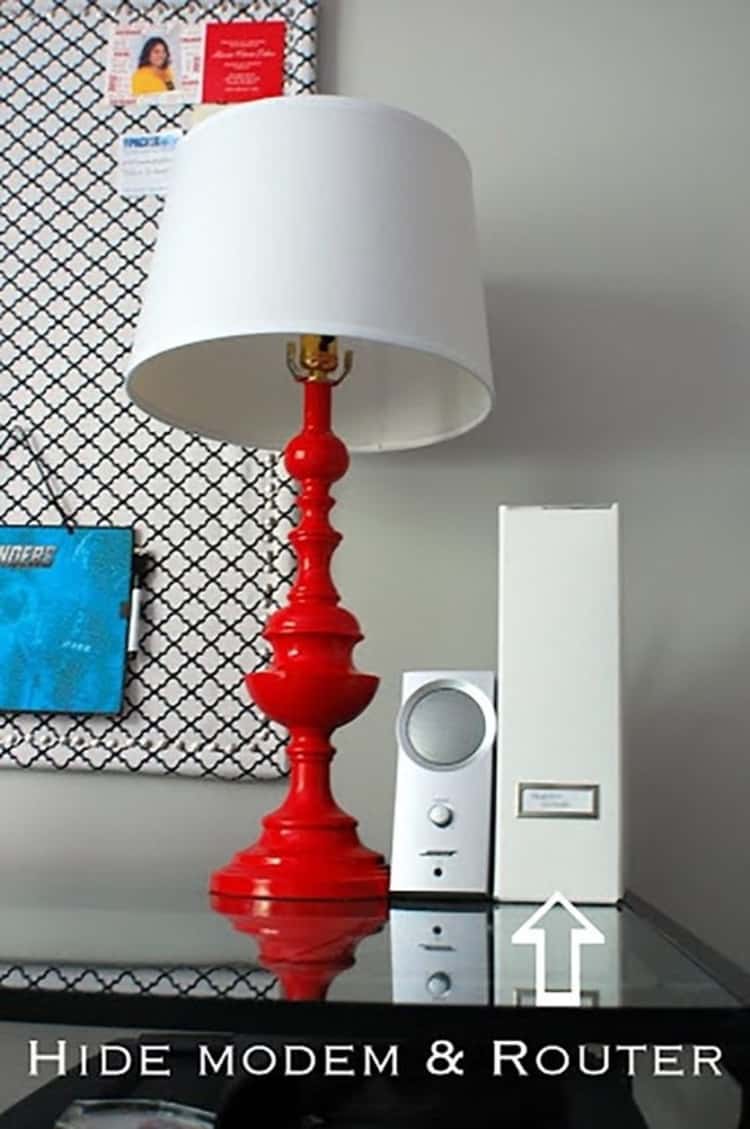 5. Clever Organization Ideas for Outdoors
Have you ever wondered how to hide your outdoor uglies, like your water meter or your gas meter? I mean, we have to have them attached to our house, but must they be so ugly? Hide utility fixtures outside your home while still having easy access on them with a few shutters to create a screen. If you don't have any spare shutters, here's a tutorial on how to build some. Isn't this a genius idea?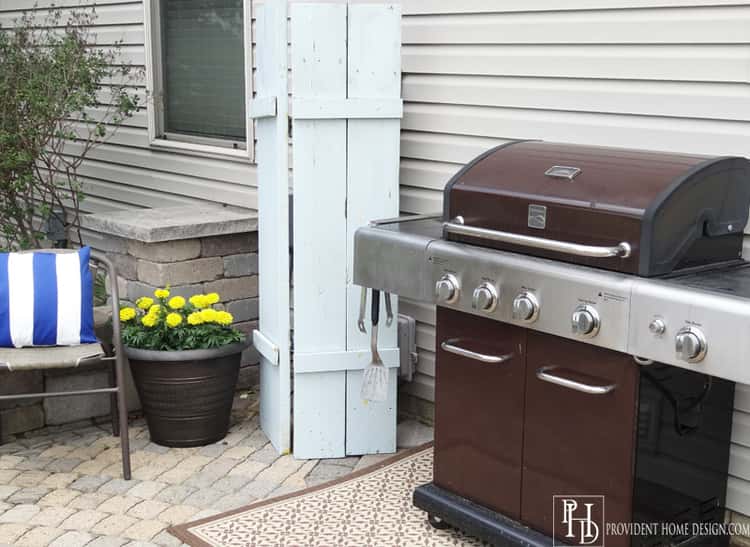 6. Docking Station Hidden Inside a Drawer
Sick of cluttered phone accessories? Install a charging station in a drawer to keep it out of sight until you need it. What a clever hide-a-way! Close the drawer and nobody even knows it's there. No more cell phones falling behind the dresser or cords getting tangled together. This is a great solution if several family members have devices that need to be charged!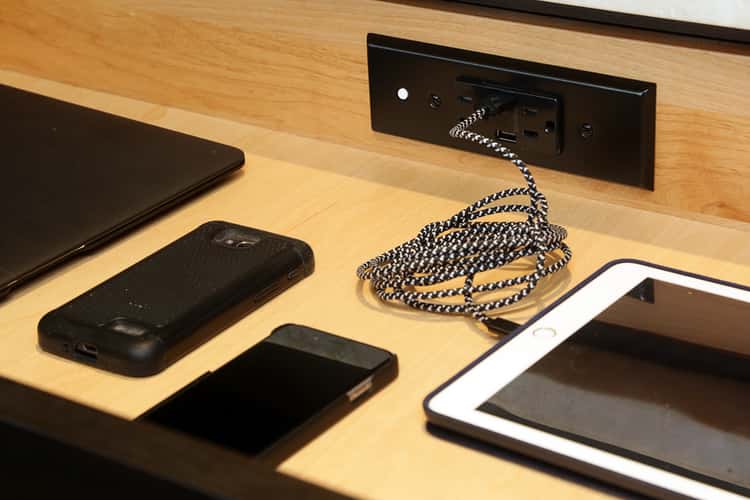 7. Hide Your Printer in a Drawer
And here's a tutorial on how to alter a drawer to hide your printer. Just put the drawer on a hinge. There's no need to worry about it taking up space on top of the dresser or on the desk in the home office. It's a great way to keep the dust off the top of the printer too. If you've got small spaces and you're looking for the best storage space, this is your sign! What a space saver that is!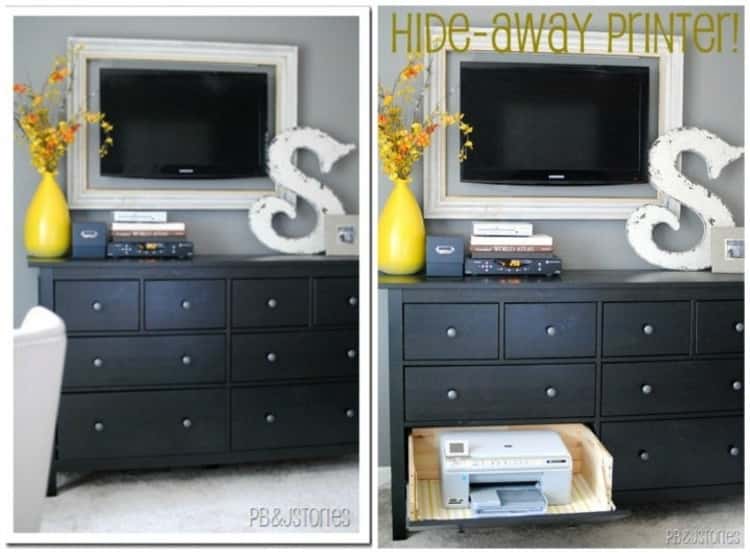 8. Tilt-Out Trash Can
I don't know about you, but I never like seeing trashcans. I think having a trash bins out in the open takes away from the beauty of the room. This trash can cabinet is a genius idea! And you can make one of this junk drawer idea yourself, so you don't need to spend a lot of money. It's great for the pocketbook!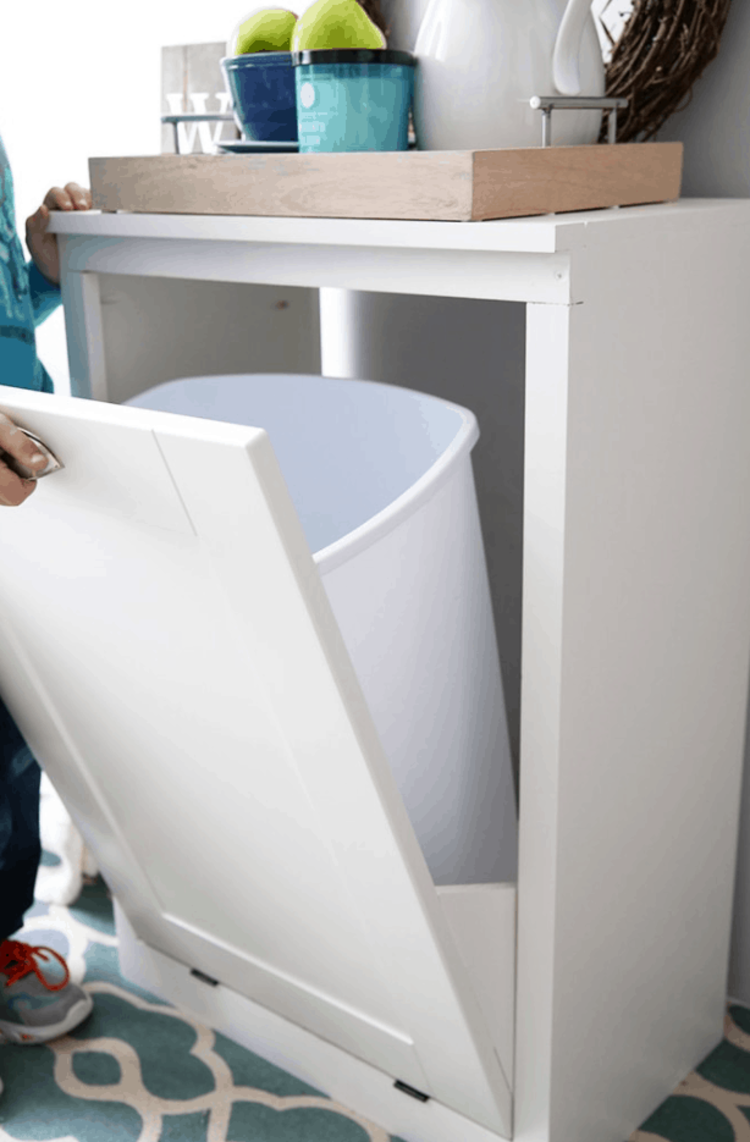 9. Clever Hidden Storage Books
If you don't mind repurposing some of your books, this is a genius place to hide things you don't want to be found. Create hidden storage books to hide anything you need! This is also a great solution for the router or modem, or for hiding a small tray or box of valuables. I would have never thought to use real books for this! I thought they're real bookshelves with real books! What a great DIY project!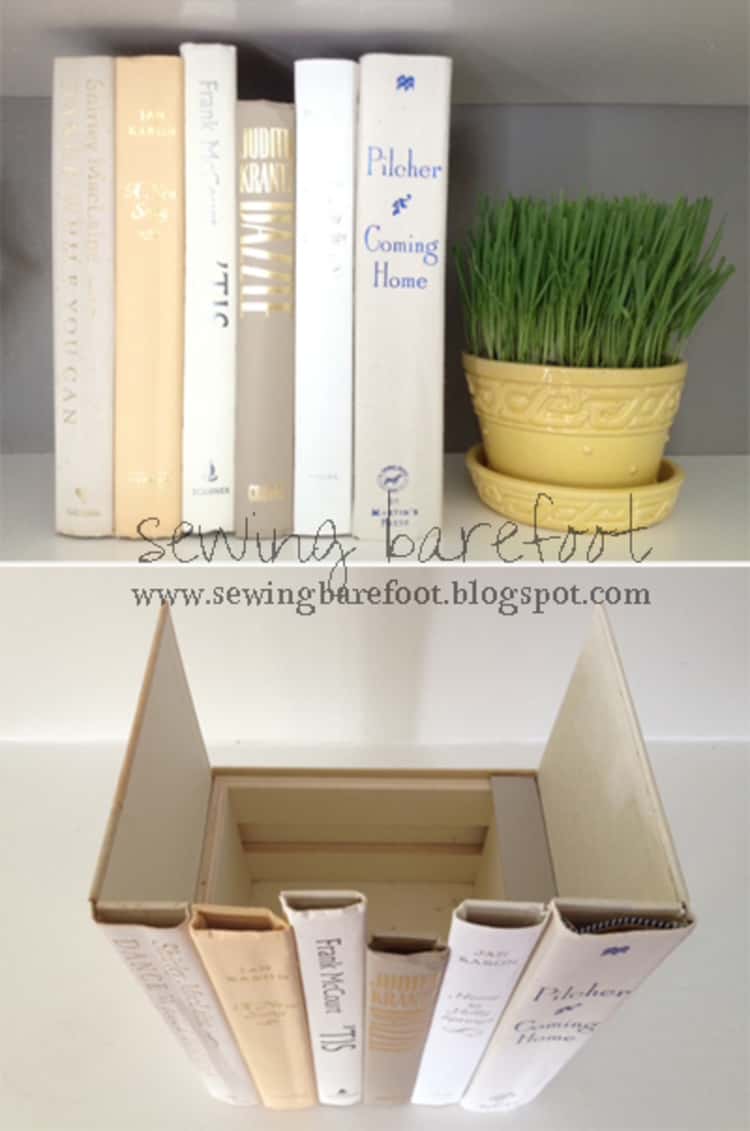 10. Organize Tangled Cords Neatly Under Desk
Hide wires and cables under your desk to get the uncluttered desktop look. Your shelves can look organized with this idea! What a neat way to clean up your desktop! All those excess cables can get in the way and I've even tripped over mine before. It never occurred to me to hide them neatly under my desk. The extra cording can be tied securely with zip ties.
You only need a few simple items that can be bought at your local store or online. I've seen most of these at places like Home Depot, Lowes, Walmart, and Amazon. Having a clean, clutter-free desktop is a dream come true. It's definitely worth the extra effort to secure the cords and surge protectors with zip ties and mounts. Check the labels in the picture to get the set up right. This is such a clever idea!
Zip Tie Mounts (these come in different sizes)
Most have a self-adhesive sticky side and once mounted, you can run your zip tie or cable through it.
Zip Ties (both small and large)
Velcro (you can get adhesive velcro and heavy-duty too)
Surge Protectors (however many you need to hide your cords)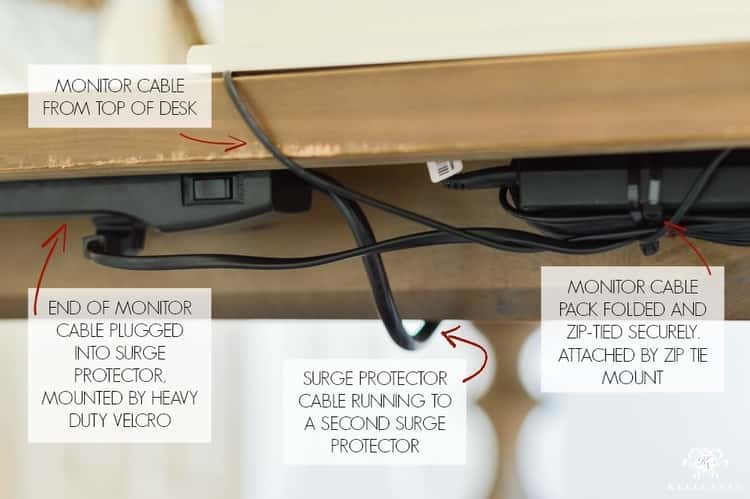 MORE Clever Organization Ideas
11. Use Command Hooks to Hide Cords and Wires
Here's another easy way to hide cords and wires: use command hooks to keep them in place behind your furniture. You can get the clear ones so blend in with the color of your wall or desk. Nobody will be able to see them, and your crawling little one won't think of it as toys. When you no longer need them on your wall, they're easy to remove without damaging anything. I always keep these handy hooks around for just this reason.
12. Airstone to Cover the Front of an Ugly Bathtub
Here's one hack for bathrooms. Use Airstone to cover an ugly bathtub. Airstone is lightweight and easy to cut with a hacksaw. Applying it is simple, just put the adhesive on the back and stick it to the tub. I love simple projects that look fabulous when they're done. What do you think?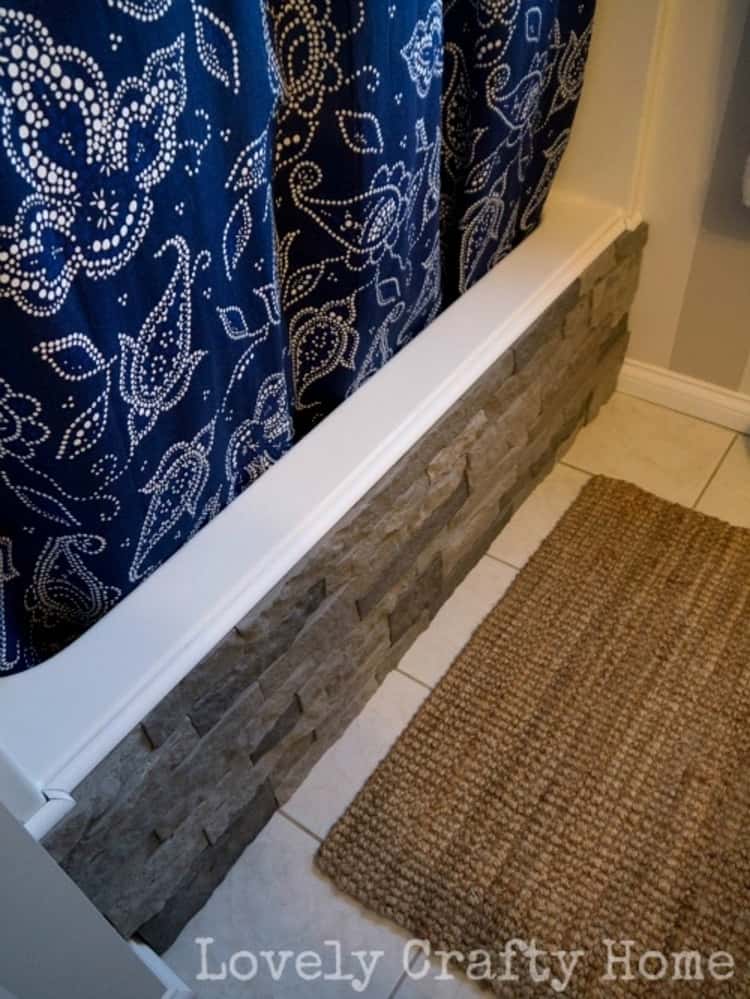 13. DIY Planter to Hide Your Garden Hose
Let's face it, most of us have an ugly rolled-up garden hose in our yard. We need it for so many reasons like, washing the car, watering the flowers, and filling the pool. And it's usually in the way when it's time to mow the grass. This DIY hose hiding outdoor planter or pots is an attractive solution to covering up that ugly garden hose. What a clever outside-of-the-box way to store your garden hose.
14. Clever Blending Organization Ideas for Your Lightswitch
Do you see the light switch in the midst of all that artwork? No? That's because it blends in seamlessly! If you're dealing with a light switch in an odd location, this is a terrific solution. I had to look twice to find it because I didn't see it the first time. How cool is that!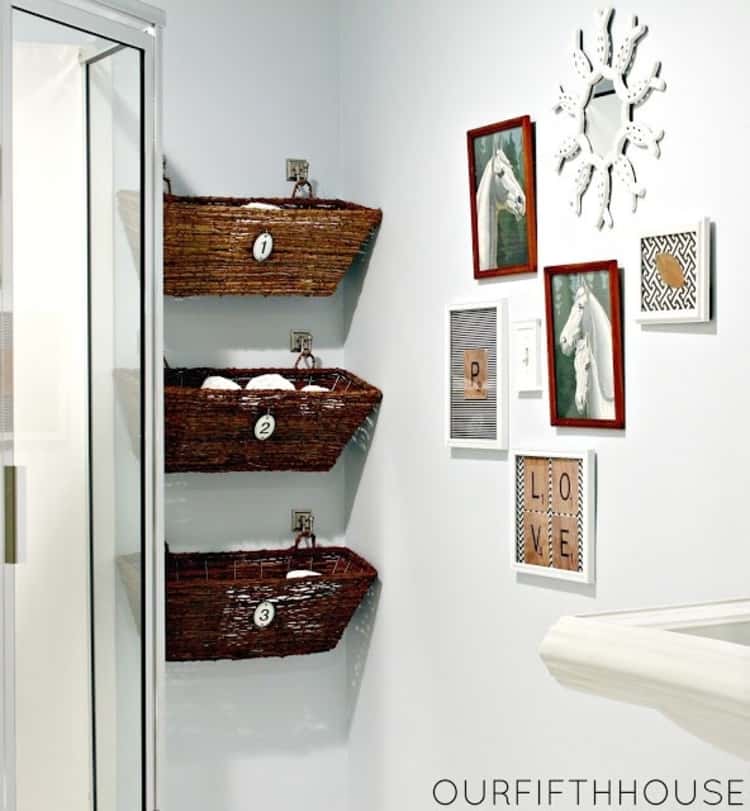 15. Repurposed Door Mat for Your Vent
Cover an ugly wall vent with a decorative doormat. You can spray paint it first if you want it to be a specific color. Then, simply hang it with two small nails at the top. It actually looks like a piece of wall art. This is one I never would have thought of!
16. Hide Cords with Command Hooks and Velcro Wrap
This smart lady used velcro strips and command hooks to wrap cords and hang them behind the desk and get them out of view. This is a clever way to hide those cluttered cords. Wrap your cords neatly in velcro wraps, and line the command hooks in a row on the back of your desk to attach the cords. When your desk is up against the wall, your cords will be out of sight. Genius!
17. Wallpaper Your Fridge
Have an ugly fridge, but a replacement isn't in the budget? Wallpaper that thing! It'll totally change the look of your kitchen. Don't be afraid to use a bold pattern! Don't miss our other fridge hacks!
What Clever Organization Ideas!
I always admire people that can get creative and use their imaginations! There are so many of these ideas (to hide eyesores) that I would have never thought of. One of my favorites is hiding the cluttered cords under the office desk. I can't wait to implement this one in my office. And what about the clever way to hide a thermostat with a painting?
Which of these ideas do YOU like best? Is there one, in particular, you can't wait to try? I know I will be using several of them. Also, don't miss our Pantry Organization Ideas and our Genius Baby Clothes Organization Ideas.
Love These Clever Organization Ideas? Here are More Ways to Organize Your Home:
Which creative home organization ideas have you tried in your home?