Got a hot glue gun? This nifty little crafting tool is good for so many things, even outside the standard crafting projects! Seriously, these hot glue gun hacks will have you stocking up on glue sticks.
Keep your home projects flowing from keeping clothes hanging neatly, preventing high traffic rugs from slipping, adding grip and traction to your toddler's shoes, to keeping mold out of your kids' bath toys…these things to do with hot glue are seriously brilliant!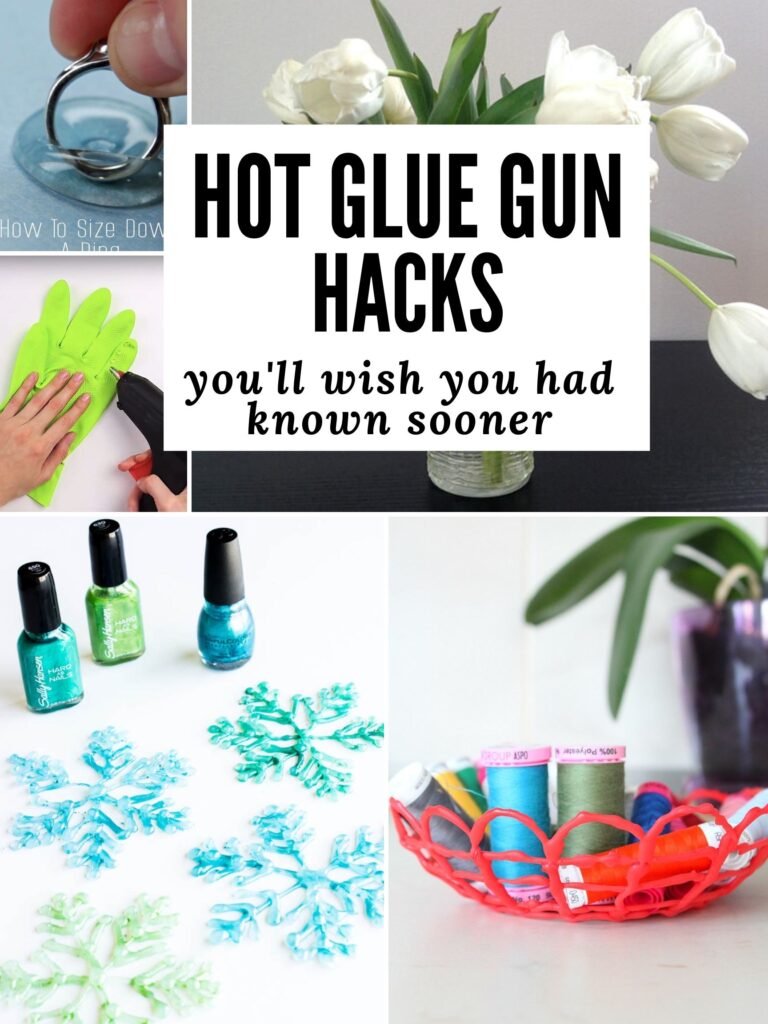 17 Amazing Things To Do With Hot Glue
Hot glue guns are a craft room staple. But, after scrolling through this list, you'll be carrying your hot glue gun from room to room!
1. Keep Clothes From Slipping Off Hangers
Is there anything more annoying than taking the time to hang up clothes only to have them slip and fall right off the hangers?!? NOPE! Thankfully, the solution is easy – hot glue! Just use your hot glue gun to create grippers on your clothes hangers, so your clothes never slip off again. This works exceptionally well with children's clothes!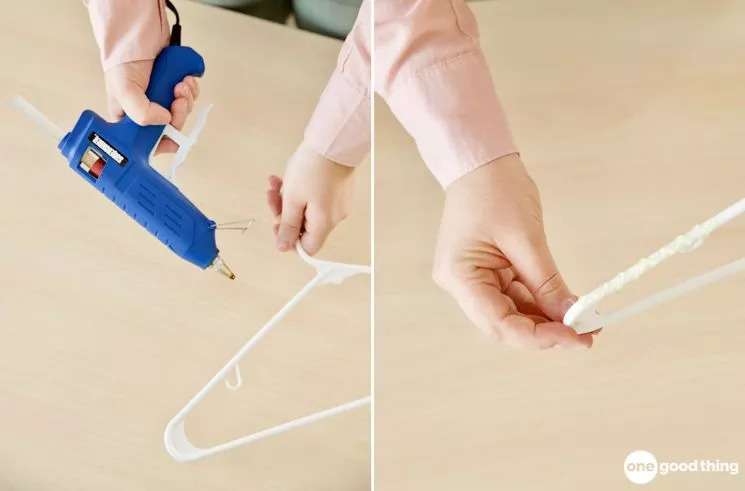 2. Prevent Mold From Forming In Bath Toys
Bath toys and I have a love-hate relationship. I love how they keep my kids entertained when it's bathtime, but I hate the hole inside the bath toys that lets all the water in! It's virtually impossible to drain these toys out properly, so you're left with potential mold in your kids' toys. Bleh!
I wish I knew about this glue gun hack when my kids were a little younger – this is seriously one of the best things to do with hot glue! Keep bath toys mold-free by using hot glue to seal up that little hole on the toys' bottom. SO Simple and smart!
3. Make Any Shoe Non-Slip
Here's a 10-second hack that will make your life so much easier. You can turn any shoe into a non-slip shoe by using your hot glue gun to add grippers to slippery shoes.
All you need to do is flip the shoe upside down and add a little hot glue! You don't have to write your name (or your child's name)… you can use squiggly lines or anything, really.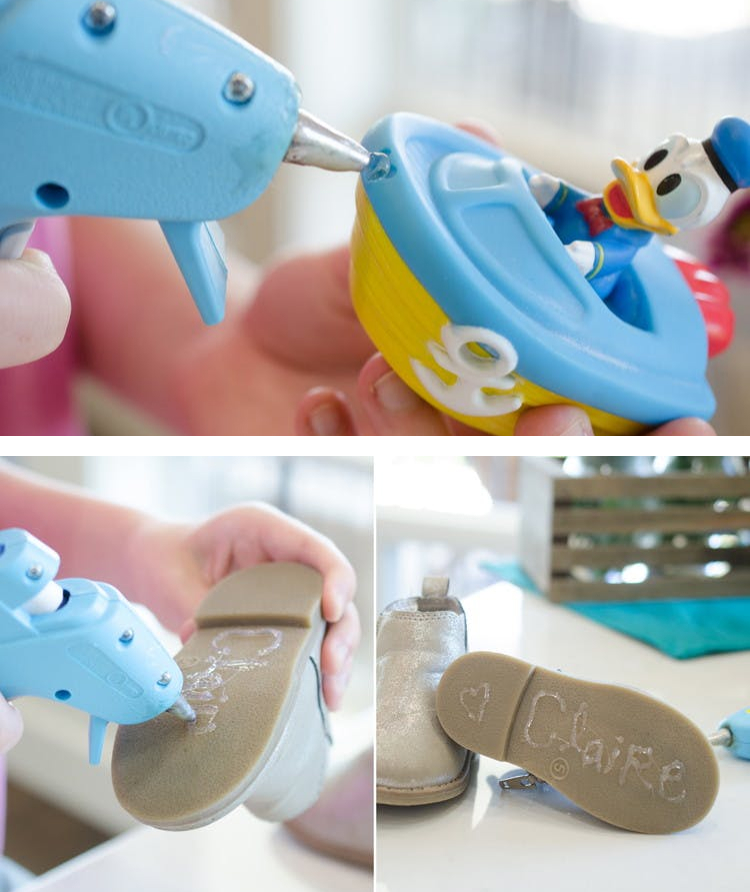 4. Create Non-Slip Rugs
Let's take that last hot glue hack one step further. You can use that trick to create a non-slip grip on rugs with hot glue, too. All you need to do is flip your rug upside down and make some squiggly hot glue lines on the back of it.
Depending on the rug's size, it may take several sticks, but it's pennies on the dollar compared to the cost of rubber grip mats!
5. Resize Your Ring With Hot Glue Gun Hacks
Us mamas have dealt with some changing ring sizes through the years (or at least I have!) If you have a ring that's too big, there's an easy fix for it…hot glue! Downsize a ring that's too big by dipping the bottom in the glue while it's still hot, and wipe off the excess from the bottom.
Let the ring sit for 15 minutes, and you're ready to wear your ring. This is more of a temporary solution, but it'll work until you're ready to get it permanently resized. Just pop off the glue and hand it to your jeweler.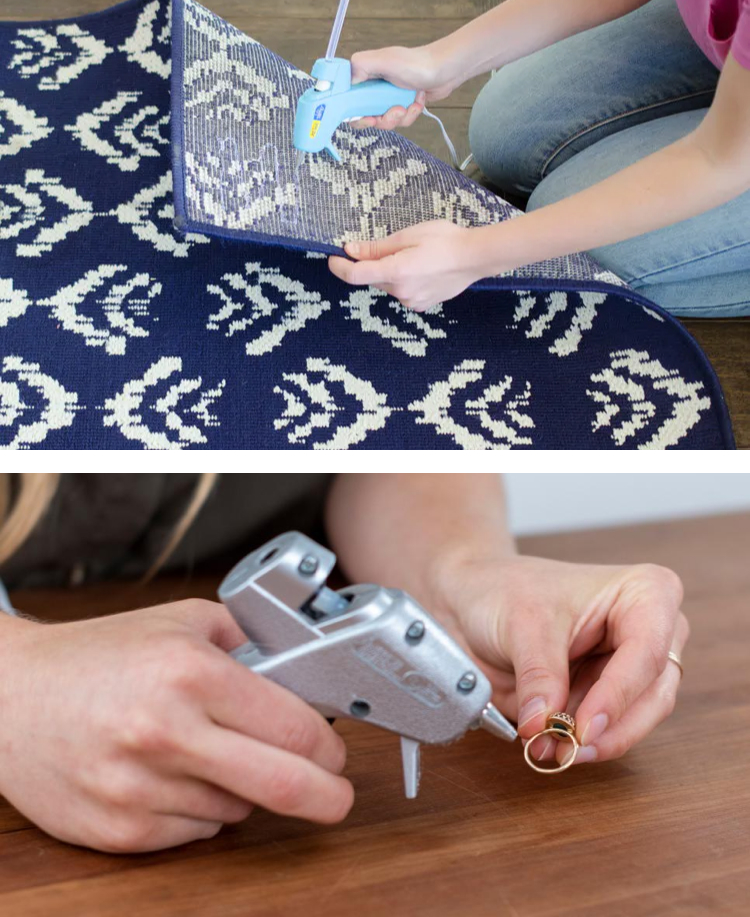 6. Use Crayons In Your Hot Glue Gun
This is a fun one! Did you know you can use crayons inside of your hot glue gun? Make sure to take the label off first. You can use your melted crayon for so many things! One fun idea is to create fancy wax seals for your letters or invitations. Just seal your envelope, then use the hot glue gun (loaded with a crayon) to add a fun seal to the outside.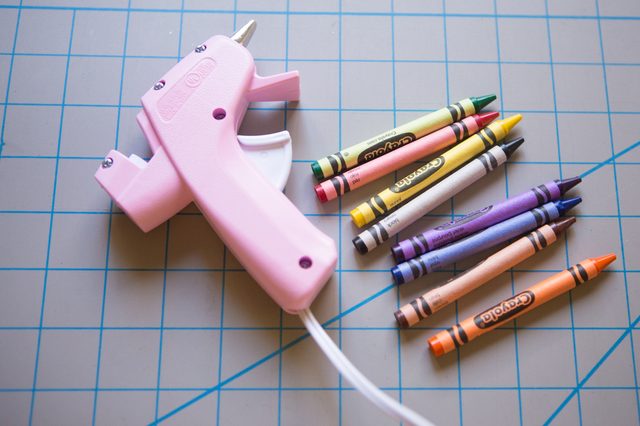 7. Things To Do With Hot Glue: Upcycle A Vase
For a quick but cute hack, grab yourself a basic vase at the dollar tree or thrift store (or from your cabinet!) and give it a glammed-up look with your hot glue gun! Simply swirl hot glue around the vase to create a chic, upscale look on the cheap!
8. Magic Up Some Harry Potter Wands
Looking for a brilliant party favor or Halloween accessory? These Harry Potter wands are just the thing! Grab some wooden chopsticks, or even go on a nature walk and choose some small branches. Use an ample amount of hot glue to create a wand base, then go back and add swirls or other fun accents. Once you're happy with your wand, give it a quick coat of brown paint for a finished look.
Check out even more awesome Harry Potter-inspired crafts and activities here!
9. How To Make Snowflake Embellishments
In a festive mood? Here's an easy way to make some winter decor! Create these gorgeous glue gun snowflakes to add some pizzazz to your holiday table or to embellish cards or gifts. This is one of the more detailed things to make with hot glue, but not too challenging. An older child might enjoy making these with friends! Simply create snowflakes with hot glue. Once it's dry, paint it with a coat or two of nail polish.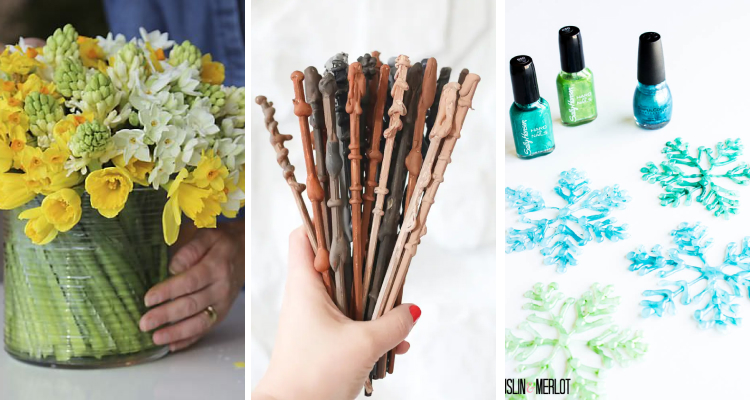 10. Make Decorative Enamel Dots
Make your own enamel dots for scrapbooking. Aren't they pretty? All you need to do is create little dots with your hot glue. Once they dry, use nail polish or acrylic paint to paint the backs and add some color. Even if you don't scrapbook, these would be great as magnets, too – just hot glue a small magnet on the back.
11. DIY A Decorative Bowl
Believe it or not, you can make a bowl entirely from hot glue!  Simply take a glass bowl and flip it upside down. Use the bowl as your form and create circles around the bowl, then connect the circles with lines of hot glue. Let it dry and give it a coat of paint! Use your decorative hot glue bowl to add to your craft room or entryway table. By the way, you've got to check out these 15 ideas for a stylish, functional entryway!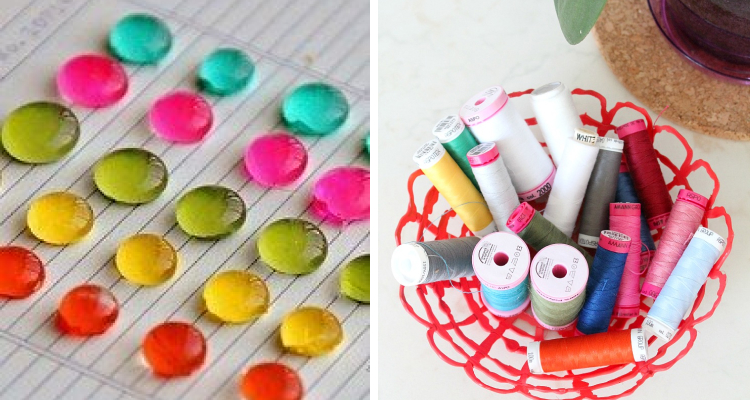 12. Make Hot Glue Jewelry
Here's another brilliant hot glue hack! Make some hot glue rings for the kids to play with. They'll love them! To make these, use a piece of paper to measure around your child's finger and get their ring size. Then, use hot glue to draw continual squiggles or lines the same length of the paper – just make sure the lines are connected. Let them dry, give them a coat of paint, and then use a dab of hot glue to connect the hot glue rings together.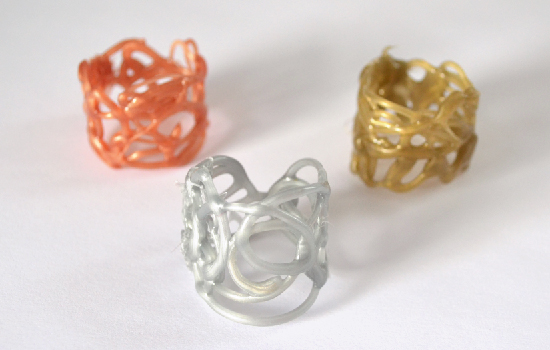 13. Make A Stunning DIY Cake Topper
With a big family, it seems like we are always celebrating someone's birthday. You can make even a basic grocery store or homemade box cake fancy by using a pretty cake topper! Believe it or not, you can easily make one with hot glue. Lay down parchment paper, then trace out your number (or letter, or shape) using hot glue.
Then insert a few toothpicks in the base while the glue is still hot. Cover it in confetti, then let it dry. Isn't this confetti cake topper so cute? Check out even more adorable birthday cake ideas here.
14. Create Adorable Napkin Rings With Hot Glue
Pretty meets practical with this DIY hot glue napkin ring craft! Decide how big you'd like your napkin ring to be by using a paper template. Then make connecting squiggle partners with hot glue. Let it dry and paint them the color of your choice.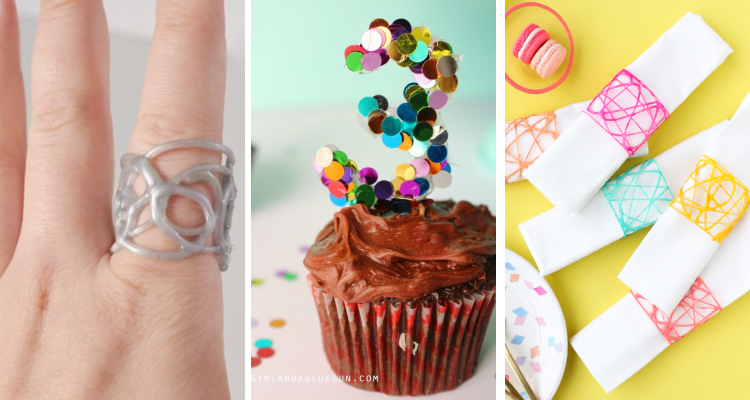 15. DIY Custom Stamp
Here's an idea: make a one-of-a-kind stamp for your craft projects. You could even come up with a bunch of different patterns for a fun paint-themed birthday party! Just grab a block and sketch out your wood grain pattern. Then, trace over your lines with hot glue. Once it cools down, use a foam brush to cover it with paint, then stamp away! There are so many things you could do with it.
16. Make Magic Potion Bottles
Here's another one of the hot glue gun hacks that pair perfectly with the Harry Potter wands above! It's easy to get the look using your glue gun to add embellishments. Just grab old vitamin bottles or spice tins and create your design in glue. Then give them a good coat of paint. These magic potion bottles look like something straight out of the Harry Potter movies!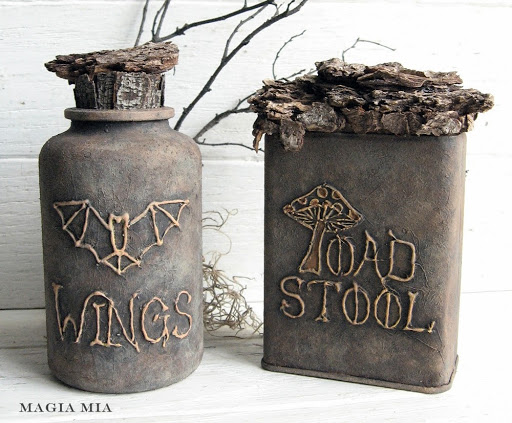 17. Make Spider Webs Out of Hot Glue
Make a spider web pumpkin with some parchment paper, a pencil and a hot glue gun.  It is the perfect decoration for all those tiny little pumpkins you might have around Halloween.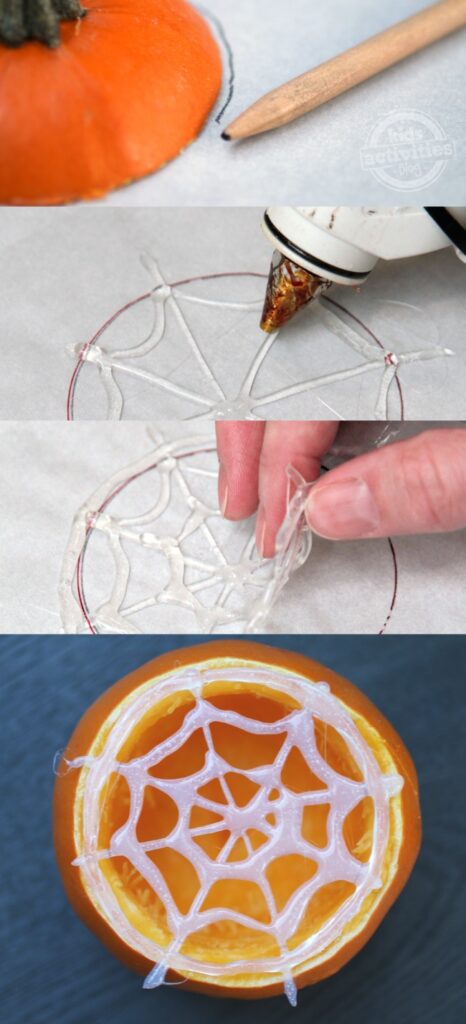 18. Use Hot Glue for Decorating Easter Eggs
Use hot glue designs next time you are coloring eggs for an unexpected and gorgeous result.  This is something that can be done in addition to your other egg decorating techniques.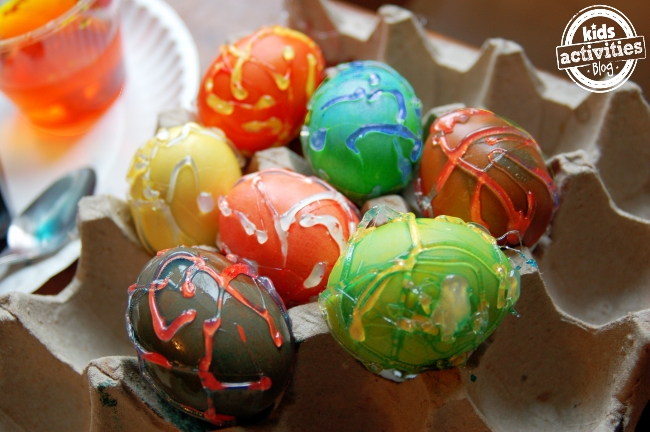 19. Hack Yourself A Glue Gun Stand
Your glue gun is sure to get a workout with all these glue gun hacks! You'll want to create a cozy spot for it to rest while in between projects. If the resting clip is broken off your glue gun, use a binder clip instead. And check out these brilliant binder clip hacks for more handy tips!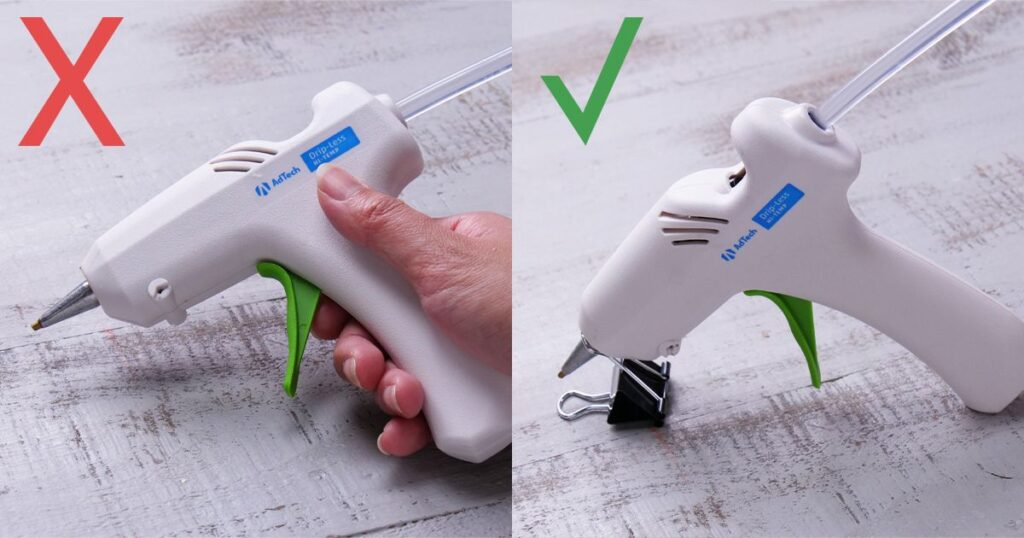 Use These Handy Hot Glue Gun Hacks To Keep On Creating!
Which one of these glue gun hacks will you try first? Share pictures of your projects with us on our Facebook page!
More Crafty Hacks: