If you've done any redecorating or remodeling lately, you probably have some old paint cans saved in your garage. And if not, you can pick empty ones up cheap at home improvement stores. Why would you want to? Well, for these paint can recycle projects, of course! We've found 15 pretty useful ways to reuse paint cans for organizing and beautifying your home.
Cans are a common household hazardous waste that needs safe disposal options. I'm guessing you have a pile of empty cans sitting in your trash bin collecting sawdust because you're thinking of repurposing them, but you just don't have the time yet. So, we've collected these ideas to turn your empty paint cans not in hazardous waste facilities but into lovely drafts to beautify your home! Bye-bye unwanted paint cans, hello creative and lovely dry-out decors!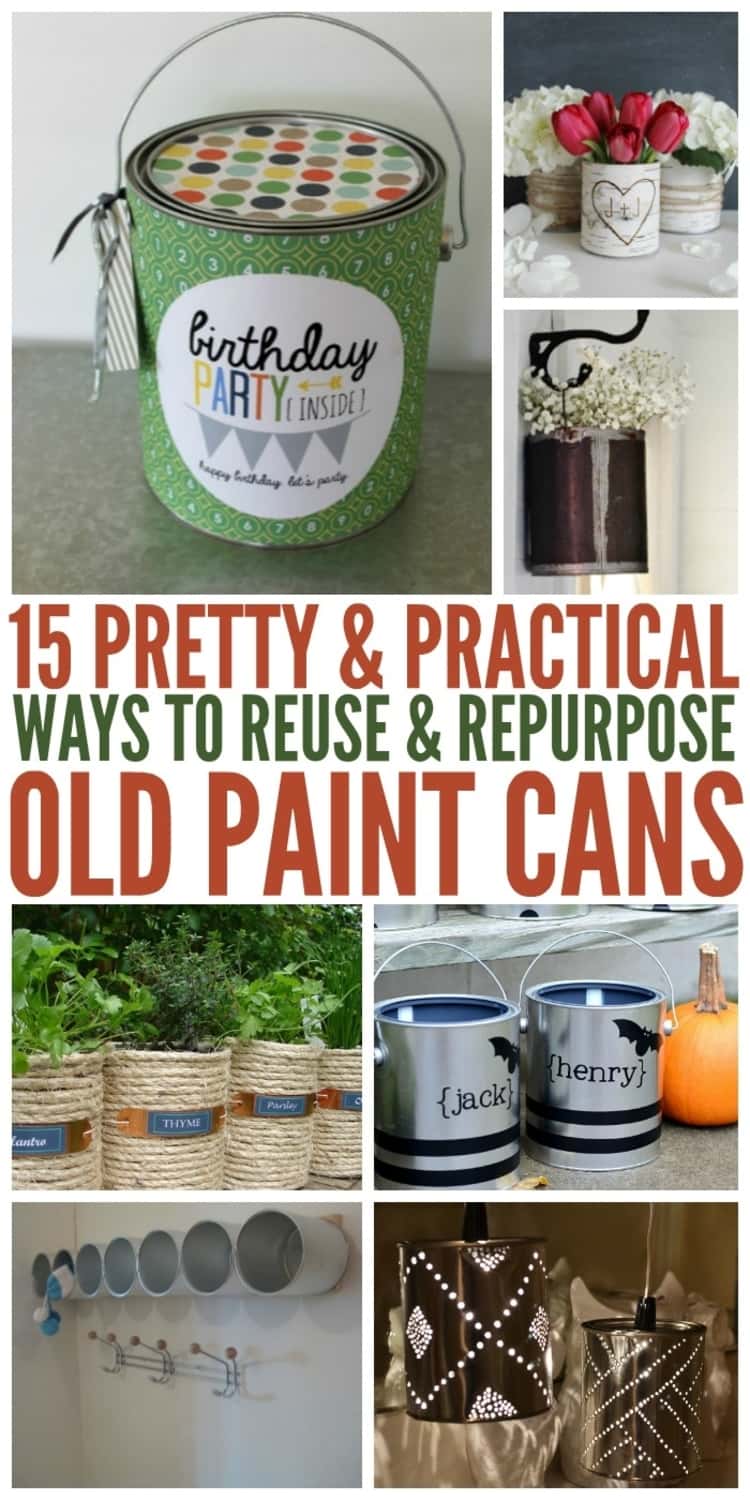 Neat Ways To do Paint Can Recycle Projects
1. Reuse Paint Cans For Practical Office Organization
Metal paint cans piled in the garage? Got mail you need to be sorted or lots of office supplies that you need sorted and arranged in different containers? Clean out a few old paint cans and reuse a few of them as desk cubbies to sort mail or hold your office supplies. Neat!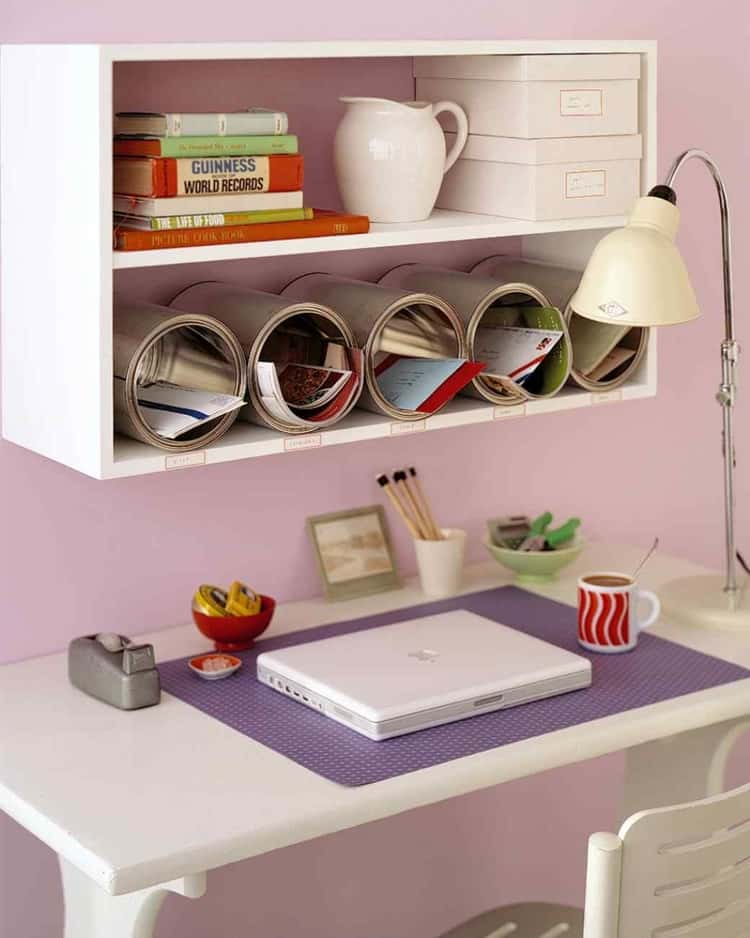 2. DIY A Craft Caddie By Reusing Different-Sized Paint Cans
This tip is a must-do for any DIYer or crafter. There's no reason or excuse for not having your craft supplies neatly organized.
From paint manufacturers, paint cans come in different sizes and here's a nifty way to use both the smaller and larger sized paint cans. Using a couple of zip ties, fasten a couple of smaller paint cans onto a larger paint can and create this super handy craft caddie. Be sure to follow the instructions! This can hold different kinds of stuff, like liquids, oil paints safe for human health, just for your pets to play in, or just any crafty supplies!
And we couldn't think of a better way to show off your new DIY craft caddie than uniquely decorating each of the smaller paint cans… Humanity restore in this project!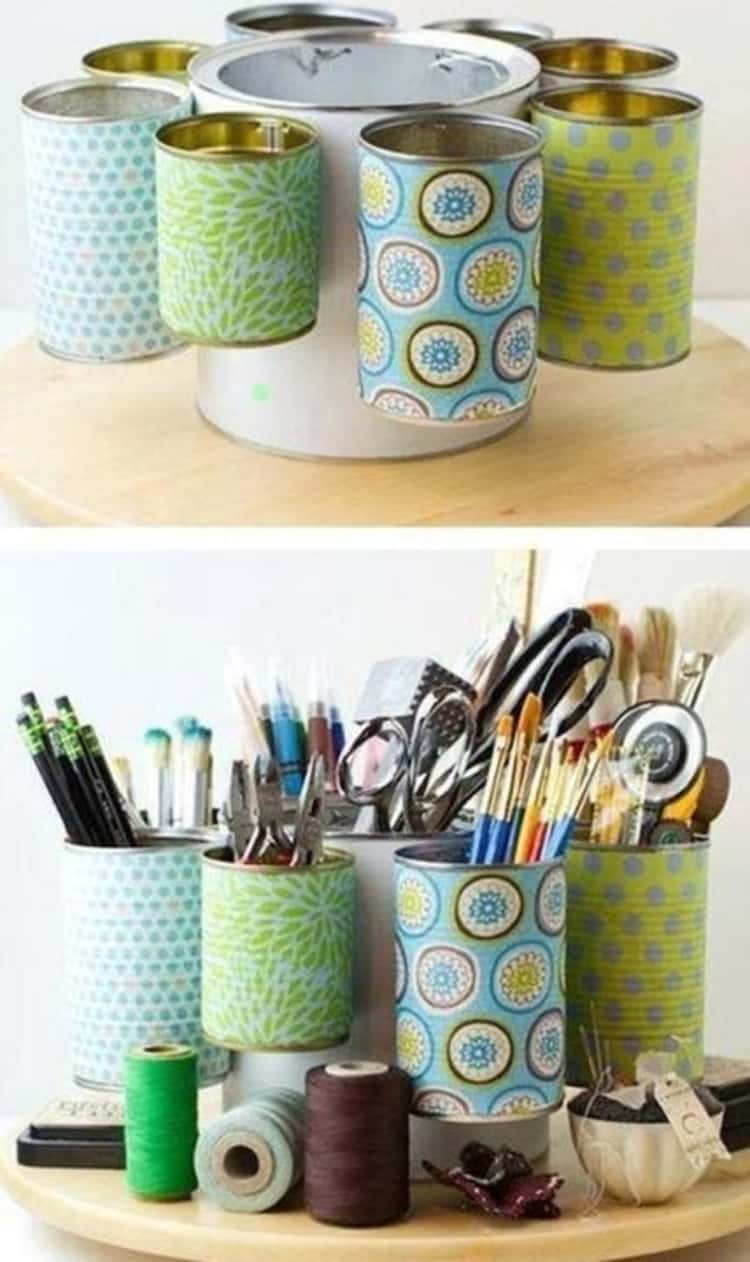 3. Reuse Paint Cans To Make Creative Organic Planters
Although this rocky flower pot uses a bucket, you can totally rock this out with a paint can. Isn't it gorgeous? You just need some stuff from hardware stores and you're off. Even paint retailers won't guess that this one used to be a habitat for oil-based paints or latex paints!
To recreate this look using paint cans, you'll need:
Hammer
Thick nail
Paint can
2 sheets of river rock mesh tile – dimension is dependent on the size of your paint can
Small river rocks, enough to cover the surface of the paint can you'll be using
Epoxy
Grout
Putty knife
Large sponge.
Procedure:
Your planter needs drainage so start by punching a few holes in the bottom with a hammer and a thick nail.
To make sure the river rocks stick onto your paint can apply a thick layer of epoxy, then the mesh tile on the outside of the paint can before sticking on the river rocks.
Leave it to dry and then add grout using the putty knife. To give your creative organic planter, remove excess putty using a sponge.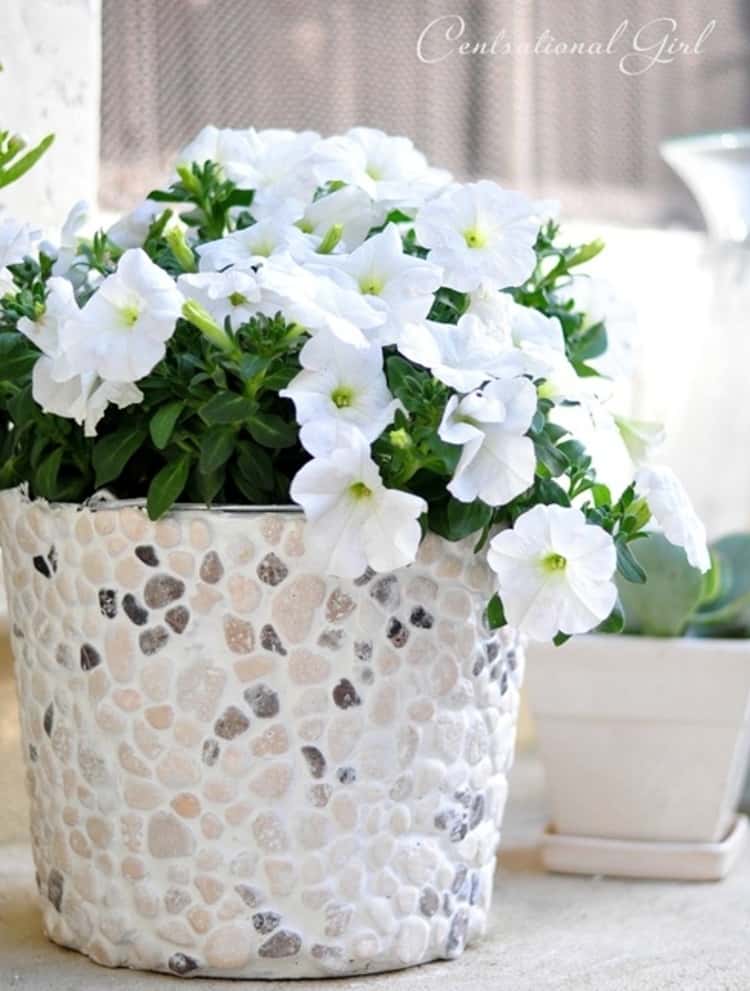 4. Make This Creative Birthday Gift Using A Paint Can
Know someone who loves cooking or baking but doesn't like doing all the shopping? This will be your new go-to birthday gift… a birthday party in a can! And it's so much fun.
Decorate a CLEAN paint can fill it with birthday cake mix, frosting, candles, candies, and more so the recipient can have a little birthday party whenever. Neat!
I'm also thinking this can be a giveaway project to the community center next time!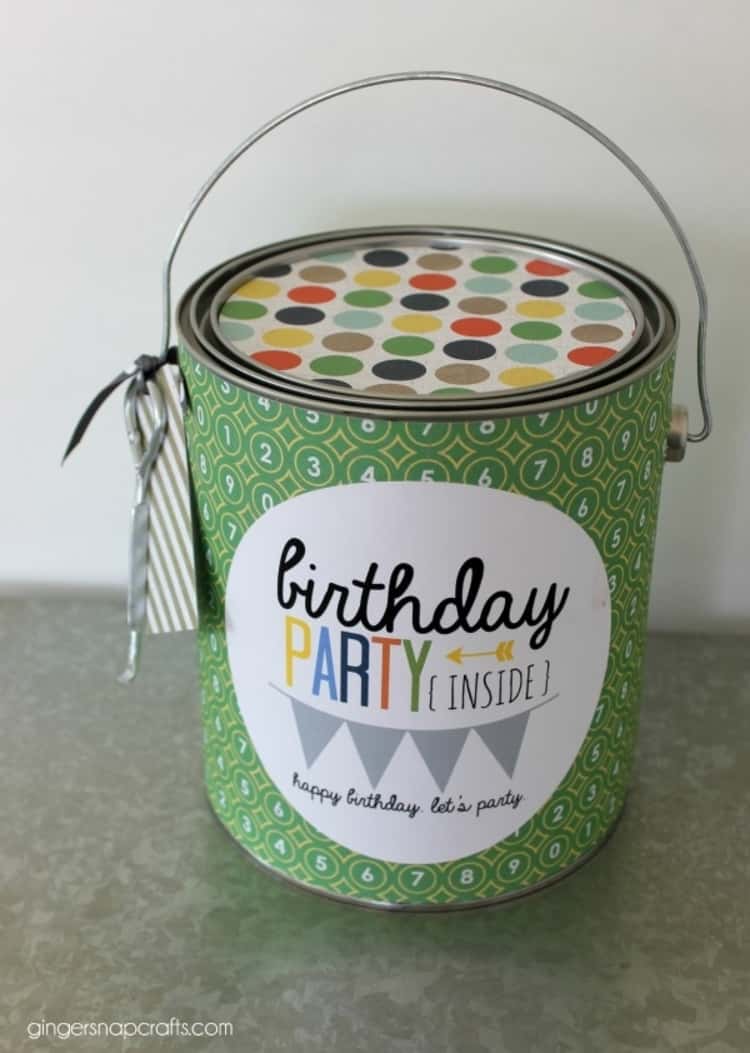 5. Reuse Paint Cans To Create Multipurpose Coat Hooks
Do you live in those areas where an ordinary coat rack just won't cut it because all your household members need extra space for their scarves, hats, and gloves? Install several water-based paint cans at varying heights in your entryway to give everyone a coat hook/storage cubby.
Finally! That bench which is constantly overflowing with winter coats, hats, and gloves can now get back to its intended use.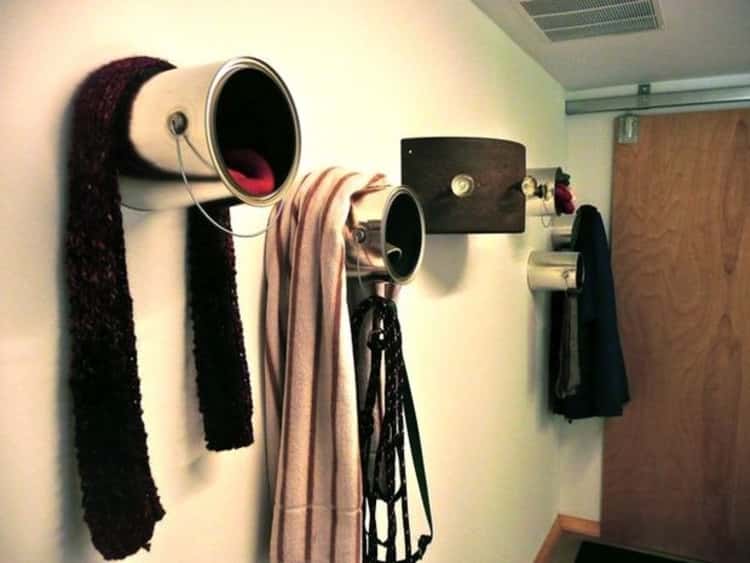 6. How Fab Is This Ice Bucket From A Reused Liquid Paint Can?
Tired of looking for ways to stand out when you throw parties? Here's a super cute and super-easy way to do it – class up your next party with a glammed ice buckets from reusing paint cans. Who knew gold spray paint could have such a dramatic effect?
You could also reuse these glammed-up paint cans for storing your craft supplies.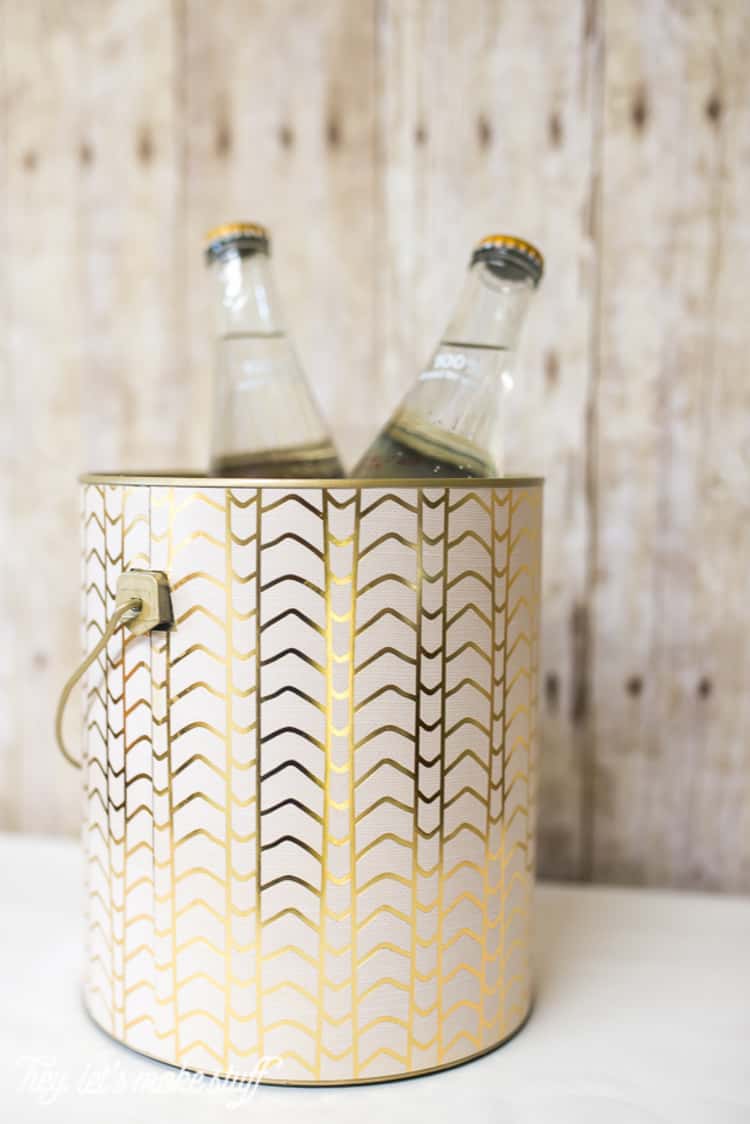 7. Go From Reused Paint Can To Easy DIY Rustic Vases
For all the flower lovers, instead of settling for the regular store-bought flower vases, upcycle and reuse paint cans to make a few rustic, one-of-a-kind vases. You can make birch bark vases out of any size paint cans.
All you need is some birch bark, twine, paint cans, glue gun, glue sticks, and then go all out with your creativity! Love the paintcare in this dry out project! Just look at the pigment effects on the painted cans!
8. No Tricks Needed For These Treat Buckets – Only Use New Paint Cans
Before rushing out to buy new buckets for the next Halloween, use new paint cans to make trick or treat buckets (or Easter buckets, etc.) for the kids.
New paint cans and some vinyl is all you need – though you could glam up the girls' buckets with some ribbons.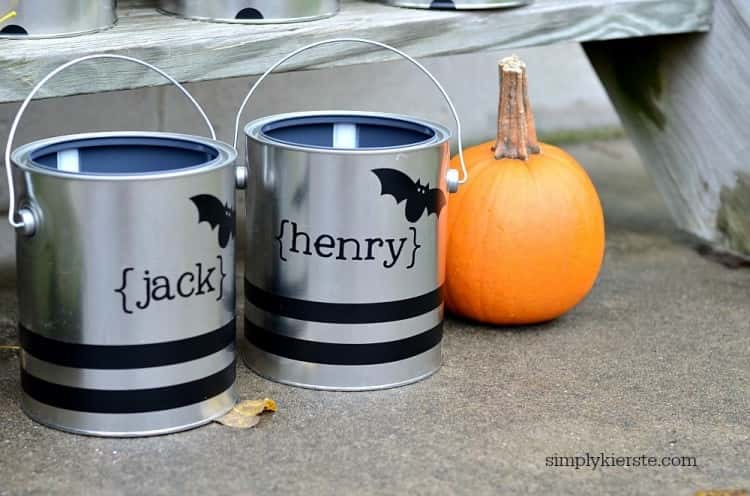 9. Reuse Paint Cans And Get To Be The Party Favors Star!
We love parties. And most of all we love party favors. What we don't really care about is how most party favors don't even last longer than it takes to say party favor. And don't get me started on food party favors that are allergen-ticking bombs.
Here's a party hack that will get and keep you in good graces with all, if not most, parents – make paint can party favors for your next birthday party. Fill the can with paints, paintbrushes, and other artsy-craftsy toys.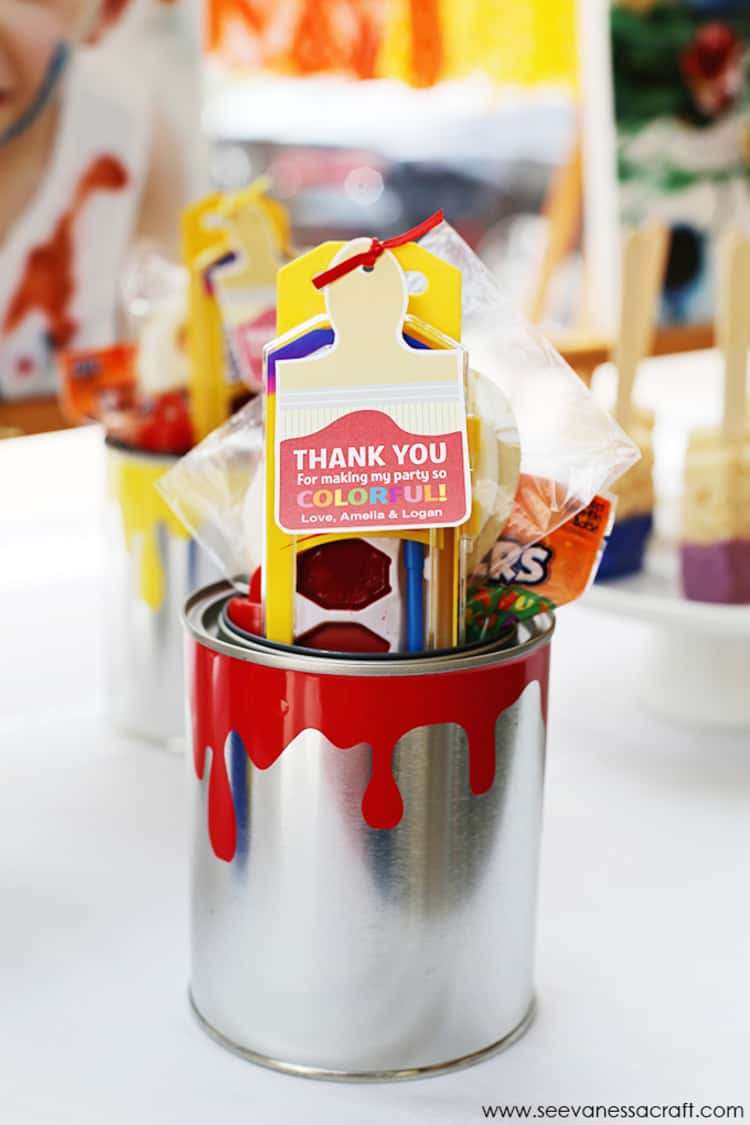 10. Why Settle For Ordinary Shelving When You Could Reuse Paint Cans?
I love organizing and for me, there's no organization that's complete without creating organization spaces where there were none before, like creating a wall storage unit out of paint cans.
While this DIYer used formula cans, you can reuse old paint cans to make a great storage unit for the garage to hold hand tools, cords, and more.
This is way better than ordinary shelving because now I can organize my stuff in different cans in such a way that it becomes a habit with everyone, and making my life way easier – all everyone has to do is put the right stuff in the right can. Probably some labels below this storage unit will help me easily achieve that.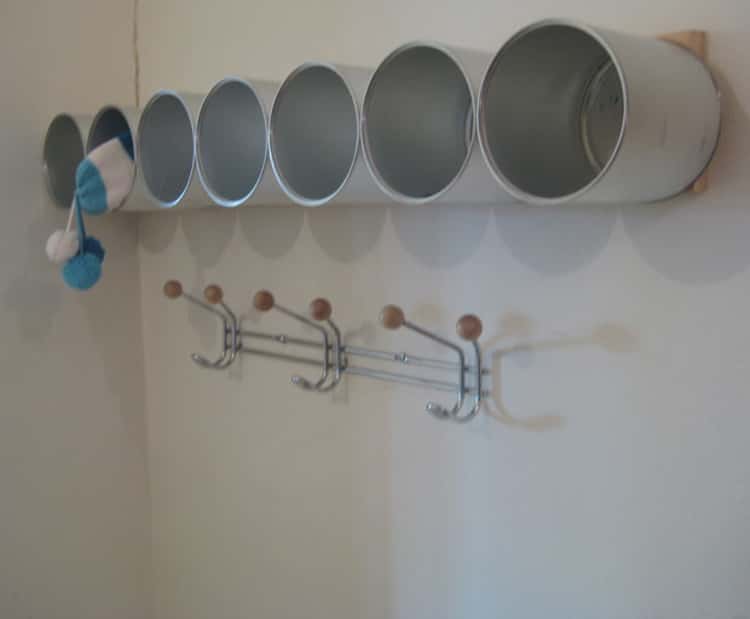 11. Reuse Rusty Paint Cans To Make Rustic Hanging Baskets
Got old rusty paint cans lying around? You can never miss one or two in your garage. Just fill them with baby's breath and hung them up.
Like literally. That's all you need to do to reuse rusty paint cans. Don't bother trying to make them look good. They'll look rough and rustic against these pretty white flowers. Don't we just love this hanging basket idea!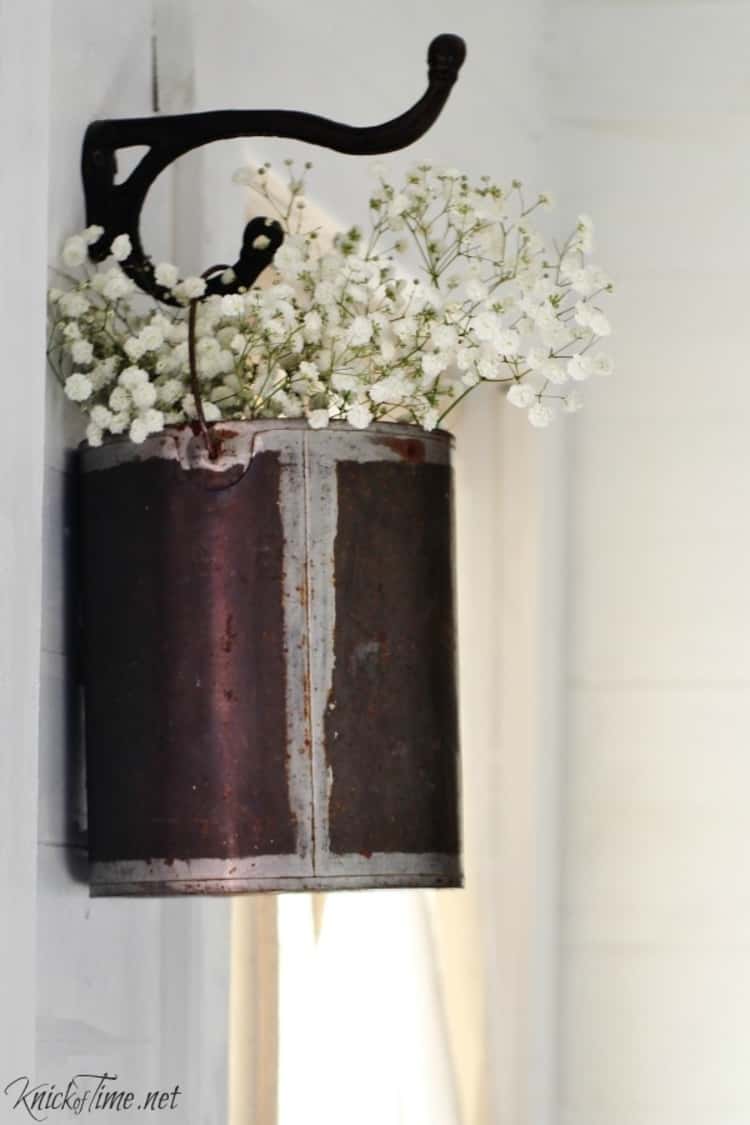 12. Establish Your Own Herb Garden By Reusing Paint Cans
Anyone who loves herbs knows some herbs are best when fresh and therefore will always have those in their own neat garden of fresh herbs. A few old paint cans (or new ones, because there ARE a whole lot of herbs we love when fresh) wrapped in sisal and labeled accordingly make such gorgeous herb planters.
And these would make such pretty and neat gifts for other herb lovers!
PS: Don't forget to drill some holes at the bottom of each paint can for drainage, and only wrap the sisal around the paint can. No need to get it wet and smelly at the bottom.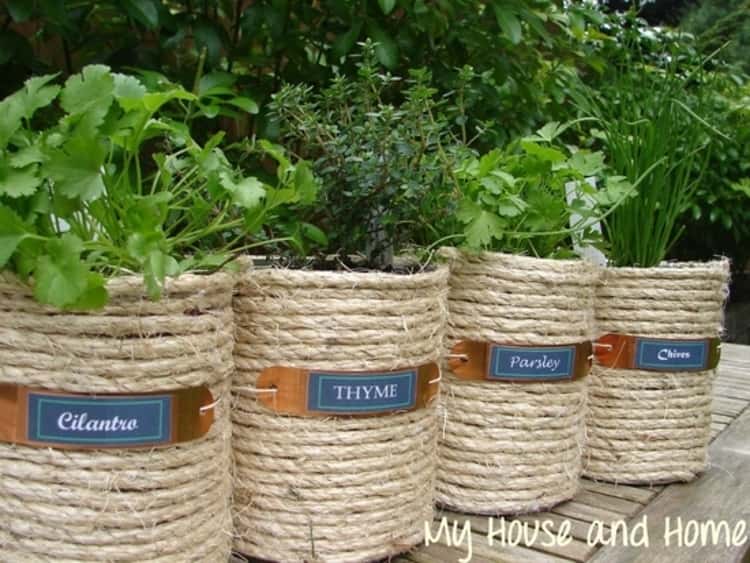 13. Reuse Paint Cans To DIY A Flip-Flop Organization Center
Is your closet floor a jumble of lonely flip-flops, and are you tired of having to match them up every single time you need to wear some? Do away with such levels of disorganization by reusing old paint cans to make your DIY flip-flop organization center.
Nail a couple of paint cans to the wall for shoe storage, especially for flip-flops, as each paint can comfortably hold at least 2 pairs. Finally! Say goodbye to the hop, skip, and jump game in one flip-flop while you're looking for its missing partner, lol.
PS: And should you need help with the rest of your shoes, check out more shoe organization ideas here!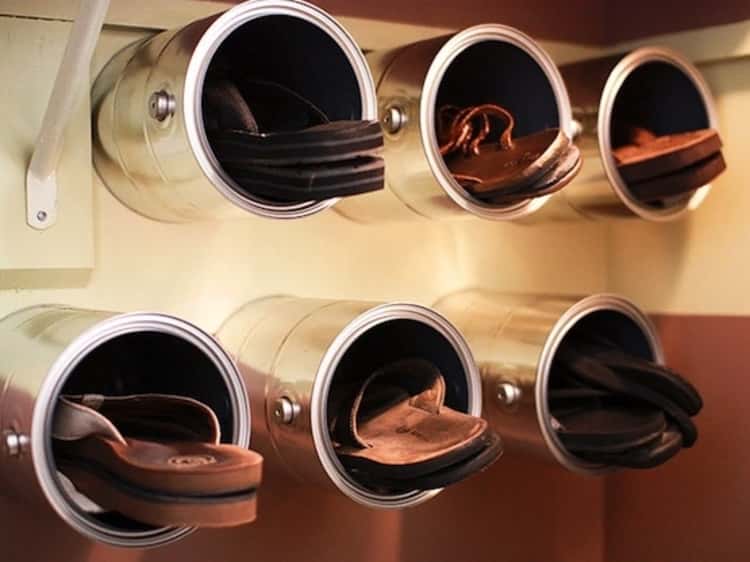 14. Be The Proud Owner Of The Neatest Lighting On Your Block
Why have ordinary lighting when you can DIY and own the title of being the owner of the cutest set of lights around the block? You can reuse paint cans to make your own unique and custom-made pendant lights.
For maximum effect, collect at least 2 paint cans, punch them with just about any design that you'd like, and some light kits. We just can't get over how lovely and unique these DIY lighting pieces are!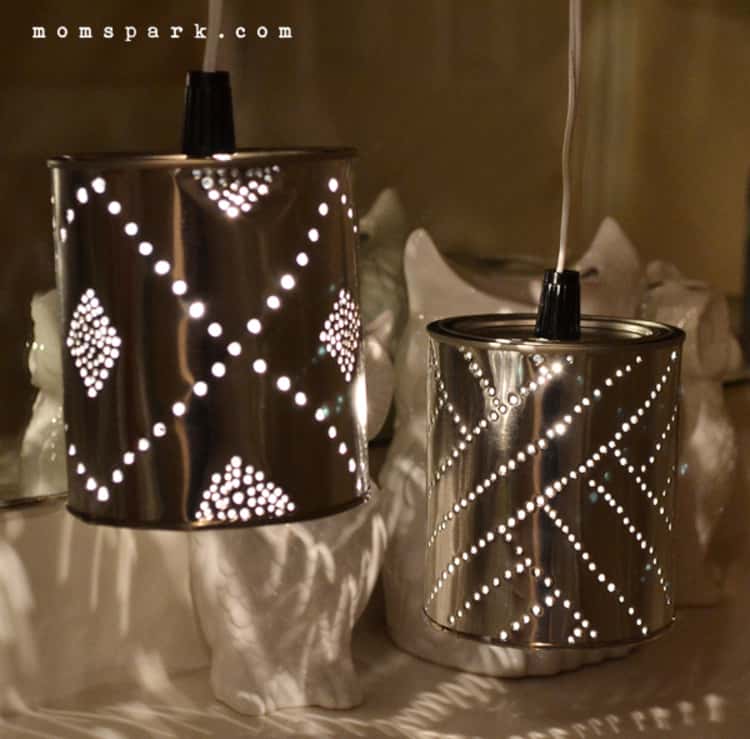 15. DIY Beautiful Artistic Pieces For A Fraction Of The Price
Are you that person who sees artistic pieces you really love at Anthro and almost immediately get your DIY wheels spinning? We are too, and we've got you covered with this last tip. It's not the least because we DID save the best for last.
Now that we know exactly how that feels, here's a DIY project you can work on, like right away – use paint can lid and some spray paint for the paint lids grid to make this Anthropologie-inspired circles mirror.
What a gorgeous piece at an unbelievable price!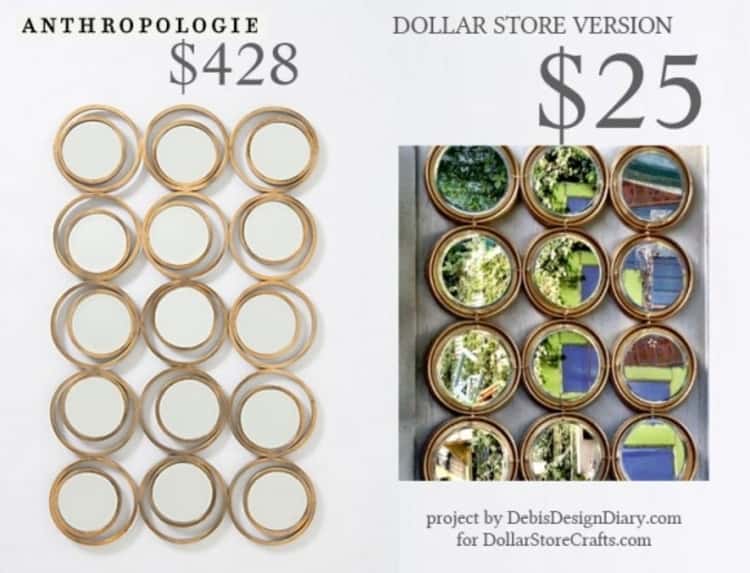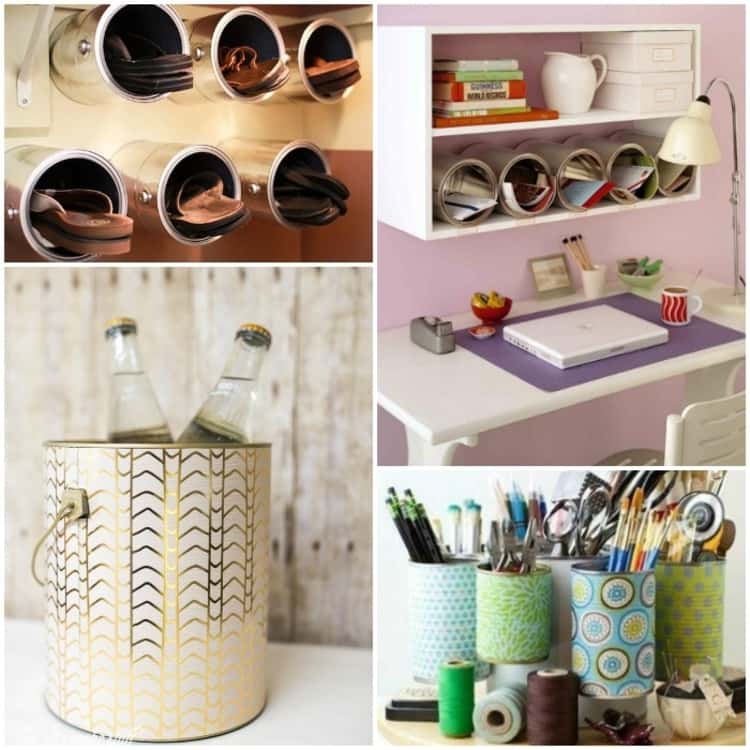 If you enjoyed seeing the different ways you can reuse paint cans, you may also want to have a look at these other ways you can reuse other items in your home:
Love these paint can crafts! Which one do you like best?