If you wear contact lenses, you probably have a few spare contact lens cases lying around. And if you do, today is your lucky day! Those tiny little compartments are a real lifesaver when it comes to travel, especially overnight trips. Here are 15 unexpected uses for contact lens cases that you'll wish you had known sooner!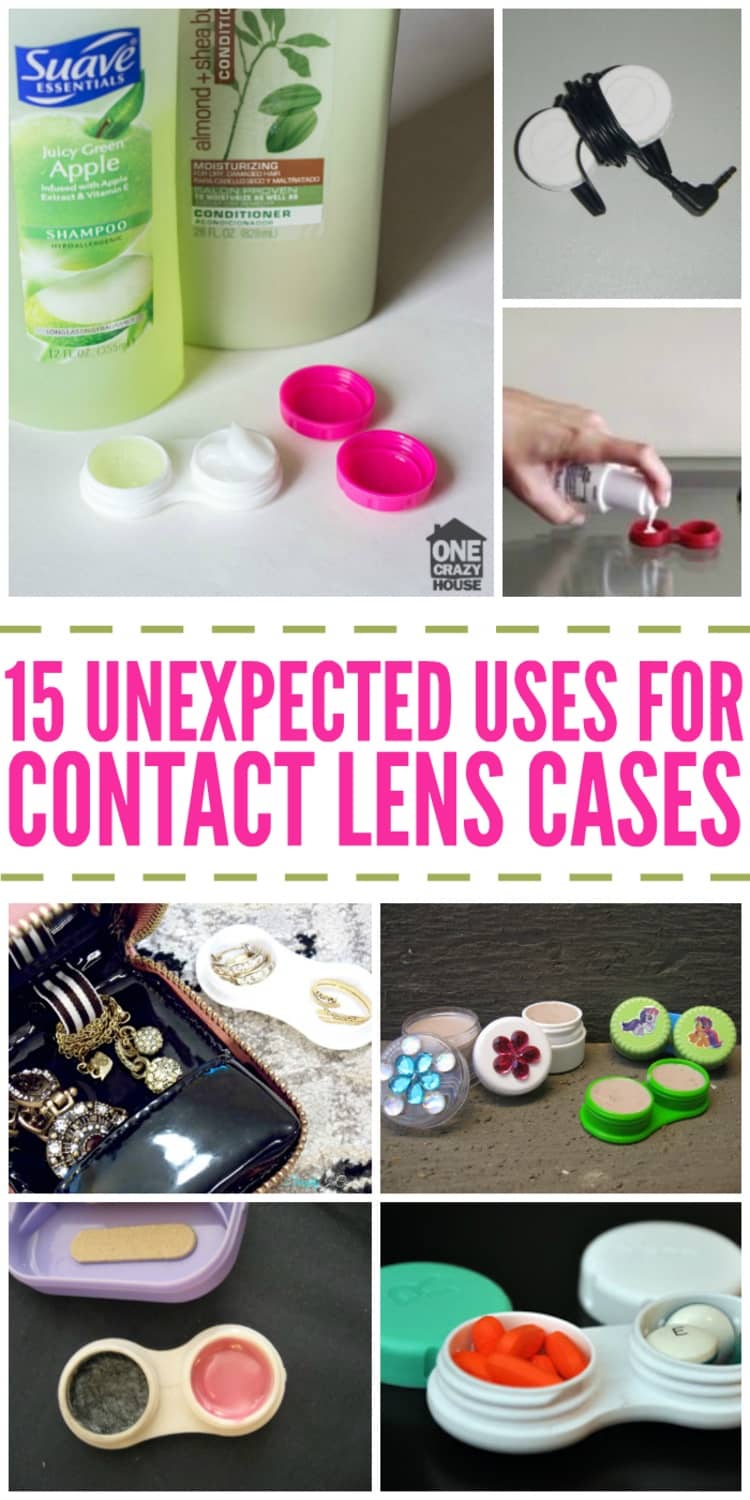 Incredible Contact Lens Case Uses You Would Have Never Thought Of
Who would have thought that you can use contact lens cases for so many things, not only for keeping your contact lenses in? I sometimes wonder how people come up with some of these ideas! Like… how would you decide to put in serving condiments in your contact's case?
Anyways, I am happy someone did it! Because it's so smart and efficient. Check out the whole list of ideas below.
1. Use Your Contact Lenses Case To Bring In Mouthwash With You
I had to take a flight after my dentist's appointment once. I really needed my mouthwash after it. And I would have definitely put it to good use at the airport if I had it with me. Because I felt pretty uncomfortable about my breath during the whole trip.
Make sure you always have fresh breath. You can take your mouthwash with you on your next trip if you store it in your spare contact lens cases. Each compartment holds about a teaspoon of mouthwash, and the contact lens case is leak-proof (at least, mine is), so you can stash it in your car or purse.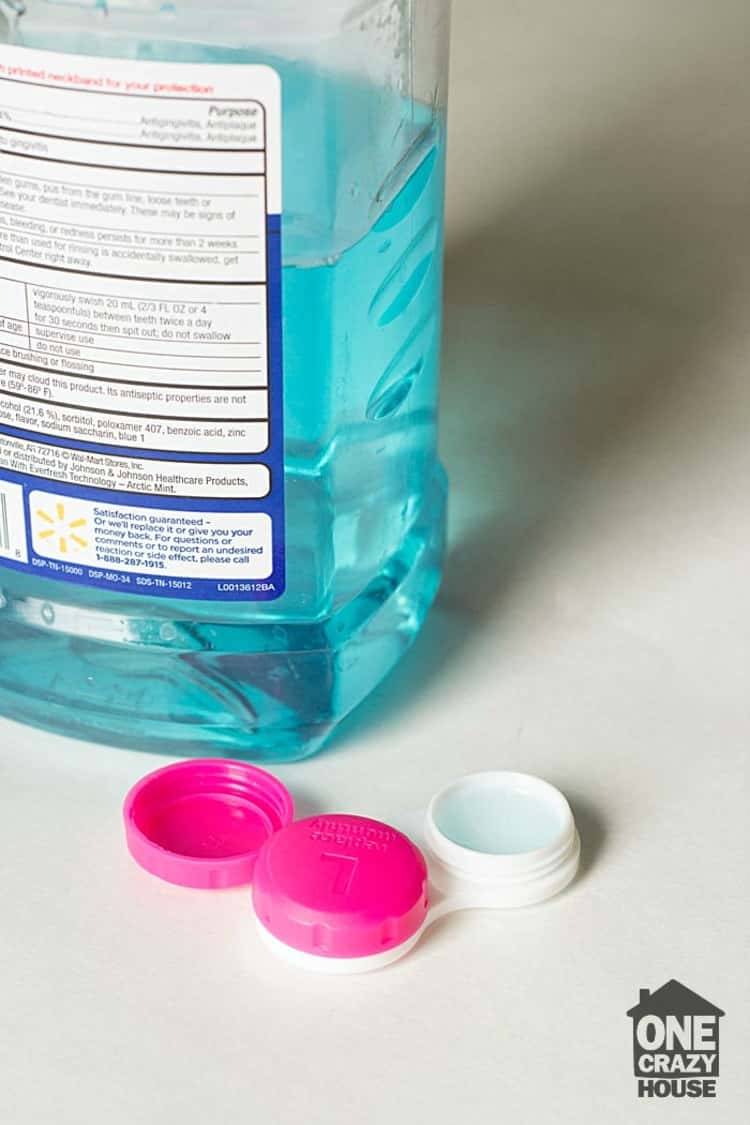 2. Genius Packing Secrets Revealed: Put Your Makeup In Your Contact Lens Cases
Sometimes, you have to keep a sleek look, while traveling. In case you have a meeting very soon after landing and you have to take care of your look, make sure you put your spare contact lens containers in use.
Put makeup in contact lens cases when you're traveling to avoid packing those bulky bottles.
You can use them for storing:
foundation
concealer
eye shadows
blush
lip balm
lip gloss
lipstick
They are easy to store and lightweight. They can fit in bags of all sizes and they close very well, so no spills!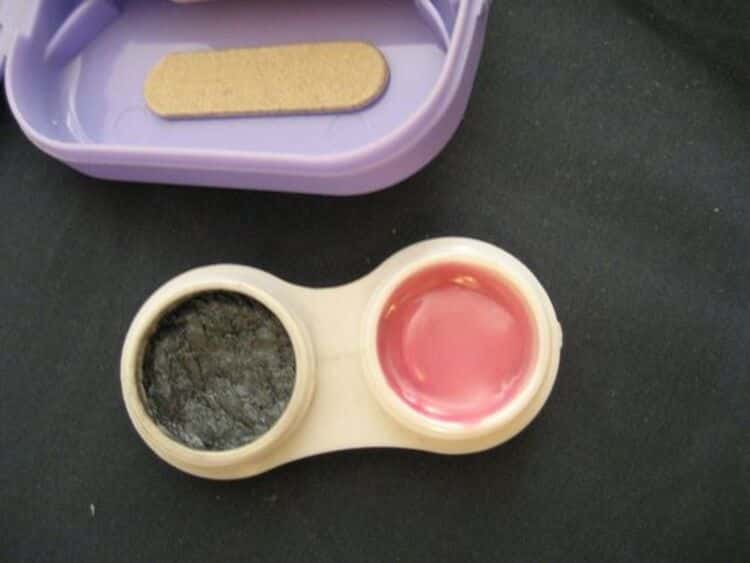 3. Keep Your Earbuds Untangled With This Awesome Contact Lens Hack
Earbuds are designed to tangle. Period. There is just some magical way they tie themselves in knots, no matter how carefully you put them in your bag. I just can't explain to myself how it happens every single time. Honestly, that's a mystery that will never be solved.
But I found a simple solution anyone can make use of and forget about having trouble with twisted headphone cables again! Keep your earbuds tangle-free in your purse or suitcase.

4. Tips And Tricks To Change Your Life: Keep Your Vitamins And Medications In Contact Lens Cases
As a mom, I know you're trying to keep a healthy lifestyle for your family and for you. This means you need to take vitamins daily. But if you're like me, you tend to forget to take them every day.
Carry your vitamins and OTC medications in one. (Check your local laws on this, though. In some states, it's illegal to carry any meds in anything but their respective containers.) And, it's a great solution, if your kids need to take some medicine, as it will make it easier to track.

5. Contact Lens Case Uses That Will Forever Improve The Food For Your Family Camping Trips
There are many ways to bring spices with you on a short camping trip. But this is really one of my favorite contact lens case uses ever!
Put small amounts of spices in contact lens cases to take on camping trips. They are easy to carry, fit in every bag, and never spill. So clever!

6. Travel Tricks For Short Hairstyles: Bring Your Hairstyling Products In Contact Lens Cases
Do you have to take frequent but short trips? I know how it feels! I used to travel 3 days a week on my last corporate job. And even though one can get used to being on the road for some time, your hair usually suffers. We usually don't bring our good and bulky hair product bottles with us, when we are gone only for a few days and this takes a toll on how our hair looks. Because – let's face it – most of the hotels don't use expensive hair products in their rooms' bathrooms.
However, I found a very smart way to take just a bit of my favorite hair products, without bringing the whole bottle! Take some shampoo and conditioner along on an overnight trip without packing bulky bottles. Just have in mind that this will probably work best for guys and ladies with short hair. My hair is quite long now and needs at least 5 times that amount of conditioner! But it's still a tip that comes in handy in times of need.

7. Mind-Blowing Ways To Use Contact Lens Cases To Make Your Next Travel A Breeze
Some hotels have serious noise issues. I am sure you've happened to be in one, too. These places, where you can hear everyone walking on high heels in the hall, and every time the elevator stops on your floor, you wake up.
If you're already a light sleeper (like me!), you always have in your suitcase a pair of noise-canceling earplugs. And this is the best way to store them. Put your earplugs in a contact lens case to keep them from drying out and cracking.

8. Great Ways To Store Small Pieces Of Hardware – Use A Contact Lenses Case
If you have to store multiple miniature things (like small led lamps, batteries, microchips, etc), you can make a convenient and cheap DIY storage system easily. You can have all your little things organized and easily accessible anytime you need them. A great hack for engineers!
Create a storage system for small pieces of hardware using multiple contact lens cases. A simple solution that just works!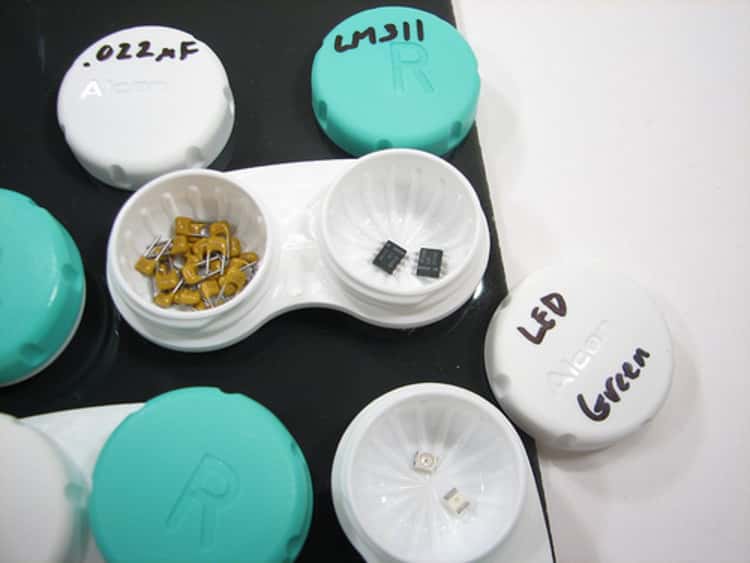 9. Travel Tricks To Simplify Your Next Overnight Trip: Put Lotion Or Face Cream In Your Contact Lenses Case
If you need a quick and easy way to store your face cream or lotion for your next trip, I got you covered! This hack about how to use contact lens cases is simply brilliant.
Take along a little bit of lotion or face cream for an overnight trip.

10. Your Beauty Routine While Traveling Just Became Easier: Keep Your Creams And Lotions In Contact Lens Cases
In fact, store everything you need for your beauty routine, from acne creams to primers and more! It makes short trips so much easier… and your bags a little lighter.

11. Never Miss Your Condiments During Lunch Time Again – Store Them In A Contact Lens Cases
One of the things I love the most about contact lens cases is that they seal very well. I've never had even one spill, no matter what I've put in them. That's why I loved this tip when I stumbled upon it.
Use one to pack a single serving of condiments in your lunch for work.

12. Keep Your Jewelry Safely Stored While Traveling In A Contact Lens Case
I never loved traveling with dangly earrings. But I do love wearing them for dinners. So I was on the look for a convenient way to store them, while traveling, without them rolling around my bag and wasting my time to find them.
Store rings and earrings in contact lens cases when you travel. They're so much easier to keep up with!

13. Excellent Way To Store Your Lip Balm – Use A Contact Lenses Case
If you love DIY cosmetics, you know what struggle finding the right containers could be. I love making everything with a "pinch" of my own personality, so I was looking online for ideas. And I got pleasantly surprised by the alternate uses people come up with for contact lens containers.
Make your own lip balm, and store it in contact lens cases so you can perk up your lips anytime you'd like.

14. Contact Lens Case Hack To Help You Save Change Not Only In Your Pocket
This one is brilliant to keep coins stored in your cars, not rolling under the seats all the time.
Store change to feed to the parking meters and tolls in a contact lens case. It's easy to access and very convenient to store. Perfect!

15. Storing Fake Eyelashes In A Contact Lens Case? Yes, please!
Do you use fake eyelashes? They look so lovely! But honestly, keeping them could be a challenge. Then this video gave me a fantastic idea, which I thought I could share with you, too.
This gal is convinced that contact lens cases are the best for storing fake eyelashes. I agree! Just look how convenient it looks!
In Conclusion
On a scale from 1 to 10, how surprised are you by the magnificent ideas for contact lens cases uses people come up with? I am just blown away!
Who would think you could store so many things in your spare contact lens containers? From makeup to spices, led lamps and microchips, even shampoo and conditioner or the condiments for your lunch. So many creative ideas that will make your life easier!
Which one is your favorite? Which is the one you're the most eager to try? Let us know in the comments! We'd love to hear from you!
Did these creative ways of contact lens case uses left you surprised and in a crafty mood? Then, don't miss these great ideas, too: