Take any stress out of wrapping gifts this year and make it easy and fun again with these DIY gift wrapping ideas and hacks that will blow your mind!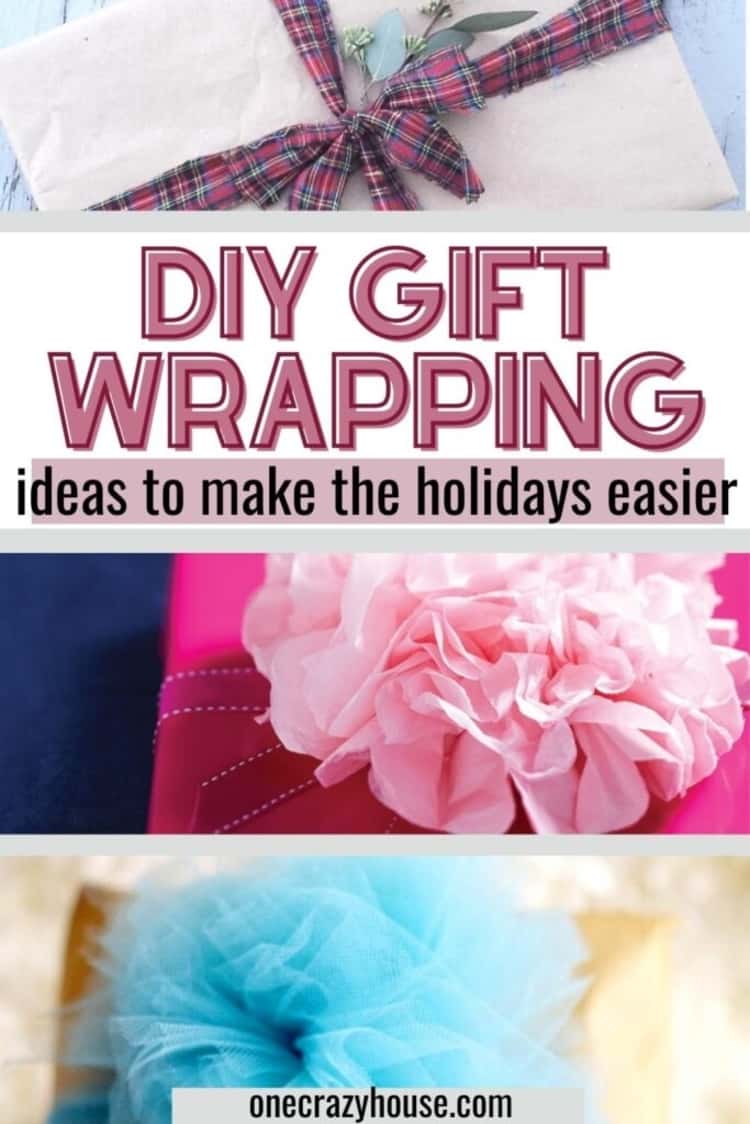 Wrapping paper tricks can be handy during the holiday season. 'Tis the season to be wrapping… and wrapping… and wrapping, after all.
If you tend to give lots of gifts, wrapping them all can be time-consuming. And let's face it, some of us just aren't very talented at making ribbons or getting perfectly formed corners on our boxes.
These hacks and tips will help you get the wrapping done faster (and prettier) this holiday season. Grab your gifts, some tape, and a roll of wrapping paper, and let's get cracking!
Best Gift Wrapping Hacks
1. Sometimes Gift Wrapping Can Be As Easy As Pie
If you're like me who learns best by seeing stuff in practice, then this gift wrapping idea is the one for you. You won't believe how FAST it makes the gift wrapping process. You can wrap a present in less than a minute easily with these simple instructions on how to wrap a present.

Where was this when I spent all those late nights wrapping gifts for my family???
2. When You Need Creative DIY Gift Wrapping Ideas
Gift wrapping can easily be done with empty toilet paper tubes, leftover wrapping paper, and some bits of creativity. It's super easy to transform a toilet paper tube into a gift tube – these are perfect for little lunchbox gifts AND as silly stocking stuffers!
All you've got to do is to cut your wrapping paper to fit the tube, add embellishments and fill it with a fun surprise!
3. Here's A Neat Gift Wrapping Idea When You Need To Dress Up Your Gifts
Not the best at making bows? Tulle is so much easier to work with, and it's cheaper, too! You can easily and quickly learn how to make a beautiful and totally easy DIY Tulle gift bow to add a pretty finishing touch to all of your gifts, especially if you're like me who loves using brown postal paper to wrap your gifts.
For your Tulle gift bow, you'll need:
A spool of tulle
A pair of scissors
Your wrapped gift
To Make:
Start by cutting a piece of tulle, long enough to bo around both sides of your gift and a little extra on the ends.
Next, take the spool of tulle and wrap it around your hand, 20 times or so. This gives you a 4-6″ bow and if you want a bigger one, spread your fingers while you wrap the tulle. Or use a book. And wrap it more times to make sure it stays as fluffy as possible.
Once done wrapping around your hand or book, pull it off carefully, and grab the first long piece of tulle you'd cut in step 1. Tie in a tight knot around the center of the wrapped tulle and you'll know you're almost there when it looks like a tied bow.
Using your scissors, cut through the loops on both ends, fluff, and trim your bow.
You could simply tape your tulle bow on your gift and you're done. Or bring the long ends of the tulle to the bottom of your wrapped gift. Cross the ends from underneath and bring them back to the top on opposite sides. Tie a knot so your tulle stays in place, trim the ends, and hide the knot by pushing it under the tulle bow. And you're done!
I bet after a few runs you'll be the bow guru 🙂
4. How About Borrowing Santa's Belt For Your Gift Wrapping Ideas? 
Another alternative to the traditional bow is making Santa's belt. This works well on any red wrapping paper… even on those with a pattern! And this gift wrapping idea couldn't get any easier to pull off – all you do is cut it out of gold card stock.
How cute is this gift looking with Santa's belt on! 
5. Get Creative With The Simplest DIY Gift Wrapping Idea 
Use craft paper! Yeah. Instead of spending money on lots of different colors of wrapping paper, try craft paper. You can decorate any way you'd like, and it always looks elegant (and unique!).
This is the simplest DIY of all time. You can use it on any plain colored paper for a quick and easy – and unique gift wrap option. Oh, and don't just stop there, yet. Go ahead, get yourself a white stamp pad, and using the rubber on a pencil, polka dot the craft paper. Trust me, no one will ever guess their gift is wrapped in craft paper!
6. Done Wrestling With Ribbons? Here's A No-Fuss Kind Of Gift Wrapping Idea
Gift wrapping can sometimes be a nightmare – thanks to those all the fuss with those unending, and so challenging ribbon fiascos! This all changes when you completely skip out on using ribbons and simply add washi tape to your wrapped gift for THAT pop of color.
This will perhaps become your favorite gift wrapping idea – it's mine already!
7. Neat Gift Wrapping Ideas 
Wanna stand out by having simple and elegant gift wraps? A gold Sharpie plus black wrapping paper is all you need for a beautifully wrapped gift for any occasion. The twine is optional but fun!
8. Borrow Oriental Art For When You Need Quick Gift Wrapping Ideas
Furoshiki, the Japanese art of wrapping with cloth, is the perfect method of gift wrap for holidays and birthdays. Not only is it gorgeous, but it serves as a gift in itself since it can be reused by the recipient!
The fabric wrap pulls double duty as a wrap and an extra gift for the recipient. Simply tie the fabric around the gift  – no string, tape, ribbon, or bows involved. This gift wrapping hack is also REALLY easy to do.
9. Stun Your Gift Recipients With This Gift Wrapping Idea
Pretty up your next gift with a stunning homemade bow that's almost too nice to undo, yet so cheap to pull off because you'll be making tissue paper toppers! Once you try out this gift wrapping idea, you'll never have to make a bow again!
The tissue paper poms look so amazing and you won't believe how quick and easy they are to make. And as a bonus, these also would make for pretty party decor! 
10. Say Goodbye To Wasteful Gift Wrapping Ideas
Reduce, reuse and recycle old Pringles cans to gift cookies to friends and neighbors during the holidays. It's easy and is just the perfect size to hold those delicious goodies!
And while we're still on gift wrapping ideas, you can also repurpose Pringles cans for crafts to create your gift wrap stand.
11. Gift Wrapping Ideas For When Holiday Chaos Become Too Overwhelming
Every holiday season comes with its fair share of chaos and you've probably more than once forgotten to buy a gift bag. Don't beat yourself up because finding THAT perfect present is the hard part.
This gift wrapping idea makes sure you'll never buy them again! This hack turns any wrapping paper into a gift bag that's perfectly sized for oddly shaped items.
12. Sign Up The Little Ones For Unique Gift Wrapping Ideas 
We ALL know kids say the darndest things and keep us rolling in laughter but did you know they also have the best gift wrapping ideas? Get the kids involved with gift wrapping for friends and other relatives. Kid-made gift wrap is the BEST and truly one-of-a-kind – so fun, colorful, and unique!
Thanks to this gift wrapping idea, we now use more wrapping paper for the kids and more gift bags for the adults, as the kids are always on standby for gift-wrapping duty with wrapping paper. 
13. Stylish & Personalized Gift Wrapping Ideas 
Want fast and easy, but a creative idea for gift tags to embellish your gifts for the holidays or any occasion? Instead of gift tags, try a monogram made out of chipboard letters instead. The recipient can use it as an ornament! This is so creative – and quick to do as it's ready in less than a minute.
Personally, I may try this with some of the kiddo's old magnetic letters rather than buying chipboard letters.
14. Beautiful And Free Gift Wrapping Ideas With A Natural Touch 
I've said this enough times that you probably think I'm a broken record, but I love love love creative gift wrapping! And I love it, even more, when I come up with inexpensive (or even free) packaging ideas. 
Add greenery from your own trees and plants instead of a ribbon. It's beautiful and free – my favorite when it comes to gift wrapping ideas!
15. Your Favourite Old Flannels Get To Join In For This Gift Wrapping Idea!
Have an old flannel blanket or set of pajamas that you no longer need but can't seem to let go of? Upcycle old flannel items into lovely gift wraps and bows! Tear them into strips and use them like ribbons.
You don't even have to tie a super neat bow because it's a delightfully rustic look.
16. Gift Wrapping Ideas You're Bound To Love! 
Do you struggle to wrap a pretty package? These fun and easy present wrapping tips make it a snap to give a beautiful gift!
Plus with double-sided tape, you'll no longer feel like you're wasting away too much tape. And you also don't have to stand those tape lines because we dislike them as much as you do. 
17. Easy Peasy Gift Wrapping Idea 
The most wonderful time of the year is almost here!!! Wrapping presents is almost my favorite part of the holiday. And if you're just one of those people who's totally hopeless at wrapping, try the "candy" wrapping method.
It doesn't have to be neat, but it still looks super cute. 
18. Perfect Gift Wrapping Idea For Small Item Gifts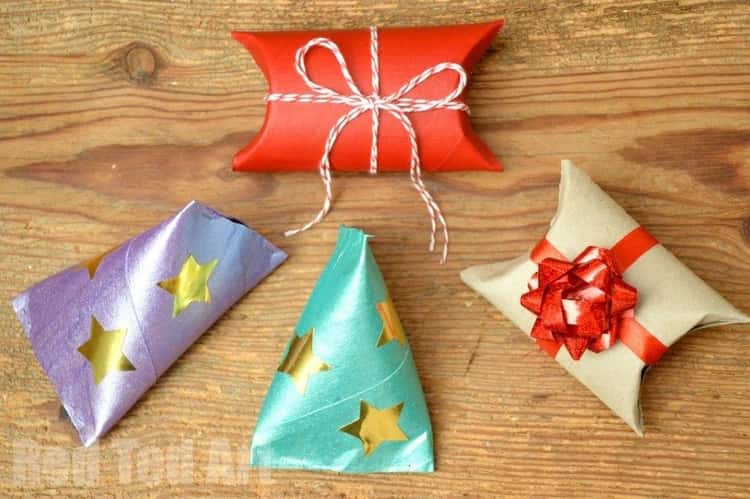 How To Manage The Mess Of Christmas Unwrapping
If you often have ugly trash bags in your Christmas photos, you'll absolutely love this tip. Cover a large box with pretty wrapping paper to put all the trash in! And because an after-holiday season cleanup is always a necessity, here are some awesome hacks to make holiday clean-up a breeze. 
And if you're like me (most days) and plan on giving cash instead, here are loads of creative money gift ideas to try.
I hope you've found some creative gift wrapping ideas on this list to add some variety and flair to your gift wrapping – while also maybe making it easier!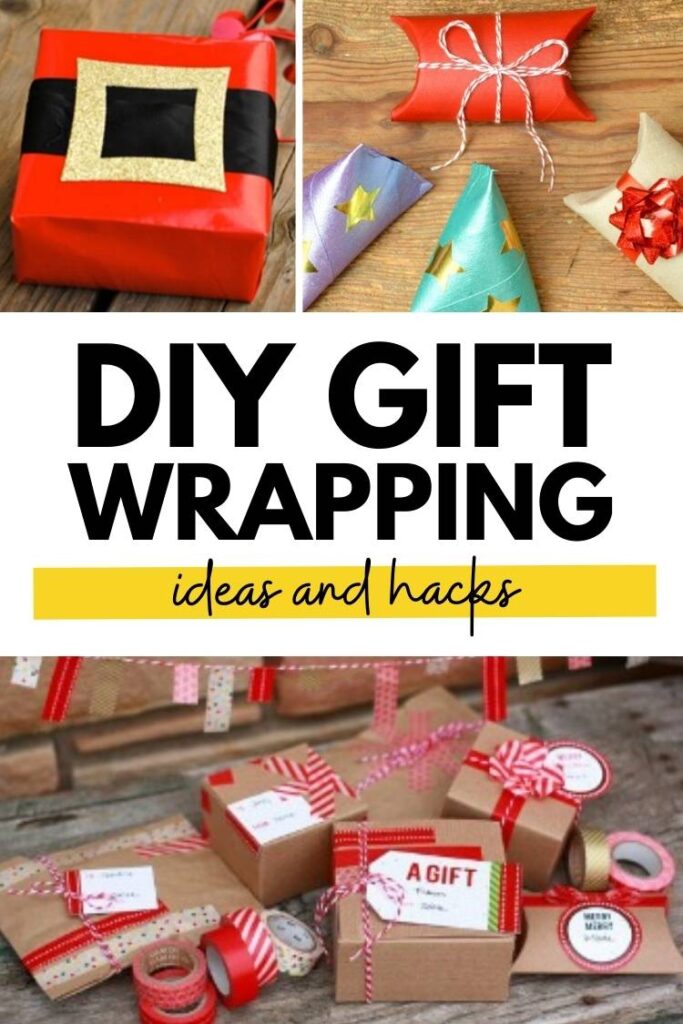 Now that you're equipped with enough gift wrapping ideas, why not check out some more holiday tips and ideas: