Oh my! How I love cars! Growing up, I almost always could name every car that passed across our street. We would compete with my siblings who would get the most cars named. At times I won but mostly, my siblings, especially my brothers, were faster than I was. Good old days! I have lots of childhood stories but let's get back to fixing cars before I pour out my whole heart about those memorable times. So does your car have scratches on its paint and never heard of a car scratch remover? You are not alone when it comes to scratches.
I always hate the thought of getting a scratch on my pretty car but what's the world with children who are somewhat destructive! Anyway, they are a blessing and I love them a whole bunch. It always used to be a very exasperating experience to fix the mess left from scratches but I have come to learn and actually agree that fixing paint scratches is easier than it sounds!! Thanks to AutoZone for giving me a tube of paint-touch-up car scratch remover and sponsoring this blog post. Yaay! So excited to show you how you can get rid of the marks on your cars!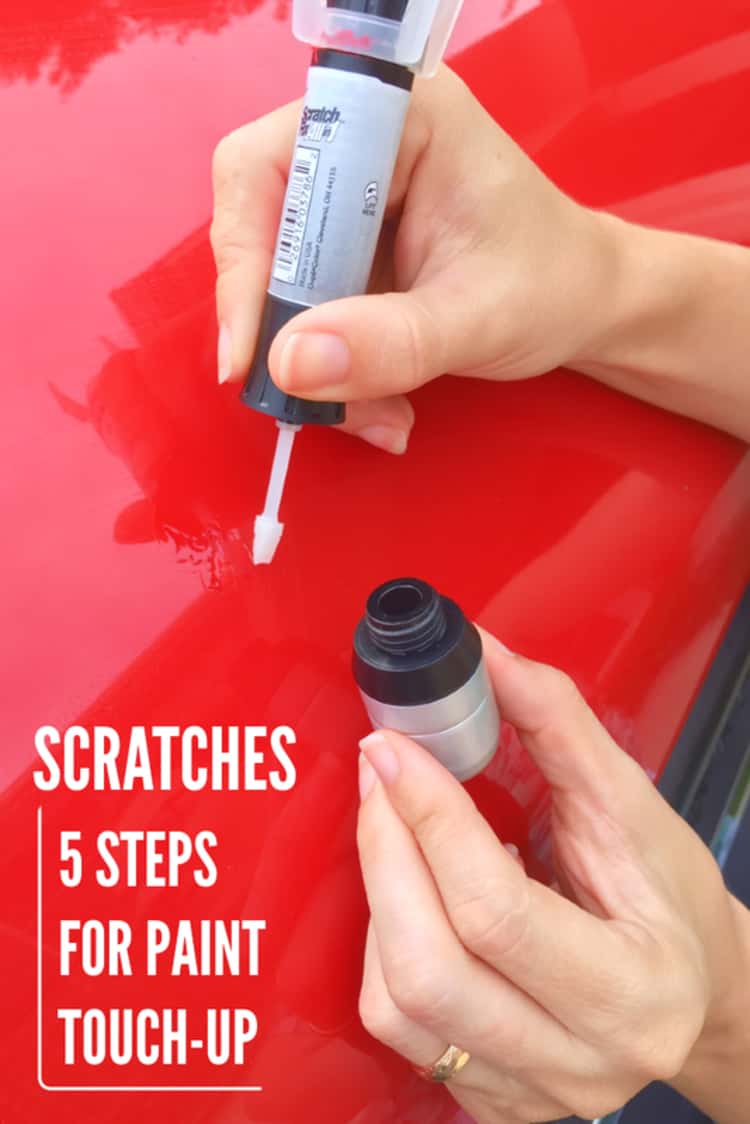 We don't talk about our family too often on the blog, you can read about the start of this blog here, but we have six kids and a neighborhood full of pals, and let's just say there are a LOT of bikes and scooters that ride up and down our driveway. This means LOTS of scratches and mishaps with Clifford (we drive a Big Red Van). Sounds corny naming your car! But we love ours and we think the name suits him. Been a while since we've had him around and he's the savior whenever we need to move with all the kids to God knows where!
Our busy neighborhood and playful kids always make a point by leaving dents on Clifford. Most of the time it's usually scratched and thinking of getting it sprayed all the time usually would cost a dime in the long run. So we got a car scratch remover hack that works magic for us.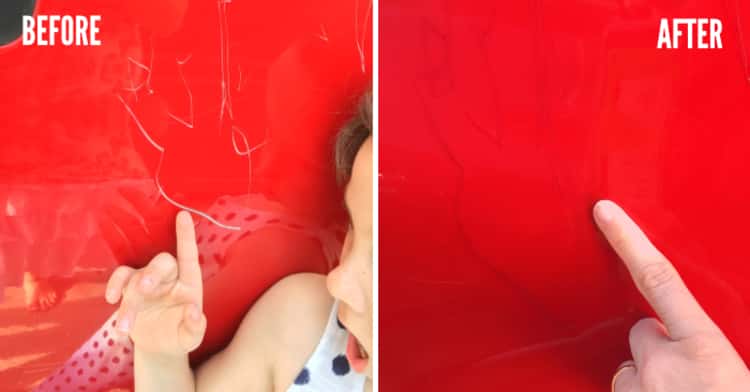 5 Steps To Fixing Scratches With the Ultimate Car Scratch Remover
Before we hop right into the steps you should know why paint scratches are a problem. There are pretty straightforward reasons. Other than the obvious of being ugly as all get out, having scratches in your paint is one of the main causes of rust! The paint protects the metal. Also, scratches affect the potential resale price of the vehicle in case one would want to have it sold. Plus ignoring the first scratches, which is easy to do, sets precedence for more damage ignorance, and before you know it the vehicle is a total wreck.
The step-by-step guidelines to getting your car to look as though nothing happened to it are as outlined and you can certainly involve your kids in the whole process. Let's dive right into them!
1. Go to Local AutoZone
Go to your local AutoZone. They have a wide variety of car scratch remover paint pens. Tell them the year and make of your vehicle and they will be able to match the color of your paint – no more guessing if the shade matches your vehicle!! They will also walk you through tricks to make the most of your re-touching job.
This is so convenient and simple. You don't have to know the exact details as the store guys will sort you out. Yours is just to show up and voila, you are assisted. Makes things a whole lot easier.
2. Wash Paint Surface
Once you have your scratch remover paint pen with you, the next step is to clean the surface of your paint to ensure that there is no dirt, grease, or rust in the scratch. With Clifford, we washed the spot we were going to clean with a mixture of rubbing alcohol, water, and a drop of soap to prepare the surface. Washing makes sure that you won't cover up anything with the new paint. It's like having to wash your face before putting on your fresh oil on it! Makes sense? I know it does, haha.
3. Etch Area To Be Painted
Now, this is where we get to use our newly acquired scratch paint pen. The how is pretty simple. Use the scrub pen tip of the car scratch remover (the white tip of the paint pen by Dupli-Color) to etch over the areas you are going to paint. This step removes any loose paint bits and lightly sands the surface making it accept the new paint more easily. This is another of the important steps of the five.
4. Unscrew Brush and Paint Lightly
With the scratched area washed and etched over, now what's remaining is making it look all better. This involves the actual thing which is painting it. The steps to painting are easy to follow and should be done so gently. Clumsy people need assistance probably when it comes to this step.
First things first, unscrew the dye brush from the pen.  Then lightly paint over the area where you have missing paint. Use thin layers while at it to make it flow well from one layer to another. Make sure the paint has fully dried between layers. You don't want to mess with it and the final outlook. For us, it took three to four layers of paint to fully cover the deep scratches. And you know what, Clifford looked like he's straight from the showroom.
5. Coat Surface with Clear Coat
For ladies, this step will ogre well with them. Not to sideline men but this has to do with nail polish. Ever been to a nail parlor and took note of all the steps the specialists perform on your nails? Sure you noted once the layers of polish are done and dried, there is a clear coat that seals the whole process. The same thing is going to happen here.
Last but not least in the five steps is this. After the paint has fully dried, unscrew the bottom of your paint pen. It will reveal a brush with a clear protective coating. Lightly coat the surface you painted with the clear coat. This gets to seal the paint and gives it a shiny outlook.
Viola! Your car is as good as new! With our vehicle, you can still see the scratches if you are looking for them (did I lie when I said that Clifford looked as though he was from the showroom? Not really!). But it is so much better than before, my vehicle is protected from developing rust in those scratches, and the car scratch remover cost a total of $12!! Not much money, as compared to having it repainted. The red color of our Clifford looks dazzling and the scratches paint really blended in with it.
We've come this far and it's exciting to know that you can have your vehicle's scratches fixed. This surely deserves a toast and a nice family dinner. Immediately after having our van done, we were so excited that we did a barbecue meal to just celebrate having beaten the scratches that thought were tougher than us!
If you are looking for more auto tips, check out the AutoZone YouTube Channel, anyone can fix their own car! They prove it! You can also follow them on Facebook, Twitter, or Instagram. These guys got you for all your auto needs. No kidding!
Thanks, AutoZone for providing a solution for the DIY mom who has kiddos and too many dings and scratches on her vehicle! Clifford thanks you! We are so over ourselves with the transformation and the lessons taken whenever Clifford needs to be fixed.
Now my kids can play freely (but a bit more careful) and I can go on with my blogging business. Never been this relieved!
$100 GIVEAWAY!!
Do you happen to have some car repairs needed in your home? You are in luck coz we have a $100 AutoZone Gift Card Giveaway – 'Share why you shop AutoZone in the comments on this Facebook thread for a chance to win!
Also – SAVE MORE!!
Here is a $5 off coupon with a purchase of $25 or more valid thru 7/5/16
Coupon link: https://www.facebook.com/autozone/app/510124319170730/
This post is brought to you by AutoZone; the opinions are all mine. Hope you liked it and learned a lot with regard to fixing your car scratches. You can let us know how the experience was for you and we will be more than elated to get your feedback. All the best in trying this out.
Did you enjoy the car scratch remover tips we got you? You can check out more tips and hacks that revolve around cars: