What's your favorite place in your home? You must have one even if you think you don't. Well for me,  I love my open-plan kitchen for it serves me just right. It is that place I always want to end my day in as I sip some cold glass of wine. The guys who did the interior of the space did an amazing job. All my countertops are granite and the modern type which fit in well with most of my house stuff. I preferred the granite finishing coz it consists of natural stone that is beautiful, resists bacteria and staining, and gives off a lustrous shine. I always have to see to it that my best place in the house is ever sparkling clean. And this involves cleaning my countertop the right way. For this activity, a granite countertop cleaner is a must-have appliance.
A good granite countertop cleaner doesn't only get rid of stains but also helps keep your granite countertops in tip-top shape for years to come. Instead of buying one at the store, though, you can make granite countertop cleaner with ingredients you already have in your kitchen.
This will save you on your budget and help you become a little more creative and crafty while acquiring knowledge on cleaners. And don't miss our list of green cleaning recipes while you're here! Hop into this amazing journey of discovery with us. I bet you aren't ready for us yet!
How to Make Homemade Granite Countertop Cleaner
1. Why Granite Countertops Need Cleaning
My kitchen wasn't always as pretty as it is right now. It was so worn out and I used to not want to spend much of my time in it. So one day I decided, you know what, enough is enough. I had a discussion with my husband and we saw it fit to carry out a renovation of our entire kitchen setup. The sink was so messed up and there was so little space to move around and prepare food from. I have always dreamed of a kitchen island made of granite and this time my dream was going to become a reality. I was so over myself and couldn't hold the joy back. You should have seen me then.
At that time when I was renovating my kitchen, been a couple of years back, the contractors I hired told me something that changed my life forever – ok, maybe I'm exaggerating a bit but keep up with me – they told me that granite countertops required a lot of special cleaning in order to last. Say what? I used to think that granite countertops were basically indestructible and that I could pretty much do everything on them and never clean them (kidding). But just like any other surface in our home, granite countertops need to be looked after with care and cleaned often. As a clean freak, I had to come up with ways to make this whole process and cleaning activity interesting.
So when I realized that they needed special cleaning and a lot of care I almost cried coz I was new to all this; thankfully they had some compassion for me and shared the best ways to clean them. Turns out that the best possible granite countertop cleaner is actually homemade and really easy to make. It is a lifesaver really. And just so you may know, the special cleaning is so as to ensure the sealant doesn't wear off. I was so excited upon realizing that there is actually an option that is the best there could ever be. My countertops have never been duller ever since this discovery came to be.
2. The Actual Cleaning Process
What you will love about this whole idea is that it isn't a rocket science thing. It is also an easy hack thing that you'll wonder why you've never thought or come across it at any point.  The process involved to make it is really simple and the supplies are readily accessible in your home or at the local store near you. You just need 1 cup of vinegar, 1 cup of water, 1 tablespoon of dish soap, the juice from half a grapefruit, and grapefruit peels. "You mean that's all that one only needs? " I can hear you asking and the answer is frankly, Yes, that's all you need to start off preparing your granite countertop cleaner. I'm not even kidding.
The next step after having your supplies is to just mix everything well and let it sit for around 30 minutes before using. While waiting you could be preparing some mango juice to reward yourself right after the cleaning is done. Well, this is another of my routines. I love self rewards for when I achieve something I have been looking forward to hacking.
Why the Wait When Cleaning Granite?
And you may be thinking to yourself, "why the wait?" So to answer you, the 30 minutes time for setting is necessary so that the grapefruit can release all of its natural oils. You don't want to use it when it can't be of maximum help. It's like taking a half-brewed cup of coffee. No enjoyment in it at all! Also, the peels are to be removed at the end. So don't forget to remove them before pouring the ready solution into a spray bottle. The bottle can be from your collection of already used bottles or you can get a low-budget one from your home's store. I am always for the idea of repurposing things so on my first trial of this cleaner, I used my empty shampoo bottles.
Now, this is the most interesting part! Once in your spray bottle, pick your cleaning cloth and spray the solution on top of your granite as you rub it gently. The cleaner sure works magic and leaves your countertop sparkling clean. You will want to eat just on top of it with no plate holding your food! Coz boy! The granite will be super clean and just reflecting your image through it.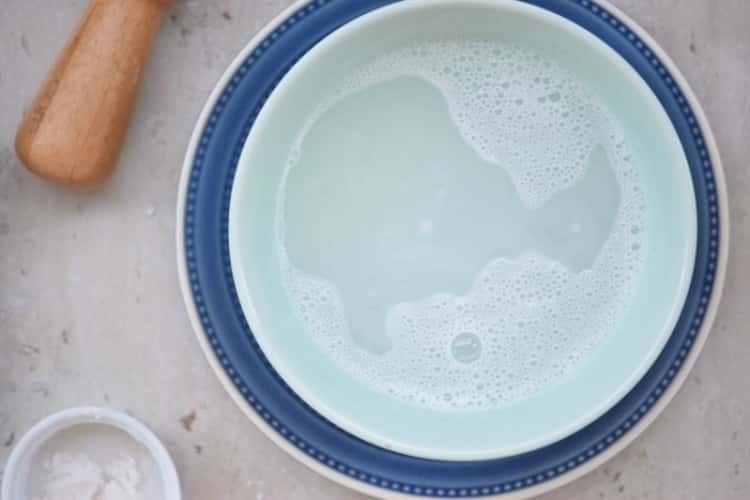 3. Why this Granite Countertop Cleaner
There are ready-made granite countertop cleaners that you can find in the store. So why would we recommend this! You wonder. And again, why is this so good? We have all the reasons to getting you this superb countertop cleaner recipe. Well first, it gets rid of bacteria like no other. You don't have to worry about your hygiene once you've used it coz you can literally place any edible stuff on the counter after cleaning and eat it.
Second, it's really tough on grease and food so you can be sure you are giving your granite countertops a deep cleaning. Other countertop cleaners I bet don't give this much grease and food removal advantage. Also, another reason this cleaner is good is that since it's all-natural it's also really gentle, preserving the countertop's natural shine. This is the most important thing according to contractors because granite countertops can lose their shine really fast if we use the wrong cleaners. And you don't want guests visiting and wondering why your countertop is all worn out and dull!
Prolong Granite Counter Life Span with Good Cleaning
You can have the cleaner in whatever quantities you want to last you throughout your cleaning week. The good thing is it can last without expiring and thus saving you a lot of time coz you don't need to make new cleaner eery time you clean the countertop. You can make a batch of it on Sunday and have enough to last you a whole week of kitchen cleaning and up-keeping. That's what I usually do! And it saves me time and energy coz I don't have to keep on making fresh cleaner every time I need to clean during the week.
With this cleaner, you get to prolong your granite countertop's life. The whole process doesn't have to be unrewardable. You can enjoy and get to be fulfilled by the end of the day with how the results turn out. All this without having to step outside to look for the ultimate cleaner! If you loving being indoors as much as I do then you will find this hack really convenient.
Do you love your kitchen and are stressing how to get your granite cleaner than ever before? Well, you can try this recipe and cleaning method out and let us know how you find the whole experience to be. We will be so elated to know that we actually solved a problem for you. Break a leg, guys!
You may not like the idea of putting money into a home when you're moving out. But it's demanded by the market. You need to show it off. You don't have to rip out the kitchen and bathroom. But maybe replace the tiles or the countertops. Get professional advice. — Barbara Corcoran
If you liked this homemade granite countertop cleaner, check out these DIY cleaning recipes: