These days, we live in such a busy culture that it can be hard to stay organized and on top of everything that everyone has going on. Work schedules, after-school commitments, play dates, appointments…the list is never ending! And to *try* and track it all, we've got lots of options: calendars – paper, dry erase, on our phones, on our computers; post-it notes; text messages and emails; social media notifications. If you feel like you're perpetually one step behind, you've GOT to check out our round up of some of the BEST organization stations out there.
Create a Command Center on Your Wall
By placing a calendar, dry-erase picture frame and a couple of paper holders on a wall, you can create a command center right in the middle of your home that not only looks pretty, but functions quite well. See more of our command center ideas here!
Source: The Hankful House
Charging Station
Do you have electronic devices strewn all over the place? Solve that problem by building a simple charging station. It can be customized to fit your needs based on the electronic devices you have, and you can even add a little spot for paper and pens for quick notes. Perfect!
Source: Lil Luna
Coffee Station
Coffee is the jump-start many people need to getting off on the right track. Having a well thought out station for your coffee can make a world of difference for a night owl who just can't deal with mornings without a hefty dose of caffeine.
Source: improvenet
Shiplap Inspired Organization Station
Do you love the idea of organizing, but not necessarily the "office" feel that many stations provide? Try making a backdrop for your station made of reclaimed wood – stain or paint it to match your décor, and create a beautiful focal center that is just as functional as it is beautiful.
Source: I Am Momma Bear, Hear Me Roar
Everything Has a Place
Use an entire wall and be purposeful about what you place on it for a command center that has everything you need – a few baskets for important papers, blank lists, dry erase calendars, even a couple of framed quotes for inspiration.
Source: One Creative Housewife
School Bag Center
Create a place for those backpacks when the kids come home from school, and never worry about tripping over them again! Frame a large poster for each child and use a dry erase marker to mark important events, notes and reminders right above their backpack.
Source: The Organised Housewife
Personalized Family Calendar
Perhaps a simple calendar would do the trick to keep track of everyone's events. You can make it customized to include your family name or any other saying that means something to your family.
Source: One Crazy House
Chalkboard Back-to-School Center
Inspired by an old school chalkboard, this center has a space for everything – backpacks, lunch boxes and jackets, important school notes, even artwork!
Source: Katherine Marie Photography
Chalkboard Wall
By painting an entire wall (perhaps a small hallway wall) in chalkboard paint, you've got a great background for a command center that can be changed as often as you need it to! Just label or title everything you place on your wall with chalk, and update when needed. (Get more family organization station ideas.)
Source: BHG
Grill Organization Station
Organizing doesn't belong only inside – consider a station to organize your grill tools and spices. Use this version, that can be closed and the contents protected when not in use.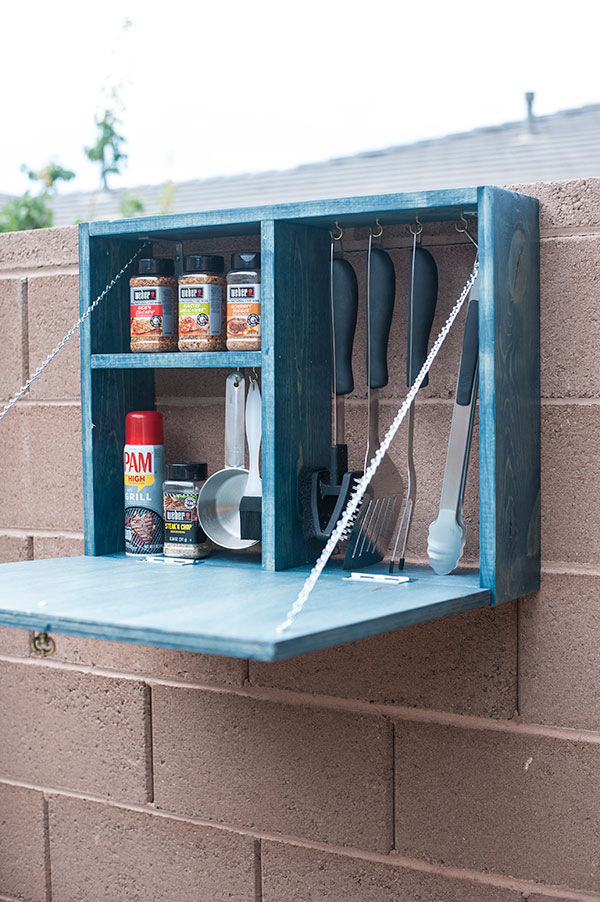 Source: Home Depot
Craft Organization
Use the inside of a doorway as the perfect spot to store wrapping paper, tape and ribbon, and always make sure you're ready to wrap a present at a moments notice!
Source: Hi, Sugarplumb!
Hideaway Homework Desk
Create a space that is perfect for kids to do their homework…you can make it in such a way that when they're done, the desk itself is turned into artwork on the wall. No more loose papers all over!
Source: Organized Mom
Snack Station
Do you ever feel like the Tasmanian devil twirled through your house after school? Eliminate the after school headaches with this perfect snack station – keeps kids out of the fridge and pantry, and looks great too!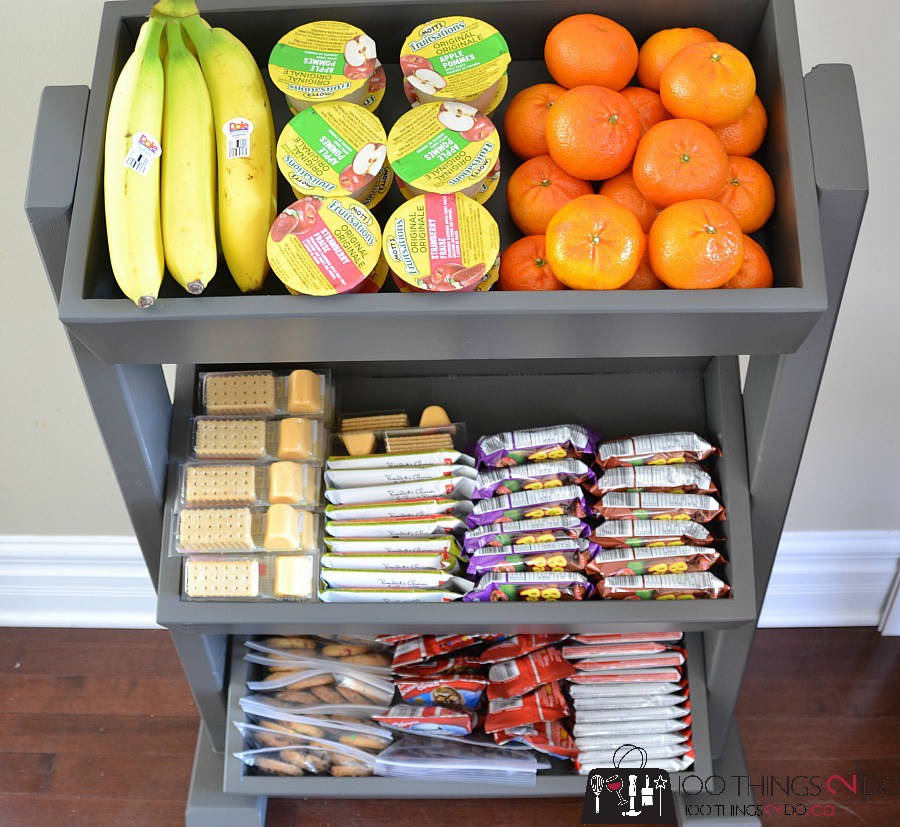 Source: 100 Things 2 Do
Parking Lot in Garage
Create a parking lot for kiddie toys in the garage – just secure some blue painters tape large enough to hold their toys, and let them "park" when play time is over.
Source: Screen-Free Parenting
Tool Storage Station
Think of how much easier it would be to find the tools you need if each one had a specific place on the wall in your garage? Create this space saving unit and have confidence that your power tools, and their parts, are always within arm's reach.
Source: DIY Projects
Pet Station
We all love our pets' right? But is there really a good place to put all their stuff? By using an old shelf cart, the answer can be yes! Just add some sticker labels to create a cute and functional place to store all your pet's belongings!
Source: Organization by the Ocean
Hidden Kitchen Organizer
Create an organization station on the INSIDE of a kitchen cabinet (even use several!). This is a great solution for those tiny spaces, or for those of you that prefer a clean, "less is more" look.
Source: I Heart Organizing
Clothing Organizer
Make school mornings a breeze with this system – label drawers with the day of the week, and lay out all the clothes in one fell swoop. No more arguments in the morning about what to wear, and no more scrambling to find something suitable in the morning!
Source: how-do-it
Bathtub Toy Storage
Add a hanging fruit basket to your shower curtain rod and make bathtime clean up as easy as can be! No more tripping over toys or leaving them in the bottom of the tub to get moldy.
Source: 8 Foot Six
Rolling Art Storage
Use a rolling cart to store all your art supplies – easy to pull out and have access to everything you need in one place, and just as easy to clean up and roll away when you're done!
Source: Tinker Lab
As you can see, there is no need to reinvent the wheel when it comes to getting your life (and the hundreds of details in it!) organized. Try out some of these tips and let us know what you think! You could even try picking and choosing parts of our suggestions and coming up with your own version, tailored just for your family. Which one of these ideas looks best to you?