Organize with a lazy susan. Do you have an awkward corner that you just can't seem to keep organized? Perhaps you have a little too much clutter on a particular surface, but you still need everything within easy reach. Either way, a Lazy Susan can be the answer to your problems. These handy little turntables can help you organize and make sense out of tight spaces while still keeping your items within reach. Here are 15 clever ideas for using Lazy Susans in your home.

Lazy Susan Hacks
Make your own Lazy Susan with marbles and round pans. It's so easy!
Video: Easy Lazy Susan Hack
Check out this video showing you how to make the easiest Lazy Susan hack!
Hang a Lazy Susan upside down under your cabinet to create
rotating utensil storage
.
Make a Lazy Susan Homework Station to add to the kids' desk. It's so handy to have all those writing and crafts supplies in one place!
Make family game night EVEN BETTER with a Lazy Susan Game Board.
Make a Lazy Susan shoe rack for your closet. How nice will it be to access all your shoes with just a spin? (Get more shoe organization ideas here.)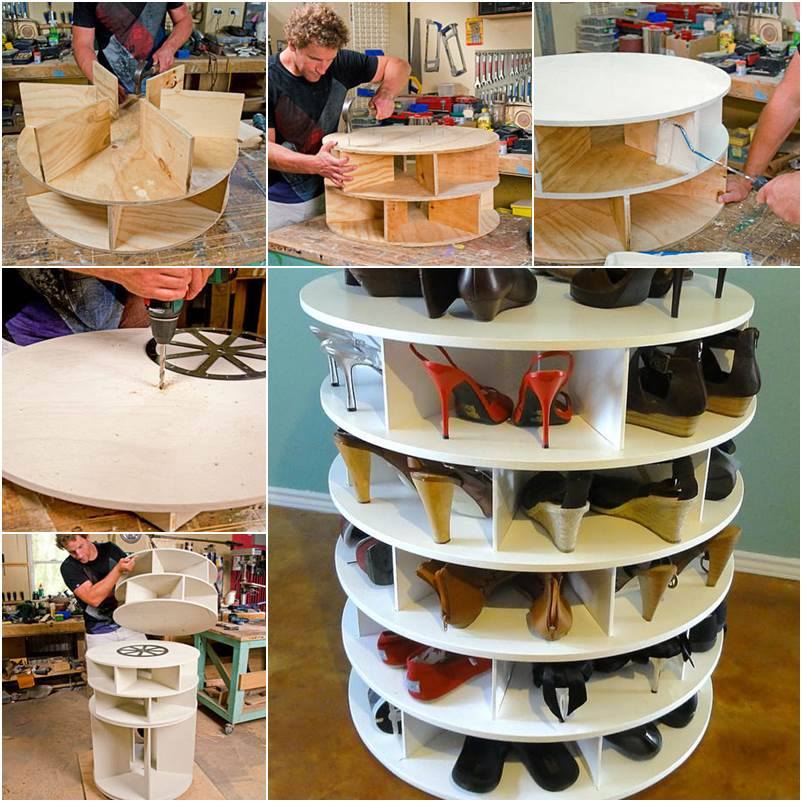 Organize with a lazy susan. You can paint mason jars and cans to add to the Lazy Susan in your craft room.
Put a bookcase on a lazy susan pedestal to create an organization station for the kids. Add a cork board to one side, hooks to another and a mirror on the back. Super smart!
Put one under the sink to organize your cleaning supplies.
Make spinning chore charts for the kids. Hey, anything to make chores a little more fun, right?
Put your perfume on display on your vanity.
Add them to your pantry to maximize corner space. What a smart idea!
Set one up at your coffee station. This is especially helpful if you're a coffee addict with lots of different coffee flavors.
Save space in a laundry closet with a lazy susan to house your detergents, pods, stain removers, etc.
Put a couple of Lazy Susans in the refrigerator for your condiments. This frees up door space for other items.
Although these are DIY spinning displays, you can buy similar Lazy Susans to achieve the same effect with your nail polish and jewelry. Here's a pretty and simple stainless steel version.